After recommending three of our favorite restaurant discoveries from past truck camping adventures, we asked our readers to recommend a few restaurants of their own.  To qualify, restaurants needed to be (a) delicious, (b) discovered while truck camping, and (c) offer plentiful parking for truck camper rigs.  Let's eat!
"Whoa Nellie Deli in the Tioga Gas Mart in Lee Vining, California is located where you exit Yosemite on the eastern side.  Yes, it's in a gas station, but the food is famous and amazing!
Rig Parking: There's a large parking lot for your truck camper rig." – Connie Westbrook, 2003 Chevy 3500, 1997 Lance Squire 5000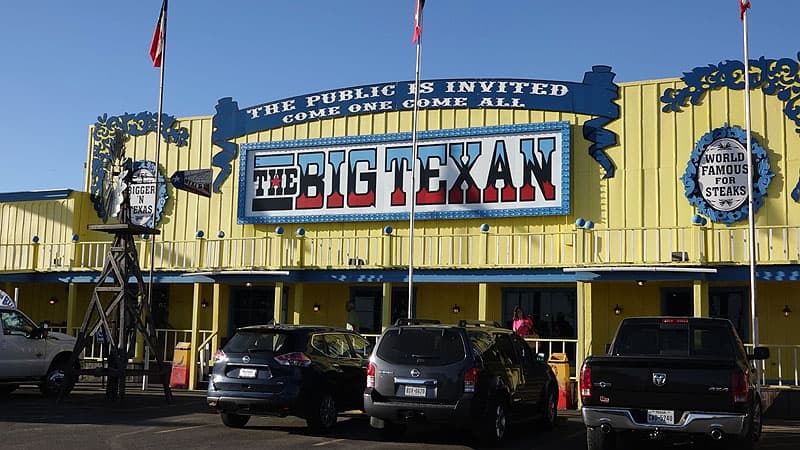 "We have traveled all over the country, and had many fine meals.  However, my favorite by far was in Amarillo, Texas at the Big Texan Steak Ranch.  The steak I had was the most delicious that I have ever tasted – highly recommended!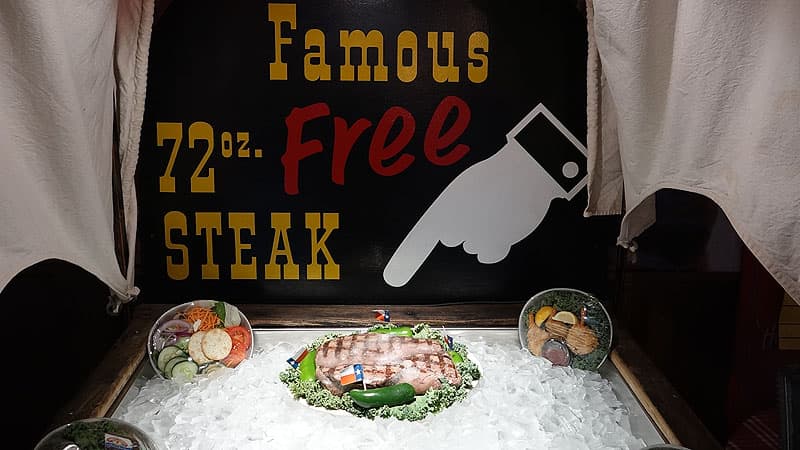 If you're so inclined, you can take their 72 ounce steak dinner challenge.  If you can eat it all within 60 minutes, it's free.  Good luck!
Rig Parking: The parking lot was definitely truck camper friendly.  However, we stayed overnight at the Amarillo Ranch RV Park right down the street and shuttled to the restaurant in a limo with a steer horn on the hood!" – Charles Coushaine, 2001 Ford F350, 2012 Chalet DS116RB
"I camp near Hershey, Pennsylvania in early October to attend the annual Antique Automobile Club of America Fall Meet which lasts for several days.  After a long day at the meet, I like to stop in a restaurant named The Farmers Wife.  It's located along Route 22 by Lincoln School Road in the town of Ono.  Oh no!  I'm in Ono.
They give generous portions of good tasting main entrees and three sides for a great price.  They also have a nice salad bar, homemade soups, and Pennsylvania Dutch dessert offerings.
Kreiser's Citgo is a little ways east of the restaurant and they offer cash discounts for gasoline and diesel if you need a fill up.
Rig Parking: The Farmers Wife parking lot is pretty big and has plenty of spaces to accommodate a truck camper and trailer." – Jack Pavie, 1995 Ford F350, 1987 Real Lite 950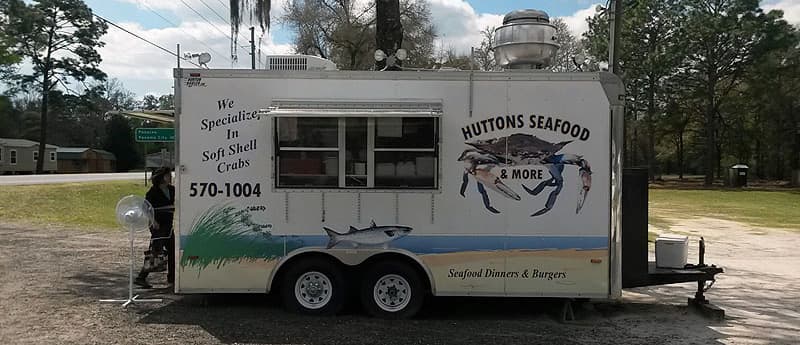 "Hands down our favorite place to eat on the road happens to be one of the smallest and simplest of places.  It's Hutton's Seafood in Medart, Florida.
Hutton's Seafood is a roadside food cart and their specialties are soft shell crab sandwiches (fried, sauteed, Cajun, or garlic and lemon).  The smoked mullet dip is wonderful as well.  Gator bites are good, too.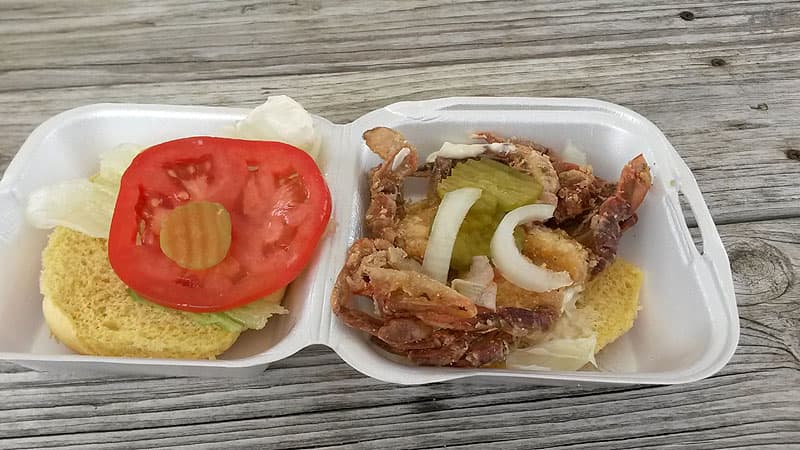 The owners has clean, covered picnic tables to eat outside and a nice gravel parking lot.  If we are anywhere near Tallahassee or the Big Bend region of Florida, it's a Bat-Turn to Hutton's.  I think they are closed on Sunday and Monday.
Rig Parking: We easily parked two truck campers there since we traveled with truck camping friends who turned us on to the place." – Thomas Rybarski, 2014 Chevy Silverado 3500 HD, 2006 Lance 1181
"We recommend the Wyoming Rib and Chop House in Cody, Wyoming.  They have the best steaks ever!  Jim had a 16 ounce Ribeye, which was an excellent cut of beef.  I had the ribs, and they were perfectly cooked.  We did not have reservations and were able to get in.  Very friendly staff and great service.
We also recommend Claim Jumper Bar and Grill.  It's in the Clackamas mall area of Clackamas, Oregon.  Great food, great variety on the menu, and Sunday brunch.
Tippy Canoe Restaurant in Troutdale, Oregon is located on historic Highway 30.  It's rustic inside, has great outdoor seating, and sometimes offers music and entertainment.  The food is good, but can be pricey.  Lunch is best price-wise.
Rig Parking: Wyoming Rib an Chop House has plenty of street parking on Main Street.   The Claim Jumper has mall parking.  Tippy Canoe has a large lot." – Jim and Janet Manis, 2014 Dodge Ram 2500HD, 2016 Travel Lite 960R Illusion
"In Austin, Nevada, on Highway 50 (The Loneliest Road in America) there are two great restaurants.  We recommend the Toiyabe Café for breakfast, lunch, and ice cream, and the International Bar and Grill for dinner.  The International Bar and Grill has awesome burgers and a brew (or two).
Rig Parking: You can park on the street at either place.  There are also two self-pay RV parks in town.  We have stayed at the one affiliated with a church.  It has full hookups and bathrooms with hot showers.  Austin has BLM land close by for boondocking too!
We parked the camper and quad across the street (Highway 50) from the Toiyabe.  There is also parking behind the International." – Dan and Christina Kistler, 2015 Chevy 2500, 1999 Lance 1010
"I like the New Friendly Restaurant in Perry Maine.  It's local food, and all the locals eat there.  Also, any place in Lubec, Maine.  You can't go wrong in this small town on the coast of Maine.
Also, check out local happenings.  Some of the best food is at local events, so pick up local free newsletters.  We discovered the Columbia Falls, Maine smelt fry this way." – Cathie Leslie, Chevy Silverado 3500, 2004 ARE camper shell
"Whilst cruising the freeways of life, we try to find local eateries that are worth coming back to repeatedly.  We actually re-route the old GPS to include many of these restaurants, even though they are out of the way of our destination.
Central Oregon has become a favorite camping area for us SoCal residents.  Big Pines RV Park is located near Crescent, about halfway between Klamath Falls and Bend, on Highway 97.  It's a very nice and unpretentious spot, with wonderful owners.  Even better, it's near some great places to eat.
On the way north, we time it so we can eat breakfast at the original Black Bear Diner at Mt. Shasta.  They serve really good chicken fried steak and eggs, with portions large enough for breakfast the next day.  Their blackberry cobbler deserves special mention; absolutely delicious.  The place is so good that they now have more than 60 franchise restaurants around the country.  We've tried several and they are all consistently good.
Rig Parking: The original Black Bear Diner at Mt. Shasta is next to a small shopping center and there is plenty of big rig parking available.
While on a camping trip to Oregon, a friend (who is from the Pacific Northwest) called me as we were driving through Redding, California, several miles south of Mt. Shasta.  When he heard about our location, he insisted that we stop at the Black Bear Diner and at least try the blackberry cobbler.  We did.  Now we're hooked.
Once we are comfortably ensconced at Big Pines, our ritual is to road-test the culinary treasures in the nearby vicinity.  We usually tow our Jeep, so restaurant parking after we arrive is not a problem for us.
The closest restaurant is the Mohawk in nearby Crescent.  It's been there for more than 50 years.  The food is very good home-style cooking.  The collectibles that line the walls inside are pretty amazing.  It's easy to find the Mohawk because Crescent is about the size of a large postage stamp.
Rig Parking: There is a huge parking lot next to the restaurant.
Up the road on Highway 97 about 15 miles lies La Pine, a small regional center, and home to Los Tres Caballeros restaurant in the middle of town on Highway 97.
These folks have a great sense of humor.  One of their specialties is "Huevos Divorciados".  You can probably figure out that this name has something to do with marital discord.  The dish includes two fried eggs, one with red sauce and one with green.  It's a great combination plate.
Rig Parking: As long as you aren't towing a trailer, the parking lot will accommodate your truck camper.
Another favorite is Highway 58 Diner in Oakridge.  Yup, it's on Highway 58, the scenic bi-way that connects Crescent to Eugene on I-5.  It has the best hot dogs anywhere! Yeah, yeah, I've been to New York and these are better.  The L.A. Street Dog is to die for, and to smooth over that indigestion that's coming thereafter, try one of their handmade malts.
Rig Parking: Parking is a breeze.  There's a large gravel lot adjacent to the restaurant, which is located on the south side at the west end of town." – Gene and Linda Yale, 2016 Dodge Ram 5500, 2017 Host Mammoth
"The Tamarisk, 1710 East Main Street Green River, Utah is open 7:00am to 9:00pm daily.  They have great food, but especially try the cinnamon roll.  It's fantastic.  An added bonus is that it's in a remote area with lots of truck camping nearby!
Rig Parking: There's plenty of truck camper friendly parking." – Chuck Cox, 2005 Ford F-150, Range Rider
"We had the best Mexican food we've ever had at the E&O Kitchen in Winslow, Arizona.  It's a little place out at the municipal airport.  The service, food, and prices are all fantastic!  Don't believe your GPS, it will stop you about a quarter mile short.  Visit the "Take It Easy" exhibit in town if you are an Eagle's fan.
"Well I'm a-standin' on a corner in Winslow, Arizona / Such a fine sight to see…"
Rig Parking: There's plenty of parking for a truck camper rig." – Don Stegemoller, 2011 Ford F350, 2017 Eagle Cap 960
"The Moose Is Loose bakery in Soldotna, Alaska is a bakery with a gift shop and tables in the back.  They have about the best pastries in Alaska, although I'd put the cinnamon sticky buns at the Talkeetna Road House in Talkeetna, Alaska ahead on points.  I have never found better pastries, anywhere.
The food at the Talkeetna Road House is also wonderful, and worth the trip to town.  If you like excellent beer, the Haines Brewing Company in Haines, Alaska is the place to go.  Tables for 49, plus an outside beer garden area.
Rig Parking: There's easy parking in Soldotna and Haines.  The parking can be tough in Talkeetna during tourist season." – Duncan Crawford, 2016 Ford 350, 2015 Northstar 12STC
"The Toot Toot Cafe in Bethany, Missouri has great meals and a buffet.  We try to stop there every time we go through Missouri.
Rig Parking: They have a large parking lot." – Erwin Greven, 2002 Chevy 2500HD, 2002 Lance 921
"During our long 2015 summer journey, we found some great restaurants.
1. Cold Spring Tavern, 5995 Stagecoach Rd, Santa Barbara, California, 93105
My brother Howard took us here for dinner.  Julie had duck, I had Elk, and my brother had fish.
Rig Parking: Parking can be very tight on the weekends due to the crowds that show up for their famous Tri-tip barbecue, so parking along the roadway is a common thing to do.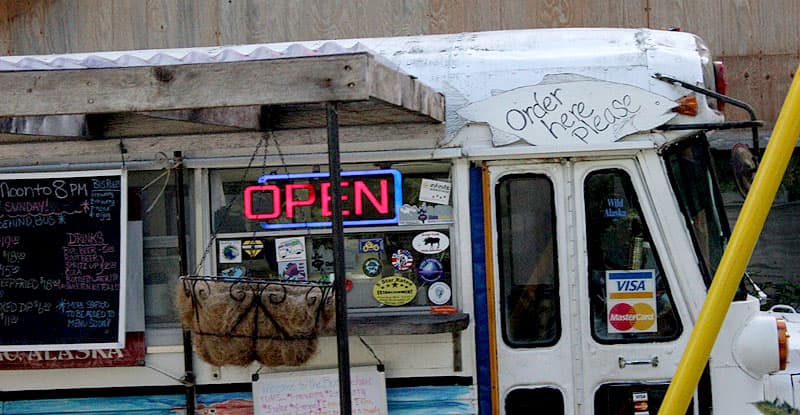 2. Seafood Express, P.O. Box 45, Hyder, Alaska
What's on the menu?  Fresh caught fish that's out of this world delicious.  The seafood is served out of a converted bus adding to the atmosphere of the place with seating both inside and outside the bis.
Rig Parking: Parking is along the roadway for most vehicles, and there's plenty of it.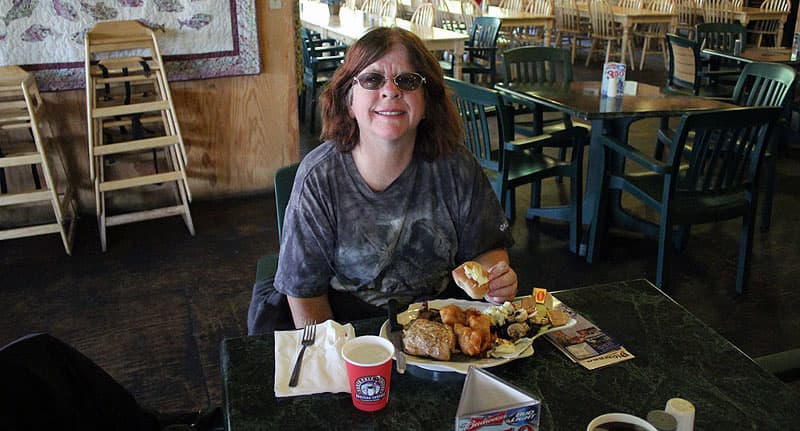 3. Pioneer Park, P.O. Box 71267, Fairbanks, Alaska 99707
Pioneer Park is well known for their all-you-can-eat salmon bake, and they mean it.  We heard about this place from fellow truck campers while in Whitehorse, Canada.  They didn't steer us wrong.
The salmon was excellent.  It's grilled over mesquite wood on a open-pit barbecue and marinated in very lite sweet sauce.  This affair comes with a salad bar, drinks (adult drinks extra), dessert, middle-of-the-road prime rib, and delicious fried cod.
Remember this is one price and all you can eat.  Go to the visitor's center first to get your discount coupon.
Rig Parking: There is plenty of room for parking and, for a fee, RVs can stay overnight.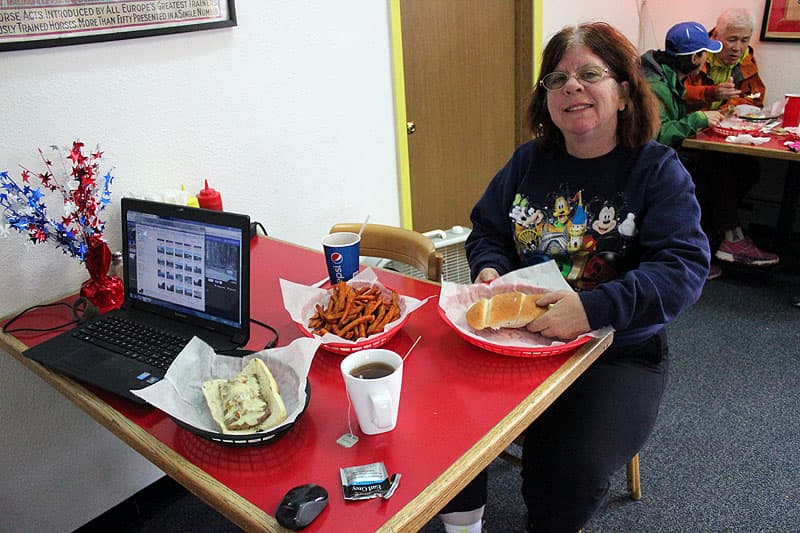 4. Loose Moose Cafe, 3450 Airport Way, Fairbanks, Alaska 99709
Loose Moose Cafe is closed during the Alaskan winter.  We were told about this place while at Pioneer Park.  Julie and I had caribou sandwiches along with sweet potato fries.  They also sell some meats and we bought some caribou patties for future meals.
During our stay in Fairbanks we patronized Loose Moose Cafe several times.  Also the WIFI works really well there.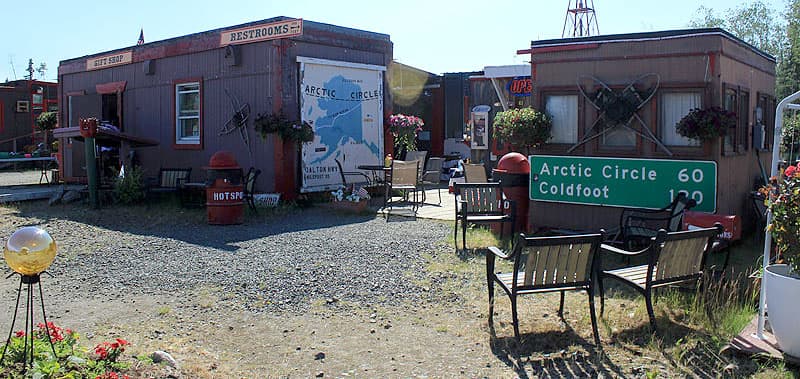 5. Hot Spot Cafe, 60 Mile Dalton Highway, Fairbanks, Alaska 99701
The Dalton Highway is also known as, "The Haul Road".  It's about 144 miles north of Fairbanks, Alaska.  On our way back down from Deadhorse/Prudhoe Bay, we stopped and ate at the Hot Spot Cafe.
If the name sounds familiar, this place has been featured on the TV series, "Ice Road Truckers" many times.  Julie and I had the "Boo Boo" burgers for $16 dollars each.  It has everything on it and they are huge.  The owner cooks the patties one way, rare, which is the way I like them!
Rig Parking: There's tons of area for parking any size vehicle.
Unfortunately, there are several other restaurants in the great north that have closed down since our trip." – Alex Blasingame, 2007 Ford F250, 2002 Lance 815
"Toga's Soup House, Port Angeles, Washington.  This restaurant has the best soups my wife and I have ever had.  In addition to soup, they have sandwiches and desserts.  Unfortunately, we didn't discover this place until one of our last days in the area.
Rig Parking: Don't use the front parking lot.  Go around to the back and there is an open gravel parking area with plenty of room for your rig." – Charlie Cherry, 2009 GMC Sierra 2500HD, 2008 Bigfoot 15C9.5
"The food at Becky's Restaurant is great and the specialty is a selection of phenomenal homemade pies.  We were directed to this Oregon secret eatery by Randall Pozzi at Host Campers in Bend Oregon while we were touring the factory.
Becky's Restaurant is located about 30 miles west of the southern entrance to Crater Lake on Oregon Highway 62 just about a mile south of the 230/62 intersection.  There is easy access to the Rogue River Gorge, the natural bridge, Prospect Falls, and Crater Lake when the Crater Lake campground is full.
Rig Parking: Parking is limited, but additional parking is available at the Union Creek Campground entrance (a nice, but tight campground)." – Steve and Teresa Gomez, 2014 Ford F-350, 2015 Host Mammoth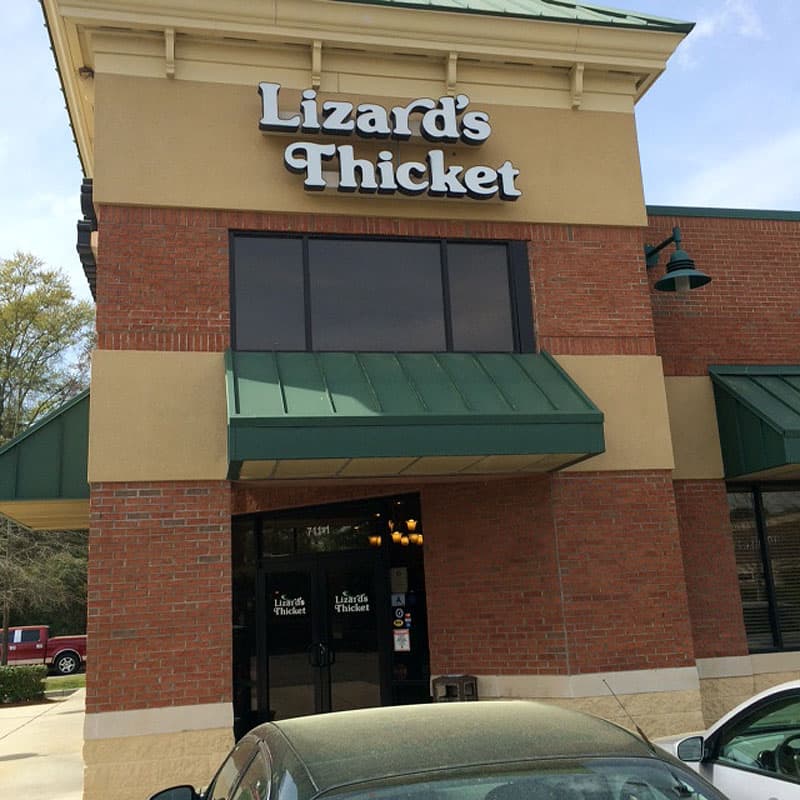 "Linda and I were traveling across South Carolina last spring and it was lunch time.  We got off the express way and turned the wrong direction, which is typical for me, looking for fast food.  While turning around we noticed this restaurant called the Lizard's Thicket.  Linda researched with her phone and found it was true southern cooking.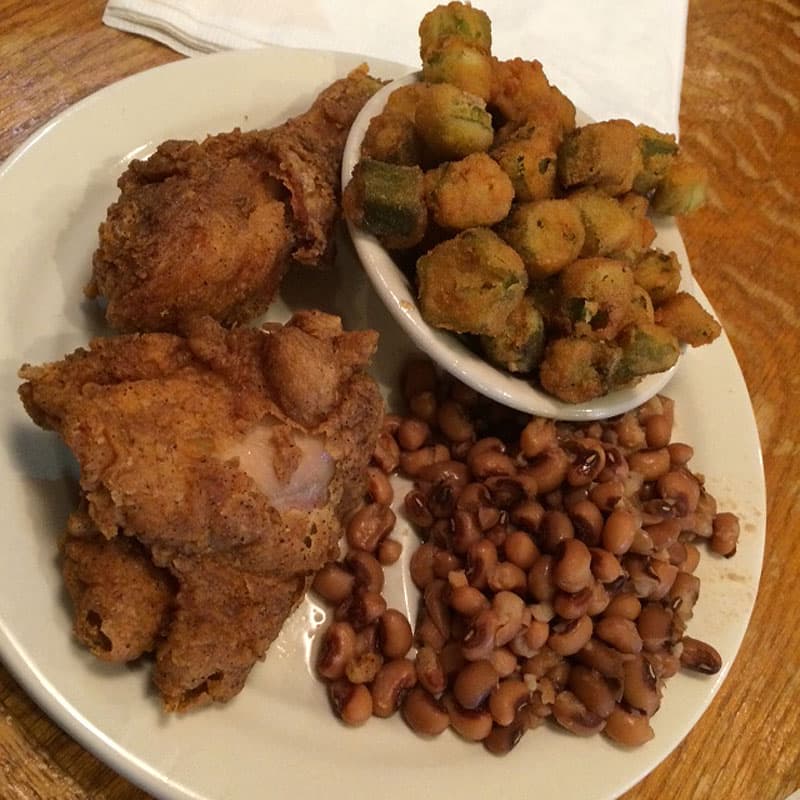 The food was excellent!  There was a choice of southern cooked meats and vegetables. The service was friendly and, when you ask for tea, it was already sweetened!  It turns out there is a chain of a couple dozen Lizard's Thicket restaurants and they are exclusive to South Carolina.
Rig Parking: There were several cars in their lot with plenty of room at the end for our camper to hang over the curb." – Charles Wade, 2016 Dodge Ram 3500, 2016 Northern Lite 10-2EX CDSE
"I recommend JJ's Cafe on East Northwest Highway in Northeast Dallas.  Get the buffet.  They have fresh catfish every day and it's so good that it melts in your mouth.  It's country cooking, so different every day.  They have excellent buffet breakfasts as well as lunches.  It's only open until 2:00pm.
Rig Parking: There's a huge empty concrete parking lot.  It used to be a big shopping center." – Janet Carter, 2006 Chevy 1500, 2001 SunLite 6'
"The Ancient Way Café.  It is a unique place to enjoy a slow cooked breakfast or lunch made and served with love.
On Friday and Saturday evenings gourmet dinners are limited to one special dish planned and prepared by the chefs with a different theme each week.
We stayed at the El Morro RV site and had lunch and breakfast, both which were not only great eating, but also entertaining.  The staff at the Ancient Way Café are colorful, friendly, and damn good cooks!
You will find the Ancient Way Café right on New Mexico Highway 53 right before El Morro National Monument.  There is more to see around here than meets the eye.  If you get down that way, you will really enjoy the Ancient Way Café.
Rig Parking: Lots of parking right out front of the cafe.  No problem parking and enjoying a great meal." – Mark Dyvig, 2001 Ford F250 SD, 1969 Avion C11
"Our picks are centered in Alaska since we haven't traveled to the lower 48 with the truck camper… yet!
The Long Rifle Lodge is located two hours north of Anchorage on the Glenn Highway.  This restaurant/bar is resting on a bluff overlooking the Matanuska Glacier.  The views are spectacular while you consume some really good chow.
The Long Rifle Lodge has great burgers, a good selection Alaskan brews, and is known locally for their homemade soups (especially their chili) and desserts.  The atmosphere is rustic Alaskan with a really nice collection of taxidermy.
This is our must stop location when we are heading north for Alaskan recreation all year round.  We always plan our timing on the way back for a lunch stop.
The Denali Brewing Company restaurant in Talkeetna, Alaska is located right on main street.  This place has a fantastic atmosphere and large menu to cover anyone's craving.  They are very well known up here for their craft brew (their Twister Creek IPA is my all around favorite).  The only downside is that it's always packed!
There are so many restaurants we've experienced while out in our truck camper here in Alaska.  It really depends on which direction we are traveling as we have favorites in all directions.  There are really just way too many to list.
Rig Parking: Truck camper parking is very open at the Long Rifle.  Parking in Talkeetna in the summer is a bit crazy.  There is pay parking as you enter town.  Take the first available that you find and it's a short walk with plenty to see along the way." – Tom Warren, 2013 Ram 3500, 2013 Eagle Cap 1160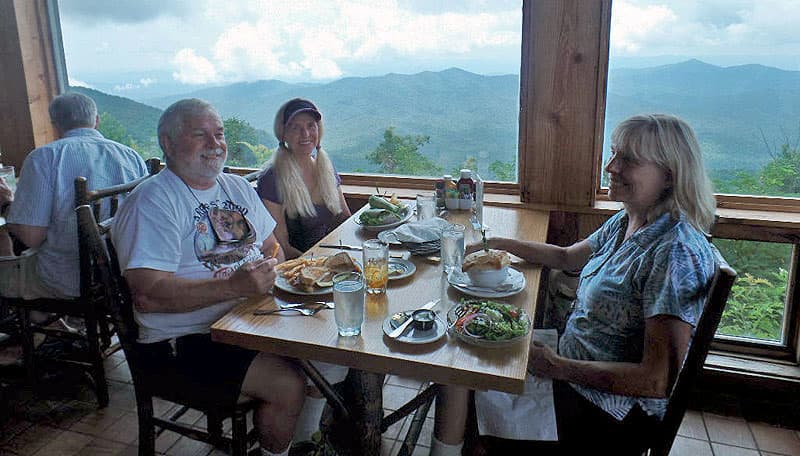 "Pisgah Inn Restaurant is perched on Mount Pisgah at an elevation of 5,000 feet on the Blue Ridge Parkway Milepost 408.6, Waynesville, North Carolina, 28786.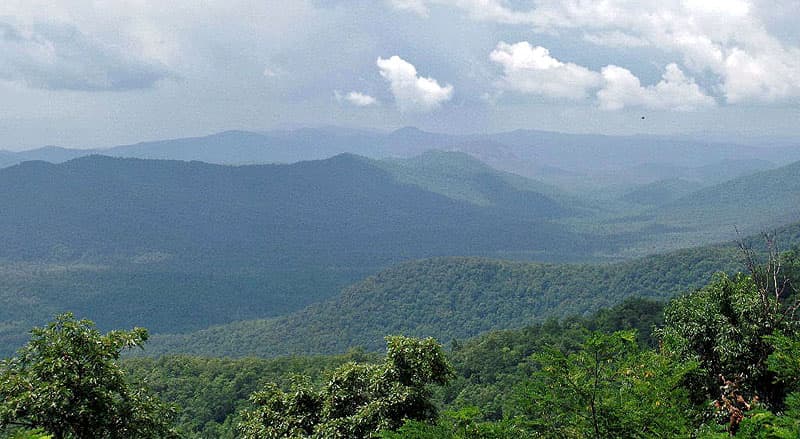 The menu includes a full breakfast, brunch and dinner.  Undoubtedly, I had the best Reuben sandwich I had ever eaten.  Great food and service.
Rig Parking: The Pisgah Inn parking lot was large and just a short walk to the restaurant." – Gus Postreich, 2007 Dodge 3500, 2002 Lance 1130
"Sparky's is located in Hatch, New Mexico (near I-25).  Fresh food and the green chile burgers are extremely good (among best in United States, based on USA Today survey).
Bring your appetite since the servings are on the large size. The owner also owns a used RV store which has a lot of interesting stuff.  People travel from California and Texas for the food, roads, four-wheeling, and camping.
Rig Parking: Park next door or across the street.  Watch out for motorcycles since New Mexico 185 is nearby (the road dates from 1800s)." – Harry Palmer, 2008 Dodge Ram 2500, 2008 Lance 915