After recommending three of our favorite restaurant discoveries from past truck camping adventures, we asked our readers to recommend a few restaurants of their own.  To qualify, restaurants needed to be (a) delicious, (b) discovered while truck camping, and (c) offer plentiful parking for truck camper rigs.  Let's eat!
"Whoa Nellie Deli in the Tioga Gas Mart in Lee Vining, California is located where you exit Yosemite on the eastern side.  Yes, it's in a gas station, but the food is famous and amazing!
Rig Parking: There's a large parking lot for your truck camper rig." – Connie Westbrook, 2003 Chevy 3500, 1997 Lance Squire 5000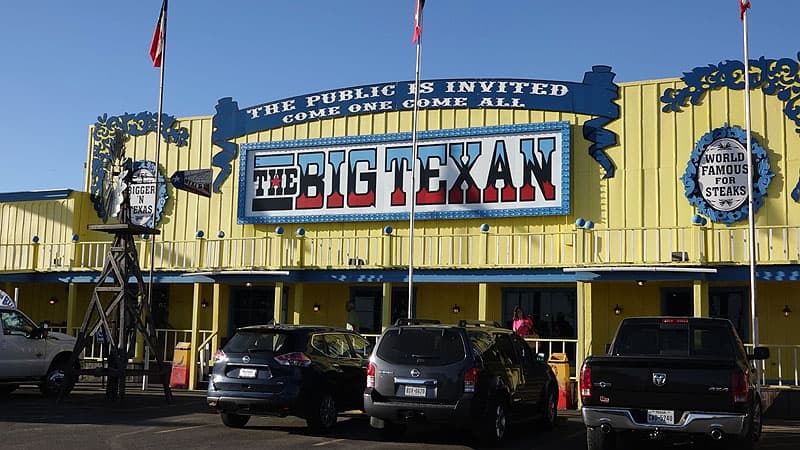 "We have traveled all over the country, and had many fine meals.  However, my favorite by far was in Amarillo, Texas at the Big Texan Steak Ranch.  The steak I had was the most delicious that I have ever tasted – highly recommended!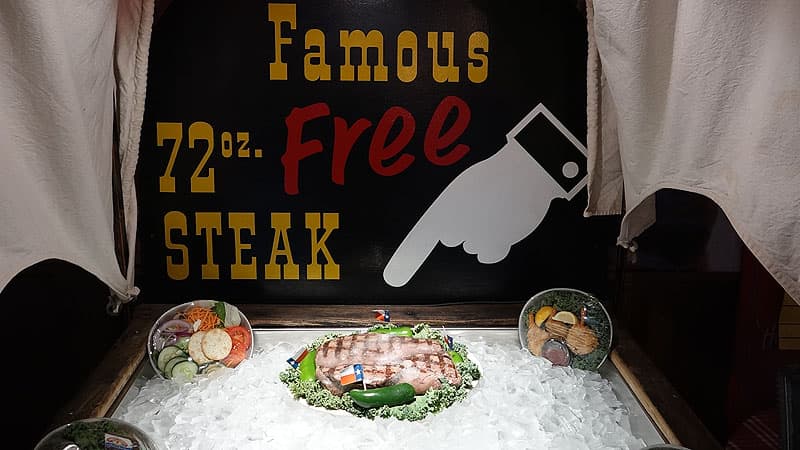 If you're so inclined, you can take their 72 ounce steak dinner challenge.  If you can eat it all within 60 minutes, it's free.  Good luck!
Rig Parking: The parking lot was definitely truck camper friendly.  However, we stayed overnight at the Amarillo Ranch RV Park right down the street and shuttled to the restaurant in a limo with a steer horn on the hood!" – Charles Coushaine, 2001 Ford F350, 2012 Chalet DS116RB
"I camp near Hershey, Pennsylvania in early October to attend the annual Antique Automobile Club of America Fall Meet which lasts for several days.  After a long day at the meet, I like to stop in a restaurant named The Farmers Wife.  It's located along Route 22 by Lincoln School Road in the town of Ono.  Oh no!  I'm in Ono.
They give generous portions of good tasting main entrees and three sides for a great price.  They also have a nice salad bar, homemade soups, and Pennsylvania Dutch dessert offerings.
Kreiser's Citgo is a little ways east of the restaurant and they offer cash discounts for gasoline and diesel if you need a fill up.
Rig Parking: The Farmers Wife parking lot is pretty big and has plenty of spaces to accommodate a truck camper and trailer." – Jack Pavie, 1995 Ford F350, 1987 Real Lite 950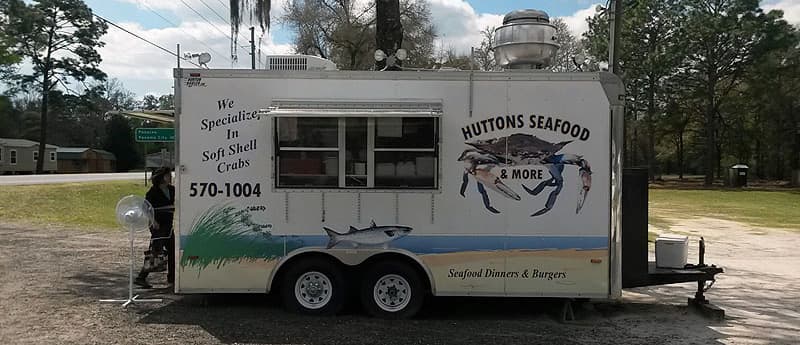 "Hands down our favorite place to eat on the road happens to be one of the smallest and simplest of places.  It's Hutton's Seafood in Medart, Florida.
Hutton's Seafood is a roadside food cart and their specialties are soft shell crab sandwiches (fried, sauteed, Cajun, or garlic and lemon).  The smoked mullet dip is wonderful as well.  Gator bites are good, too.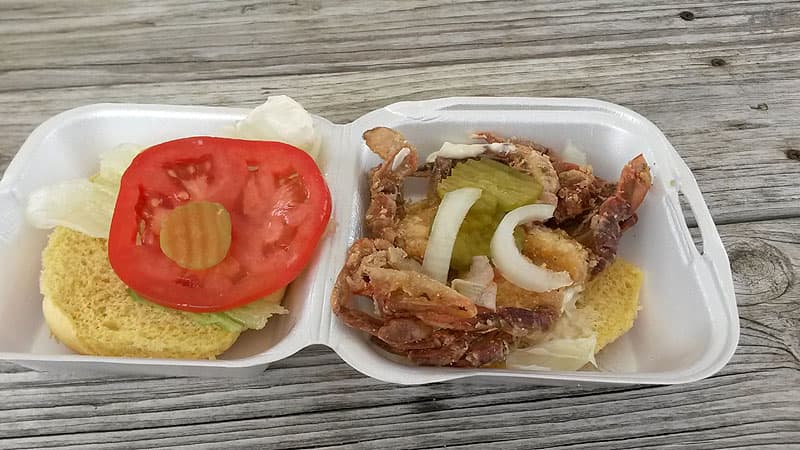 The owners has clean, covered picnic tables to eat outside and a nice gravel parking lot.  If we are anywhere near Tallahassee or the Big Bend region of Florida, it's a Bat-Turn to Hutton's.  I think they are closed on Sunday and Monday.
Rig Parking: We easily parked two truck campers there since we traveled with truck camping friends who turned us on to the place." – Thomas Rybarski, 2014 Chevy Silverado 3500 HD, 2006 Lance 1181
"We recommend the Wyoming Rib and Chop House in Cody, Wyoming.  They have the best steaks ever!  Jim had a 16 ounce Ribeye, which was an excellent cut of beef.  I had the ribs, and they were perfectly cooked.  We did not have reservations and were able to get in.  Very friendly staff and great service.
We also recommend Claim Jumper Bar and Grill.  It's in the Clackamas mall area of Clackamas, Oregon.  Great food, great variety on the menu, and Sunday brunch.