With a thirteen year old truck camper, rarely does a day pass when we don't use a multi-tool to fix something.  Yesterday it was a set of pliers to pull a bad fuse.  Today it was a Robertson screwdriver to tighten a loose vent cover.  It's always something, which is why we have a Dewalt multi-tool always at the ready.
By far the most popular multi-tool mentioned is a Leatherman.  Swiss Army Knives, Buck Knives, and Gerber multi-tools are also mentioned, in addition to a number of other pocket tool brands.  It's fun to see what everyone carries, and why.
What's most amazing is how many of the respondents carry their multi-tools and knives nearly all the time.  I started to wonder if some folks get dressed by putting on their multi-tools, and then their pants.  Hopefully no one attempts to sleep with their multi-tools attached.  One unfortunate roll over could be catastrophic.  Enough said.
This week's Question of the Week was, "Do you carry a pocket or belt holstered knife or multi-tool when you go truck camping?"  We also asked if a pocket tool ever, "…saved your truck camping bacon."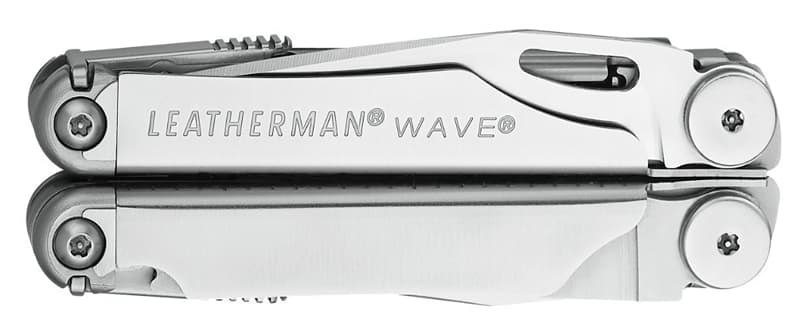 "I have carried a Leatherman Wave for years.  My wife calls me, "The Renaissance Man"." – Lloyd Thomure, 2000 GMC Sierra 2500, 1994 Lance 8000
"I carry the large Leatherman tool.  I've used it for tightening things and/or loosening things.  You just never know when you'll need it.  It seems like I use it a lot to help other people.  I once used it to tighten a petcock on someone's leaking RV water heater." – Erwin Greven, 2002 Chevrolet 2500HD, Lance 921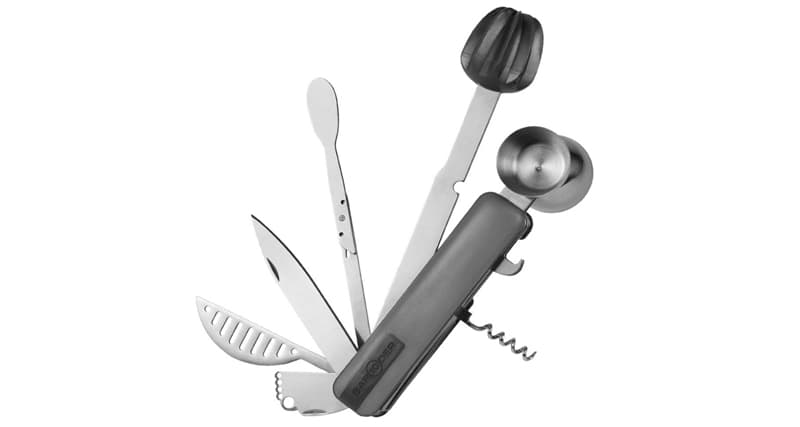 "Mixology in the mountains baby!  To compliment my Vortex hand crank blender, and my antique hand crank ice crusher, the multi-tool that accompanies me is the Bar10der.  This tool ensures I have the most popular campsite at the several camping music festivals we like to go to.  Sláinte!" – Darcy Hubbard, 2014 Ram 3500, 1998 Lance Legend
"I've carried a Swiss Army knife as a pocket knife since the 1970s.  I prefer the Tinker or what I call the Boy Scout Model as it does remind me of the scout knife that I carried as a kid.  It has two blades, a flathead screw driver/bottle opener, a can opener, Philips head screwdriver, and an awl.  It also has a tweezers and a toothpick.  It is very rugged with high quality steel blades and tools.
I also keep an original model Leatherman multi-tool in the camper.  The pliers get used a lot to change out blown fuses.  The screwdriver heads are really handy for tightening screws that shake loose in fans and cabinets.  I have just ordered a Robertson screw driver thanks to your tip in the blog.  Thank you!" – John Tully, 2014 Ram 3500, 2015 Lance 855S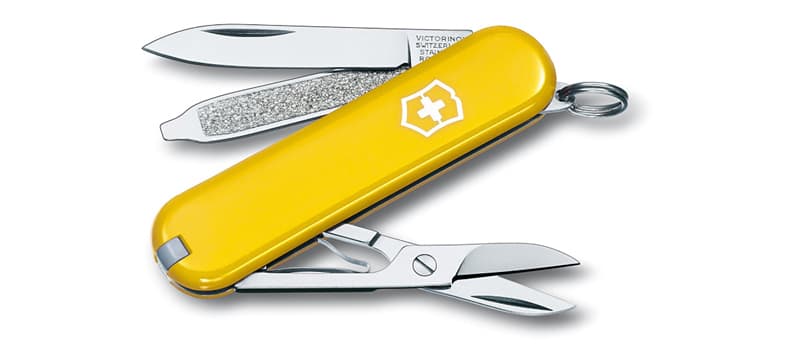 "I have a tiny Classic SD model Swiss Army knife on each of my key chains.  White is for the truck and yellow for the car.  I do not have any bacon stories, but I have used the blades to cut food when eating at places with flimsy plastic utensils.  The Classic SD features a knife blade, tweezers, scissors, nail file, and blade screwdriver.  For big jobs, there's a tool box in the truck." – Karen Smith, 2006 Chevrolet Silverado 2500 HD, Tiger CX Class C
"I always have a SOG spring assisted knife in my back pocket.  In my truck and in a drawer in my camper I have a Gerber multi-tool.  I used to carry either a multi-tool or a Swiss Army Knife on me, but have settled on a good, sharp knife instead.  The need for a knife blade that you can access quickly is more important to me than screwdrivers and pliers.  For those, I have time to go fetch." – Kevin Jenckes, 1996 Ford F250, 2005 Lance 820

"I always carry both a Leatherman C-304 knife/screwdrivers and a Leatherman Crunch.  The Crunch is a locking plier – like a vise grip with multi-tools.
On this last trip I used the Crunch to change out two compartment locks and unscrew the plugged filter on a sink faucet.  The Crunch also got me out of a camping trailer with a missing interior door knob." – Bob Ragain, 1994 Stewart and Stevenson LMTV, 2002 Alaskan 10-foot NCO
"We were just on a short overnighter less than 75 miles from home.  Cruising up the two lane mountain road suddenly the motor just shuts off.  We coast to a stop barely off the pavement.  The creek was on one side and the mountain on the other.