With a thirteen year old truck camper, rarely does a day pass when we don't use a multi-tool to fix something.  Yesterday it was a set of pliers to pull a bad fuse.  Today it was a Robertson screwdriver to tighten a loose vent cover.  It's always something, which is why we have a Dewalt multi-tool always at the ready.
By far the most popular multi-tool mentioned is a Leatherman.  Swiss Army Knives, Buck Knives, and Gerber multi-tools are also mentioned, in addition to a number of other pocket tool brands.  It's fun to see what everyone carries, and why.
What's most amazing is how many of the respondents carry their multi-tools and knives nearly all the time.  I started to wonder if some folks get dressed by putting on their multi-tools, and then their pants.  Hopefully no one attempts to sleep with their multi-tools attached.  One unfortunate roll over could be catastrophic.  Enough said.
This week's Question of the Week was, "Do you carry a pocket or belt holstered knife or multi-tool when you go truck camping?"  We also asked if a pocket tool ever, "…saved your truck camping bacon."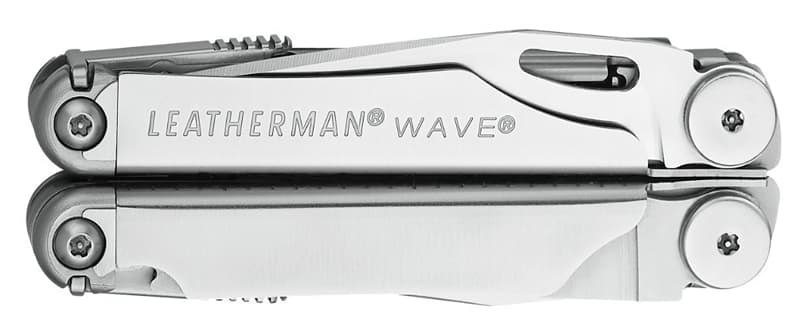 "I have carried a Leatherman Wave for years.  My wife calls me, "The Renaissance Man"." – Lloyd Thomure, 2000 GMC Sierra 2500, 1994 Lance 8000
"I carry the large Leatherman tool.  I've used it for tightening things and/or loosening things.  You just never know when you'll need it.  It seems like I use it a lot to help other people.  I once used it to tighten a petcock on someone's leaking RV water heater." – Erwin Greven, 2002 Chevrolet 2500HD, Lance 921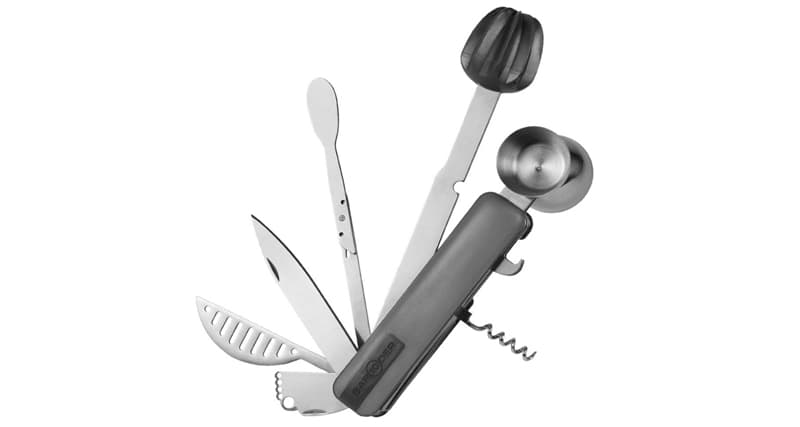 "Mixology in the mountains baby!  To compliment my Vortex hand crank blender, and my antique hand crank ice crusher, the multi-tool that accompanies me is the Bar10der.  This tool ensures I have the most popular campsite at the several camping music festivals we like to go to.  Sláinte!" – Darcy Hubbard, 2014 Ram 3500, 1998 Lance Legend
"I've carried a Swiss Army knife as a pocket knife since the 1970s.  I prefer the Tinker or what I call the Boy Scout Model as it does remind me of the scout knife that I carried as a kid.  It has two blades, a flathead screw driver/bottle opener, a can opener, Philips head screwdriver, and an awl.  It also has a tweezers and a toothpick.  It is very rugged with high quality steel blades and tools.
I also keep an original model Leatherman multi-tool in the camper.  The pliers get used a lot to change out blown fuses.  The screwdriver heads are really handy for tightening screws that shake loose in fans and cabinets.  I have just ordered a Robertson screw driver thanks to your tip in the blog.  Thank you!" – John Tully, 2014 Ram 3500, 2015 Lance 855S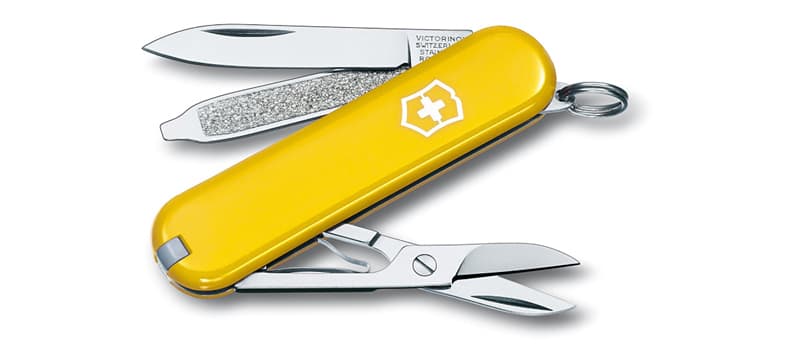 "I have a tiny Classic SD model Swiss Army knife on each of my key chains.  White is for the truck and yellow for the car.  I do not have any bacon stories, but I have used the blades to cut food when eating at places with flimsy plastic utensils.  The Classic SD features a knife blade, tweezers, scissors, nail file, and blade screwdriver.  For big jobs, there's a tool box in the truck." – Karen Smith, 2006 Chevrolet Silverado 2500 HD, Tiger CX Class C
"I always have a SOG spring assisted knife in my back pocket.  In my truck and in a drawer in my camper I have a Gerber multi-tool.  I used to carry either a multi-tool or a Swiss Army Knife on me, but have settled on a good, sharp knife instead.  The need for a knife blade that you can access quickly is more important to me than screwdrivers and pliers.  For those, I have time to go fetch." – Kevin Jenckes, 1996 Ford F250, 2005 Lance 820

"I always carry both a Leatherman C-304 knife/screwdrivers and a Leatherman Crunch.  The Crunch is a locking plier – like a vise grip with multi-tools.
On this last trip I used the Crunch to change out two compartment locks and unscrew the plugged filter on a sink faucet.  The Crunch also got me out of a camping trailer with a missing interior door knob." – Bob Ragain, 1994 Stewart and Stevenson LMTV, 2002 Alaskan 10-foot NCO
"We were just on a short overnighter less than 75 miles from home.  Cruising up the two lane mountain road suddenly the motor just shuts off.  We coast to a stop barely off the pavement.  The creek was on one side and the mountain on the other.
I found the problem to be the wire from the coil to the distributor had broken off.  I had a tool kit in the camper, but it was buried under gear.  The Gerber multi-tool pliers got the nut loose on the coil.  Then the knife blade stripped the wire back.  Once the nut was tightened back down, we were up and running again." – Ted Marston, 1969 Chevy C20, 1958 Alaskan 10-foot NCO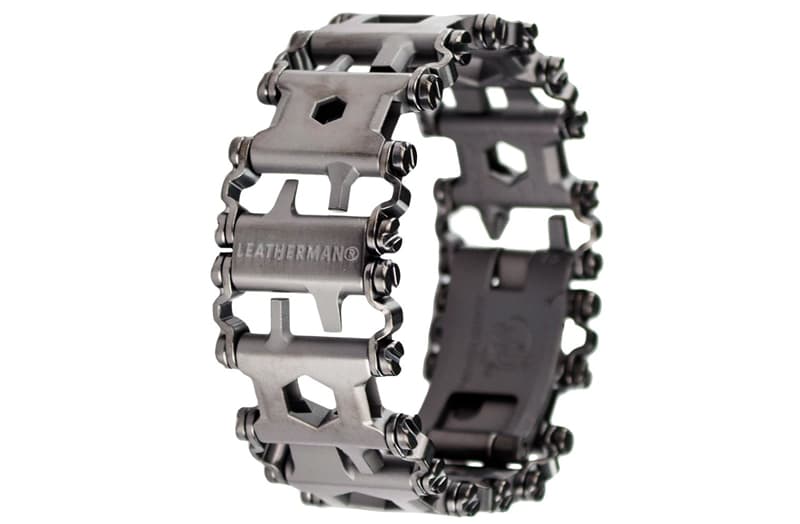 "I have a Leatherman Tread modified to be an Apple Watch band.  It's an instant bottle-opener!  And enough with the meatatarian references.  Truck campers can be vegetarian, too!" – Simon Carlton, 2004 Ford F350, Snowriver 9.6
Editor's Note: First, the Leatherman Tread and Apple Watch combination is one of the coolest multi-tool ideas we've ever seen.  And second, saving bacon is exactly what vegetarians do, right?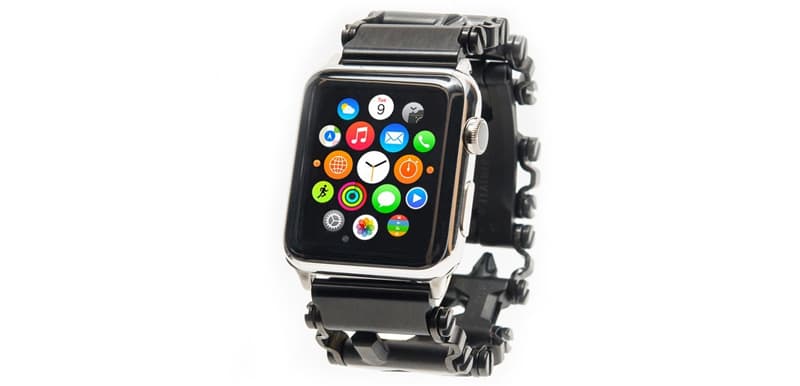 "I always carry my Kershaw pocket knife with a 3-inch blade.  It's amazing how many times a day I find myself using it.  As for other tools, I carry a decent tool kit when we go camping." – Eddie Fort, 2016 Ford F350, 2016 Hallmark Everest
"I got my first Leatherman in 1985 and I still have it tucked away safely in a drawer.  Now I carry a Leatherman Wave multi-tool at all times.  I am never without it.  It sounds funny to say, but it's like my favorite thing I own!" – Rick Scalise, 2015 Ford F250, 2016 Ford 6.8
"I have a Leatherman (not sure what model) and a Swiss Army Knife (camper model).  My favorite multi-tool was made by Buck, but they don't make them anymore.  I wore mine out at work.  Whatever you get, make sure the cutting blades lock when it's open because it will prevent you from accidentally removing or damaging fingers or other things." – Steven Timmings, 2003 Ford F350, 2013 Four Wheel Camper Hawk SC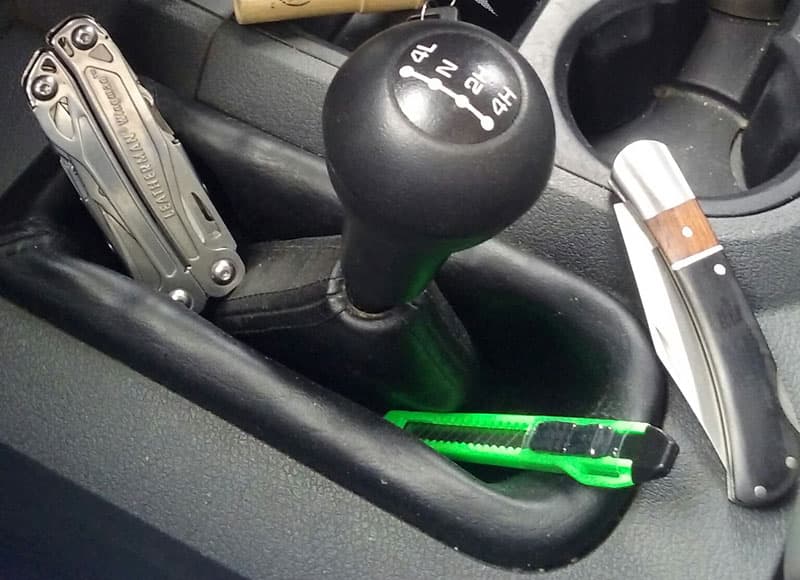 "During my 21+ years in the Army, I carried my Leatherman multi-tool in a pouch on my belt.  Now, 12 years retired, I still always have my newer Leatherman multi-tool with me in the truck.  I carry it in the small pouch created from the 4×4 shift lever.
I probably use the scissors the most cutting braided fishing line.  I have used the blade to clean fish when I forgot my fillet knife.  Several times I have used the can opener when I broke off the pull tab on a can of vienna sausages.  I also carry a cheap plastic box cutter in the same area.
My trouser pocket carries a nice weighted folding lock-blade that I purchased for less than $4 from Walmart.  It sharpens well and holds a decent edge.  On my key ring, I have a Browning LED light with a half-inch locking blade.  Almost daily one of the tools gets used." – Gregory Watson, 2007 Dodge Ram 2500, 2013 Travel Lite 840SBRX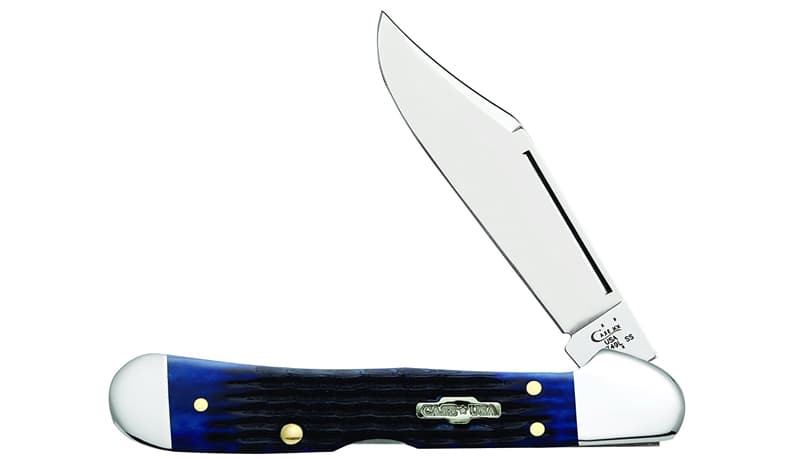 "I always have one of my trusty Case USA Mini CopperLocks in my front pocket.  I usually carry my Blue Bone model but, on special occasions, I will pocket my Amber Bone SS model.  This is a tool that I don't leave home without.
I keep several other bladed tools, both in the camper, and the truck.  I do have a Leatherman multi-tool in the drawer, and a small pair of pliers, but usually grab my Klein 11-in-1 screwdriver/nut driver multi-tool in most instances.  It's the one tool that is probably used the most, except maybe the pocket knife.
I can't pick a dime up off the ground without help from the pocket tool.  Also onboard is a big lock blade knife and camp axe next to me in the hamper drawer, which is my nighttime security!  I also carry a hatchet and machete, which are often used.
Finally, I keep a sharp fillet knife in the drawer, just in case I actually catch some fish to fry.  I guess the only thing I don't take camping with me is one of those Samurai Swords.  I haven't had the need for one of those yet." – Keith Deal, 2000 Chevy K2500, 2008 Northstar 850SC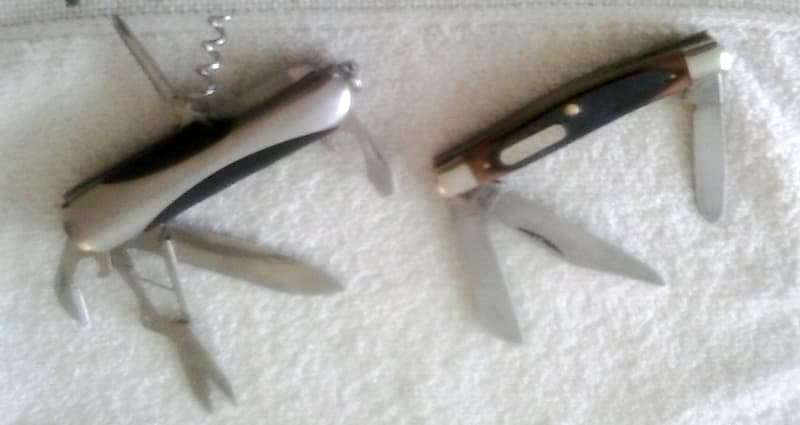 "I always carry a knife in my pocket.  I have a Schrade Old Timer 340T with three blades.  This is used as general purpose for whittling shavings for campfires, carving, opening plastic packaging, and even packages of bacon.  So, you might say it really saves our truck camping bacon.
I also have a knife that remains in the camper's cutlery drawer.  It has no official brand name, but is a promotional tool from Torklift International.  It is stainless steel.  On the front side it is equipped with a 2.25-inch cutting blade, a can opener, a beer bottle opener with a straight screw driver on the end, and a pair of scissors.  On the back side it has a Robinson screwdriver, a 1-inch flat file, and a cork screw to open a bottle of wine.  It is nicely engraved with Torklift International's logo and contact information.
If we happen to cross paths, and you bring the wine, we will demonstrate these knives at our campsite." – Lewis E. Turner, 2014 Ford F350, 2008 Northern Lite 9.5 SLE Classic
"I carry a simple buck knife.  Any tools I need are in the truck.  There are no stories of note; just the occasional sliver to dig out when hiking or to cut a cord quickly when tying something down." – Chuck Gerace, 2008 Ford F-350, 2014 Lance 992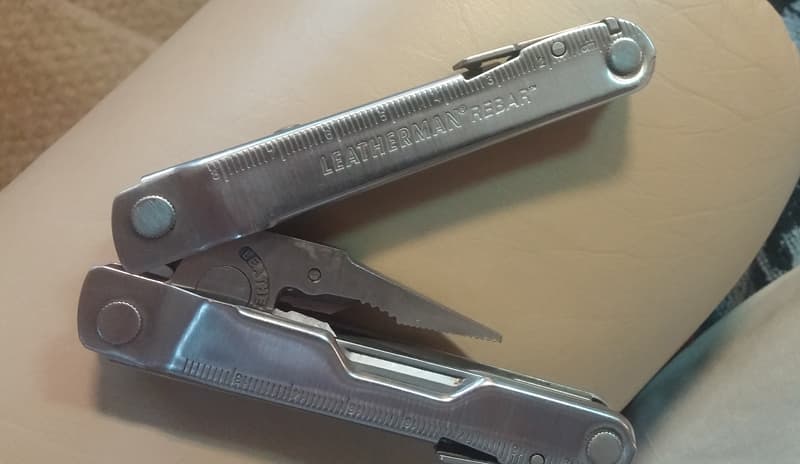 "I carry my Leatherman in its belt pouch everywhere I go (except church).  It has often assisted me get out of jams!" – Paul Roberson, 2014 Ford F350, 1988 Lance 980
"I have carried a pocket knife since I was in grade school back in the 50s and 60s.  The knife I carry now is a Buck 284 and it was made in the USA.  It comes in handy for getting splinters out of my hands and bits of food from between my teeth." – Mark McVicker, Ford 2005 F250, 2014 Camplite 11S
"I like to have a Fluke model 36 clamp meter with me on my rigs.  It is a clamp-on meter that reads AC or DC current, voltage and continuity accurately.  One can quickly track down all manners of electrical problems on an RV with out having to open circuits or remove wires in hard to get at places.  It works well on RVs where there can be several sources of power and loads attached to the batteries.
It has helped myself and numerous other RVers sort out what is happening when something stops working.  It has also picked up polarity problems on a campground plug-in before plugging in my RV.  I would feel vulnerable without it." – John Hallett, 2011 3500 Dodge, 2014 Bigfoot

"I carry a Gerber Diesel Multi-Plier every day.  There is not one day I don't use it." – Patrick Strang, 2011 GMC Sierra 3500HD, 2011 Lance 950S
"I carry a Leatherman Pulse, not just camping, but everyday and everywhere.  A day never goes by without it being deployed at least once, for everything from minor fix-it jobs to opening packages.
I chose the Leatherman Pulse because all the tools lock open for use and it's a fairly compact carry.  I've been wearing Leatherman tools since the first model was introduced, and have owned and used several iterations of the tools as they've evolved and expanded the line.
The Pulse is, unfortunately, a discontinued model.  My favorite of the current offerings is the Wave.  All locking tools, most tools can be deployed without unfolding.  The only reason I don't carry the Wave anymore is that it's a bit heavier and bulkier than the Pulse.  Mine currently resides in the tail trunk of one of my Moto Guzzi motorcycles.
By the way, I've neither saved, nor cooked bacon with any of my many Leatherman tools.  But I truly use the heck out of them!" – John Wells, 2011 Chevy 3500, Chalet Ascent S100F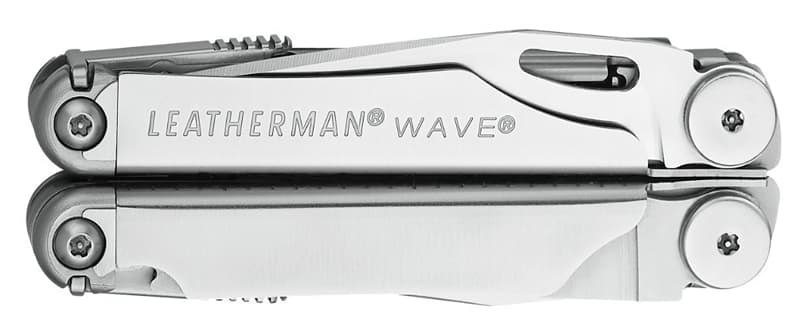 "I had a bone-handled Bowie Knife at 13 years of age.  Boy Scouts always carry pocket knives.  On a trip to the United States in 1989, we went on the FBI building tour in Washington DC.  As we entered, they scanned for metal and my Leatherman triggered the scanner.  They stored it and I got back at end of tour.
After the tour at 4:55pm, we exited via another door.  Oh, no the Leatherman!  I saw a security camera.  I ran up the ramp waving with both arms at the camera.  Two men in coats came out, asked my problem, and asked me to wait as they radioed via curly device in their ear for my Leatherman from door 14.  I got it back and all was good.
Back to Australia we flew the following day, since that was our last day.  I am still talking about the FBI Leatherman!
I have owned a Leatherman Wave for about eight years.  My Leatherman gets used pretty much every day.  It has a knife, pliers, a screwdriver, and scissors." – Douglas Packer, 2012 Ram 3500, 2014 Eagle Cap 1160
"I have carried a small Leatherman with me daily for the last 10 years.  It's a very handy little tool that I have used numerous times on all kinds of projects big and small." – Gary Hughes, 2005 Chevrolet 3500, 2015 Lance 1172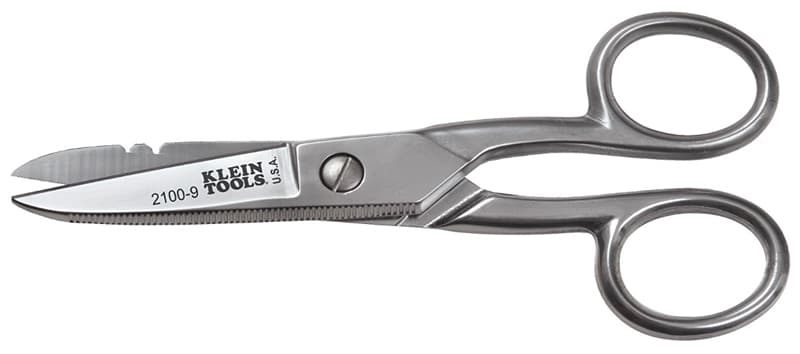 "I carry Klein Tools Electrician Scissors at work for splicing cable.  I find myself grabbing for it on the boat, backyard, or campground.  These snips and a good knife can fix almost anything!" – Gary Usher, 2015 Ford F350, 2015 Lance 1172
"I have a Leatherman Blast multi-tool with a Fenix E11 flashlight.  Barely a day goes by when either one or both are not used around the house or camper.  I've carried them daily for years.
I've looked at numerous truck campers for my 2001 Ford F150 super crew, but they all seemed too expensive and pushing the weight limits.  I decided to go with the used Nissan NV2500 hightop and outfitted it to my minimalistic needs.  I love Truck Camper Magazine and have read it for a very long time.  Keep up the good work." – Joe Gerard, 2012 Nissan NV2500 DIY converted cargo van
"I always carry a Swiss Army knife.  I'm uncertain of the model, but I think it's the only one that has the specialty serrated blade.  This blade is actually made for peeling citrus, but I often use it like a small saw.  I also carry both a standard Leatherman and a heavier duty multi-tool made by Schrade." – Dave Pracht, 2015 GMC K3500, 1987 Lance LC 900
"I have a Leatherman Super Tool that I've had since 1995.  I carry it with me everywhere, beginning with a three-week hunting trip in Alaska." – Alan Gehrt, 2016 Ram 3500, 2013 Lance 855S
"While I've never carried a pocket knife or tool, I am now thinking about it.  I was gifted a belt knife, but haven't really found a use for it.  I have several multi-tools and am working on how to carry them around.  I was looking at the little flip blade knives, but I'm not sure that will really do the trick." – Frank Poole, 2016 Ram 5500HD, 2016 Arctic Fox 990

"I have an assortment of knives, pliers, wrenches and vise grips between the truck and camper when camping.  The one item I always have in one of in my pockets (unless I'm sleeping) is a Leatherman Squirt.  I usually have two; one the regular one and one with the scissors.  The Squirt not very big, but it's handy way beyond its size.  I'm never without my Leatherman Squirt." – Terry Gfeller, 20015 Ram 2500, 2013 Lance 865
"When truck camping I carry a 1½-inch Buck pocket knife.  If I need any other tool, it's in the camper." – Nate Kew, 2016 Ford F350, 2011 Northern lite Queen SE
"I have a multi-tool on my hip even as I type.  I never leave home without it!  It's a Gerber.  It has saved my butt many a times." – Jeff Hagberg, 2002 Ford F250, 2006 Travel Lite 800SBX
"I carry a Leatherman Wave everywhere I go.  99-percent of the time, if I'm awake, I have the Leatherman with me.  I've been carrying Leatherman tools since 1984.
We have just started camping, so I don't have a camping save the bacon story, but I did use a Leatherman and a wire coat hanger to fix the shifter mechanism on a 1966 Datsun pickup.  If I had I not been able to cut the hanger wire and bend it into a cotter pin shape, I would have been stuck at the lakeside needing a tow truck, or more." – Ken Young, 2011 GMC 3500, S&S 9.5 Montana Ponderosa
"I have a Leatherman Supertool 200 and wear it whether I'm truck camping or not.  Both the Mrs. and I have them, although she doesn't personally carry hers.  It stays in the utility drawer of the camper and in the door pocket of her car.
Features of the Leatherman I use regularly are a knife, screw driver, bottle opener, and the pliers.  It has been my go to tool for years; from my years working on ship engines, to household and automotive repairs and now, on our truck camper.  I've tightened loose cabinet screws, stripped wires reinstalling an outlet, picked up hard to reach washers and nuts that fell between cracks, and of course, I've been the hero at a picnic with both a bottle opener for the brews and a knife to cut the tomato for sandwiches." – Chuck Ramsey, 2012 Chevy Silverado, 2014 Adventurer 116DS
"I carry the knife that defines the current style of pocket knife: Spyderco.  I have a over a dozen of their designs." – Dave Scobie, 2016 Toyota Tundra, 2015 Outfitter Caribou Lite
"I carry belt holstered pliers, CeeTeesCo by Cresent.  I grew up on a dairy, so I baled and feed a lot of hay.   Now I do handyman work and still wear them every day.   I ground the end of one handle flat too use on slot head screws, as a pry bar, etc.  I have striped wire with them when needed.  I don't remember when they really saved me but I do use them to move the grate on the off the campfire and to flip and serve the bacon when ready." – Alan Mueller, 2006 GMC Sierra 2500HD, 1995 Lance 945