Screens are a must.  My husband also puts a tarp over the air conditioner unit on the roof and ties it down snugly around the base with bungees.  We haven't had trouble since.
A spider once built a nest in the vent of our fresh water tank.  This kept the tank from being able to fill.  Once we got that cleaned out, I whittled a cork down small enough to fit in the vent hole.  I just pull it out while filling and put it back in." – Connie Westbrook, 2003 Chevy 3500, 1997 Lance Squire 5000
"We do dispersed camping in DCNR forest mostly in north central Pennsylvania.  If you are leaving your vehicle for any length of time, it is a good idea to put a open can of mothballs under your truck.  Porcupines love to chew brake hoses, gas lines, and fan belts.  They get a salt taste from these items.  Please remember to take the can and contents with you when you leave." – Terry Mechler, 2002 Dodge 2500, 1988 Sunline C1150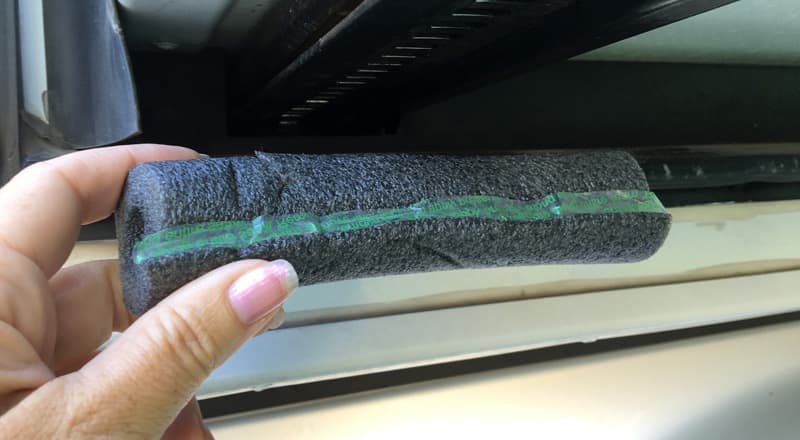 "What bugs us in our camper are mosquitoes.  We had stopped to camp alongside a lake one breezy afternoon and the next morning the breeze had stopped.  We were inside having breakfast when we started noticing mosquitoes had invited themselves.  Not one or two, but dozens.  Upon inspection of our rig, we noticed gaps in the rubber trim around our slide room, specifically along the slide tracks.  We cut some foam pipe insulation and wedged them in the track area and solved that problem.  To make sure we remove foam before we bring the slide in, we put a post-it on the slide room button." – C&J Ramsey, 2012 Chevy 3500, 2014 Adventurer 116DS
"I spread insecticide granules around the camper and supports when stowed.  It seems to do the job!" – Tony Polvino, 2016 Ford F150, Travel Lite 770SLR
"We spend a lot of time in Florida camping and we have solved the sugar ants problem as they call them.  First, of all most people try to solve the problem after they get infested, but I figured why not stop them before they enter?
We mix two cups of Borax 20 Mule Team fine granular detergent to one cup of white sugar and mix thoroughly.  Then we sprinkle it all around the outside of our rig.  The sugar will draw the ants.  They will eat the Borax and bingo, they're dead on arrival.  We have even sprinkled the mixture outside after we got them inside and it drew them back out of camper.
Like most, we use dryer sheets and moth balls, but the squirrels on our roof is a puzzler for sure.  For sugar ants, try my mixture.  It really works and you can add more sugar if necessary." – Bob Robinson, 2002 Chevy 2500, 2010 Travel Lite 960 RX
"We try and park without any branches or other vegetation touching the camper.  We will dust the area around jacks with some brand of ant repellent product.  We have been told to spread Comet like one would ant repellent.
We do not leave food out on counters and keep all sweets in zippered pouches or sealed containers.  Also, we protect the area around hoses, electric lines, and anchor straps because critters walk the tight rope right into the camper.
Keep screens secured and the screen door closed if you're not around your camper.  Watch out for the Willie, the masked bandit, who has gained access to our rig a few times at Fort De Soto in Florida.  If the 'coon can smell food, he will tell his friends and they will return as a raiding party!
Finally, do not feed any animals, birds, etc., and don't let them perch or roost over or near your rig.  What they leave behind attracts many pests!" – Steve English, 2014 Ram 3500, 2013 Lance 1172
"If we're not using our camper for a few weeks, we put a bar of Irish Spring soap on each tire.  It will keep pack rats and other vermin from entering.  Also we put moth balls in the engine compartment and dryer sheets inside the cabinets.  That works well." – Ronald Meredith, 1994 Ford F350, 1991 Lance 835
"I must live in a great area as we've never had any problems with anything trying to take up residence in our camper.  Yeah for high desert living!" – Phil Rodacy, 2012 GMC 3500, 2006 Okanagan 90W
"I place dog flea collars in all outside vents.  Inside, I place time release air fresheners (cone type) in all possible corners where the critters can squeeze in, like slide-outs, under sinks, under drawers in closet, entry ways, etc.
In the seven years of using my rig in the boonies and campgrounds in all areas of our great country, I have had no critters invade my home on wheels.  Try it!" – Doug Hallden, 2011 Chevy 2500HD, 2009 Travel Lite 690W
"We encounter mice in our desert camp sites.  They like the truck's engine compartment at night, so we leave the hood up at night, about half way, secured against a gust of wind.  After my brother had a $2,000 repair when mice ate into his wiring, the service manager told us about this trick and it really seems to work.  There is no sign of them coming in at night anymore." – Bill Close, 2014 Ram 3500, 2012 Lance 850
"Thanks for posting this article.  We are new to truck camping and I will definitely be using these tips and tricks.  Happy boondocking y'all!" – John Palmieri, 2005 Chevy Silverado 2500HD, 2015 Palomino SS-1251