Readers repel gas line-chewing porcupines, HVAC eating chipmunks, attack rats, marauding mice, a masked Floridian bandit named Willie, and many more truck camper biting creatures.  Hint: If all else fails, Charlie says bomb it!
This week's Question of the Week was, "What do you do to keep critters out of your truck camper?"  You can see more suggestions in the article, "6 Pest Control Pointers for Truck Campers".
"I stopped earwigs from climbing up the power cord by using vaseline along a 4-inch length that I simply wipe off when it's time to leave." – Mario P.
"The only problem we've ever had was a few mice when the camper was stored.  They were worse in the stored pickup than the truck camper.
Our best solution has been an herbal product called Fresh Cab.  This isn't potpourri!  Its odor is so strong that my eyes water when I open the pickup and camper doors the following spring.  Both need to be aired out for a couple days.
I toss a bag of Fresh Cab into each truck camper storage compartment, on the bed, and dinette cushions.  The pickup gets the stinky stuff on the seat, in the glove box, and under the hood.
An RV dealer told us years ago that the only effective dryer sheets were the original scent Snuggles brand, the ones with the teddy bear on a blue box.  Use at least one whole box.  They are still good in the dryer when the scent has weakened.
Look for small openings (a half-inch is a doorway for a mouse) anywhere in the truck camper wall, especially under counters.  Fill the gaps with steel wool or the previously mentioned pads.  Our current camper doesn't have any gaps, but an earlier one did.
I've seen the addition of metal screens over furnace, refrigerator, and water heater vents before, but it was being used primarily to keep pilot lights from blowing out when on the road.  Two benefits from one modification is a good thing." – Philip Tron, 2009 Chevy 3500, 2012 Lance 1050
"The ant-ics of those pests can be so annoying!  One winter, mice found their way into the cab of my pickup.  Mamma made her nest under the driver's seat.  Worse, she made a snack out the custom leather trim on my seat cover.  Since then I've placed glue traps and a sonic rodent repeller under the truck.
The only safe assumption is that critters will move into your camper if given the chance.  Unless you take preventative measures while your camper is in storage, you'll probably feel ant-sy all winter.  It's also important to know how big is a ratchet.  Answer: a little bigger than the mouse kind." – Mark J., 1971 Chevy C20, nothing more than a fiberglass topper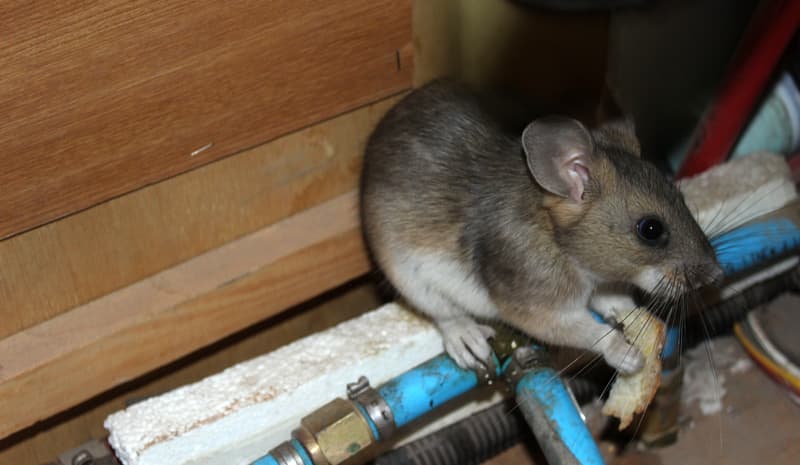 "For the most part on our journeys, it has been ants and mosquitoes.  The usual bug spray and boric acids (powder) will take care of them.
During our 2015 summer journey we stayed overnight at Deadwood RV Park in South Dakota and got an uninvited guest; a pack rat that hid in the cavity spaces of our camper.  We were able to keep the rat out of the inside of the camper by closing different openings and spaces around vent pipes.
Now this pack rat was with us from the RV park to my oldest daughter's home in Tulsa, Oklahoma, where one of our rat traps finally nailed it.  We never thought we would get invaded by a pack rat.  Since then steps have been taken to keep the rats out of the camper." – Alex Blasingame, 2007 Ford F250, 2002 Lance 815
"In the warmer months I have a bee and hornet problem in the California desert.  If you leave that screen door open they get in pretty quickly.
Now I hang two hornet traps on my awning.  It seems to have worked so far.  If I can only keep those camel spiders away at night.  They crawl up your legs when you're sitting at the campfire." – Winston Gotte, 2003 GMC Sierra 1500HD, 2016 Four Wheel Camper Hawk
"Why don't the camper makers put screens on the vents?  Many of these campers cost in excess of $20K and yet there are gaping holes for pests to enter.
We had to completely remove (and replace) our vents to screen them, which took hours of work.  This could have been done at the factory in minutes instead of hours and would have cost essentially nothing." – Vince Kurpan, Dodge Promaster custom, formerly a Panther Sierra
"Use Bounce dryer sheets to keep mice out of your camper.  They do not like the smell.  It also makes your camper smell great." – Bill Londry, Adventurer 86FB
"When putting the camper up for the winter, I remove all food items and soft goods, spread around lots of Bounce dryer sheets, and put some good old fashioned mouse traps on the floor and in the cabinets.  I haven't had a problem." – David Wilcox