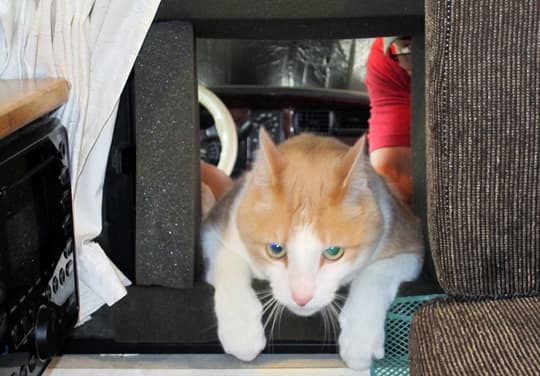 Now our traveling cat can use his kitty commode in almost total privacy and his litter box is not in our way." – Buzz and Sherri Merchlewitz, 1998 Dodge Ram 2500, 2015 Hallmark Ute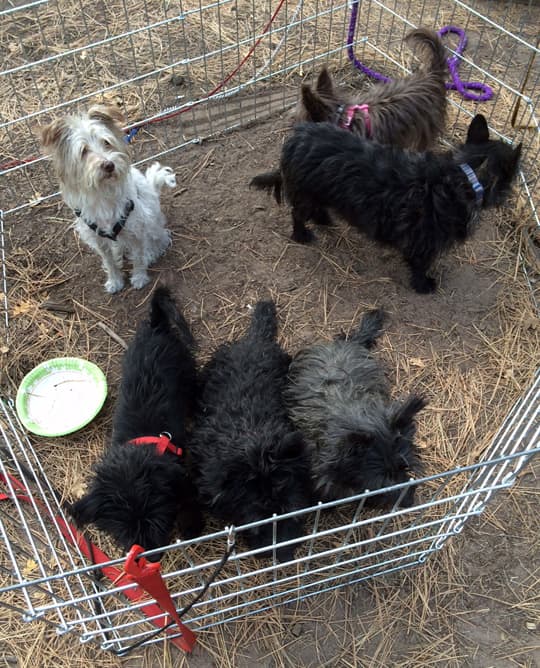 "We have six rescues.  Thankfully, they're all small.  It still requires a lot of teamwork to herd them in and out of the camper.  Michelle found a wonderful portable fence at a thrift store for $15.  We take it everywhere.  We set it up outside the camper door and the dogs accept the fact that if we all aren't in the camper or walking them on a leash, they are in their pen.  It has made life much more simple." – Tony and Michelle Tabacchi, 1973 Ford F350, 1973 Ford American Road
"Two-thirds of our 2012 Ford F350 super cab's backseat area is a dog bed for our black Labrador Retriever, Shadow.  She has to put up with our black cat, Mondo, who can freely come and go into the camper through the sliding cab through window.
Mondo prefers to curl up with Shadow in the back seat floor space most of the time.  Even though Mondo is fully leash trained for nice long walks in the great outdoors, we still have the hassle of the necessary cat litter box.  It takes up space in the truck camper's bathroom.  Neither animal is allowed on the camper's bed and both are very well trained travelers." – Gary and Laurii Gadwa, 2012 Ford F350, 2011 Eagle Cap 950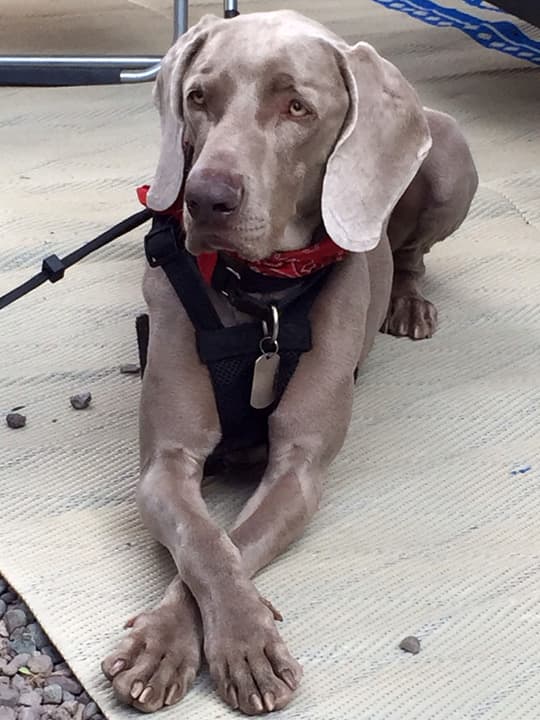 "Our spoiled Weimanier, Toby Todd, enjoys and owns all of the area under the dinette for his total comfort.  His dog bed consumes the entire area.  When he is resting it is difficult for us to comfortably place our legs and feet to enjoy a meal.  Of course he refuses to move.
Dog food is a storage problem.  When traveling, we buy fifteen pound bags of dog food.  For storage we use a five gallon sealed bucket.  We then transfer the food into a large plastic coffee can that goes in the pantry.  The bucket is then placed in the back seat of the truck.
Otherwise, Toby enjoys traveling and his dedicated space in the camper unaware of our discomfort!" – Warne Todd, 2000 Ford F250 , 2005 Lance Model 981
"Our camper has a set of standard fold-down metal steps with punched-out drain holes that are really common to a lot of campers and trailers.  We had no idea they posed a danger to our pets until the day our Springer Spaniel, Chance, went running down the steps, caught his toenail in one of the drain holes, and ripped it completely out of his foot.  He was in great pain.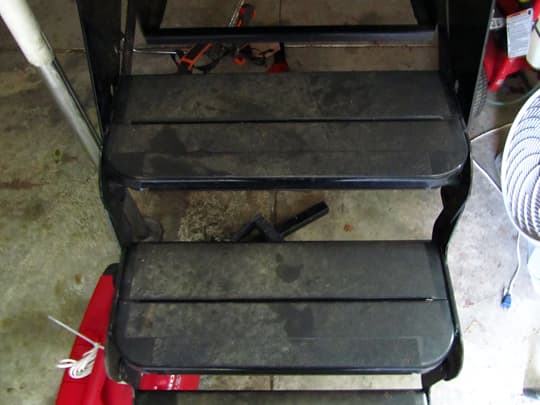 It was several days before he could walk on it, and we knew we had to do something to prevent this happening again.  We bought a roll (about $20.00) of four-inch wide anti-slip safety grit tape and used it to cover the holes in the steps.  The tape has stayed on perfectly, the pets are safe, and we have found the steps are less slick for us.  I wish we had thought to put it on before our dog got hurt." – Audrey Ruccio, 2008 Ford F450, 2008 Host Everest
"Actually, we didn't do any mods to the 2013 Lance 855S, which is good as space is at a premium.  We have a Shih Tsu female and a Himalayan-Siamese male cat.  Of course dogs and cats will adapt anywhere.
For the cat we placed the litter box under the table against the wall, and he is happy with that.  We do separate their feeding dishes.  They drink water from the same bowl.  They both sleep on a existing carpeted platform next to the mattress, on separate sides.
I get a lick on the face in the middle of the night when Harley Girl needs to go out, as she is good at letting you know when its time.  Both pets are compatible and grew up together so that makes it easy to co-exist." – Mick and Andrea Vancas, 2012 Chevy Silverado 2500HD, 2013 Lance 855S
"Twenty years ago, I designed a balcony for my cat to go outside to sleep in the sun, sniff the wind, and indulge in serious birdwatching while safely protected from coyotes and dogs.  Many cats later, and many RVs later, I am still using the same two cat balconies.
Outside the cabover windows I hang the 20-inch by 20-inch bottom drawers of a wire closet organizer on five picture hanger hooks nailed into studs.  These hooks are rated to support 100 pounds each.  I cover only the part of the window that opens and push the screen aside, being careful not to leave a gap at the slanted corner of the window where the cat could fall out.
To install the balcony, I just lift the basket up and slide its wide lip down into the picture hanger hooks.  I cut a carpet scrap to cover the wire bottom for my cats to be comfortable so their feet don't slip through the wire grid.  At that time it cost $31.07 to make each balcony." – Janet Carter, 2006 Chevy Silverado 1500, 2001 Sun-Lite 6′ Camper