There isn't much wall space in a truck camper, but there are a number of vertical opportunities where pictures and other decorative and functional items can be hung.
This week's Question of the Week was, "What's hanging in your truck camper?"  We also asked readers to share how they hung things in their camper, and photos of the results.  Get those 3M Command Hooks ready!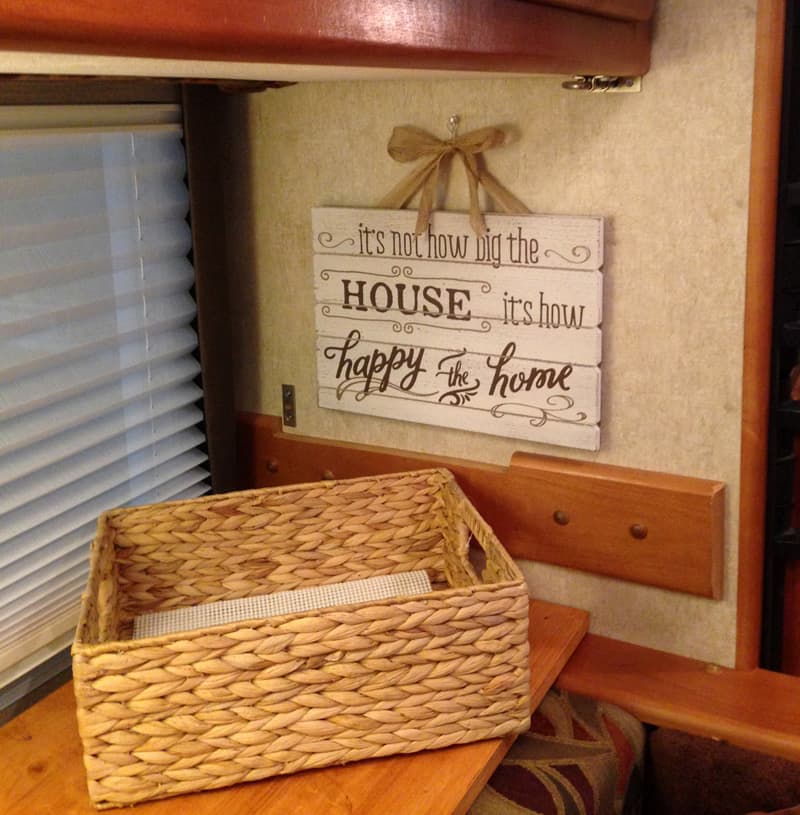 "This is a sign hanging in our camper that we found in Blowing Rock, North Carolina." – Kathy and Darryl Stolica, 2005 Dodge Ram 3500, 2012 Chalet TS116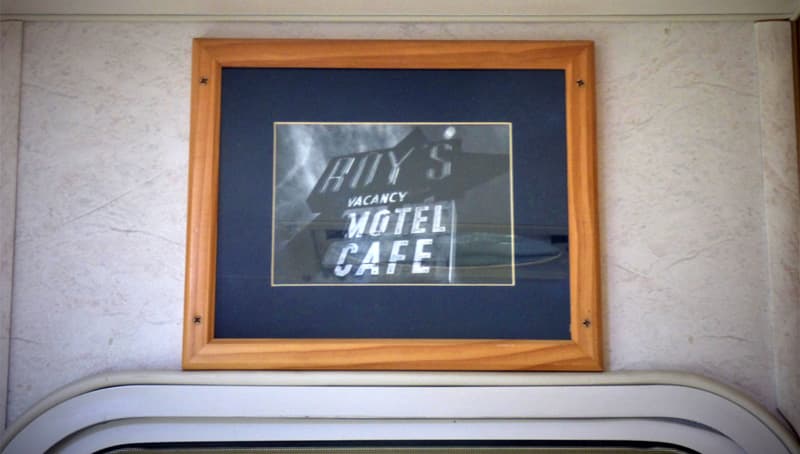 "The first thing I put up was a framed photo of Roy's neon sign in Amboy, California (old Route 66).  It was given to us by friends.  We have been by there many times.  It hangs over the entry way.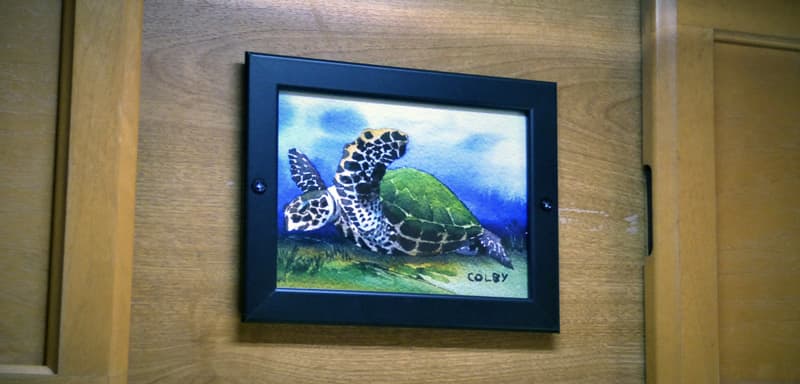 The second thing was a postcard made from a watercolor done by my older son.  The original is way too large plus I wouldn't want to risk it in the camper.  It is mounted on the storage cabinets above the dinette.
The pictures involve good memories.  Putting them in the camper made it seem a bit more like home.  The photos are behind lexan in wooden frames.  The frames are screwed into the wall." – Bruce Colby, 2004 Dodge 2500 CTD, 2004 Lance 835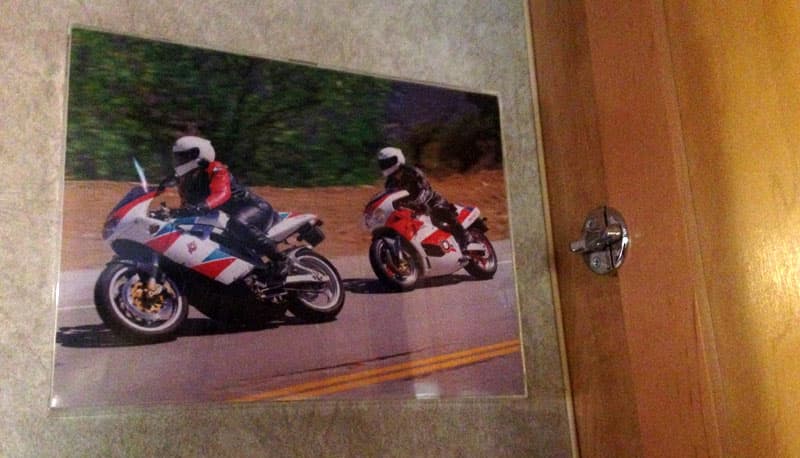 "We have this photo of Kathy and I on our Bimota sport bikes hanging in the camper, next to the pantry.  It reminds us of one of our roots, even if we're off-the-grid for weeks.
A simple screw is in the wall, and we remove the picture for traveling.  Then, we hang it up again when we stop.  It's just a part of the settling in process, like leveling the camper and putting out the slide." – Bruce Allison, 2000 Ford F350, 2012 Adventurer 910 FBS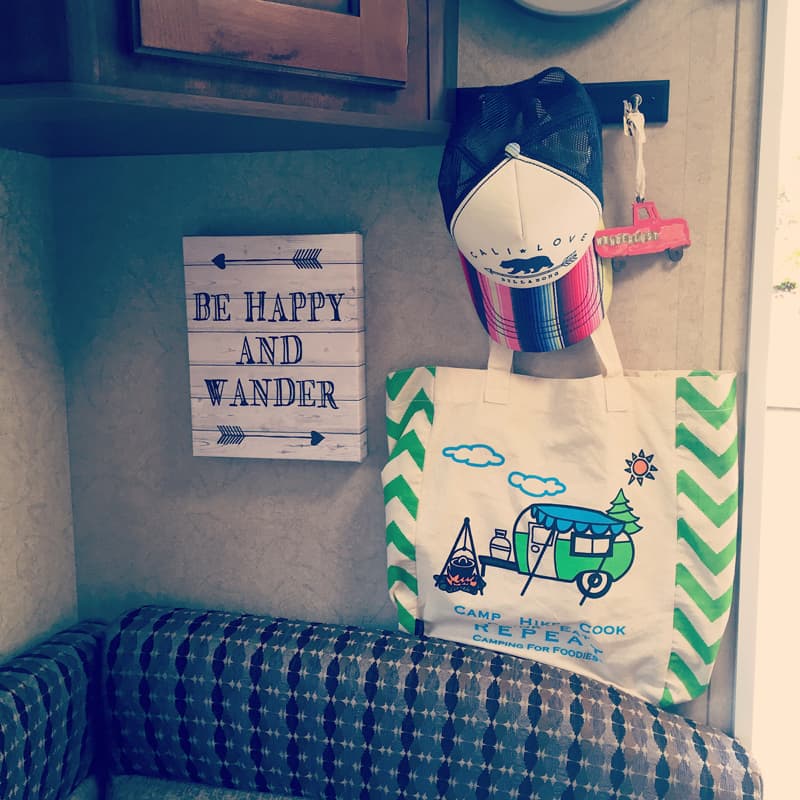 "My truck camper is pretty homey.  I have a couple of quotes on an 8×8-inch canvas.  "Be Happy and Wander" is by my door, and "Life Was Meant for Adventures, Wine, and Good Friends" in my little kitchen.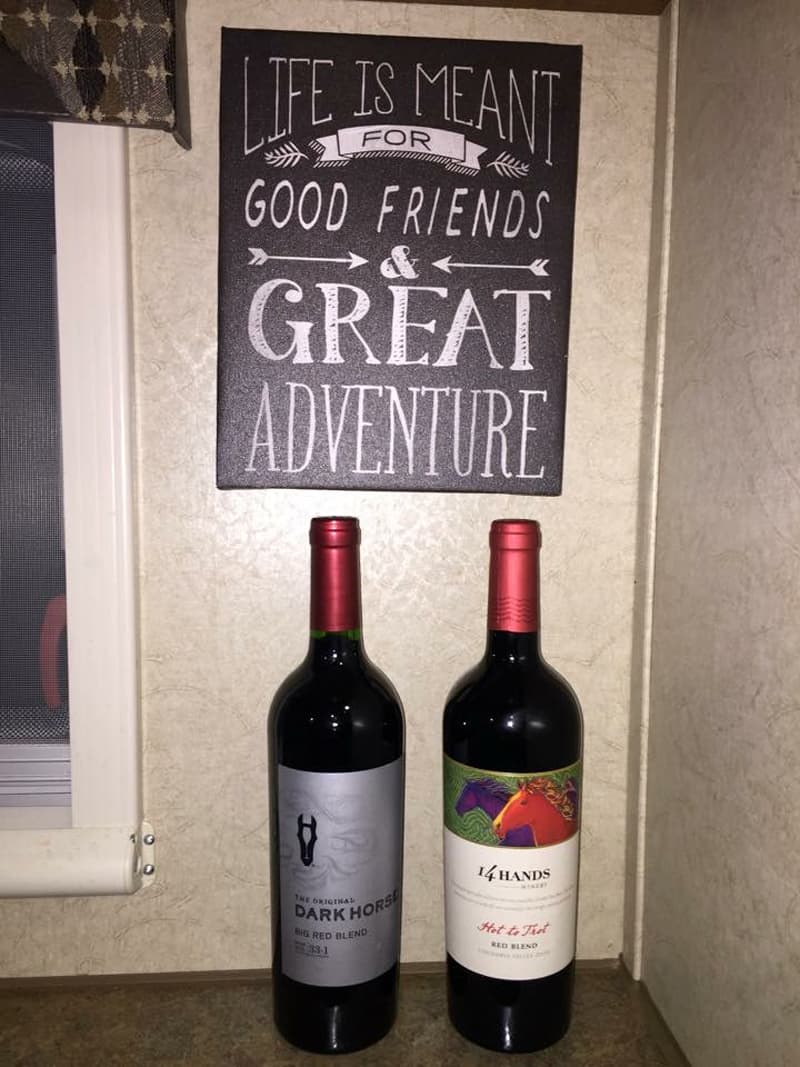 I have photos taped up on the walls by my dinette of myself on my horses at various destinations.  I have photos with friends who have traveled with me.  I use my little refrigerator as my place to collect stickers from rides I've done and locations.
I was originally trying to keep my Lance in pristine condition in case I ever did decide to upgrade to something bigger, but ultimately I love relaxing and sharing my trips with others with all of my memorabilia.  The nostalgia makes me want to get the maximum amount of trips possible with my camper." – Ashley Pollock, 2017 Ram 2500, 2016 Lance 650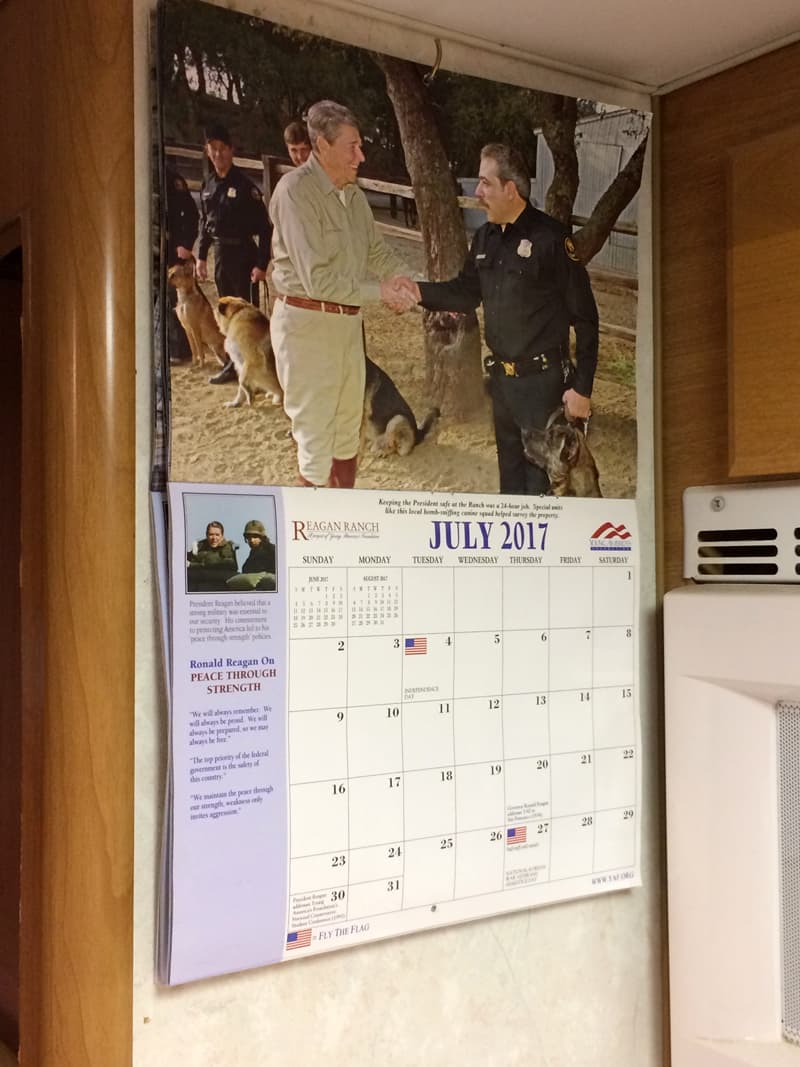 "There is not much space in a truck camper as everyone will agree.  I have a Ronald Reagan calendar beside the stove.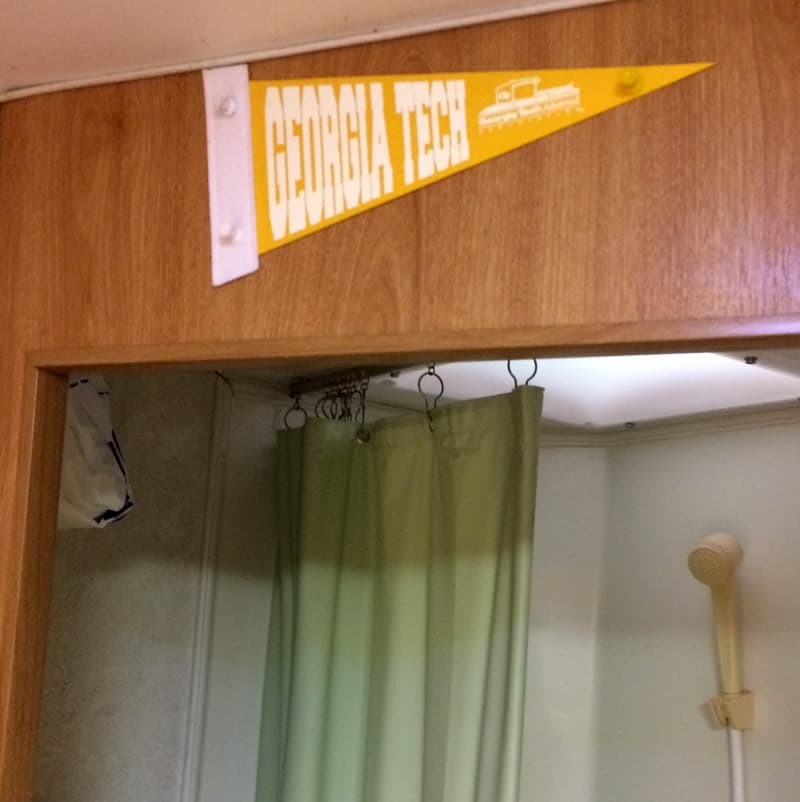 There's a small school banner over the bathroom door, magnets on the refrigerator, and potential for one more something beside the thermometer.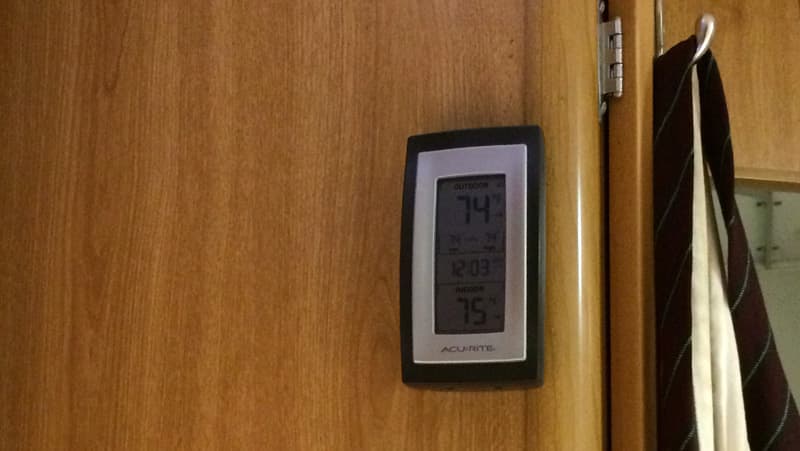 I look forward to suggestions on this last small space." – Fred Patterson, 2013 Ford F350, 2002 Lance 1161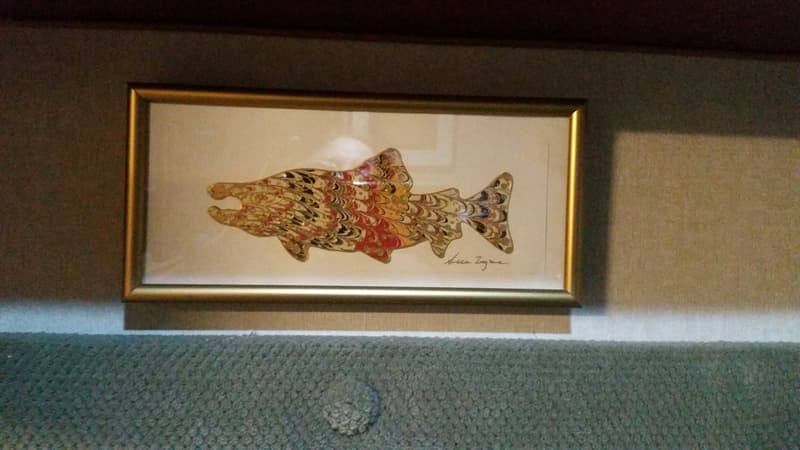 "We hang art and kitchen stuff.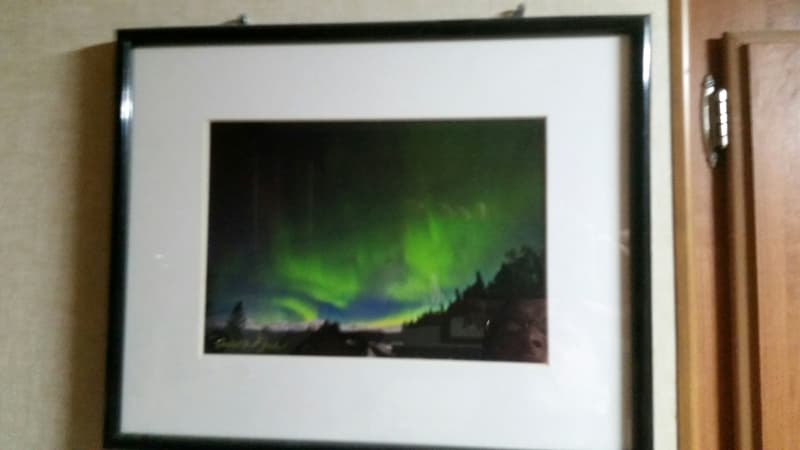 While in Alaska we got a painting of fireweed on a piece of bark from Hope, a mosaic salmon from Homer, and a photo of the northern lights in Talkeetna.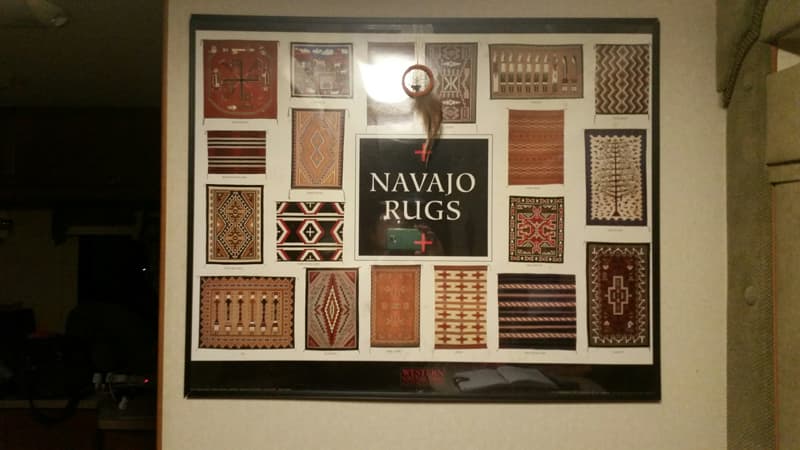 I wanted a small Navajo rug to hang on the wall but did not have $5,000 to $7,000, so I found a poster of all of the rugs, which is just the right size.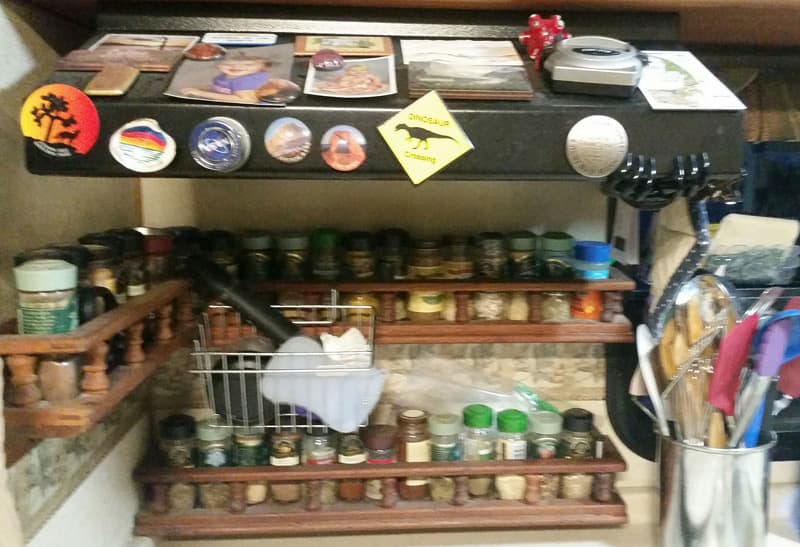 In the kitchen I hang knives and lots of spices. Magnets cover the range hood." – Jim and Cindi Goodrich, 2006 Chevy 3500, 2008 Lance 1191
"I hung a small broom to keep it out of the way, and the jack remote so it doesn't get lost." – Ron Williams, 1997 Ford F250, 2003 Lance 1010
"We had a sign that we hung on the back door's window that read, "6 for drinks, 4 for dinner, and only sleeps 2.  Don't do this.  We got pulled over by a trooper and he asked what the sign was and we told him.  He thought we had someone in the camper signaling for help.  He didn't think it was funny and we removed it straight away." – Geoff Ross, 2010 Ford F150, 2010 Travel Lite SBX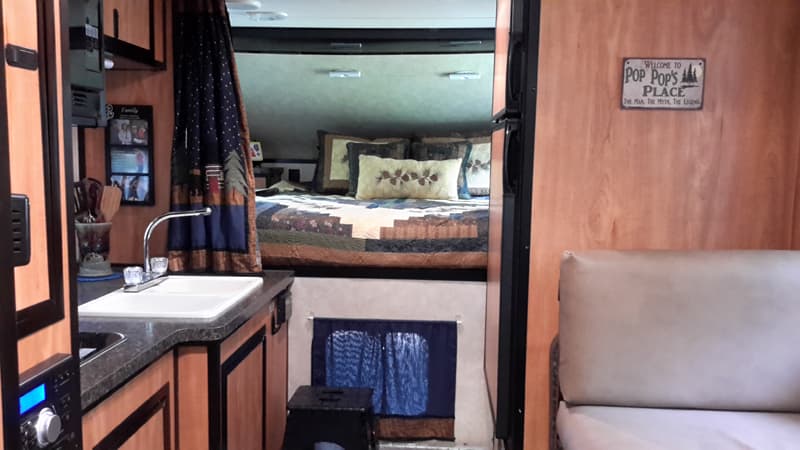 "Our camper is our home away from home.  As my wife has always done, she has made it as homey as possible (retired Marine), while I dragged her and our kids around the country.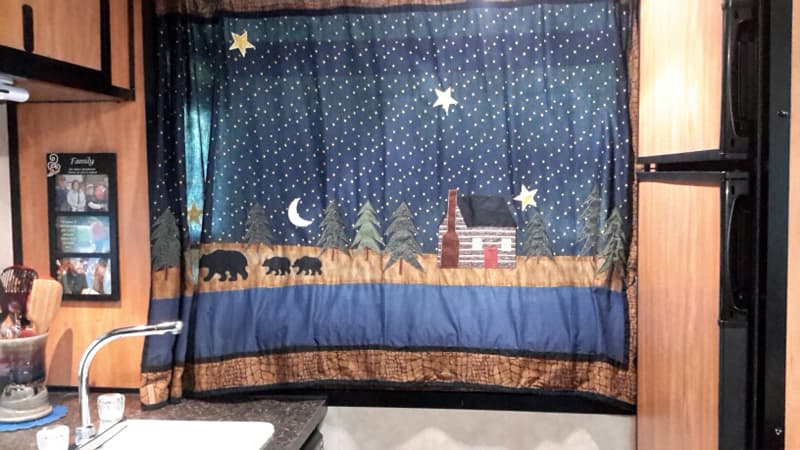 I have to admit up front that all interior decorating is done by her.  My only part was to hold command strips securely in place until told to do otherwise.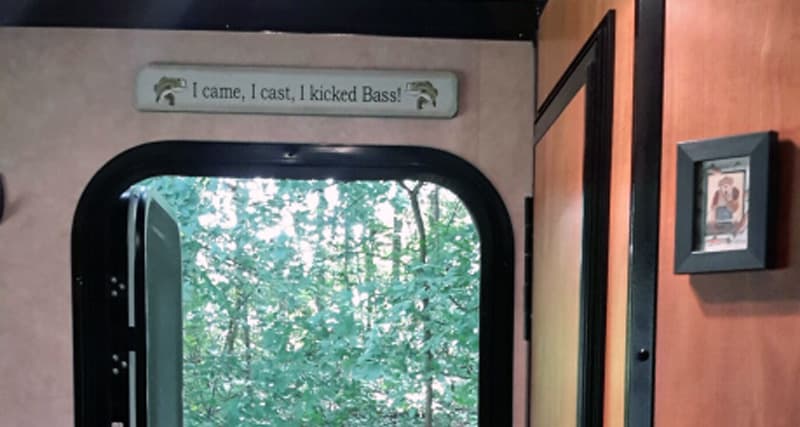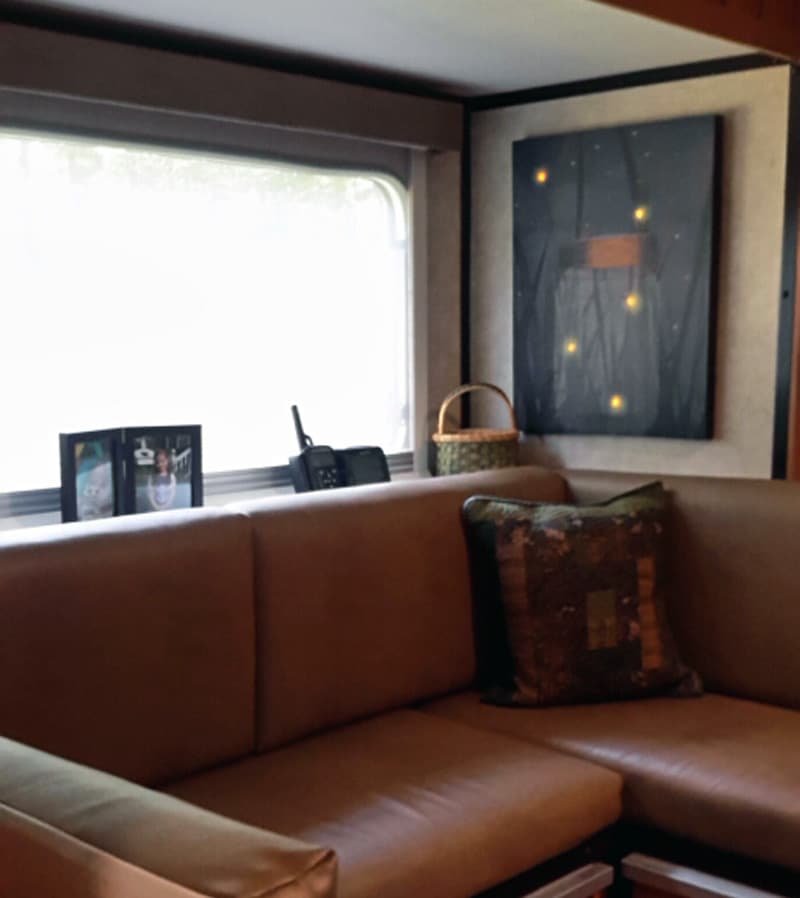 Everything on the walls is held in place by numerous command strips (I lost count)." – Tim and Nancy Sansbury, 2016 Chevy Silverado 3500, CampLite 8.4S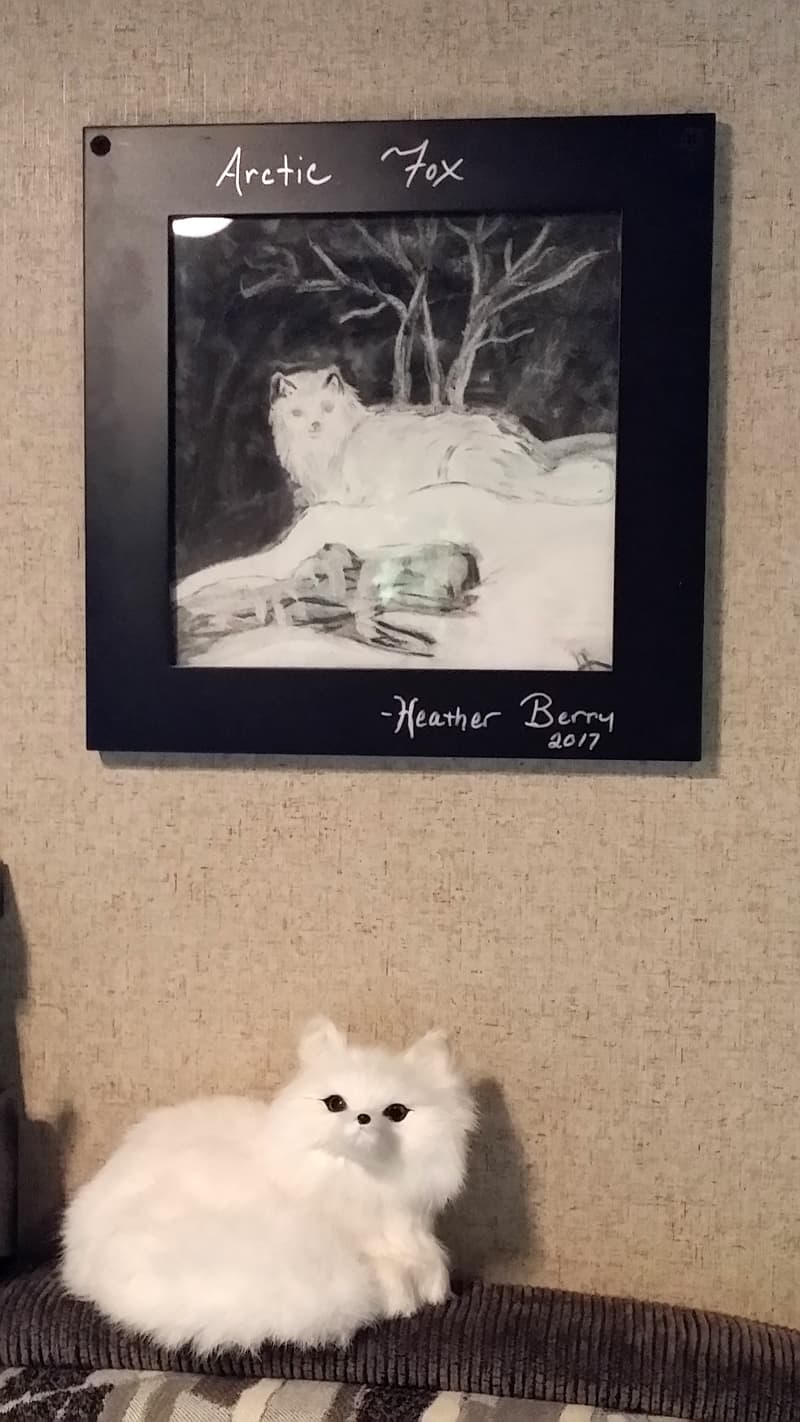 "Our daughter drew our wall art with charcoal pencils.  It's screwed into wood studs in the wall between the dinette and bath." – Ron Berry, 2005 Dodge 2500, 2016 Arctic Fox 865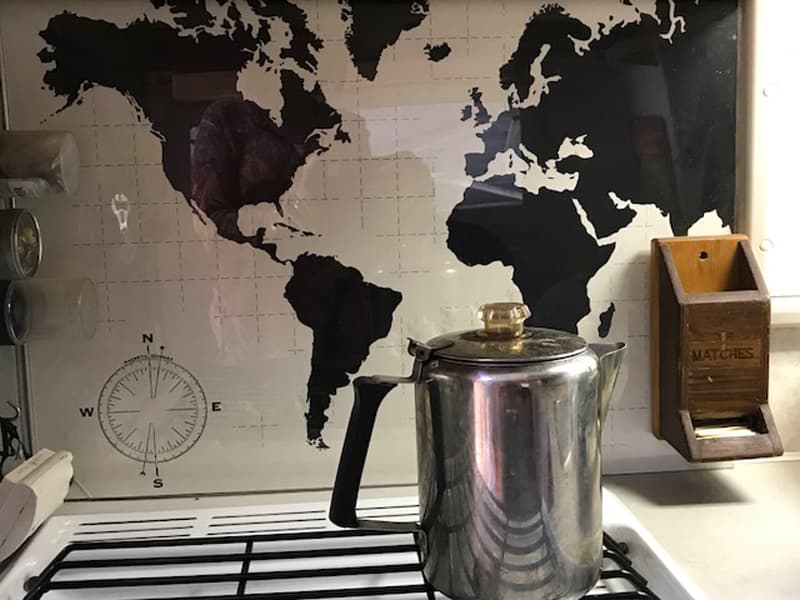 "The map behind the stove is from IKEA.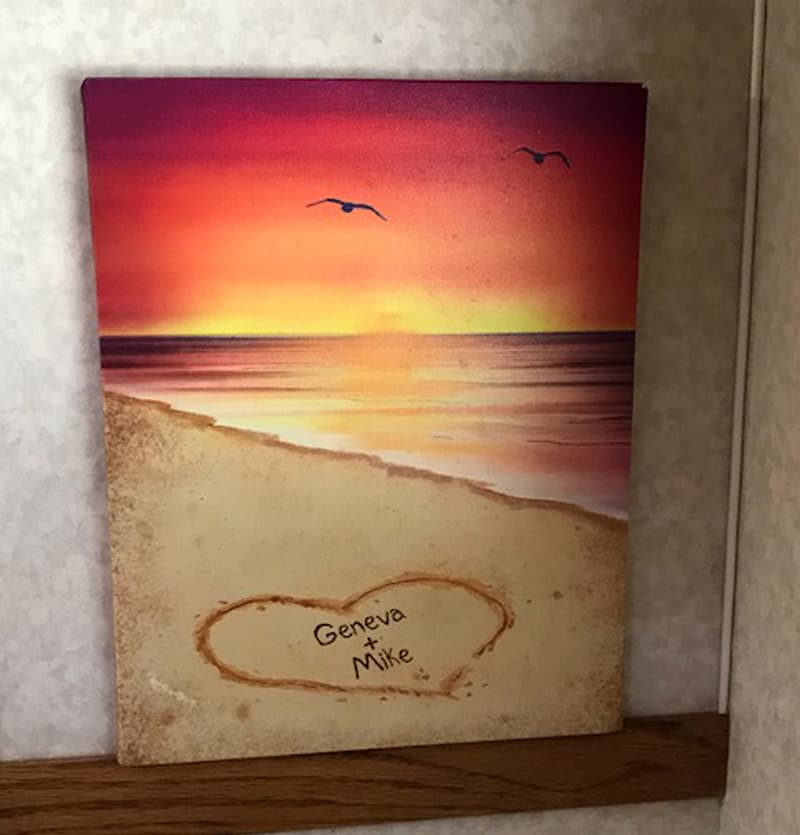 The other items are gifts from friends and family.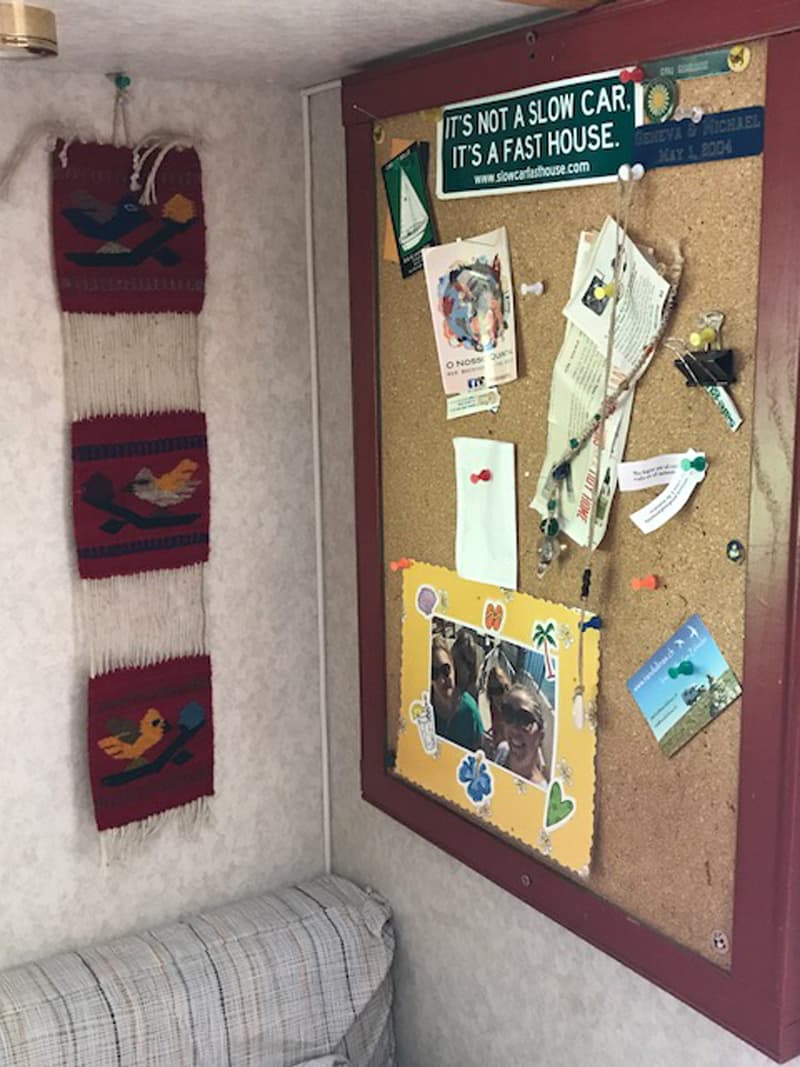 The bulletin board is handy for WIFI passwords, fortune cookie wisdom, and business cards." – Geneva Saint-Amour, 2013 GMC 2500HD, 2005 Northstar Arrow 8.5
"My only actual concession to art as decoration inside my Lance is a small key-fob I've hung from a cabinet door knob just above the microwave.  It depicts a graphic of California Eastern Sierra scenic byway, aka Route 395, a favorite of mine.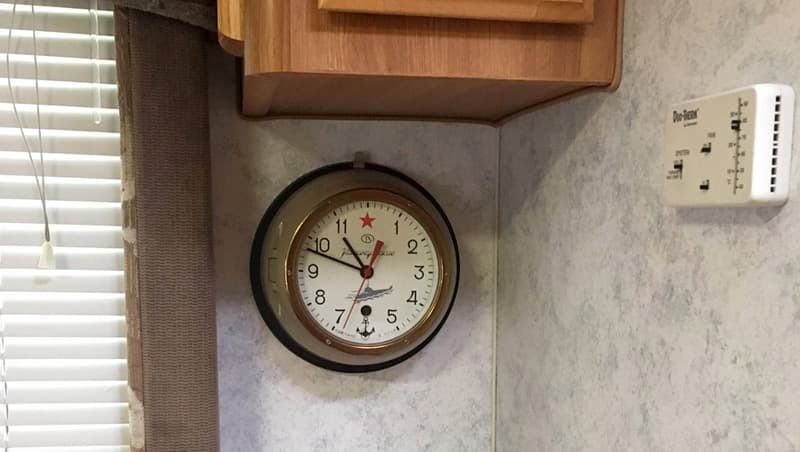 Otherwise, the interior gets a little added color from the pamphlets I've got stashed in the magazine rack and the 'made in CCCP' wind-up submarine clock, which bookends the dining area.
It seems my rear bumper is becoming festooned with stickers signifying, mostly, places or events I've been to.  However, the western sun makes this outside artwork short-lived." – Mark Obert, 1999 Ford F250SD, 1999 Lance 920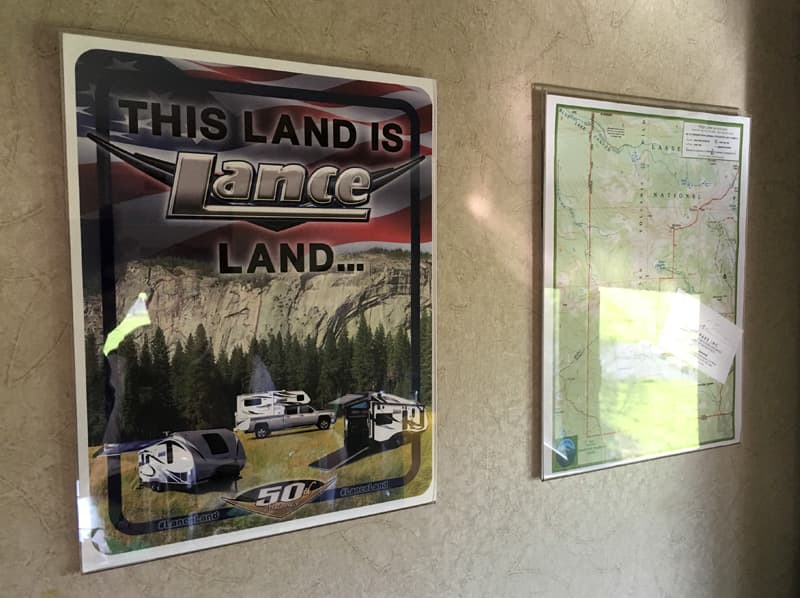 "We installed four 8.5" x 11″ clear plastic poster holders on our camper's walls using removable Command fasteners.  Two are in the portrait position and two are in the landscape position so they can accommodate different types of prints.
We change what we have posted from time to time with trail maps of where we have hiked or are planning to hike.  We sometimes overlap items by inserting ticket stubs from a recent tour that was memorable or brochures.  That forms a collage of sorts." – Greg Chambers, 2015 GMC Sierra 3500, 2015 Lance 855s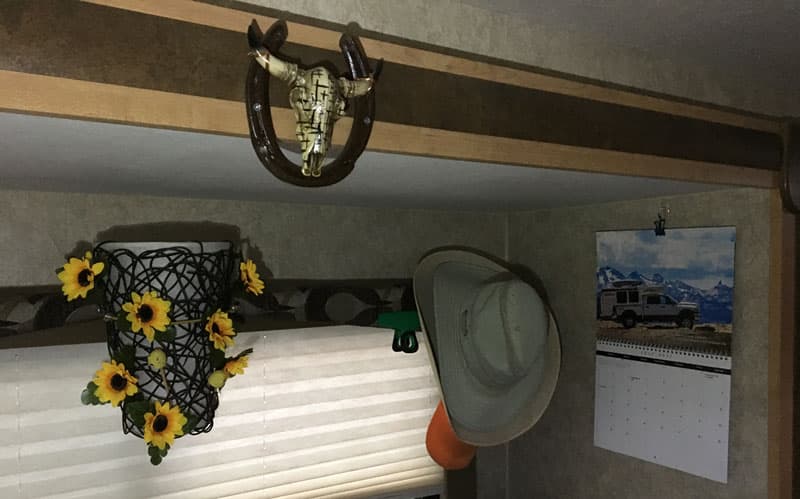 "What's hanging in our truck camper?  Besides the standard cobwebs?  In the dinette slide, on the window valance we have his and hers hat hooks for our collection of caps and hats.  We also have a battery operated sconce light in to which I added some silk flowers and beehive floral picks.  Over the dinette we have a horseshoe with steer skull souvenir.  These are all screwed in place as there is wood in those places.  We also have our Truck Camper Magazine Calendar hanging on a command hook.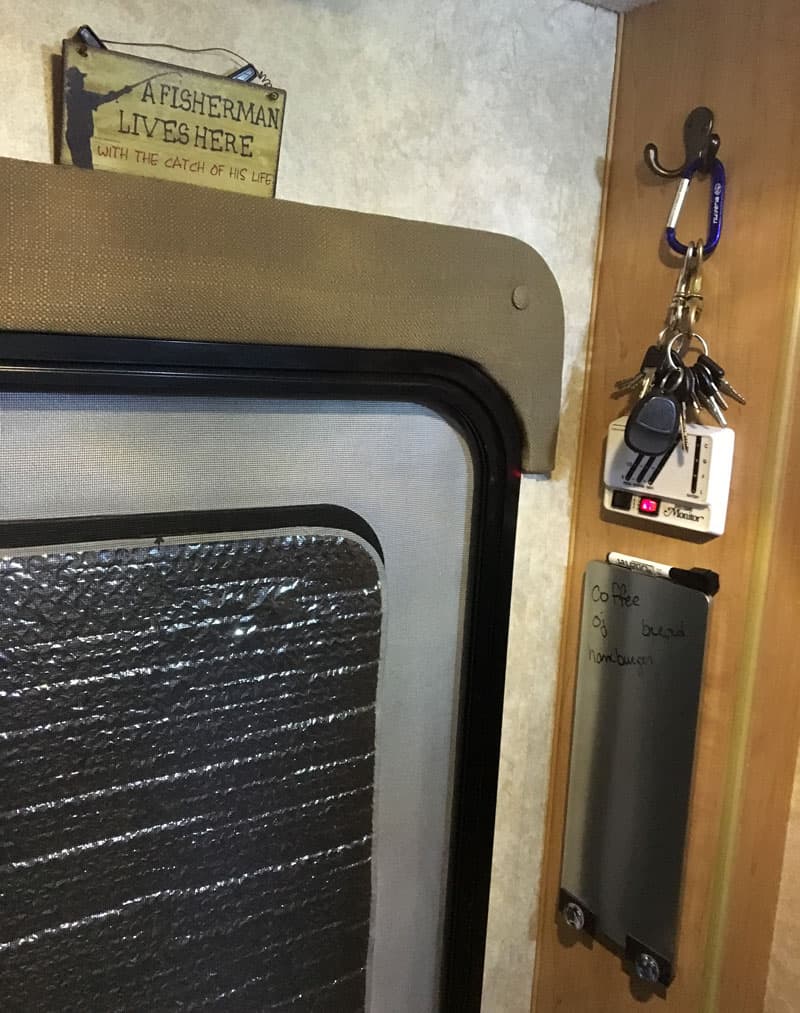 At the doorway we have our keys hanging from the factory installed hook.  We added a dry erase board in that area for a shopping list and memo board which came with adhesive stickies.  Tucked between the wall and padding at the top of the door is a mini plaque that matches the one we had when we had our home." – Jodie Ramsey, 2012 Chevy Silverado, 2014 Adventurer 116DS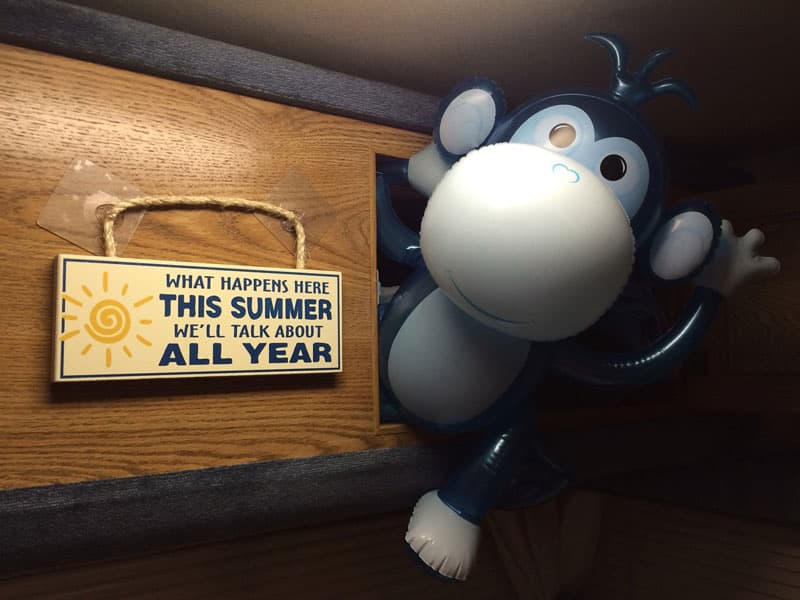 "We're weekend campers, so we normally only hang functional things like towels in our campers.
In 2015, we camped with our snowmobile club near a winery.  Bill and I have birthdays one day apart, and they happened to fall very near the weekend of our trip with our club.  As a surprise for our birthdays, they gave us this cute sign that says, "What happens here this summer, we'll talk about all year."  We love it, and it's very true of our camping adventures.  I hung it using two large suction-cup hangers I picked up at Walgreens.  I would have used Command hooks, but I couldn't find them at that store.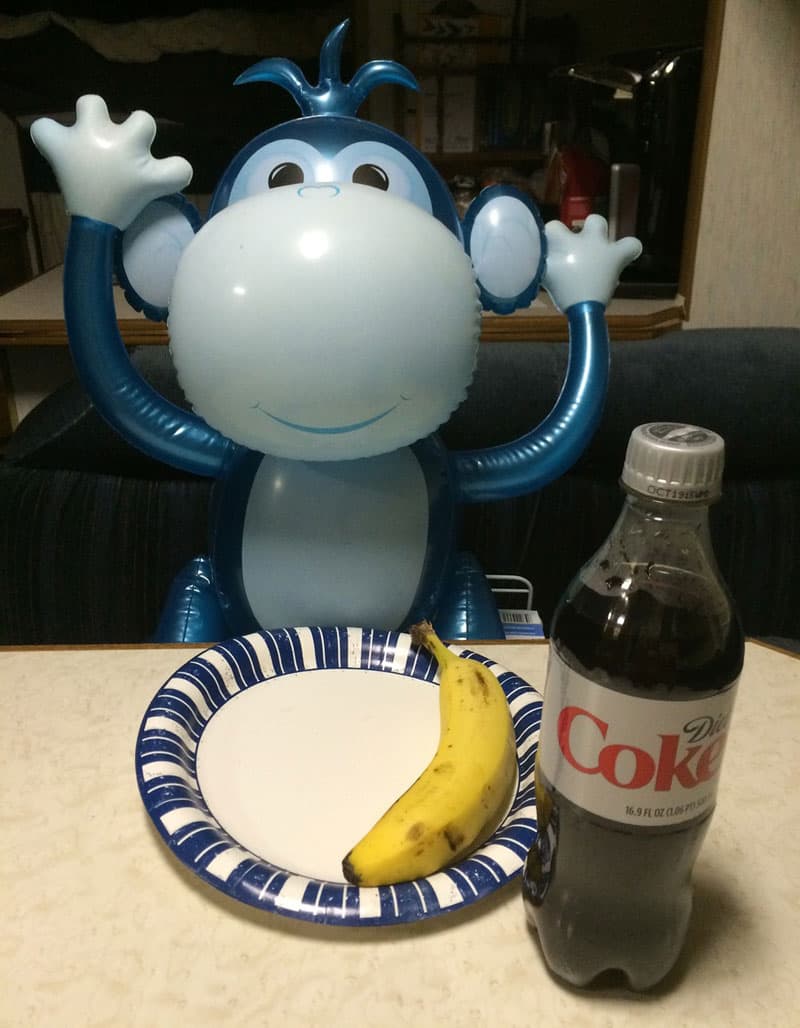 The other essential item of decor in our camper is our Camper Monkey, shown in the picture playing Vanna White to the sign. Our first Camper Monkey actually was a beanie baby that we would take turns posing doing fun camping things year round. Alas, the original camper monkey was lost. Then, in 2012, while camping at the Wisconsin State Fair, this Blow Up Camper Monkey flew across the camping area to us. We caught him and return him to his owner (a vendor at the fair), but he told us to keep him. Not knowing what else to do, we did, fully expecting New Camper Monkey, as we've come to call him, to be short lived. Believe it or not, he has survived, year round, in our camper since 2012, without a single addition of air. He is clearly a very special monkey." – Linda Becker and Bill Luebbers, 1999 Ford F250, 1992 Lance 880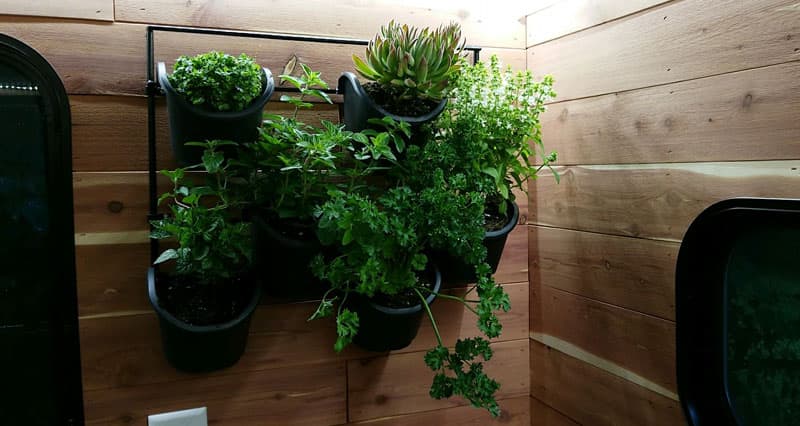 "This is my knock-off of a Tim Ferriss living wall.  I've got some fresh herbs growing there now, but may need to find heartier plants for the long haul. I found a plant system on Amazon.   I silicone-ed the drain plugs at the bottom and carefully water them to prevent spillage.
The system is pretty secure, but I still take the plants down and bungee them to an area on the floor when moving for any substantial distance.  I am absolutely in love with the cedar interior of my Capri Camper Retreat.  It feels just like a custom tiny home.  Also, who would have thought that you could like the smell of your camper?  I think the plants on the cedar are a natural fit." – Ryan Chylinski, 2012 Ford F250, 2017 Capri Camper Retreat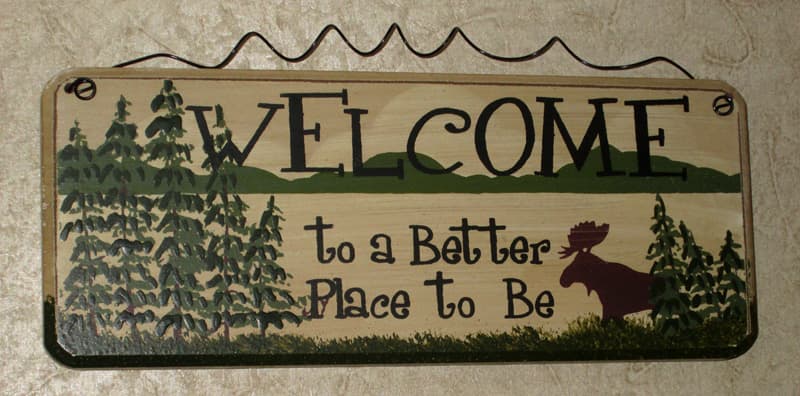 "There are pictures of our grandson and us, as well as plaque over the kitchen sink that says, 'Welcome to a Better Place to be'." – Bonnie Bertel, 2015 Chevy 3500, 2015 Lance 1172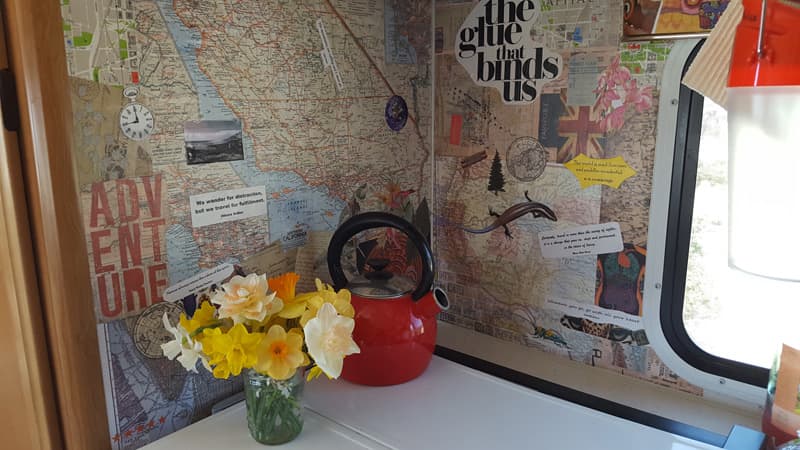 "My camper is the only space that I can call my own.  I have found huge pleasure in making it an expression of the things I love.  My camper is old and had ugly wall paper so I decoupaged the walls of the kitchen.  I have put up a couple of other pictures and have decorated my door with ideas and places that inspire me.  Making my camper a haven suited to my interests and comfort has been a joy that is ongoing." – Darcy Hubbard, 2014 Ram 3500, 1998 Lance Legend