Many of us visit national and provincial parks in hopes of seeing wildlife.  Wouldn't it be amazing to see a black bear in the back country, or a moose loose in the boondocks?  Yeah, that's what we want to see – a big hairy beast in the boonies!  Your camera is ready.  Bring out the free roaming untamed animals.  Enough with the chipmunks already.
As the saying goes, be careful what you wish for.
This week's Question of the Week was, "What's the wildest wild animal encounter you've experienced while truck camping?"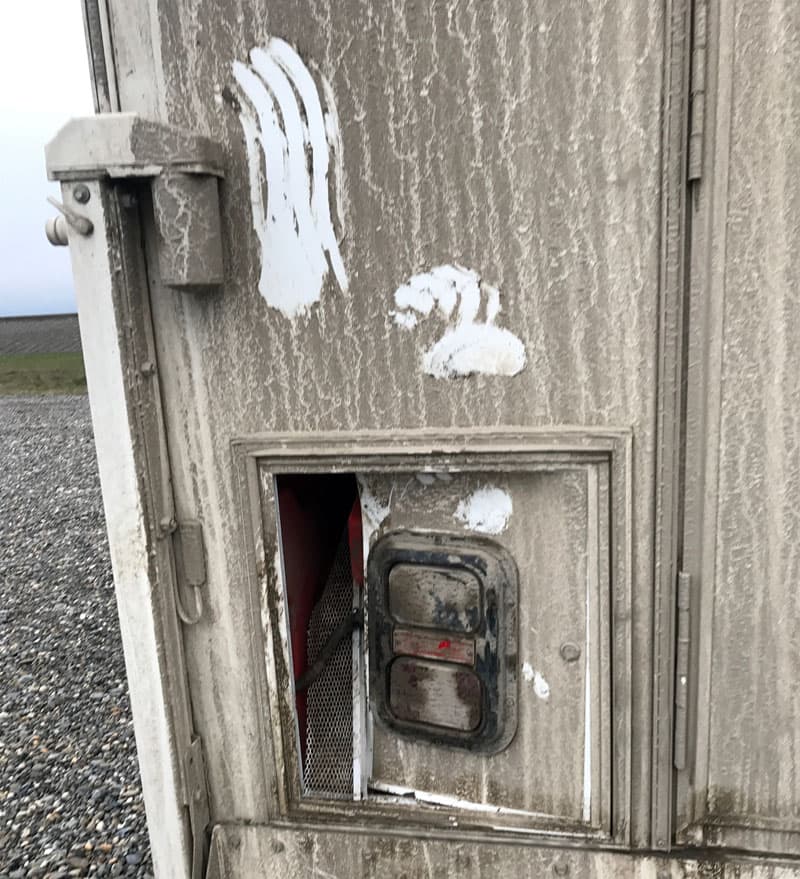 "While camping on the North Slope of Alaska, roughly five miles south of Deadhorse, I was awoken by my whole camper rocking back and forth.  I looked out the window to see a mama bear and two cubs.
I started banging on the wall of the camper and they lost interest, but not before damaging the door of a storage compartment.  There was no food in there, only spare fuel.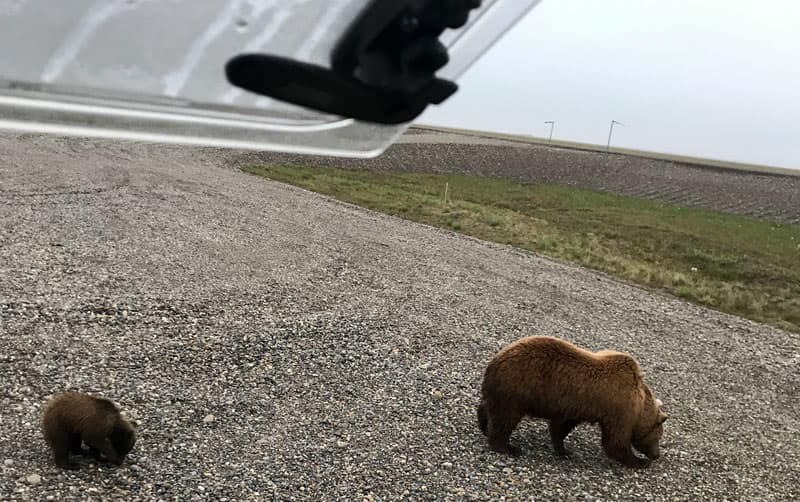 Luckily, the bears and I went about our day unharmed.  I was very happy to have a hard wall camper that day." – Chris Tiefenbrunn, 2016 Ram 3500, 2016 Northstar Arrow U
"Last year we drove to Alaska and stayed in Denali National Park.  We got out of the camper to go for an evening walk.  As we stepped out of our camper about 30 feet from us was a momma moose and her calf walking through the campground.  Everyone stayed very quiet just snapping pictures.  The two moose just kept walking through the campground on their evening stroll." – Victoria Buie, 2007 Dodge 3500, 2012 Lance 1050S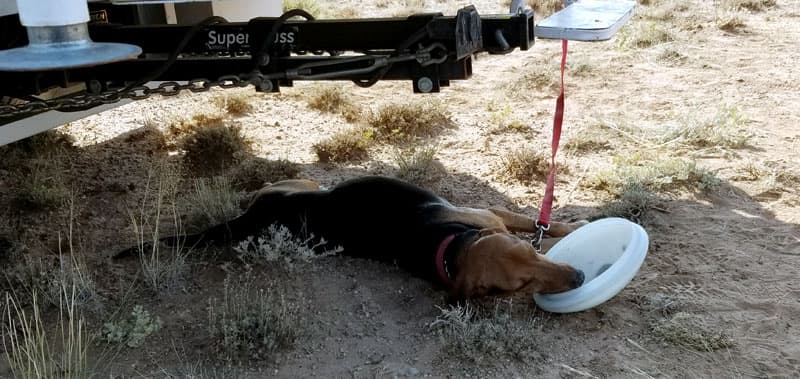 "While boondocking in Wyoming one afternoon, we saw an antelope stop by our camp, look over his shoulder, and then trot off another 200 yards and stop again.
He was followed about a minute later by our hound dog, Oliver, who was trying his best to keep up with the fleet footed animal.  Although the pair appeared to be playing tag, the antelope knew he was in complete control.
The game lasted until our Oliver finally came home dog tired, and slept under our camper for the rest of the day.  He didn't chase any antelope for the rest of the trip." – Rex N., 2015 Ram 5500, 2015, Alpenlite, 11.5-foot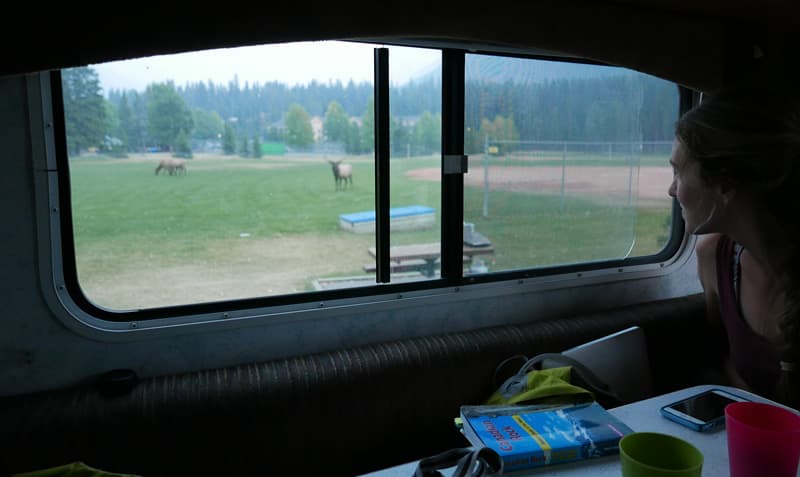 "Cooking dinner is usually pretty uneventful, but not on the night of September 5th, 2017.  We were at our usual dinner spot in Banff, Alberta; a quiet city park on the outskirts of town, away from the tourist hustle.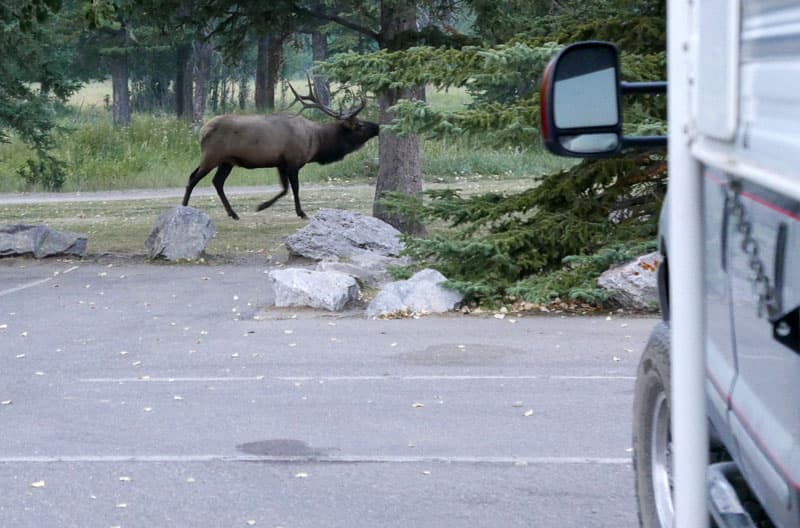 As dusk arrived, and the light dwindled, we noticed a herd of elk slowly surrounding us.  Several cow and calf elks filled in the grassy field next to us.  Then came the king, the ruler of the herd; a huge bull elk that was guarding his harem and bugling (calling) loudly.  We soon learned that rut (mating) season was in full swing.
We were forced to retreat inside the camper as the bull elk was running all around us, loudly vocalizing his dominance and stomping his hooves.  Bull elk can be notoriously dangerous, and this was not one we wanted to mess with.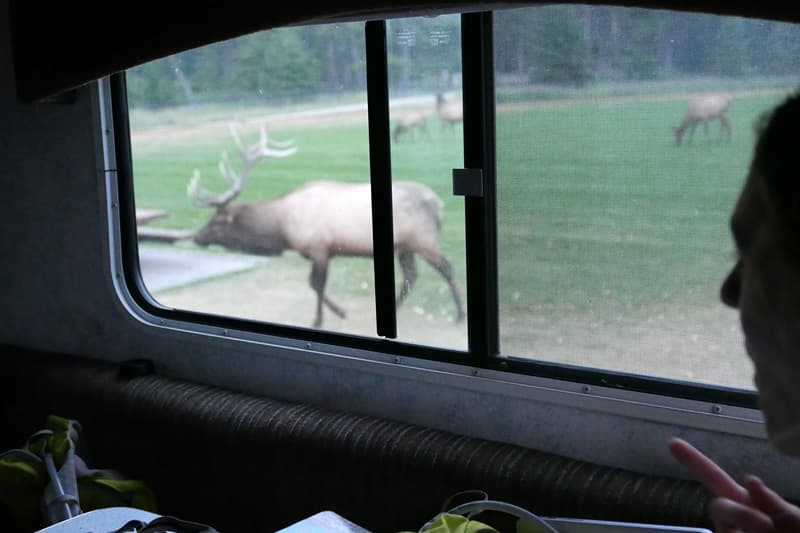 It was absolutely amazing getting to witness these creatures up close, and thankfully from the safety of our truck camper.  As it became fully dark and the herd had wandered off, we heard a large commotion in the near distance.  Elk crying out as wolves barked and howled, all from the same location.  We could only image what just took place.  The cycle of life unfolding before us." – Scott and Johanna Cameron, 2003 Ford F350, 2000 Lance Lite 915