The camp site was provided (FHU) and the laundry was free.  I believe my wife found the park through Volunteer.gov." – Glenn Blount, 2012 Ford F350, 2017 Lance 1172
"Certainly!  A quick peek at the New Jersey Beach Buggy Associations website, www.NJBBA.org will show many of the volunteer activities performed.
Our organization donated over 3,000 man hours of cleanup work in the wake of super storm Sandy.  We annually take veteran and handicapped groups fishing with lunch served.  Annual beach cleanups and dune stabilization projects are also held.  The website has all information needed to join the fun." – Bob Lick, 2003 Dodge 3500, 1993 Alpenlite 11-foot SK
"I used to have a truck camper, and changed to a Born Free motorhome.  With that rig I have volunteered with Habitat's group, RV Care-A-Vanners.
I went on one of the Metro-West/Worcester Habitat for Humanity's builds in Wayland, Massachusetts for two weeks.  We worked eight hours a day Monday through Saturday, with Sundays off. There were three of us with rigs from the Care-A-Vanners who worked alongside Habitat's construction crew, regular volunteers, and single day volunteers.
Habitat gave us a space right on the property to park our rigs, and provided us with water and electricity via a construction generator.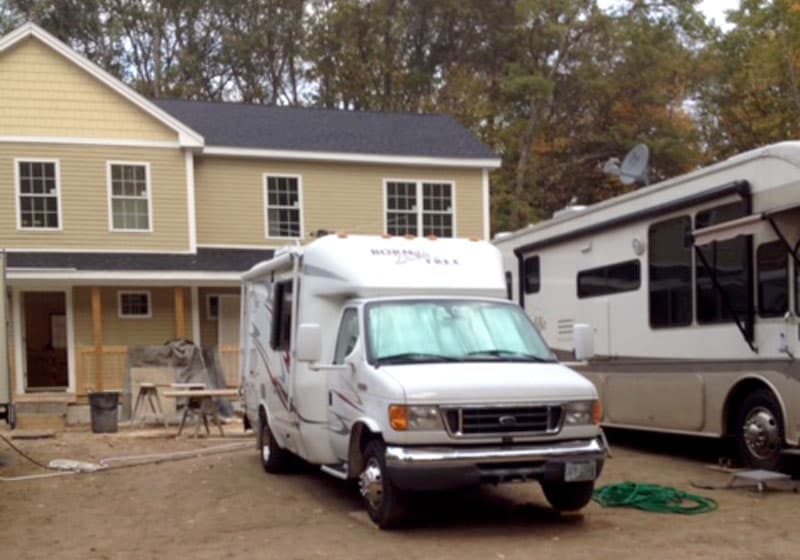 Here is a photo of two of the rigs parked in front of one of the two duplexes that we were working on.  The Born Free is my little rig.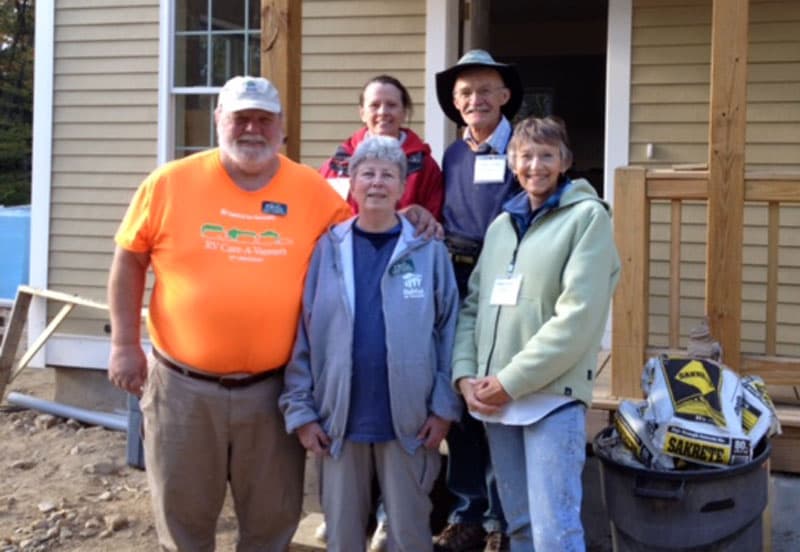 Here is a photo of the other RV Care-A-Vanners and myself in front of one of the duplex units at the end of a day of work.
While I was there, I learned how to cut and install laminate flooring, how to run both a chop saw and a table saw, how to build door casings, how to install bi-fold closet doors, and how to install kitchen cabinets.  I also filled nail holes and sanded, painted cellar stairs and tons of doors, and did whatever needed to be done at the time.
Everyone we worked with was so welcoming and patient!  We worked with Habitat construction staff, regular volunteers and volunteers who came just for the day from Bank of America, Synopsys, and other companies.  And the staff and regulars taught us to use all the tools and how to do our job for each day.
This was such a wonderful way to give back.  It warmed my heart to work alongside the families who will be living in these duplexes, and to see their smiles each time they saw the progress that had been made on their future homes.  It was a very rewarding two weeks and I am looking forward to doing more builds in the future!" – Cheryl Lane, 2006 BornFree motorhome
"Our volunteerism consists of picking trash in campgrounds and wildlife areas.  We are stealth volunteers because few know who picked up all the junk that people leave behind.  Our goal is to pick trash in every state; seventeen so far." – Laurel Wilson, 2013 Ford F350, 2016 Four Wheel Grandby Shell
"I teach for the state of Oregon.  I teach once, sometimes twice a year for the Department of Education and stay on site in my truck camper." – Keith Wright, 2008 Dodge Ram 2500, 2014 Arctic Fox 990
"For free parking and a place to stay for a few days, I have volunteered at the Washington County Fair in Schuylerville, New York.  I worked on the motorsports track and ran the scale house which no one wants to do.  All competing vehicles and tractors must be weighed in prior to getting onto the track.
At the end of a long day, I was fed by the fair at the Argyle Fire Department.  It was an awesome deal!" – George Randall, 2012 Ford F350, 2016 Arctic Fox 865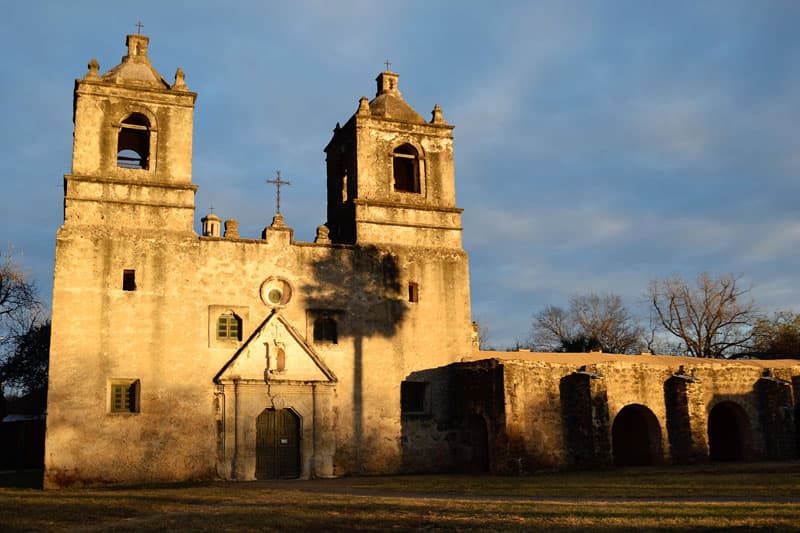 "En route to the East Texas Piney Woods after my summer long jaunt along the Alcan Highway and points south, I had to stop in San Antonio, Texas on some personal business.  While there, I visited Mission Nuestra Señora de la Purísima Concepción de Acuña and Mission San José y San Miguel de Aguayo.