Truck Camper Magazine readers reveal 100 proven tips and tricks to make winter truck camping warm, comfortable, and fun.  Is winter the best season to go truck camping?

Angela and I are, admittedly, not cold weather people.  As far as we're concerned, daylight savings means it's time to drive south; south of Okeechobee, Florida that is.  Our minds have been set ever since the now infamous TCM video, Everglades National Park to Key West.
That doesn't mean we completely avoid cold weather truck camping.  In fact, sometimes cold weather camping is the only way to experience a destination or event.
In 2005, we went to bed with towels draped over our single pane windows, wearing thermal-underwear, and donning winter hats on the Icefields Parkway in Jasper, Alberta.  Wearing the hats during sleep time was the real discovery to staying warm on that trip.  And the hats had the added benefit of creating the most outrageous bedhead hairdoos imaginable.
Another accidental cold weather innovation has been the addition of our cat heater, Harley.  Like the other kind of cat heater, he outgases noxious fumes and requires ventilation, but he can heat up the over cab to almost unimaginable temperatures.  Best of all, he runs on cat food and water, is self cleaning, and has zero battery draw.
This week's Question of the Week was, "Do you enjoy cold winter truck camping?"  Thank you to TCM Fred Patterson for sending in this question.
Do you have an idea for a great Question of the Week?  Contact us to share your idea.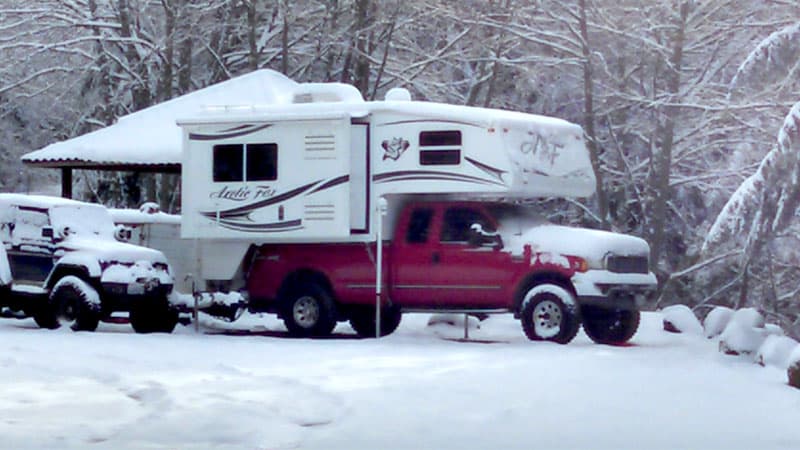 "On our last trip out it was 18 degrees Fahrenheit with snow, perfect for snow wheeling and sledding!  We didn't use any power, and used our propane furnace to stay warm inside. We had a campfire to stay warm outside.  We love winter camping!" – Jason Miller, 1999 F-250, 2014 Arctic Fox 990

"I am looking into winter truck camping.  I ski with my wife and son in the northeast and would be interested what others are doing as well." – Brian Bach
"We've camped to -38 degrees Fahrenheit with the water running.  I use a CPAP, electric bed warmer, and microwave/toaster by running a Honda eu2000i generator or propane Onan generator all night.  Propane freezes at -40 degrees Fahrenheit.  I may have to plug in the truck in.
For the windows, I use insulated roller blinds, and insulate the roof vents and the door by hanging a thick quilt over the door at night.  Heat or salt your tanks or use RV antifreeze to flush your toilet.  Park where there are people around like a McDonalds or Walmart." – Ralph Pilkington, 1997 Ford 250, Lance 1030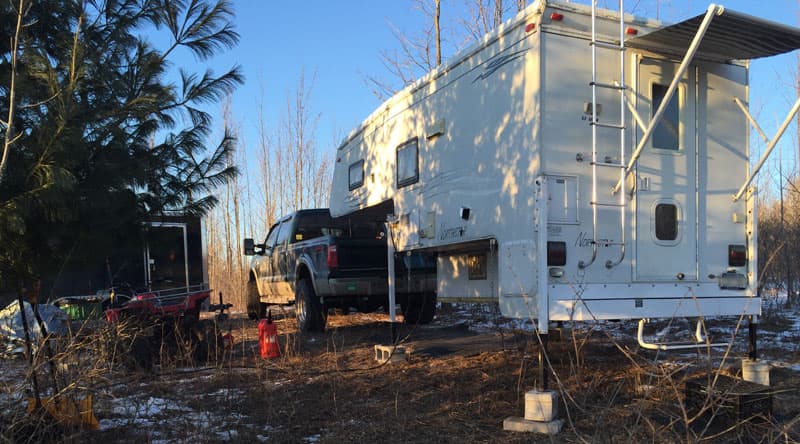 "I recently camped out on land near Cooperstown, New York.  The temperature was about 7 degrees Fahrenheit at night.  I was dry camping running a Honda eu2000i generator for electric heat and a catalytic propane heater.  It was nice and toasty inside." – Robert Carroll, 2098 Ford F-350, 2006 Northstar Arrow 8.5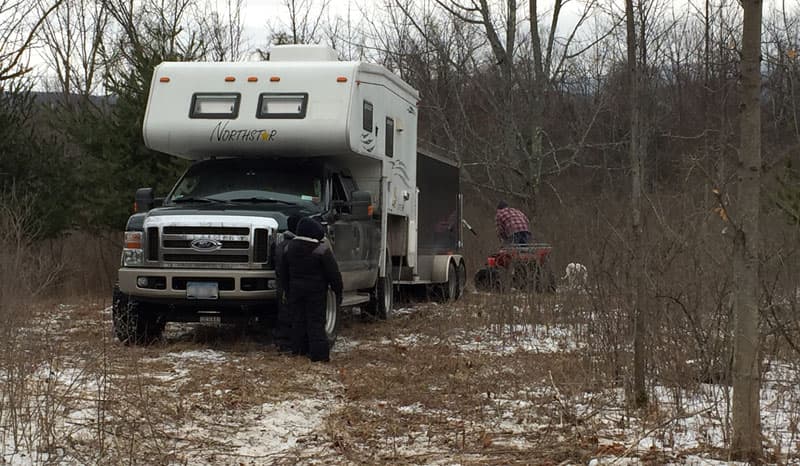 "Do we enjoy winter camping?  You bet we do.  It has been written about in my blog, RV Magazines and even posted on the Adventurer website.  It is a great time of year to get out and enjoy the camper.
We have frequently been out with our camper in weather around zero degrees Fahrenheit.  We have even been out in temperatures even colder than that.