Truck Camper Magazine readers reveal 100 proven tips and tricks to make winter truck camping warm, comfortable, and fun.  Is winter the best season to go truck camping?

Angela and I are, admittedly, not cold weather people.  As far as we're concerned, daylight savings means it's time to drive south; south of Okeechobee, Florida that is.  Our minds have been set ever since the now infamous TCM video, Everglades National Park to Key West.
That doesn't mean we completely avoid cold weather truck camping.  In fact, sometimes cold weather camping is the only way to experience a destination or event.
In 2005, we went to bed with towels draped over our single pane windows, wearing thermal-underwear, and donning winter hats on the Icefields Parkway in Jasper, Alberta.  Wearing the hats during sleep time was the real discovery to staying warm on that trip.  And the hats had the added benefit of creating the most outrageous bedhead hairdoos imaginable.
Another accidental cold weather innovation has been the addition of our cat heater, Harley.  Like the other kind of cat heater, he outgases noxious fumes and requires ventilation, but he can heat up the over cab to almost unimaginable temperatures.  Best of all, he runs on cat food and water, is self cleaning, and has zero battery draw.
This week's Question of the Week was, "Do you enjoy cold winter truck camping?"  Thank you to TCM Fred Patterson for sending in this question.
Do you have an idea for a great Question of the Week?  Contact us to share your idea.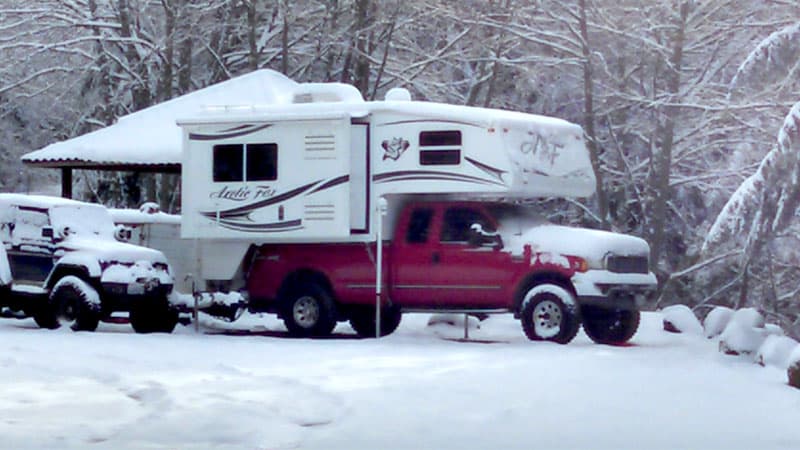 "On our last trip out it was 18 degrees Fahrenheit with snow, perfect for snow wheeling and sledding!  We didn't use any power, and used our propane furnace to stay warm inside. We had a campfire to stay warm outside.  We love winter camping!" – Jason Miller, 1999 F-250, 2014 Arctic Fox 990

"I am looking into winter truck camping.  I ski with my wife and son in the northeast and would be interested what others are doing as well." – Brian Bach
"We've camped to -38 degrees Fahrenheit with the water running.  I use a CPAP, electric bed warmer, and microwave/toaster by running a Honda eu2000i generator or propane Onan generator all night.  Propane freezes at -40 degrees Fahrenheit.  I may have to plug in the truck in.
For the windows, I use insulated roller blinds, and insulate the roof vents and the door by hanging a thick quilt over the door at night.  Heat or salt your tanks or use RV antifreeze to flush your toilet.  Park where there are people around like a McDonalds or Walmart." – Ralph Pilkington, 1997 Ford 250, Lance 1030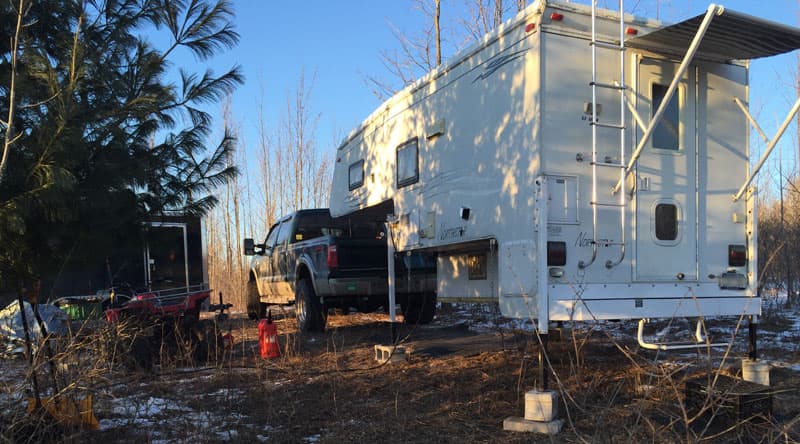 "I recently camped out on land near Cooperstown, New York.  The temperature was about 7 degrees Fahrenheit at night.  I was dry camping running a Honda eu2000i generator for electric heat and a catalytic propane heater.  It was nice and toasty inside." – Robert Carroll, 2098 Ford F-350, 2006 Northstar Arrow 8.5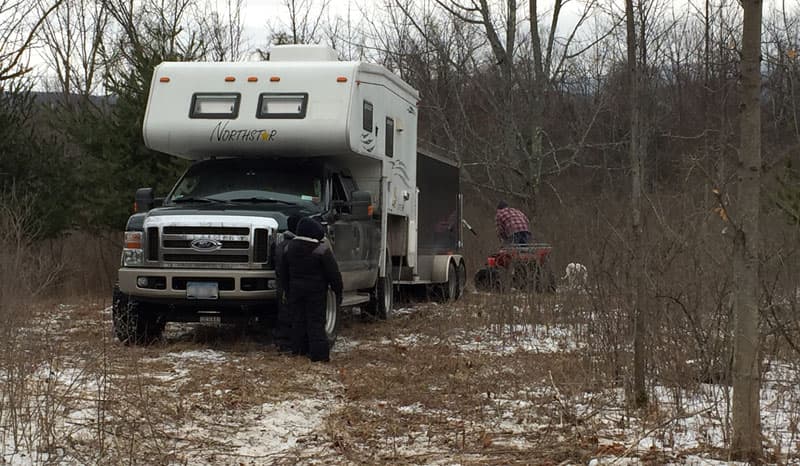 "Do we enjoy winter camping?  You bet we do.  It has been written about in my blog, RV Magazines and even posted on the Adventurer website.  It is a great time of year to get out and enjoy the camper.
We have frequently been out with our camper in weather around zero degrees Fahrenheit.  We have even been out in temperatures even colder than that.
Sometimes we have power hook-ups and other times we have no hook-ups.  When we have power, I like to use our electric heater so we don't use up the propane as fast.  I open the cupboards and access panels so the tanks get heat to them.  When using the furnace, it sends heat to the tanks via air ducts.
Our camper is built pretty well for the cold weather.  Air circulation is the key to keeping things dry from moisture and preventing frost buildup on the inside.
We do winterize the camper during the winter.  If the weather is only hanging around freezing, we will de-winterize and use our water tank.  If it is far below freezing, then we use jug water to flush the toilet and clean dishes.  We also put antifreeze in the tanks.
I could go on and on about our winter camping.  It is a lot of fun, and there is no reason to let winter slow or stop your camper travels." – Rich Bain, 1999 Chevy 3500, 2010 Adventurer 810WS
"I had an amazing trip to Bryce, Zion, and Capitol Reef National Parks last Christmas. Yes, it was cold!  We had snow and freezing temperatures, but it was spectacular.  These parks are very busy in warmer months, so winter camping to avoid the crowds was a good idea.
We made sure I had cold weather equipment and plenty of supplies in case we got stuck somewhere.  We got propane every time we were on the road between parks, and plugged into shore power if it was available.  I only ran the generator a minimum amount because it wasn't necessary.
I cut mylar roofing insulation to the size of all my windows and roof vents to keep heat in.  I also put a layer of it under my mattress and inside outer cabinet doors to help insulate without adding weight.  We had a great time and stayed nice and warm!" – Karen House, 2005 Ram 2500, 2005 Lance
"I love winter camping but I don't go frequently.  I will use the propane furnace because the heat strip in the air conditioner is not enough, usually.  If I go for just the weekend, I can get by with the battery and generator, but shore power is always easier.  I do have a catalytic heater that I bring for backup." – Jeffrey Allen, 2000 Ford F350, 2001 Bigfoot 2500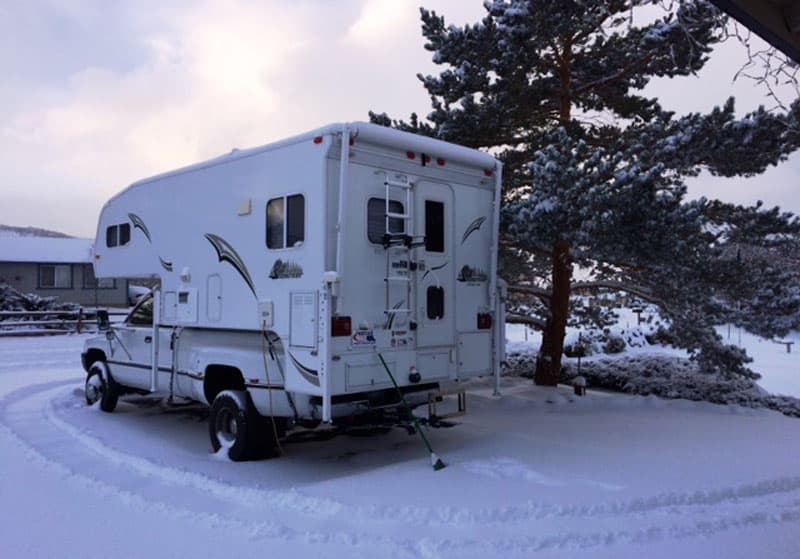 "We do limited winter camping, usually at RV parks.  We have a few year-round parks in the area, but are limited either to one down in Minden, or Zephyr Cover at Lake Tahoe.  Most of the others shut down in the winter.
We plug into shore power for electricity and will have a small electric heater in partial use, but the propane powered forced air system works just great and is required to keep the holding tanks warm and from freezing so in the winter.
If we're not winterizing, we set the forced air on propane for the lowest setting (50 degrees) and run the electric heater all the time.  We keep the doors open under the galley and head sinks to keep the traps and water heater tank warm, which is under the head sink.
Sometimes the electric heater isn't enough to keep the temperature up above 50 so that's when the forced air kicks in.  It seems to work for us.  If it is going to be two to three months between uses, we go ahead and winterize, which isn't a big deal.
Unfortunately, even though made in Canada, our camper does not have dual-pane windows.  That's a PITA due to not only the lack of insulation, but also condensation. Otherwise, the insulation is pretty good.
For water, the year-round parks do have heated spigots but, if you hook-up to them, the supply line will freeze.  So we fill the tanks and run the water from the camper.  It is the same for the holding tanks.  We don't hook-up, but we do dump when needed, or on the way out of the park.
The camper does not have a built-in generator, but we do have the Honda eu2000i which we don't find necessary in the winter due to having hook-ups in the RV parks.  But, we could run the microwave on it, if needed.
We did replace the air conditioner with a new Coleman unit that uses considerably less power, and produces a lot better air conditioning as a bonus.  Our original air conditioner worked just fine, but it wouldn't run on the Honda.
We will run of the Honda in the summer.  It will run about four hours on a tank full.   Although we did get the optional heating element for the air conditioner, we don't find much use for it – even if we're on shore power.
One of the other uses is for snow skiing, which I don't do, but my wife does.  It allows us to take the camper and our two Aussies up to the ski area and be small enough to find parking and hang out while she skis.  The camper is warm and comfortable when she's done.
While we don't do a lot of winter camping, we do enough to extend our season.  We find the smaller crowds make it well worth the little extra work." – Charles Cox, 1997 Dodge 3500, 2008 Snowriver 10.9
"Yes!  I have a Honda 3000 generator gas with six gallons extra, and that's the easy part.  The Lance has a dry bath.  I put 2-6 gallons of RV antifreeze in the black tank and then I mix RV antifreeze and water 50/50 to flush.  Next I put 1-10 gallons in the grey tank.  I carry five gallons of fresh water plus bottled water for how long I will be out.
This has worked well over the years.  I have been in weather down to -10 F / -20 C.  Give it a try, Fred, and see how it works or email me if you have questions.  I am a hide and seeker.  I do not use campgrounds and I've been been camping for about 60 years." – Jesse Black, 2015 Chevy 3500, 2010 Lance 1055
"I just use propane and, occasionally, the generator to charge the batteries.  Starting the truck recharges the batteries as well.  The camper is nice and warm even at 18 degrees Fahrenheit.  I haven't gone lower than that thus far." – Jim McKew, 2015 Ram 3500, 2015 Lance 1052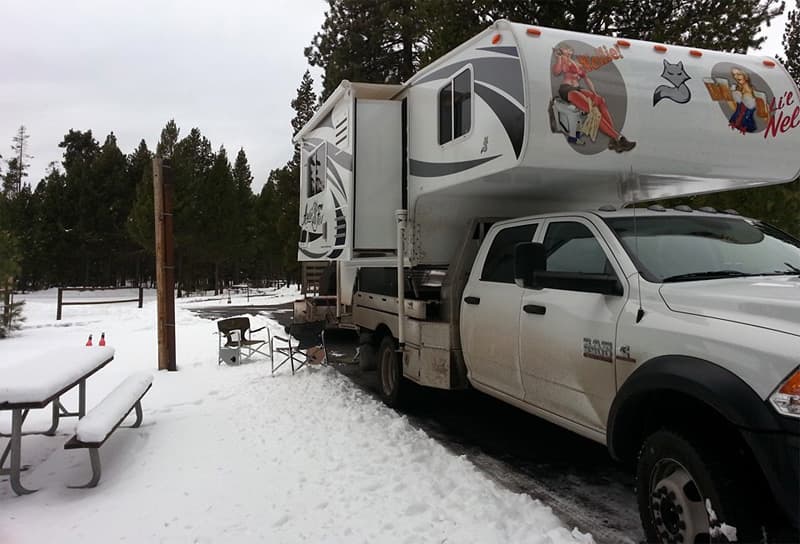 "Yes, I do like c-c-c-cold camping as long as I'm warm.  Typically, I'm wearing long johns and fleece with heavy jackets.  If powered, I use the oil based heater, which maintains the temperature.  I'll use the propane to bring it up to speed.  If it's not powered, then the propane camper heater.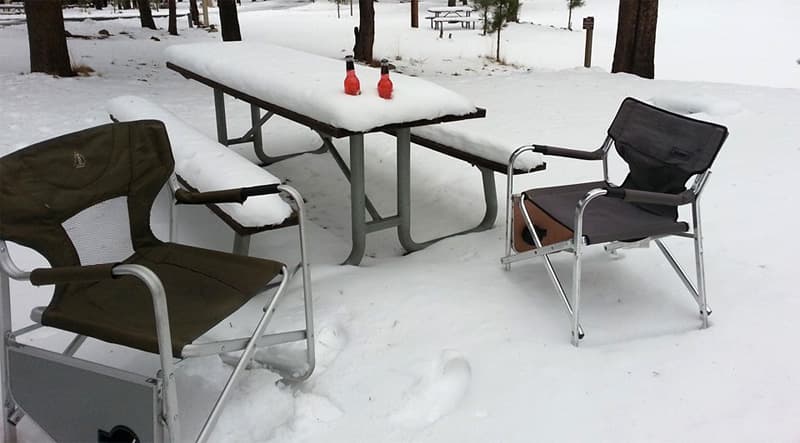 I like the outdoors with snow, Mother Nature's little beer cooler.  It's fun and with a campfire, "fun-ner". – Frank Poole, 2016 Ram 5500HD, 2016 Arctic Fox 990
"I camp in the winter just like I do in the summer.  I camp whether it is 100 degrees Fahrenheit, or -30.  It does not stop my wife and I.
We have three grandkids playing hockey in Minnesota, so we camp at arenas.  Sometimes we are at three different arenas in one weekend.  We go snowmobiling in northern Minnesota no matter what the weather.   We are leaving again today for another snowmobile trip.
If shore power is available, we use it and plug-in the electric heater to keep warm.  If not, we use propane and the generator.  We use water and sewer just like in the summer.  I use a WIFI hot spot to connect the camper to the internet." – Rob Abear, 2015 Ford 3500, 2015 Arctic Fox 990
"I had a 2000 Lance 915, but it didn't have the winter package.  Now that retirement is here and the new camper is four season capable, I can't wait to go north in the winter.  I use propane and the generator for heat and power." – George Randall, 2012 Ford F350, 2015 Arctic Fox 865
"Yes, there is a feeling of survival and there are a lot less people around.  I use plug-in sites with the propane furnace and an electric small plug-in heater.  I want to go off the grid soon and utilize my new Honda generator for comfort and winter camping.  My Northern Lite camper stays quite warm and there are no cold spots." – Glen Dougherty, 2015 Ford F350, 2016 Northern Lite 10.2
"We don't necessarily try to camp during the cold weather.  We just go camping when we have a destination.  If it is in the winter or the summer, we just adjust.  We like to dry camp whenever we can but do connect to shore power every few days when it gets really cold.  Our camper stays nice and warm in the cold weather on propane, but condensation is always a problem." – Russell Berquam, 2014 Ford F350, 2015 Arctic Fox 1140
"We would love to go winter camping but, even though our camper is considered a four-season camper, find that it is not adequate for a Manitoba winter.  We do push the season on either end and have been snowed on frequently.  In those instances, we use the camper's propane furnace and the generator, as the furnace fan will drain the batteries in one night.  My husband is considering building a shack to fit on our flat deck that will be insulated and have a wood stove so we can go winter camping." – Tricia Mason, 2009 Ford F350, 2008 Montana Ponderosa
"We absolutely enjoy winter camping.  It's a season, just like all the rest.  Our main winter activity is hiking and, when the snow flies, cross-country skiing.  We wander for hours in the snow, tracking wildlife, and observing nature.  We spent four days over Christmas at West Virginia's New River Gorge National Park, and saw only one other person drive through the otherwise empty campground.
The truck gets a good dose of anti-gel for diesel, since we don't want to be stuck all winter in a dead vehicle.  If we have shore power, we'll plug-in and use a small space heater.  If no shore power is available, then we use the propane and blower set at minimum setting.  That keeps the interior at around 50-55 degrees.  A light jacket, or sweater keeps us comfortable.
Since we BBQ outside almost every night, even at home, there's not much difference in cooking outside the camper, in the winter.  But, we're not total savages.  We do cook inside the camper, too.
All the vents and single pane windows are covered with the reflective foam insulation available from Lowe's or Home Depot.  We opted for dual pane windows from Alaskan, as well as the extra insulation in the floor.  We have good quality down sleeping bags.
We winter camped for years in tents, but now enjoy the comfort, and convenience of the camper." – Chuck Webb, 2012 Ford F350, 2015 Alaskan 8.5
"I haven't gone winter camping yet, but I'm planning on it next winter after I get my Lance camper this spring.  It has the four season package and I'm looking forward to towing my snowmobiles for some weekend adventures.
There are also a number of ski areas in Quebec and New England that allow you to boondock in the parking lot overnight.  My favorite hill in the east is Mad River Glen, Vermont.  They allow you to camp overnight in the back of the lot." – Darrin Pickett, 2016 Ram 3500, 2016 Lance 855S
"I don't plug-in.  I use the furnace to stay warm.  I have dual batteries in the truck and in the camper.  I might idle the truck some to charge batteries, or run a generator.  I just check the batteries and see where they are on their charge.  The furnace does great. We like to hike in the snow.  Winter is great to get away for a weekend or so." – Brad Twiest, 2016 Ram, 2001 Arctic Fox 1050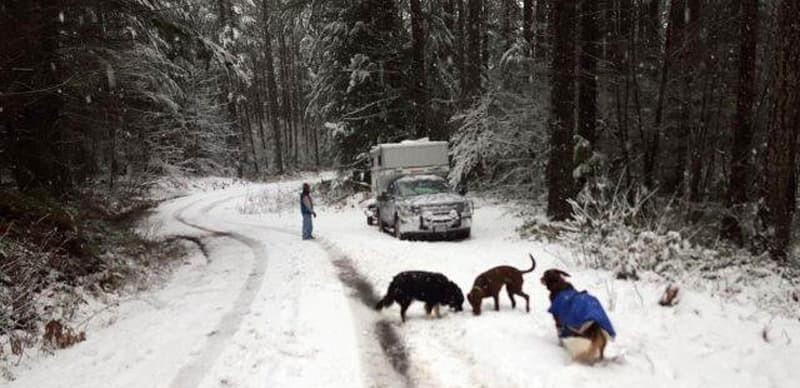 "This past December into January, we made a trip from Texas to Portland, Oregon and camped all the way in temperatures in the single digits and with deep snow.  With a dual battery setup and plenty of propane, we were able to stay warm inside.
Our dogs really loved the deep snow, while we enjoyed the quiet and solitude.  Finding places to camp was a bit of a challenge, particularly with shorter daylight hours and restricted road access, but we took our time and started looking well before dark.
Our biggest problems included freezing water lines inside closed cabinets and frost on the ceiling and pop-up walls.  I will add a small computer fan to circulate warmed air through the cabinets where the water lines run and we will consider adding an insulated curtain for the pop-up fabric.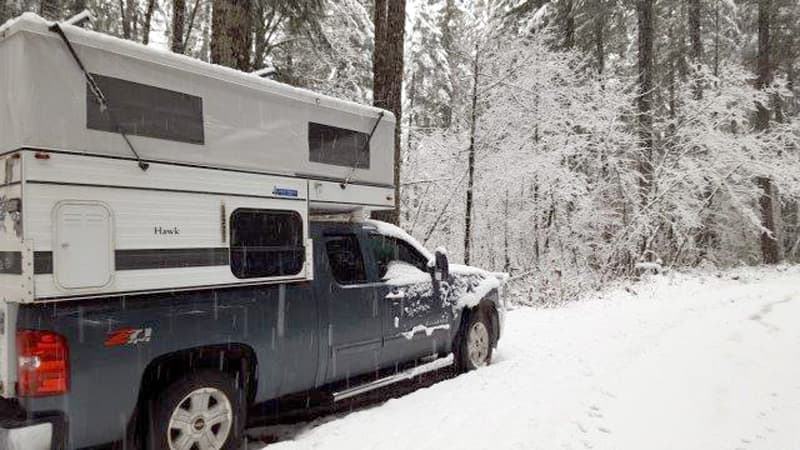 The frost on the ceiling was the biggest problem, as it got the bedding wet when the top was dropped.  After the first experience with it, we learned to turn the heat up and use a towel to dry the ceiling as much as possible before dropping the top.  The top drops rather quickly with a snow load, so duck!" – Bill Peters, 2013 Chevy Silverado, 2013 Four Wheel Camper Hawk
"We love cold winter camping in Colorado.  We snowmobile on the weekends and are able to camp in the snowmobile parking lots with multiple other campers.  We also pull our camper up to friends' houses to have our own space.  It also saves space for other people inside the house.
We do not run our water system in the winter.  If we have to use the toilet, we will flush with antifreeze and water.  We just don't run water through the lines.  We use our heater along with an electric mattress pad and small electric heater up top.  Our generator will run most of the evening, but so do all the other camper's around us.  We love to winter camp." – Erica Moser, 2006 GMC Sierra 2500HD, 1999 Lance Lite 845
"We use our camper for deer hunting in late November.  It usually gets below freezing at night and sometimes below 0 degrees Fahrenheit.
Fuel depends on where we hunt.  For about 8 years we camped on county forest land living off the battery and a generator that ran in the evening.  We now camp at a private campground.  There is no water but the electric is still on.  I heat mainly with an electric heater with my propane furnace as a back-up.  I do turn off the electric heater and switch to the propane furnace about 24 hours before we leave so the ducted heat from the furnace can thaw my dump valves." – Mike Herring, 2010 Chevy Silverado 2500HD, 2003 Fleetwood Elkhorn 8R
"Ontario has three Provincial Parks that have sections that stay open all year round.  I love going to them during the week as we are often the only campers there in the winter.  Some day hikers will be seen but, by evening, you are often alone.  Although every year I find some brave soul camping in a tent!  The roads are kept plowed and the bathrooms are kept toasty warm, so the fact that the camper is winterized doesn't matter.
My first night in a truck camper was in my Northstar TC800 and it was -5 degrees Celsius.  The first night I had not yet picked up an electrical cord so could not plug into shore power.  I had a five gallon water bladder, propane, two solar powered lamps, and many, many blankets, duvets, and sweaters!  I wear long underwear, flannel lined jeans, and eat steaming big bowls of homemade soup and stews.  I wear merino wool gloves in the camper and huge down mittens outside.
To go outside, I pull on snow pants and a down filled parka.  It is surprising how quickly the body adjusts to the low temperatures.  I have truck camped at -15 degrees Celsius.  After a vigorous hike, you don't really require much in the way of heating.
I use the propane furnace sparingly and I turn it very low at night.  I do keep my bedroom at home very cold and do love sleeping under a big pile of covers with only the tip of my nose out, so winter camping is not a big adjustment.  After the first night in a pop-up, I woke with ice shards in my hair and a stiff neck, so now I wear a toque to bed.
If I drive a long way in the cold prior to camping, the mattress is rock hard and ice cold.  The cold mattress can rob your body of all of its heat.  Now, I drive with my truck's back window open and a window buddy in place.  The heat from the truck cab flows back into the camper, somewhat.
To offset the frozen mattress I also set up camp early, pull all of the blankets to the foot of the bed, and crank up the furnace to super heat the camper for an hour.  In fact, I usually leave the camper to build the fire and explore nearby as I make the camper too warm for comfort for an hour or so.  Then, I heat water and fill a few hot water bottles to place on the mattress before replacing the blankets and turning the heat down.  I am planning to purchase a mattress heater soon.  I have been holding out looking for a battery run mattress heater but have had no luck.
Our provincial parks are gorgeous year round.  In the winter, I can allow the dog off the lead (not actually allowed but he doesn't hunt animals) and walk for hours.  I would say the only thing preventing me from doing more winter camping is that once the snow piles up, it is too hard to load the camper!
I am a northern Ontario girl who used to walk to school when it was below -25 degrees Fahrenheit!  So the cold holds no issues for me.  Finding others who want to camp with me is tough, so mainly I go alone." – Michele McLeod, 2013 Ford F150, 2000 Travel Hawk
"I'm a hunter.  The November deer season in North Dakota often contains cold (below zero) nights.  I've never suffered, but my Lance is a four-season camper and isn't a slide model.  There are things that must be done differently than in the other three seasons, but planning prevents problems." – Philip Tron, 2009 Chevy 3500, 2012 Lance 1050
"Winter weather is not my thing.  I do camp into October in Colorado.  Beginning about late February/early March, I start getting the camping bug and sometimes use the kids' Spring Break for a low land camping trip, so it's not so cold.
The first camp-out of the season along the Front Range is mid to late April.  Now if I could keep Jason (camper) on Elbie (truck) all the time, I would probably go more often for overnight trips in the winter.  Sigh, the problems of living in an HOA controlled community." – Pam Conner, 2015 Ford F350, 2015 Arctic Fox 1150
"Yes, we love winter camping.  We use the propane on board furnace and generator with electric heater.  We carry our water in Jerrycans, enough for coffee and hygiene.  I do have to bring along a ladder to get up and clean off the slide-outs if we get snow.
We stay nice and warm by using a heavy sleeping bag as our blanket.  We like it cool at night, so it's warm and cozy under the covers.  Right now is the best time to get out in Alaska.  The days are getting longer with daylight and we see a lot of sun.  We take the snow machine, hit the lakes, trails, or just relax by a fire with a good book and a craft brew." – Tom Warren, 2013 Ram 3500, 2013 Eagle Cap 1160
"I do not yet own a truck camper.  But, winter weekend get-a-ways are one of the prime reasons we will own one.  We love to camp.   Add in snow shoeing, maybe some cross county skiing, ATVing, hiking, and fishing (ice fishing too), and we would use it all year long.
Living in Michigan, we have ample opportunities for winter adventures with temperatures easily down in the teens and often in the single digits.  Below zero nights happen at least a couple of times a year.  Winter usability will be a prime requirement when we purchase.  Great question." – Brad Barrone, N/A, N/A
"I have and do enjoy cold weather camping.  An inexpensive Mr. Buddy portable catalytic heater is what I use to stay warm during times I am awake.  I use the furnace while sleeping.  I have also used the camper without the water system.  I use jugs of water for flushing, etc." – John Ryder, 2006 Chevy, 2015 Bigfoot 1500
"I was at the start of a cross-country ski event in Wisconsin when I pulled up and parked next to this gentleman who had spent the night in his pop-up truck camper.  The temperature that night was -23 degrees Fahrenheit.  He used his propane heater and said he was very comfortable and that he does it all the time." – Rolf Van Houten, Chevy Silverado, 2012 Four Wheel Hawk
"Yes, I have gone camping four times this winter.  I bought this truck camper in the fall and it has been a learning experience.  I think we have it fine tuned now.  We camped when it was 27, 30, 45, and 32 degrees Fahrenheit.  The 11,000 BTU heater gets it totally warm in a few minutes.
After that we use a small space heater with a thermostat to maintain comfortable temperatures all night.  The 45 degree Fahrenheit night, we brought the camper up to temperature and then it was fine the rest of the night.  Our Capri Retreat (hard side truck camper) is very well insulated, and we added insulation to the floor underneath.
I have a hideaway gooseneck plate in my bed, so we added three-quarter inch plywood to the floor, and 1/16th ply to where the plate is, so the camper lays flat.  Now the floors are toasty warm.
We have always had shore power so far, but I have a 2200 watt Predator generator/inverter if need be.  The kids like hanging around a nightly campfire to stay warm outside the camper.  The best part is that there are no mosquitoes.  We tow a Jeep and have done several Jeep runs in the winter.  The combination has worked out great." – Matt Engel, 2007.5 Dodge 3500, 2010 Capri Retreat
"We live in Santa Fe, New Mexico.  We camped Thanksgiving week in the Sierras, up the coast through the Redwoods, up to Portland, and back through Idaho.  Normally we stay on BLM but, since it was so cold, we stayed at campgrounds with shore power.
We used a heated sheet on the bed and a free standing electric heater to circulate air at night.  We only used the furnace in the morning and evenings, but not at night as the blower cycling makes it disruptive to sleep.  It worked out great." – Mike Mabry, 2005 Chevy, 2015 Lance 855S
"Extra batteries keep the heat at a minimum of 55.  I don't put the slide-out out in temperatures below 25 degrees Fahrenheit because I lose too much heat.
I cover roof vents and keep the shades down at night.  To keep battery drain to a minimum, I run the generator in the morning ten minutes or so.  Most newer campers are good to 15 or 20 degrees Fahrenheit.  All campers suck below ten degrees because the water lines start to freeze up.  The pump needs to be wrapped in insulation.  I tried a 12 volt blanket, but it didn't work, and it needs lots of battery power.  Be sure to recharge once a day with your generator or truck." – Dave Palaia, 1999 350, Lance 1191
"Yes, indeed.  I go winter desert camping every year with a campfire at night.  I use the propane heater with a Honda eu2000i generator that keeps the bank of batteries topped off.  It's very toasty with hot coffee in the morning.  Once the sun is on you, it's a great day.  We ride a UTV all-terrain vehicle.  Back in the day, I used to sleep in my truck shell, with a Little Buddy tent heater." – Winston Gotte, 2003 GMC 1500HD, 2015 Four Wheel Camper Hawk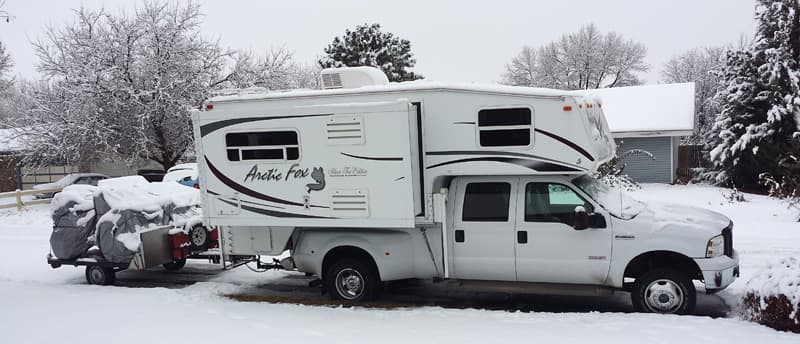 "Yes, winter camping is fun, until things freeze up.  It seems like we always get in the snow on the way South in the winter.  This year leaving the Denver area, we got over the mountains to Grand Junction before the snow hit us.  The next morning we had 5-inches of snow and had to borrow a push broom to push snow off the slide to move it in.
When it gets below freezing, like 20 degrees Fahrenheit, things can freeze.  It can get a little interesting.  We rarely go to campgrounds with electric hook-ups, so we use the propane and it works well." – Frank Niehus, 2007 Ford F350, 2007 Arctic Fox 1150
"Yes, we like winter camping very much.  We use shore power as much as possible.  If there is no power, we run on batteries, propane, and a generator.  Actually, we were out a few weeks ago, and it got down to -12 degrees Fahrenheit." – Rick Schwarz, 2015 Chevy 3500, 2014 Lance 1050S
"We don't do a lot of it, but the cold never really bothers me other then the additional propane that's needed.  We rarely use our generator, but have at times in Walmarts.  My biggest concern, if the weather is severely cold, is will something mechanical break?" – Rich Polak, 2011 Ford F 350 DW, 2005 Lance 1191
"Our first night with our camper it was 27 degrees Fahrenheit, in North Carolina.  We were just hoping the heat didn't go out, but it was toasty.  I don't care what the temperatures are.  If I can go, I'm there." – Selena Jones, 2016 Tundra, 2007 Sunlite
"We absolutely love winter camping!  There are no bugs, fewer people, no heat, and no humidity.  Our Lance 990 is outfitted for cold weather camping, especially below freezing.  It has added Foam-Cor insulation in the walls, plus rigid foam in the floor, wings and rails.  The holding tanks, cabover and bathroom are kept warm through ducted heating from the furnace.  The cabover has extra insulation under the bed to keep the cold out.  The camper stays toasty warm even below freezing.
We even have a memory foam mattress topper that adds to the insulation factor in the bed.  It's as good as sleeping at home.
We recently completed a weekend trip to the Great Smoky Mountains on New Years Day and the temperatures were below freezing.  We had a great time.  Our 140 watt solar panel and two Interstate 27-SRM 12 volt batteries kept the furnace going and the batteries charged.
We have a Generac 3.4 KW built-in propane generator if we need it.  We also have an optional 5 KW heat strip in my air conditioning unit that helps to take the chill out the air in the mornings.  That does require AC power to operate from with either with the generator or shore power.  We seldom ever use shore power since we just don't need it.
Having the right clothing and gear is required for hiking and outdoor activities during the day, but the camper keeps us warm and cozy at night.  We love it!" – Hugh Redmon, 1997 Ford F350, 1998 Lance Legend 900
"It's not for me.  I moved to Southern California from western Pennsylvania partially to escape winter weather.  I have some good memories of winter camping with the old scout troop.  I just don't want to deal with extreme cold anymore." – John Tully, 2014 Ram 3500, 2015 Lance 855S
"We purchased this camper with our main intention of going winter camping during snowmobile season.  We run off batteries, propane and a Yamaha 2000Aw generator. Our recent trip got to -18 degrees Celsius and we were still were able to stay warm.  We did have some minor problems with partial freezing of the holding tanks, despite having insulated and heated tanks." – Sean Lynn, 2011 Dodge Ram 3500, 2014 Lance 950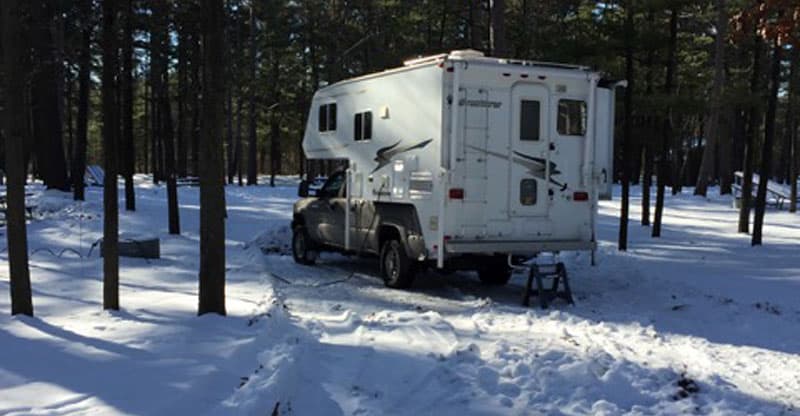 "Yes!  We ventured out this year for New Years Eve and a three day weekend.  It was our first winter camping experience and we loved it!  We stayed at Platte River National Campground, Traverse City State Park, and Ludington State Park (all in Michigan).  We were plugged into shore power at all three, ran two electric heaters, and stayed toasty warm, even though the night temperatures got down into the teens and twenties.
Evening walks were the best.  There were only a couple other folks camping, so it was quiet.  At Ludington, with no other campers around, we had the whole campground to ourselves.  It was so peaceful and the night sky was especially beautiful with no other lights around.  We will definitely do more of it!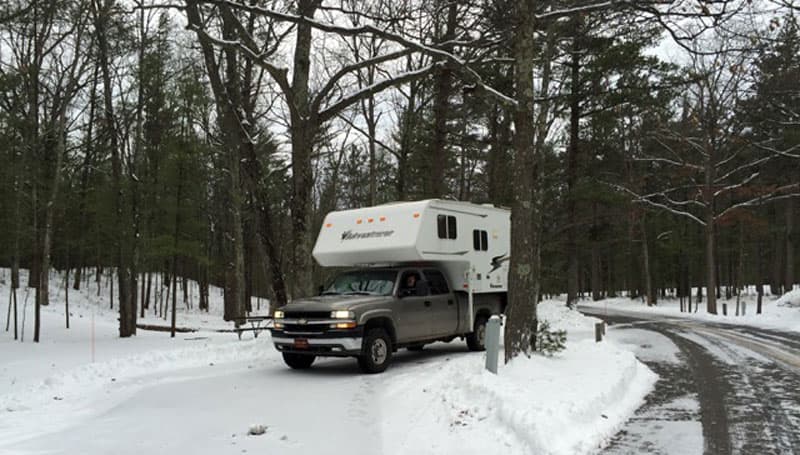 Our almost grown kids kept us busy the rest of January and February, so we couldn't go out.  We'll be loading up in the next couple of weeks to be weekend warriors, with a Spring Break trip to New Orleans on our agenda!" – Cindi Delo, 2002 Chevy K2500, 2004 Adventurer 90RDS
"I live in New Jersey, but regularly camp in Pennsylvania and New York in the winter.  It is hard to find campgrounds open all year.
I plug-in and run the electric heater if I can, or I'll just run on propane.  I bring my dog camping with me.  He likes the cold.  I keep the heat at a setting in the low 50s while we're awake and lower 40s while we're sleeping.  I love cold weather camping.  There are no crowds, no bugs, and no noise." – Mark Urscheler, 2008 Silverado, 2003 Lance
"I'm a skier and a member of the National Ski Patrol and frequent Vermont and New York ski areas.  My secret is to utilize the non-toxic antifreeze in the cassette toilet year round so that I don't have to worry about winterizing it.  It has its own water supply." – John Stetser, 2012 Ford F150, 2013 Northstar Freedom
"We enjoy year-round camping in our Hallmark Everest.  Even though winters are mild here in the southeast, we seek out colder climates and enjoy going to the frozen north when the snow falls and the lakes are frozen.  In fact, my son and I just returned from a week in northern Michigan in the Manistee National Forest.  We ice fished in Twinwood lake and stayed in a lake side campsite within the forest.  We were the only ones there!" – Rick Guffey, 2012 Ram 2500, 2013 Hallmark Everest
"It's kinda like cheating when you have a Northern Lite.  We enjoy hiking in mountains at all times of the year and often see temperatures in the teens and single digits.  With the propane appliances on, the heated basement unit always stays warm and functional. We do try to park where we can absorb any sunlight that may be available, and it adds a bit more peace-of-mind keeping the DC lights on in the compartment areas." – Mark Duderstadt, 2012 Ford F350, 2010 Northern Lite 10.2
"We do winter camp.  We hook up at campgrounds and use our heater.  For boondocking, we do one-nighters, and then choose another site.  One night outside Prescott, Arizona in early February, it got down to 7 degrees Fahrenheit at night at a primitive campground.  We camp and travel from October to April, because it's less crowded." – Mike Kolinski, 2012 GMC Sierra 2500 HD, 2012 Four Wheel Camper Hawk
"Although I live in Key West, we do go winter camping, but not with our camper.  We like to camp on the islands in the Sabastian inlet area.  However, you do need a boat to get there.  There is no water and no power, but there is firewood.
We like winter because there are no bugs and the fishing is decent.  We are in tents and we have a portable hot water heater for showers.  We have to have a portable toilet, unless we want to go the park.
We eat like pigs, complain about the government, tell dirty jokes, and generally have a great time.  The temperatures at times have been in the 40s, but it does warm up in the day.  Most of the time we have been swimming there." – Gary Raymond, 2014 Ram 3500, 2006 Lance 1191
"Waking up to a blanket of snow over the camper is an unusual delight for this Southern Californian!  I don't have much in the way of battery reserve so have taken to using a Mr. Heater Buddy portable propane heater (with plenty of ventilation).  Blankets and layers of clothing help too.  If it gets too cold, I use my onboard heater and my Honda eu2000i generator to keep the battery alive.
Cold is better than hot, but camping in any weather is better than not." – Mark Obert, 1999 Ford F250SD, 1999 Lance 920
"A couple of times every winter, I take the truck camper out in Colorado and Wyoming.  I usually go fly fishing, finding open water below dams like Greys Reef, Wyoming and the Taylor River in Colorado.  We also go for exploration and pictures.
We always camp remotely with propane and a generator.  The propane heater keeps us warm.  We have a heated basement in our camper so there is no freezing of the piping or tanks.  There is no such thing as bad or cold weather that can't be overcome with appropriate good clothing and boots.  The good news is, when camping out in the winter, very few people go where we go." – Fred Stanley, 2012 Ford F350, 2015 Northern Lite, 8'11" Q Classic Sportsman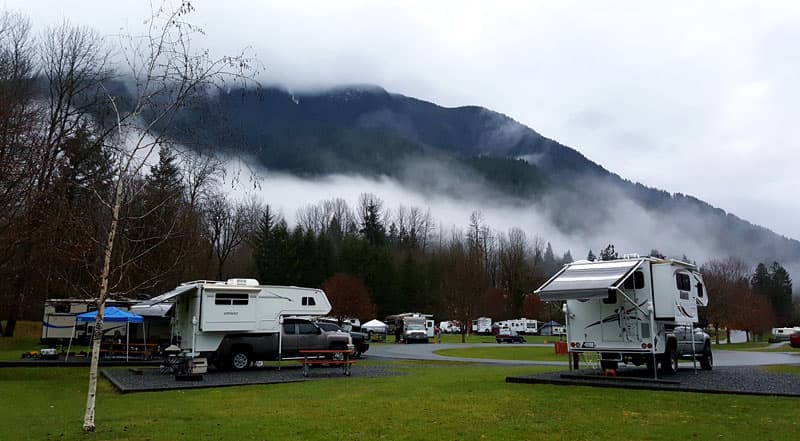 "I love all-season camping!  Living in the Pacific Northwest, there is more cold and rainy camping, which I entertain getting out in.  Both Lance campers have kept me toasty warm, dry, and cool.  I use solar and generator when out fishing, or full hook-ups when I want a quick weekend vacation.
It is especially nice to bring the camper up skiing.  Getting a good night's sleep and getting back up on the hill after a warm breakfast is wonderful.
Camping in a truck camper is like bringing a second home everywhere I want to explore, no matter the season.  Bring on the cold weather camping!" – Kim Zimmer, 2000 Dodge 2500, 2002 Lance 10'6″/2016 Lance 1050S
"I love it!  My family, not so much.  Every year I reserve a spot at Convict Lake, California for the fishing opener (last Saturday in April).  It snows more years that not.  It's no problem now that I have the camper.  I used camp it in a tent.
My boat still freezes on the lake, but I know I can come back to a nice and warm camper and have breakfast or lunch.  I use propane and a generator since the campground has no hook-ups, except for the host spots.  I bring plenty of firewood for the evenings.  Happy camping!" – Robert Williams, 2012 GMC Sierra 3500 HD, 1994 Fleetwood Caribou
"We camp in the winter, but we wimp out by sticking to southern states.  We enjoy the many state campgrounds where we have electric and water at the site for a small price, and can dump waste water on our way out.  Because we have heated storage tank areas, we fill our fresh water tank in cold weather.
Our propane heat system is set to 60 degrees, and we use a thermostatically controlled 1500W ceramic heater set at 65 degrees.  That way, if we blow a fuse in the middle of the night, we don't wake up frozen.  With the ceramic heater, we don't have a condensation problem.  We have boondocked in winter, but it has been only for one night at a time, and in a truck stop where we slept while driving a long trip." – Nancy Meiners, 1996 F350, 2014 Lance 1050S
"Fred, we don't have a truck camper.  We have a Chevy G30 four wheel drive 190 Falcon RV.  We have winter camped a few times in tip of Michigan, the Shenandoah Mountains in Virginia, and Hatteras Island.  All temperatures were below freezing.  We use a Mr. Buddy heater.  We have never been cold.  We do have an on-board generator, but seldom use it for heat or shore power." – Jeff Coughlin, 1991 Chevy G30 van/camper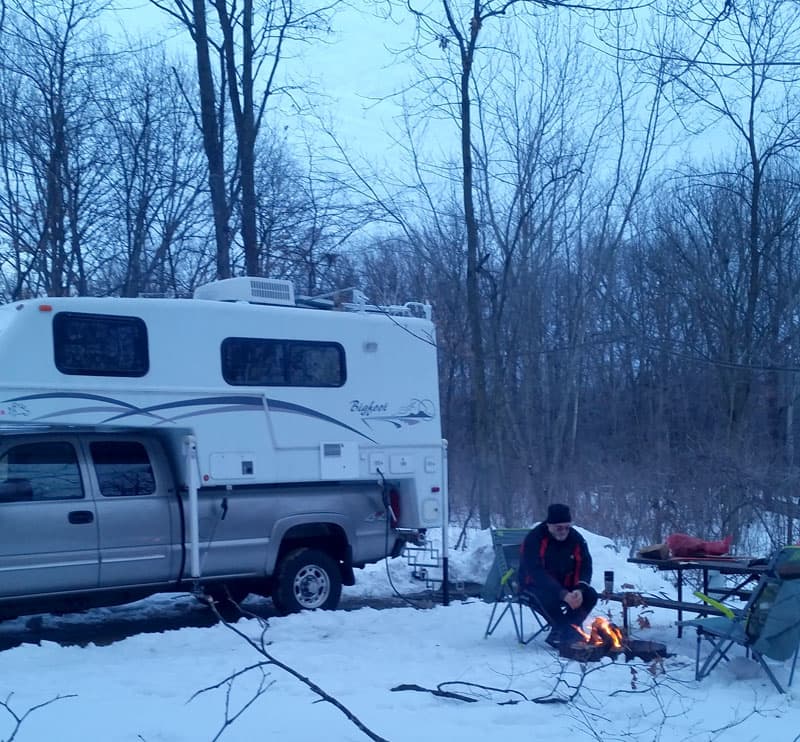 "We went out the last weekend in January to a local Wisconsin state park that had a few of their electric sites plowed open.  The campground was very quiet with only one other site occupied for the two nights we spent there.  We took our skis and snow shoes with us, but there was only about four inches of snow.  We put on our boots and had the hiking trails all to ourselves.  We even enjoyed a campfire on Saturday night before watching a movie and going to bed.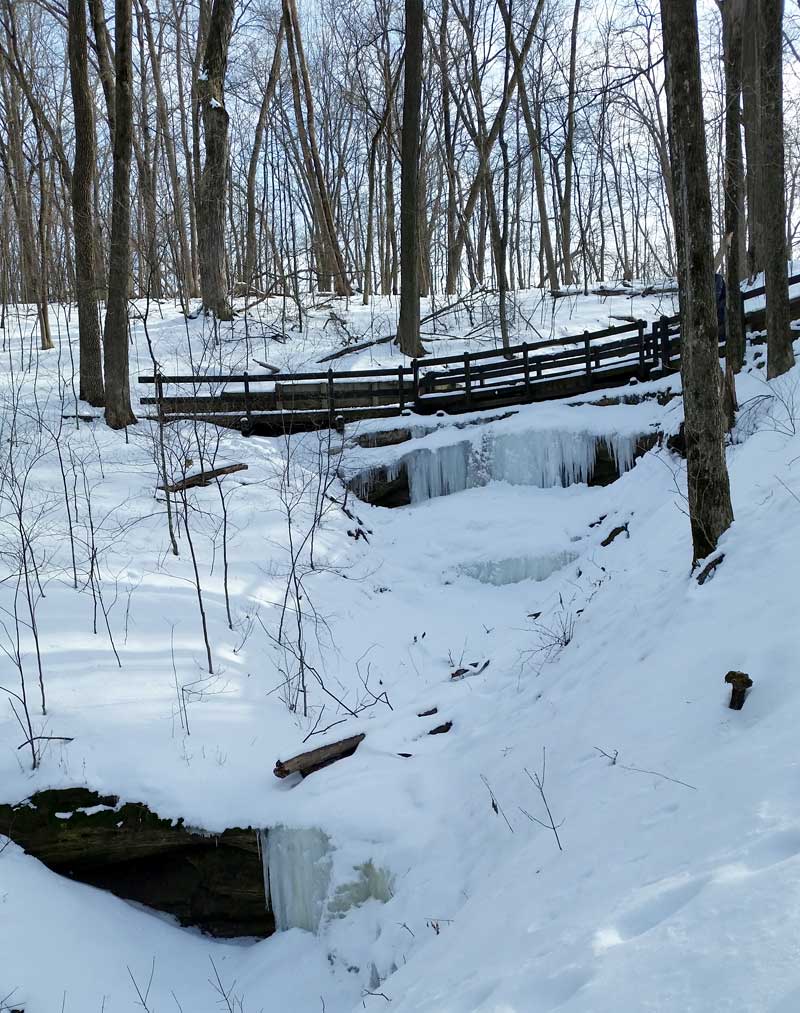 We used the propane furnace to quickly take the chill of the camper but, since we paid for electric, we plugged in our small 1500 watt ceramic heater and set the thermostat to 68 degrees.  After two days of heat on inside, we still had about 3 inches of snow on the roof. The Bigfoot is very well insulated." – Tom Strock, 2003 chevy 2500HD, 2000 Bigfoot 9.6
"We enjoy winter camping.  We are winter camping in January and February in Florida at a tractor show.  The temperature is 50 at night 70 in the daytime.  That's winter camping to me." – Jim Kauffman, 2015 Ram 5500, Eagle Cap 1160
"I use my camper for work and stay in it all week.  Until it gets below freezing outside, I do not use the propane heater.  I get enough heat from cooking to keep the camper comfortable.  After it gets below freezing, I use a Big Buddy propane heater and keep the top vents open.  Even then I only have the heater on low at night.  If I am in the camper during the day, I might turn the heat on high initially to heat the camper up, then put it on low." – Mark Burrell, 2004 Chevy Silverado, unknown make, 70s model camper
"I really enjoy winter camping because there are no crowds.  I usually camp on National Forest land, but usually not in campgrounds because they are often closed in winter.  To stay warm, I'll have a campfire until bedtime and then crawl into my down bags in the camper.  Yes, I said bags.  I put a -20 degree Fahrenheit bag into a zero degree bag to stay warm!
I don't have a built-in heater in my camper.  If it gets much lower than 20 degrees, I might fire up the portable propane heater for a while, but usually wait until morning to do that.  My brother and I have camped in temperatures as low as 10 degrees, in snow, and were just fine.
Our deer, elk, and turkey hunts are usually in November or December and we just prepare to stay in low temperatures.  If you are prepared, and the snowfall stays under a foot or so, winter camping can be a lot of fun.  Make sure you set up your morning coffee the night before if you think it will freeze!  You've got to have hot coffee in the morning!" – Tom Waters, 2003 Dodge 2500, 2014 Four Wheel Grandby
"Cold weather camping – either boondocking or dry-camping – is fine.  There are no bugs!  I try to get out a couple of weekends a month in the winter to National Forests in Vermont or New Hampshire or ski areas.  On trips south I take my time and spend time in the National Forests in Virginia and the Carolinas.
For heat I use a combination of the furnace, Wave 6 catalytic heater, and portable Buddy Jr. catalytic heater.  If electric is available, then I'll use a small cube heater and electric blanket.  Otherwise, I use sleeping bags and blankets.  I carry water in jugs and use the pink anti-freeze for the toilet." – Mike McMahon, 2006 Ford F350, 1999 Lance 1030
"We have always snow skied, hunted, and fished during the winter months in Nevada, which can be -20 degrees Fahrenheit.  This is primarily Great Basin Desert camping with no shore power or campgrounds available.
We keep our batteries charged through solar panels, and also have a built in backup generator.  We dress warm and use the camper's heater, which is usually sufficient to keep us warm.  We do have a small Mr. Heater for the days when we need a little extra heat.
We use two and a half gallon water jugs as our water system is drained and winterized.  We also have two dog heaters that keep us warm when we are sleeping at night.  We usually have campfires and barbecue our food, or bring soup/stew already prepared ready to heat.  Lots of fun!" – Jim Wenner, 2006 Chevrolet Silverado, 2007 Arctic Fox 811
"I live in Minnesota and I enjoy snowmobiling.  I am retired so I usually go out for three to four days in Minnesota, Wisconsin, or Michigan.  I usually get out six to eight times during the winter season.
The longest I have been out is one week in the Black Hills in South Dakota.  The coldest has been -35 degrees Fahrenheit, but I prefer -10 to +20.  Sometimes I get my way with the temperature and sometimes I don't.  I usually find a camp area with bathroom services and use my furnace to stay warm.  I don't usually ride at night, only during the day, so I just read or whatever in the evening." – Rag, 2003 Chevrolet Silverado, 1980 Sportsman 8SD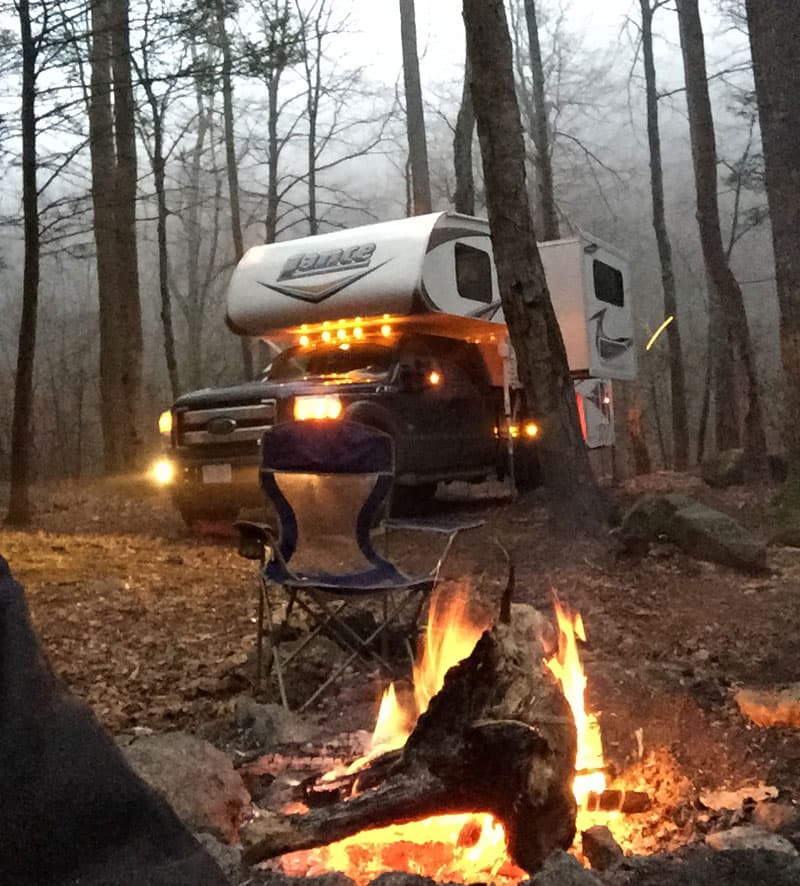 "Fred, we are new at this, but our first camping adventure was in the Blue Ridge Mountains in Virginia the first week of January, which fits your description!
My son and I spent four days and had a blast.  We were totally boondocking.  The only sign of civilization was the bridge over the Rapidan River.  Our rig has a solar panel, generator, and two tanks of propane.  We took an axe and kept a roaring campfire going during the day." – Jim McIrvin, 2015 Ford F350, 2012 Lance 1191
"No, we don't enjoy winter camping.  We only camp in cold weather while traveling to and from the warmer areas of the country during winter.  An exception is the Midwest Truck Camper Christmas gathering in Branson.  We purchased a warmer camper with no generator and made a modification to circulate warm air to the basement while we're using an electric heater and not running the propane furnace.
When we're not on shore power, we run the propane furnace.  If it gets really cold, we close the slide.  We have been in nine degree weather and were comfortable in the camper.  Warm clothes, an army blanket, and a rug on the floor all help." – John Bull, 2004 Dodge 3500, 2015 Arctic Fox 990
"I camp twelve months a year.  I wish more state campgrounds were open year round, but I always seem to find somewhere to park.  I take my camper to the ski resorts, out into the woods where I can find partially open forest roads for boondocking, and I also utilize the California Snow Park lots.
We use propane for heat and also have a generator.  I prefer not to camp in campgrounds, but sometimes that is the only place you are legally allowed to have a campfire.  Thus, you have to weigh the soothing ambiance of a campfire being destroyed by the fact that you are crowded by campsite neighbors next to your peaceful getaway.  I love winter camping!" – Jill Gaughan, 2011 Ford Econoline F350, 2011 Four Winds 19G (not a truck camper)
"When we are out camping in the cold, we always have a big fire.  In the camper we use the propane heat that the Alaskan camper provides.  We have always brought a generator for back up power and chains, shovel, etc.  We do not have water in the fresh water or the potty due to freezing temperatures.  The best part about winter camping is that you don't have neighbors." – Eric Williams, 2016 Ford F350, waiting patiently for an Alaskan camper
"I love being the only camper out and about looking for the free boondocking spaces in the forests around the Laurel Mountain area of Pennsylvania.  We use a portable Honda eu2000i generator and a glass mat battery.  The Suburban furnace keeps us nice and toasty when we come in from the cold and catch a good movie.  The last two times we camped it was 15 degrees Fahrenheit and below." – Deb Szekely, 1999 Ford V 10 DWR, 1976 Amerigo
"We plug in and have a small electric heater. We have heated floor mats and an electric bed mat.  My Husband and I love camping in the winter.  This year we camped in -12 degrees Fahrenheit in the Poconos, Pennsylvania.  We like so snow shoe and hike." – Judy Schwarz, 2015, 2014 Lance
"Yes, I live in my truck camper full time, in upstate New York.  One tank of propane goes three days in 0 degree weather, if you don't have shore power.  I have a 150 watt solar but, in winter, I actually need a second one because of low sun.
It was necessary to add 1.5-inch foam sheets along the basement sides and under the cabinets.  That really stopped all freezing of water.  I don't know about the new ones, but the 2004 just didn't have insulation in the basement and under the cupboards.  Camping is camping. Summer is simply a frame of mind." – Kevin Squires, 2014 Ram 3500, 2004 Arctic Fox 1150
"I'm new to truck camping and haven't been below freezing.  I winterize when it gets to that temperature.  l have propane and a generator, so I would use that or shore power if available." – David Drew, 2011 Ford F350, 2005 Travel Lite
"No way, Fred.  I spend my winters in Yuma, Arizona, and I just cannot stay inside my camper for any length of time.  It is too confining for me.  And my joints just do not work in the cold, but I use a Camco catalytic heater to keep warm on a chilly day." – Bill Close, 2014 Ram 3500, 2012 Lance 850
"Yes, we have camped in 20 degree Fahrenheit weather in the Smokies.  We haven't tried any weather below 20.  When we have electric, we use a small electric heater and, when we are boondocking, we use the furnace.  We stay very warm and really enjoy it.
My wife made blackout curtains that go all the way around the tent part of our popup sides.  Besides adding a little more privacy, it works as an extra insulator.  Our clothes are stored under our bed so that keeps our bed warm.
We put a piece of 1″ form in the recess of the door window with the window cover over that.  We've sealed any areas that cold may creep in, like around the wheel well doors. We love truck camping any and every time of the year!" – Dave and Cheryl Barker, 2014 Ram 3500, 2015 Northstar 850sc
"Our Bigfoot camper is rated for -20 degrees Fahrenheit, and we can attest to that. From our experience, overnighting in below zero Fahrenheit temps requires full, paired 20-pound propane tanks (at a minimum) for adequate propane gas pressure to the furnace.  Better yet is bringing along a 50 pound cylinder (short and squatty) and using the long-hose built-in to our propane set-up to connect to it on the ground outside of the camper.  But propane is not the ideal fuel for below zero winter camping.
Our camper is very comfortable in milder below zero temps. We have tested down to -40 (It doesn't matter °C or °F; at -40 as they are the same) but it would be difficult to carry enough large propane tanks, etc. to maintain comfort in those temperatures for an extended time.  If we were planning to camp more often when it is that cold, we would switch to an efficient (both fuel and battery consumption) diesel fuel heater like a Wallas, which we have had experience with.
We also carry a 2kw suitcase generator in case we are going to stay out multiple days without driving to charge the batteries.  You have to bring your own plug-ins in the Alaskan boondocks.  Our 100 watt solar panel doesn't produce sufficient amp-hours during winter above 60 degrees north.
To help insulate the heated basement in cold weather, we set a piece of high-density 2-inch think foam in the bed of the truck and set the camper on top of that.  This helps prevent the black and grey tanks from freezing.  The potable water tank is built-in to the cabinetry of the heated interior portion of the camper.
To resolve black tank emptying issues in winter (and forever), we intend to install a liquid-separating composting toilet.  We have been experimenting with a Nature's Head on our sailboat for a year, and are sold on putting one in the camper.
For emergencies, we carry a portable Iridium 9575 satellite phone as there are no cell signals where we go.  We can do email, text messages, and make/receive voice calls anywhere.  And we each carry a registered Personal Locator Beacon [PLB] for any life-and-death situations.
PS: Make double-sure sure your vehicle and its tires are up to the task." – Bill and Donna Wakefield, 2001 F350, 2001 Bigfoot
"Absolutely!  We go two to three times over the course of the coldest part of the Mid-Atlantic winter; January and February.  Our favorite area is the "high" Canaan Valley of West Virginia so we can cross-country ski and snowshoe.
The floor of Canaan Valley is high by East Coast standards at 3,200 feet with the surrounding "mountains" topping out at 4,200 feet.  It is high enough to produce weather comparable to Canada.  There are two state parks, one cross-country, and two down hill ski areas.  There's also a National Wildlife Refuge, and the expansive Dolly Sods Wilderness.
All of this snow play area is surrounded by the Monongahela National Forrest in Wild and Wonderful West Virginia.  Miles of trails exist in the backcountry that are seldom trod in winter.  In winter, off trail travel is easy for the well prepared and can take you to the most beautiful wilderness areas east of the Mississippi sprinkled with frozen waterfalls and ice encased "flag" trees on wind swept ridges.  Much of it can be day "snow shoed" using a well-equipped truck camper as your base for nighttime comfort. No wonder we winter truck camp!
On the coldest nights, we often camp at the Canaan Valley State Park to take advantage of their electric hook-ups.  A 1,500 watt electric heater works great on the below zero nights, even in a pop-up, and we always wake up in comfort feeling for the few very hardy skiers who tent camp on those nights on the other side of the campground near the heated restrooms.
When it is a bit warmer, we will don tire chains and go boondock along some of the easier unplowed dirt roads at the edge of the wilderness and wildlife refuge.  These roads give you immediate access to the rugged and stunning backcountry.
We are looking for a better boondocking heat source.  Our cheaply made forced air furnace makes too much noise, produces wild temperature fluctuations no matter how you adjust the interrupter control in the thermostat, and sucks propane and 12 volt power like crazy.  We've looked at hydronic heat and really want it, but can't justify the cost for a retrofit.
Hint: American RV manufactures, Europeans are making high quality products and affordably installing them, why can't you?
We've also experimented with portable catalytic heaters and decided they can efficiently produce the required heat, but most catalytic heaters need a better solution to vent the exhaust gases to prevent the guaranteed build up of water vapor inside the camper and eliminate the low probability of CO build up.  This fall we are going to buy and retro fit a vented 5200 BTU Platinum Cat Heater to expand our winter boondocking.
Besides Canaan Valley for winter camping, we have also been to the Assateague National Sea Shore boondocking amongst the wild ponies on the beach on New Years Eve, hiking to the natural bridges of Red River Gorge, Kentucky, and hiking the high southern balds of the AT at Whitetop Mountain and Mount Rogers National Recreation Area in Southwestern Virginia." – David Kiel, 2007 Toyota Tundra, 2012 Phoenix Custom Camper pop-up
"I like the contrast of the cold and warmth.  For winter camping, always make sure your propane tanks are full.  I try to make meals that are cooked in the oven (like lasagna) to help keep the camper warm.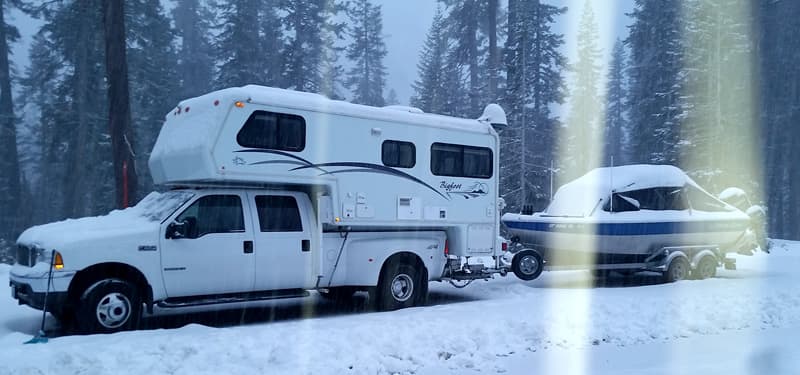 Only use the generator if the microwave is going to be used.  Installed a Wave catalytic heater ten years ago.  Works great and with no battery draw." – Nick Velho, 2001 Ford F350, 2001 Bigfoot 10.11
"Mostly for hunting season, the wife likes going to the mountains to see the snow when we can.  There are no power hook-ups.  We use propane heat and, when the generator is running, we use a small space heater." – Danny Bonds, 2015 Ford F350, 2012 Lance 1181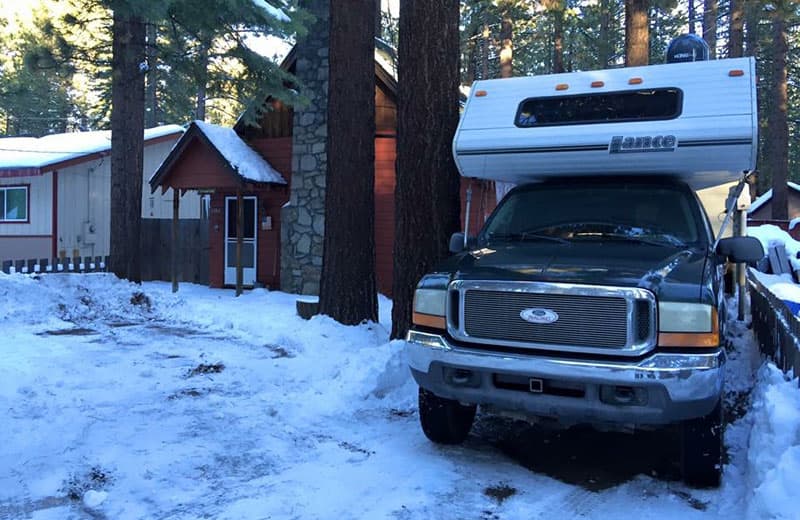 "Cold weather camping is fun.  We go to Lake Tahoe, California for weekend trips to the snow.  Being prepared is key.  Having full propane, battery, and full water is very important for us.  Extra towels for the floor help.  If you have electrical hook-up, alternate between electric and propane heat.  It saves propane and keeps the tanks from freezing, assuming you have a four-season camper with insulated tanks.
Invest in a 12 volt tank and valve heating element.  This keeps the tank from freezing when using electric heat.  Leave a window open to let condensation out.  Bring movies or have satellite television.  It gets dark early in the winter.  Also, crack open all the cabinets.  This lets the heat into those spaces.  Bring a shovel and chains. And most importantly, have fun!" – Elquin Daza, 2000 Ford F350, 2000 Lance 820
"I love cold weather camping.  Campgrounds are empty, as are boondocking locations.  If you have shore power, use a small electric heater to keep warm with occasional assistance from the camper's forced air propane heater.
For off-the-grid camping, use the built-in forced air propane heater.  Dress warmer with heavy socks and a sweater.  My cat also snuggles up close when it is colder.  In addition to a heavy quilt, I have a -20 degree Fahrenheit sleeping bag I put over the bedding on the coldest nights.
Our coldest stay in 2015 was overnight temps in the minus single digits at night and plus single digits during the day.  The same temps have been experienced in January of 2016 (New Years Eve and Day, actually).  Many days and nights have been below freezing in the mid -20s.  When camping below freezing, don't use the camper's water system as it can freeze." – Dave Scobie, 2007 Toyota Tundra, 2015 Outfitter Caribiou Lite 6.5
"We love, love, love winter camping!  In fact, we planned a Christmas camping trip based on the weather for our locations.  We got snowed in at the Grand Canyon.  It was delightful.  We continued our adventures to Zion and Bryce National Parks.  The temperatures dropped to -9 degrees Fahrenheit.
We never had a problem with the camper.  It was nice and warm on the inside.  We keep the LP tanks full, and bring an extra LP tank just in case.  We keep the camper temps at 50 degrees during travel, and around 60 when we are relaxing.
We make sure we leave a few windows very slightly cracked to reduce the moisture in the camper.  We have nice warm "down slippers" to keep the toes warm.  This last trip, we didn't need shore power or the generator." – Jennifer House, 2015 Ram 3500, RAM, 2010 Eagle Cap 1050
"We spent six weeks camping last winter, and again this winter, all while towing our snowmobile to Montana, Idaho, and Wyoming snowmobile trails.
Last winter it got to -11 degrees Fahrenheit.  This year only it reached -4.  We could still use the shower and all the plumbing systems as the furnace has ducts into tank and sewer line areas.
The biggest problem is finding places to dump the black tank since almost all dumps are closed.  A couple of times had to cart 5 gallon pails to pit toilets at trailheads.  A composting toilet would have been great.
The most important thing to have along is a freezer thermometer with alarm settings.  We mount them near the holding tank system and water pump so we can keep tabs on the temperatures.
We like to use the catalytic heater during the day when temps were above 32 to save on propane and electric.  We are only plugged-in one day each season and relied on our 300 watts of solar and, occasionally, our generator.  We got water at gas stations.
We carried two extra bottles of propane on the snowmobile trailer in case we got caught in really foul weather.  Condensation can be an issue, even with dual-pane windows and good insulation.  You just have to keep clothes in closets away from walls and let air circulate whenever you can.  We also had hypervent material under the mattress.  You won't be showering every day either.  But we did have a great time." – Vicki Sherouse, 2014 Ram 3500, 2008 Bigfoot 25c9.4
"Our winter trips are three to four day trips generally, up to New England for winter fests and sightseeing.  I bring my generator, but have yet to need it.  Most times we commercially stealth as no state campgrounds are usually open.  Four to five day trips are around the wash. We'll go to the D.C. area where we go to museums and presidential homes.  Half the times on these trips we're able to find campgrounds open to use shore power.  We enjoy winter camping." – James McCarron, 2013 Ford F350, 2013 Northern Lite 10-2
"Gosh, I wish I could!  I push the weather as far as I can with my old three-season camper.  I can't get to the temperature extremes suggested in your question.  The low 30s is about it for me.
I pour some rock salt into the black tank through the toilet to keep that from freezing and keep the inside warm (where the fresh water is conveniently tanked under the bed step-up and where most plumbing is run).  My grey tank and all the dump plumbing is hanging in the open under the rear of the camper, so it readily freezes very quickly.  RV dealers tell me to just leave the grey drain open during showers, but I just can't bring myself to dump soapy water like that, especially in a Walmart or truck stop parking lot.
A new four-season camper is beyond my budget, and I see no point in camping for a winter weekend with all the water systems disabled.  I look forward to learning how other truck camper owners have found ways to modify their three-season campers for real winter use, without sacrificing their warm morning showers and their toilet access." – Reed Prior, 2007 GMC 2500HD, 2000 Travel Lite
"Here is the way I would do it.  I would put RV antifreeze or windshield washer fluid in my cassette toilet so I can use the toilet inside my camper.  I would use my "sleeve" which connects my truck cab to my camper for my truck heater to preheat my camper before going in it.  After stopping, I start up my camper's propane furnace to further heat the camper.
Then, I'd start my Honda eu2000i to avoid depleting my two camper batteries.  I would move my 6 gallon blue water jug out of the truck into the camper for domestic water.  Following that, I would shut down the truck and close the front camper window to avoid losing camper heat into the truck camper.
I'd cook supper, do my email, and watch television.  Then, I turn off the Honda eu2000i and get my -40 degree Fahrenheit bag set in bed.  After the Honda eu2000i is cool, I'd bring it into camper (I don't want any fumes coming off my generator in the camper).  Then I would shut off the propane furnace and crawl into a toasty -40 degree bag and sleep well.  If I needed to use the bathroom in the middle of the night, I'd use the cassette toilet.
I'd get up 30 minutes before usual time, and start the propane furnace. I would then crawl back into the -40 degree bag.  After 30 minutes and the camper is warm, I'd take the Honda eu2000i outside and start it and plug-in the camper to avoid running down the camper's batteries.
Then, I'd cook breakfast and try to start the truck.  If the truck won't start, I'd plug the truck block heater into the Honda eu2000i and, within about 30-45 minutes, I would start the truck.  Then, I would pack up and roll.  45 minutes before lunch, I would open up the windows on either side of the sleeve to preheat the camper.  I'd stop for lunch, turn on the camper's heater, and enjoy some hot soup, and freshly perked coffee.
I must confess, I have done pieces of the above in my travel trailer, pieces in my Northstar truck camper, and pieces in a tent as a Boy Scout in -20 degree Fahrenheit weather.  But not all of it totally in my truck camper.
If one is going to do a lot of this, it would help to add a propane catalytic heater in the truck camper which would take less (or no) battery power and thus reduce the "depleting the battery" problem.  I am surprised more truck camper manufacturers don't offer a catalytic propane heater as an option.  But maybe they do and I am just not aware of it.
As a person who enjoys the outdoors in the winter, you need to invest in good wool clothes to do this kind of gig safely and comfortably.  I recommend wool from head to toe from Woolrich, Filson, Icebreaker, Smartwool, Big Bill, and Pendleton.  You can get insulated boots from L.L. Bean, Sorel, and Schnee.  Fleece and polypropelene is a second best choice.  If you use it, please don't get close to the campfire.   That's why I recommend wool, wool, wool!" – Firman Schiebout, 2004 F-350 Ford, 2012 Northstar 9.5 Igloo U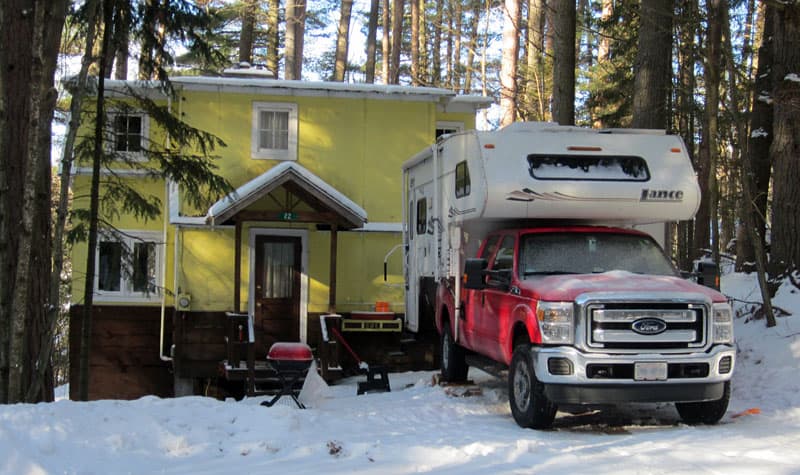 "We all enjoy camping in spring, summer and fall, but I enjoy winter camping just as much.  I try to go out at least once a month.  Here are a few pictures of my week up in the north country of upstate New York this past January.
The overnight lows ranged from +5 to -5 degrees Fahrenheit.  Daytime highs ranged from +9 to the upper teens, but the week after I left it hit -27 one night.
I take food of course, but also enjoy grilling outdoors.  I plug into power in this summer cottage on the lake and use mostly electricity for heat since it is available.  I do use gas heat on occasion when the temperatures are really cold.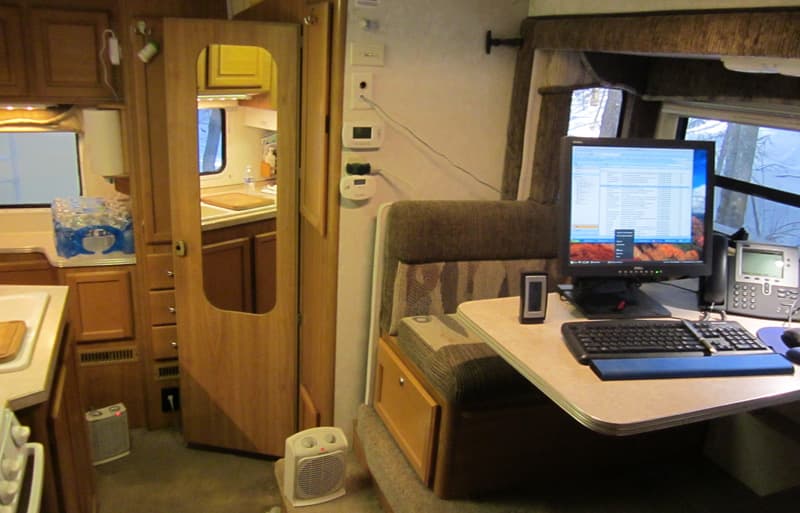 I am fortunate that I can work wherever I have internet so I turn on DSL and am as productive there as anywhere – maybe even more so.  I drive to the village about once a day for a change of scenery and I go for a walk on the lake in the evenings, after the locals tell me the ice is thick enough to do that.  Rocky Gap State Park in Maryland is an example of one of the few state parks here in the Mid-Atlantic area that are open with electricity all year long and I have walked on that lake when people were ice fishing out in the middle.
I look forward to hearing from others about winter camping.  Thank you for posting the question." – Fred Patterson