Wait, is that a "new" Volkswagen Beetle that's been converted into a pickup truck with a custom camper in it?  Or are we being camper duped and v-dubya fooled?  What the VW?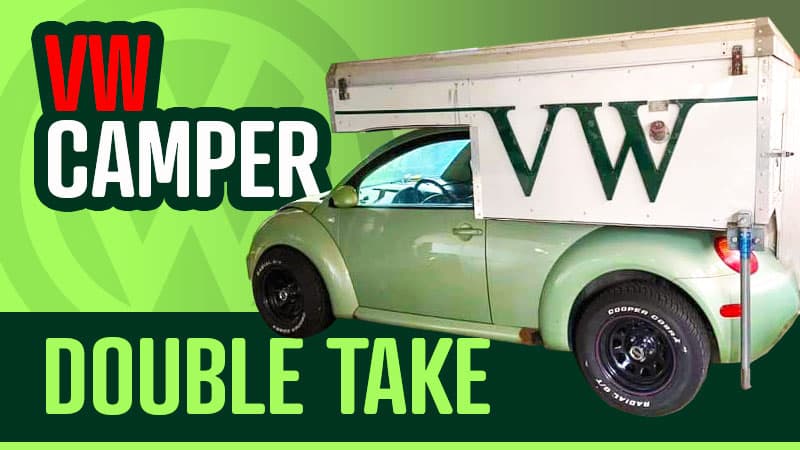 You just never know what's going to pop-up on social media.  A reader pointed us to this VW camper on Facebook Marketplace.  Honestly, I thought we were getting punk'd when I first saw it.  Is this car-camper thing for real, or a prank?
We may never know.  Moments after we saw it, the ad was taken down.  Thankfully, I had already captured the images so we can share them with you.  This bewildering Beetle wasn't going to bug out that easy.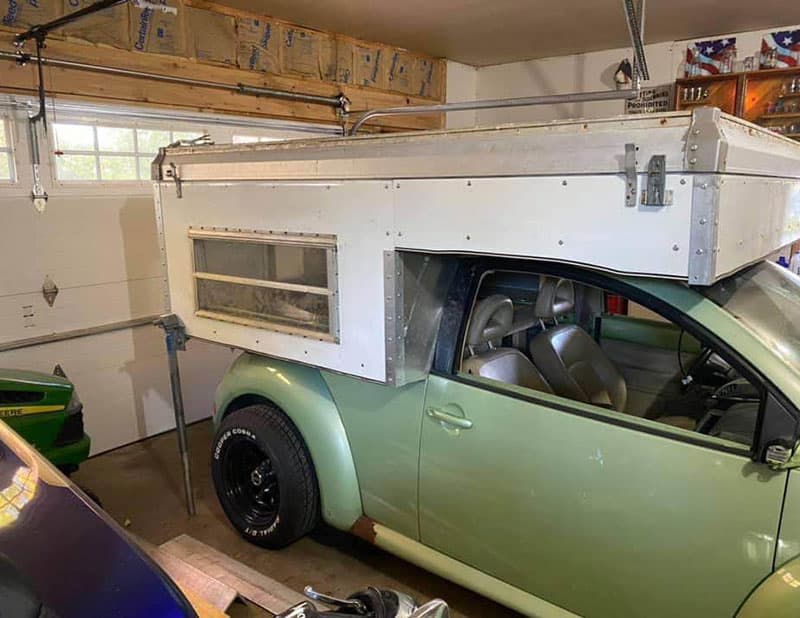 At first blush, I would have sworn it was a Robby Rowe (of Phoenix Camper fame) creation.  Robby has certainly built hundreds of one-off custom truck and camper creations.  If you are at all intrigued by this VW build, check out Phoenix Campers's remarkable campers on our Phoenix Camper page.
Looking closely at the images, we spotted the wide Cooper Cobra Radial G/T performance all-season tires, a nice touch with their raised white-letters.  The wheels and tires give the Beetle a hint of retro muscle car vibe.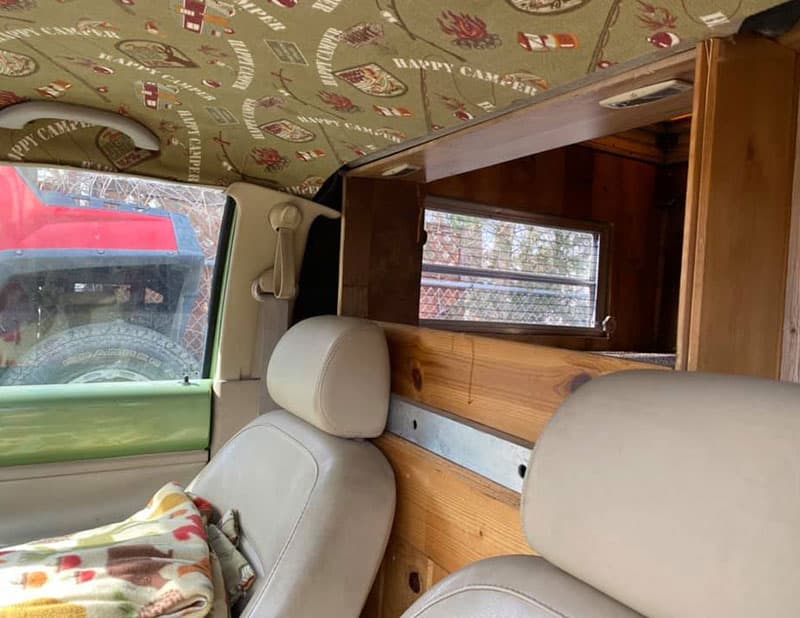 Another really (really) cool feature of this build is the pass-through.  Of all the features truck campers do not offer, the pass-through is probably the most missed.  This pass-through appears to be large enough for an adult to crawl through.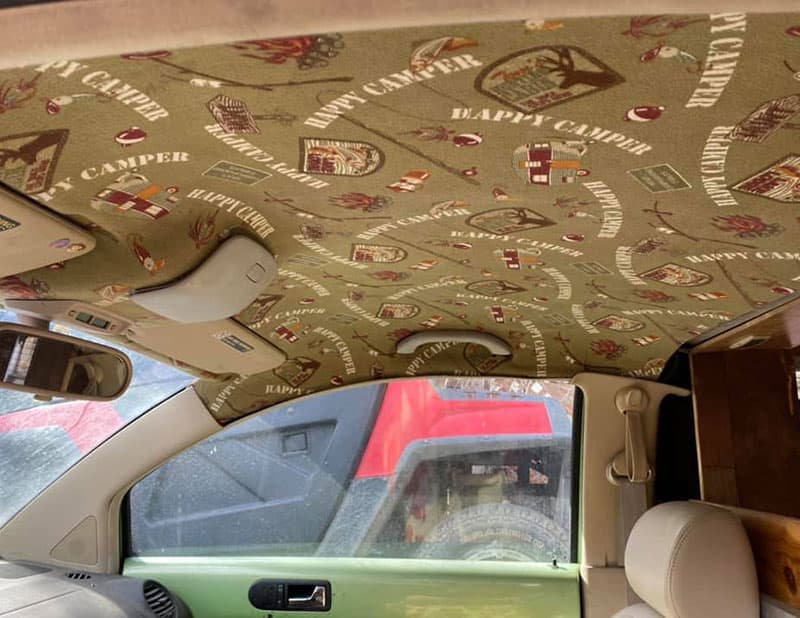 I also love the "Happy Camper" headliner.   Details like that make this Beetle Camper unique for all time.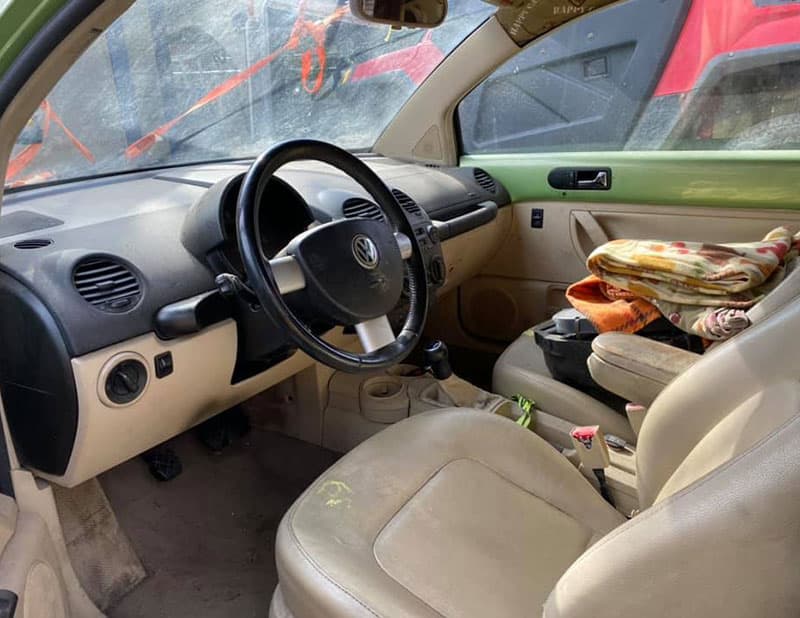 The camper appears to be an early version of the "New Beetle" introduced in 1997.  I happened to work at the VW advertising agency when this camper was launched (Arnold Communications) and can tell you the response to the Beetle was phenomenal.  All my agency had to say was, "Drivers Wanted" and people answered, "Yes, please!"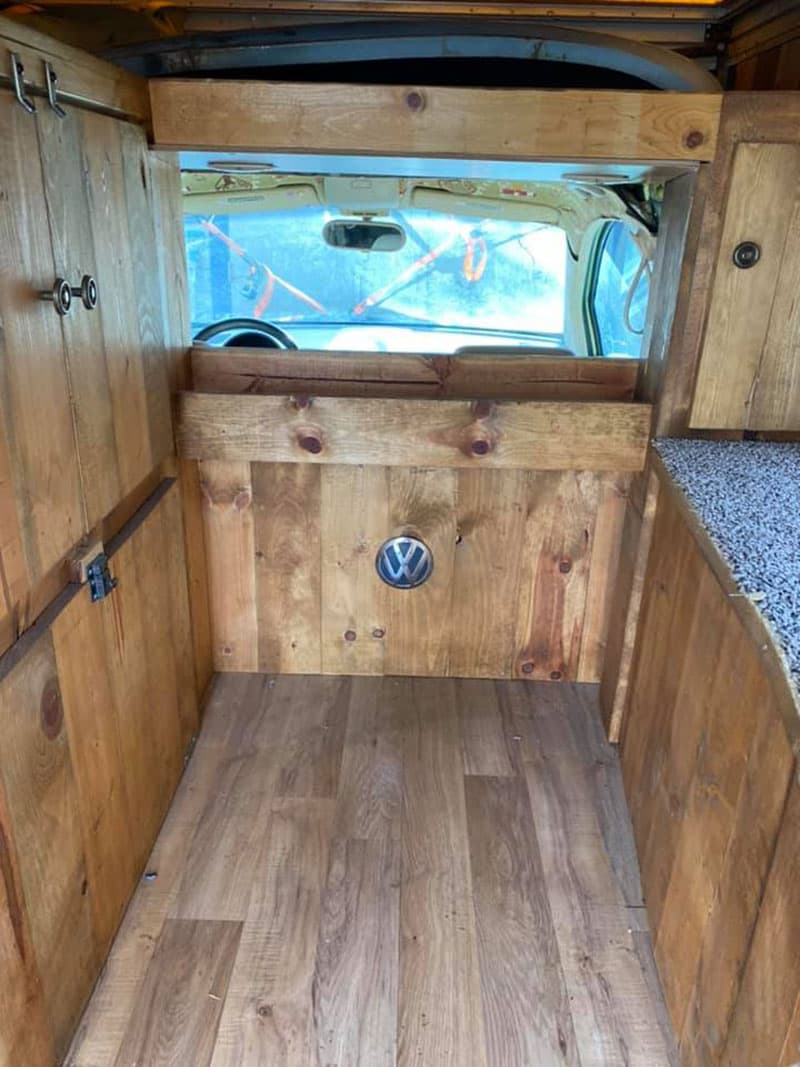 In the demolition, it appears the owner used the VW emblem from the car's trunk (the engine was moved to the front for the New Beetle) and incorporated it on the front lower wall.
The emblem appears to be scratched up making me wonder if the vehicle was in an accident prior to its new form.  As much as any of this can make sense, it would make sense to take interesting old cars that have been physically damaged and convert them into campers.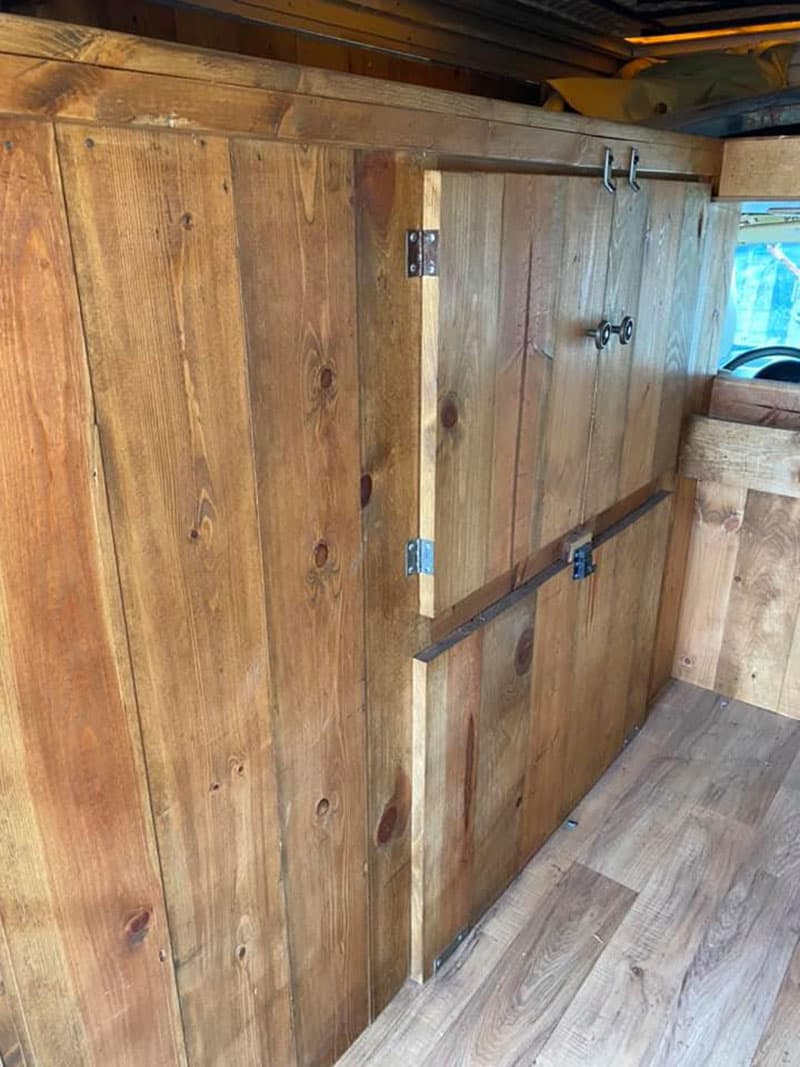 The lower kitchen cabinetry presents a cabin-like feel.  The range of colors in the wood (reds, yellows, and greens) could be Beetle Kill Pine.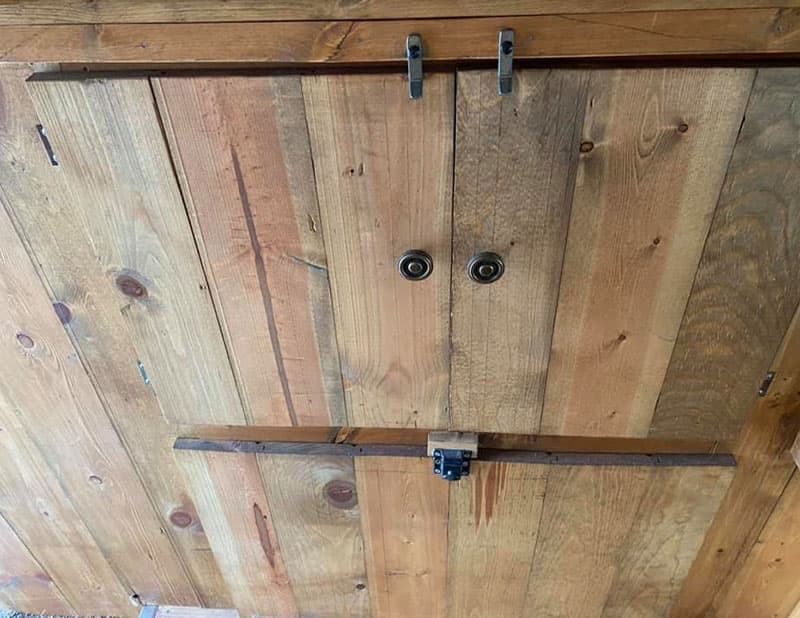 Beetle Kill Pine is made from trees killed by the mountain pine beetle.  Sadly, there are millions of acres of forest in the Western US and Canada blighted by this bark beetle.  We have driven through these dead forests. It's heartbreaking.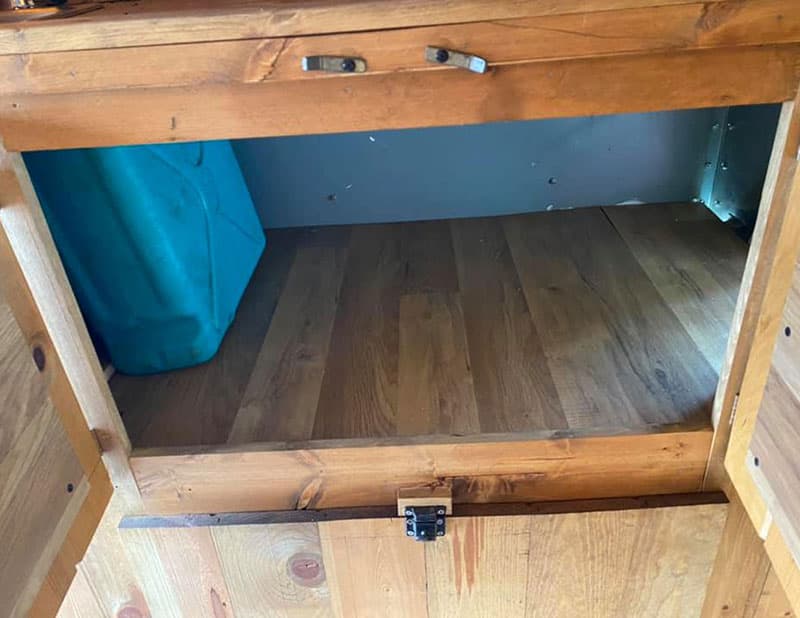 The cabinet opens to reveal storage, and space for a jerrycan.  This is likely for grey water capture from the sink but could be for supplying fresh water as well.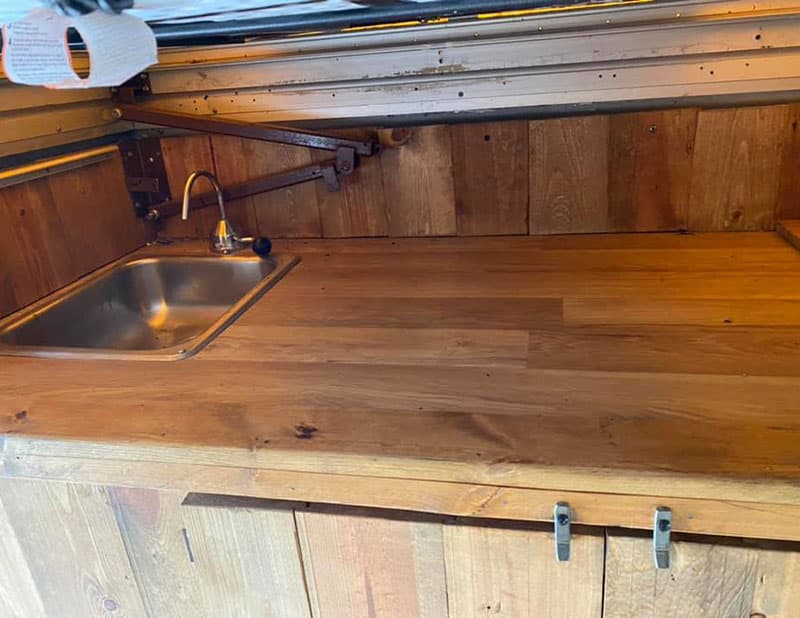 The kitchen is a simple affair with a small sink and countertop.  Given the compact size of this camper, this is an exceptional amount of counter space.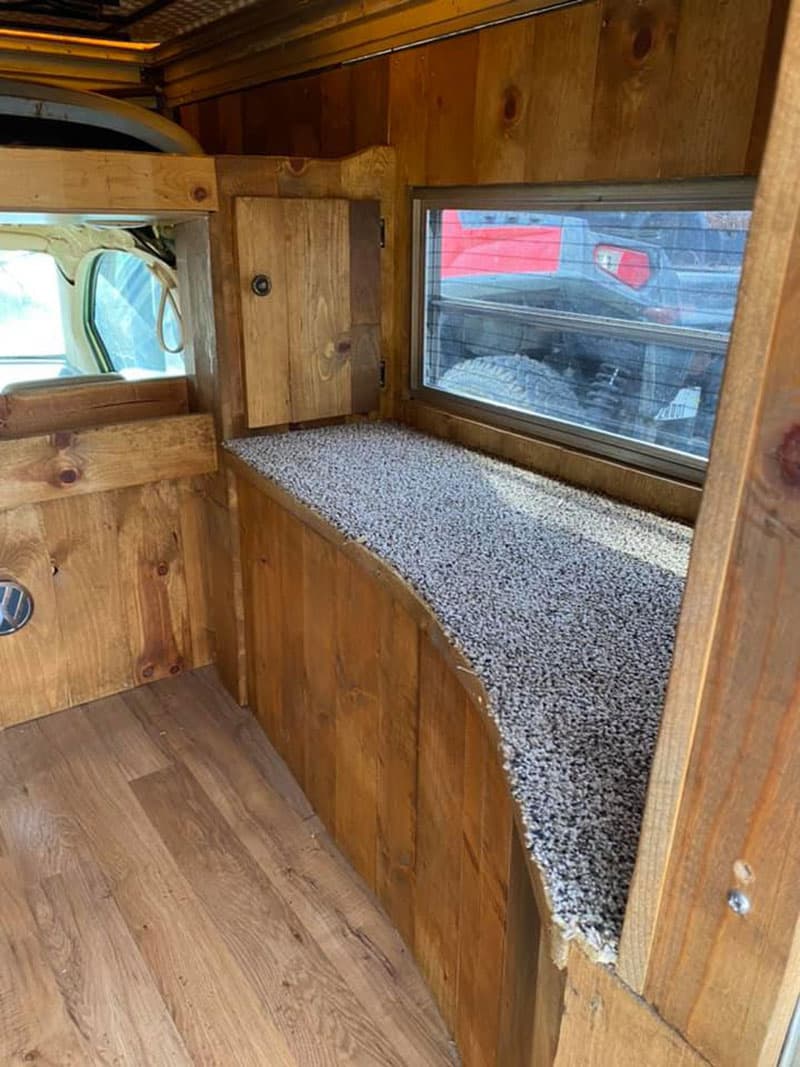 The passenger's side interior has a welcome carpeted place to sit, a window, and a small cabinet.  It's all a little rough around the edges, but that suits the playful nature of this build.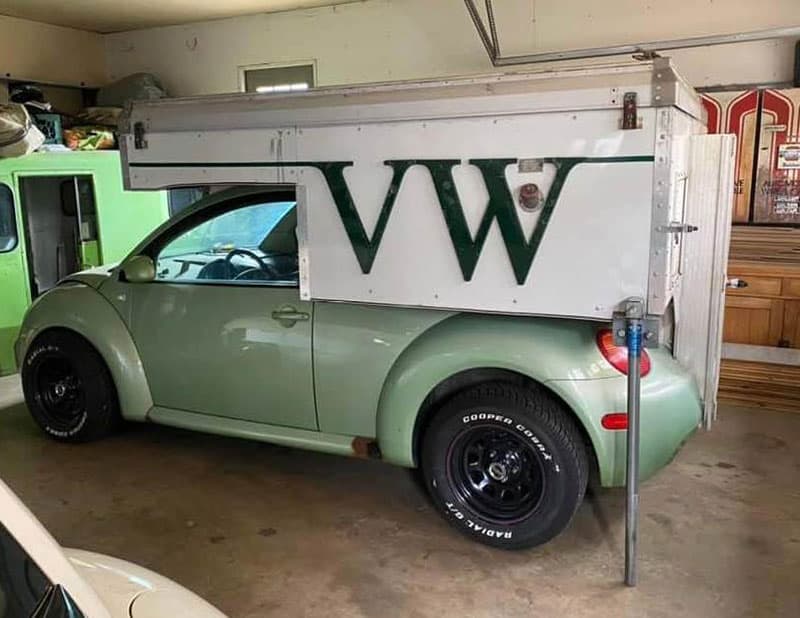 Sharp-eyed viewers will note the green "camper" center-left in this image.  That looks like another truck camper!  Who is this mystery person building one-off camper creations?
Update October 2021: TCM readers have found this mystery person.  Check out videos from the new owner on YouTube.