Jason Fox and his fiancé, Lauren, had a dream to experience Burning Man, and explore the American West.  This is their story of building a tiny house on a pickup, and hitting the road.

There is something symbiotic about tiny houses and truck campers.  Both are essentially living spaces cleverly incorporating a sleeping area, kitchen area, bathroom area, storage, and seating in remarkably small packages.  While not all tiny houses are portable, most are, and share the common truck camper ideal of maximizing storage and function per square foot.
That stated, there is an important difference between these two concepts.
Tiny houses are predominantly designed with a residential aesthetic, using residential building materials, and constructed with residential building techniques.
In contrast, truck campers are predominantly designed with a RV aesthetic, using RV building materials, and constructed with RV building techniques.
Yes, there are elements about tiny homes that echo what's found in the RV marketplace.  And yes, truck campers do have aspects that mirror residential design, materials, and construction.  That stated, the general rule is that tiny homes look like tiny homes, and truck campers look like small RVs.
So what would happen if someone crossed the streams and built a tiny home in the shape of a truck camper?  Even better, what would happen if someone built a tiny home in the shape of a truck camper, and then mounted it on a truck, and took it on a cross-country trip across America?  That would be really interesting, right?  Well, we are in luck.
Meet Jason Fox and his girlfriend, Lauren.  Together they dreamed up a whirlwind adventure to see The West, hitting a few key cultural points along the way, all in a custom tiny house truck camper they would build in their rear court yard.  Where most of us would cast off such whimsy as, well, whimsey, Jason and Lauren actually made it happen.
Along the way, Jason and Lauren faced a number of challenges including how to move the completed camper from their court yard, numerous construction delays pushing their start time, and completely blowing a clutch in Big Sur.  As Jason explains it, nothing about the experience was perfect, but they wouldn't change a thing.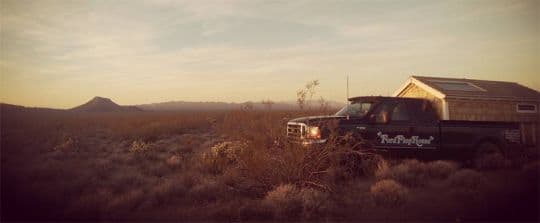 Above: The Ford Flophouse on a 2000 Ford F-250
TCM: Our readers are going out of their minds with curiosity about your beautiful truck camper build, but let's start with how you got into camping.  Were you a tent camper?
Jason: I was in Cub Scouts as a kid, so we did a little tent camping, but nothing crazy.  We went on a few local road trips as a family, but never did anything truly out there.
I began traveling more and more in college, and then later for work.  That's how I caught the travel bug.  As I got more and more into mountaineering, tent camping was a natural part of that experience.
Then I quit my day job to start my own company, move to Argentina, and continue to travel, camp, and explore.  That's when my traveling lifestyle really took off.  I became a classic digital nomad for a while, traveling and using the internet to work remotely.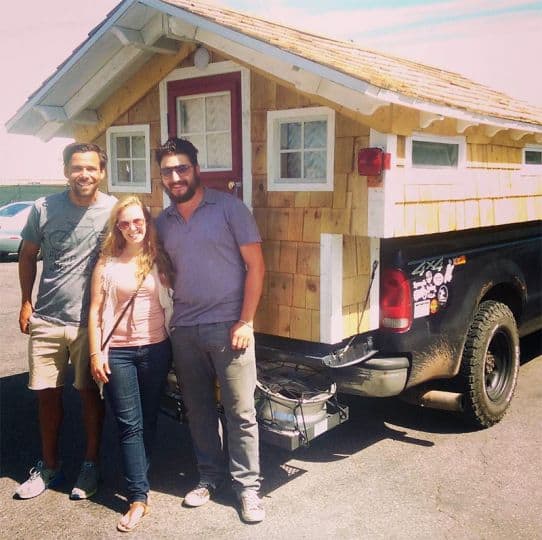 Above (left to right): Nathan Gebhard, Co-Founder of Road Trip Nation, Lauren, and Jason
TCM: Being able to work from the road is fantastic, and something we have been very fortunate to enjoy ourselves.  How did you first get introduced to truck camping?
Jason: I really wasn't introduced.  I knew such things existed, and had seen a few here and there, but hadn't given them much thought.
When my fiancé, Lauren, and I were planning a road trip across America, the idea of putting a camper in the bed of a pickup made sense.  I like to build things, so I figured I'd build a camper to sleep in.
It may sound funny, but it was only after we had hand built the Ford Flophouse and traveled around in it that we began to see more and more truck campers.  On several occasions we were able to meet fellow truck camper owners and swap stories.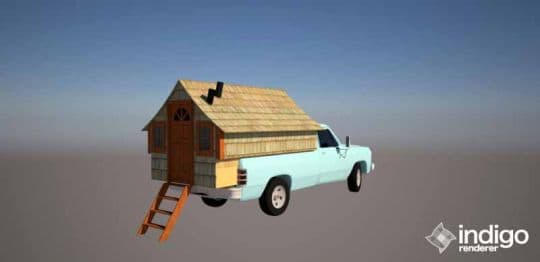 Above: Jason's concept rendering
TCM: So you're an accidental truck camper builder?
Jason: The idea of putting a camper in the bed was in the periphery of my mind, but I didn't consider what we were building to be a truck camper until we began traveling with it.  I just built what seemed like a cost effective structure to sleep in the bed of a truck.
Above: Jason's tiny house truck camper in Moab, photo courtesy of Guillaume Dutilh, Tiny House Giant Journey
There are tons of places we went that you could not take a normal RV.  Of particular beauty was Telluride, Colorado, the Mohave Desert, and the scenic road the follows the Colorado River from Moab back to Route 70.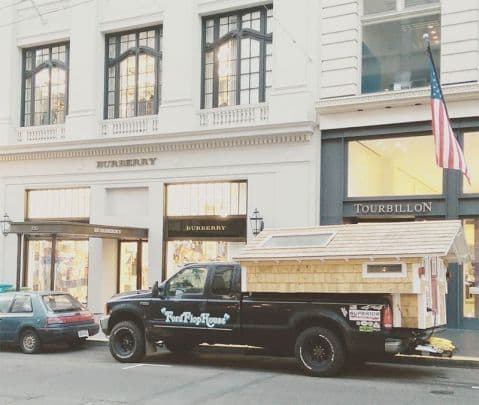 Above: The Ford Flophouse parked in the city
When we are near civilization, the house gets a lot of attention.  In San Francisco, we parked near Union Square and parked directly across from a fancy shopping center.  People were taking pictures of our rig.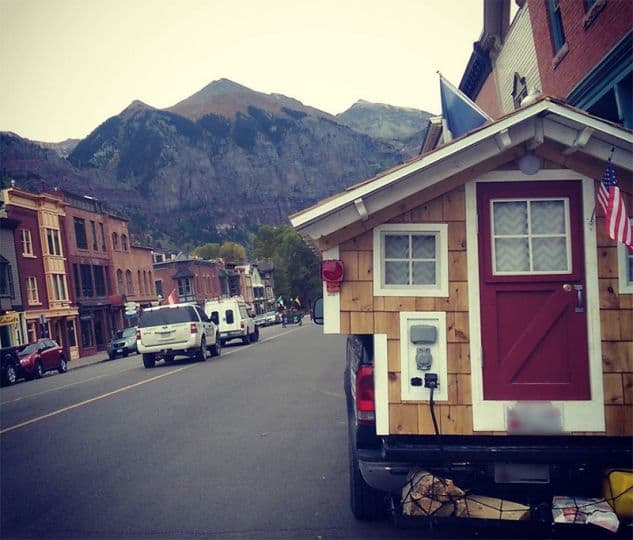 Above: Parking in the center of Telluride, Colorado
In Telluride, we parked in the center of town.  When I was inside the camper working we could hear people outside saying, "Look at this tiny house," and things like that.
TCM: It certainly is eye catching.  How did the project of building the Ford Flophouse get started?
Jason: I designed my camper from scratch and built it to look like a tiny house.  It was a bit of an organic process.  Once the project started it took on a life of its own.
I thought it would be cool to build a camper that looked like a little cottage, the whole thing being very Americana, so that is how the process started.  In the back of my mind I was also channeling a bit of Thoreau's Walden thinking it would be enjoyable to "just build a house".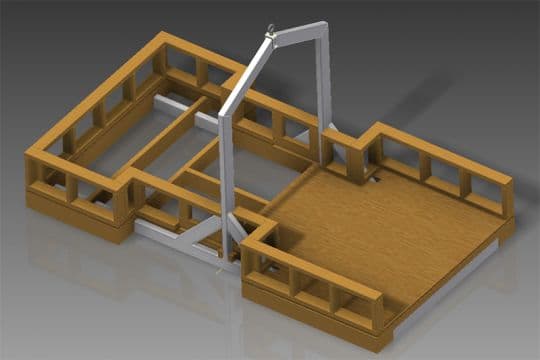 Above: Showing off Jason's talents; the lower frame walls on the computer
Above: Here are the lower frame walls being built – click to enlarge
TCM: Most of us don't have the prerequisite abilities and skills to, "just build a house".  How is it that you have the background for such an ambitious project?
Jason: I have been building stuff since I was a kid.  My grandmother would take me to the hardware store and I'd pick out things to put together.  I later got into cars and electronics.
Many of my skills came from odd jobs and experiences.  For example, I worked for Rochester Institute of Technology's Formula SAE team that builds race cars.  I went to school for engineering and business, and then did the normal job thing.  Several different industry jobs prepared me for what I do now, hardware prototyping.  Basically, I help start-up companies get their ideas off the ground.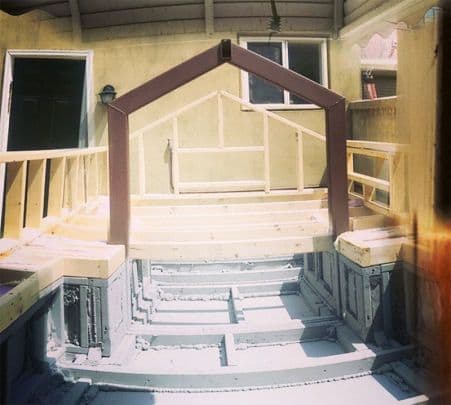 I love building in any aspect.  I have a wide range of skills including welding and wood work.  For anything I don't know how to do, like building a shingled roof, I watch online videos and pick things up quickly.
I have learned a tremendous amount while building the Ford Flophouse.  Basically I built a house, but in miniature, and in the general shape of a truck camper.  It might have been less costly to buy a pre-built truck camper and go.  But then it wouldn't look so cool, and I wouldn't have the satisfaction of having built something from my mind.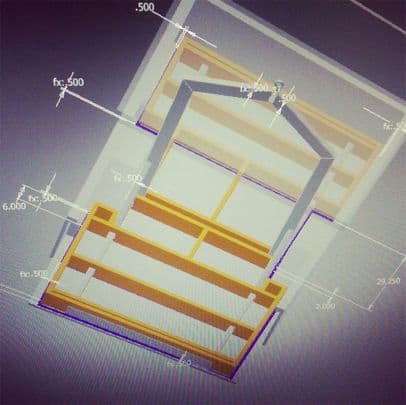 TCM: How did you get the idea out of your mind and into reality?
Jason: I built a rough sketch in Google SketchUp, which was not dimensional.  It started as a house in the back of a pick-up.  I picked the colors and got the concept and layout.  Then I measured, and got more advanced with the CAD program.  I built a model of the bed, and used that as a reference to create the boundary of where it would exist inside the bed.
Above: Jason's truck camper in the CAD program – click to enlarge
I started with a steel internal frame that could be lifted.  Then I designed the wood parts based off the steel frame.  Using CAD software, I could see where the design would run into the truck bed and make necessary adjustments.  Once the design was completed on the computer, I started building the camper.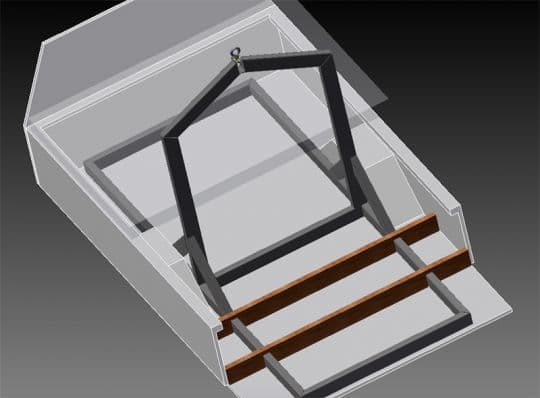 Above: The mock-up of the frame
TCM: Did you model every detail on the computer?
Jason: I modeled the entire frame and roof.  The molding and shingles were done as I was building it.  The steel frame came together perfectly, but the wood presented some challenges with slight variations in thicknesses and curves.  I learned that it's actually hard to go from a CAD model to a wood reality that fits perfectly together.
Above: The project literally filled the courtyard – click to enlarge
TCM: Were there any other challenges during the build?
Jason: We built the camper in the courtyard between our row house and garage.  The project literally filled the entire courtyard.  There was maybe a foot of space on one side, and two feet on the other.  I was squeezing around a very cramped area to work.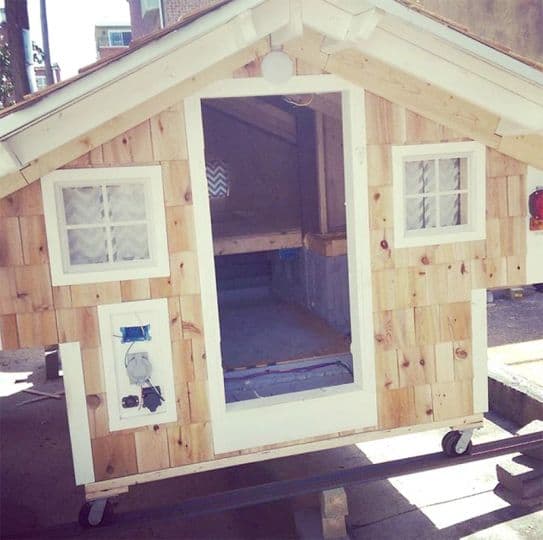 Above: The iron channels, and casters to get it into the street – click to enlarge
It was also quite challenging to get the camper out of the courtyard and onto the truck.  We rigged iron channels into makeshift rails, slid it down the alley on casters, and into the street.  One of my neighbors has a backhoe and lifted the camper into the truck.
Above: Loading the truck camper required a backhoe
TCM: Now that's how you load a truck camper!  Tell us about your truck.
Jason: When I started the project I had a 1977 Dodge D100 with a great two-tone blue and white paint job and classic 1970s lines.
Unfortunately, the Dodge blew a timing chain and crashed all of its valves.  Obviously, it wasn't going to handle the increased load of the house.  Plus, it needed a new engine.  That's when I bought a Ford F250.  When we bought the Ford, we actually renamed the house from Mopar Mansion to the Ford Flophouse.
Looking back, finishing the house, modifying it to fit the Ford, repairing the Ford to pass inspection, and finishing up some client work, it was a huge effort to get the rig launched.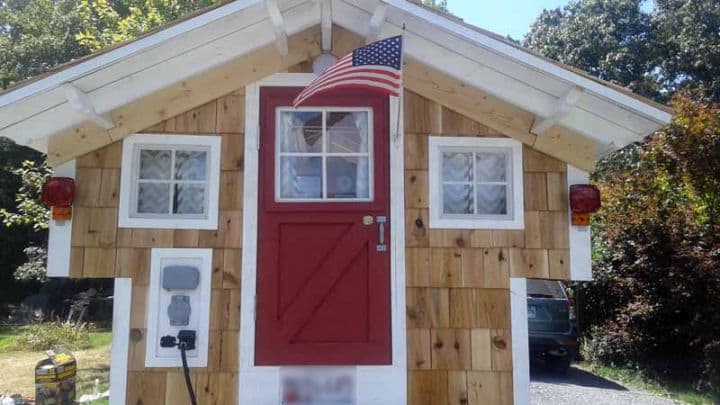 Above: The finished tiny house truck camper
TCM: Nothing worth doing is easy.  At least that's what we keep telling ourselves.  What are the final dimensions of your truck and camper?
Jason: The house is about 10-feet long, and the width of the truck.  The house is about two feet taller than the tallest point on the F-250 cab.  My girlfriend at 4'11" can stand up in the center of the house, but I can't.  I have to lean my head down a little.
Above: The entry door being painted – click to enlarge
The entry door is 2-feet by 4-feet, so it's especially tiny.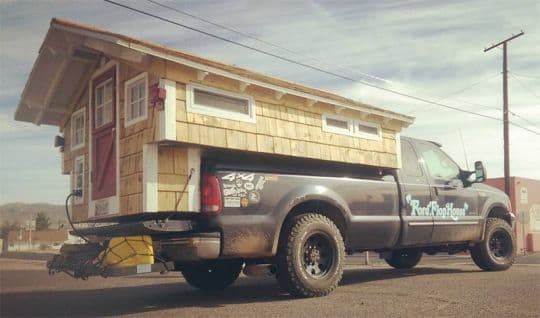 Above: Jason's tiny house truck camper is about 1,400 pounds – click to enlarge
TCM: Have you weighed the camper?
Jason: Yes, it's about 1,400 pounds.  The camper wraps around the wheel wells in the truck bed, so I don't need tie-downs or turnbuckles.  The house fits very tightly to the truck, like a glove.
TCM: Any idea of the total time and cost that went into the camper?
Jason: I would guess the total cost was around $4,000 in materials.  We started the project in March of 2015, and I was working on it almost full time in the weeks leading up to our trip in August.  A lot of time went into this project.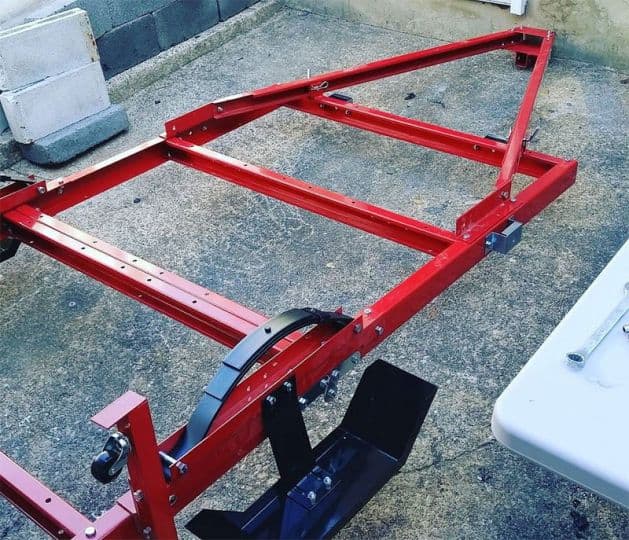 Above: The trailer the camper goes on for repairs and upgrades
TCM: Since your neighbor helped load the camper with a backhoe, what's the plan when you demount the camper?  Or is it a permanent mount?
Jason: It's not easily removable, but it can be taken off and on.  It will go on a trailer for repairs and upgrades while I use my truck.  Long term we may rig up a loading frame that we can use.  I may even consider selling it because it's been so popular, and build another one.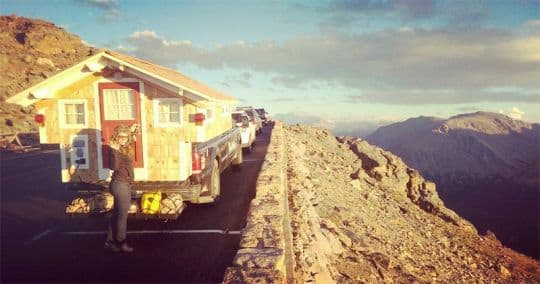 Above: Lauren in the Rocky Mountains
TCM: What upgrades are you considering?
Jason: We had originally planned for a sink and water system.  I also want to finish the cabinets, which I have yet to build.
We finished the wiring before leaving, but had no house battery.  I was able to cobble together a basic electrical system from existing parts.  During the trip I built a single battery AC/DC power system to power lights and outlets inside the cabin.
We also wired together a WiFi Ranger and a cell signal amplifier.  These things helped us to stay connected.  Both my girlfriend and I work from the road.  Finally, we added some additional storage nets and a rudimentary desk.  It's a work in progress.
Above: Roofing tar and roof tar paper were used during the construction process – click to enlarge
TCM: As a predominantly wood structure, how are you keeping the water out?
Jason: I used a fiber roofing tar, which is a thick tar paint, and painted whole bottom and sides where the bed meets the camper.  The tar paint soaks through wood and seals the gaps.  With the tar paint, the bottom and sides are well sealed.
Above: The shingles and siding of the Ford Flophouse – click to enlarge
Once I finished the steel frame and attached the floor joists, I put on the exterior sheathing.  I put roof tar paper under the shingles, which is a standard for a house build.  So, the camper exterior is plywood, tar paper and cedar shingles.  Then I waterproofed the shingles with a water sealer.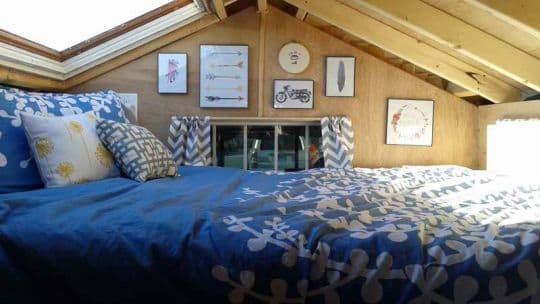 Above: The interior of their truck camper
TCM: That is certainly a unique approach to sealing a camper.  Applying a layer of water sealer is especially interesting, and merits further investigation.  Realizing that your camper is unfinished, what amenities do you currently have?
Jason: We currently a full size IKEA foam mattress with a pillow topper that's oriented East-West in the front of the truck's bed.  We have tiny windows and a skylight over the bed.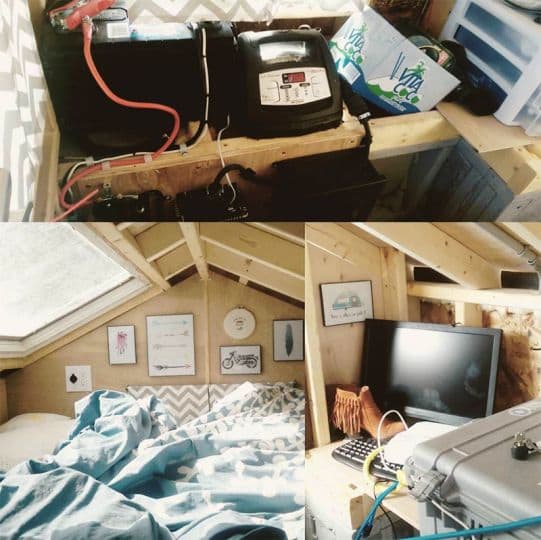 Above: The interior of their tiny house truck camper
The platform the bed sits on is a massive storage area for camping gear.  There are also stackable dresser drawers where we keep our clothes.
Towards the door there are overhangs and windows.  We use that area for extra storage, but I also attached a little computer desk with a monitor and laptop.  The monitor and laptop are held in place with bungee cords and screws during travel.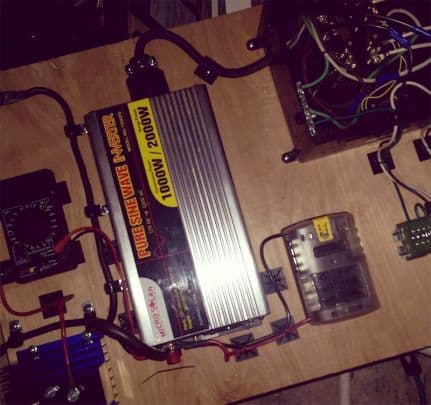 Above: The electrical that was finished in a Walmart parking lot
In the driver's side overhang area is the power system.  It's wired like a house, but with flexible marine grade wiring.  I have a 12-volt system for our LED lights and car outlets, and 110 AC outlets powered off an inverter.  I also put in a battery isolator and a deep cycle battery.  A lot of the electrical was finished in a Walmart parking lot in Colorado.  I didn't get a chance to hook it up until then.  We charge our laptops and devices from the truck as we're driving.
I hope to add a sink and kitchenette.  I would also like to install a composting toilet and tiny wood stove and chimney.  I may do that in the future.
TCM: Did you need to modify your truck for the camper?
Jason: To actually fit the camper into the truck, all I needed to do was remove the plastic bed guards and disconnect the tailgate cables and attach the cables to the camper.  There were no substantial modifications.
I added a large winch on a self-built mount, along with some driving lights.  We upgraded the wheels and tires to handle rougher roads and to go off-road.
The truck's cab has all sorts of gizmos to report engine condition, tire pressure, navigation, etc.  While I was finishing the project I was reading Andy Weir's "The Martian" so, in my mind, the whole thing was like a space ship.  I wanted to be prepared for whatever the road could throw at us.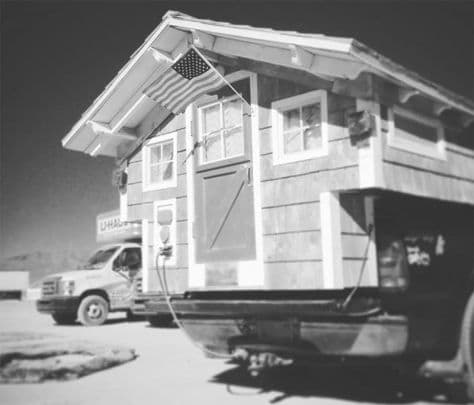 Above: The Ford Flophouse at Burning Man
TCM: To go where no Flophouse has gone before.  Love it.  Tell us about your trip across America.
Jason: The genesis of the idea was when my girlfriend and I were living in Argentina and exploring that area of the world.  We realized that there was a lot of America that we hadn't seen.  We agreed that we should do a classic American road trip.
I have always wanted to do a serious road trip.  Prior to this adventure, I had driven to Detroit and Niagara Falls, but never had the experience of driving cross country.  Our original road trip route changed as delays in construction pushed our launch date farther back.  Burning Man was the one thing set in stone, so eventually we were pushing day and night to get the whole thing put together with time to hightail it out to Nevada.
There was a point early in the trip where we crossed over the Midwest states.  We got into Wyoming and the scenery totally changed.  That's when we truly realized that we were no longer on the East Coast.
We love the freedom of the road, and going to a whole new place.  We love exploring national parks, seeing amazing scenery and trees, and mountaineering.  Several times during our trip we would roll into a campground at the trail head of a summit route, wake up the next day, climb the mountain, and roll out that evening.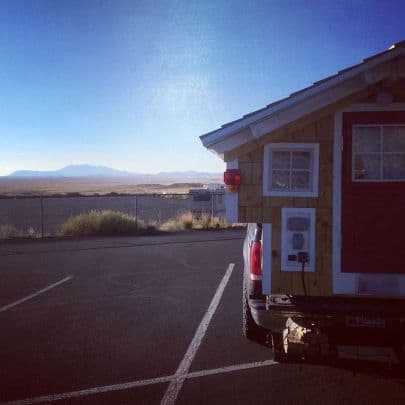 Above: Mount Humphreys in Arizona
I was fortunate to summit Wheeler Peak in Nevada, Mount Elbert in Colorado, and Mount Humphreys in Arizona while on the trip.
TCM: What are your truck camping plans for the future?
Jason: We would like to do a southern road trip experience to climb more mountains in the Smokies, and visit New Orleans.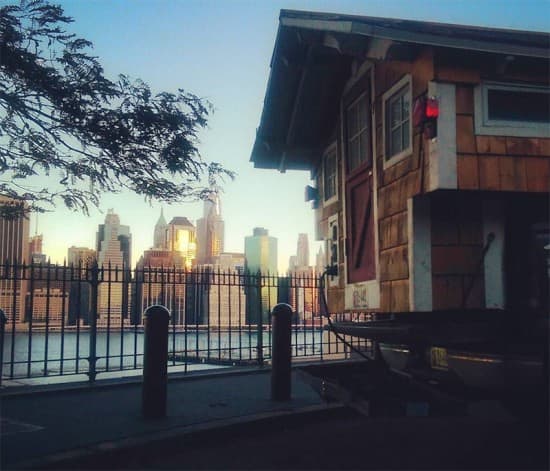 Above: On the way back home, Brooklyn heights overlooking southern Manhattan
TCM: Looking back on your cross country road trip, how did it go with the camper?
Jason: We survived.  The camper did great.  We only lost a couple shingles from wind.
Possible future plans include a revised, and more futuristic version.  That would allow us to really get off-the-grid and, say, drive to Alaska, or something.  As it stands, the camper looks awesome, and everyone loves the way it looks, but its weight and wind resistance limits where the truck can go easily.
Speaking of which, we had a pretty amazing road fix near Big Sur, California.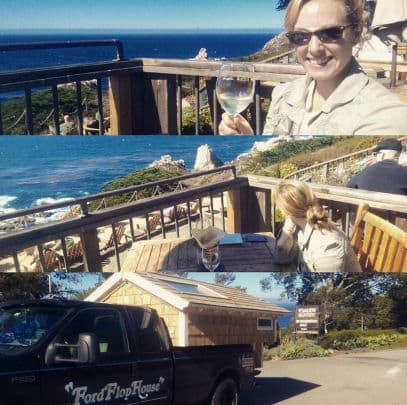 Above: The trip to Esalen Institute in Big Sur
TCM: What was that?
Jason: We are big fans of the show Mad Men.  The final episode was shot at the property right next to the Esalen Institute in Big Sur.  It's a retreat for yoga, meditation, and stuff like that.
We wanted to check it out, but you can only get in if you attend an expensive course or schedule a massage.  So, we scheduled massages.
Two miles away from the retreat, we stopped at a light.  When it turned green, the clutch pedal didn't come up.  I had to pull the clutch up with my hands, press down, and try to get into gear.  It went, but it wasn't normal.
We managed to get to the Institute.  It was a cool place with a garden, workshop areas, a path to the cliffs, amazing hot springs, and everybody's naked.  It's a hippy place.  After our massages, we were tranquil, clean, and "transcended beings".
When we got back to the truck, the clutch was completely gone.  I couldn't even get out of the lot.  The Esalen maintenance worker towed our truck up a steep hill so we could get out and call AAA.  When they arrived, they told me that I had a modified vehicle that wasn't a real RV because it lacked a weight sticker, and would not help me.
I then called a NAPA auto store in Monterey, about 22 miles north.  They had the part we needed.  We first thought we would hitch hike to Monterey and back.  But, as soon as we departed, my masseuse saw us and gave us a lift to the NAPA store, and back.  The next day I installed the new clutch master and slave cylinder assembly and it worked like a charm.
You meet some really friendly and helpful people on the road if you have the right attitude.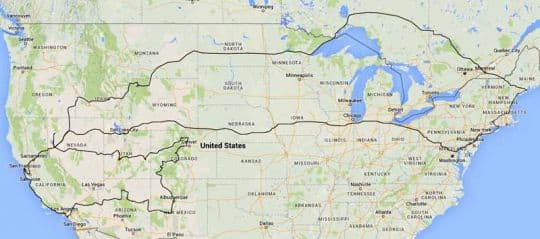 Above: Jason and Lauren's cross-country trip
TCM: Your custom truck camper and cross country trip are certainly inspirational.  Is there anything else you would like to add about your experience?
Jason: You can visit Never Stop Building blog to see more of my work.  I'd also like to give a big thanks to Rob, Dave, and the whole crew at Superior Auto of Frederick for going above and beyond helping me to get the truck ready on time.
A trip like this provides great life lessons.  You can't do everything.  The journey is important.  Be present.  Do the best with what you have.
The whole experience of building the camper and the road trip taught us that nothing will ever be 100% perfect.  The house isn't.  The road trip wasn't.  We had to change our route because we hit the road late and wanted to go to Burning Man.  We had to get back because of a deadline.  There were a bunch of places we couldn't visit.
Then again, the trip was awesome.  It had everything a road trip should have; national parks, long distance driving, open expanses of road, and crazy skies.  Yes, we had problems with the truck and house, but nothing major.
If you live in this country you should do a cross-country trip at least once.  We consider ourselves lucky.  The national wealth is insane.  We have the best geysers, mountain ranges, and canyons.
You can be across the country in four days.  Take advantage of that.
Rig Information
Truck: 2000 Ford F-250 Super Duty, Extended Cab, Long Bed, Single Rear Wheel, 4×4, Diesel
Camper: 2015 Never Stop Building "Ford Flophouse"
Tie-Downs and Turnbuckles: None
Suspension: N/A
Gear: Custom winch mount, Rear cargo rack, Driving lights, WIFI ranger, Drive 4gx cell amplifier, CB, Tire pressure monitoring system, Inverter