Jason Fox and his fiancé, Lauren, had a dream to experience Burning Man, and explore the American West.  This is their story of building a tiny house on a pickup, and hitting the road.

There is something symbiotic about tiny houses and truck campers.  Both are essentially living spaces cleverly incorporating a sleeping area, kitchen area, bathroom area, storage, and seating in remarkably small packages.  While not all tiny houses are portable, most are, and share the common truck camper ideal of maximizing storage and function per square foot.
That stated, there is an important difference between these two concepts.
Tiny houses are predominantly designed with a residential aesthetic, using residential building materials, and constructed with residential building techniques.
In contrast, truck campers are predominantly designed with a RV aesthetic, using RV building materials, and constructed with RV building techniques.
Yes, there are elements about tiny homes that echo what's found in the RV marketplace.  And yes, truck campers do have aspects that mirror residential design, materials, and construction.  That stated, the general rule is that tiny homes look like tiny homes, and truck campers look like small RVs.
So what would happen if someone crossed the streams and built a tiny home in the shape of a truck camper?  Even better, what would happen if someone built a tiny home in the shape of a truck camper, and then mounted it on a truck, and took it on a cross-country trip across America?  That would be really interesting, right?  Well, we are in luck.
Meet Jason Fox and his girlfriend, Lauren.  Together they dreamed up a whirlwind adventure to see The West, hitting a few key cultural points along the way, all in a custom tiny house truck camper they would build in their rear court yard.  Where most of us would cast off such whimsy as, well, whimsey, Jason and Lauren actually made it happen.
Along the way, Jason and Lauren faced a number of challenges including how to move the completed camper from their court yard, numerous construction delays pushing their start time, and completely blowing a clutch in Big Sur.  As Jason explains it, nothing about the experience was perfect, but they wouldn't change a thing.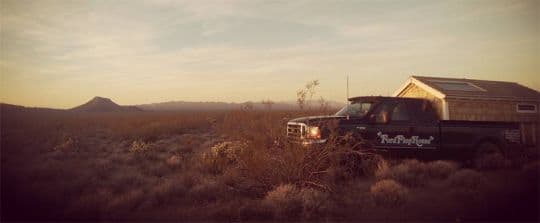 Above: The Ford Flophouse on a 2000 Ford F-250
TCM: Our readers are going out of their minds with curiosity about your beautiful truck camper build, but let's start with how you got into camping.  Were you a tent camper?
Jason: I was in Cub Scouts as a kid, so we did a little tent camping, but nothing crazy.  We went on a few local road trips as a family, but never did anything truly out there.
I began traveling more and more in college, and then later for work.  That's how I caught the travel bug.  As I got more and more into mountaineering, tent camping was a natural part of that experience.
Then I quit my day job to start my own company, move to Argentina, and continue to travel, camp, and explore.  That's when my traveling lifestyle really took off.  I became a classic digital nomad for a while, traveling and using the internet to work remotely.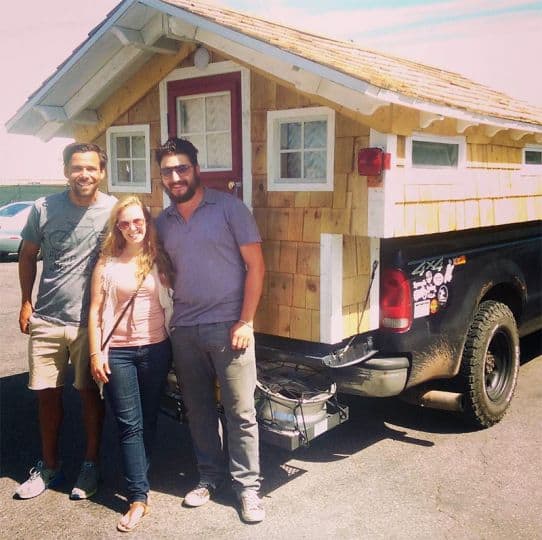 Above (left to right): Nathan Gebhard, Co-Founder of Road Trip Nation, Lauren, and Jason
TCM: Being able to work from the road is fantastic, and something we have been very fortunate to enjoy ourselves.  How did you first get introduced to truck camping?
Jason: I really wasn't introduced.  I knew such things existed, and had seen a few here and there, but hadn't given them much thought.