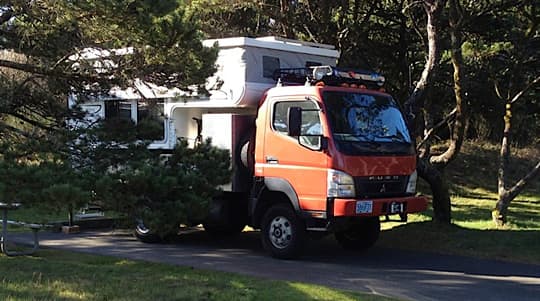 Above: Camping at Nehalem Bay State Park, Oregon
TCM: What adventures have you planned now that the rig is all together?
Dick: We haven't taken an epic adventure yet.  With both of us working, and the weather being unpredictable, we keep the rig fueled up and ready to go.  If the weather is nice and our schedules are free, we take off on Friday night and go to the coast or the mountains for the weekend.
Above: Robin at Gifford Pinchot National Forest near Mount Adams, Washington
Portland is nicely located about 1.5 hours from the coast and 1.5 hours from skiing in another direction.  And we're in the middle of a huge winery area.  We can throw rocks from our house and hit grapes.  There are hundreds of local craft brewers as well.  We'll take the camper, do some wine tasting, get a bottle of wine, and go camping.  That's what we did Memorial Day weekend.  The smaller wineries have open doors during the holidays.  We also take it skiing.  With the relatively compact size, and heat, it's perfect for skiing.
I have a couple epic adventures planned.  I worked in Alaska in the Aleutian Islands and Anchorage.  My wife has never been there.  We have been around the world, but she has never been to Alaska.  I would like to go up and spend a long time up there.  From Seattle we would take the Alaska Marine Highway.  We would travel one way on the ferry, and drive back, or vice-versa.
We have two kids, a daughter in Portland and a son who lives in Los Angeles.  We go back and forth from southern California to see him.  I'd like to take the rig down the coast to see him, and then turn left into the deserts of the Southwest.  I'd also like to go to Moab with the rig.
A lot of people want to see the world.  I'd like to see the United States.  The truck can go anywhere and has the capability to go across the globe, but the reality is that it will probably stay in North America.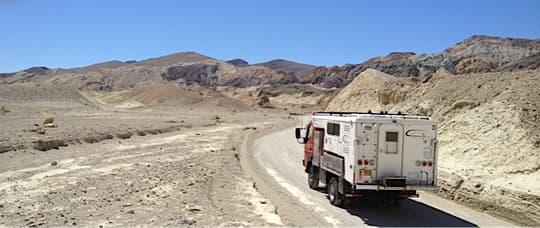 Above: Death Valley National Park, California
TCM: Is there anything else you'd like to add?
Dick: Everywhere I go, people ask what the truck is.  If I go to get fuel, groceries, or when we're out camping, we have to plan on explaining what it is.  Now everyone will read about it and know what it is.  People have asked if it's a fire truck.  People will ask if I work out of it.  I've had all sorts of crazy questions.  Sometimes I'll get a thumbs up driving down the road.
Someone actually almost ran me off the road looking at the truck.  That was crazy!  If you want to build a unique truck, be forewarned about gawkers.
Truck: 2005 Mitsubishi Fuso FG140, 4×4, diesel, 4 cylinder
Camper: 2007 Hallmark Ute XS
Tie-downs/Turnbuckles: I've bolted it to the bed in the front and there's 2×2 aluminum angle bolted to flat bed.  It's held in place side-to-side and front by the aluminum angle and bolts are holding it down.  The angles also guide it into place when loading.  I still have camper tie-downs in the back because it's hard to get to the floor of truck because of the bathroom being there.
Suspension and Gear: Take a look at the details in the article on suspension and gear.