What happens when you put together a 2005 Mitsubishi Fuso FG140 four-wheel drive, four-cylinder diesel and a loaded 2007 Hallmark Ute XS?  Pure off-road madness and expedition beauty.

"Why not?" can be a dangerous and thrilling question.
"Why not?" can lead to exciting new breakthroughs, and spectacular failures.
"Why not?" can take us where we've never been before, and maybe should have never gone in the first place.
We're talking about risk here folks.  The stuff that makes big things happen for a daring few, and often leaves the rest of humanity on the sidelines scratching their heads in wonder.
Dick Burnham saw a Mitsubishi Fuso and thought, "Why not put that together with a truck camper?"  The "not" part of that question is easy.  They were not designed for each other.  The Fuso's cab is too high.  The Fuso's bed is not a standard pickup length or width.  In many ways, putting a Fuso and a truck camper together is like taking an apple and an orange and trying to make a banana.
None of that deterred Dick.  He had a vision to take the extraordinary off-road capabilities of a Mitsubishi Fuso and marry it to a Hallmark pop-up.  He also had the determination, resources, and technical abilities to master the details, take the measurements, and make it happen.
Call it guts, call it audacity, call it insanity or brilliance.  Call it whatever you want, this is how new and exciting truck and camper combinations are developed.  You won't find this rig in our Newbie Corner.  Pick up your notebook and number two pencil.  This is Truck and Camper Combinations 401.  Class is in session.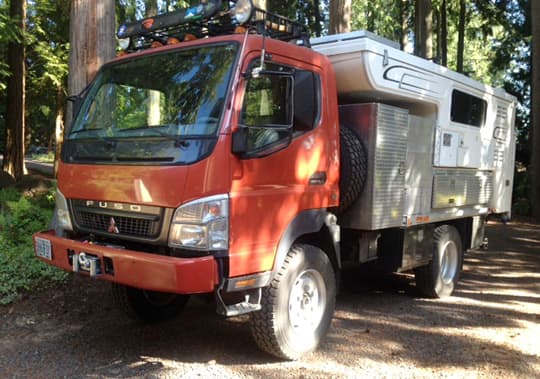 Above: Dick Burnham's 2005 Mitsubishi Fuso FG140 and 2007 Hallmark Ute XS
TCM: How did you decide to build a Mitsubishi Fuso truck camper?
Dick: Before putting this rig together, I had a 2001 Ford F350 short bed with a 7.3 liter diesel engine.  I loved that truck.  We had a Fleetwood Elkhorn truck camper on it that was built for a short bed.
The size of the Ford was a challenge for us because it was crew cab.  It was just too long for us.  When we go camping, we'll stop at wineries, get out, and explore.  I wanted to be able to carry bikes, and I wanted to be able to park it in a normal spot.  For what we like to do, that truck and camper rig was too wide and too long.
I wanted a shorter, narrower truck to replace my Ford.  I stumbled onto Expedition Portal and saw what some guys in Australia were doing and had a eureka moment.
Why couldn't I put a truck camper on a Mitsubishi Fuso?  And why isn't anybody else doing it?  The answer is most truck campers built in the United States are too long and too wide.  I came across a couple of builds where they extended the frame of the truck.  I've got an engineering background, and didn't want to mess with what Mitsubishi's engineers have done.  I wanted to keep the truck as stock as possible.
In late 2009, when the economy was in the tank, I started looking for a truck.  I didn't want to buy an RV.  I wanted something I could stick with if the economy completely tanked.  I always thought there was a market for a used commercial truck and a truck camper.
I started checking nationally on Craigslist.org and trucktrader.com.  After some searching, I found a Fuso in Montana that had been used as an oiler truck for an excavator company.  It was used hard, but had been taken good care of from a maintenance point of view.  In the bed it had a 110 gallon tank, toolboxes, and lots of stuff bolted on it.  The existing bed was a mess.
I called around and found a good mechanic in Montana to look at the Fuso.  When I called him he said, "Is that truck red?  If it is, that's so-and-so's truck.  That's a good truck."  He gave it a clean bill of health.