What happens when you put together a 2005 Mitsubishi Fuso FG140 four-wheel drive, four-cylinder diesel and a loaded 2007 Hallmark Ute XS?  Pure off-road madness and expedition beauty.

"Why not?" can be a dangerous and thrilling question.
"Why not?" can lead to exciting new breakthroughs and spectacular failures.
"Why not?" can take us where we've never been before and maybe should have never gone in the first place.
We're talking about risk here folks.  The stuff that makes big things happen for a daring few, and often leaves the rest of humanity on the sidelines scratching their heads in wonder.
Dick Burnham saw a Mitsubishi Fuso and thought, "Why not put that together with a truck camper?"  The "not" part of that question is easy.  They were not designed for each other.  The Fuso's cab is too high.  The Fuso's bed is not a standard pickup length or width.  In many ways, putting a Fuso and a truck camper together is like taking an apple and an orange and trying to make a banana.
None of that deterred Dick.  He had a vision to take the extraordinary off-road capabilities of a Mitsubishi Fuso and marry it to a Hallmark pop-up.  He also had the determination, resources, and technical abilities to master the details, take the measurements, and make it happen.
Call it guts, call it audacity, call it insanity or brilliance.  Call it whatever you want, this is how new and exciting truck and camper combinations are developed.  You won't find this rig in our Newbie Corner.  Pick up your notebook and number two pencil.  This is Truck and Camper Combinations 401.  Class is in session.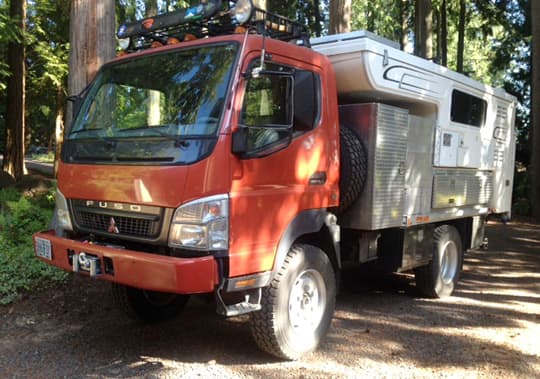 Above: Dick Burnham's 2005 Mitsubishi Fuso FG140 and 2007 Hallmark Ute XS
How did you decide to build a Mitsubishi Fuso truck camper?
Before putting this rig together, I had a 2001 Ford F350 short bed with a 7.3-liter diesel engine.  I loved that truck.  We had a Fleetwood Elkhorn truck camper on it that was built for a short bed.
The size of the Ford was a challenge for us because it was crew cab.  It was just too long for us.  When we go camping, we'll stop at wineries, get out, and explore.  I wanted to be able to carry bikes, and I wanted to be able to park it in a normal spot.  For what we like to do, that truck and camper rig was too wide and too long.
I wanted a shorter, narrower truck to replace my Ford.  I stumbled onto Expedition Portal and saw what some guys in Australia were doing and had a eureka moment.
Why couldn't I put a truck camper on a Mitsubishi Fuso?  And why isn't anybody else doing it?  The answer is most truck campers built in the United States are too long and too wide.  I came across a couple of builds where they extended the frame of the truck.  I've got an engineering background and didn't want to mess with what Mitsubishi's engineers have done.  I wanted to keep the truck as stock as possible.
In late 2009, when the economy was in the tank, I started looking for a truck.  I didn't want to buy an RV.  I wanted something I could stick with if the economy completely tanked.  I always thought there was a market for a used commercial truck and a truck camper.
I started checking nationally on Craigslist.org and trucktrader.com.  After some searching, I found a Fuso in Montana that had been used as an oiler truck for an excavator company.  It was used hard but had been taken good care of from a maintenance point of view.  In the bed, it had a 110-gallon tank, toolboxes, and lots of stuff bolted on it.  The existing bed was a mess.
I called around and found a good mechanic in Montana to look at the Fuso.  When I called him he said, "Is that truck red?  If it is, that's so-and-so's truck.  That's a good truck."  He gave it a clean bill of health.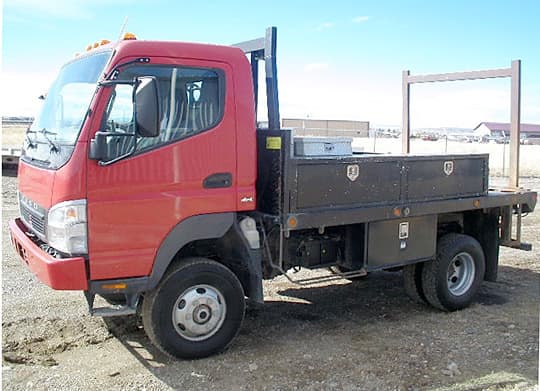 Above: The Mitsubishi Fuso with the old steel flatbed and toolboxes
I bought the truck and drove it back to Oregon.  Let me tell you that an empty Fuso is not fun to drive.  It's built for 14,000 pounds (GVWR), so it really lets you know if it doesn't have any weight on it.
Once I got home, I stripped the Fuso down to the frame.  I cleaned buckets of rocks, dirt, and grime out of it but no rust.  Then, I started looking for a new bed for it.
Last year you told us you had spent more time building the truck than you had camped in it.  Tell us how the build went from that point.
My wife, Robin, said that the project really began when I finished building my shop and it continues to be an endless project.  I now have a separate building I can work in.  My dad was a shop teacher, so I've been around construction and building things my whole life.
I have a degree in Construction Engineering Management from Oregon State.  I have also worked for thirty years in commercial construction working on schools, libraries, hotels, and high rises.  I can weld, do metal work, carpentry, and whatever.  That's the good news.  I've got the tools, equipment, and background to do it so I have been able to do most of it myself – it just takes a while.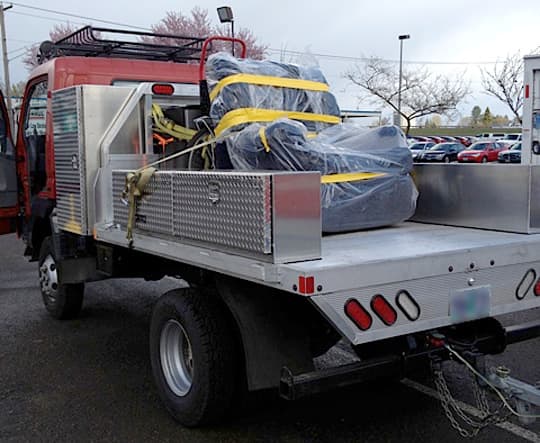 Above: The aluminum bed and storage boxes installed.  The camper still comes off and Dick still uses the truck as a flatbed.  He moved his daughter back from school in the pouring rain and hoped that this chair would fall off the truck.  It didn't.  He was towing a U-Haul trailer as well.
I found an aluminum bed on sale at a local trailer sales company.  It was sitting on the corner of their lot.  Actually, that's a funny story.
I talked to the sales guy about buying the aluminum bed.  It was the end of the month and he wanted to sell it.  I told him that if he could help me take off the steel bed, then I'd buy the aluminum bed.  He said to wait a minute.  Then his boss left and he said, "Yeah, we'll help you take it off."
As soon as the boss left, he took the forklift and took the steel flatbed off.  I kept some of the subframe because it was hard bolted onto the chassis.
It took four to five hours to get the steel bed off and the aluminum bed on.  I got home and took it off again and took it apart.  Then I started building the subframe from there.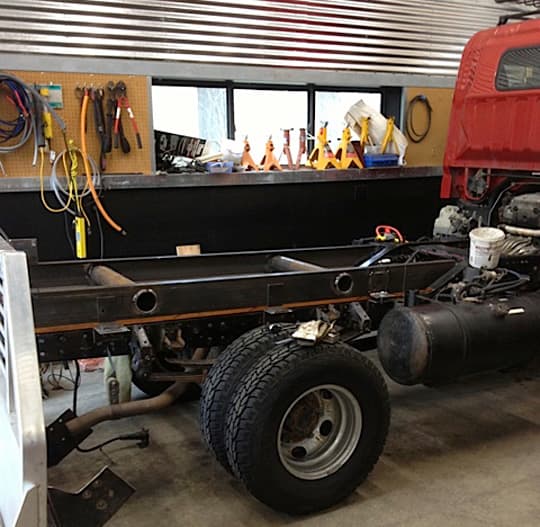 Above: Dick built a subframe that is isolated from the chassis by six springs.  It is fixed at the rear of the chassis using the old bumper assembly from the old steel bed.  Note the oak cushion between the chassis and subframe. The load is evenly distributed to the full length of the lower portion of the truck frame.
The subframe is the secret sauce.  I have read everything I could find on chassis mounting and frames.  I ended up with a spring mount.  The design is out of Australia.  The spring mount system was developed for Australian tanker trucks.  Just like we don't want to twist a camper, they don't want to twist a tank, so they spring isolate them.  The concept is right out of the regulation book from Australia.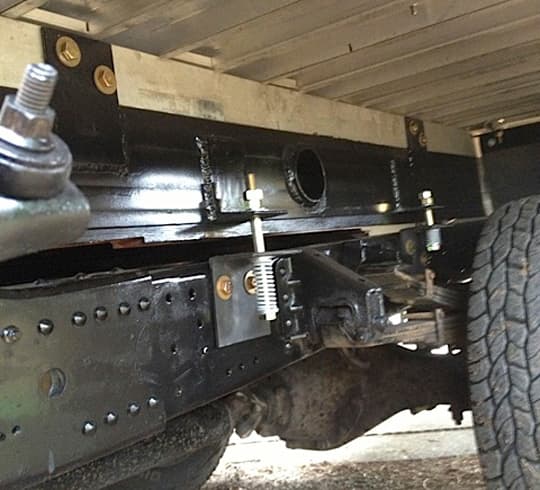 Above: Springs installed and partially flexed.  Load is resting full length on the other side of the frame.  The frame rail on the high side drops out from under the subframe.  Bolts and springs as well as the rear attachment keep it all lined up.
The subframe is isolated from the chassis by six springs and fixed at the rear of the chassis using the old bumper assembly from the old steel bed.  In the photographs, note the oak cushion between the chassis and subframe.  This provides a cushion between the subframe and the chassis.
I installed the sub-frame and bolted on the flatbed then mounted the camper.  Then I jacked the truck at opposite corners to fully flex the chassis and measured the deflection at the spring locations so I could size the springs.  I also measured the height under the overhang of the camper so I could size the cross-bed aluminum box.  When the truck was going through the mogul field at the Overland Expo the overhang looked like it was hitting but it never did.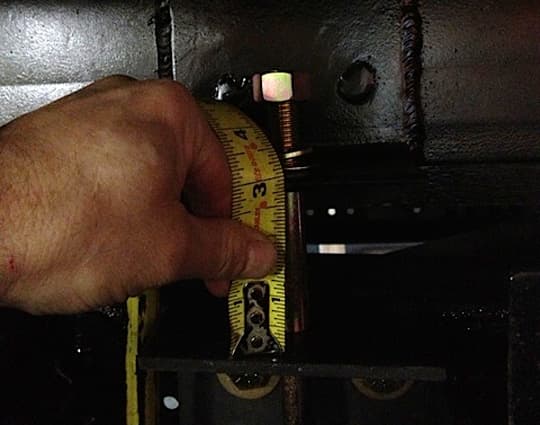 Above: Measuring spring length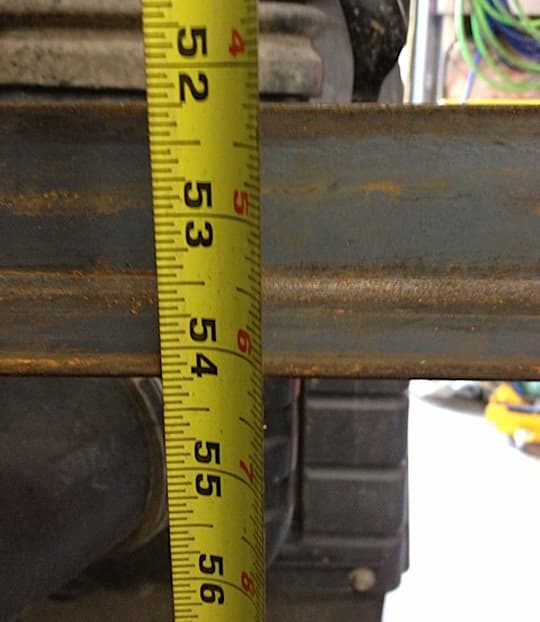 Above: Measuring frame clearance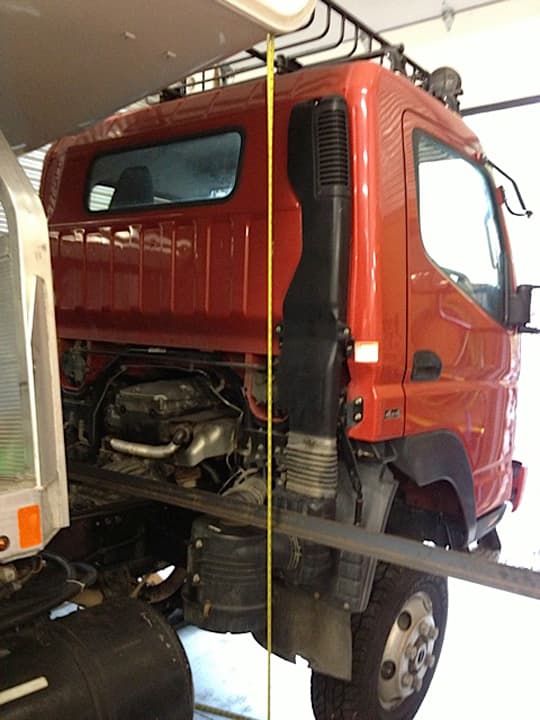 Above: Measuring box height
Above: Full flex on the rear axle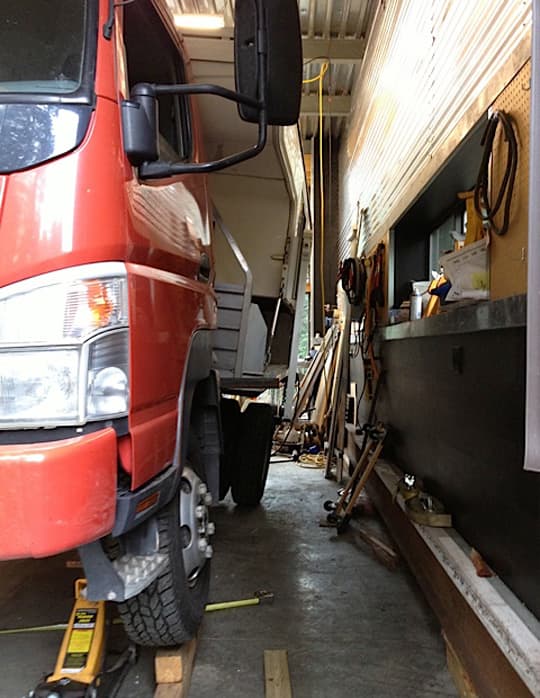 Above: Opposite corner stuffed to the bump stop.  The end result is that it works.
Above: The Fuso and Hallmark on the Overland Expo course.  Click to enlarge.
How did your spring mount design perform on the Land Rover course at the Overland Expo?
Dick: It performed very well.  At the Overland Expo you can see how vehicles allow for flex.  That only happens at places like the Overland Expo where they have built these extreme off-road courses.  Even on extreme courses, the spring mount system allows the chassis to flex without bending the subframe so the camper isn't twisted.  The chassis is under the bed.
Above: Note the camper overhang versus the cross box.  They didn't touch.  The aluminum cross box is spring-isolated from the frame just like the flatbed.
As the bed stays relatively constant and level, the truck rotates underneath it.  One side of the subframe is in full contact with the frame rail below it and the other side drops away.   On the highway, the weight is evenly distributed across the full length and both sides of the truck frame.
The Jeeps and Land Rovers have relatively stiff frames and bodies, but very flexible suspensions.  Their springs are taking the flex, which is why you'll see the wheel stuffed way up in the wheel well as they tackle the course.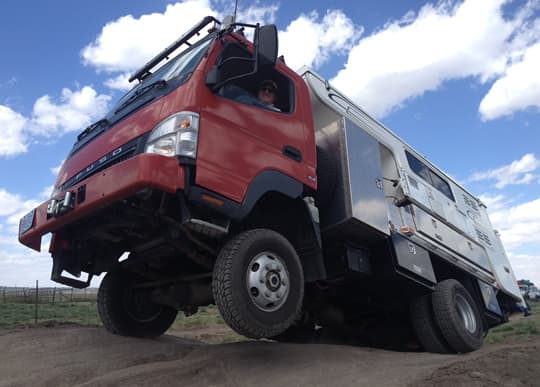 Above: Dick on the off-road course at the Overland Expo
The difference between their set-up and the Fuso is that there are only a couple of inches of travel in the Fuso springs.  You can't have big payload capacities and flexible suspension, so the Fuso makes up for that with the flexible chassis.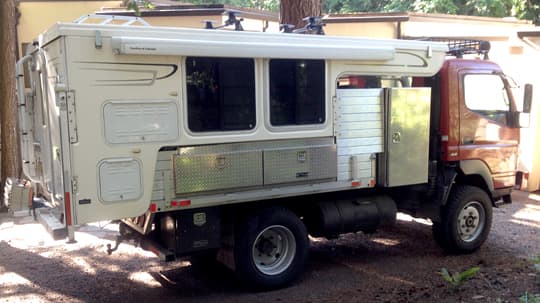 Above: Dick's Mitsubishi Fuso has a 112.6" wheelbase
Was your Mitsubishi Fuso originally a standard build?
It's stock but it's actually quite rare in the United States because it's a short wheel base model.  Almost all of the Fusos sold here have a longer wheel base, which is two feet longer.  My truck has a 112.6" wheel base, which is a little over nine feet.  A Jeep Wrangler Unlimited four door has a 116" wheel base.  In other words, the Fuso is a truck with 14,000 pound GVWR and a similar turning radius to the larger Jeeps.  It's very maneuverable.
I can actually do a U-turn in my driveway. I have surprised a few people when they see how maneuverable it is.
Unfortunately, I have never seen another short wheel base Fuso.  I've seen quite a few of the longer ones.  Having it be a short wheel base is pretty rare.  There are also only a handful of four-wheel drive Fusos on the West Coast.  On the East Coast sometimes folks use them for landscape and plows, and the salt used on the snowy roads is hard on the truck frames.
The engine and drive train are stock.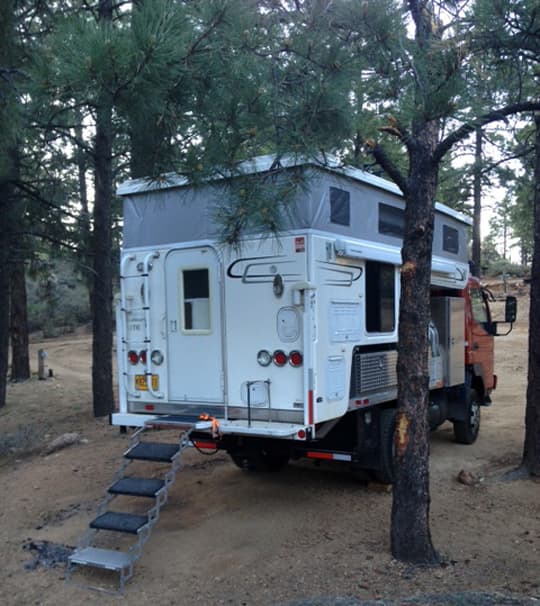 Above: The Fuso and Hallmark together weigh 11,140 pounds
Have you weighed the rig when fully loaded?
Yes, I have.  With the tanks fully loaded, it's 11,140 pounds, ready to camp.  When I weighed it, the front axle was 4,580 pounds, and the rear was 6,440 pounds.
Do you need a commercial driver's license to drive a Fuso?
Even though it's a commercial truck, in Oregon you don't need a CDL driver's license until you're at 26,000 pounds GVWR.  I believe that is true across the country.  Because the camper is bolted down and permanently attached, the rig could also be classified as an RV.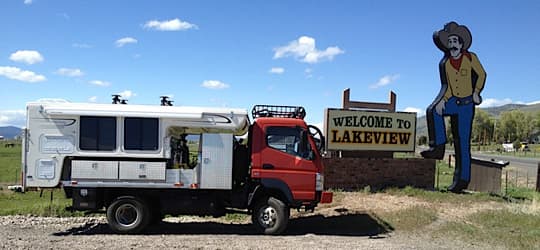 Above: With the Fuso, there is a tremendous amount of weight low and in the front
What about the center of gravity?  The camper appears to sit very far back in the pictures.
That's a good question.  The center of gravity with the cabover and configuration of the big diesel block, which weighs about a ton with the transmission, pushes the center of gravity forward.  That engine is right over the front axle and low.  When I'm in the truck, I'm literally sitting on top of it so the full weight of the cab is over the front axle as well.
In the Fuso design, there is a tremendous amount of weight low and in the front.  With a standard truck and camper, with a lighter engine, you want the center of gravity forward to put weight on the front axle.  In my Fuso rig, there's already a lot of weight on the front axle.  The guys in Australia actually put more weight in the back because there is so much weight on the front.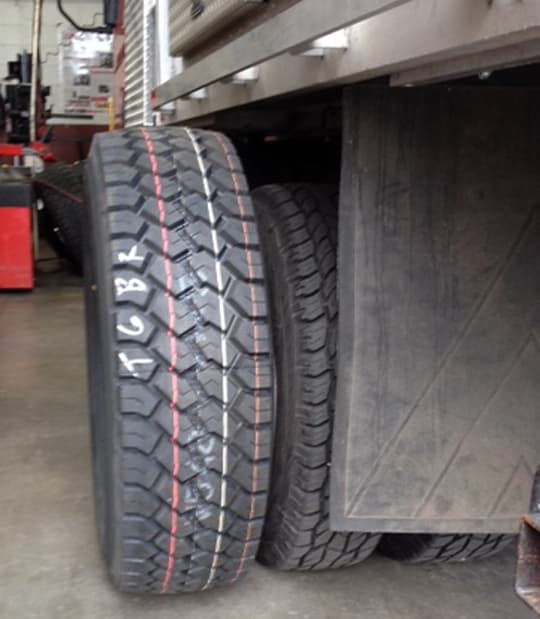 Above: The Toyo 285/70R 19.5, a commercial traction tread sixteen-ply tire on the left and the duallies that were about to be replaced on the right
That's amazing.  Have you made any suspension modifications?
Right now, the suspension is completely stock.  I do have the super single wheel conversion.  I bought those from All Terrain Warriors USA.  ATW USA is starting to import the Alpha Camper from ATW Australia, putting them on long bed Fusos in California.
For tires, I chose Toyo 285/70R 19.5.  That's a commercial traction tread sixteen-ply tire.  The wheels are also DOT certified for 13,227 pounds with each tire rated at 6,400 pounds.  In terms of capacity, that's way over what I need.
What the super single conversion got me was height.  The stock tires were 31.5" tall.  The new wheels and tires are 35.5" tall.  Now I have about ten-inches of clearance under my differential.  It also improved the offset between my front and rear tires.  When you have dual rear wheels, your rear wheels are twice as wide.  With the super singles, they line up, improving off-road performance and giving the truck a better ride.  Now it rolls over bumps instead of going through the bumps.
The super singles also improved my fuel mileage by raising my gear ratio.  If I'm going down the highway at 60 miles per hour, I'm hitting 2,200 RPMs.  Before I was hitting 2,600 RPMs.  With the engine turning at lower RPMs, the engine is able to better utilize its diesel torque, and it's quieter and not working as hard.
Right now I'm working with All Terrain Warriors, USA to get a new suspension shipped from Australia.  This will give it a slight lift and allow the suspension to flex more than stock.  This should further improve the ride.
What kind of fuel economy do you get with the Fuso?
I was getting between 12 and 15 miles per gallon with the duallies.  Now I'm getting closer to 15 miles per gallon.  Overall, I think I'm getting two to three miles per gallon better, but I haven't been through enough tanks of fuel to say for sure.  In comparison, I was getting eight to ten miles per gallon with the F350 hauling my old hard side camper.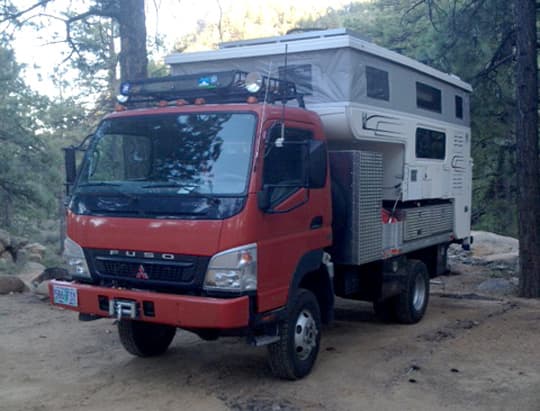 Above: Gifford Pinchot National Forest, Washington
You commented earlier that maintenance is not a big deal on the Fuso.  Can you explain?
The required maintenance is almost exactly the same as it was on my Ford diesel.  Diesels use more oil.  I use three gallons of oil versus five to seven quarts on a gas engine, but I change oil and filters every 5,000 miles.  It's all the same stuff as regular diesel engines.
The Fuso is built for commercial use, so it's heavy duty.  Any truck stop will have a diesel mechanic who can work on it.  There is a Fuso dealer in Portland who is good.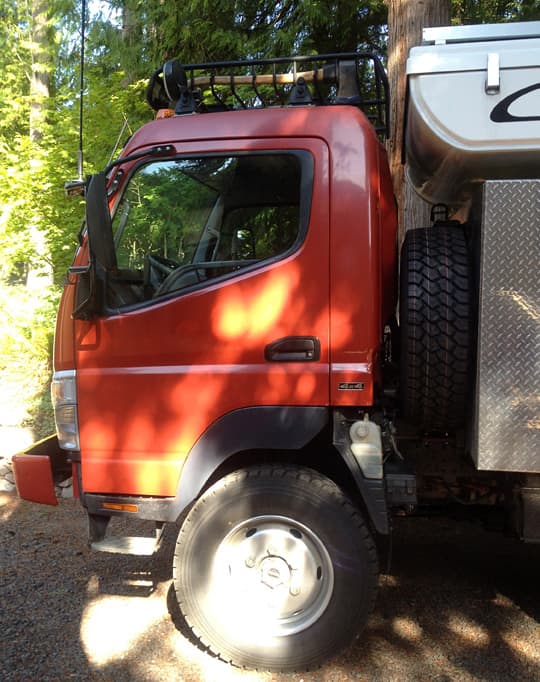 Above: The Fuso cab is nearly five feet tall
Was it a challenge getting your Hallmark to work with your Fuso?
The real mystery was how to put the camper on it.
A conventional truck camper is designed for a truck with a cab between 42" and 46" high.  The Fuso cab is nearly five feet tall, so you'd have to raise the camper high in the air to put it over the top of the cab and you need to tip the cab to get to the engine.  My wife and I didn't want a ladder to get in the camper.  That's how I knew I couldn't put the camper over the cab.
That's when I started looking for a camper that had an east-west bed to make it shorter in length.  We wanted a queen size bed, a full bathroom with a toilet and shower, and a kitchen with a refrigerator.  We are getting to the point where we like comfort and I wanted a fully self-contained camper.
In my research, I narrowed our choices down to a couple of campers, specifically Hallmark.  I needed their Ute floor plan for a short bed pickup.  The overall dimensions of that camper worked well for the Fuso.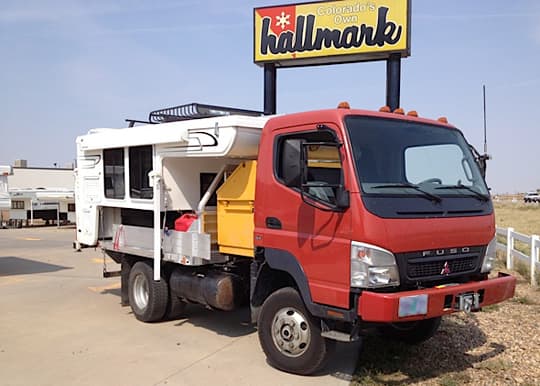 Above: The rig coming together at Hallmark RV in Fort Lupton, Colorado
I found a few older campers, and then finally found the Ute I have now on Craigslist.  The owner was a pilot for Southwest based in Denver.  I asked him if he could drop it off at Hallmark, and he did.  I called Matt Ward of Hallmark and asked him if he could take a thorough look over the camper.  I bought the Ute sight unseen based on Matt's opinion.
Then I drove the Fuso to Denver to pick it up.  I really didn't know if it would fit.  I was trusting my measurements and hoped it would work.  I took my tools just in case.  Luckily, it worked.  I strapped it down on the bed and drove it back to Oregon.  It was definitely a Beverly Hillbilly look driving home.
Why did you choose a pop-up truck camper?
I like the idea of a pop-up because it keeps the height of the entire rig to the height of the truck.  Hallmark campers are narrower than the hard sides.  The Fuso / Hallmark rig is seven feet wide.
One exceptionally good thing about the overall dimensions of my rig is that it will fit into a shipping container to be shipped anywhere in the world.  It's twenty-two feet long, seven feet wide, and 8'8" tall to the roof rack.  I can get down to 8'4" by removing the racks.  A high cube shipping container door opening is 8'5" tall.
What's it like to drive a Fuso?
The view is different.  I can see over the top of traffic.  I like driving it.  You are sitting above the crowd, riding high with the big trucks.
The landscape view from that perspective is also different.  I've been driving some roads my whole life and this is a whole new view.  You can see over hedges and fences to see farmland and tulips in a valley.  It's really cool.  It's also exciting to go down a mountain road with a deep drop-off or bridge.  You can see right over guardrails or the edge of the Columbia River Gorge.  It doesn't bother me, but it is a bit of a thrill.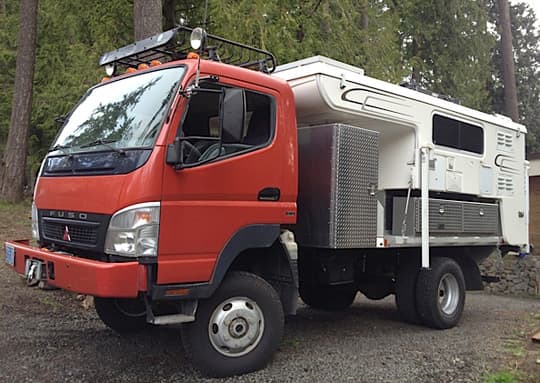 Above: Aluminum storage compartments were added to the Fuso
Tell us about the storage you have on the truck.
I bought the storage boxes all from ProTech, in Vancouver, Washington.  They call what I have behind the cab an all-aluminum cross box.  It's two feet wide, by forty-four inches tall, by seven feet deep.  It's huge.
The two boxes on the flatbed where the wheel wells would be are also from ProTech.  Those are six feet long, sixteen inches tall, and twelve inches deep.  The doors pull down on those.  The doors make a great table for tools or cooking.  That's handy.
There are two steel boxes behind the rear wheels that are eighteen inches long, one bigger box that is thirty inches long on the driver's side, and the passenger's side has a fuel tank.
Above: The many storage compartments on the Fuso.  Click to enlarge the thumbnails above.
On the driver's side, I have tools, rescue equipment, survival stuff for off-roading, straps, and jacks.  The truck has a winch on the front.  The toolbox probably has more in it than it should.  I'm trying to take things out if I'm not using them.
The passenger side is the fun side with a grill, a one-gallon propane tank, and toys.  The cross box has a generator for when we need to run my wife's hair dryer.  There's also a solar panel on the roof that keeps the batteries charged.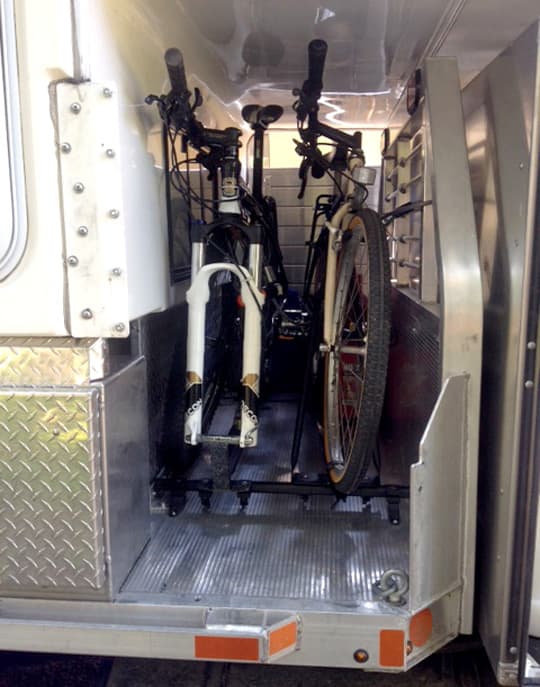 Above: The bike racks by ReRack
There's a company in Portland called ReRack that will buy old racks at garage sales and Goodwill, etc., refurbish them, and sell them.  I had a collection of old Yakima and Thule racks and took it to ReRack.  I told them what I needed for a bike rack.  I also wanted a rack on top of my camper for a kayak.  They looked at what I had and set me up with the mounts I needed for two bikes and a kayak.  Then they wrote me a check for everything I brought in.  I like that type of purchase.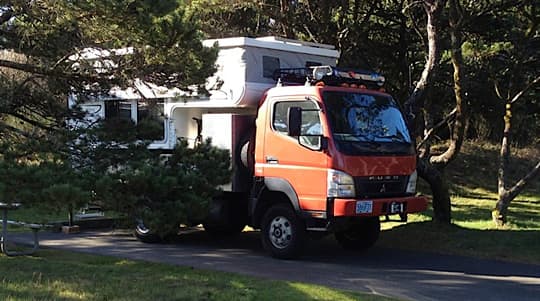 Above: Camping at Nehalem Bay State Park, Oregon
What adventures have you planned now that the rig is all together?
We haven't taken an epic adventure yet.  With both of us working, and the weather being unpredictable, we keep the rig fueled up and ready to go.  If the weather is nice and our schedules are free, we take off on Friday night and go to the coast or the mountains for the weekend.
Above: Robin at Gifford Pinchot National Forest near Mount Adams, Washington
Portland is nicely located about 1.5 hours from the coast and 1.5 hours from skiing in another direction.  And we're in the middle of a huge winery area.  We can throw rocks from our house and hit grapes.  There are hundreds of local craft brewers as well.  We'll take the camper, do some wine tasting, get a bottle of wine, and go camping.  That's what we did Memorial Day weekend.  The smaller wineries have open doors during the holidays.  We also take it skiing.  With its relatively compact size and furnace for heat, it's perfect for skiing.
I have a couple of epic adventures planned.  I worked in Alaska in the Aleutian Islands and Anchorage.  My wife has never been there.  We have been around the world, but she has never been to Alaska.  I would like to go up and spend a long time up there.  From Seattle, we would take the Alaska Marine Highway.  We would travel one way on the ferry, and drive back, or vice-versa.
We have two kids, a daughter in Portland and a son who lives in Los Angeles.  We go back and forth from southern California to see him.  I'd like to take the rig down the coast to see him, and then turn left into the deserts of the Southwest.  I'd also like to go to Moab with the rig.
A lot of people want to see the world.  I'd like to see the United States.  The truck can go anywhere and has the capability to go across the globe, but the reality is that it will probably stay in North America.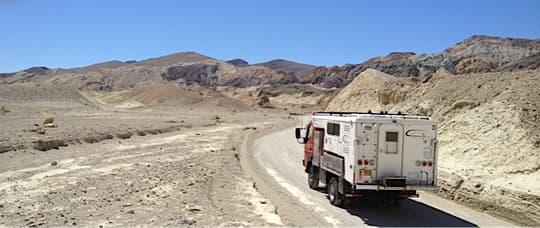 Above: Death Valley National Park, California
Is there anything else you'd like to add?
Everywhere I go, people ask what the truck is.  If I go to get fuel or groceries, or when we're out camping, we have to plan on explaining what it is.  Now everyone will read about it and know what it is.  People have asked if it's a fire truck.  People will ask if I work out of it.  I've had all sorts of crazy questions.  Sometimes I'll get a thumbs-up driving down the road.
Someone actually almost ran me off the road looking at the truck.  That was crazy!  If you want to build a unique truck, be forewarned about gawkers.
Truck: 2005 Mitsubishi Fuso FG140, 4×4, diesel, 4 cylinder
Camper: 2007 Hallmark Ute XS
Tie-downs/Turnbuckles: I've bolted it to the bed in the front and there's 2×2 aluminum angle bolted to flatbed.  It's held in place side-to-side and front by the aluminum angle and bolts are holding it down.  The angles also guide it into place when loading.  I still have camper tie-downs in the back because it's hard to get to the floor of the truck because of the bathroom being there.
Suspension and Gear: Take a look at the details in the article on suspension and gear.