In late 2007, Western Recreational Vehicles debuted the 2008 Alpenlite SUTC 1180, a revolutionary toy-hauler and truck camper hybrid.  The story behind this design and subsequent disappearance is nothing less than legendary.  And it personally involves Dick Rutan and Chuck Yeager.  You read that right.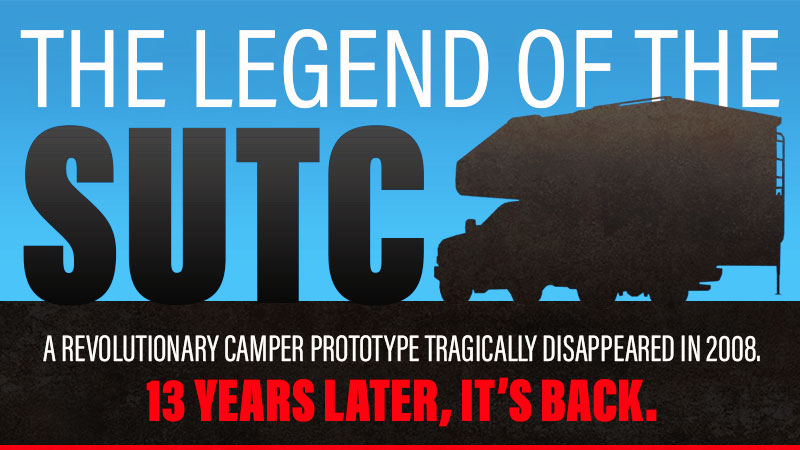 In his March of 2007 Truck Camper Magazine interview, Beau Durkee, Western Recreational Vehicles' newly-hired Truck Camper Division Director, teased us with a top-secret project.  He stated, "I want to combine the utility of a toy hauler with the ease of use and go-anywhere ability of a truck camper.  It will be a new crossover vehicle, a toy box truck camper."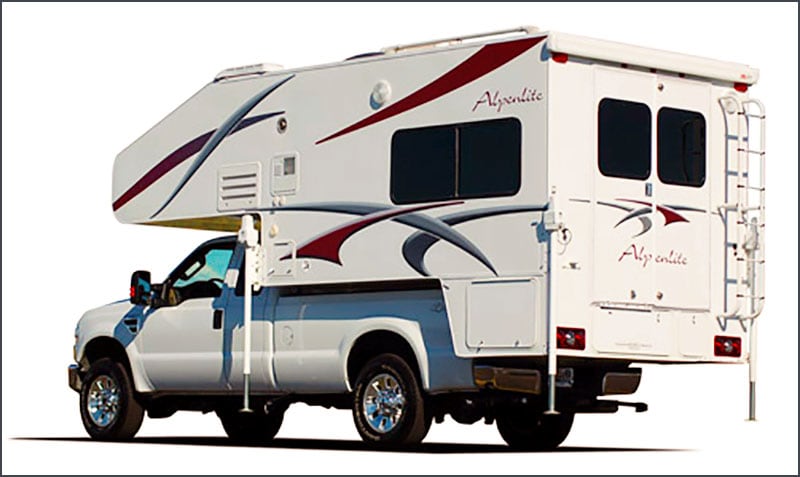 When his Sport Utility Truck Camper (SUTC) debuted months later, we learned that Durkee's project started long before his affiliation with Western Recreational Vehicles (WRV).  From years of working at California RV dealerships, Durkee had discovered a passion for truck campers and started to dream of founding his own manufacturing company.
To finance his audacious vision, Durkee sold his California house, leased an airport hanger in Mohave, and started building.  For two years he produced prototypes and built his own campers.  He explained, "I learned more in those two years than I could have working for someone else.  I had to hold every position of the company."
His autonomy was ultimately a limitation.  To become a competitive manufacturer, Durkee required more resources and infrastructure.  This led to a tough decision.  "Eventually I came to the realization that I would never get beyond building one or two truck campers at a time and just getting by.  So I talked with a few manufacturers about building the campers as a partnership.  That's how I came to Alpenlite (WRV)."
Front Nose By Fighter Pilots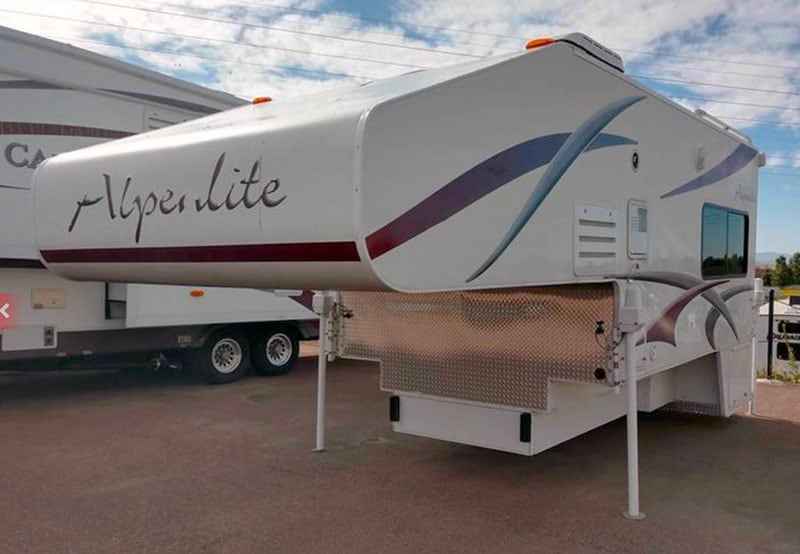 Above: All current photos of the Alpenlite SUTC provided by Pierce RV Supercenter in Montana
The story of how the Alpenlite SUTC 1180 was designed is where this story moves from history to legend.  When Durkee unveiled the SUTC in November of 2007, he revealed the inspiration of his curiously angled front nose design.  It may be the most qualified accidental design consultation in the history of RVs.
Dick Rutan (82) is a highly decorated US Air Force officer, fighter pilot, test pilot, and record-breaking aviator.  He flew over 325 missions in Vietnam and, in 1986, flew the first non-stop un-refueled around-the-world flight with co-pilot Jeana Yeager in the Rutan Voyager.  The 24,986-mile record flight took over 9-days.
His brother, Burt Rutan (77), is the founder of Scaled Composites, an aerospace research and development company located in a Mojave, California airplane hanger.  Among his stunning list of aerospace achievements is SpaceShipOne, the Virgin Atlantic GlobalFlyer, and the aforementioned Rutan Voyager.
Chuck Yeager was truly an American Hero.  After achieving the most aerial victories as a P-51 pilot in World War II, he became the first human to break the sound barrier in a Bell X-1, among many world speed and altitude records.  He also played Fred the bartender at, "Pancho's Place" in The Right Stuff, a must-see film about the American test pilots of that time, including Yeager himself.
So what do these three legends have to do with Durkee's SUTC?  Well, it just so happens that Beau's shop was located at the Mohave Airport, not too far from Scaled Composites.  As the story goes, one day, Dick Rutan and Chuck Yeager walked into Durkee's hanger.
"It's the greatest memory I have from the whole SUTC experience," Durkee reflected.  "My facility was located in an old military storage hanger at the Mohave Airport.  The head of the airport's board of directors brought Chuck Yeager and Dick Rutan to my building to showcase the diversity of businesses that were there."
Durkee continued, "My roll-up door was up and Dick Rutan and Chuck Yeager walked in.  Burt actually went to another business across the way that was working on solar and wind turbines.  Chuck and Dick said my camper was kind of cool and asked me why I wasn't building with carbon fiber.  I just happened to be working on the front nose design that day.  It was one of those fateful moments."
Durkee explained that Rutan and Yeager listened to what he was looking to accomplish and, with a scrap of paneling in hand, Rutan sketched what might work as an effective nose profile.  The nose design Rutan suggested created an airflow over the camper's front end, plus a vacuum spot to help keep the camper firmly in place on the bed without excess pressure anywhere.  Rutan's approach would create more of a neutral aerodynamic effect, with no lift or downward pressure.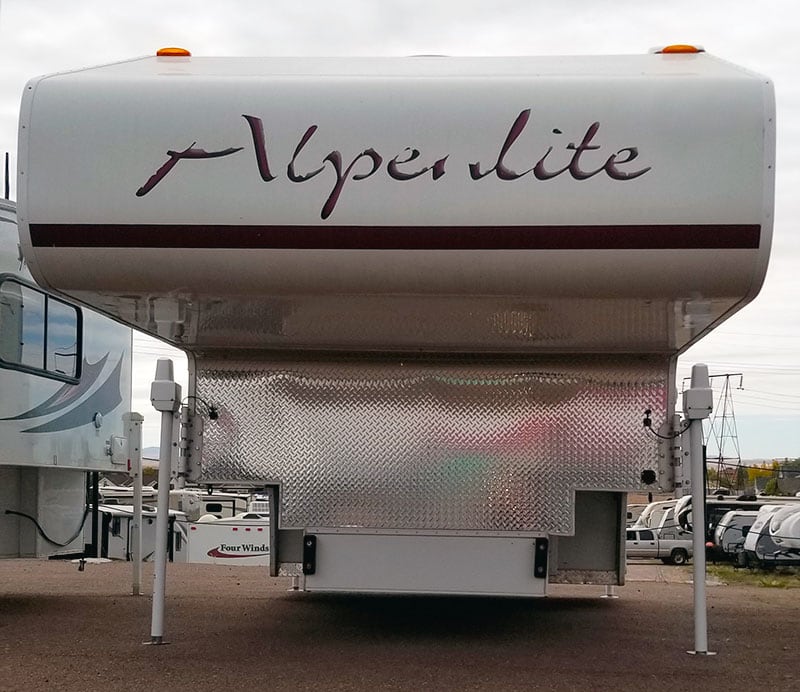 So, as the legend goes, Dick Rutan and Chuck Yeager had something of a hand in the front nose design of the 2008 Alpenlite SUTC 1180.  There is no photographic evidence of this exchange, but it's (a) plausible due to the location of Scaled Composites, (b) sure helps to explain the odd nose profile of the SUTC, and (c) we just love the story.  Right now we all need a fun and positive legend or two, so we're sticking with it.
The Final SUTC Prototype
The unusually angled front nose was not the only unique feature of the SUTC's design.  To qualify as a toy hauler necessitated a large rear garage door and a wide-open garage space.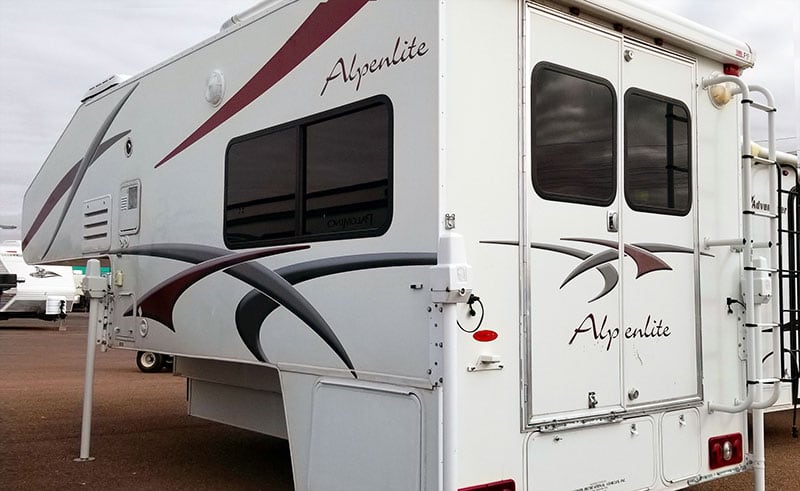 Imagine what you would need to remove to fit two ATVs inside a hard-side non-slide truck camper and you begin to imagine just how unique this camper truly was.  Yes, two ATVs.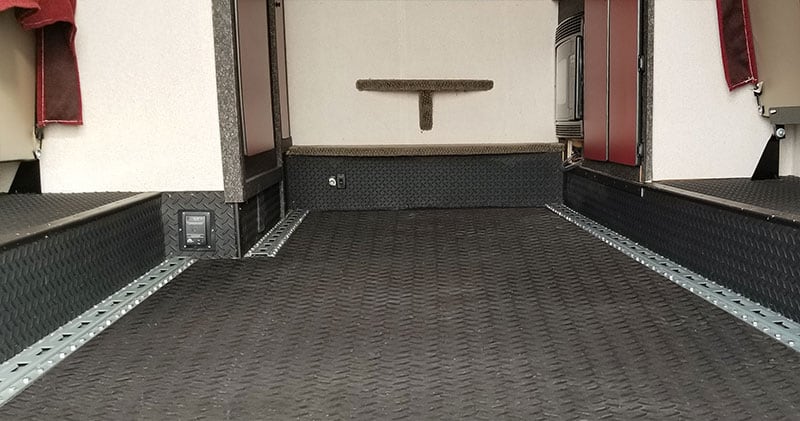 To make the required garage space possible, Durkee designed interior features that were either removable or folded-up against the camper's sidewalls (pictured below).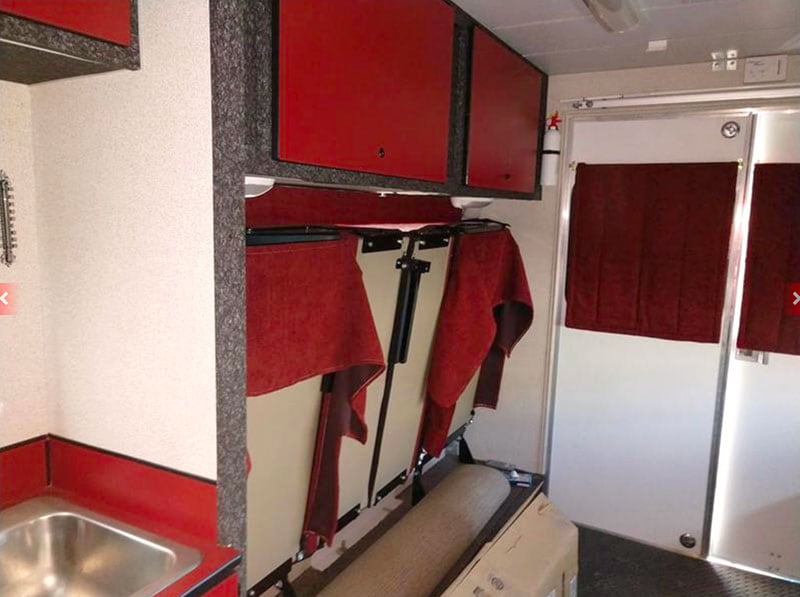 This approach was patterned after traditional toy hauler travel trailers.  For example, toy haulers approximate an RV-style dinette with fold-up bench sofas and/or seating with portable stand-alone tables.  When not in use, these features fold away or are removed altogether.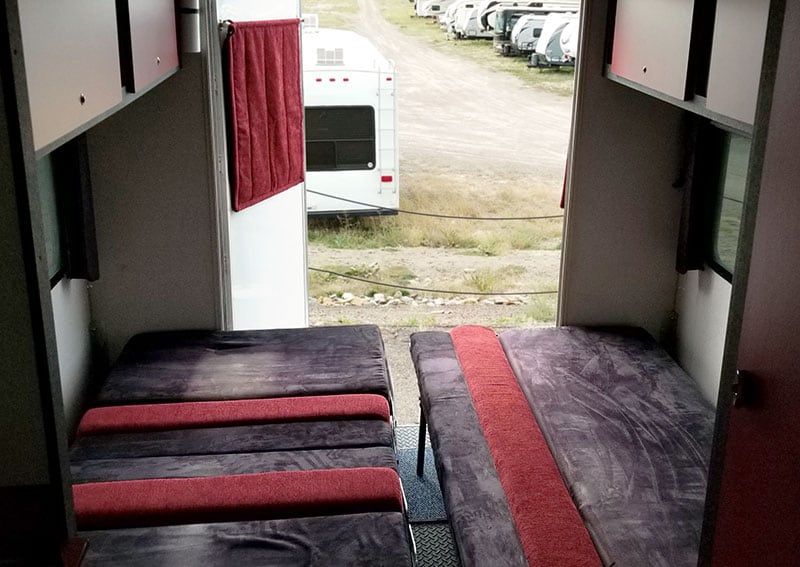 Among the included and optional furniture sets planned for the SUTC was a combination sofa-bed, a set of dinette seats, and the aforementioned freestanding table.  The sofa and dinette seating converted into beds to accommodate a good number of guests.  It's not unreasonable to imagine five or six adults sleeping in the SUTC, as long as Larry, Moe, and Curly don't snort, whistle, and saw all night.
One of the SUTC's prototype features set for an important production upgrade was the rear garage door system.  For the prototype, Durkee used a set of two access doors that served as proof of concept, but the final production campers were to feature a single large door hinged from the top and held open by two appropriately specified gas struts.
In contrast, traditional toy haulers use their rear door as a ramp for loading and unloading toys.  The height of a loaded truck camper would not allow for this function in the SUTC as the angle of the ramp would be too acute.  However, one could imagine that future versions of the SUTC might have solved this dilemma with a two-stage length-adjustable ramp.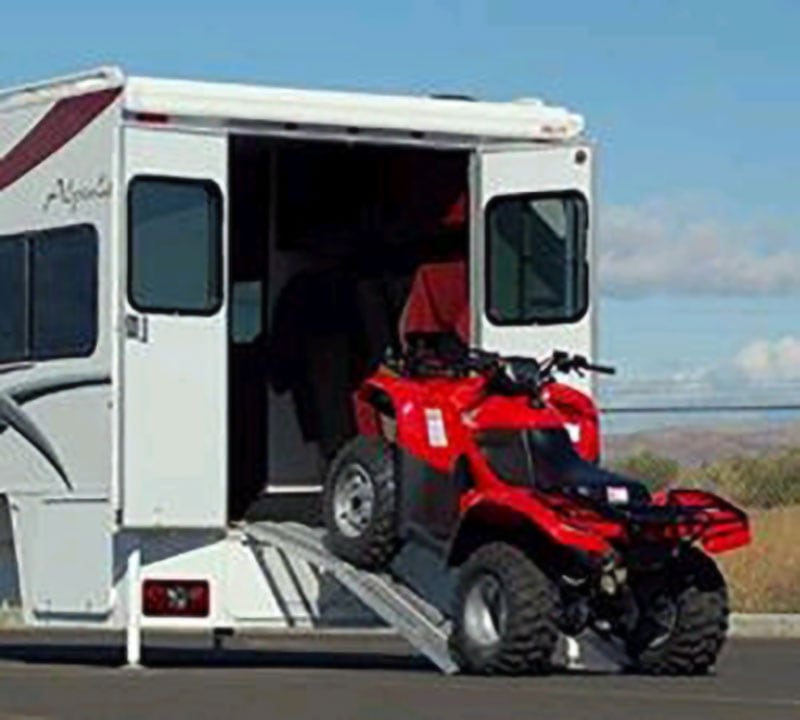 Durkee anticipated the concerns customers would have with loading and unloading toys at the height of a loaded truck camper.  His first recommended solution was to unload the camper from the truck prior to loading or unloading your toys.  Once the SUTC was unloaded, it could be lowered within a couple feet of the ground providing an even lower ramp height then competing toy hauler trailers.
Another solution Durkee suggested was utilizing the ramps available at some recreation areas.  These ramps are designed for loading and unloading horses, but could also work for loading and unloading toys from the SUTC.  Just back up to the ramp, and unload your toys.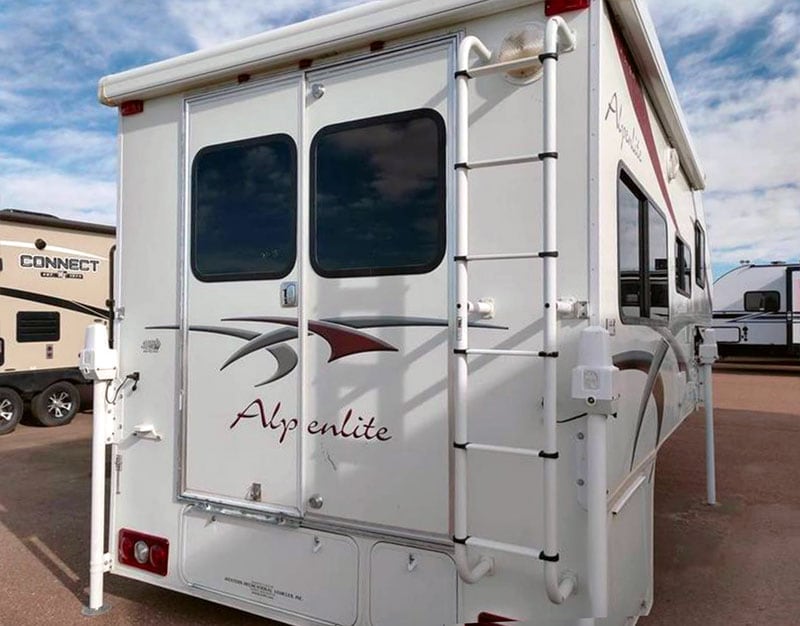 The production SUTC would also incorporate a "people door" inside the SUTC's garage door.  This way the garage door could be closed and people could still enter and exit the unit.
The next question should be, "What about a step system for the people door?"  The SUTC prototype did not have a rear bumper step.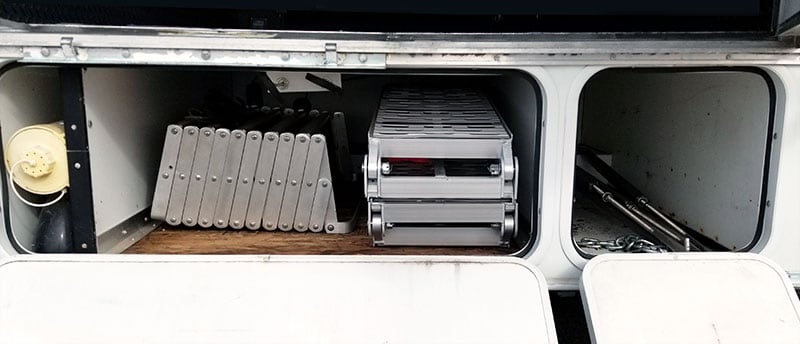 There were, however, two large basement access doors on the rear of the unit (pictured above).  This area contained both scissor steps for the people door and the ramps for loading and unloading ATVs.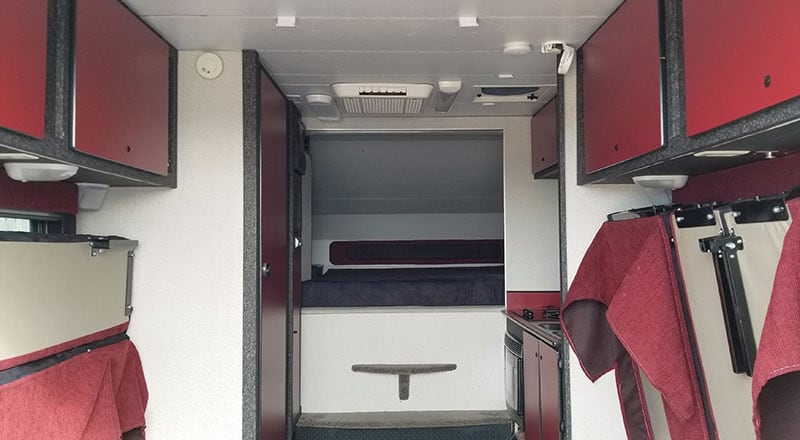 Immediately inside the people or garage door was the business end of the SUTC.  Here one would find a number of strategically located attachment points and a set of slotted tie-down rails for securing toys, ramps, and gear.  This wide-open space and its plethora of tie-down points are what gives the SUTC the ultimate truck camper and toy hauler versatility.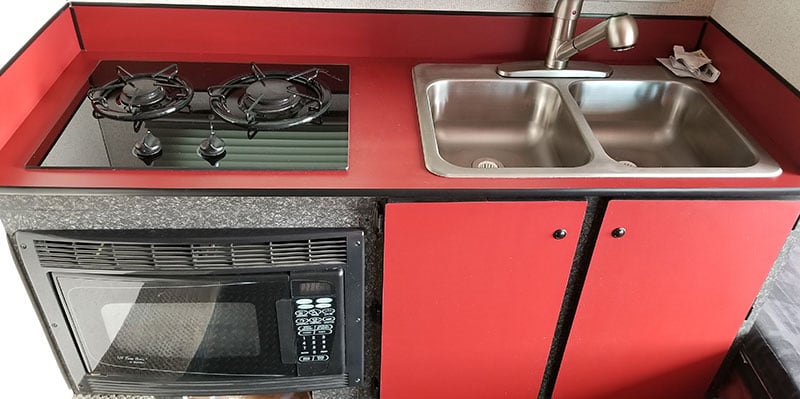 The real magic of the SUTC is that it's both a toy hauler and a fully-featured truck camper.  Mid-ship, the SUTC had an opposing wet bath and kitchen.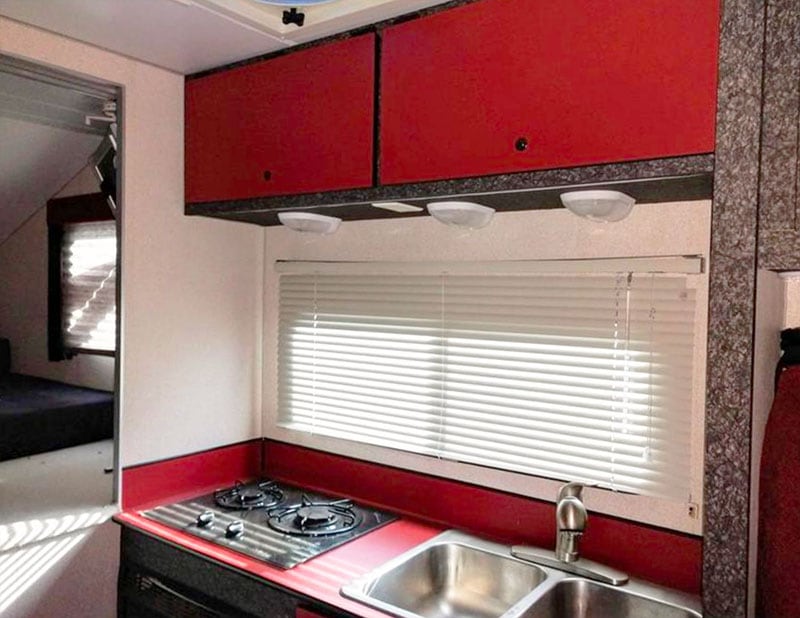 To provide the maximum possible garage space, both were compact, even by 2008 standards.  This allowed four-feet of space between the bathroom and kitchen (pictured below).  According to Durkee, he was able to fit not one, but two ATVs into the SUTC.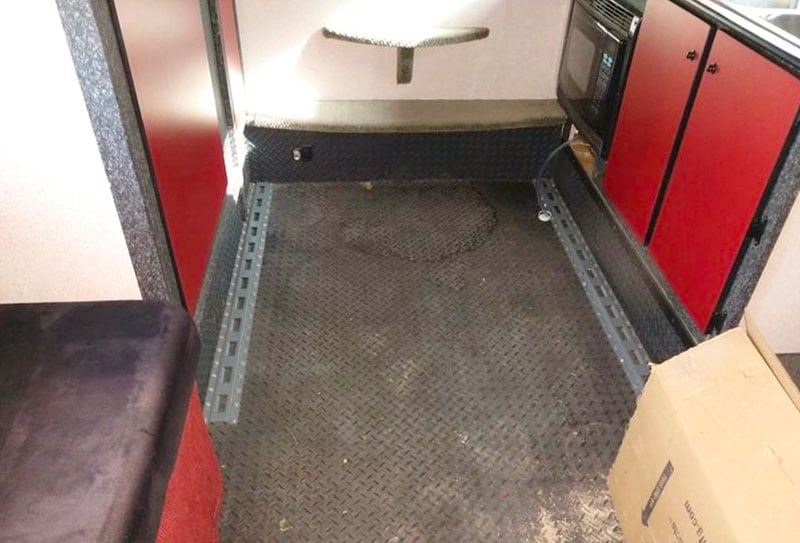 Above: Durkee shows his understanding of the truck camper market with a clever cabover step system (top center). In recent years truck campers have greatly improved their cabover's steps but, in 2008, this feature was far too rare.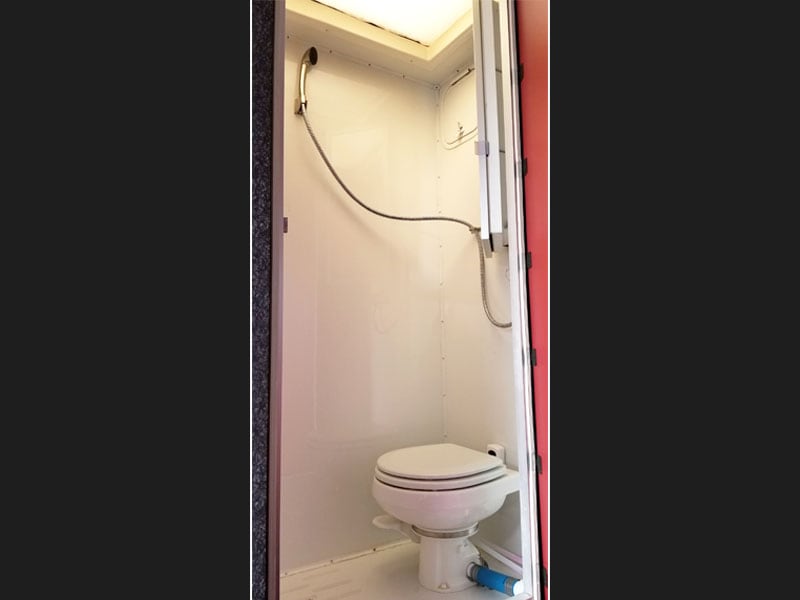 Making a narrow wet bath that still functioned was no easy feat.  Durkee employed a marine-grade vacuum flush toilet system allowing him to install the toilet in a low-profile space above the truck's rail.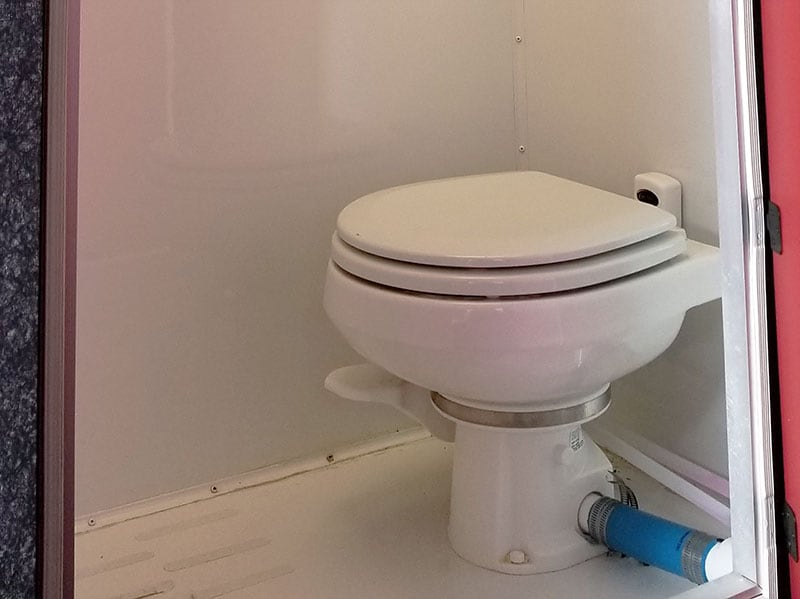 Vacuum toilets are considerably more expensive than traditional RV flush toilets, but they can be mounted in shallow enclosures and are significantly more water-efficient.  Modern vacuum toilets sometimes use less than a pint of water per flush.
The holding tanks of the 2008 Alpenlite SUTC 1180 are big enough to embarrass many modern truck campers.  The SUTC offered 50 gallons of fresh, 50 gallons of grey, and 50 gallons of black.  To the best of our knowledge, Alpenlite is the only company that made all three tanks identical on some models.  For example, our 2004 Alpenlite 1100 has three identically-sized 35 gallon holding tanks.  It works well for us, but many camper designers would argue for a more nuanced approach.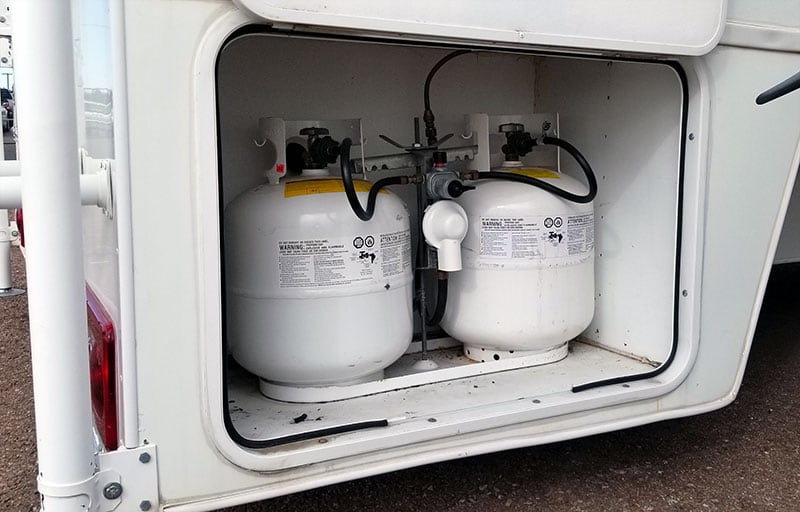 Above: The SUTC featured two 20-pound vertical propane tanks.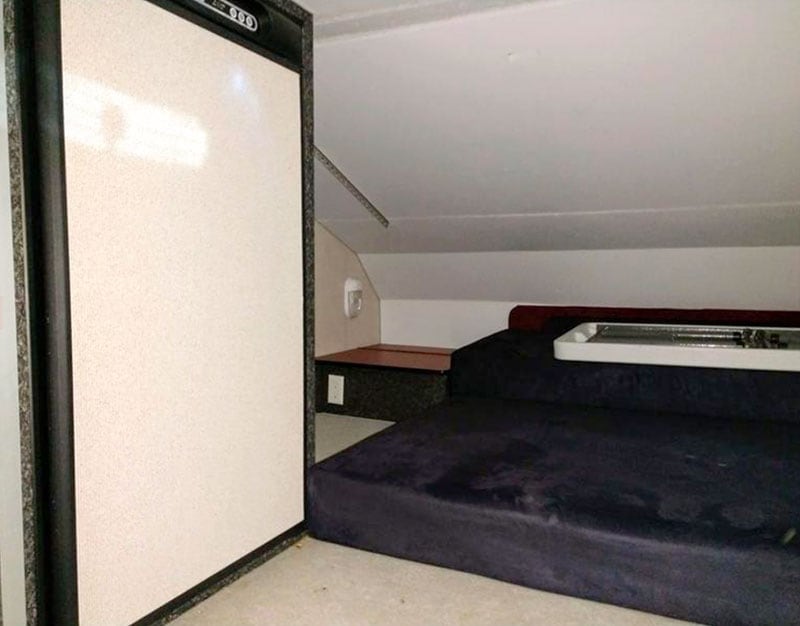 Take special note of the refrigerator's location just inside the cabover.  This is a design trick pioneered by Durkee's father, William Durkee, when he designed the highly-influential Six-Pac D650.
Like the Six-Pac D650, placing the refrigerator in the SUTC cabover makes the rest of this camper design possible.  Put the refrigerator anywhere else in the unit and you set off a trade-off chain reaction that compromises the purpose, function, and versatility of the SUTC.
When I asked Durkee about his father's input on the design, he said, "Dad and I worked hand-in-hand together on the whole thing.  He would drive the hour-and-a-half from Pasadena three to four days a week.  It's 100-percent as much his creation as mine.  The fact that our relationship survived that experience is amazing."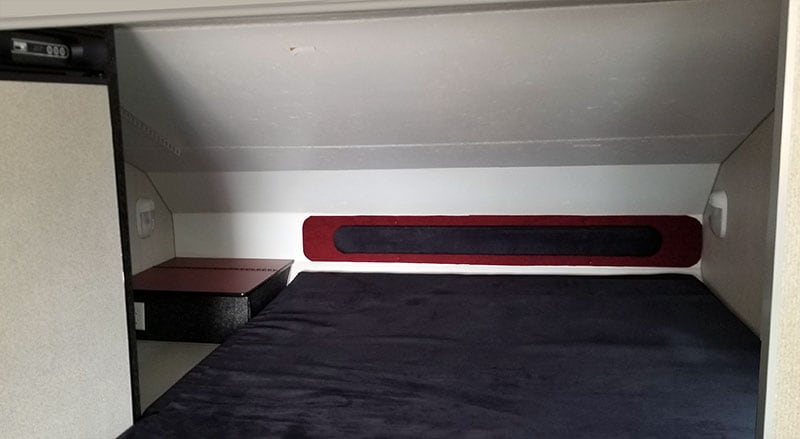 The cabover bedroom itself is rather bare.  Other than a king-sized bed (potentially an industry first) and a driver's side nightstand (with a conveniently located outlet), the cabover is an open space.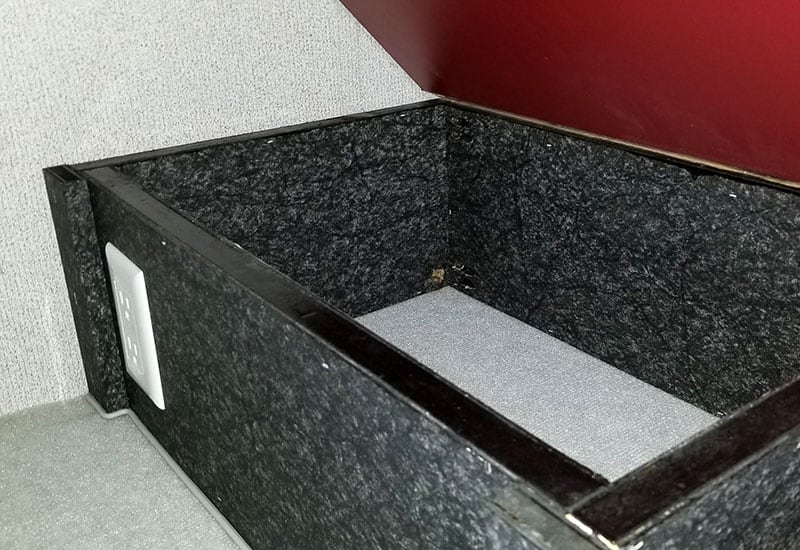 The final prototype may have added additional storage, or it may have been necessary to keep this space empty for weight or center of gravity considerations.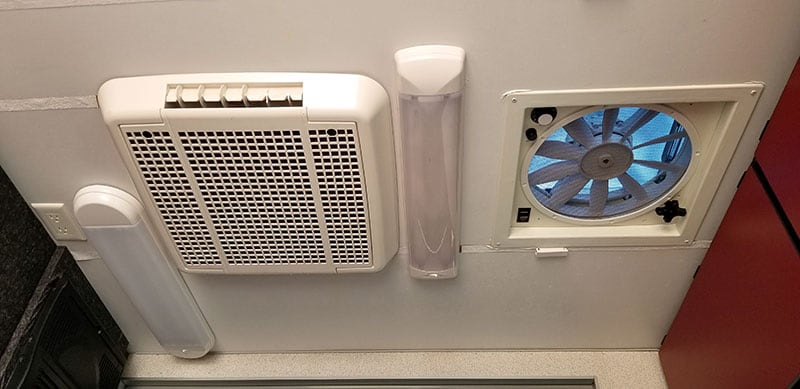 For options, the SUTC offered an air conditioner, awnings, built-in generator, microwave, solar panel, flat-screen television and a water heater.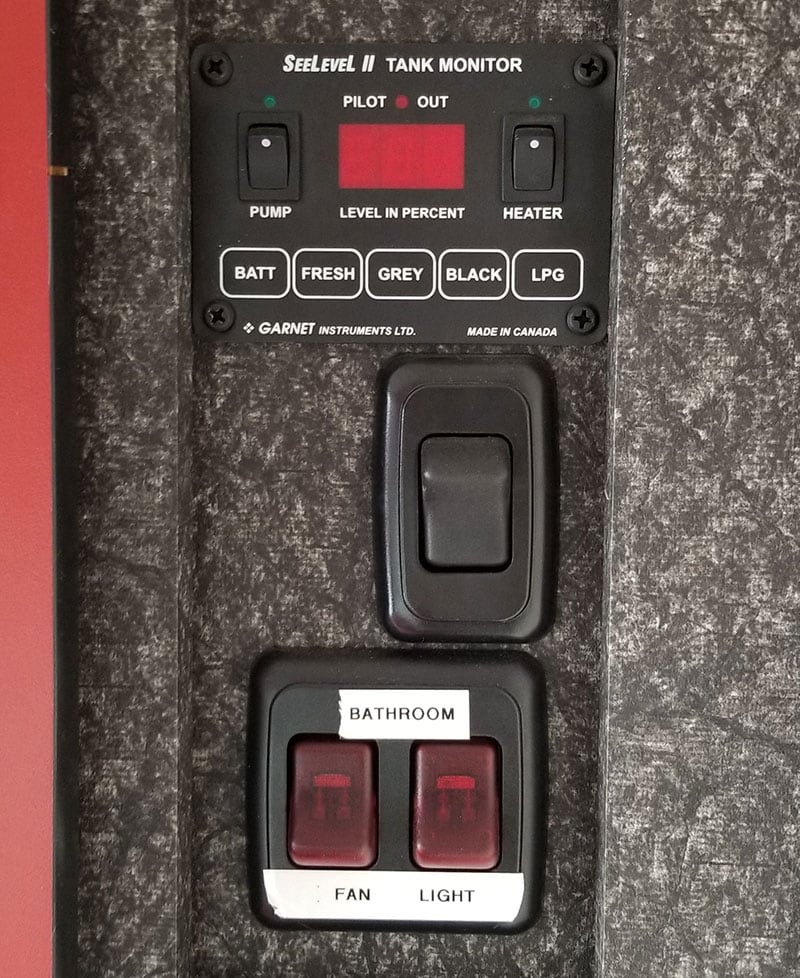 Above: The Garnet Industries SeeLevel II system was a rare feature for the time.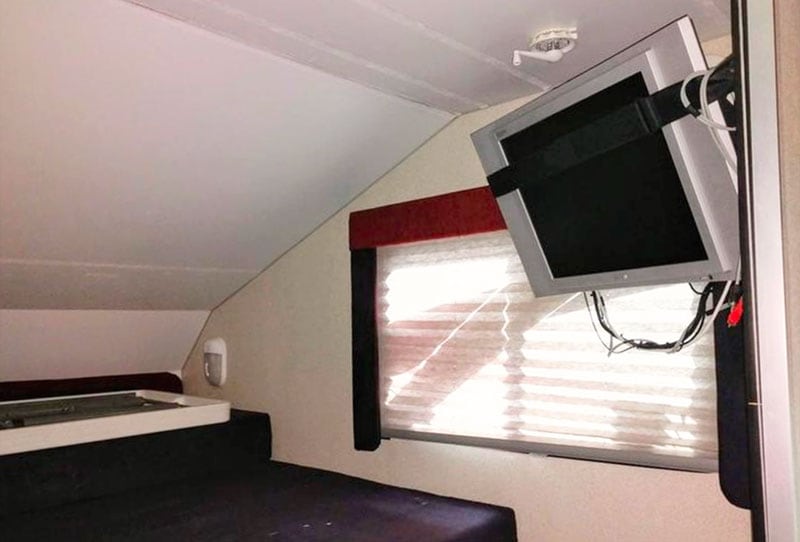 For features and options, this list was essentially state-of-the-art for non-slide truck campers in 2008.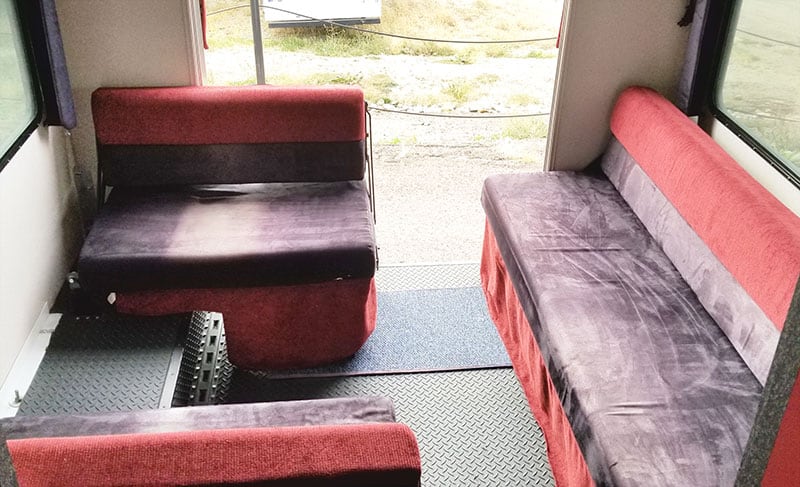 Those of us who are put off by the red, black, and grey interior need to look past the prototype's colors and materials.  The prototype was not reflective of the interior materials and colors that would be used in production models.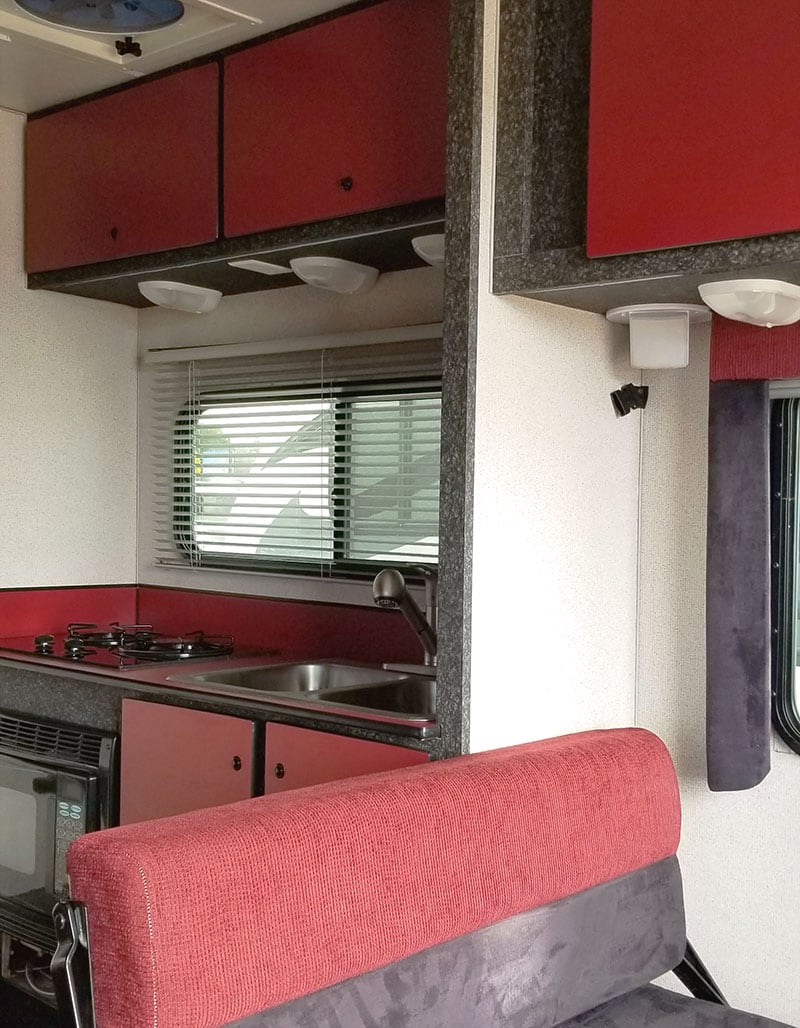 The assembly line version would have featured the Alpenlite build and materials inside and out, with a few changes to appropriate for the toy hauler aspect of the product.
The Great Recession Takes Down WRV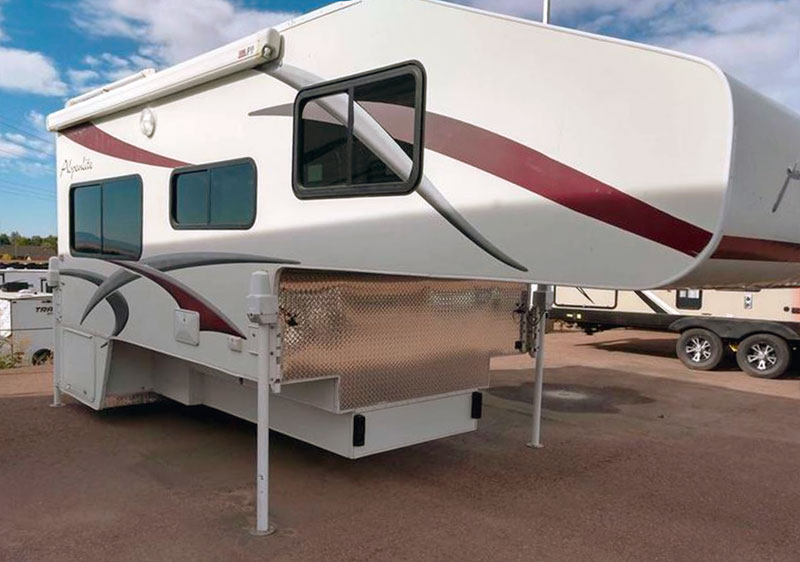 Durkee's "Alpenlite" SUTC 1180 prototype debuted at the Pomona RV Show in October of 2007 and was promoted as the ultimate sport utility truck camper.  Taking prototypes to RV shows is not uncommon and allows the manufacturers to gauge customer reactions and interest.
The next stop for the SUTC prototype was the then-annual National RV Show in Louisville, Kentucky.  "That was the real test," Durkee explained.  "At the Louisville show, I signed up 17 dealers and took a ton of SUTC orders.  I remember telling my wife when I returned home, 'This camper will retire us in six years.'"
The 2008 Alpenlite SUTC 1180 made its formal debut in Truck Camper Magazine on Thursday, February 14th, 2008 – Valentine's Day.  The positive response from our readers further supported the bright future for Durkee's dream.
Two months later, on Tuesday, April 15th, 2008, Monomoy Capital Partners announced it was shutting down Western Recreational Vehicles.  On the same day, all 220 production and salaried workers were let go.  The closing was blamed on a market slowdown.
For insights on the situation, we contacted Durkee that week.  Understandably heartbroken, he reported, "Unfortunately, the prototype is owned by Monomoy and is trapped in the factory as part of the assets of the company."  The camper later sold at auction to an unknown buyer, and disappeared.
Durkee added, "The last day I was at Alpenlite (WRV) I was on the cat walk over the production floor.  Six Alpenlite SUTC 1180 truck campers were on the line in different stages of production.  The last two were in final finishing.  That was particularly gut-wrenching.  I almost got one out the door."
13 Years Later: The SUTC Reappears
We have received a few reports over the years of possible SUTC sightings, but absolute confirmation didn't arrive until recently when the prototype surfaced, for sale, at a Montana RV dealership.
Pierce RV Super Center in Great Falls, Montana had the 2008 Alpenlite 1180 listed for sale.  The price was nothing less than an obscene bargain considering the enormous investment, passion, history, and legend is attached to this one-of-a-kind camper.
We were excited to see pictures of the unit surface and know that it had survived in apparently good condition.  Seeing the camper again is what spurred these electrons into being.  The SUTC lives on.  And maybe, just maybe, deserves a second look.
The SUTC 1180: A Second Look
Currently, there's a resurgence in non-slide truck campers.  Younger buyers are pursuing lighter and simpler RVs with off-road capabilities.  Interest in independent outdoor activities and sports – aka socially distanced recreation – has never been higher.
Toy haulers have leveled off in popularity, but remain popular.  People want to get outdoors and go dirt biking, boating, surfing, kayaking, snowmobiling and ATVing.  These are all important trends for the SUTC concept.
Durkee also envisioned the SUTC for purposes well beyond a toy hauler.  Specifically, it would make for an excellent solution for contractors and other mobile service providers that require equipment and materials on site.  Then the SUTC could be converted back into an RV and/or toy hauler for a weekend of family fun.  An all-in-one contractor, toy hauler, truck camper and family RV.
Durkee had planned to build both an 11'8" long-bed model (SUTC 1180) and a 9'4" model designed to work with short-bed trucks (presumably the SUTC 940).  The concept might have been challenging to adapt to a shorter length, especially if a wet bath and kitchen were to be retained.
None of this means the SUTC Durkee willed into being would have been, or would be now, a marketplace success.  The truck camper market is extremely fickle, and even good products fail from execution, marketing or a lack of champions.  If the dealers don't understand it, the consumers might never see it.  If the sales folks don't dig it, they won't present it with the required knowledge and enthusiasm.  We have seen good campers fall by these gauntlets.  That's the business.
However, a reimagined SUTC, featuring the available design, material, and component advances of 2020, could not be written off.  If made rugged enough, light enough, and it was priced right – it would most certainly find a niche in this exciting market.
How big that market would be, and how big the legs the SUTC might grow, is up to forces beyond my purview.  It sure would be fun to see Durkee's SUTC concept finally get the opportunity it deserved.
Special Thanks
This article would not have been possible if it weren't for some amazing folks who stepped up to help.
First, I want to thank Natalee Crumley at Pierce RV Supercenter in Montana for taking my call and taking more photos of the SUTC for us.  Most of the photos in this article were supplied by Natalee and Pierce RV Supercenter.  Thank you, Natalee and Pierce RV Supercenter!
I also reached out to Jeff Johnson of Rollin' On TV.  Jeff wrote the original SUTC announcement for Truck Camper Magazine which was referenced heavily to put this story together.  Thank you, Jeff!
And finally, I want to thank Beau Durkee.  I called Beau out of the blue, having already written this article, and he was very gracious about helping me with a number of details.
Today Beau Durkee is the President and Owner of Carson City RV in Nevada.  He looks at his SUTC experience as a really expensive resume builder, and part of his eventual path to success.  Before we got off the phone, he said, "The more committed you are, and the deeper the dream, the tougher failure is to endure.  And the SUTC was tough."
Thank you, Beau.  Your SUTC is truly a legend.