Bill Bergstrom took a 1990 Ram 3500, 1957 Chevy 3800, and a 1958 Alaskan Camper and created one of the coolest truck camper rigs we've ever seen.

Around many a campfire across this continent we have heard the ultimate truck vision; a Ford F-350 with a Ram Cummins turbo diesel engine and the Chevy Allison transmission.  That would be the ultimate ticket; the truck to end all trucks…
And it will never, ever happen.  Unless one company buys the other two, you will sooner go boondocking at Atlantis, find a pot of gold at the end a rainbow, or ride a unicorn to an Elvis concert.  As Steven Tyler sings, "Dream on…"
Where most of us accept this reality, pick one truck and go camping, there a select few among us who read the above paragraph a bit differently.  Their interpretation to this and other stated impossibilities can be summed up in six words;
"Oh yeah?  We'll see about that!"
They heard a triple-dog dare to (once again) chuck conventional wisdom out the window.  Through copious amounts of blood, sweat, tears – and a buck or two – they routinely will into existence the practically impossible.
And thank goodness these individuals exist.  Without them, the breakthrough inventions and discoveries that push us all forward would instantly surrender to the universal chorus of, "can't".
How about a 1957 Chevy 3800 with a Ram Cummins diesel and a 1958 Alaskan Camper?  Yeah right!  That's impossible!  It will never, ever…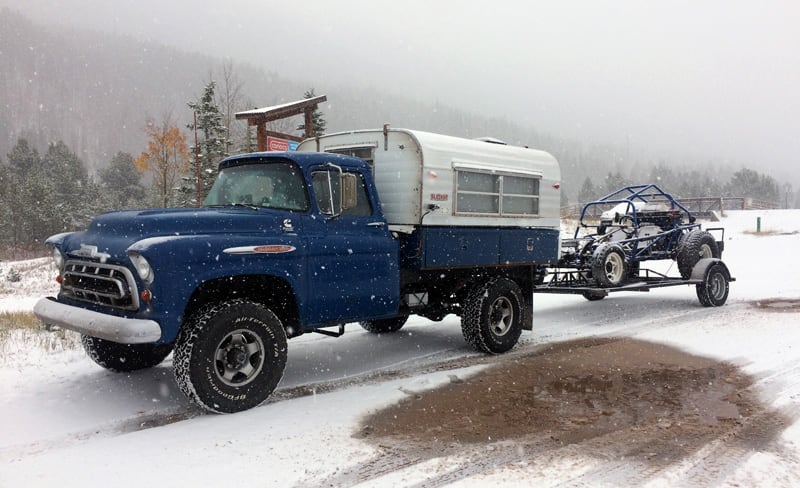 Tell us the story of how you were first introduced to truck campers and camping.
When my brother and I started going to Moab in early 1990s, we were tent camping. That's when I first thought about having a truck camper.
I have always liked the simplicity of truck campers. I actually started out with a truck topper and a compact truck. Then a friend took me for a ride in his Dodge Cummins diesel. I was instantly hooked.
I bought a bone stock, single rear-wheel Dodge 3500 Cummins diesel with rubber floor mats. There wasn't a straight panel on it. I figured it would be the perfect truck for a proper truck camper.
About 18-years ago, I found a beautiful 1984 Four Wheel Camper. I used that pop-up Four Wheel Camper quite a bit as I camped in Moab, Utah and the Colorado Rockies.
Then, one day, my sister needed to borrow the truck. Not thinking, she tried to enter a parking garage. Well, you can guess what happened next.
After saying goodbye to that camper, I tried a few different kinds of campers. Nothing stuck around for too long.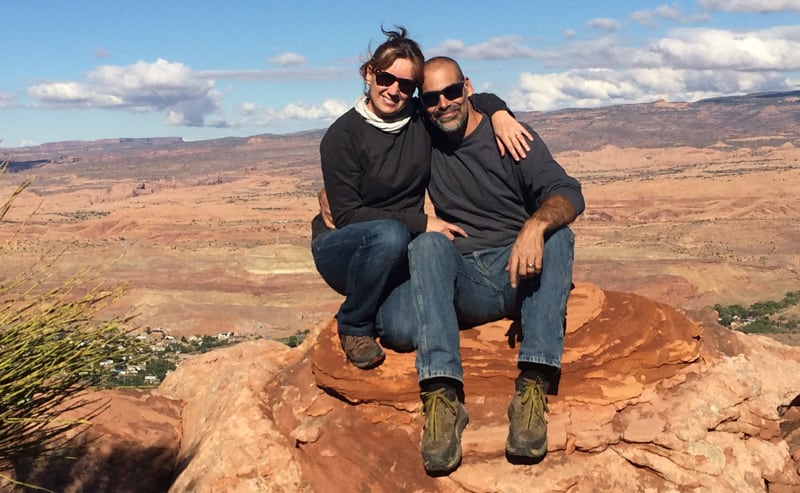 Above: Samantha and Bill Bergstrom
Parking garages and truck campers do not mix. That was a tough lesson. How did you end up with the 1957 Chevy truck?