Bill Bergstrom took a 1990 Ram 3500, 1957 Chevy 3800, and a 1958 Alaskan Camper and created one of the coolest truck camper rigs we've ever seen.

Around many a campfire across this continent we have heard the ultimate truck vision; a Ford F-350 with a Ram Cummins turbo diesel engine and the Chevy Allison transmission.  That would be the ultimate ticket; the truck to end all trucks…
And it will never, ever happen.  Unless one company buys the other two, you will sooner go boondocking at Atlantis, find a pot of gold at the end a rainbow, or ride a unicorn to an Elvis concert.  As Steven Tyler sings, "Dream on…"
Where most of us accept this reality, pick one truck and go camping, there a select few among us who read the above paragraph a bit differently.  Their interpretation to this and other stated impossibilities can be summed up in six words;
"Oh yeah?  We'll see about that!"
They heard a triple-dog dare to (once again) chuck conventional wisdom out the window.  Through copious amounts of blood, sweat, tears – and a buck or two – they routinely will into existence the practically impossible.
And thank goodness these individuals exist.  Without them, the breakthrough inventions and discoveries that push us all forward would instantly surrender to the universal chorus of, "can't".
How about a 1957 Chevy 3800 with a Ram Cummins diesel and a 1958 Alaskan Camper?  Yeah right!  That's impossible!  It will never, ever…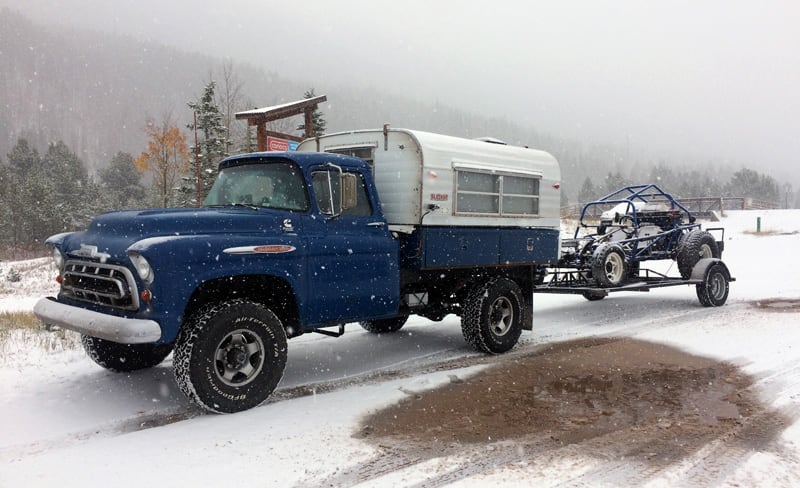 Tell us the story of how you were first introduced to truck campers and camping.
When my brother and I started going to Moab in early 1990s, we were tent camping. That's when I first thought about having a truck camper.
I have always liked the simplicity of truck campers. I actually started out with a truck topper and a compact truck. Then a friend took me for a ride in his Dodge Cummins diesel. I was instantly hooked.
I bought a bone stock, single rear-wheel Dodge 3500 Cummins diesel with rubber floor mats. There wasn't a straight panel on it. I figured it would be the perfect truck for a proper truck camper.
About 18-years ago, I found a beautiful 1984 Four Wheel Camper. I used that pop-up Four Wheel Camper quite a bit as I camped in Moab, Utah and the Colorado Rockies.
Then, one day, my sister needed to borrow the truck. Not thinking, she tried to enter a parking garage. Well, you can guess what happened next.
After saying goodbye to that camper, I tried a few different kinds of campers. Nothing stuck around for too long.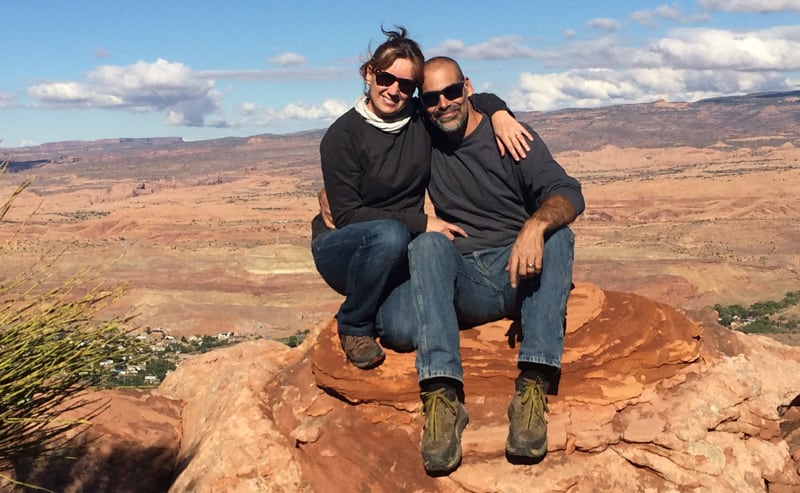 Above: Samantha and Bill Bergstrom
Parking garages and truck campers do not mix. That was a tough lesson. How did you end up with the 1957 Chevy truck?
My family had a 1951 Chevy growing up. I knew I'd end up with one. I also really liked the fuel economy and durability of the Cummins diesel.
One day I stopped at S Cargo, which is a truck topper place in town. I asked the owner if he knew of anyone who had an old truck.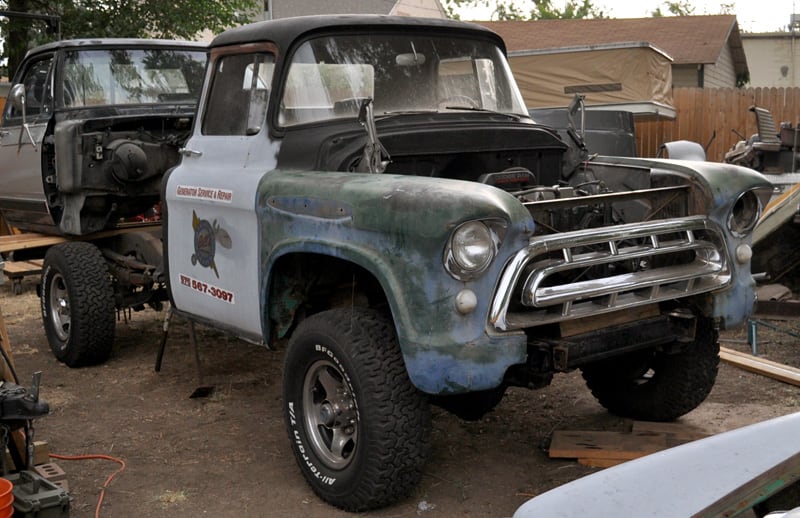 He happened to have a 1957 Chevy in the back, but had just sold it to a mutual friend of ours. I said, "I'll be back in awhile to pick up my truck". About four hours later I came back. I worked out a deal with our mutual friend.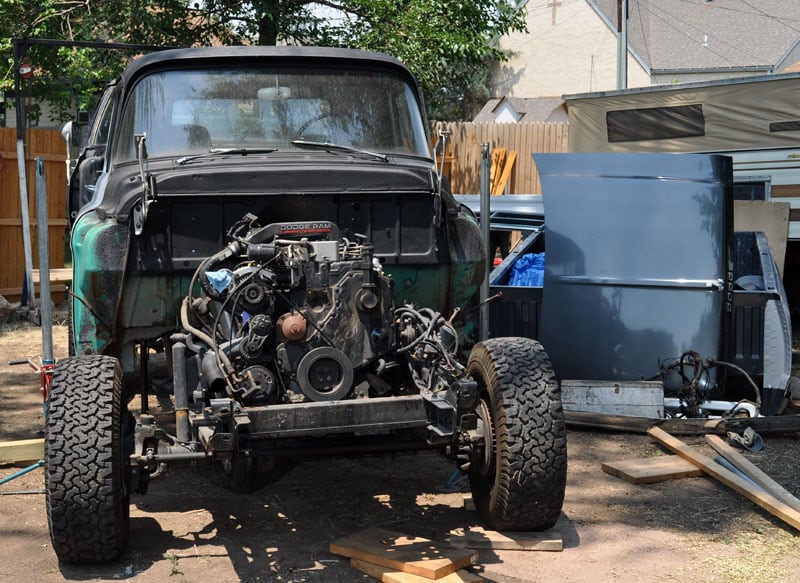 The Chevy had no motor or transmission, so I thought the Dodge truck chassis, engine and transmission would be the perfect candidates.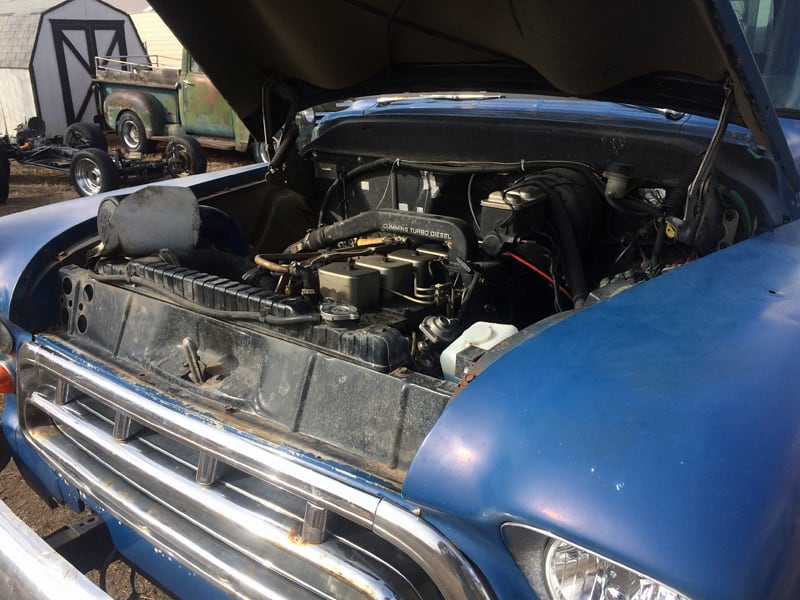 I took the flatbed car hauler chassis off and sold it. That paid for the truck.  After a few bed changes, I came up with the Dodge box bed with the 1957 Chevy's box sides, front and tailgate.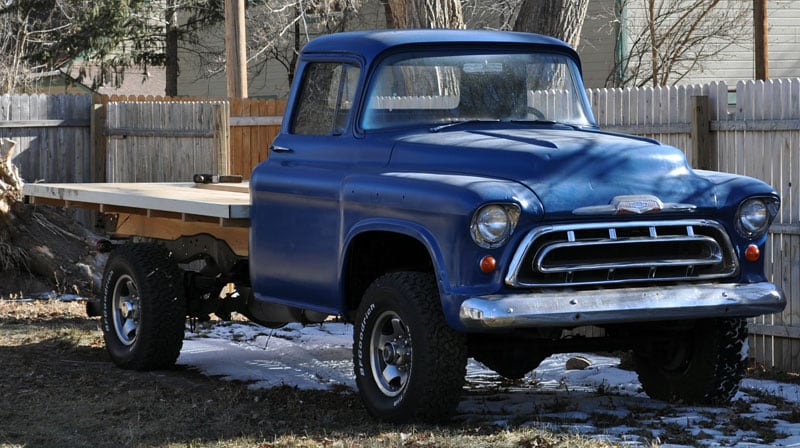 The box fenders didn't look correct with the large front fenders I got from a two-ton grain truck, so I decided to fab in a set of tool boxes on the bed rails. Who would have guessed, but they were in the perfect location for the truck camper.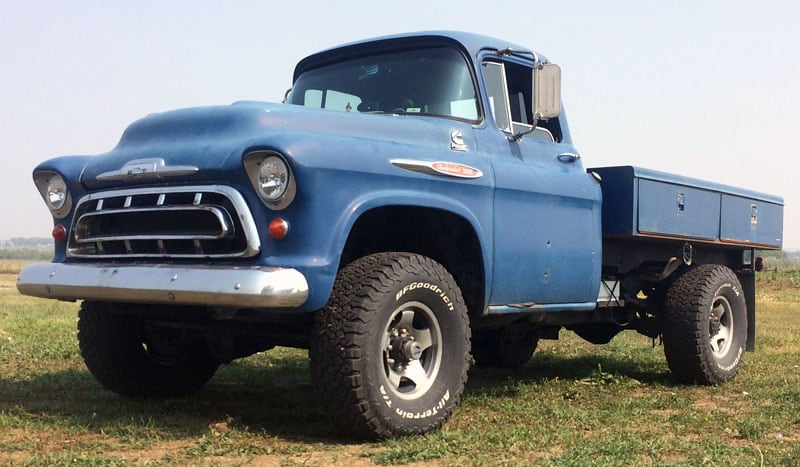 I ended up putting the truck together in about six months. It has the original motor, starter, alternator, and axles. The transportation shield is original. The transmission has been replaced.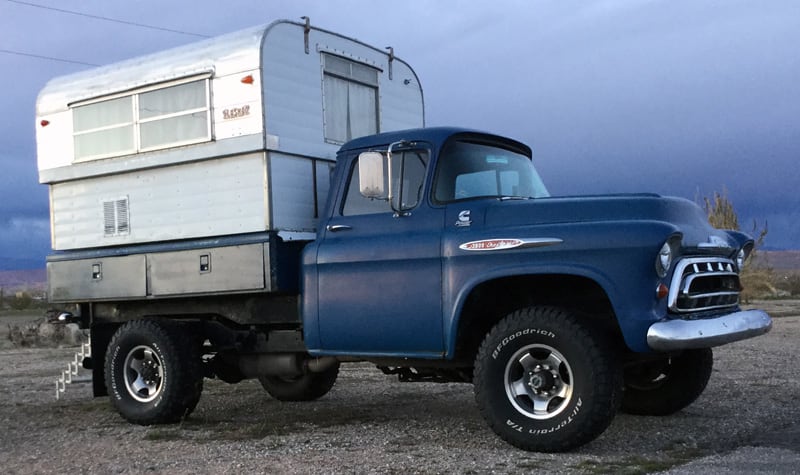 The truck and the Dodge chassis were a good match, and my Alaskan Camper fits perfectly. Right now the truck has 400,000 miles on it.
"I have always loved truck camping. For what we do, we don't need anything more than our '58 Alaskan and '57 Chevy."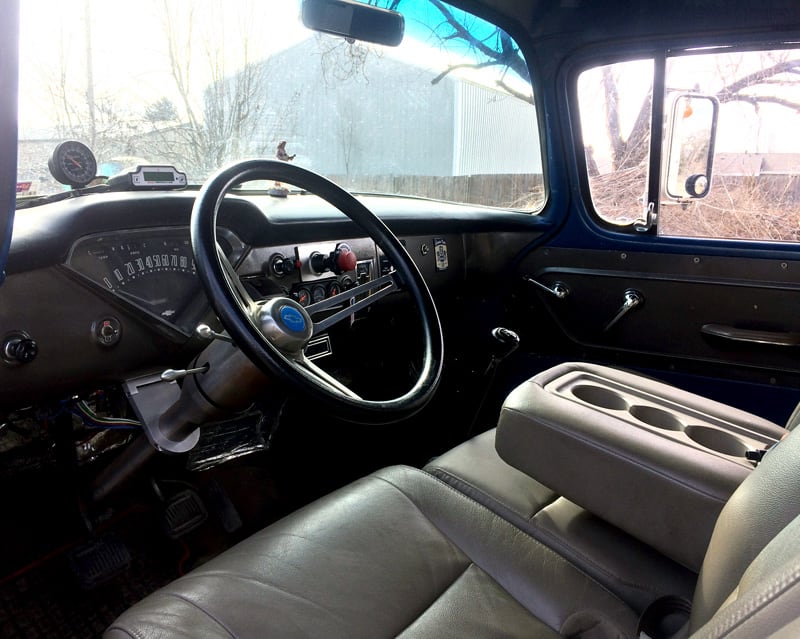 That's incredible. What's the inside of the truck like?
It has modern steering and leather seats. It's like driving a newer truck. I wanted it to be a modern functioning truck.
I also used the Dodge wiring, and updated it with a modern wire-controlled air conditioner. When we're in the truck for six to eight-hours at a time, I want it to be comfortable.
When I first built it, I took it to a car show and there was no sound deadening. We could not have a conversation because the diesel was so loud.
After that I insulated the truck for sound deadening. It's still not a quiet modern vehicle, but it is manageable. The Cummins can get loud.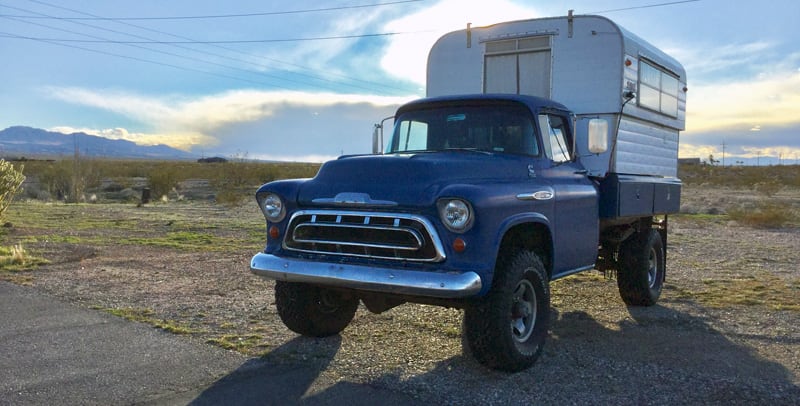 We had a 12-valve Cummins diesel in a 1998 Ram 3500. I know exactly what you mean. How did you know how to do this work?
Dad had several repair shops. One of them was Loveland Repair where they'd fix washers, dryers, refrigerators, and even electric can openers. His motto was, "If somebody built it, then I can fix it".
Dad would constantly give me something to work on, and asked me to figure out what was wrong with it. I was six to seven years old, and I would be tearing things apart. I didn't know what I was doing, but sometimes I would figure it out.
Working with dad, I learned that if I want to do something, I just have to do it. Sometimes it works out, and sometimes it doesn't. Now I have people come to me with questions on products. It's all that experience, I suppose.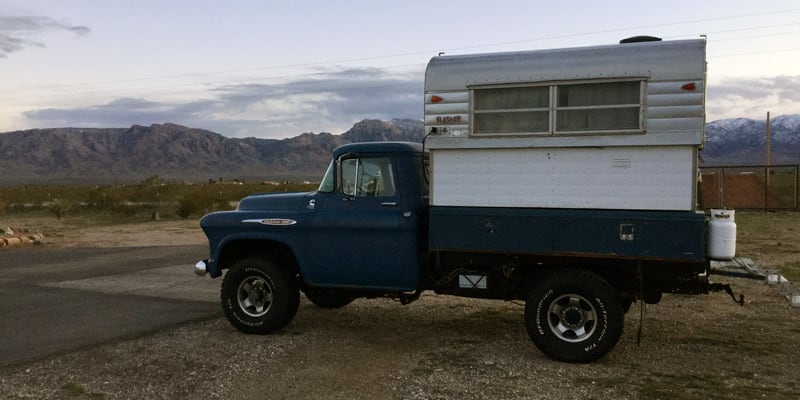 Where did you find the 1958 Alaskan Camper?
My wife and I had been talking about camping again. I was looking online last summer, and came across this 1958 Alaskan Camper on Craigslist. The owner said that it had been for sale for over a year. I was surprised it hadn't been scooped up.
I'm the third owner. The original owner had put it on a trailer and used it as a hunting camper. The previous owner told me that it sat in his shop when he wasn't using it.
When I picked it up, it looked like it was well kept. They purchased it to put on a 1958 Chevy two-wheel drive pickup. They never got around to getting the truck running and he had to get rid of it.
The price was fair. They even lowered the price when they saw the truck I was putting it on. Once it was installed on the truck, I couldn't believe how perfect it was.
"There's a stigma that old trucks can't do what newer ones can do. Well, if you put old and new together correctly, they most certainly can."
It was meant to be. There are no camper jacks in the photos. How do you load the camper?
I do contract work for RV shops. I'll work on electrical issues, welding, and slide-out rails. I've also replaced camper jacks on fifth wheels.
I put tripod jacks on just to load the camper. When the camper is not in use, it sits on a cart on wheels so I can move it around.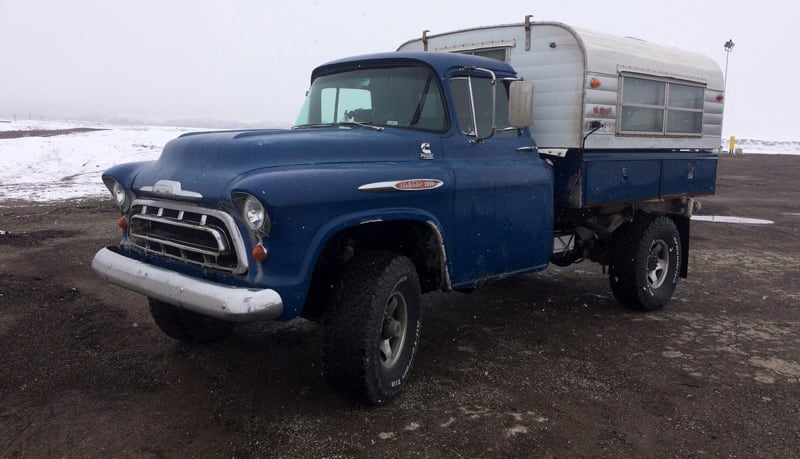 How is your Alaskan attached to your truck?
My original Four Wheel Camper had holes in the floor and it was bolted to the truck. Ever since then that's how I've tied-down my truck campers.
With this set-up I can always have my tailgate on my truck. Even if the camper came loose, it's not coming out with the tailgate installed.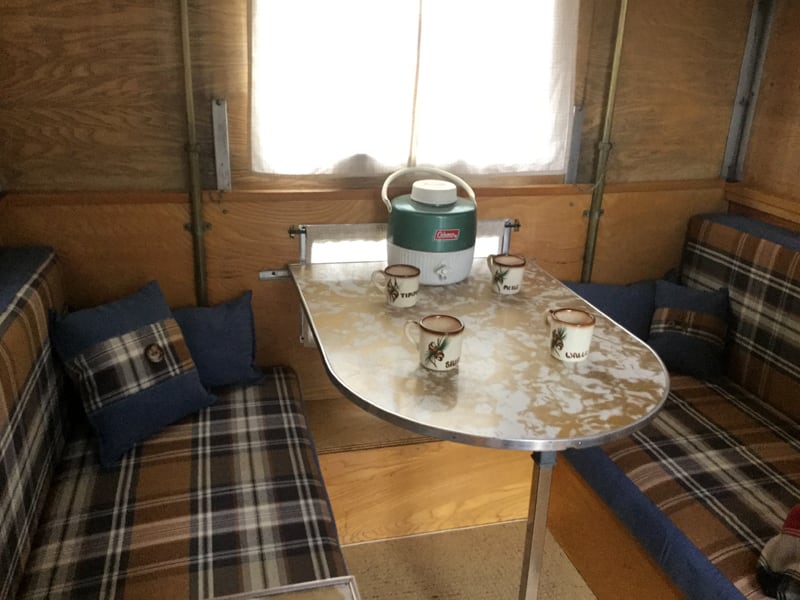 You said the Alaskan Camper was in good shape. Did it need anything after you got it home?
The interior was in excellent condition. It needed a good cleaning, but everything worked.  The cushions had some wear and the blinds were missing. My wife made cushion covers, pillows and curtains.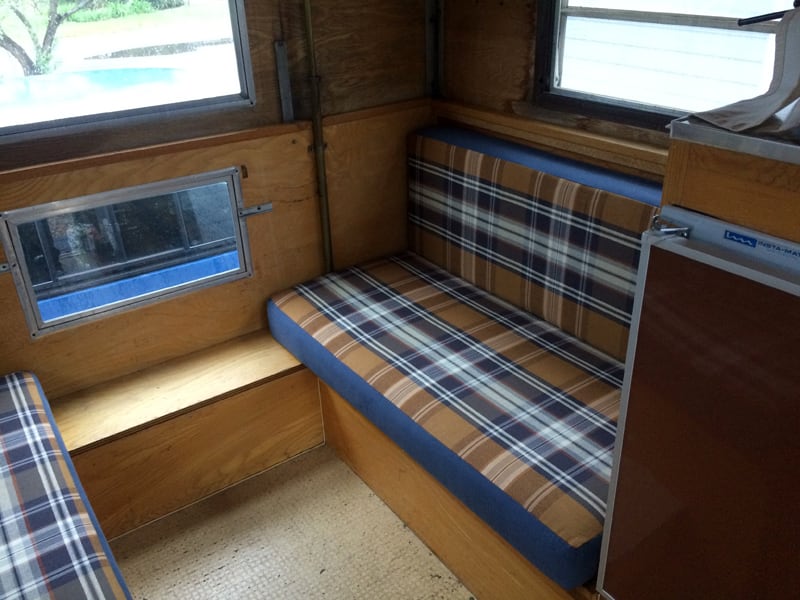 We installed LED lights and a few other odds and ends, along with resealing the roof and windows. Speaking of window, the previous owner's kid put a football through one of the windows. The rest are all original.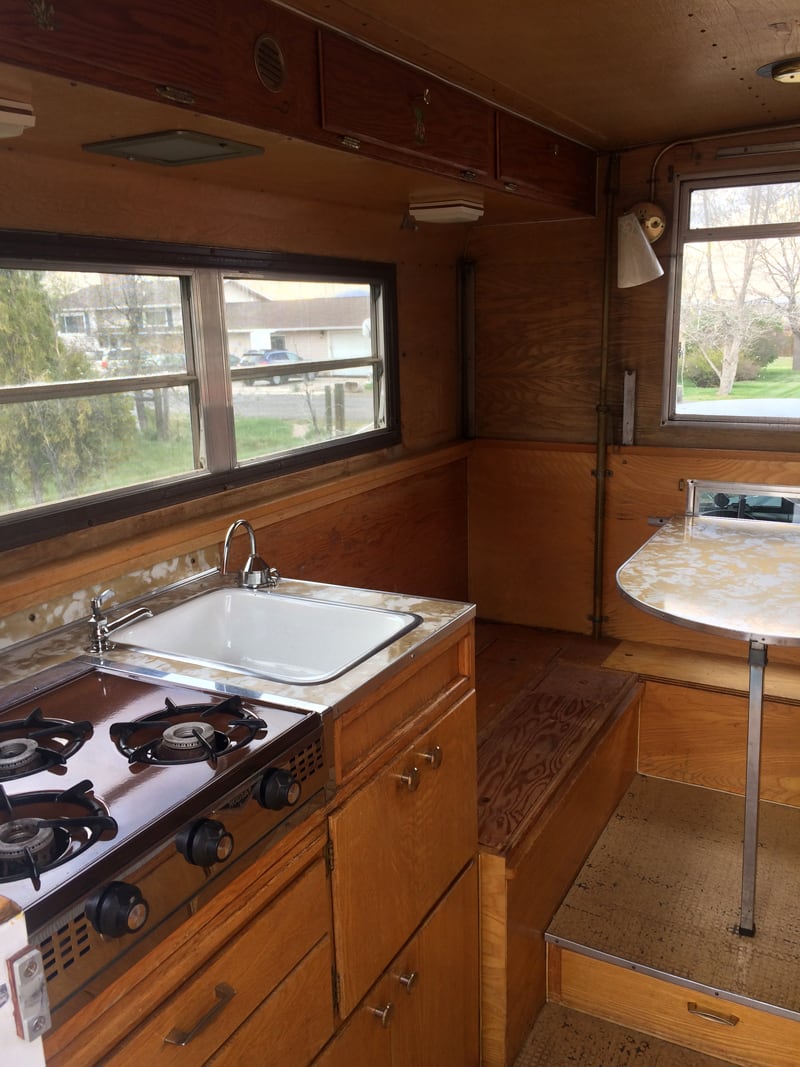 I replaced the sink and and hand pump because they were bad. The refrigerator was updated at one point because three-way refrigerators did not exist in 1958. The stove and furnace are original. The furnace has a radiant heater, not a blower.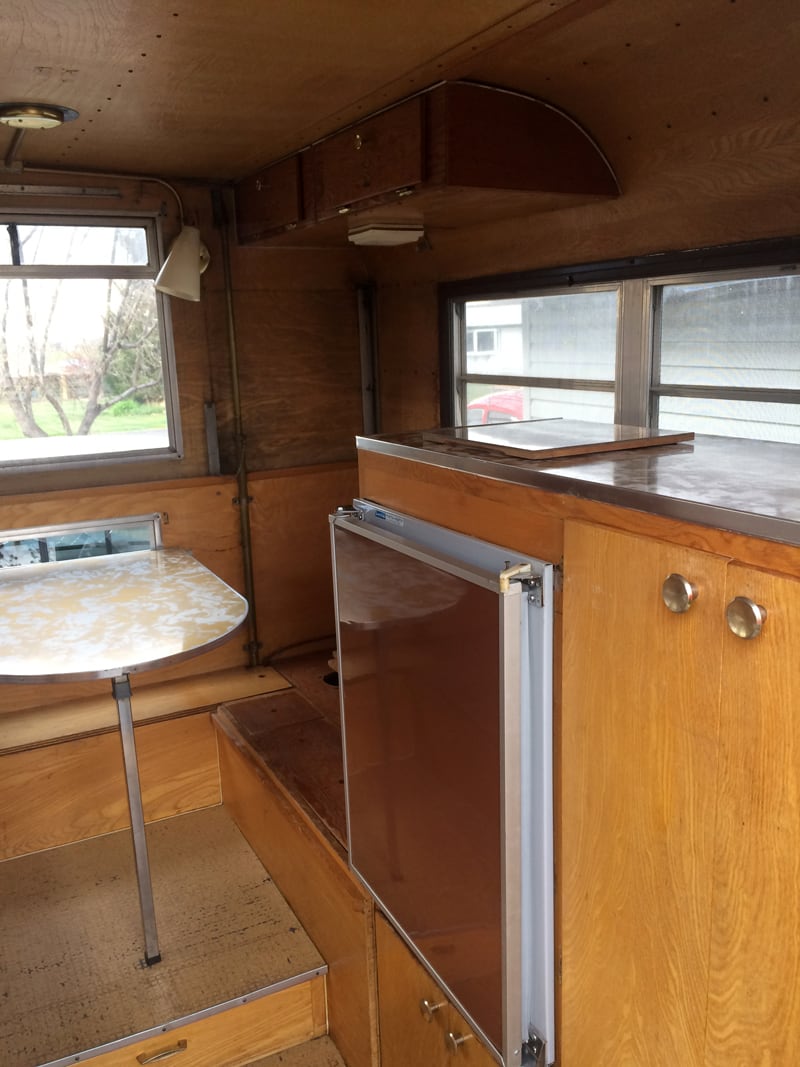 I installed a USB port for charging GoPro batteries and cell phones, added extra foam to the bed for a better night's sleep, installed an extra battery for the camper, and added a Fantastic Fan, which is really nice for cooking and moving air in the camper.
The camper turned out to be a great fit for us. We like the low profile of a pop-up camper. We don't need a lot of room in our camper since it's just the two of us.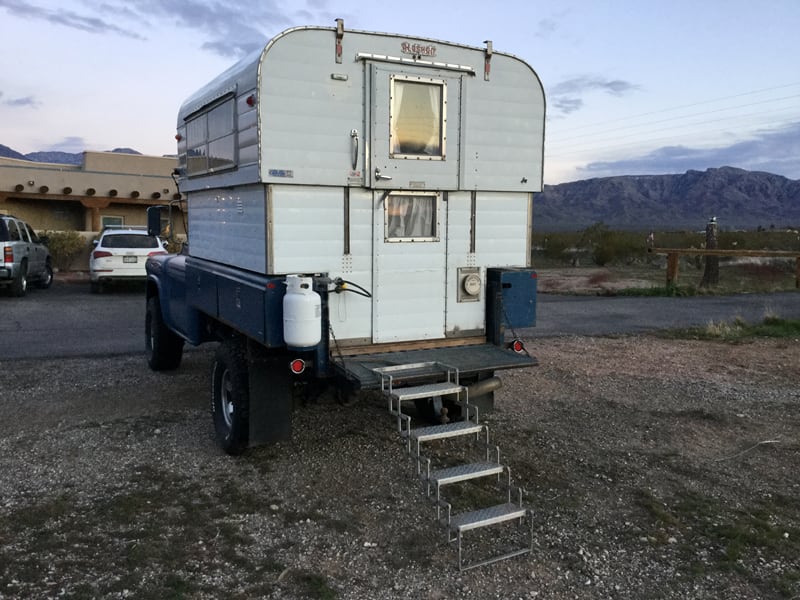 Do you have the original roof lift system?
Yes, the roof lift system is original. When I purchased it, the previous owner told me the roof wouldn't go up. I took it home and pulled the pump that raises the roof.
It had the original jack oil in it. It had gelled up and caused it to not function. I cleaned it out and refilled it. Now it works flawlessly.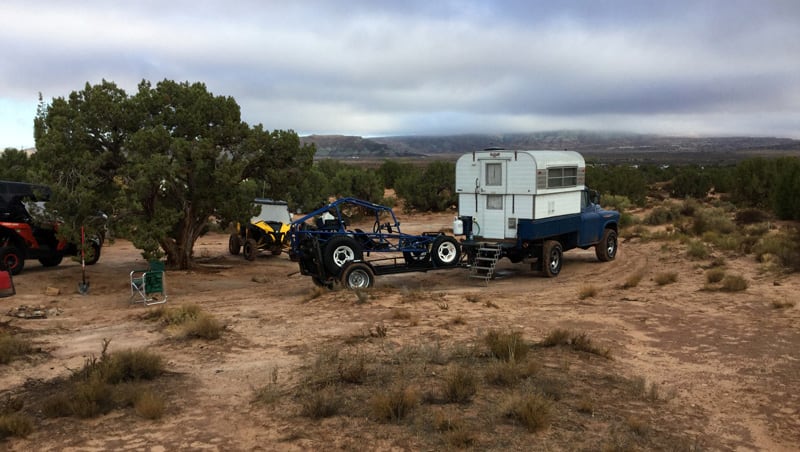 It's remarkable that it still works, over 50-years later! Tell us about what you tow behind your rig, and why.
We tow a dune buggy on a custom-built trailer. The dune buggy is small and light, which makes it easy to get in and out of camping spots.
A bunch of friends get together and go dune buggying. Some have been dune buggying since 60s and 70s.
We go out to Moab a couple times a year, but it's random. We camped on the north end of Moab just north of Arch View campground.

Every Friday night in the summer we get together for a local car show. We are planning shorter weekend trips to lakes here in Colorado where we enjoy kayaking.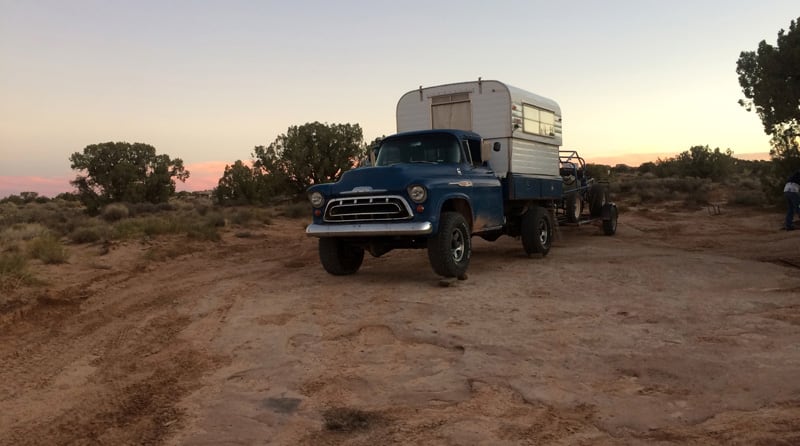 It appears that you're mostly dry camping. Do you have batteries and solar?
I have a sealed marine battery underneath one of the seats in the Alaskan. It's tied into the truck through an isolator.
When we're camping, we drive the truck every day to get to a different trail. The buggies are not street legal so they have to be towed. When I fire up the truck, I'm charging the battery.
So far we haven't had any problems, but our LED lights are basically the only draw.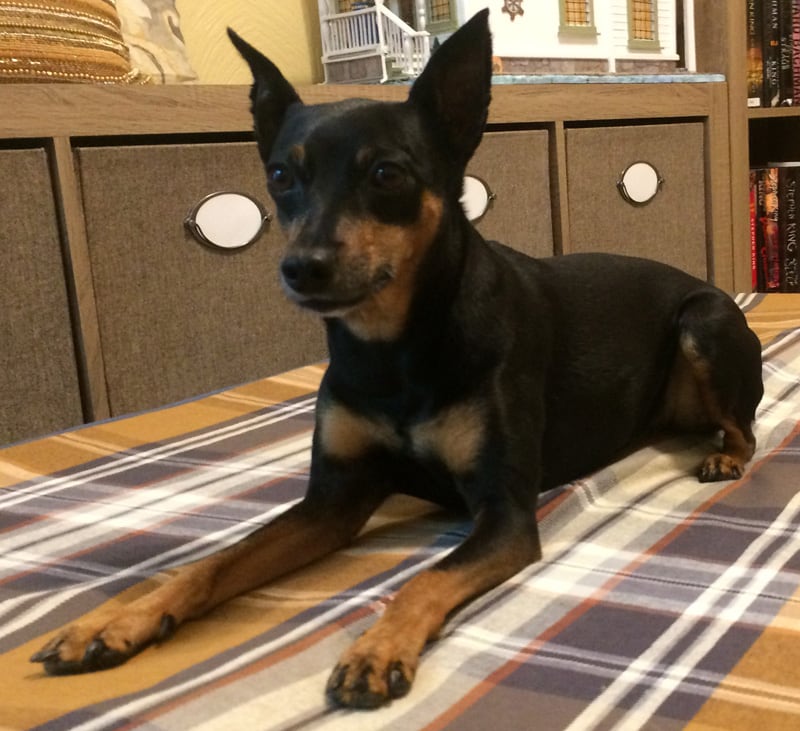 Above: Their dog, Bailey, hanging out on the new cushions
"How were we going to take the cat that wouldn't travel, and our beta fish?"
In an email to TCM you teased us about a story of truck camping with a dog, cat and beta fish. What is that all about?
When my wife and I married, I had a Red Heeler dog and she had an orange tabby cat. My wife moved cross-country with her cat. After the drive, the cat wouldn't use the litter box for days. This made her very concerned about going camping with the cat.
When we were putting together our Moab trip plan, we had another challenge; a beta fish. How were we going to take the cat that wouldn't travel, and our beta fish?
We eventually decided to just take them with us. We put the beta fish in a Tupperware bowl, put holes in the lid, and sat it on the seat as we drove down the highway.
For anyone who might be concerned about the fish, it wasn't phased. The fish lived a few more years after the trip. The cat was also fine.
We still have people talking about how we went camping in the desert with a cat, dog, and beta fish. They all comfortably enjoyed the eight-hour trip and five-day camping adventure.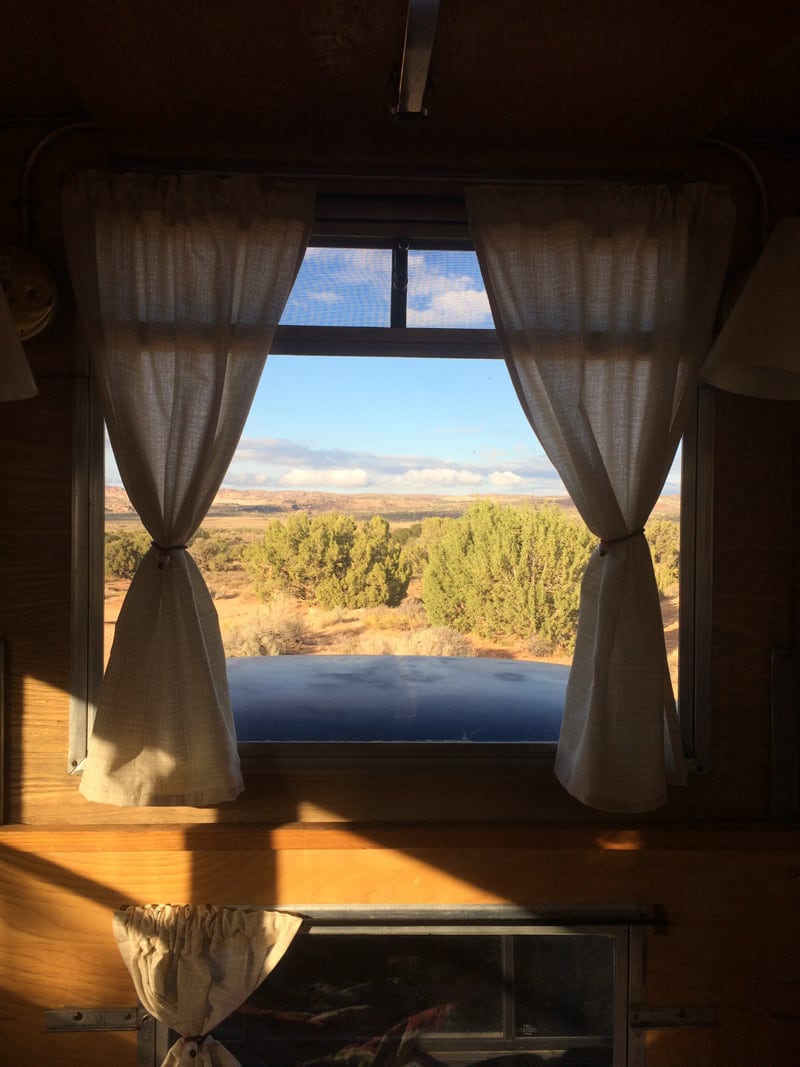 That's a fish story unlike anything we've ever published, and that's saying something! Is there anything else you'd like to share?
Nothing tops that story, but I've had some amazing reactions from people during our road trips. There's a stigma that old trucks can't do what newer ones can do. Well, if you put old and new together correctly, they most certainly can.
Our rig allows us to go out and enjoy nature. We can visit family, have our own spot, and stay in our own space. I have always loved truck camping. For what we do, we don't need anything more than our '58 Alaskan and '57 Chevy.
Bill Bergstrom's Truck Camper Rig
Truck: 1957 Chevy one ton 4×4
Camper: 1958 Alaskan non cab over
Tie-Downs and Turnbuckles: Internal bolt on
Suspension: Firestone air bags