How does the drummer from Poison, an American band that sold over 45 million records, wind up off-road and off-the-grid in a Ford Raptor camper rig?

When Cari and Robby Rowe of Phoenix Custom Campers contacted us about interviewing Rikki Rockett, the drummer from Poison, we almost fell out of our chairs.  A rock star who pushes the limits of overland travel and adventure in a truck camper?  We're in.
So exactly how did Rikki end up with a Phoenix Custom Camper on a Ford Raptor?  As Rikki Rocket puts it, his Jeep Rubicon and Airstream couldn't get there, and a tent just wasn't cutting it.  But that's not the real story here.  The real story is much better than anything we could have imagined.
Far from the reaches of fame, fortune, and rock areas, Rikki is a father who wants to take his young son camping, and encourage, by example, an active and positive lifestyle.  Just father and son, camping in the wilderness.  Nothin' But A Good Time.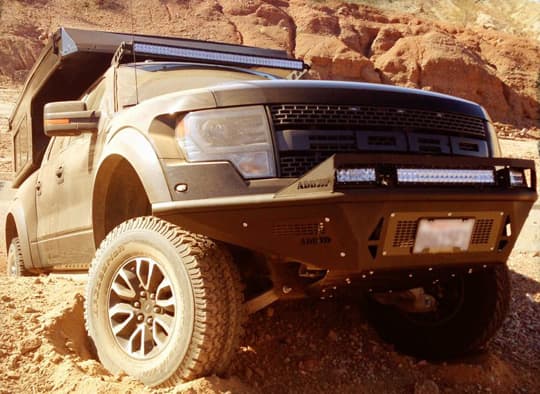 Above: The Raptor Camper off-road near the Calico ghost town
TCM: How is it that the drummer from Poison decided he wanted a truck camper?
Rikki: It's really simple.  I'm an Airstream enthusiast.  I've had three of them.  I even bought a larger model because my wife was uncomfortable in the smaller Airstreams I prefer.  Even with the larger trailer, she still didn't want to go camping.
That's when I realized it would just be me and my son going camping.  I thought, "If it's just the two of us, there has to be a better way to do it".  Besides, I can't pull an Airstream trailer into the wilderness and that's where I want to go.
Initially, I looked for an off-road trailer.  I love Sportsmobile vans, but I didn't want an all-in-one vehicle.  With a truck camper, I can take the camper off and still have my truck.  I can go on an off-road weekend adventure, and still drive the kids to school on Monday.  It's the perfect solution for what I want to do.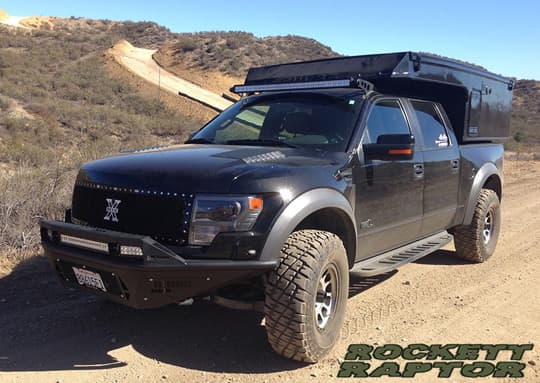 Above: The Rockett Raptor near his home in Castaic, California
TCM: How did you choose to build your rig around a Ford Raptor?
Rikki: I was coming from the Rockett Rubicon Jeep by Poison Spyder Customs.  I loved the Jeep, but I don't like to just play for the day and go home.  I want to stay, explore, and absorb.  I tried tent camping, but that didn't cut it.
After the Rockett Rubicon, I couldn't get a run-of-the-mill truck and be excited.  If I was giving up the Jeep and Airstream, I wanted something really cool.  I wanted something that would destroy.  I fell in love with the Ford Raptor.
I wasn't going to mod the Raptor when I first got it.  Ford ran the Baja 500 with a stock Raptor and it came out fine.  Then I took the Raptor off-road, went up a ditch, and bent the rear bumper into the truck body.  The stock bumper had to go.  Addicted Desert Designs came up with a really cool rear bumper.  From there, I kept customizing.  As you know, one thing leads to another.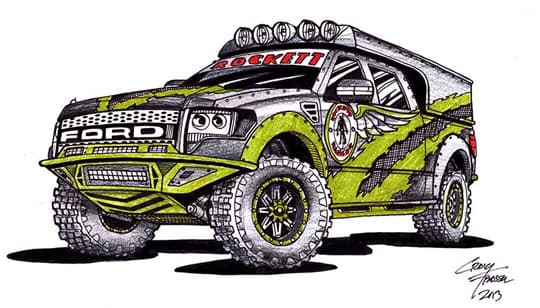 Above: Sketch by airbrush guru, Craig Fraser of Kal Concepts / Air Syndicate
TCM: It certainly does.  How did you connect with Phoenix Campers?
Rikki: When I searched for companies that built campers for Ford Raptors, Phoenix came up.  I emailed them and told them what I was up to.  Cari Rowe from Phoenix Campers said they would love to do it, so we started the process.
The Ford Raptor and Phoenix Camper rig is the way to go.  For the type of person I am, and what I want to do, this literally makes more sense than any other type of RV.  I can still haul my motorcycle or pull a trailer.  I can go by myself, or take my son.  This rig gives me so many options.
Above: The interior of Rikki's Raptor camper (click above photos to enlarge)
TCM: What features did you choose for your custom Phoenix Camper?
Rikki: I started by asking Cari and Robby Rowe what was possible.  I got a shower, sink, stove, toilet, air conditioner, heater, and outside generator.  It's still amazing to me that all of this fits on the back of a Raptor pickup truck.
TCM: How did you coordinate the custom design and build?
Rikki: We did everything by phone and email.  Phoenix sent me drawings, floor plans, and photographs of other custom Phoenix Campers had already built for Ford Raptors.  There was even a reveal when I showed up in Denver to pick it up.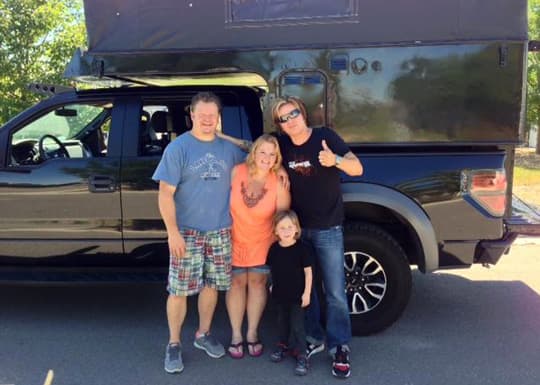 Above: Rikki and Jude picking up the camper at Phoenix Campers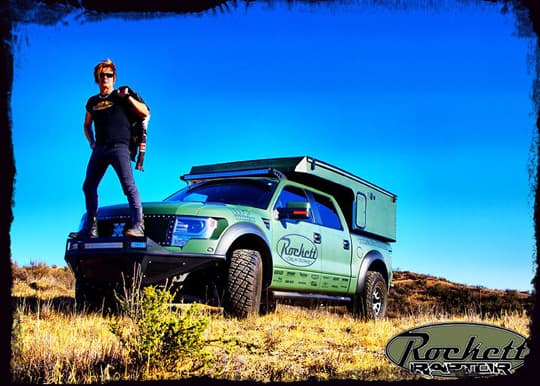 Above: Rikki and the Raptor, out on a photo shoot before SEMA
TCM: Did you drive the Raptor to Denver?
Rikki: No, I shipped the Raptor to Phoenix Campers in Denver.  Robby did some work on the truck including installing lights and other accessories.
My wife had surgery in Michigan during the weeks leading up to the completion of the camper.  Afterwards, my son, Jude, and I flew to Denver to meet Cari and Robby and pick up the rig.  The timing worked out well.
Then Jude and I drove and camped the whole way back to our home in California.  It took us four days and three nights.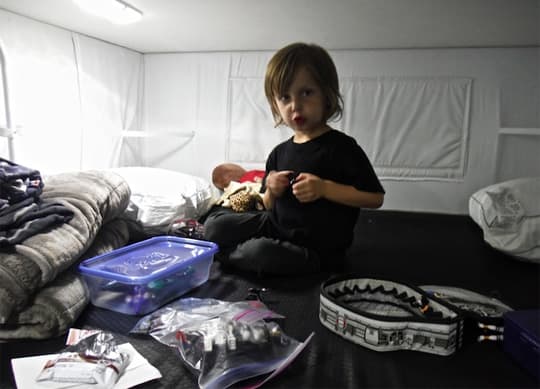 Above: Jude "Bugsy" playing in the overcab on their trip back to California
TCM: Had you or Jude ever been truck camping before that?
Rikki: No.  It was a crazy experience driving back.  It was just Jude and I in the truck.  What if he got bored?  What if it rained hard and we were stuck inside the camper?  We actually did hit a day like that, but the rain put him to sleep.
We went to Camping World to buy the RV products we needed.  We stayed at a KOA one night so we could take showers.  We had a great time.  We have even slept in the camper at home in the driveway a couple of times because he enjoyed it so much.
It's super-glorified tent camping, but all your conveniences are right there.  All you have to do is pop the roof up and plug-in.  I can go where tent campers go; places you can't take trailers into because they are strictly for tent camping.  That's why truck campers are so cool.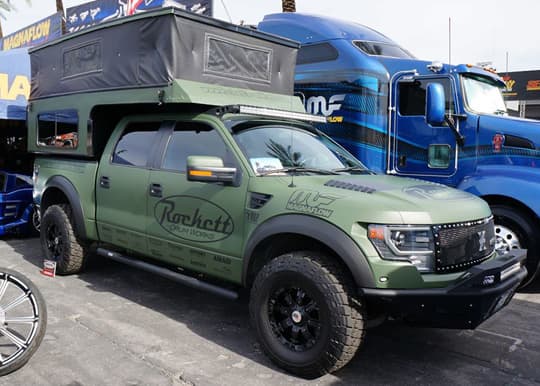 Above: The Rockett Raptor at SEMA in the Magnaflow booth
TCM: You're preaching to the choir here.  Tell us about the experience at SEMA with the Rockett Raptor.  How was your rig received?
Rikki: I was in the MagnaFlow booth.  At first, not everybody got it.  They were asking, "What is that?"  Once I put the pop-up roof up, people understood the concept.
I honestly feel like most people did not get it until they really saw it.  Even Brian Rider, who helped me with the project and contacted vendors for me, really didn't get it, until he saw it in person.
It seems like there's a disconnect between the overland people with Sportsmobiles and Earthroamers and the truck campers.  My idea is to take the Ford Raptor and Phoenix Camper rig and go really deep and do stuff.  I can even do the Rubicon Trail with this set-up.  The camper is only 1,100 pounds dry.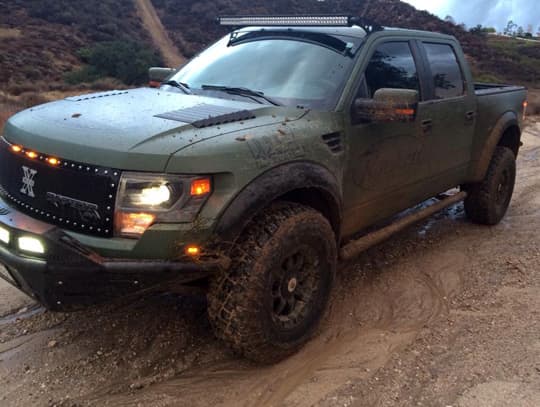 Above: Rikki sometimes unloads the camper and then goes off-road with just the truck
TCM: You're a well known motorcycle enthusiast.  Any plans to bring a motorcycle with you when you go truck camping with the Rockett Raptor?
Rikki: I'll tow a Polaris Razor when I go camping with my son.  That way we can both experience it.  If I take a motorcycle, I can't take him with me.  If I'm on my own, I'll take the Triumph Tiger 800.  That's an adventure bike.
There are loads of options with the truck camping lifestyle.  I can haul this or trailer that.  I can unload the camper and go 120 miles per hour across the desert, if I want to.  That's what I love about a truck camper rig.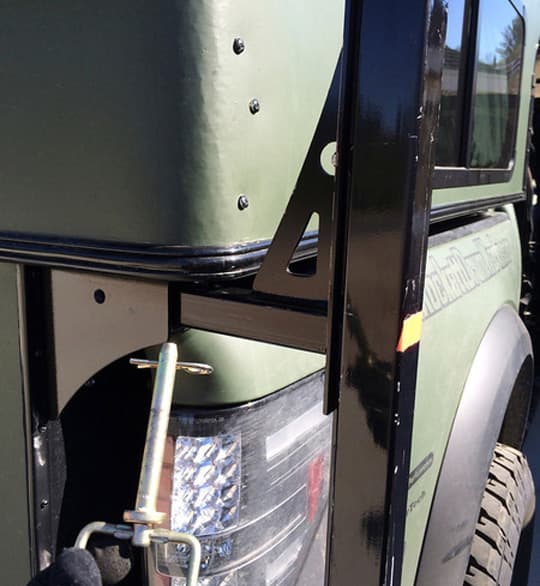 Above: Removable jacks for off-road scenarios
TCM: Are you planning any modifications to the Phoenix Camper?
Rikki: I want a better jack system.  The jacks are not designed for off-road scenarios.  My friend, Jeff, is a fabricator.  He created a slip-hitch mount underneath each side of the camper for the jacks.  With this set-up, I can quick-disconnect the jacks.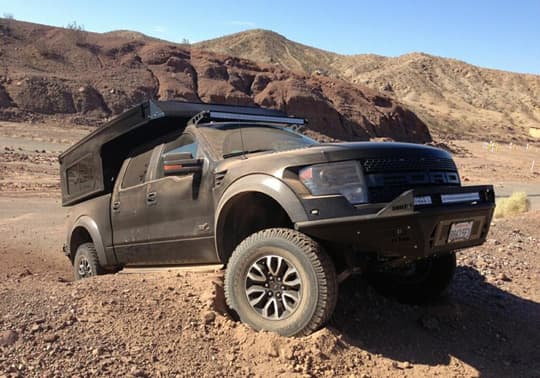 Above: Getting stuck in the dirt near the Calico ghost town
When we were in the Calico ghost town, I high centered the vehicle, and no one was around.  It was a mile-and-a-half walk for help, and I had no cell phone service.  I was like, "How am I going to get out?"  The camper jacks were in the back seat.  I used one as a hi-lift jack and slid out of the hole.  I tore up one of my tires, but I got out.
TCM: That must have been quite an experience.  You may need a satellite messenger or phone.  Has having a refrigerator and kitchen with you been helpful with your vegetarian lifestyle?
Rikki: It has.  I can carry my own food.  Jude is a picky eater.  On our drive home from Denver I found a store with the food he likes and stocked up.  Later, I pulled over at a rest stop, popped-up the roof, and cooked for us.  He played a game, and we got back on the road.  The camper is really convenient.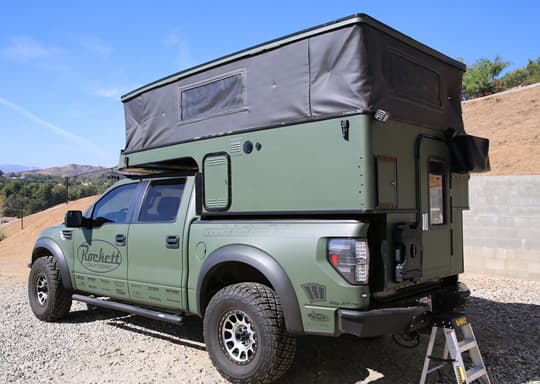 Above: Jude wanted to camp out in front of the house
TCM: What do your friends think of your Rockett Raptor?
Rikki: Everybody loves it.  People like the Ford Raptor, period.  They are hard to get.  On top of that, they see what I've done to it.  My mother-in-law even said it was awesome.
I definitely get some looks driving around.  I'm not going to keep all the logos on the truck forever.  That was for SEMA.  I'll go back to black at some point, or something different.  It's such an unusual looking rig that people look at it anyway.  If someone is interested, I like talking about it.
Maybe in a couple of years I'll get a Ford F350 and go bigger with the slide-out truck campers.  Some of the campers these days are unbelievable.  It's like being in a regular RV, only with the versatility of a truck camper.  With a truck camper rig, you can park in an urban environment or a friend's driveway, and stay.  You can't do that with an Airstream.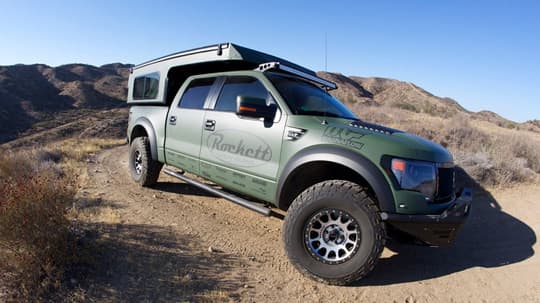 Above: The Rockett Raptor with the Rockett graphics
TCM: Think you would take the Rockett Raptor on tour with Poison?  Maybe hitched behind the tour bus?
Rikki: A forty-five foot tour bus is legally limited to fifteen foot trailer.  That means the Rockett Raptor isn't coming along, but I always take a motorcycle with me.
I've spent twenty-seven years on a tour bus.  Give me a tour bus and a trailer, and I'm good for a long time.  I love my house, but I like something that moves.  I'm like a gypsy.
When we're on tour, I'm working.  It's not just a one-and-a-half hour concert.  There are meet and greets, and I fly home every couple of weeks.  My family comes out and visits.  We all know what we signed up for.
At end of the day I have to do my best on the stage.  If I got three hours sleep the night before, I'm going to suck.  That's my livelihood.  We make it look like it's all fun and games, but it's not all the time.
Above: Cal City Thanksgiving trip with the Polaris RZR and Jude's Yamaha 50
TCM: We can relate to that.  Do you have any upcoming plans with the Rockett Raptor?
Rikki: The day after Thanksgiving we went out to Cal City with our quads.  We went crazy for four days, having a blast.
The next trips are going to tell me a lot about Jude's tolerance for truck camping.  If he loves being out in the dirt with the Razor, I'll plan something once a month.
I want to encourage Jude with stuff like this.  I've noticed nine out of ten kids who aren't into positive activities get themselves wrapped up in drugs and other bad stuff.  My parents worked a lot when I was a kid and weren't always focused on me.  Sometimes I got myself into trouble.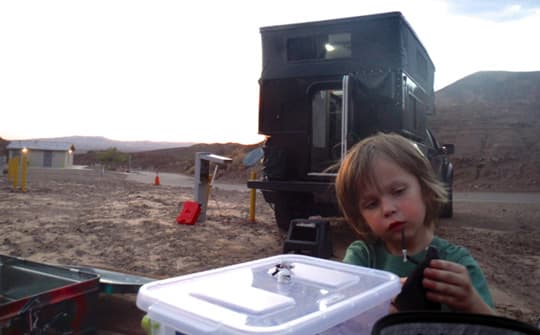 Above: Jude discovering Star Wars near Calico Ghost Town
TCM: Have you introduced Jude to drumming?
Rikki: Jude has drums.  Some days he's interested, and other days he's not.  I don't put pressure on him.
I've also been into Brazilian Jiu-Jitsu for sixteen years and take him to the gym with me.  Right now he has a three to four minute attention span.  Out of the blue he will ask to go to the gym, but I don't want to pressure him with that, either.  I just want him to go to bed on time and do his homework.
When we were in Michigan, we visited a very good friend who has a comic book company.  After he produced graphic novels for Star Wars stuff, he carved out a living working for George Lucas.  His whole house is Star Wars, with storm troopers and signed stuff.  That got Jude into it.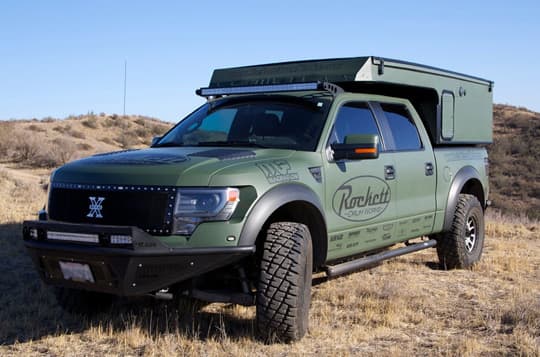 Above: The Rockett Raptor as a daily driver, a tow vehicle, a four-wheel drive vehicle, a pre-runner, and a heavy duty truck that can carry a camper
TCM: I think that would get any kid into Star Wars.  Heck, I want to go to your friend's house!  Is there anything else you'd like to add about truck camping, or the Rockett Raptor?
Rikki: I am asking my truck to perform like a daily driver, a tow vehicle, a four-wheel drive vehicle, a pre-runner, and a heavy duty truck that can carry a camper.  What's amazing is that the truck can do all of those things.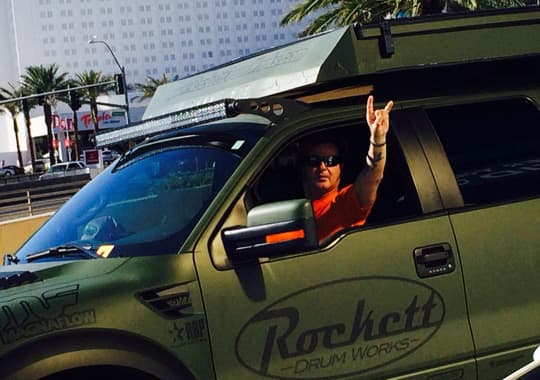 Above: Rikki driving in Vegas while at the SEMA show
Not many people have a truck camper on a Ford Raptor.  The combination gives me the best of both worlds.  It really is the way to go.
Truck: 2013 Ford Raptor, SVT, four door, gas engine, four wheel drive
Camper: 2013 Phoenix Custom Camper
Tie-downs/Turnbuckles: Phoenix tie-down system
Suspension: Firestone Ride-Rite Rear Airbags, Nitto 35×12.50R17 Trail Grappler tires, Moto Metal M0909 Skull wheels
Gear: Magnaflow Exhaust, Addictive Desert Design Front and Rear Bumpers, Airaid cold air intake, Auto Anything accessories, Hypertech max energy power tuner, Katzkin headrest covers, Odyssey batteries, One11ink full body wrap, Rigid off-road LED lights, Romik side step bars, Rosen headrest DVD system, Rotopax off-road fluid storage, Spyderlights LED tail lights, Sway-A-Way off-road shocks, TRex metal mesh grille, Whistler radar detector, power inverter, and tire pressure monitor system, Tiger 800 XC motorcycle