How does the drummer from Poison, an American band that sold over 45 million records, wind up off-road and off-the-grid in a Ford Raptor camper rig?

When Cari and Robby Rowe of Phoenix Custom Campers contacted us about interviewing Rikki Rockett, the drummer from Poison, we almost fell out of our chairs.  A rock star who pushes the limits of overland travel and adventure in a truck camper?  We're in.
So exactly how did Rikki end up with a Phoenix Custom Camper on a Ford Raptor?  As Rikki Rocket puts it, his Jeep Rubicon and Airstream couldn't get there, and a tent just wasn't cutting it.  But that's not the real story here.  The real story is much better than anything we could have imagined.
Far from the reaches of fame, fortune, and rock areas, Rikki is a father who wants to take his young son camping, and encourage, by example, an active and positive lifestyle.  Just father and son, camping in the wilderness.  Nothin' But A Good Time.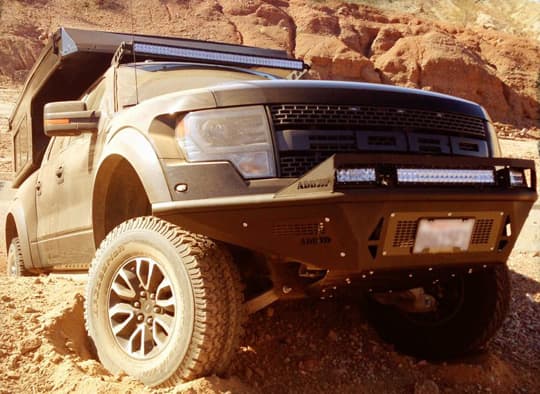 Above: The Raptor Camper off-road near the Calico ghost town
TCM: How is it that the drummer from Poison decided he wanted a truck camper?
Rikki: It's really simple.  I'm an Airstream enthusiast.  I've had three of them.  I even bought a larger model because my wife was uncomfortable in the smaller Airstreams I prefer.  Even with the larger trailer, she still didn't want to go camping.
That's when I realized it would just be me and my son going camping.  I thought, "If it's just the two of us, there has to be a better way to do it".  Besides, I can't pull an Airstream trailer into the wilderness and that's where I want to go.
Initially, I looked for an off-road trailer.  I love Sportsmobile vans, but I didn't want an all-in-one vehicle.  With a truck camper, I can take the camper off and still have my truck.  I can go on an off-road weekend adventure, and still drive the kids to school on Monday.  It's the perfect solution for what I want to do.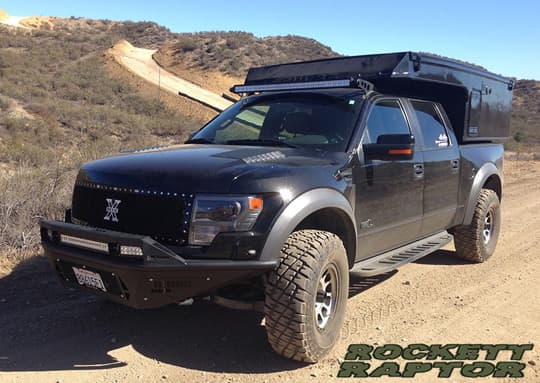 Above: The Rockett Raptor near his home in Castaic, California
TCM: How did you choose to build your rig around a Ford Raptor?
Rikki: I was coming from the Rockett Rubicon Jeep by Poison Spyder Customs.  I loved the Jeep, but I don't like to just play for the day and go home.  I want to stay, explore, and absorb.  I tried tent camping, but that didn't cut it.
After the Rockett Rubicon, I couldn't get a run-of-the-mill truck and be excited.  If I was giving up the Jeep and Airstream, I wanted something really cool.  I wanted something that would destroy.  I fell in love with the Ford Raptor.
I wasn't going to mod the Raptor when I first got it.  Ford ran the Baja 500 with a stock Raptor and it came out fine.  Then I took the Raptor off-road, went up a ditch, and bent the rear bumper into the truck body.  The stock bumper had to go.  Addicted Desert Designs came up with a really cool rear bumper.  From there, I kept customizing.  As you know, one thing leads to another.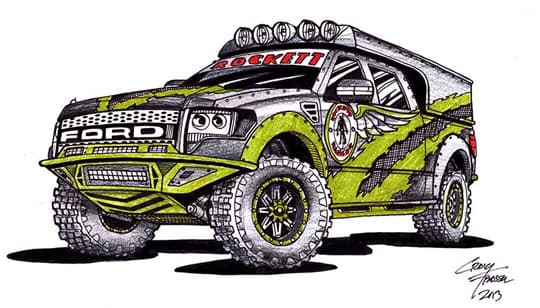 Above: Sketch by airbrush guru, Craig Fraser of Kal Concepts / Air Syndicate
TCM: It certainly does.  How did you connect with Phoenix Campers?
Rikki: When I searched for companies that built campers for Ford Raptors, Phoenix came up.  I emailed them and told them what I was up to.  Cari Rowe from Phoenix Campers said they would love to do it, so we started the process.