After years camping in Westfalia camper vans, Volkswagen technician Jeff Hogue assembled a VW DoKa truck with a Palomino pop-up truck camper.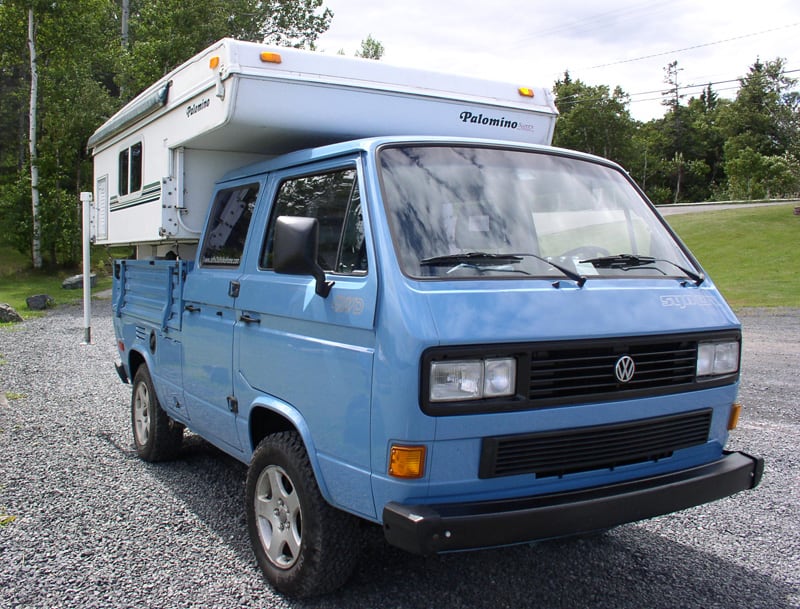 There's no lack of unusual truck and camper combinations out there.  We've seen truck campers mounted on Unimogs, Mitsubishi Fusos, and Land Rover Defenders.  Today we add a Volkswagen DoKa truck to that list.
It's a real shame that the Volkswagen DoKa is not more common in the United States and Canada.  Many folks in North America fell in love with RVing in a Volkswagen Westfalia camper van in the 1960s and 1970s.  The Volkswagen DoKa could have made their step to a modern truck camper a natural transition.
Speaking of natural, we were surprised to learn from Jeff Hogue how well his Volkswagen DoKa and Palomino pop-up went together.  It didn't hurt that Jeff is a Volkswagen technician and was able to make the modifications necessary himself.  This is the kind of rig you wouldn't want to attempt if you were not mechanically inclined.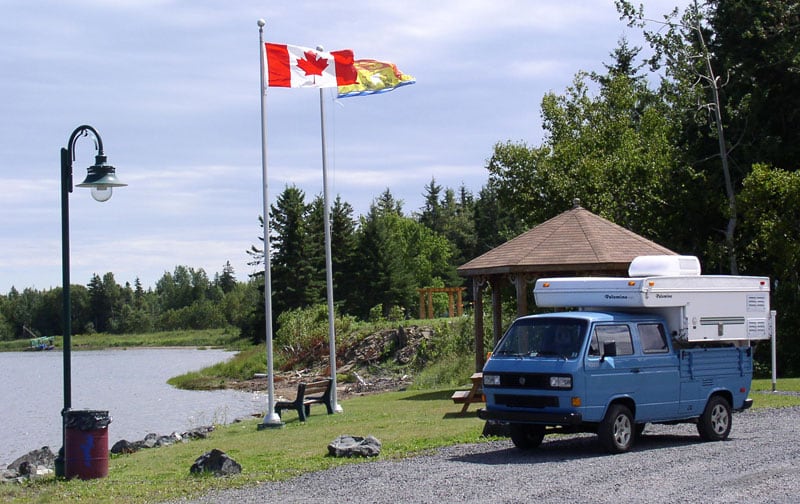 How did you get the idea to match a Volkswagen truck with a pop-up truck camper?
I have always been into camping, albeit usually with a Westfalia camper van.  Westfalias are very nice self contained units, but I really got tired of maintaining two trucks.  Since the DoKa was part of the family, the Westy was sold to finance a truck camper.  I saw trucks like my Volkswagen DoKa with slide-in truck campers in European RV magazines, so I knew it was possible.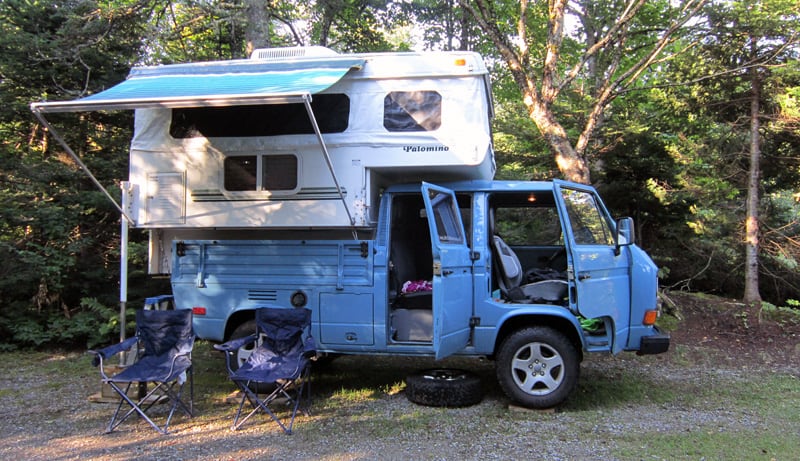 You certainly don't see many VW DoKa trucks in North America.  Tell us about the process of putting this truck camper rig together.
I've owned this particular Volkswagen truck for nineteen years.  It's had three restorations and two different engines.  I know this truck very well.
"The Palomino was the perfect weight for this truck. The truck and camper fit like a glove."
A few years ago I started looking for a very light weight pop-up truck camper to go with the truck.  It had to be a light weight pop-up because the bed of the truck is forty-eight inches off the ground.  A hard sided camper would be too top heavy, to say the least.
At first, I actually wanted to build my own truck camper to match the truck, but quickly realized that I would over-build the camper and make it way too heavy for my truck to haul.
After some research, I found the Palomino.  The Palomino was the perfect weight for this truck.  The truck and camper fit like a glove.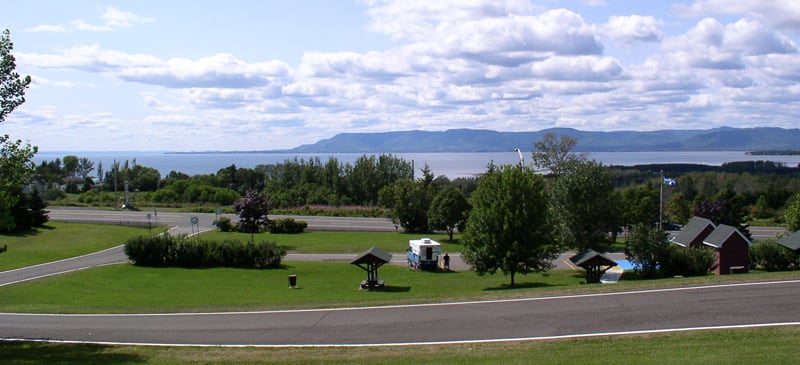 Above: The Volkswagon truck and Palomino camper at a Quebec rest stop
It's amazing that they fit so well as the Palomino was not designed with a Volkswagen DoKa.  Were there any challenges to assembling this unusual truck and camper combination?
I really didn't have too many challenges.  I added a rear spacer to the coil springs, just to keep the rig level and while traveling.  I also bumped up the engine boost to 18 psi for a little more grunt climbing hills and passing.
The truck is a rear engine truck.  With a demountable truck camper, I maintain access to the engine, just in case it needs attention.
Finally, I made a custom electrical harness to charge the AGM battery in the camper.  The harness provides sixty amps of charge while the engine is running.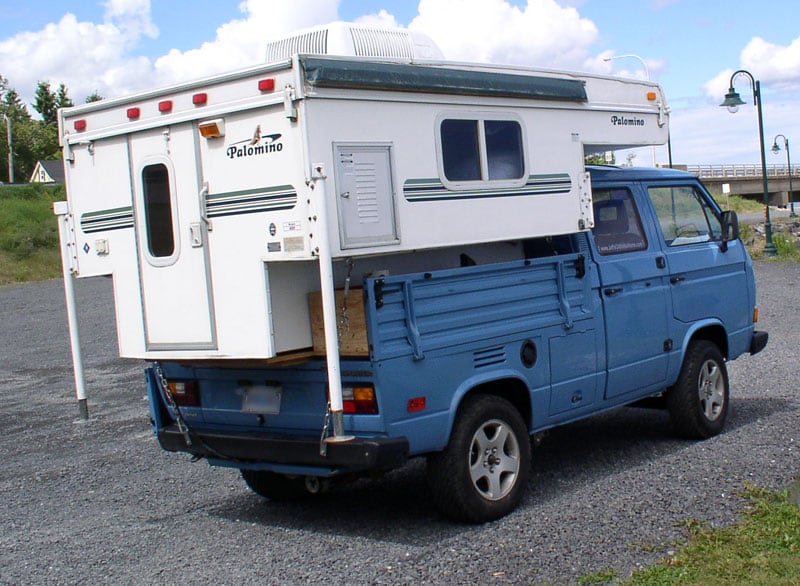 Sometimes trucks and campers fit well together, but don't handle well when driving.  How does the Volkswagen-Palomino combination handle on the road?
Other than being a bit lazy, it handles very well.  After all, the Volkswagen DoKa is a true one ton truck.  European trucks are not about power, just gearing.  I must admit that whatever gear I'm in is usually the wrong gear.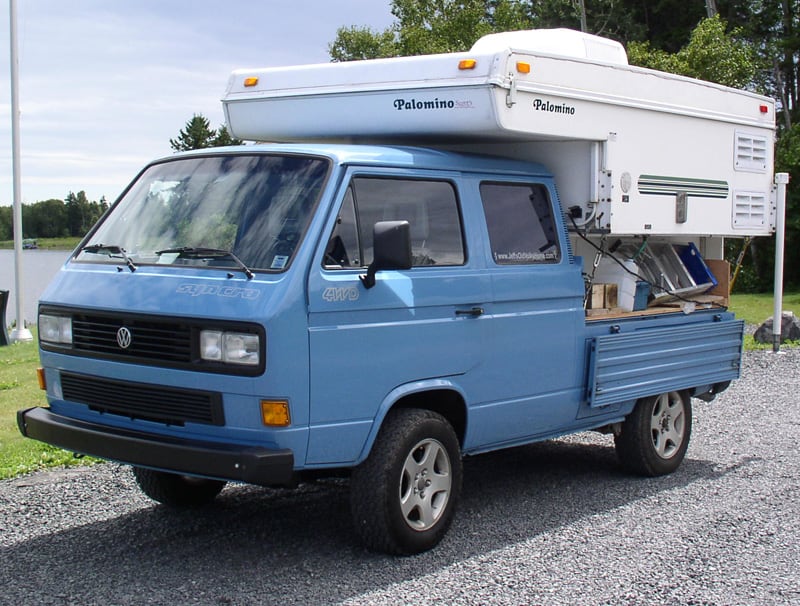 That sounds like a metaphor for life.  It's interesting that the side rails on the truck can be up or down allowing you to have storage under the wing walls of the Palomino.  What do you keep in those spaces?
I have a factory storage locker in that area, also affectionately known as a treasure chest.  There I keep my front jacks, spare water, spare parts, and tools.  I'm a Volkswagen technician, so I have parts and tools for almost any emergency repair that could slow me down in the locker.
Behind the bed sides I store my grey water and fresh water holding tanks, some leveling blocks, shovels, axes, high lift jack, and normal Overlanding equipment.  It's very handy for storage.  Under the back seat is another storage locker that would rival any North American car's trunk.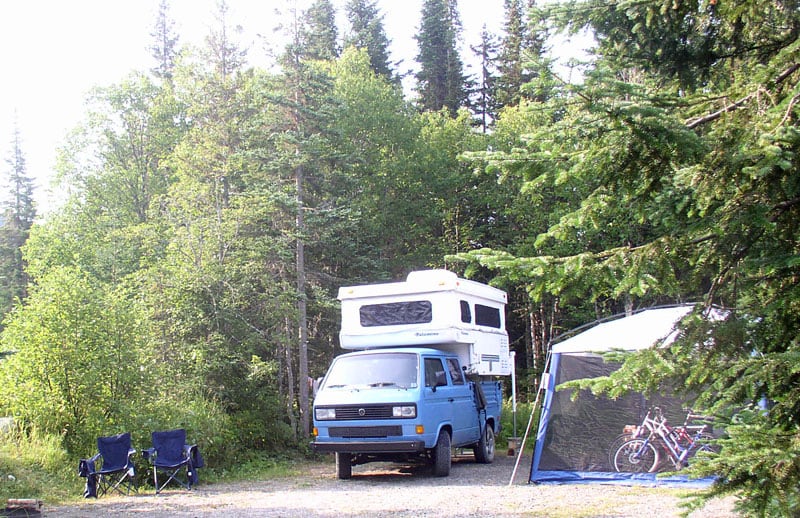 Do you boondock with this rig?
Yes, though we prefer the term stealth camping.  We are completely self contained for a week.  The refrigerator is plenty adequate for the two of us.  I had a 3000 watt inverter, plenty of water, and a porta-potty for, well you know.  A deck of cards and a cribbage board kept us entertained.  Usually we have worked hard enough hiking or biking to earn our sleep, and supper too.
My wife, Leslie, and I are slowly crossing off a list of the mountains in Eastern Canada and United States to hike.  We also enjoy mountain biking, fly fishing, and just relaxing by the fire.
"Canada has a superb park system that is very clean, wild, and comfortable."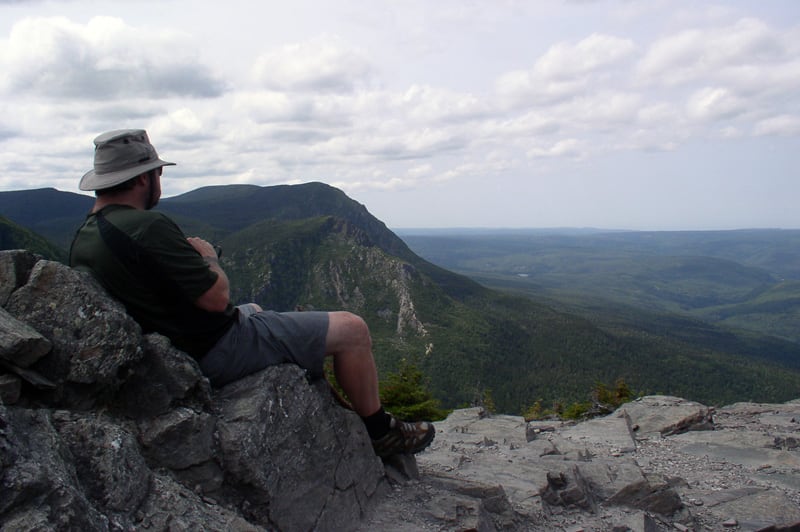 Above: Jeff on a hike on the top of the Alban mountain range
It sounds wonderful.  How often do you go truck camping?
We do a lot of long weekends, which sometimes feels like practice for the real deal.  We take the month of August off every year to pick a place we've not been before and spend as much time there as we can.
We mostly depend on National Parks.  Canada has a superb park system that's very clean, wild, and comfortable.  With few exceptions, they're not so busy.
Above: Rocher Perce, Gaspe Peninsula, Quebec, Canada
Your photography of Rocher Perce look amazing.  I think a lot of our readers will want to visit Rocher Perce after seeing your pictures.  What can you tell us about truck camping there?
Rocher Perce is a beautiful tourist trap on the Gaspe Peninsula in Quebec.  It's the distraction for taking photos that allowed us to sneak by and climb some of the spectacular mountains found in Forillon National Park.  The gems are always hidden in the rocks!
Tell us about Camp Bonaventure.
Camp Bonaventure is a big open field on the ocean and a functional place to sleep for the night, grab a shower, and walk through a nice little French town.  We like practicing our French when we get the chance.
"If I were wealthy instead of smart, handsome, and handy, I would have an aluminum or composite custom camper made for our truck."
What are your next truck camping plans?
I'm building another Westfalia, converted to diesel and four wheel drive.  I'm a sucker for the camper vans.  We'd like to do a cross Canada trip in the near future, as well as a visit to Newfoundland's east coast.  We haven't ruled out another custom truck camper for our truck.  We certainly enjoyed it.
If I were wealthy instead of smart, handsome, and handy, I would have an aluminum or composite custom camper made for our truck.  Now that we know just what we want, I'm not sure I'd be satisfied with an off-the-shelf camper for a not-off-the-shelf truck.