There was an instance a few years ago when we were at a local forest recreation site in British Columbia.  We had gone up to meet friends and took a wrong turn.  That was back in our travel trailer days.  The road turned to muck and it was on a steep road.  It was pitch black and we couldn't see our surroundings.  We had a tough time getting back down.
When building my own camper, I wanted lots of lights to see where I'm going.  So the lights are part attitude and part functional.  I have a separate switch on the dash of my truck to turn two or four, or all the lights on at the same time.
Are the circles across the top of the camper lights?
They are commercial round nine diode LED lighting.
I bet the Bruiser looks really cool at night with all those LED lights on.  What mechanism did you use for your full-wall slide-out?
I used a standard Happijac camper mechanism.  A friend of mine worked at a local camper plant and got me one.  It is integrated with a wireless remote control so I have wireless capability on my slide-out.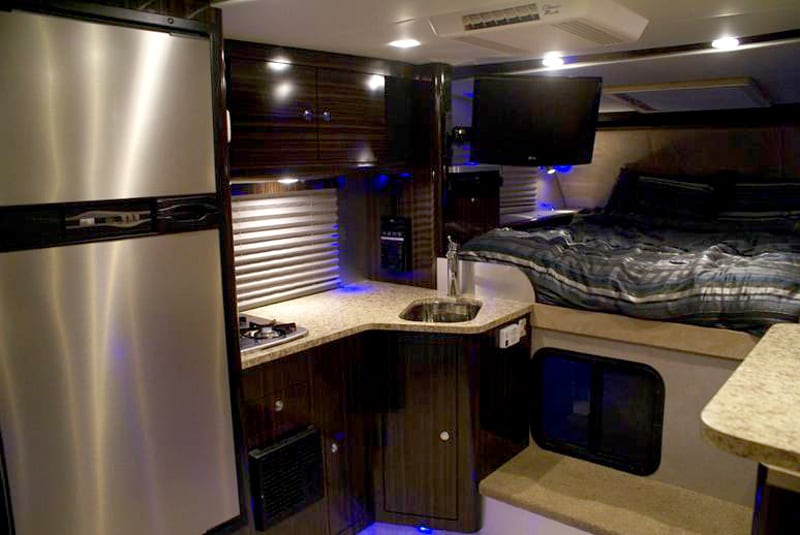 How did you design the interior color scheme in the Bruiser?
It's something that I came up with.  I wanted a strong visual contrast inside the camper.  I do all of the design work on the units we build.  The aesthetics of the Bruiser are my personal preference.
Tell us about the interior cabinetry.  What is the wood and finish?
The cabinets are made from poplar frames with one-eighth inch luan with solid soft wood corners.  I then wrapped the counters with a high gloss countertop laminate.  I used post forming grade which allows me to bend the laminate around the corners.  It gives the cabinetry a high build gloss and durability.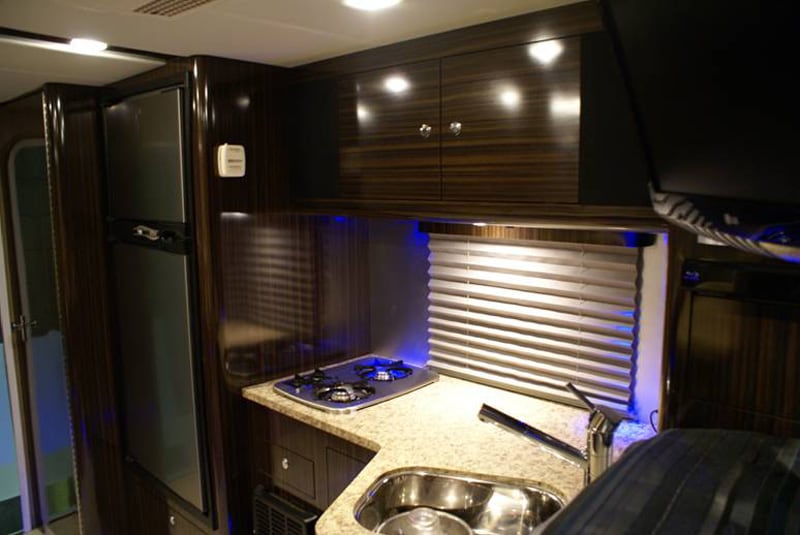 The counters look like granite or another solid surface.  What are they made from?
It's another high gloss laminate and a very realistic looking granite pattern.  Obviously real granite has significant weight issues.  On our larger units we've used granite on dinette tables and they're a bugger to make into a bed.  I used the laminate because I wanted to be as realistic as I could be without using heavy granite.
Speaking of weight, what does your finished camper weigh?
I scaled it at our local truck scale and it weighed 2,760 pounds dry.  It had the television, jacks, roof rack, and air conditioner, but no water and the propane tanks were empty.
Was that the weight you expected?
Actually, it was a little heavier than I had hoped for.  I had hoped for 2,400 pounds.  That was just a goal I had, and I'm happy.
Do you mind if I ask what you camper cost to build?
Man hours aside, the Bruiser probably cost me between $16,000 and $17,000 in raw materials.  I used a lot of premium materials.