Yes.  Our large units are built the same way, but with heavier structural materials.  I didn't want any kind of wood between the exterior panels and the actual welded structure.  I also wanted something that wouldn't dent or crease from branches.  The result is a durable fastener free exterior.
Tell us how you sprayed in two-pound polyurethane foam insulation.  To the best of my knowledge, no manufacturer insulates truck campers with that method.  Is that how you insulate your Hollywood trailers?
Yes, it's exactly how we insulate our other units.  It's also the same closed cell polyurethane foam that's used in hot tubs and refrigerator trucks.
We have a special machine for applying the foam.  Sprayed foam insulation is applied as a liquid which contains a polymer, such as polyurethane or modified urethane, and a foaming agent.  The liquid is sprayed through a nozzle into wall, ceiling, and floor cavities where it expands to fill every nook and cranny.  Because it expands into tight areas, sprayed foam is ideal for insulating.
By acting as a wind and air barrier, it often eliminates the need for separate air-tightness detailing which can increase energy efficiency.  It's a closed cell foam, meaning that it stops convection current problems such as mold and condensation in the interior.  Once sprayed the foam is strong and rigid, so it adds structural integrity.
We have scarfing tools that are like miniature lawn mowers with spiral blades.  When I run these tools along the surface, it gives me a flat foam surface all the way around.  Then I use a curry comb to scarf down the other areas.
And the polyurethane spray foam adheres to the luan and aluminum well?
It bonds to whatever surface it comes in contact with, including wood and aluminum.  And it cures instantly.
How did you adhere the exterior aluminum skin?
We use Sikaflex, which is a high-quality multi purpose one component polyurethane sealant that cures on exposure to atmospheric humidity to form a permanent elastic seal of high adhesive strength.  With another unit I had to use a chain and forklift to rip a panel adhered with Sikaflex.  It's incredibly strong.
Does the aluminum require any preparation to properly adhere with the Sikaflex?
Yes, the aluminum requires an activator to clean and prepare the aluminum so it can properly bond with the Sikaflex.  The aluminum also has to be sanded to take the shine off before bonding.  I used Sikaflex continuously on every stud and corner before applying the aluminum skin.  It would be difficult for water to penetrate.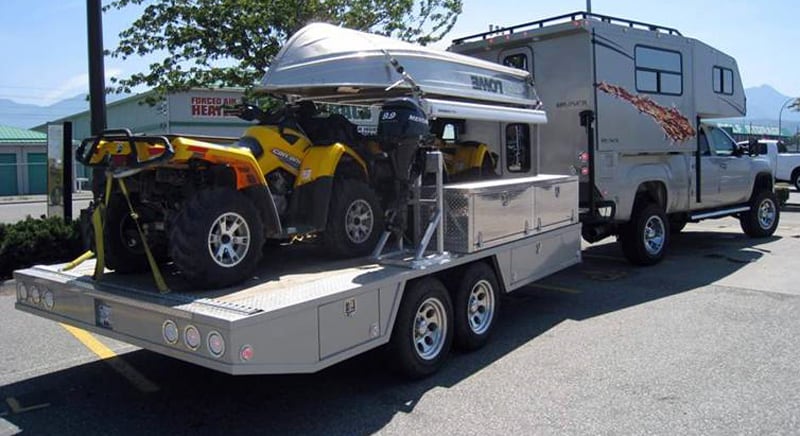 Sikaflex is amazing stuff.  We've seen many manufactures that use it extensively in their campers.  How did you make your camper's jacks black?  Are those Happijacs?
They are Happijacs.  I painted them black with a paint called Endura.  It's a polyurethane two part paint.  Anything that I wanted black, I painted with that paint.  I sanded down the jacks and used specific products to allow it to adhere to the plastic.  For the brackets, I made custom aluminum brackets that are bolted through to the interior of the camper.
How did you get your exterior to be dark grey?
I just painted the camper in the shop on a Saturday.  We have a small open face paint booth.  I sanded down the white paint and then caulked all the crevasses and panels.  It was a fair amount of preparation.
From the photos it looks like your cabover is angled in from your side walls.  Were you looking to improve aerodynamics?
That was mainly for aesthetics.  I didn't want the cabover to look like it was overpowering the truck since it's a slide-out and basement model, the height is taller than conventional campers.  The angled cabover probably helps a little with aerodynamics.  I was also trying to give the Bruiser a unique look, a bit of a ruggedness, and some attitude.  It definitely attracts attention.
It certainly has attitude.  Tell us about the light bar across the cabover nose.