What happens when a Hollywood starwagon manufacturer makes his dream camper after hours, on his own time, no holds barred?  Meet Lex Carstensen's Bruiser.

When Lex Carstensen emailed us a few photographs of his stunning Bruiser, it took us a few minutes to understand exactly what we were looking at.  Was this a new manufacturer?  Was this a camper someone built in their garage?  The email made no reference to a new manufacturer and the camper appeared way too professional to be garage built.  So what was this Bruiser that was boldly staring at us?
It turns out that the Bruiser is one of the most incredible one-off custom truck campers ever made.  By day, Lex designs extremely high-end Hollywood starwagons for the movie industry.  In his free time, he enjoys exploring the back country of British Columbia.  The Bruiser is Lex's personal vision.  He built it by himself, for himself, on his own time.  Best of all, he built the Bruiser using the the same techniques and materials his family business, Jexcar, uses to build Hollywood starwagons.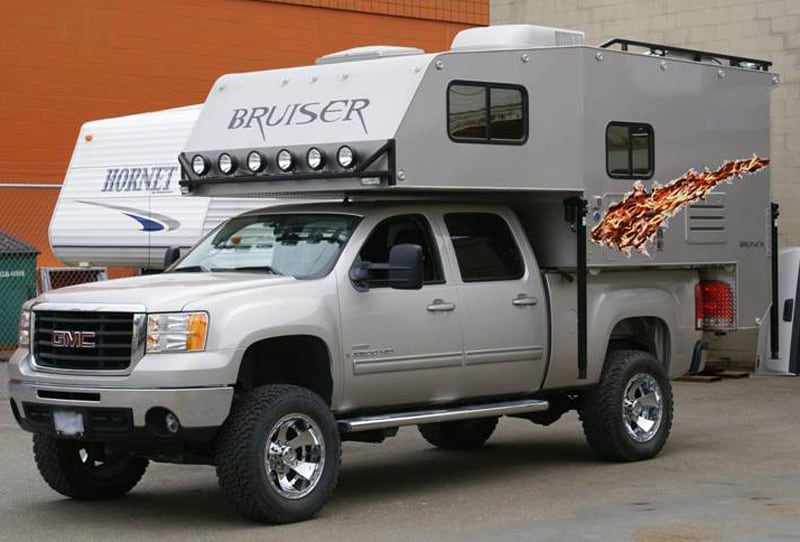 Tell us about Jexcar.  You build trailers for the movie industry?
Starting in the 1960s my dad was general manager at a RV manufacturing plant that produced travel trailers and some motorhomes.  When the eighties recession claimed the company, my dad turned to RV service.  My brother and I joined him out of high school in the late eighties and early nineties and went on to complete a few custom bus conversions.
In 1997, we formed Jexcar and built our first movie unit, a three room combination that we call a Starwagon.  It is an eighteen foot room on a semi truck and two rooms on a thirty six foot trailer chassis.  Today we build a complete line of custom expandable semi trailers primarily for the movie industry.  Some of our customers are big Hollywood stars, but we don't talk much about our customers for privacy reasons.
It must be fun to have Hollywood stars using your units.
It is, but we don't get to meet the stars.  They send their people and we work with them.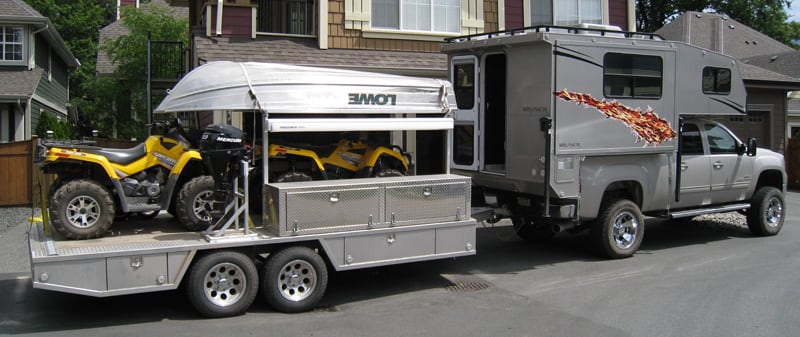 Why did you decide to build your own truck camper?
We used to have a travel trailer but I have gear and toys that I couldn't fit with a travel trailer.  Then I bought a Bigfoot, but I ultimately found it restricting inside.  I have a big yellow lab dog and I would have to step over her to get to the bathroom.  Then we had a baby boy in May of 2007, so that camper wasn't going to work anymore.  It was then that I decided to build my own truck camper.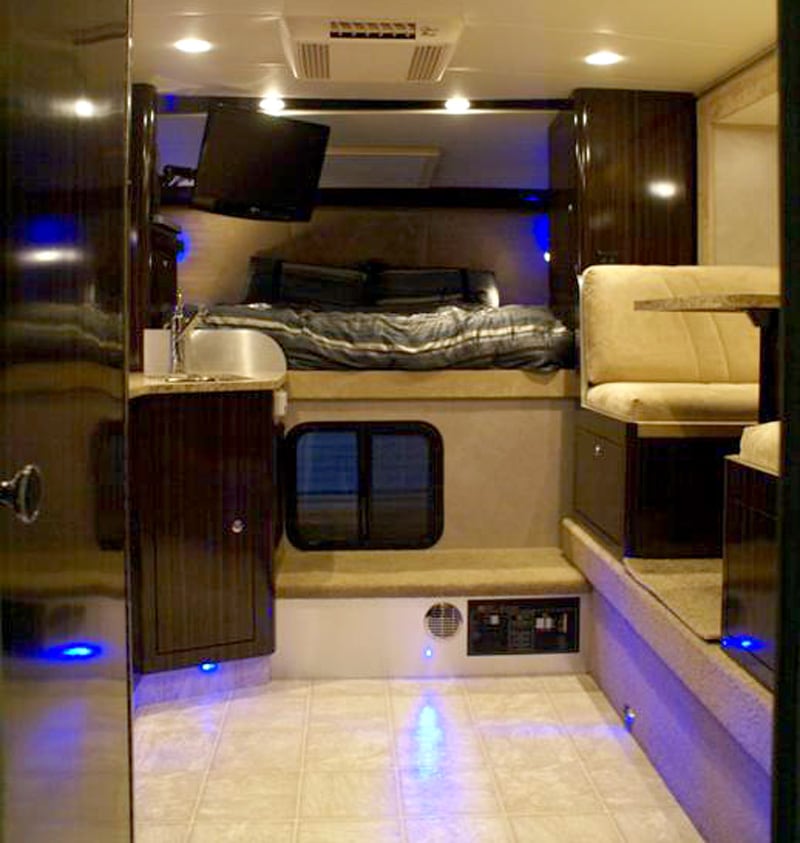 Tell us about your design and development.  Are we talking napkins or Autocad?
The visual concept was in my head.  It was a "build as I go" type of thing.  I took the standard truck measurements and knew the layout I wanted.
What material did you use for the frame and structure?
The main structure is one inch by one inch aluminum tubing.  I used one-eighth inch wall aluminum which is a little heavier than what most manufacturers are using.  I welded the whole structure together and gusseted all of the corners. Once the aluminum skeleton was completed, I lined the inside with plywood panels.  I affixed the plywood to the aluminum with TEK screws and a urethane based adhesive called Sikaflex.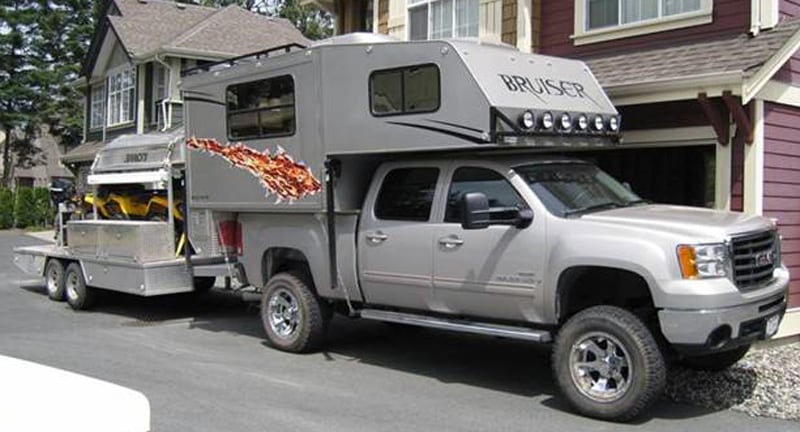 In your email you said that the camper skinned the camper in .063 aluminum.
Yes.  Our large units are built the same way, but with heavier structural materials.  I didn't want any kind of wood between the exterior panels and the actual welded structure.  I also wanted something that wouldn't dent or crease from branches.  The result is a durable fastener free exterior.
Tell us how you sprayed in two-pound polyurethane foam insulation.  To the best of my knowledge, no manufacturer insulates truck campers with that method.  Is that how you insulate your Hollywood trailers?
Yes, it's exactly how we insulate our other units.  It's also the same closed cell polyurethane foam that's used in hot tubs and refrigerator trucks.
We have a special machine for applying the foam.  Sprayed foam insulation is applied as a liquid which contains a polymer, such as polyurethane or modified urethane, and a foaming agent.  The liquid is sprayed through a nozzle into wall, ceiling, and floor cavities where it expands to fill every nook and cranny.  Because it expands into tight areas, sprayed foam is ideal for insulating.
By acting as a wind and air barrier, it often eliminates the need for separate air-tightness detailing which can increase energy efficiency.  It's a closed cell foam, meaning that it stops convection current problems such as mold and condensation in the interior.  Once sprayed the foam is strong and rigid, so it adds structural integrity.
We have scarfing tools that are like miniature lawn mowers with spiral blades.  When I run these tools along the surface, it gives me a flat foam surface all the way around.  Then I use a curry comb to scarf down the other areas.
And the polyurethane spray foam adheres to the luan and aluminum well?
It bonds to whatever surface it comes in contact with, including wood and aluminum.  And it cures instantly.
How did you adhere the exterior aluminum skin?
We use Sikaflex, which is a high-quality multi purpose one component polyurethane sealant that cures on exposure to atmospheric humidity to form a permanent elastic seal of high adhesive strength.  With another unit I had to use a chain and forklift to rip a panel adhered with Sikaflex.  It's incredibly strong.
Does the aluminum require any preparation to properly adhere with the Sikaflex?
Yes, the aluminum requires an activator to clean and prepare the aluminum so it can properly bond with the Sikaflex.  The aluminum also has to be sanded to take the shine off before bonding.  I used Sikaflex continuously on every stud and corner before applying the aluminum skin.  It would be difficult for water to penetrate.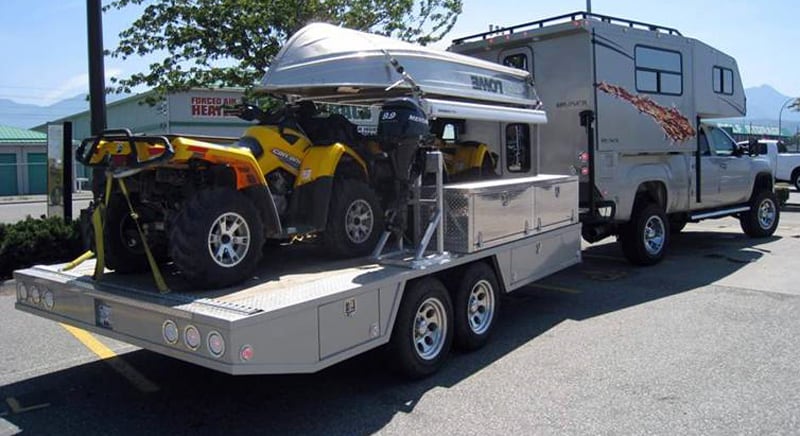 Sikaflex is amazing stuff.  We've seen many manufactures that use it extensively in their campers.  How did you make your camper's jacks black?  Are those Happijacs?
They are Happijacs.  I painted them black with a paint called Endura.  It's a polyurethane two part paint.  Anything that I wanted black, I painted with that paint.  I sanded down the jacks and used specific products to allow it to adhere to the plastic.  For the brackets, I made custom aluminum brackets that are bolted through to the interior of the camper.
How did you get your exterior to be dark grey?
I just painted the camper in the shop on a Saturday.  We have a small open face paint booth.  I sanded down the white paint and then caulked all the crevasses and panels.  It was a fair amount of preparation.
From the photos it looks like your cabover is angled in from your side walls.  Were you looking to improve aerodynamics?
That was mainly for aesthetics.  I didn't want the cabover to look like it was overpowering the truck since it's a slide-out and basement model, the height is taller than conventional campers.  The angled cabover probably helps a little with aerodynamics.  I was also trying to give the Bruiser a unique look, a bit of a ruggedness, and some attitude.  It definitely attracts attention.
It certainly has attitude.  Tell us about the light bar across the cabover nose.
There was an instance a few years ago when we were at a local forest recreation site in British Columbia.  We had gone up to meet friends and took a wrong turn.  That was back in our travel trailer days.  The road turned to muck and it was on a steep road.  It was pitch black and we couldn't see our surroundings.  We had a tough time getting back down.
When building my own camper, I wanted lots of lights to see where I'm going.  So the lights are part attitude and part functional.  I have a separate switch on the dash of my truck to turn two or four, or all the lights on at the same time.
Are the circles across the top of the camper lights?
They are commercial round nine diode LED lighting.
I bet the Bruiser looks really cool at night with all those LED lights on.  What mechanism did you use for your full-wall slide-out?
I used a standard Happijac camper mechanism.  A friend of mine worked at a local camper plant and got me one.  It is integrated with a wireless remote control so I have wireless capability on my slide-out.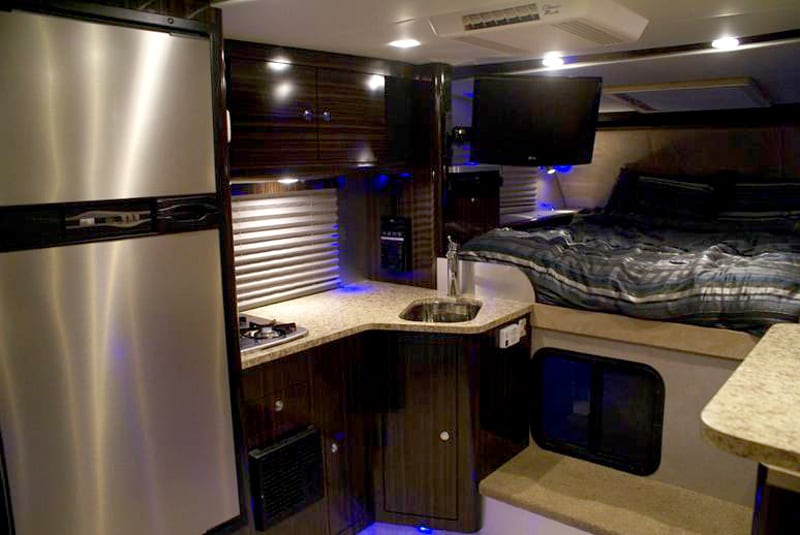 How did you design the interior color scheme in the Bruiser?
It's something that I came up with.  I wanted a strong visual contrast inside the camper.  I do all of the design work on the units we build.  The aesthetics of the Bruiser are my personal preference.
Tell us about the interior cabinetry.  What is the wood and finish?
The cabinets are made from poplar frames with one-eighth inch luan with solid soft wood corners.  I then wrapped the counters with a high gloss countertop laminate.  I used post forming grade which allows me to bend the laminate around the corners.  It gives the cabinetry a high build gloss and durability.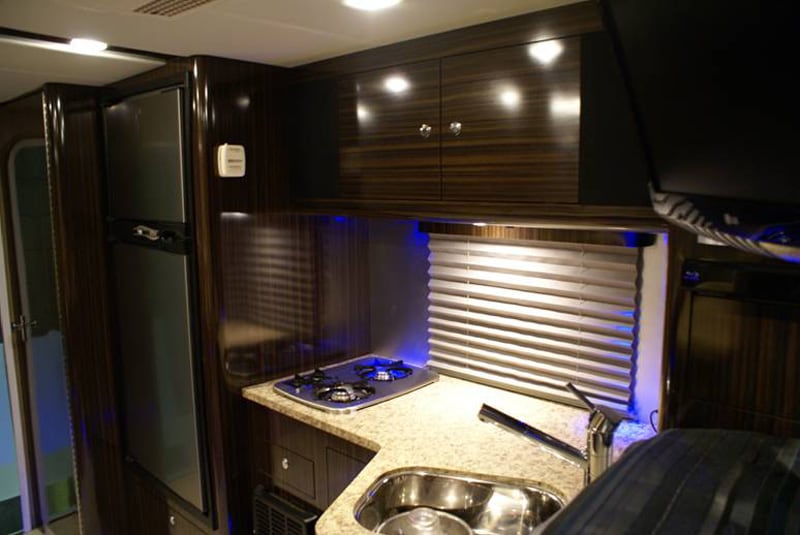 The counters look like granite or another solid surface.  What are they made from?
It's another high gloss laminate and a very realistic looking granite pattern.  Obviously real granite has significant weight issues.  On our larger units we've used granite on dinette tables and they're a bugger to make into a bed.  I used the laminate because I wanted to be as realistic as I could be without using heavy granite.
Speaking of weight, what does your finished camper weigh?
I scaled it at our local truck scale and it weighed 2,760 pounds dry.  It had the television, jacks, roof rack, and air conditioner, but no water and the propane tanks were empty.
Was that the weight you expected?
Actually, it was a little heavier than I had hoped for.  I had hoped for 2,400 pounds.  That was just a goal I had, and I'm happy.
Do you mind if I ask what you camper cost to build?
Man hours aside, the Bruiser probably cost me between $16,000 and $17,000 in raw materials.  I used a lot of premium materials.
How long did it take you to build?
At times it felt like it was never ending.  I spent many months building it.  I did everything from welding the frame to the final paint job by myself.  It took almost seven months from start to finish.  According to my wife, I'm not allowed to build another one again, at least not in my spare time.
Now that the Bruiser is completed, what are your truck camping plans?
I'm going to take the Bruiser out with my boat, cruise around, go fishing, and enjoy time camping and relaxing with my family.
We live in British Columbia about an hour from Vancouver.  There are thousands of lakes near us.  I've been making a list this year of backcountry places to go with the Bruiser.
Lex Carstensen's Rig
Truck: 2007 GMC Sierra 2500HD, crew cab, single rear wheel, short bed, 4×4, diesel
Camper: 2009 Bruiser 8.11SO
Tie-downs and Turnbuckles: Torklift
Suspension: Firestone Airbags