What happens when a Hollywood starwagon manufacturer makes his dream camper after hours, on his own time, no holds barred?  Meet Lex Carstensen's Bruiser.

When Lex Carstensen emailed us a few photographs of his stunning Bruiser, it took us a few minutes to understand exactly what we were looking at.  Was this a new manufacturer?  Was this a camper someone built in their garage?  The email made no reference to a new manufacturer and the camper appeared way too professional to be garage built.  So what was this Bruiser that was boldly staring at us?
It turns out that the Bruiser is one of the most incredible one-off custom truck campers ever made.  By day, Lex designs extremely high-end Hollywood starwagons for the movie industry.  In his free time, he enjoys exploring the back country of British Columbia.  The Bruiser is Lex's personal vision.  He built it by himself, for himself, on his own time.  Best of all, he built the Bruiser using the the same techniques and materials his family business, Jexcar, uses to build Hollywood starwagons.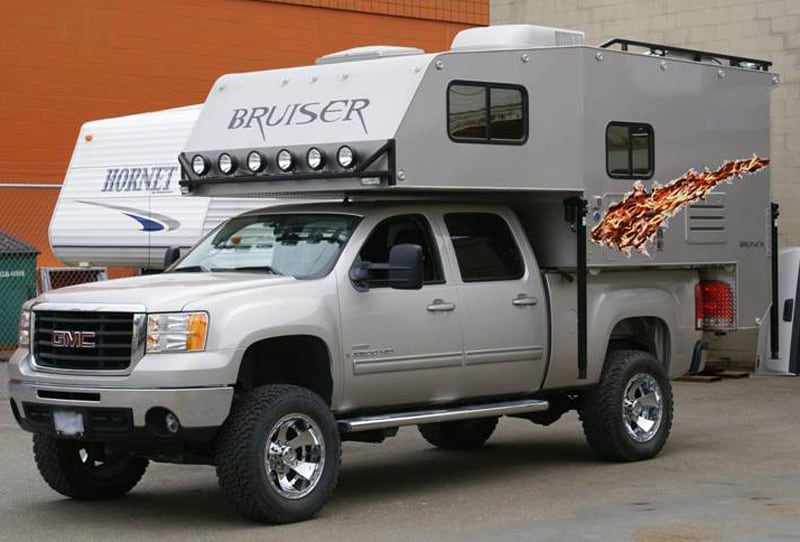 Tell us about Jexcar.  You build trailers for the movie industry?
Starting in the 1960s my dad was general manager at a RV manufacturing plant that produced travel trailers and some motorhomes.  When the eighties recession claimed the company, my dad turned to RV service.  My brother and I joined him out of high school in the late eighties and early nineties and went on to complete a few custom bus conversions.
In 1997, we formed Jexcar and built our first movie unit, a three room combination that we call a Starwagon.  It is an eighteen foot room on a semi truck and two rooms on a thirty six foot trailer chassis.  Today we build a complete line of custom expandable semi trailers primarily for the movie industry.  Some of our customers are big Hollywood stars, but we don't talk much about our customers for privacy reasons.
It must be fun to have Hollywood stars using your units.
It is, but we don't get to meet the stars.  They send their people and we work with them.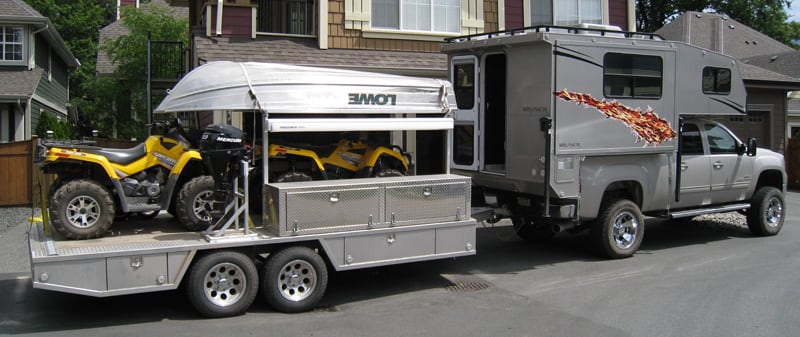 Why did you decide to build your own truck camper?
We used to have a travel trailer but I have gear and toys that I couldn't fit with a travel trailer.  Then I bought a Bigfoot, but I ultimately found it restricting inside.  I have a big yellow lab dog and I would have to step over her to get to the bathroom.  Then we had a baby boy in May of 2007, so that camper wasn't going to work anymore.  It was then that I decided to build my own truck camper.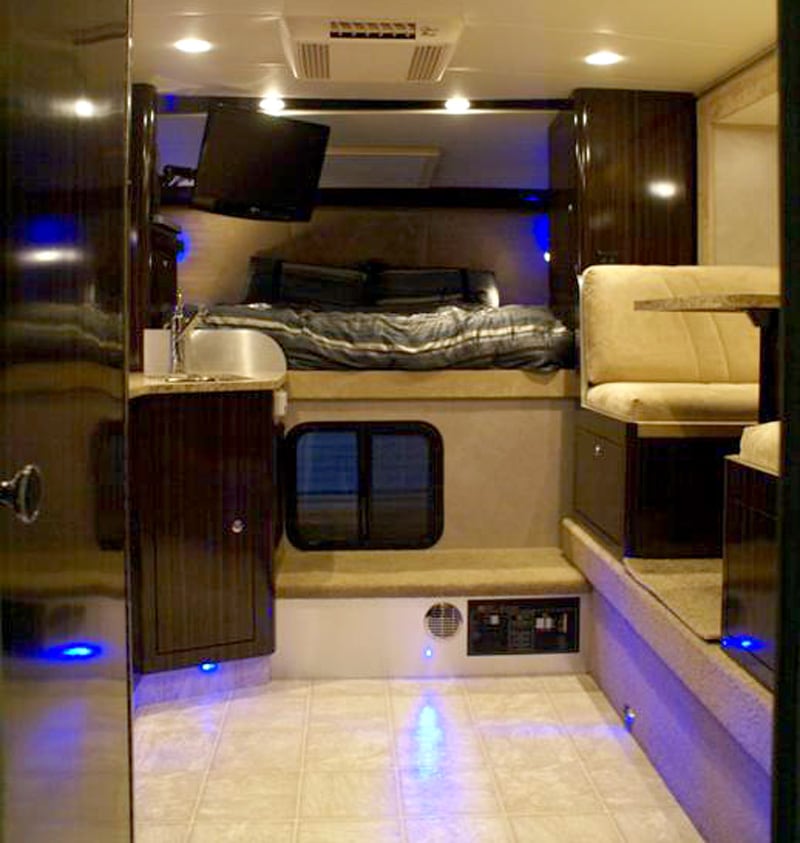 Tell us about your design and development.  Are we talking napkins or Autocad?
The visual concept was in my head.  It was a "build as I go" type of thing.  I took the standard truck measurements and knew the layout I wanted.
What material did you use for the frame and structure?
The main structure is one inch by one inch aluminum tubing.  I used one-eighth inch wall aluminum which is a little heavier than what most manufacturers are using.  I welded the whole structure together and gusseted all of the corners. Once the aluminum skeleton was completed, I lined the inside with plywood panels.  I affixed the plywood to the aluminum with TEK screws and a urethane based adhesive called Sikaflex.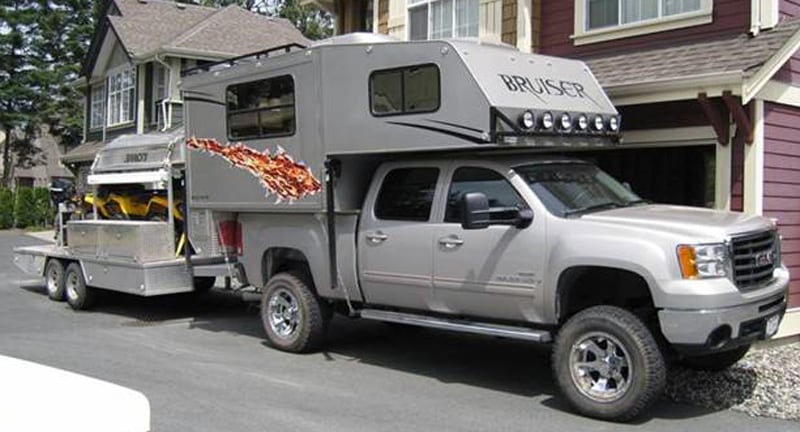 In your email you said that the camper skinned the camper in .063 aluminum.