In the mid-2000s, Brian Egan scratch-built a camper shell from antique boat parts and materials.  Upon his passing, Ted Emrick, took over and turned it into a functional steampunk truck camper.  Paging Captain Nemo…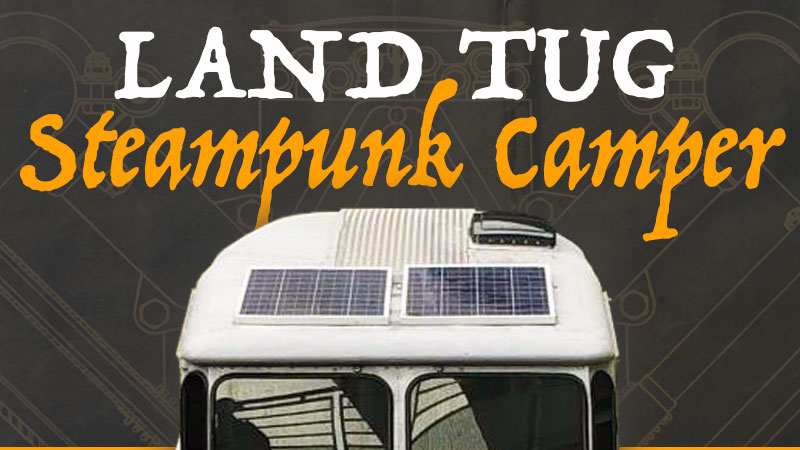 This is the remarkable account of two gentlemen who independently worked on one of the most extraordinary – in the league of Captain Nemo's Nautilus – truck camper builds we have ever seen.  Upon closer inspection, the story is much deeper, with interwoven reflections on loss, recovery, and the ever-pressing urgency of now.
Deeper meanings aside, there are ideas expressed in this camper that have never graced the electrons of this magazine, much less our imaginations.  Both men who wrought this creation have presented design concepts that are sure to delight, bewilder and possibly inspire.
The original builder, Brian Egan, maintained yachts and incorporated vintage nautical elements into his craft.  His design allowed him to haul his Porsche Spyder inside the camper, and a boat on its upper deck.
Brian passed away in 2017 and the camper was purchased by Brain's friend, Ted Lee Emrick.  Ted happens to be a renowned multi-media painter and sculptor with a patron and collector list that includes Apple Inc., Caesar's Palace, and hotels from Las Vegas to Beverly Hills.  After the purchase, Ted spent two-and-a-half years transforming Brian's invention into a fully-functional truck camper, and a work of art.
As you're about to read, the unpacked story is at least as interesting as the camper itself.  Whether the final Eagan-Emrick invention is more a work-of-art or an RV is up to you to decide.  Art or RV, this creation has one heck of a history, and is one of the most imaginative campers on the road.  Dive in.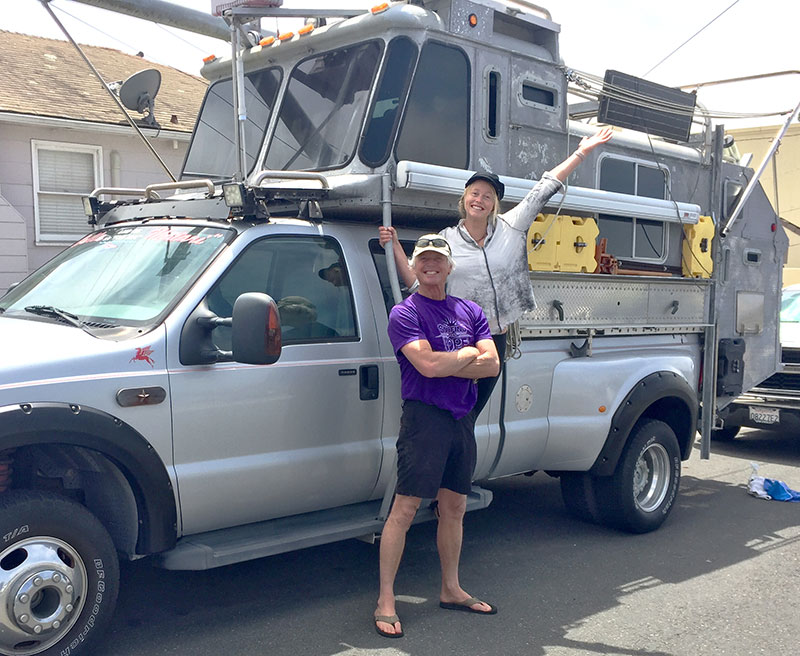 You have told us via email that you bought the camper from the original builder.  What can you tell us about builder?
It was built by a man named Brian Egan.  When I met him he was well into his 80s.  I would go to his place down at the marina and we would chat as you worked on the camper.  He was fun to hang out with.
Brian owned the camper from 2006 until I bought it in 2017, so about eleven-years.  He was responsible for maintaining the big boats at the marina, so the camper was like a tug boat to him.  He called it a land tug.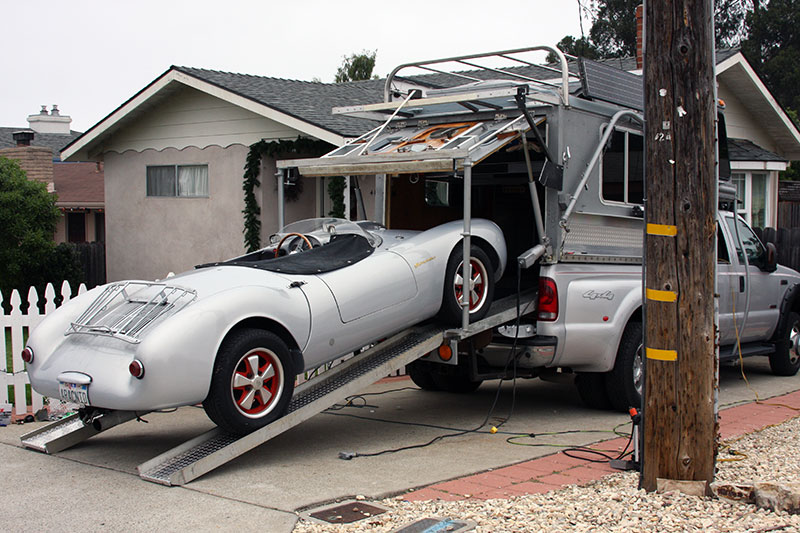 Above: The camper was originally built to transport a Porsche Spyder.  The car is likely a replica 550.
I first saw the camper around 2008.  Brian had built the camper and was storing his Porsche Spyder inside of it.  With this background, he was able to figure out how to fit a car inside, and a boat on the roof.  He had a commanding knowledge of leverage and fulcrums and understood the parts and pieces that make his creation possible.
The camper had five winches to haul things, and cleats to tie off ropes.  Every time I'd run into something while working on it, I'd shake my head.  Brian had a unique vision.  The camper was even a parade float for a while.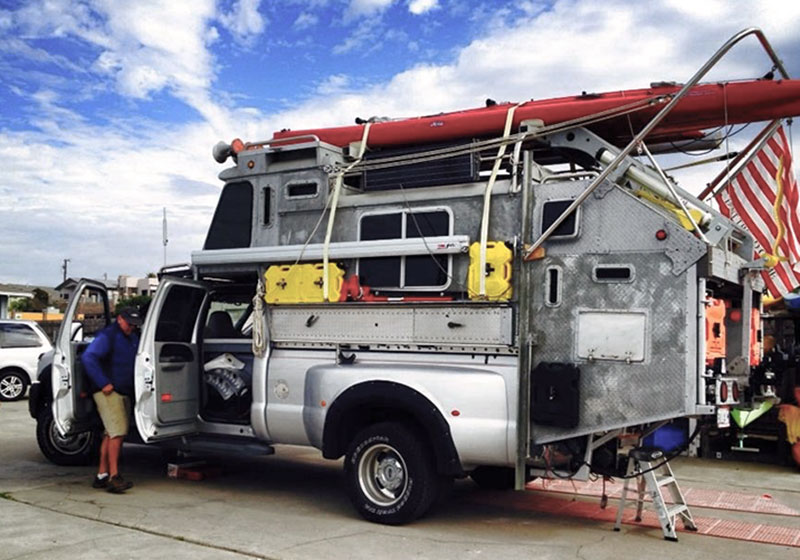 His wife, Cathy, sent me pictures of the build process.  I thought the camper might have started as pieces of an aluminum ship's cabin, maybe from a tug boat, but the photos showed a bread truck.
Brian was one of those guys who had a dream to explore and travel.  He had pictures and ideas of where he wanted to go, but never went there.  It was about the dream.

How did you come to own the camper?
One day my daughter and I were on the way to the beach and happened to pass his place.  I saw the camper and said, "That's my friend Brian's rig.  We should go and look at it."  I lecture at Cal Poly (California Polytechnic State University) about material science and was intending on building my own rig.  I wanted my daughter to get an idea of what was possible.
Above: Ted's class with his finished camper
As we approached the camper, a woman was cleaning it.  We asked her if she could look inside.  She looked at me with tears in her eyes and told me that he had passed away.  Then she said, "I'll sell it to you."  The timing was right as we were already talking about building a camper and traveling.
Right when I got the camper, a friend of mine passed away.  To deal with it, I needed to work on something.  With a year five friends and my dog passed away.  Working on this camper was one way I dealt with all that grief.
I did go camping in it, but most of the fun for me was building it and making things work.  By working on this project I was able to digest what happened.  It was a healing process for me.
It sounds like you and Brian's camper were meant to be together during that immensely difficult time.  Tell us what you did after you took ownership.
Once I took ownership, I focused on refurbishing the camper into what we needed it to be.  To be honest with the original design, I used everything that was part of the camper.  My found-objects art background helped make that possible.
Throughout his years at the marina and yacht club, Brian collected portholes, cabinetry, and old boat parts.  All of that was stored in the camper.  To keep Brian's vision intact, I used all of those things throughout the camper.  Even now, it's more craft than a utilitarian camper.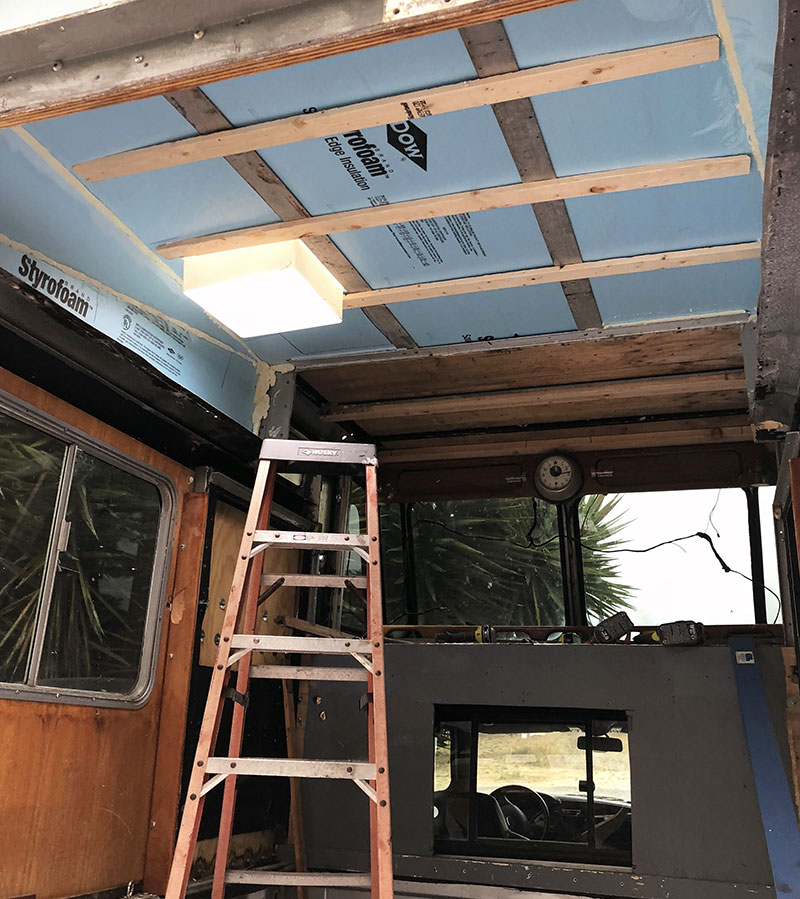 How did you tackle the project?
The first thing I did was remove everything from the inside of the camper and take it down to the bare metal and necessities.  I removed at least 1,000-pounds of leftover metal and materials.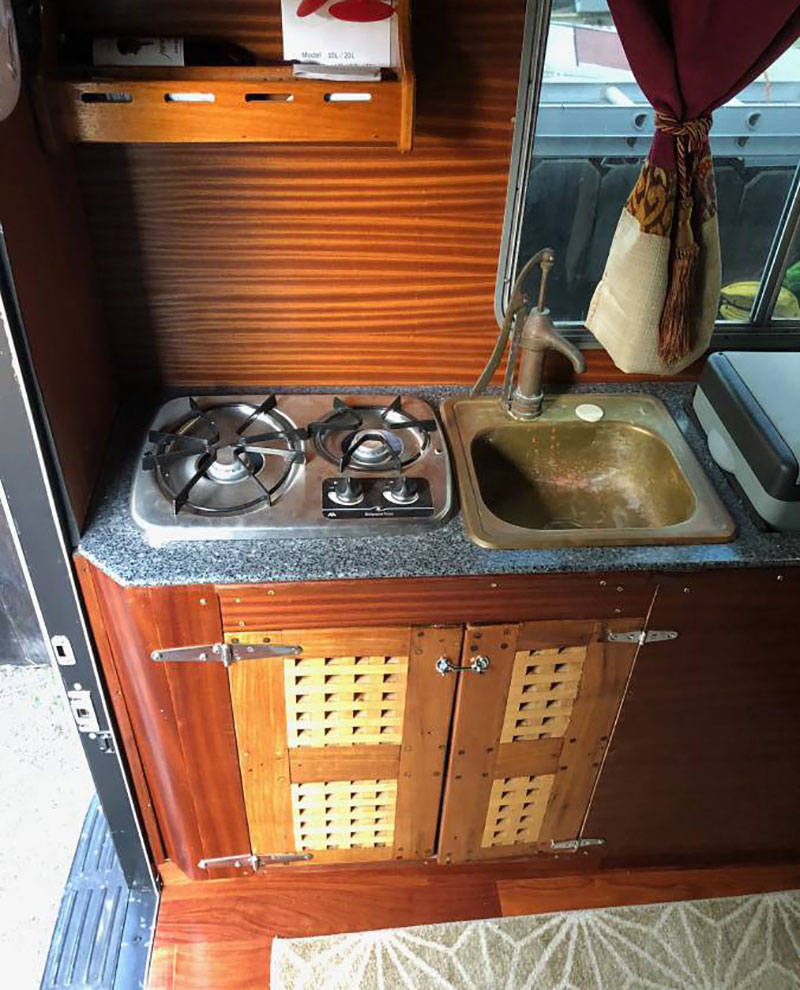 For the next two-and-a-half years, I built out the interior from scratch.  I started with the kitchen and bathroom.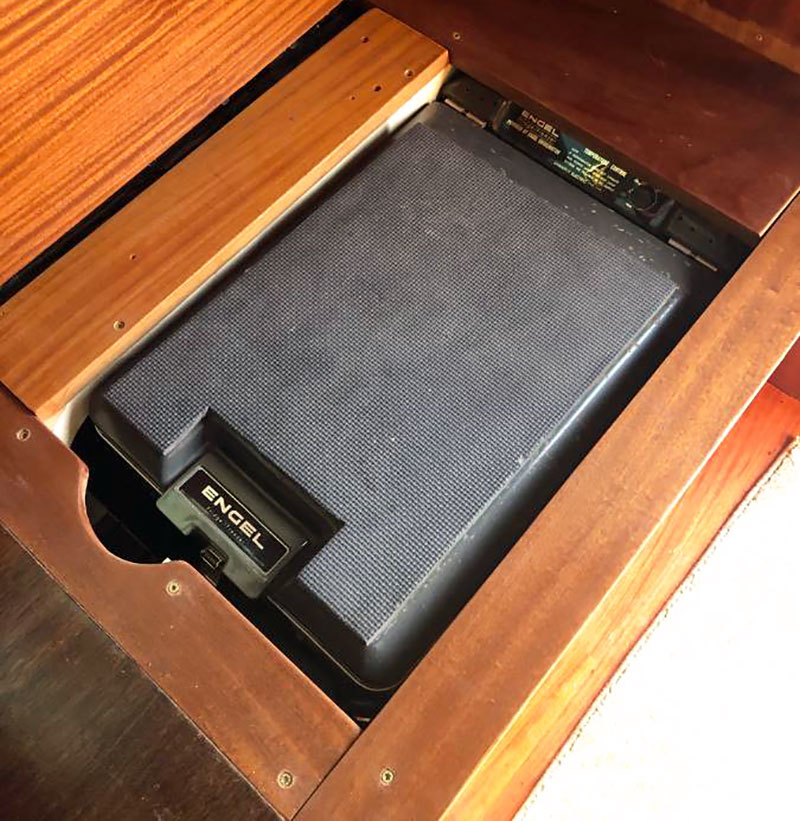 Above: An Engel brand 12-volt compressor refrigerator utilized in the build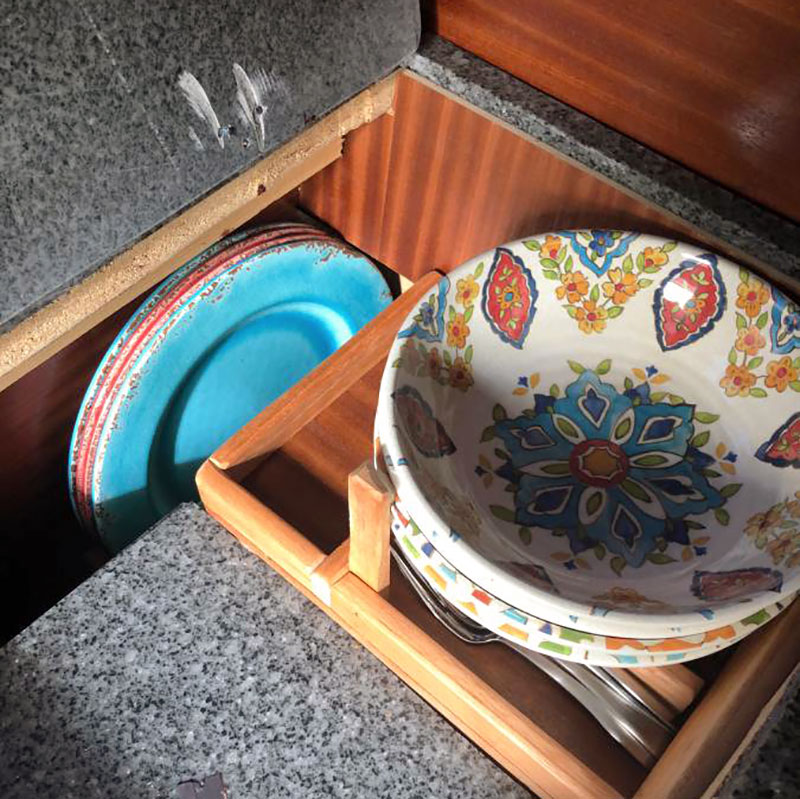 I added modern electrical amenities like 200-watts of solar, a battery bank, and a converter.  For plumbing, the camper now has a 40-gallon fresh tank and a copper sink.  For cooking, we have a two-burner stove.  It's low-tech, but everything functions.
The camper still has the 100-year-old mahogany cabinets Brian salvaged from a ship in Morro Bay.  I also kept the antique hand pump for the water system.  The camper has hardwood ceilings and all of Brian's old boat parts.  I handmade the curtains.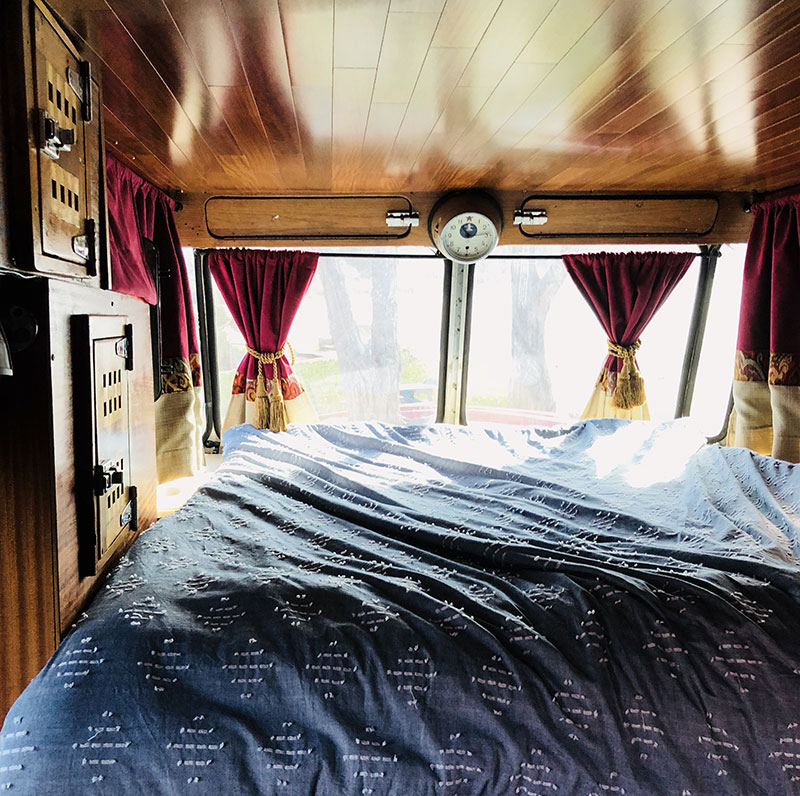 I also installed a fun antique boat clock, the kind that you'd see in a main ship's navigation cabin.  I used all the cabinet parts and pieces that came with the camper. It's now a streamlined steampunk camper, with real antique boat parts.
Making functional pieces of art is what I've been doing for 40-years.  This was a big found object for me.  This is a functional camper and a piece of art.
Was there anything about the design that you needed to change?
Yes, the cabin sleeping area.  Brian had slept East-West in the 5-foot 8-inch width available in the cabin.  To get to the cabin-bedroom area, I had to duck down, crawl up and over.  It was a tiny little bed/nest up there.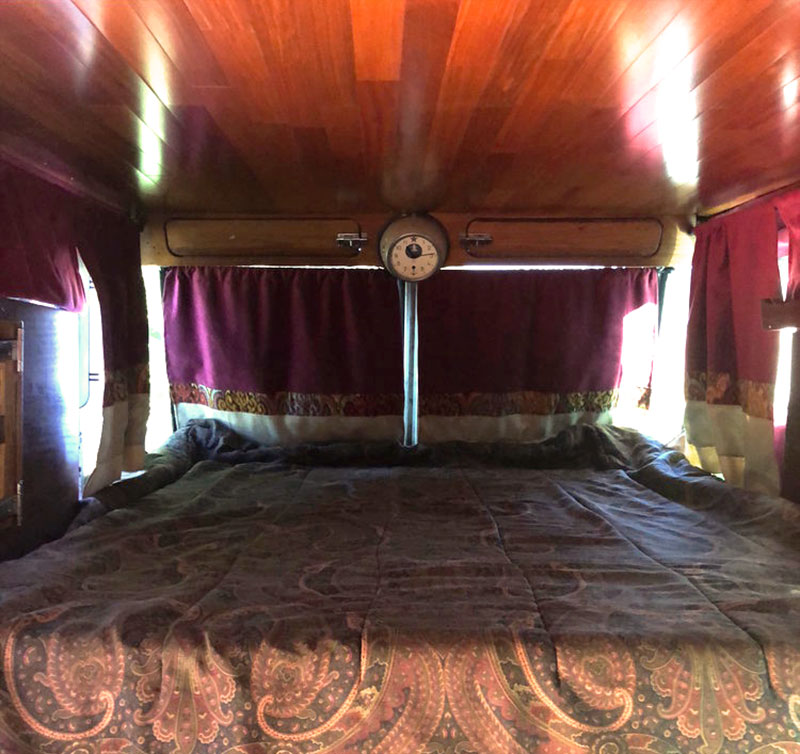 Above: The redesigned cabover with handmade curtains drawn
That was all too tight and small for me, so adjusted the access, height, and size of the cabin.  It's comfortable now.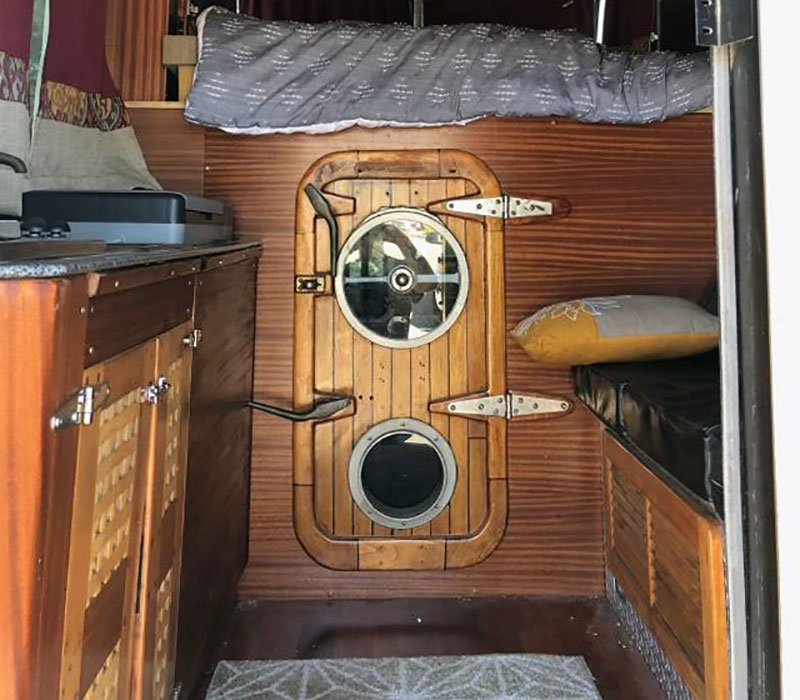 The small door in the camper almost looks like a pass-through.  What is that?
That's the powder room.  It's located under the bed and is just big enough to sit.  There's an antique cabinet and mirror as well.  That area was going to be a storage space,  but it's a functional powder room now.
The camper fits an 8-foot bed, so 3-feet of the camper is the powder room.  It's about 4-feet tall inside.  You've got to open up the cabinet door and step inside of it.  I'm 6'2" tall, and can barely fit, but it works.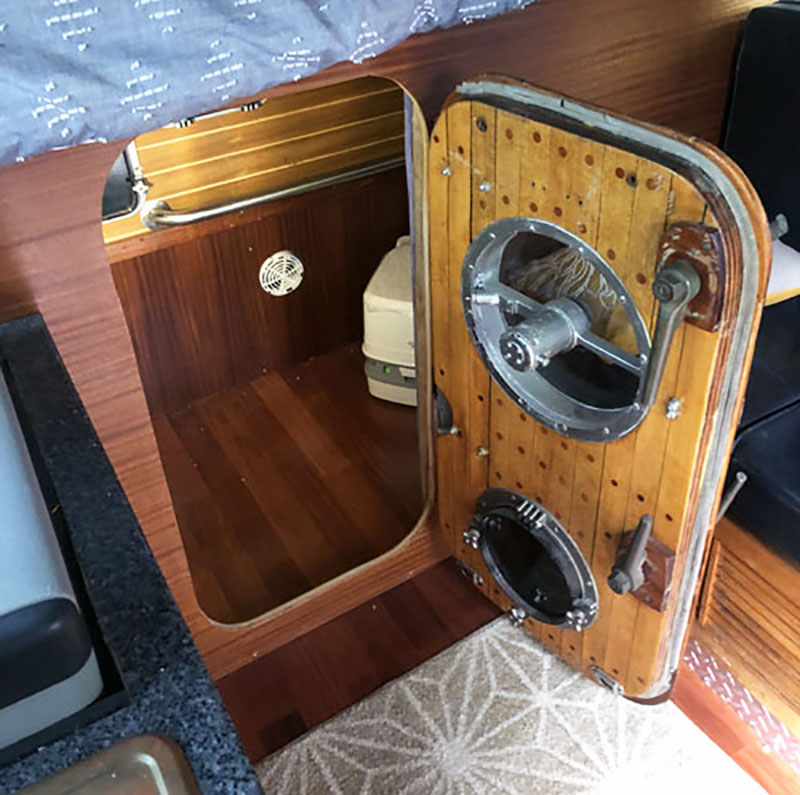 I have a friend in my neighborhood who does flooring.  So, I put hardwood flooring in the camper and it looks stunning, especially with the antique mahogany cabinets.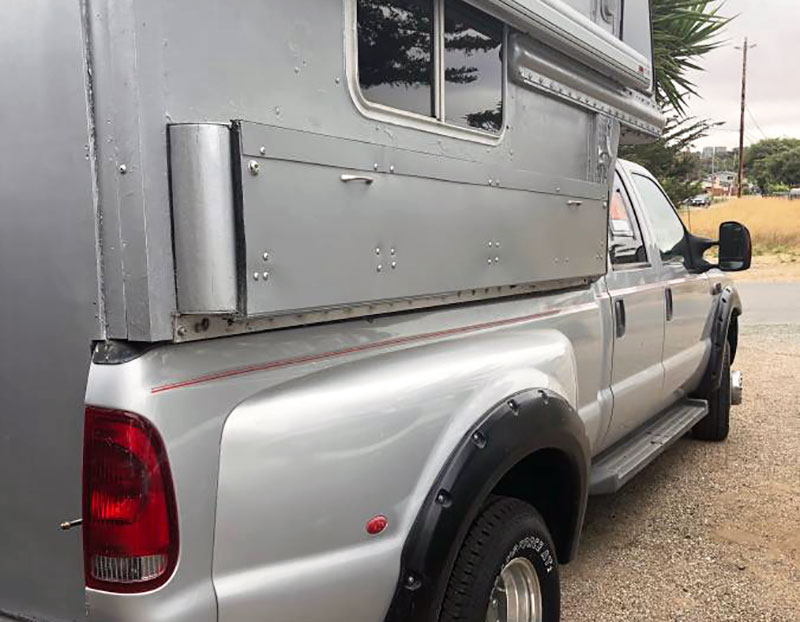 Tell us about the fold-down areas on the sides of the camper.
Brian had aluminum car ramps bolted on both sides.  When I made Brian's rig into a camper, I used the car ramps to create a fold-down outdoor kitchen on one side, and a fold-down tool bench on the other.  We have tall chairs that are set up by it.  If I sell the camper, it is going to be someone else's dream to put what they want in that space.
It looks like the roof was simplified and heightened.
I rebuilt the roof.  When I first walked into the camper, it was only 5'8" tall.  I'm 6'2".  I cut the top off and shaped the new roof so it's taller and more aerodynamic.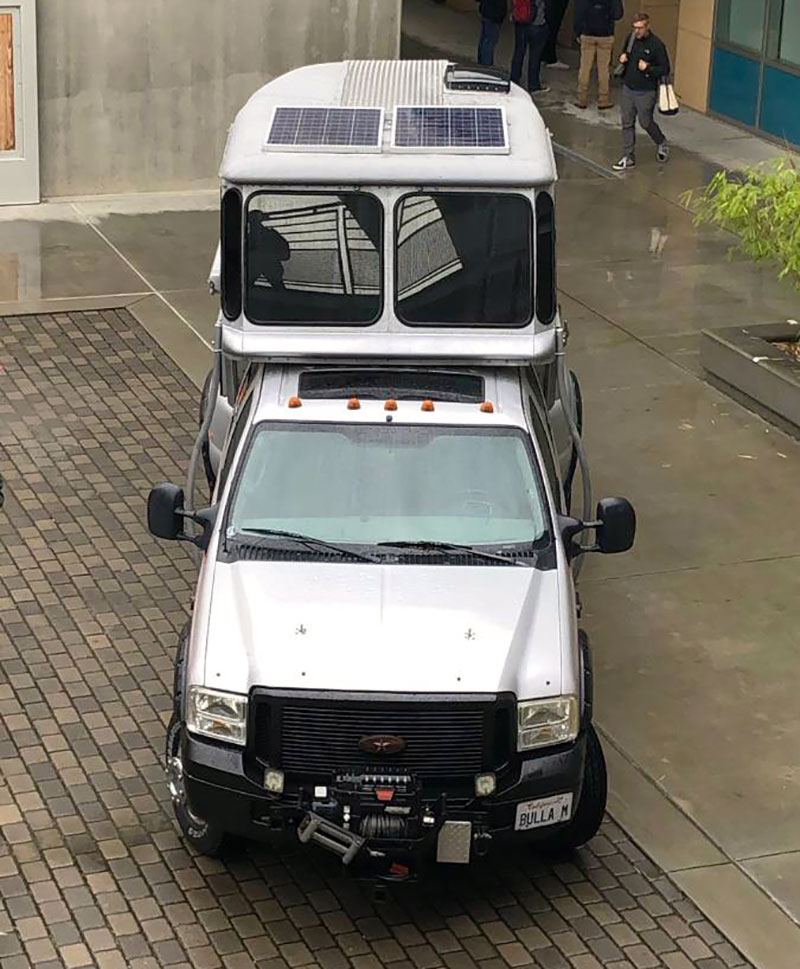 With my background in material science, I have experience with using foam like a surfboard and shaping it.  I used polyurea on top, which is like fiberglass.  I also added 200-watts of solar.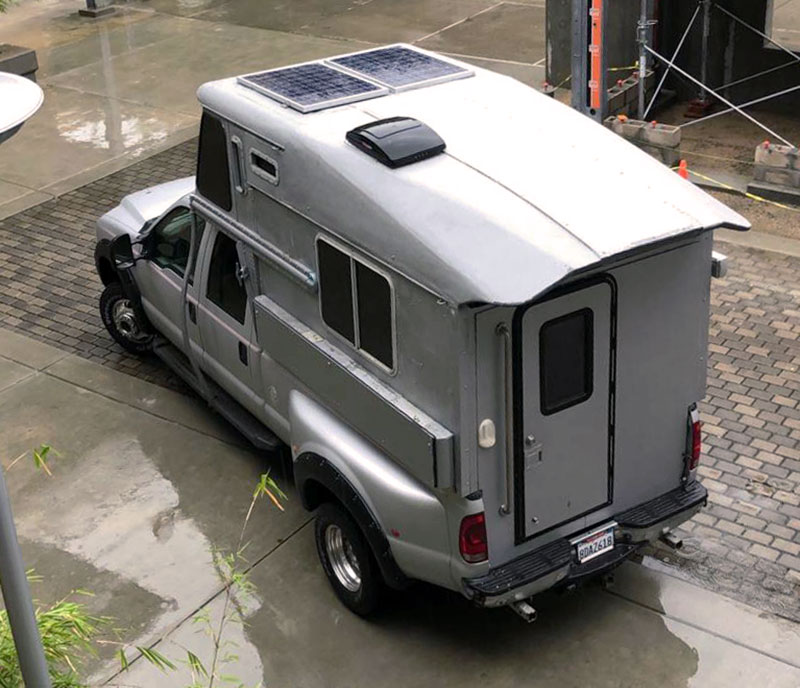 Is the camper demountable?
The camper could be demounted, but it's bolted to the truck bed.  You could undo it, but you'd have to go through cabinetry.  That's why I would sell the entire rig together.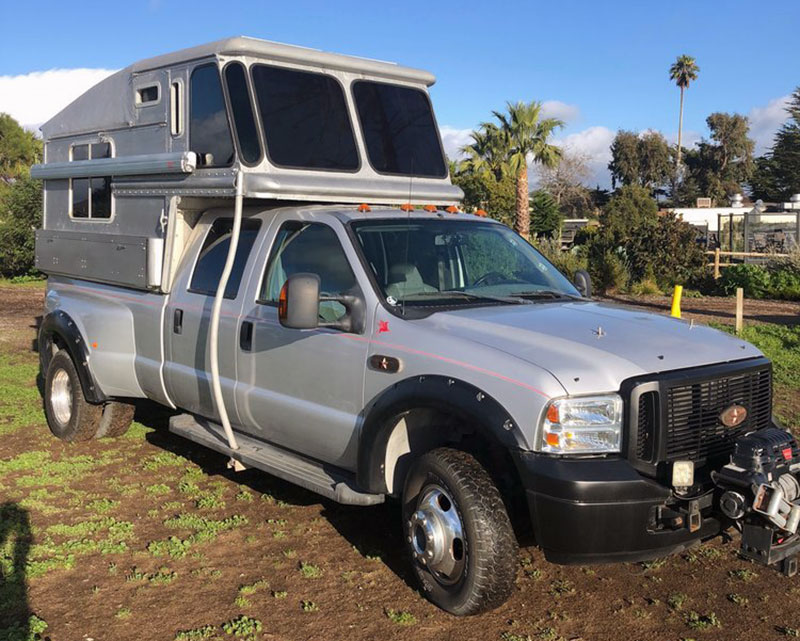 After all that work, why would you sell it?
I need to work on something else.  I've learned a lot and want to build another vehicle.  Now that I'm 60, I also want a real bathroom.  Everything works, but the powder room and toilet are better suited to younger and more flexible people.
This has been an art project for me.  I create pieces of art and want to inspire people to be creative.  It's an important part of what I do.  I get to survive being an artist.  To sell this, I would release a piece of artwork to a collector who appreciates it.
Some people might think, how could you sell something you put so much work into?  I have made a living as an artist.  I have worked all over the world; Japan, Australia, New York, Boston, and Chicago.  The camper is a piece of art that gets to live somewhere else.  Instead of holding on to it, I want to share it.
Editor's Note: Ted Lee Emrick's work has been shown at the San Francisco Museum of Modern Art (SFMOMA) Artists Gallery, Fresno Art Museum, and art galleries in California and Hawaii.   To see more of Ted's work, visit tedleeemrick.com.