With a Land Rover Defender TDCi and Northstar 700DL truck camper, Martin and Jan Dover travel off-road and wild camp across England, France, and Italy.  Imagine ascending Mount Vesuvius in a truck camper rig and dry camping at Pompeii.  Martin takes us there, and beyond.

If you were so inclined, you could design a truck and camper rig that was not only capable of crossing the United States, Canada, and Mexico, but the world.  This truck camper rig would need to be off-road and off-grid ready, small enough to fit inside a standard shipping container, and compatible with automotive parts and services available around the globe.
Why build such a rig?  To reach the tip of South America.  To visit Rome, Paris, and Madrid.  To go on an African safari.  To experience the wonders of Australia and New Zealand.  All of this is not only possible in a truck camper rig but, as demonstrated in our World Travel section, has already been done.  As these explorers have shown, the world is truly on tap for truck campers who make the preparations, and have the audacity and courage to do it.
Living in the United Kingdom, Martin Dover dreamed of a truck camper rig.  He had seen truck campers on a trip to Canada, and knew such a rig was the right solution for what he wanted to do.  Unfortunately, pickup trucks and truck campers were few and far between in his homeland, making his dream even more challenging.  And many Americans complain that their closest dealer is a few hundred miles away – ha!
Through determination and perseverance, Martin found a suitable truck and camper on his side of the pond, and assembled a truck camper rig.  His subsequent adventures proved so successful that he planned an even more capable truck and camper rig; a Land Rover Defender TDCi and a Northstar 700DL.
The story of where he's been and what he's done with the Land Rover and Northstar have to be seen to be believed.  After reading his story and seeing his pictures, you too might be thinking, "I wonder what the ultimate world-ready truck and camper combination would be?"  Pompeii awaits.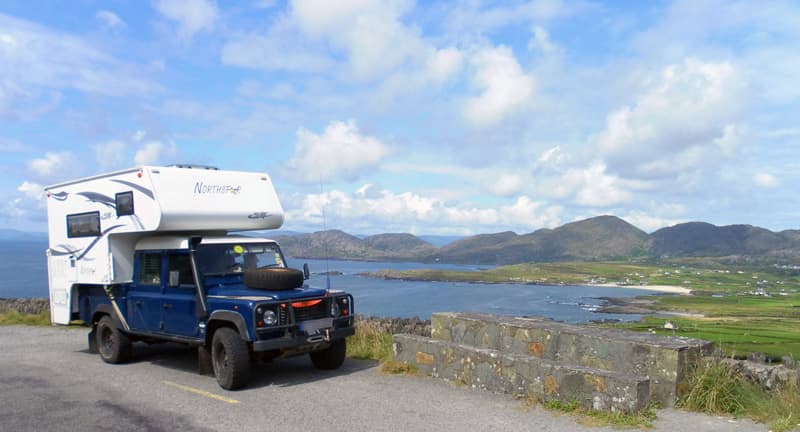 Above: Martin and Jan's Land Rover Defender and Northstar 700DL
TCM: How did you get into truck camping?
Martin: I was a member of the Boy Scouts when I was young and camped with them from quite an early age.  Then when I was eleven my Dad bought a trailer tent which he towed behind his sedan.  We went all over with that.
In the 1990s my wife and I backpacked around Canada and South America with a small dome tent and also had a larger tent for use closer to home.  I think we first became aware of truck campers when we were in Canada and we both thought, "What a great idea!"
A few years later we decided to get an old one to check out how the concept would work for us without investing too much money.  We first bought a 2005 Mitsubishi L200 double-cab as most campers in Europe are made for this size of truck.  Then we looked for a camper for sale for not too much cash.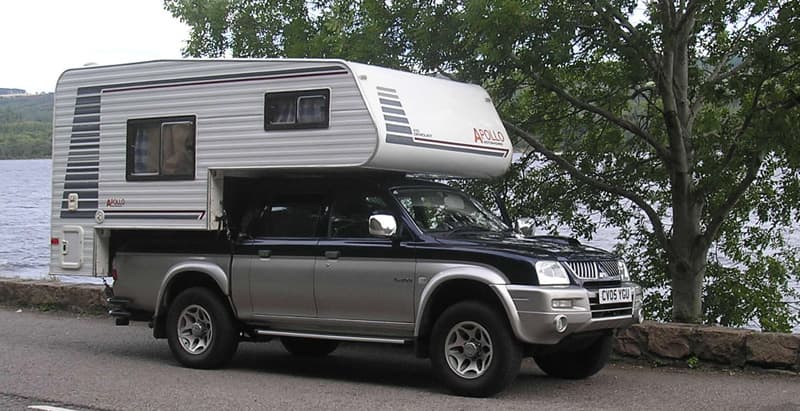 Above: Their first truck camper, an Apollo demountable
After a few weeks of looking we found an eight year old UK-built Apollo demountable.  Unfortunately, it was 800 kilometers (about 500 miles) away from our home in the south of England.  Since truck campers are very rare in the United Kingdom, we decided to drive up that day and arrived nine hours later, just after midnight.
After the deal was done, we loaded it up onto the L200 and spent our first night at the side of a quiet road.  That first Mitsubishi L200 and Apollo demountable combination was used in the United Kingdom and on a trip to France.  I even drove it on a hot-lap of Le Mans and had a blow-out on the Mulsanne Straight – but that's another story.
The Apollo was big enough for the three of us and worked really well on our trips.
After a couple of years we ordered a special-build Northstar from the British importer for our preferred truck, a Land Rover Defender 130 double-cab.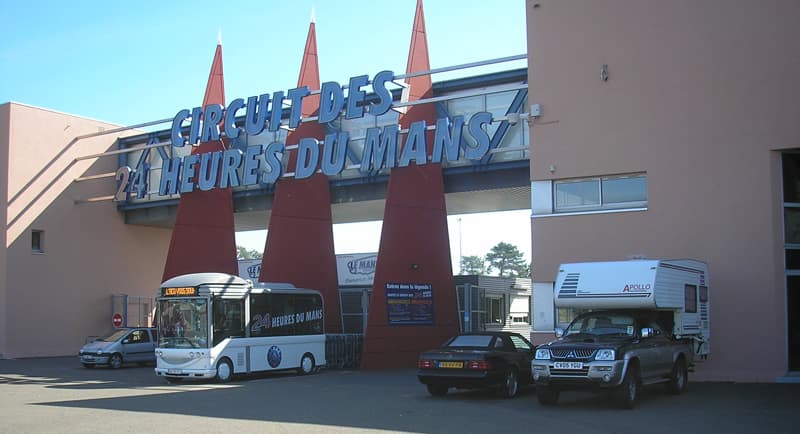 TCM: Wait a minute!  You drove a truck camper at Le Mans?  And what's the story behind the blow-out on the Mulsanne Straight.  You can't tease us like that!
Martin: It's not as exciting as it sounds.  Most of the Le Mans circuit is on roads that are open to the public for most of the year.  I was on the Mulsanne Straight but only doing about 60 miles per hour.  When a rear tire blew, I safely navigated the right hander at Mulsanne before pulling over and changing the wheel near Arnage.  It does sound kinda cool though!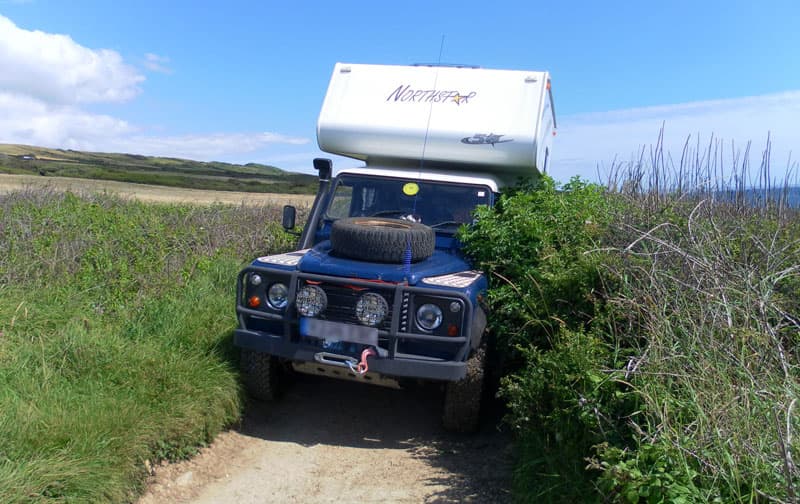 TCM: Let's get back to your Land Rover Defender and Northstar rig.  Why did you decide to purchase a Land Rover Defender?
Martin: My wife and I are members of a Land Rover club.  We have both successfully competed for years with Land Rover Defender 90s in four-wheel drive trials and winch events.  There was, therefore, only one truck we wanted to use to carry our camper.  Initially, we went for the latest one we could find that didn't rely on electronic engine control – a 300 TDI.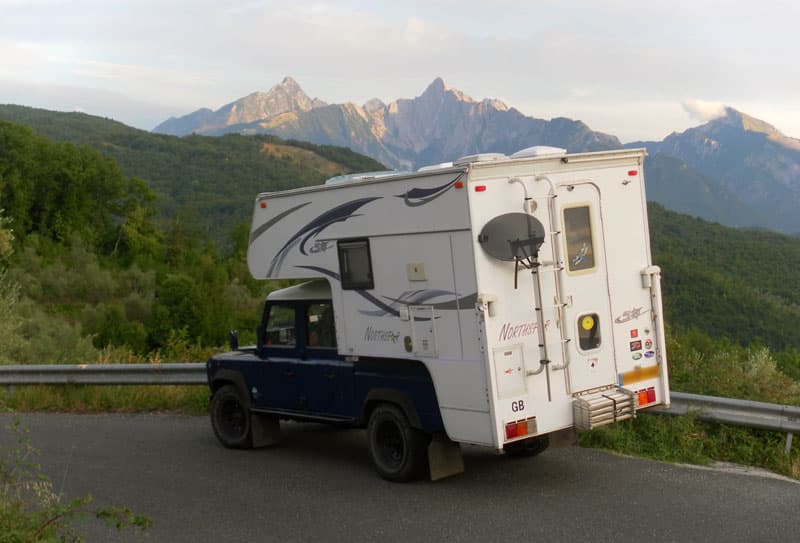 Above: The 300 TDI in the Tuscany mountains, Italy
Performance of the 300 TDI could only be described as adequate.  On long climbs in the mountains of Europe, it was embarrassing being overtaken by 40-tonne semi trucks.
We used the 300 TDI for six years and have recently replaced it with a more modern, and more powerful, Defender TDCi.  It is tuned up to about 160bhp and will comfortably sit at 80 miles per hour uphill and down with no problems at all.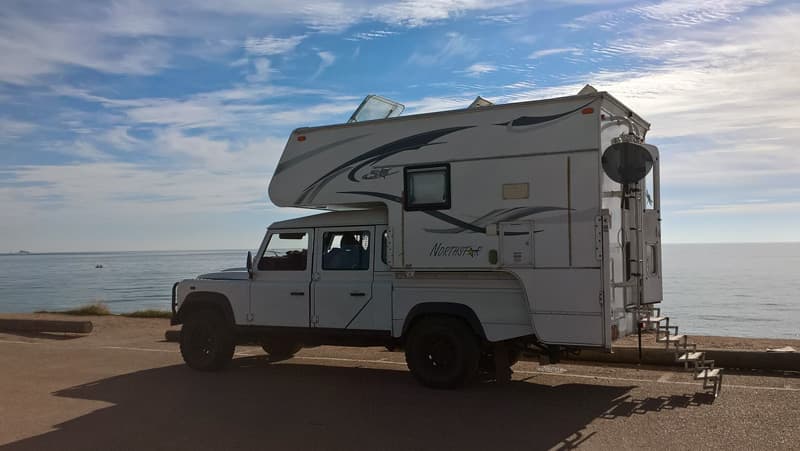 Above: Their new Landrover TDCi truck
The TDCi is also a more pleasant place to be as it's much quieter than the 300 TDI.  Both trucks weigh in at around 2,200 kilograms (4,850 pounds) and have a GVW of 3.5 tonnes giving a payload of 1.3 tonnes (2,866 pounds).  We just about max-out when the camper is loaded up for trips.  As for special features, it's got a Defender badge!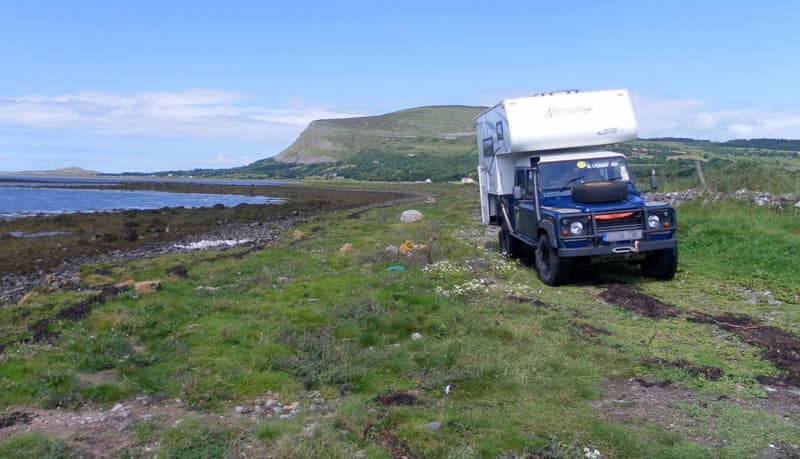 Above: Their first Land Rover Defender had a 12,000 pound winch on a heavy duty bull-bar
TCM: The Defender does look awesome.  Have you made any modifications to the Defender to make it even more off-road capable?
Martin: Our first Defender 130 was modified for off-roading including a 12,000 pound winch on a heavy duty bull-bar.  The rear seats were removed to accept slide-out storage and we have a dog bed for Anya on top of that so she can see out.
The standard Defender is awesome off-road, but its superb axle articulation can be a problem when the camper is loaded traveling on the highway due to body sway.  Therefore, I fitted a heavy duty rear anti-sway bar which can be simply disconnected at the flick of a switch when off-road.
The rear suspension also has uprated springs which I fitted after a flirtation with air bags.  The sides of the truck are protected by heavy duty tubular rock-sliders and the underside by heavy duty skid plates.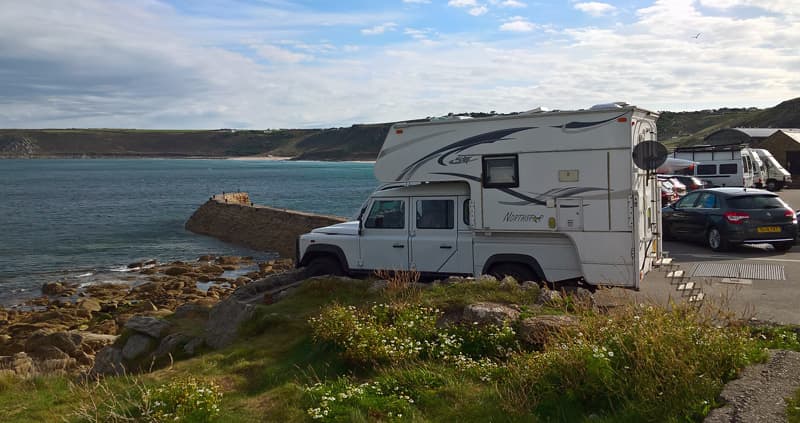 Most of the modifications I had made to the original 130 have now been swapped over onto my new truck.  I use 265-76-16 BFGoodrich A/T tires on seven-inch rims most of the time, but also have some 235-85-16 M/T tires for when I know I'm going a bit more extreme.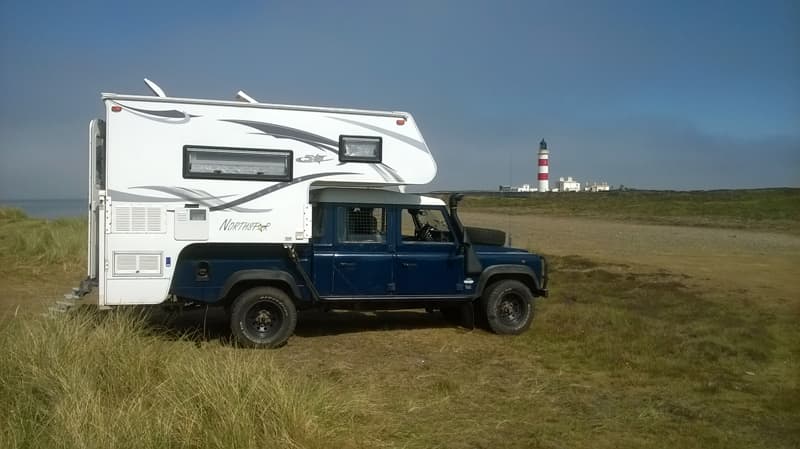 Above: Point of Ayre, Isle of Man, United Kingdom
TCM: How did you know that the Defender would be a good fit for the Northstar?
Martin: The Northstar was purpose-built for the dimensions and payload capacity of my truck.  To reduce rear overhang, the rear light clusters have been repositioned so that I can remove their housings and effectively shorten the bed-length by six inches.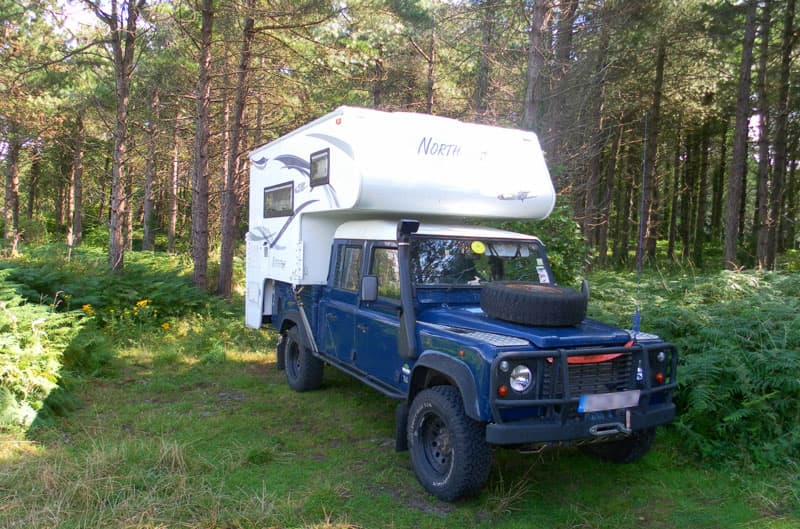 TCM: Why is your spare tire on the front of your hood?
Martin: On the 300 TDI this was the normal place for the spare tire as it left the load bed free for payload.  Unfortunately, the TDCi has a different shaped hood which cannot take the spare.  With the TDCi I can actually carry two spare wheels, but they have to be mounted on a short roof rack mounted in front of the camper and above the windscreen.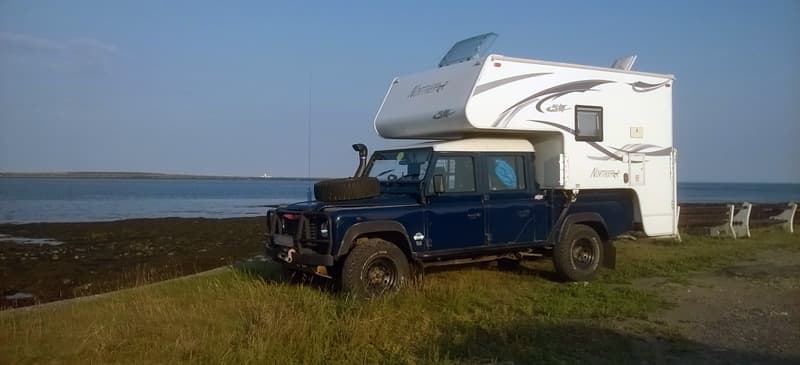 TCM: Tell us about your tie-down system.
Martin: Despite being made of aluminum, the tub (truck bed) on the Defender is very strong and solidly mounted to the chassis.
On the front I use angled turnbuckles straight onto the top of the tub.  This gives both lateral and vertical support behind the cab.  When off roading, these can be backed up by ratchet straps down onto the rock sliders.
On the back I use ratchet straps to pull the camper forward and turnbuckles for lateral and vertical restraint.
TCM: Using ratchet straps as supplemental turnbuckles for extreme off-road conditions is an interesting idea and something we haven't heard before.  Why did you keep your back camper jacks on, but take your front camper jacks off?
Martin: The front jacks were removed mostly for aesthetics and I carry them in the truck behind the front seats.  The rear jacks are left on for protection and if I ground out when off-roading then the bottom of the jacks will hit the ground first.  I also had someone drive into the rear corner of the camper in Spain a few years ago.  His vehicle came out a lot worse than mine!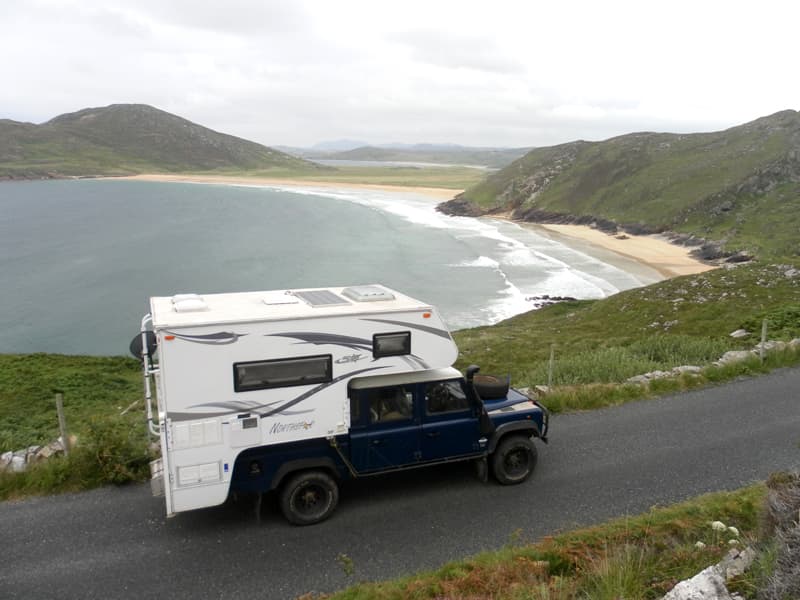 Above: County Donegal beaches, Ireland
TCM: Camper jacks as bumpers.  Why not?  What led you to choose your Northstar 700DL camper?
Martin: We looked at several manufacturers when we decided to replace the Apollo.  For value for the money, Northstar won. Having an importer in the United Kingdom to organize the whole thing was a real bonus.
The layout suited us because we like the C-shaped seating rather than having everything along one side of the camper.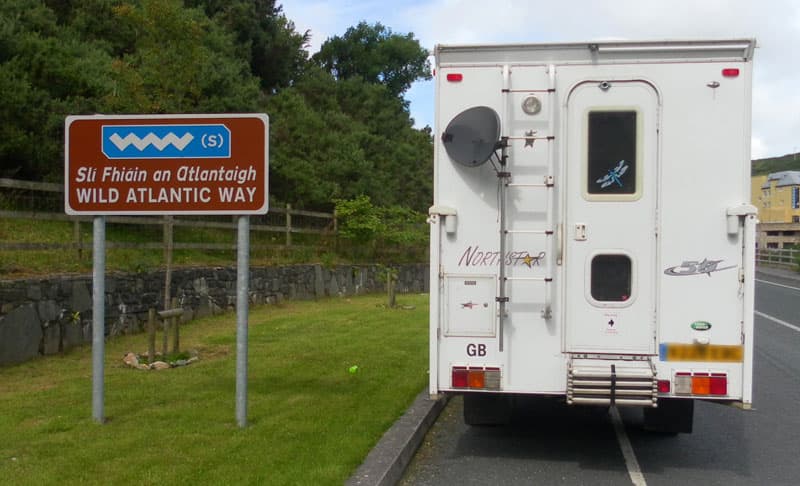 TCM: Have you made any changes or modifications to the Northstar?
Martin: I did a modification to reduce our reliance on gas for cooking, heating, and hot water.  I am installing a diesel powered Eberspacher hot water heater which will provide both radiator heating and hot water via a calorifier.  We have a 100-watt solar panel on the roof which allows us to maintain battery power even when off-grid.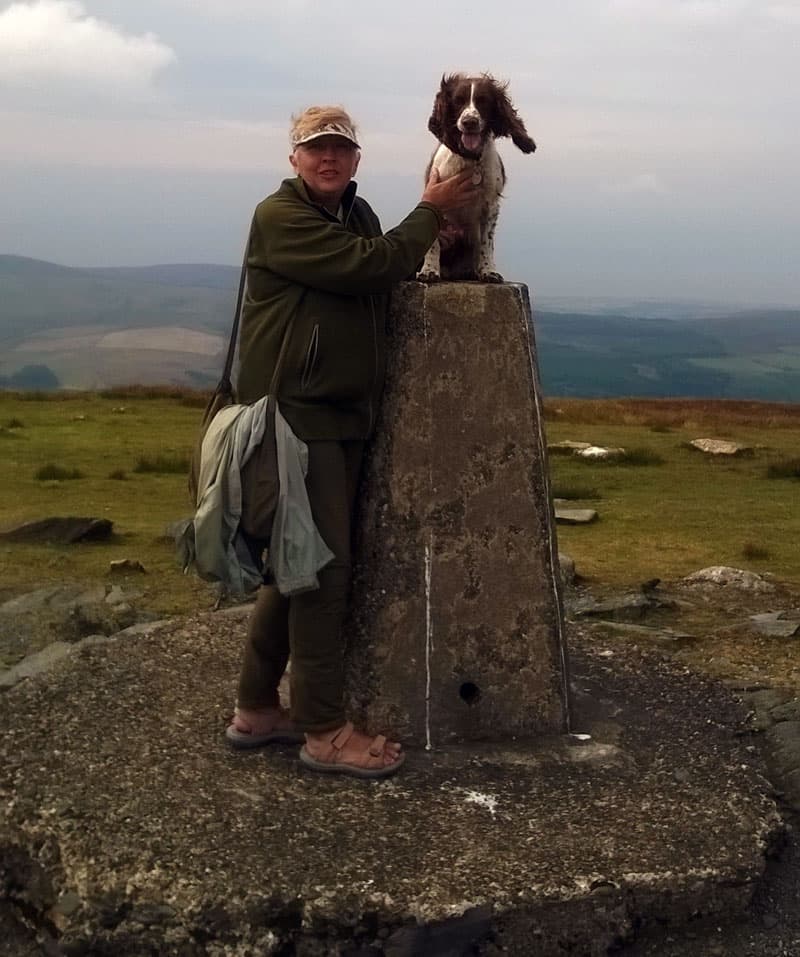 Above: Martin and Jan's Springer Spaniel, Anya in Snaefell, United Kingdom
TCM: What do you enjoy doing while truck camping in England?
Martin: In the United Kingdom we are not as much into fishing and hunting as your American readership.  We do a lot of walking with our spaniel, Anya.  She absolutely loves the remote areas a truck camper allows us to explore.
I have recently bought a drone and hopefully we'll be getting some great footage of our trips in the future.  We certainly use the truck's off-roading abilities far more than most do.  On a recent trip to Portugal, over 50-percent of our route was off-tarmac.  This trip, however, did enforce that I'm not a great fan of washboard tracks.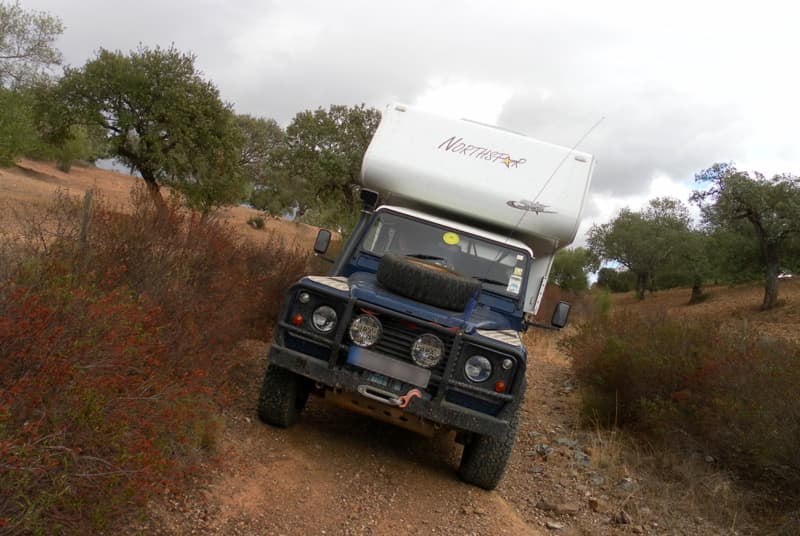 Above: Going off-tarmac is quite common for Martin and Jan
TCM: They can be jarring.  Where are some of your favorite truck camping spots in Europe that you would recommend to other truck campers?
Martin: We have been to Spain, Portugal, Switzerland, and Italy with our truck camper.  When in Spain, we visited the Picos de Europa mountains and stayed at a Spanish aire at Cervera De Pisuerga.  Then we dropped down an awesome hairpinned road to Potes the next morning.  Potes is at the center of the national park and we were able to drive a superb steep green lane into the mountains to the west of the town.
In Portugal the mountains around Guarda are fantastic and we followed a route provided by Jose Almeida of Dream Landrover, dreamlandrover.com, which was superb.  He supplied a route of GPS coordinates for me from the mountains in the northeast of Portugal at the border between Spain and Portugal, down to the coast in the southwest corner of the Algarve.
We left the tarmac just south of Guarda and we wound up and over some fantastic tracks over mountains and through forests.  Our first night was intended to be spent in the Serra da Estrela National Park campsite, but low clouds forced us to descend to Covilha where we we found a handy car park.  We find that this is one of the benefits of the camper as you can pull down the blinds and park up almost anywhere.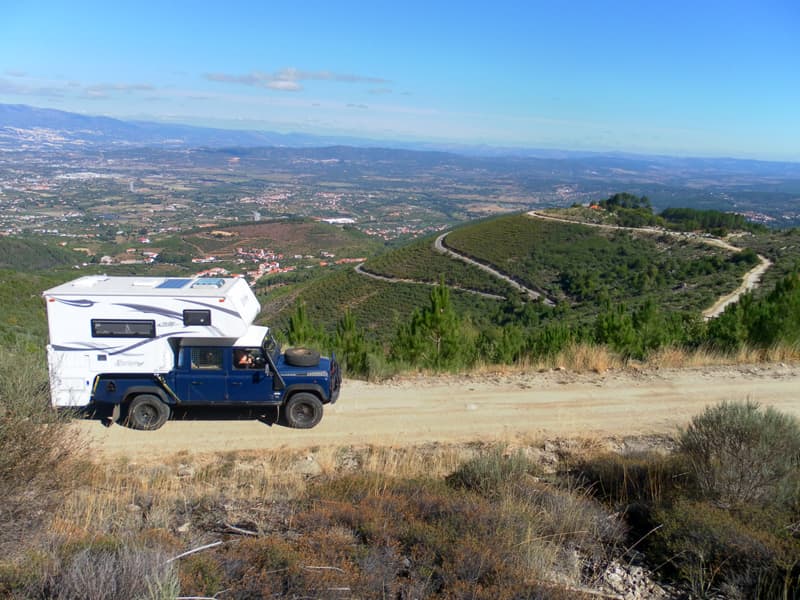 Above: The mountains above Covilha
The next day we descended into Castilo Novo via a very steep and rocky track with a bend so tight we needed to perform a five point turn.  Heading out the other side of the village we encountered one of the very few vehicles we saw on any of the tracks in Portugal; a yellow Portuguese Fire Service Defender 130. Naturally, the crew took great interest in our vehicle.
We've spent quite a bit of time in various areas of Italy over the years and, as well as finding in some lovely wild camps we have also stayed in some great campsites.  I recommend a site on the eastern shore of Lake Como called Camping Spiaggia in Abbadina Lariana which was absolutely beautiful with the mountains coming right down to the lake.  We had approached the lake from St Moritz in Switzerland and as we drove into Italy, the temperatures increased significantly.  We had a range from 2 degrees to 28 degrees Celsius (35 to 82 degrees Fahrenheit) in three hours!
We also stayed on the shores of Lake Garda in Italy in a super campsite on the southwest corner of the lake called Camping Village Weekend at Cisano.  It had the most amazing view of the lake.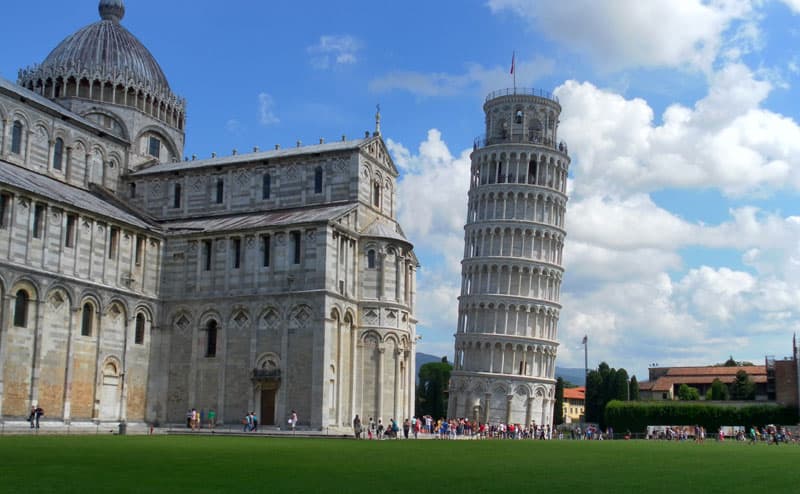 Above: Leaning Tower of Pisa, Italy
Further south we've gone to Tuscany visiting places like Pisa, San Gimignano (awesome – look it up on the web) and Siena before continuing further south to Rome where we spent an afternoon visiting sites such as the Colosseum and St. Peter's Square.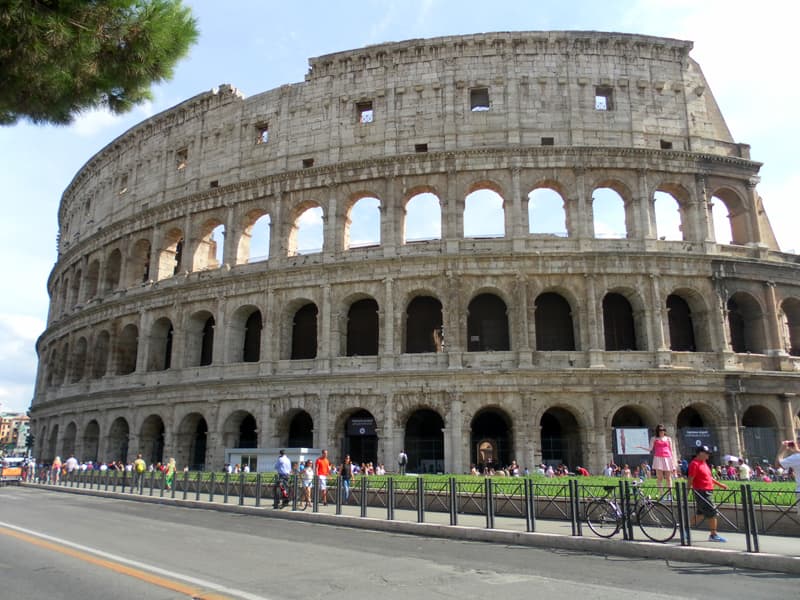 Above: The Colosseum in Rome, Italy
From there we went south to the Bay of Naples, where my Dad was stationed towards the end of World War II as the Regional Transport Officer.  Then we drove as high as we were allowed up Mount Vesuvius reaching an altitude of 1,130 meters (3,707 feet).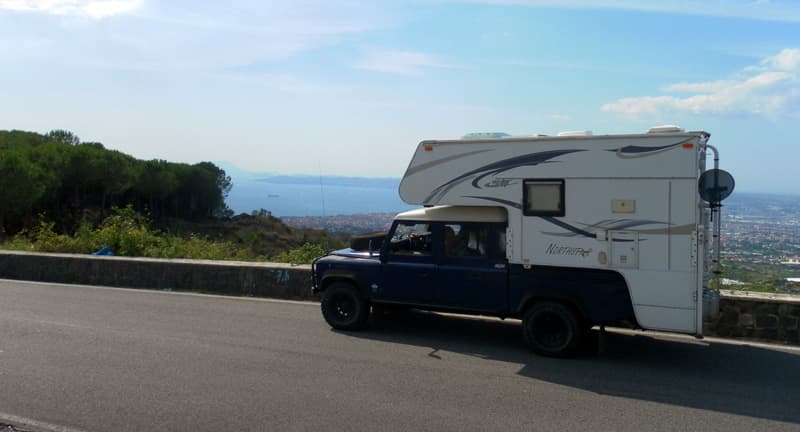 Above: Bay of Naples from Vesuvius, Italy
We then moved on to a campsite at Pompeii spending the afternoon and early evening exploring the ruins of the old town which was famously covered by ash when Mount Vesuvius erupted in 79 AD wiping out the entire town and its population.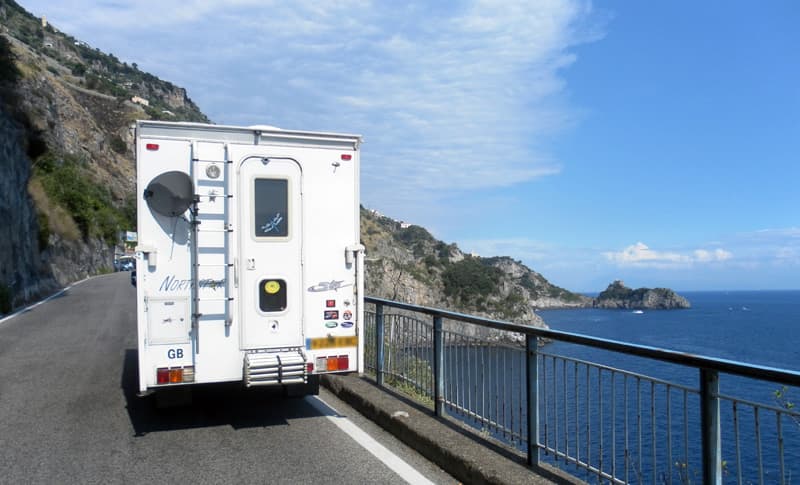 Above: Driving the Amalfi coast to Salerno, Italy
We drove the Amalfi coast route to Salerno.  We had already driven some awesome roads, both along the coast and in the mountains, on that trip but this was the icing on the cake.  It's the sort of road you drive one way and then want to turn around and drive again in the opposite direction.  Stunning, extraordinary, unbelievable – you cannot put into writing the beauty of this challenging winding road with its amazing views.
The road follows the contours of the cliff and in some places is cantilevered precariously away from the cliff face.  In every area where it is conceivably possible, houses have been built into the rock and where there are larger areas available, hamlets and villages have been established.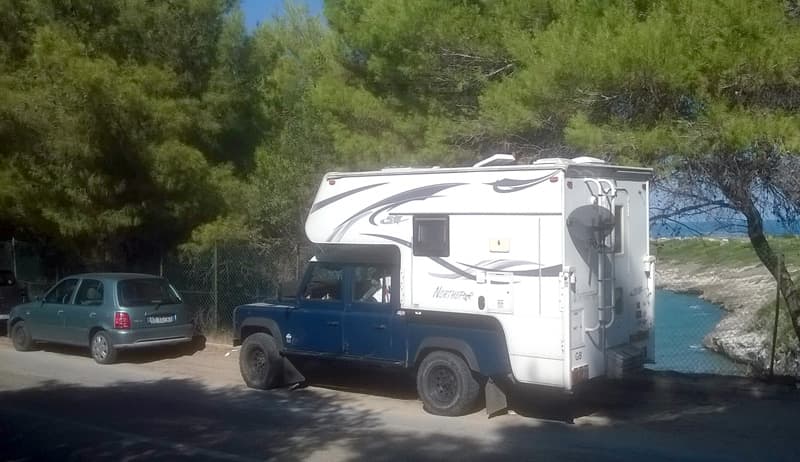 Above: Lunch stop in the Parko Nationale del Gargano
Moving across Italy to the eastern side we visited the Parko Nationale del Gargano, which is a beautiful area of high ground jutting out into the Adriatic sea. Further north we found a real gem at Ortona, the Ripari de Giobbe campsite for just 11 Euros a night.  We could have stayed at that site for days, but had to keep moving north.
There was a lot of interest in the camper in Italy.  At a campsite near Rome, the owner said that my truck camper was the first he had ever seen in the flesh and he thought it was very cool.  Also near Rome a motorbike passed me very slowly with the rider taking a lot of interest in the rig.  Eventually he smiled, gave me the thumbs up, and sped away.  At a set of traffic lights near Naples, a pedestrian had a good look at the rig and asked if we making on our way to Africa for adventure travel.
In central and southern Italy, there were were loads of the little three-wheeled Piaggio type pick-ups, but there were very few single or double cab Japanese style pick-up trucks on the roads.  In the north, there were a lot more but they were still few in number compared with other areas of Europe.  This lack of suitable trucks may be why demountables appear to be relatively thin on the ground in Italy.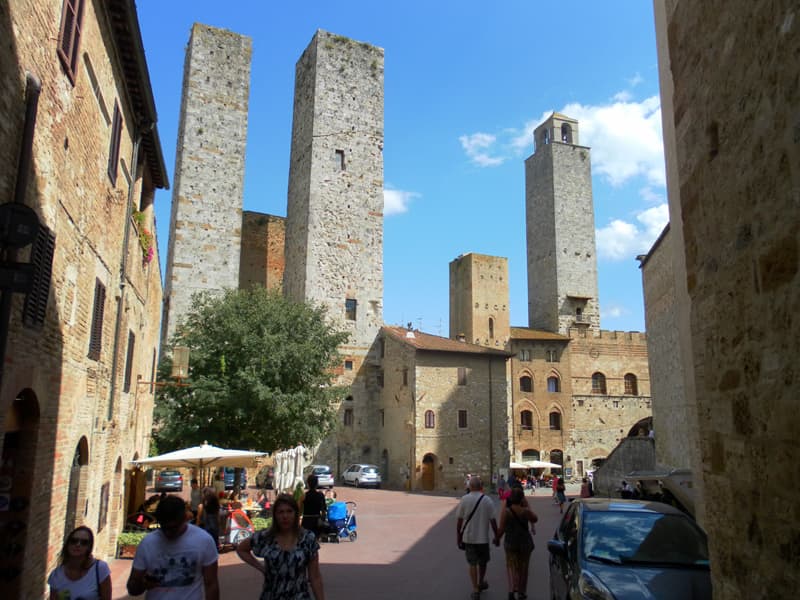 Above: San Gimignano, Tuscany, Italy
TCM: It's unbelievable that you went up Mount Vesuvius and then explored Pompeii from your truck camper rig.  That would be a trip of a lifetime for many Roman history buffs.  How was driving through European cities with your truck and camper?
Martin: It is stressful driving in the major Italian cities.  You end up with your eyes out on stalks as you try to spot and avoid the next potential collision.  Strangely, and after many initial reservations, I actually found it a really enjoyable challenge.  Our rig is not too big, so it's quite easy to maneuver in and around cities, even though traffic conditions and driving habits in Naples and Rome were rather interesting.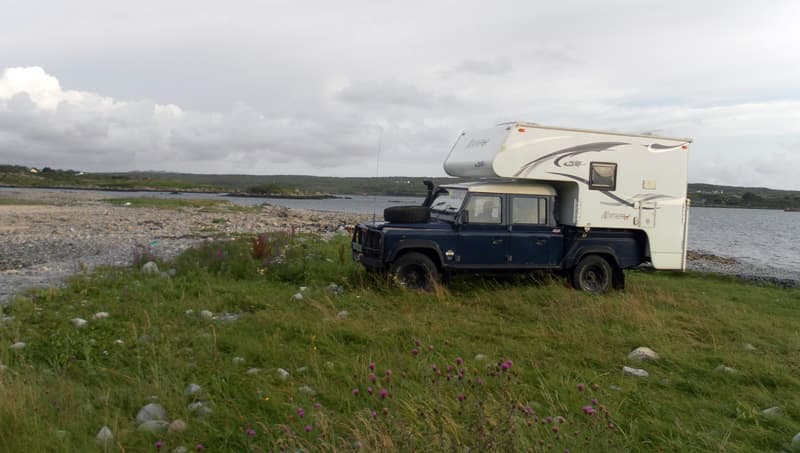 Above: Clifden wild camp, Ireland
TCM: How available are the campgrounds in Europe?  Or do you mostly dry camp?
Martin: We generally wild camp whenever we can as we enjoy the freedom and the quietness this gives us.  About once a week we will go to a campsite to do our domestic chores.
In France and other countries in Europe, they have camping car aires, the details of which can be found in books and websites with details about their locations and facilities.  We have found camping car aires in some awesome locations and, more often than not, they are free to use.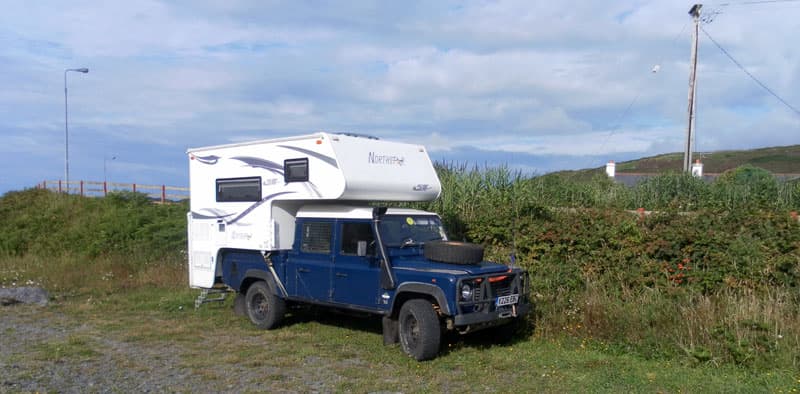 Above: Car park near Skibbereen, Ireland
In the UK there are also websites showing car parks that can be freely used.  Some of these are in the car parks of bars where, if you buy a drink or food, you can stay the night.  I recommend Motorhome Wild Camping and Monster Moovers.
TCM: Seeing all the RV campsites in France and England sure makes a European RV adventure seem more accessible.  What are your truck camping plans for the future?
Martin: Our big trip for this year will see us crossing into France before heading north into Scandinavia and up to the furthest north point we can drive to in Europe; Nordcapp in Norway.  We will then travel east into Finland.  Then, depending on the political climate, possibly into Russia before exploring several countries in eastern Europe.
We are also thinking of shipping the rig over to New York and doing a six-month trip though Canada, Alaska and down the West Coast to Mexico before crossing to the east coast and back up to New York.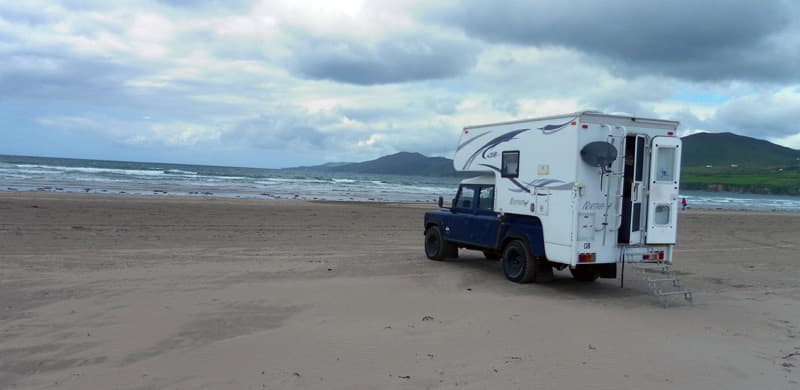 Above: Camping on Inch Beach, Ireland
Driving to Australia and New Zealand is also on the wish list as is a trip to South Africa. But, for both of these, uncertainties about the political climate within the countries we would have to pass through are becoming a serious concern.
We are really pleased we joined the truck camper community.  We're having a great time!
Martin Dover's Rig
Truck: 2011 Land Rover Defender TDCi, Crew Cab, Short Bed, Four Wheel Drive, Single Rear Wheel, Diesel
Camper: 2011 50th Anniversary Northstar 700DL (Defender fitment)
Tie-Downs and Turnbuckles: Angled Turnbuckles and sometimes ratchet straps
Suspension: Upgraded Springs, 265-76-16 BFG A/T tires
Gear: 12,000 pound winch, Heavy Duty Bull Bar, body and axle protection