Perched in a campground in Shei-Pa National Park, Taiwan, GrizzlyNbear found a fiberglass hard side, non-slide, flatbed truck camper, unlike anything we've seen before.  Check out the incredible Kia Jumbo and Three-Maker.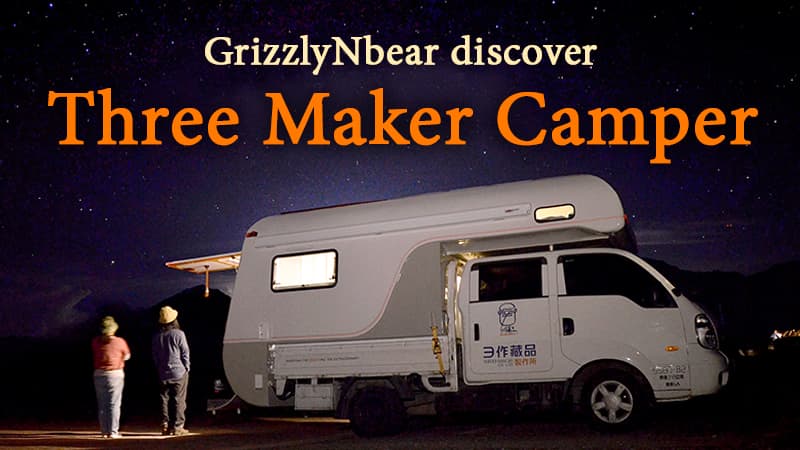 In August of 2019, we published an incredible interview named Crashed, Arrested, and Unstoppable with world travelers, Leigh and Steph, who are exploring the world in a Land Rover Defender 130 and Four Wheel Camper.
They recently departed Japan and are now exploring Taiwan.  There in Shei-Pa National Park they met a family camping in a Taiwanese truck and camper we have never seen before; a Three-Maker on a flatbed Kia Jumbo.  When we saw their video tour, we just had to share it with you.
Above: GrizzlyNBear's Three-Maker truck camper walkthrough video
Three-Maker Truck Camper
The Kia Jumbo 4×4 dual cab truck was originally designed for South Korea as the Bongo.  The Jumbo is available as a K2500, K2700, and K3000S and features a 6-speed gearbox and a 2.5-liter turbocharged engine with 130 horsepower as standard.
The Three-Maker demountable truck camper is a marvel of innovation.  First, it's a singularly shaped fiberglass shell designed to work with flatbed trucks.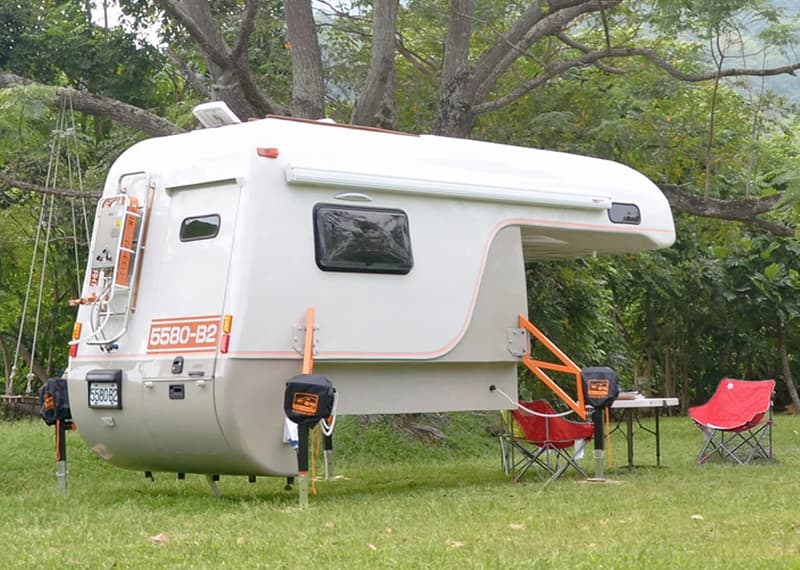 Above: Three-Maker calls their leg and jack system, "self-landing"
The approach to loading and mounting is also unique.  Four, "self-landing" corner legs attach to the side-corners and angle down and away from the unit.
A set of jacks are then attached to the legs and utilized for loading, unloading, and unloaded leveling.  The wide-stance positioning of the legs likely enhances off-the-truck stability.
One advantage of this approach is the ability to remove the legs and jacks once loaded and leave them at home.  Without the installed legs and jacks, the camper would be lighter and more aerodynamic.  Without legs and jacks, the camper would also present less to grab trees, brush, and car mirrors during overland and urban travel.
The downside of removable legs and jacks could be an unexpected emergency, especially if left at home.  For example, we were not expecting to unload our camper the day of our accident, or the day we had a flat tire. Stuff happens on the road and having ready-to-deploy jacks is often critical.
Above: The official Three-Maker video with Mandarin and English text.
As has been a recent trend in the domestic truck camper market, the camper tie-down system consists of a series of ratchet straps.  The video shows how the ratchets, "slot into a groove" on the camper.  It's unclear exactly how this works in practice, and how effective this approach might be in controlling camper movement.
In addition to the ratchet straps, the camper is held by a secondary retention system behind the truck's cab.  According to the video, this is designed to keep the camper from sliding backward.
Looking a bit like a Ghostbusters' Proton Pack, the Three-Maker features an externally-mounted and removable on-demand water heater.  The water heater hooks up to external quick-connect water lines on the camper.  Like the removable legs and jacks, the water heater can be left at home during the warmer seasons.
Directly under the water heater is the outside mounted section of a Daikin two-piece split air conditioning unit; perhaps their Ururu Sarara model.  This may be the first time a split-unit has been employed in a truck camper's design.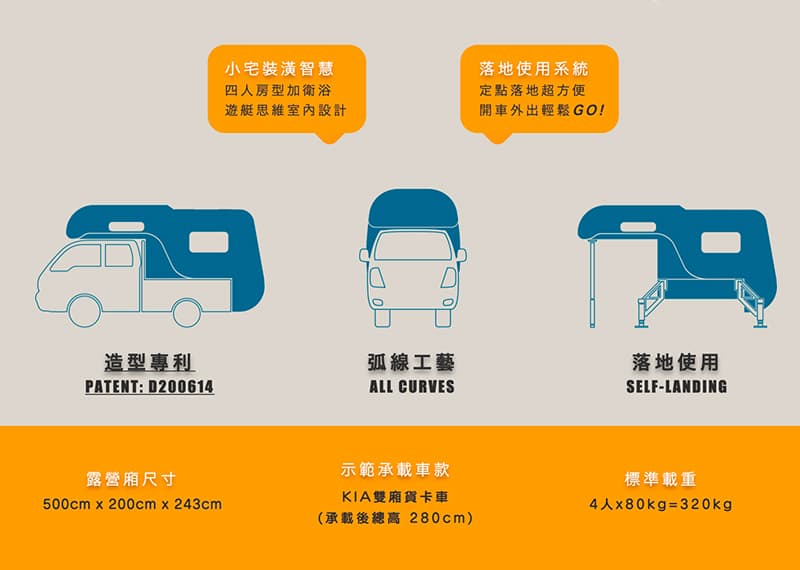 The exterior shroud appears to be a custom fiberglass piece by Three-Maker, even incorporating an image of the camper in the design.  We would love to get more information about this Daikin product and its BTU and efficiency data.
As a Trekkie, I was also struck by the shuttlecraft-like styling of the rear of the unit.  The tan-grey coloring, orange striping, bold numbers, and overall shape recall a few favorite Star Trek Next Generation episodes.
The real kicker is the aircraft-style fiberglass split entry door system.  The upper two-thirds are held aloft by a gas strut and the lower third opens up to reveal the entry ramp.  That's right, a ramp.  This is one part Learjet, one part space transport for Jean-Luc Picard.  Make it so.
One last exterior detail before we go in; note the way the front cabover nose droops down at the end – in theory – to meet the contours of the designated truck and improve aerodynamics and aesthetics.  Nobody (and I mean no nobody) designs their front nose like that here.  I can't tell if it's brilliant or nuts, but it sure is interesting.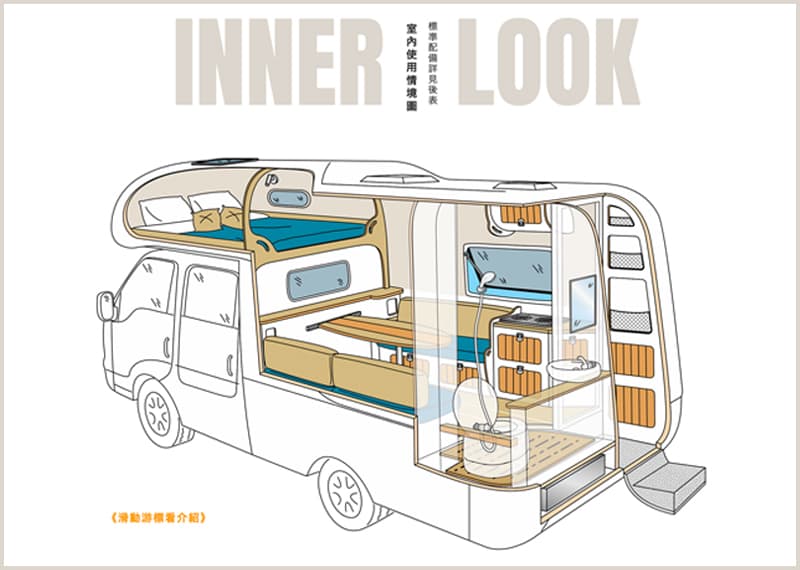 Inside, the camper has a floor plan that's at once familiar and foreign.  There's a full bathroom on the left, kitchen on the right, an east-west dinette mid-ship, and a north-south cabover.  This floor plan itself pulls from elements we've seen before, but the execution is far from a standard affair.
The wet bath offers a cassette toilet, fold-down sink (comparable to Cirrus's implementation), and a shower.  The fiberglass and teak aesthetic is more marine industry in presentation than anything we've seen in the states or provinces.
It's hard to tell from the videos and available images, but the interior appears to also be a hybrid of molded fiberglass and CNC-cut wood elements.  Does the Three-Maker have a double-fiberglass hull similar to Oliver Trailers?  We're not sure.
The kitchen is a very compact unit.  In fact, the Three-Maker in the video doesn't feature an inside kitchen.  Only on the Three-Maker website do we discover this apparent option including a gas range.  The family in the video has a 12-volt cooler-style refrigerator, which may be the standard solution since there is no refrigerator built into any of the Three-Maker's camper images.
If I had a favorite interior feature it would have to be the removable surfboard (my word) dinette table.  Not only is this a very clever shape for a dinette table allowing for easier ingress and egress, but it also says, "this is a fun camper".  The video shows this table having a dedicated hanging spot when not in use, which is another clever touch.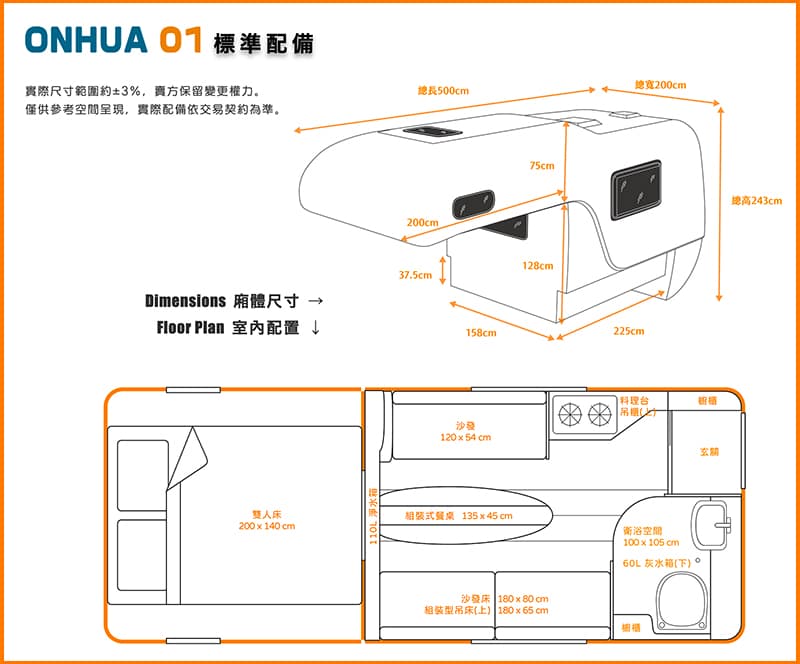 As for holding tanks, all we know is the main fresh tank hold 110-liters (29-gallons.). The family in the video has an additional 40-liter (10.5-gallons) auxiliary tank, which we believe is used for more freshwater.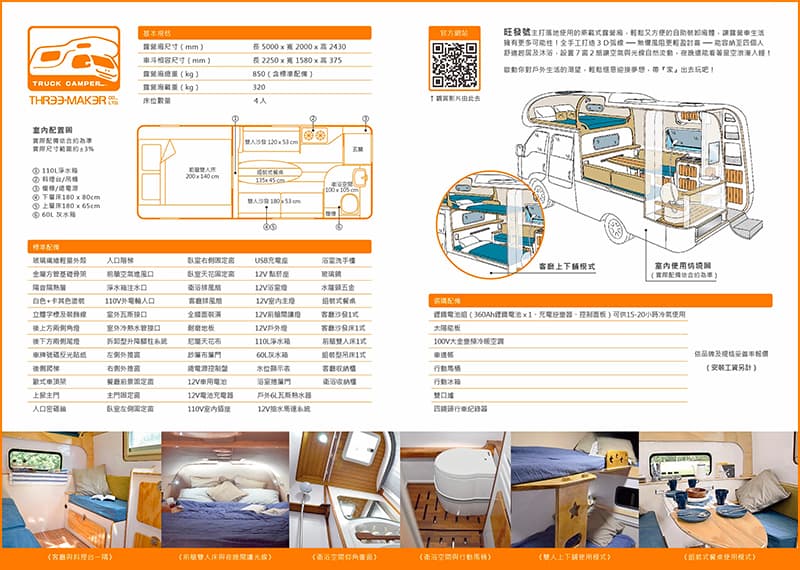 Above: Anyone read Mandarin?  These specs probably answer some of our questions.
Other details include thermoplastic windows and built-in handles to get into the cabover.  Based on everything we can see, we're sure there's a lot more that went into this smart camper design.  Guess we'll need to go to Taiwan and check it out.
Thank You GrizzlyNbear Overland!
Special thanks to Leigh and Steph of GrizzlyNbear Overland for tipping us to this remarkable Taiwanese truck and camper.  To follow their adventures, check out their YouTube channel, GrizzlyNbear Overland.