A Jeep camper has been the stuff of dreams for many off-road and overland enthusiasts.  Chad Lancaster put dreams into action and painted it red. Check out this awesome Jeep truck camper!

If ever there was a dream truck and camper rig that would make us want to leave the pavement, it might be this one.  Start with that American icon of off-road freedom and adventure, a Jeep Wrangler.  In this example, a Jeep TJ Wrangler with American Expedition Vehicle's renowned Brute pickup conversion kit.  One look at an AEV Jeep Brute and you know this vehicle means business; off-road business.
To top off this overland rig, add Four Wheel Camper's Sparrow, a camper designed from the ground up for the AEV Jeep Brute.  The only thing that would make this rig scream overland adventure louder is if it were painted red.  Who, in their right mind, would assemble such a rig and then paint it red as if to make other overland dreamers mad with envy and desire?
Chad Lancaster, that's who.  As a professional landscape photographer, Chad dreamed of a vehicle that would allow him to reach the places he discovered on Google Earth and camp for extended periods of time.  He's also the kind of guy who sees what he wants and makes it happen.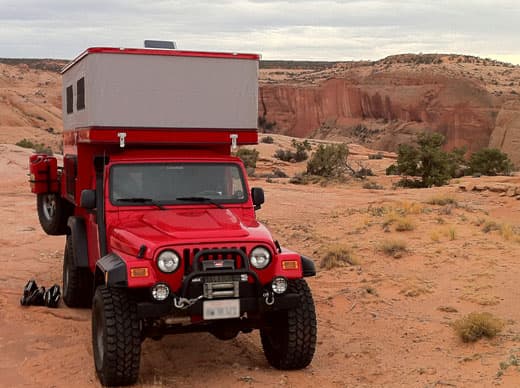 Above: The Brute Sparrow in Arizona this past Thanksgiving
TCM: Your red Jeep camper rig is stunning.  How did you come to purchase and assemble your Jeep camper?
Chad: I started camping with my regular 1994 Jeep Wrangler.  For vacation, I would take my Jeep and follow storms and other weather.
Naturally, it could be quite rough tent camping in the rain.  Sleeping on the ground in bad weather eventually got old.  About the same time, my Jeep was starting to fall apart and needed transmission work.
That's when I started looking into a brand new Sportsmobile.  I had always wanted one, but they are quite expensive.  It was possible to find used Sportsmobiles for less money, but they were always beaten up.  I wanted something new.  Used Sportsmobiles seem to have lots of miles.  With the amount of miles I would be adding over time, a new vehicle seemed like a better choice.
During my research for an alternative, I came across photographs from the 2010 Overland Expo showing the Four Wheel Camper Sparrow on a Jeep AEV Brute.  I immediately contacted Four Wheel Campers about the Sparrow and they gave me a ton of information.  After further research, I decided to buy the camper.  This is actually my first truck camper!
Above: Chad's old Jeep in Death Valley
I had a Jeep YJ that I used as a photography base camp, but it was tough spending weeks in the field with such limited space.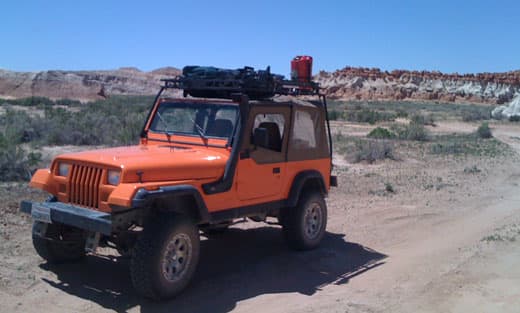 Above: Chad's old Jeep in Arizona
The Jeep itself was coming to the end of its life so it seemed like a good time to take the plunge to getting a camper.  I also had a swing-away bumper made to hold a thirty-five inch spare tire, and two jerrycans.
TCM: You mentioned doing some further research after talking to Four Wheel Campers about the Brute Sparrow rig.  How did you come to the conclusion that the Jeep Brute Sparrow rig was the right solution for you?
Chad: I wanted something that was small and lightweight.  I am going to be out in the middle of nowhere for long periods of time.  Being a photographer, I take a lot of digital cameras, and I'm constantly charging batteries, so I need solar panels on the roof.
With the Jeep Brute Sparrow rig, everything is together.  If it's pouring rain, I don't need to worry about the expensive equipment.  I wanted a studio on wheels, as I'm on the road for long periods of time.
Above: Photos of the AEV Brute and Four Wheel Camper (click to enlarge)
It's fantastic having a truck camper with storage, an electric fridge, dual propane stove, water tank, propane heater, solar panel, battery, sofa, bed, and other amenities.  It's usually just me, so it's more than enough room, plus I'm used to a tent.  Having a full bed is a huge plus!
Above: Photos of the AEV Brute and Four Wheel Camper (click to enlarge)
TCM: Tell us about your photography and how the camper helps you with that pursuit.
Chad: I'm a landscape photographer, so I spend a lot of time in the field to get the best light.  With the camper, I can go to some very out-of-the-way places in any season in almost any weather.
More importantly, I can spend days, weeks, or even months at a particular location as I get to know the area and gather a sense of exactly when and how to photograph it.  That's why the camper works for me.  Everything is together.  I'll share some photographs with you for the article (see below).

Above: The Wave, Arizona

Above: Waters of Life, Havasupai Indian Reservation, Arizona

Above: Bryce Canyon National Park, Utah (it was 10 below zero)

Above: Mooney Falls, Havasupai Indian Reservation, Arizona

Above: A Winter's Tale, Delicate Arch, Arches National Park, Utah

Above: Serenity, Mossbrae Falls, California

Above: The Boneyard, Arizona
TCM: Why did you paint your whole rig red?
Chad: That's a weird story.  My first car was white after which I said I would never want a white car again.  Then I had an orange Jeep.  With the Jeep Brute, the first owner had painted the Jeep red so I had the camper painted to match the truck.  Being a visual person, I had to go all red.  It wouldn't have looked right to have the camper in another color.
When I was selecting options for my Four Wheel Camper Sparrow I opted for fiberglass siding for a cleaner and more modern look.  I'm an artist so I can be anal-retentive about aesthetics.  I really like the look of the rig and get stopped everywhere I go because people want to look at it.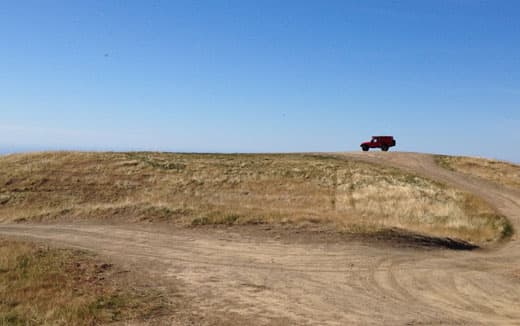 Above: Big Sur Hills, California
TCM: Tell us about the performance of your truck camper rig.
Chad: The performance of the Jeep Brute truck was great.  I was worried at first with the weight in deep sand but it performed perfectly.  The truck has an onboard air compressor and tank which makes the rig much more independent.
This past Thanksgiving I was granted special access to film on an Indian reservation deep in the Arizona backcountry.  Being one of very few white men to legally visit this specific spot was a true honor, but required driving in deep sand, alone, far from any type of help.  The Brute Camper performed beautifully and allowed me to stay on location for more than a week without the need for shore power, water, or food.
The rig is self-contained and independent and that's exactly what I needed.  When I purchased it, it was perfect for me and an assistant when I was just shooting stills.  Now that I'm also using a digital cinema camera (the same camera used to shoot, "The Girl with the Dragon Tattoo", "The Muppets movie", "The Hobbit", and "Prometheus"), I've got dollies, cranes, and sometimes two assistants.  With all of this new gear and people, I now need a bigger truck.  So sadly, my Jeep Brute and Four Wheel Camper Sparrow must find a new home.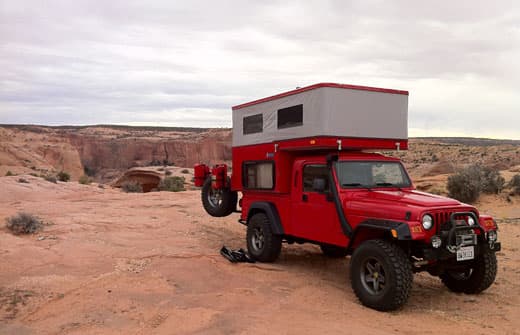 Above: The Brute in Arizona this past Thanksgiving
TCM: Clearly the Jeep Brute FWC Sparrow rig is a tool for your photography and it's done its job by helping you to grow your business.  We'll be eager to learn about what your next rig will be.  But before we move on, tell us about your trip to Oregon last July in the Jeep Brute FWC Sparrow rig.
Chad: Google Earth is my location bible.  Using Google Earth, I put pinpoints where I want to go.  There are lots of pinpoints in Oregon from the coast, to the waterfalls, to the area around the Columbia River Gorge.  It was quite wet last year, so the waterfalls were overly dramatic.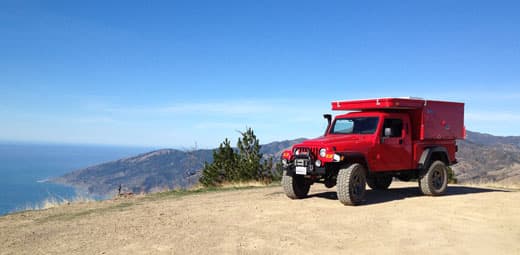 Above: In the Big Sur, California hills
The more time I spend in a given place, the better sense I get of that place.  As a result, I get better photographs of that location.  With my rig, I can spend as much time as I want to and don't worry about things.
A lot of people who overland are setting up tents to camp.  With the Jeep Brute Sparrow, you don't have to sacrifice four-wheel driveability or worry if you're going to get stuck.  If you have something like a stock Toyota, you may worry and it's not going to do as well as a Jeep AEV Brute.  Most of the time the 4×4 capability of the Brute is overkill.  Do I really need a snorkel?  But when you're alone, you need something that's going to get you back, no matter what situation you are put in.
TCM: Thank you Chad.  Again, please keep us in the loop as your new rig develops.
Chad: I will.
To visit the Four Wheel website, go to fourwheelcampers.com. Click here for a free Four Wheel brochure.