And Beyond…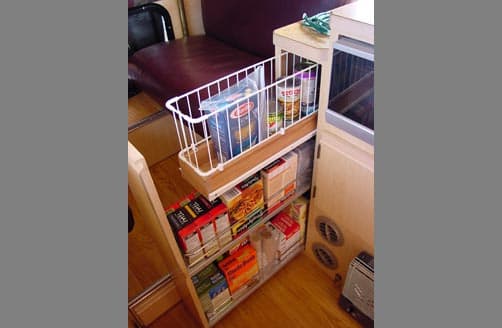 One result of going with a flat-bed instead of a regular slide-in is a very deep and narrow cabinet located in an odd spot.  A local cabinetmaker friend came to the rescue and now we have a slide out pantry instead of a dead space.  The bottom slide moves out two drawers and top is on an independent slide.  Talk about utilizing a dead zone of space.
The boxes under the flat bed are also very handy and have proven to be completely watertight.  They hold our heavy items such as tire chains, generator, tools, and more.  We would not have this with a standard slide-in camper, but is a result of utilizing a flat bed.
The truck camper has been a continuous and educational project.  Using energy, space, and time efficiently is the key to getting us in the camper and going somewhere even easier than we have in the past.
Truck: 2004 Ford F-350, flat bed truck, extended cab, single rear wheel, long bed, 4×4, diesel
Camper: A custom 9.5 foot Alaskan camper
Tie-downs and Turnbuckles: The camper is bolted through the floor of the camper
Suspension Enhancements: Bilstein 7100 shocks, ProComp springs in the front, Torklift Stable Loads in rear, and Firestone air bags in the rear
Gear: Seven Autometer gauges for monitoring the vehicle's performance, Warn 16.5ti winch, 19.5 inch wheels with commercial Goodyear G-124 tires, ABI Marine LED lights, three solar fans, two 85 watt solar panels, Olympian Wave catalytic heater, MightyKool portable swamp cooler, Nova-Kool 12 volt refrigerator, Yaesu 7800 ham radio, Torklift SuperHitch, Engel 45 fridge/freezer, Buckstop bumper in front, Dual Viair compressors and tanks, Procomp springs in front are a leveling kit