When the temperatures soar in the Colorado summer, we now have a portable swamp cooler.  The MightyKool by Swampy, combined with a portable 12 volt Fantastic Fan, is much more effective for cooling in our dry climate.  The verdict is still out for when we head to warm and humid climes.
Nova-Kool Refrigerator / Engel 45 Refrigerator Freezer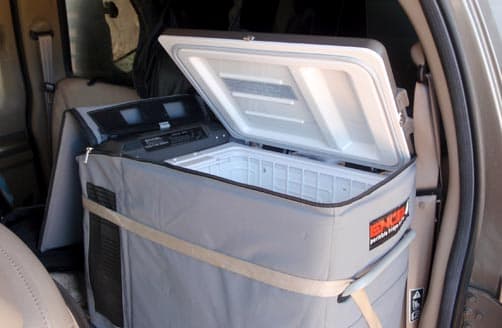 The Nova-Kool 5.5 cubic foot fridge is another one of the custom add-ons that works extremely well. The fridge runs strictly on 12-volt power using a Danfoss compressor.  The Nova-Kool is very efficient, drawing on average 1.5 to 2 amp hours when cycled on.  Our food stays at exactly the temperature we set it at and never varies.  The reliability has also been impressive.  The Nova-Kool has been on continuously now for a year without a hiccup.
The first thing my wife noticed on the fridge is that the freezer section is really only made for ice cube trays and not any amount of frozen food.  It can only hold a hockey puck.  To augment this, we now have an Engel 45 fridge/freezer behind the driver's seat that we use as a freezer during extended trips.  During these longer trips, we bring lots of food with us or bring home seafood.  The Engel 45 draws about the same amount as the Nova-Kool and keeps our food at a steady -5 degrees F.
Yaesu Ham Radio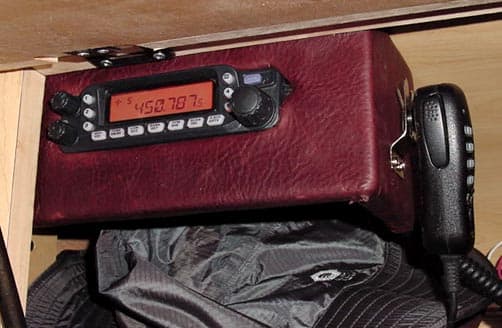 On one of our longer trips last year, we decided that another form of communication would be handy in an emergency.  While in Big Bend National Park, we were told to call on our cell phone if we saw any illegals – what cell phone signal?  Satellite phones are still very expensive and not really set up for the general public yet.
After two nights of studying, practice tests, and an easy exam, we ended up with a ham radio.  We went with a Yaesu 7800 ham radio that is mounted in the camper with a five-foot fold-down antenna on the roof of the camper.  We now have a means of communication when the cell phone signal is non-existent.  In addition, we get accurate and up to date weather reports everywhere we go.
Let's Go Aero Storage Pod / Torklift SuperHitch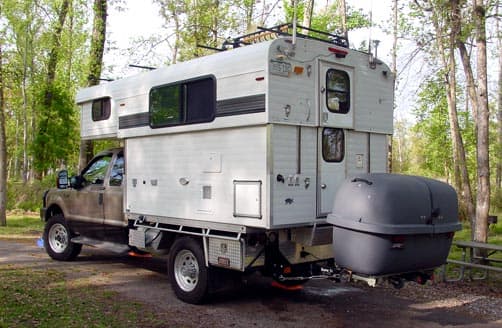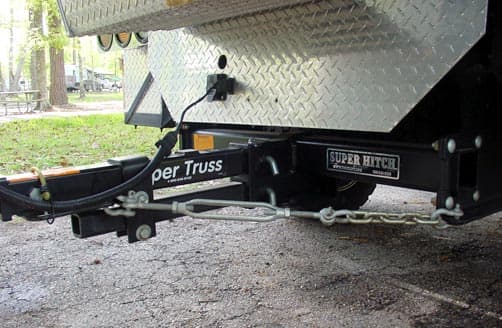 We like to bring all the extras with us, especially on extended trips.  God forbid I leave the Weber grill behind.  We accomplish this by augmenting our current storage with a storage pod by Let's Go Aero that goes in the receiver hitch of the truck.  With a little weight, the extension for the receiver hitch acts like a lever and even a solid extension will bend when bouncing on poorly maintained back roads.
After lots of frustration, we turned to Torklift and purchased their humongous SuperHitch and 24" extension.  All I can say is wow!  No wobble and no sway under the worst road conditions.  It actually makes it safe to have the storage pod on the back of a truck camper under adverse road conditions.
Viair Air Compressor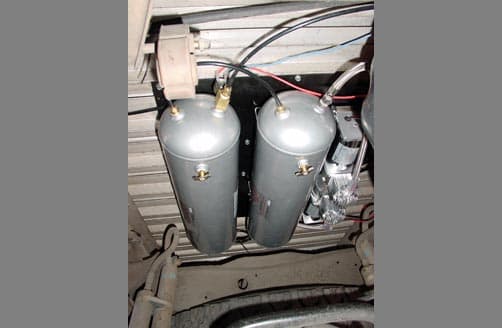 If you're off the beaten path, it's important to have the ability to air down your tires when the ground gets soft.  In the past, we had accomplished this by using a CO2 tank and regulator.  That was a very handy system, but needed to be filled all the time.  We finally broke down and purchased a dual Viair 450 compressor set up with matching dual 2.5 gallon air tanks that are mounted under the flat bed of the truck.  We now have unlimited air on the road and trail.  It's nice for airing up tires and airbags.
I'm currently working on a means to pump water into our fresh water tank using compressed air.  I'll keep you up to date on this project as it comes along.
Quick Fist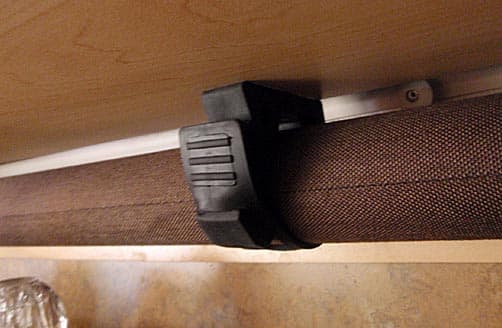 Another small but handy item we found along the way is called Quick Fist.  No, this isn't a sequel to the movie Fight Club, but rather small rubber holders that allow you to attach items in various locations.  In our camper this includes fishing rods, an awning crank, a ham radio, an antenna, and more.  When space is at a premium, finding a place to store odd items can be challenging.