Carl Isner files a fresh report on the performance of the off-grid gear he's been auditioning in his flat-bed Alaskan Camper; the good, the bad, and the new.

Carl keeps sending us off-grid updates on what's he's learned, products he's auditioning, and how his Alaskan continues to exceed his expectations.  Carl is one innovative truck camper we'll be following into the future.
Carl Isner: Off-Grid Gear Report
by Carl Isner
After purchasing our Alaskan camper from the factory in Chehalis, Washington a little over a year ago, we have traveled and camped in a dozen states and had temperature fluctuations from +110 to -17 Fahrenheit.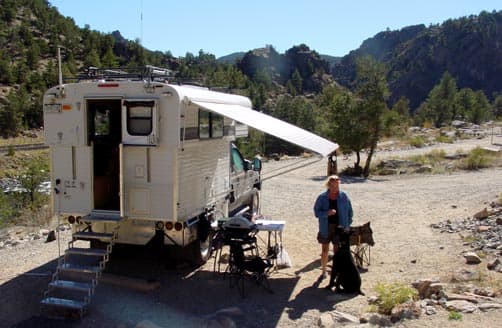 The solid sides and convex roof make the camper excellent in inclement weather.  And I believe the pop-up roof lift system of the Alaskan is the best on the market.  In other words, the camper was an excellent base to make a custom camper capable of functioning on and off the grid.  The camper is used every week of the year when I go to work, go on vacations, and on our time off.  The camper does not rest, and neither do we.
Solar System
The two 85 watt solar panels work very well most of the time, but we have discovered some expected limitations to this type of system.  While in Yellowstone National Park for fall camping, we had a number of days of inclement weather in a row.  Actually, it was gray, rainy, and snowing for a week straight.  During the bad weather, the solar system could not keep up with our electrical needs and slowly we watched as our battery bank dwindled down to seventy five percent.
Another time we learned of the limitations of our solar system was during a cold spell this winter.  The ambient temperature reached -17 Fahrenheit and the panels were covered with a heavy layer of packed snow.  Not only is it a major pain to climb on the roof to clean the panels off but, during the winter, the angle of the sun is such that the amount of energy you bring in is far less than the rest of the year.  I have considered tilting the panels manually and electrically, but I'm not convinced this would be a sturdy or dependable arrangement.
Yamaha Generator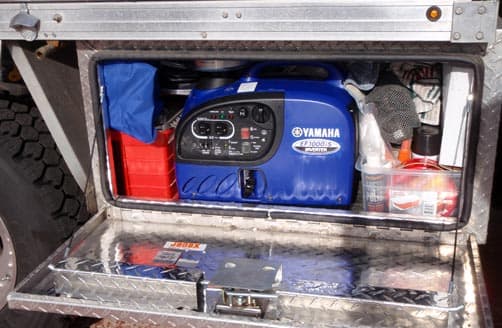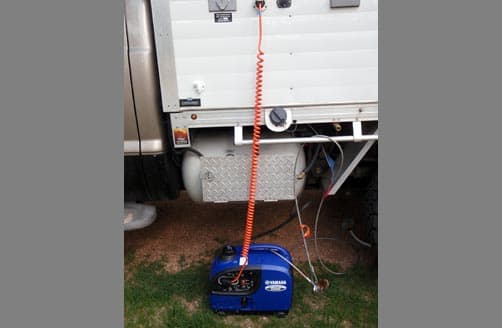 So what do I do when our solar system doesn't perform?   Plug into shore power in the hinterland?  No!  You pull out your trusty generator to charge up your batteries.  The OutBack Power System we had installed does a wonderful job of taking the power into the system, monitoring the load, and converting it to pure sine 110 volt energy. Unfortunately, the OutBack Power System does not help in the charging of batteries.
My ignorance of electricity came to light when I tried to charge the battery bank by simply plugging in our little 1,000 watt Yamaha propane converted generator.  Lo and behold, the most power we were able to obtain was a measly three amps.  It took a person who is less ignorant in the electrical world from ExpeditionPortal.com to explain that we needed a smart battery charger and could safely charge at 30 amps or more with the same generator.
We now we have a smart batter charger and can bring our batteries from a measly 75% to full charge in just over three hours.  Speaking of batteries, the NSB210FT Energy1 set that we have mounted under the settee has worked flawlessly.  They stay warm in the cab in the winter and are continuously being kept in top shape by the OutBack Power System.
Olympian Wave Catalytic Heater / Mighty Kool Swamp Cooler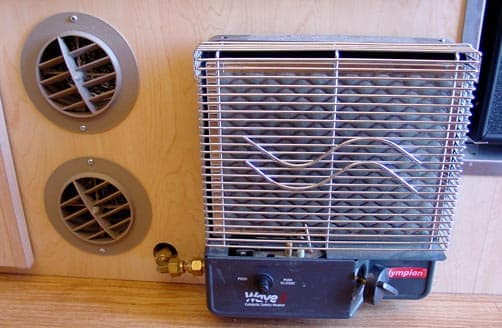 The heating of the camper is performed by a 14,000 BTU furnace and an Olympian Wave catalytic heater.  A catalytic heater is by far one the nicest options you could have on any truck camper in the winter.  It's easy to start and draws no electricity while creating warmth 24 hours a day.  Even our dog likes the catalytic heater and he lies in front of it at night when we are camping in the winter.
The cooling of the camper was originally to be done by a small under the seat air conditioning unit (see prior Carl Isner articles), but this unit is not as effective as we first believed.  We use it mainly when traveling to keep the camper cool as we go down the road.  That keeps the camper from being an oven when we stop for the night.
When the temperatures soar in the Colorado summer, we now have a portable swamp cooler.  The MightyKool by Swampy, combined with a portable 12 volt Fantastic Fan, is much more effective for cooling in our dry climate.  The verdict is still out for when we head to warm and humid climes.
Nova-Kool Refrigerator / Engel 45 Refrigerator Freezer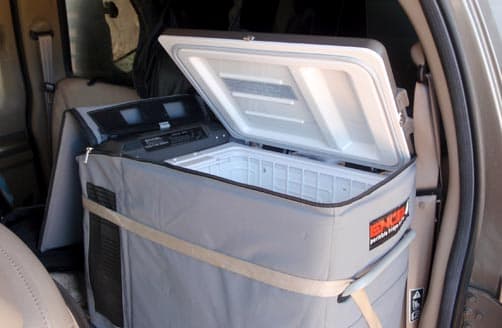 The Nova-Kool 5.5 cubic foot fridge is another one of the custom add-ons that works extremely well. The fridge runs strictly on 12-volt power using a Danfoss compressor.  The Nova-Kool is very efficient, drawing on average 1.5 to 2 amp hours when cycled on.  Our food stays at exactly the temperature we set it at and never varies.  The reliability has also been impressive.  The Nova-Kool has been on continuously now for a year without a hiccup.
The first thing my wife noticed on the fridge is that the freezer section is really only made for ice cube trays and not any amount of frozen food.  It can only hold a hockey puck.  To augment this, we now have an Engel 45 fridge/freezer behind the driver's seat that we use as a freezer during extended trips.  During these longer trips, we bring lots of food with us or bring home seafood.  The Engel 45 draws about the same amount as the Nova-Kool and keeps our food at a steady -5 degrees F.
Yaesu Ham Radio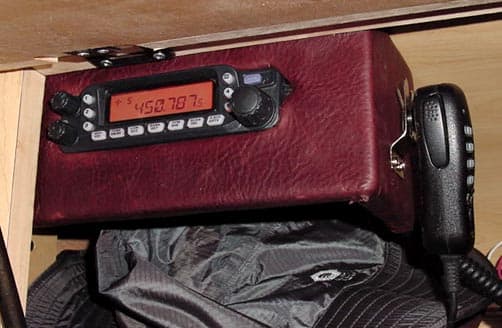 On one of our longer trips last year, we decided that another form of communication would be handy in an emergency.  While in Big Bend National Park, we were told to call on our cell phone if we saw any illegals – what cell phone signal?  Satellite phones are still very expensive and not really set up for the general public yet.
After two nights of studying, practice tests, and an easy exam, we ended up with a ham radio.  We went with a Yaesu 7800 ham radio that is mounted in the camper with a five-foot fold-down antenna on the roof of the camper.  We now have a means of communication when the cell phone signal is non-existent.  In addition, we get accurate and up to date weather reports everywhere we go.
Let's Go Aero Storage Pod / Torklift SuperHitch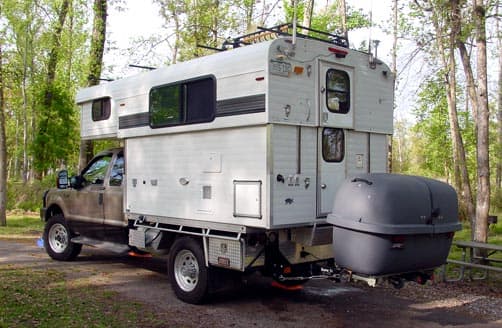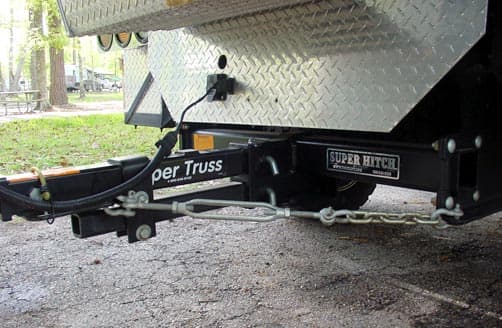 We like to bring all the extras with us, especially on extended trips.  God forbid I leave the Weber grill behind.  We accomplish this by augmenting our current storage with a storage pod by Let's Go Aero that goes in the receiver hitch of the truck.  With a little weight, the extension for the receiver hitch acts like a lever and even a solid extension will bend when bouncing on poorly maintained back roads.
After lots of frustration, we turned to Torklift and purchased their humongous SuperHitch and 24" extension.  All I can say is wow!  No wobble and no sway under the worst road conditions.  It actually makes it safe to have the storage pod on the back of a truck camper under adverse road conditions.
Viair Air Compressor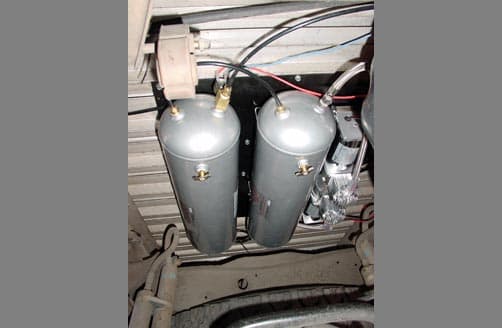 If you're off the beaten path, it's important to have the ability to air down your tires when the ground gets soft.  In the past, we had accomplished this by using a CO2 tank and regulator.  That was a very handy system, but needed to be filled all the time.  We finally broke down and purchased a dual Viair 450 compressor set up with matching dual 2.5 gallon air tanks that are mounted under the flat bed of the truck.  We now have unlimited air on the road and trail.  It's nice for airing up tires and airbags.
I'm currently working on a means to pump water into our fresh water tank using compressed air.  I'll keep you up to date on this project as it comes along.
Quick Fist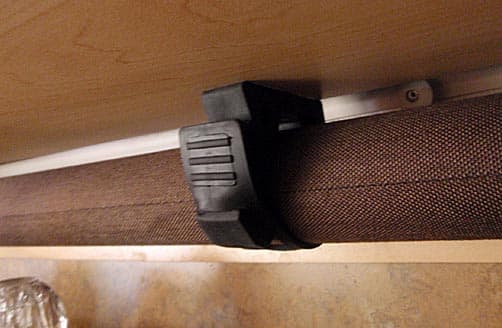 Another small but handy item we found along the way is called Quick Fist.  No, this isn't a sequel to the movie Fight Club, but rather small rubber holders that allow you to attach items in various locations.  In our camper this includes fishing rods, an awning crank, a ham radio, an antenna, and more.  When space is at a premium, finding a place to store odd items can be challenging.

And Beyond…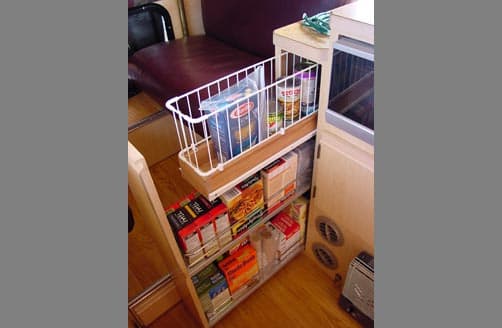 One result of going with a flat-bed instead of a regular slide-in is a very deep and narrow cabinet located in an odd spot.  A local cabinetmaker friend came to the rescue and now we have a slide out pantry instead of a dead space.  The bottom slide moves out two drawers and top is on an independent slide.  Talk about utilizing a dead zone of space.
The boxes under the flat bed are also very handy and have proven to be completely watertight.  They hold our heavy items such as tire chains, generator, tools, and more.  We would not have this with a standard slide-in camper, but is a result of utilizing a flat bed.
The truck camper has been a continuous and educational project.  Using energy, space, and time efficiently is the key to getting us in the camper and going somewhere even easier than we have in the past.
Truck: 2004 Ford F-350, flat bed truck, extended cab, single rear wheel, long bed, 4×4, diesel
Camper: A custom 9.5 foot Alaskan camper
Tie-downs and Turnbuckles: The camper is bolted through the floor of the camper
Suspension Enhancements: Bilstein 7100 shocks, ProComp springs in the front, Torklift Stable Loads in rear, and Firestone air bags in the rear
Gear: Seven Autometer gauges for monitoring the vehicle's performance, Warn 16.5ti winch, 19.5 inch wheels with commercial Goodyear G-124 tires, ABI Marine LED lights, three solar fans, two 85 watt solar panels, Olympian Wave catalytic heater, MightyKool portable swamp cooler, Nova-Kool 12 volt refrigerator, Yaesu 7800 ham radio, Torklift SuperHitch, Engel 45 fridge/freezer, Buckstop bumper in front, Dual Viair compressors and tanks, Procomp springs in front are a leveling kit