Above: Carl moved the spare tire to the back of the camper so that it's better protected from debris
TCM: With the exceptional length of the camper, have you had any issues with center of gravity?
Carl: It's not been an issue at all.  The front of the 5500 trucks are so heavy with the diesel engine and the Alaskan Camper is relatively light weight compared to most multi-slide truck campers.  The whole rig is 15,000 pounds.
We had to do several waves to get it registered with the county as a recreational vehicle.  Then it was another wave to get them to recognize it was a detachable RV with a detachable camper.  The county registered it as a, "pickup with camper".  I actually took it down to the county and showed them how the camper detaches from the truck.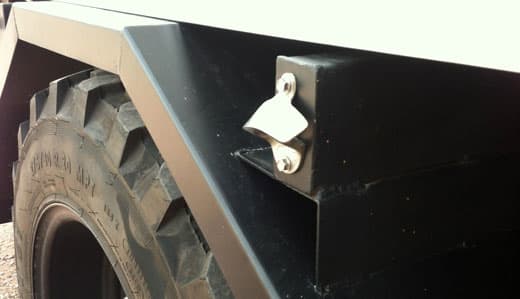 Above: According to Carl, the most important mod he's done to his rig is the beer bottle opener
TCM: The most important mod, indeed.  It's almost hard to imagine that you could modify this truck and camper any further.  Are there any more mods planned?
Carl: I want to put aluminum boxes underneath the bed for the camper jacks.  They take up a lot of space and it would be great to give them their own boxes.  I will probably put some additional lights on the truck as well.  Other than those two mods, we have pretty much done everything we want to do.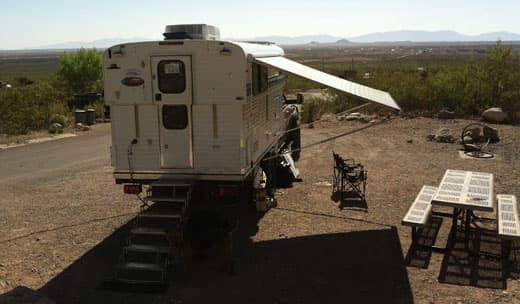 TCM: Are you still using your truck camper as a place to stay while you're working?
Carl: Yes, I use the rig to go back and forth to work every week.  We've also been on a trip to Oregon, a trip to New Mexico, and multiple fishing trips.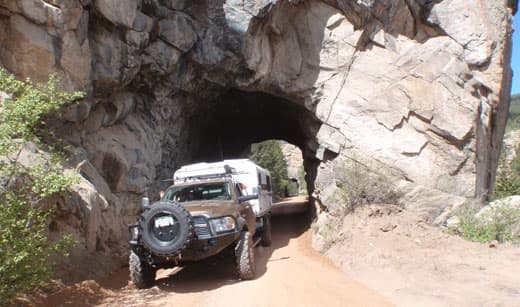 TCM: Do you have any future trips planned?
Carl: Our next trip will be at the end of March.  We're taking New Mexico backroads all the way Chaco Canyon and Canyon de Chelly.  We are taking dirt roads almost the whole way.
CARL ISNER'S TRUCK CAMPER RIG
TRUCK: 2012 Dodge 5500 Laramie Crew Cab, 197″ wheel base, single rear wheel, 4×4, diesel
CAMPER: 2012 Alaskan Camper 14.3 feet
JACKS: Rieco-Titan Mechanical
TIE-DOWNS/TURNBUCKLES: Camper is bolted to the frame of the flatbed, and then it bolts to large angle pieces underneath, no turnbuckles
SUSPENSION: Firestone airbags, flat bed has own suspension system
GEAR: See article for Carl's many upgrades