I also have a 16.5 gallon outside propane tank and a Yamaha 1000 watt generator converted to propane, all under the flatbed.  The generator is in the Aluminum Jobox, runs off propane, and goes through a 20-amp charger.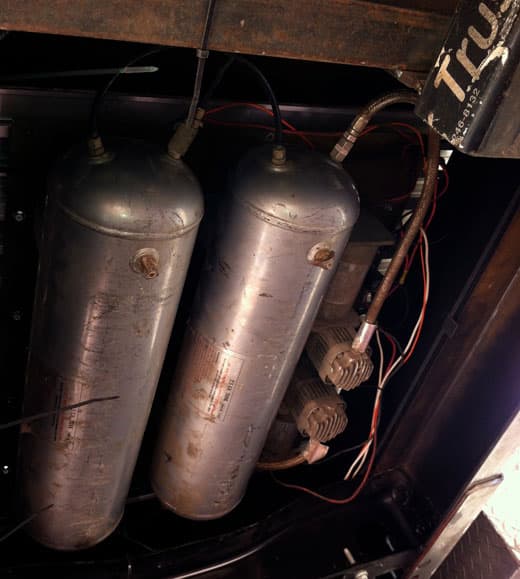 Above: Two ViAir Extreme air compressors mounted under the truck
I have two ViAir Extreme air compressors with two five gallon tanks to run the jacks, air tools, air bags, and for transferring water.  If we air down the tires, I can fill them up using the ViAir compressor.  I have a hydraulic air jack so I can lift the truck up using air as well.  Having these relatively heavy items under the flatbed helps me keep the center of gravity low and forward.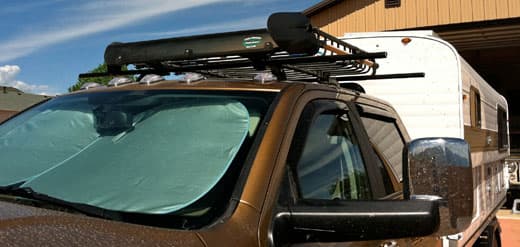 Above: A Yakima roof rack holds gear and tools above the truck cab
Since we don't have a cabover, I was able to utilize the truck cab roof area with a Yakima roof rack and gear loft.  On the last trip I put crab traps up there and other light weight stuff.  I also have a shovel and ax mounted on the side of the roof rack.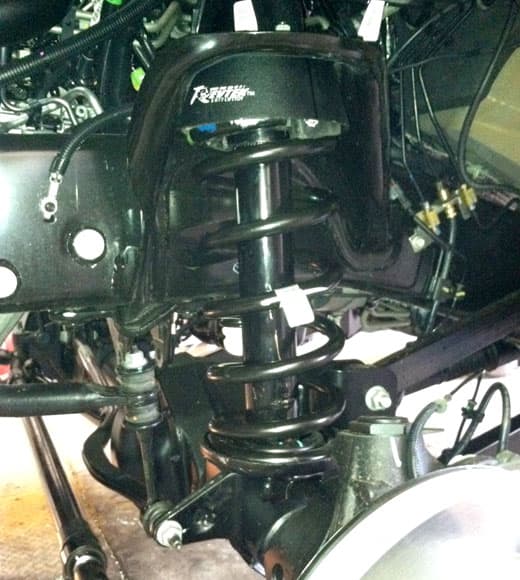 Above: A Revtek front end leveling system keeps Carl's rig level
The truck has a Revtek front end leveling system.  A factory truck has a rake where the front end is lower.  That rake angle is great in a regular truck but, when you're on perfectly level ground, the camper isn't level.  The Revtek helps to take care of that.  It also gives the front tires have better clearance.
TCM: Were you equally aggressive with your camper modifications?
Carl: Yes, there's a long list of camper modifications too.
I have a 12-volt Dan Foss compressor refrigerator and I'm extremely happy with it.  Bryan is putting 12-volt refrigerators in most Alaskan Campers now.  Propane three way refrigerators are very inefficient.  Dan Foss 12-volt refrigerators draw one to one and a half amps and will keep food cold in weather up to 100 degrees.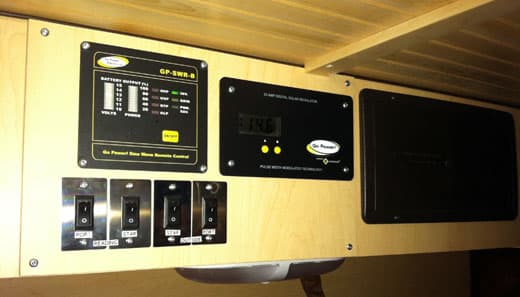 Above: GoPower solar system controller
I also installed more current solar panel system that has pulled in as much as twenty amps on a sunny day.  I also changed the LED lights to a more modern design.  The LED lights on my previous Alaskan were prone to issues in cold weather.  To further enhance our power system, I installed AGM batteries under the settee.  AGM batteries stay warmer, are more efficient, and don't leak.
I had a Thetford cassette toilet in the last camper and I would never go back.  It's so convenient because I can just dump it in a pit toilet.  If we're boondocking I sometimes even dig a hole.  It's very convenient because I'm not tied to sewers and RV dump stations.
We changed from a foam mattress to a real ten-inch thick Posturepedic mattress.  We much prefer the new mattress to the foam mattress we had.  We got this idea from one of the Unimog owners with an Alaskan.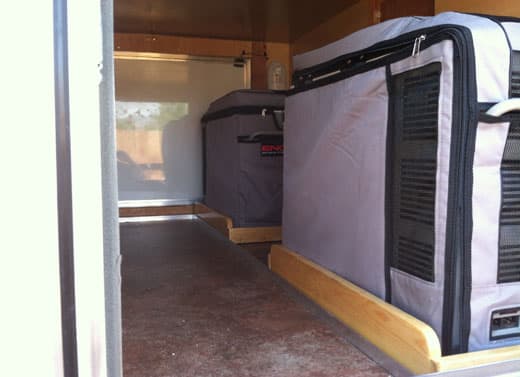 Above: Two 12-volt compressor freezers mounted under the bed