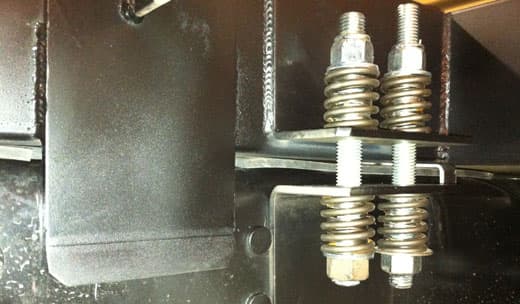 Above: The flatbed articulates away from the frame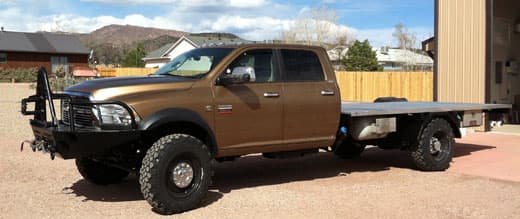 TCM: The truck bed articulates?
Carl: Yes, the flatbed features an independent suspension to flex away from truck frame.  The truck bed is able to twist up to two and a half inches from the vehicle without twisting the Alaskan Camper itself.  It uses a three point system similar to what is used on a Unimog.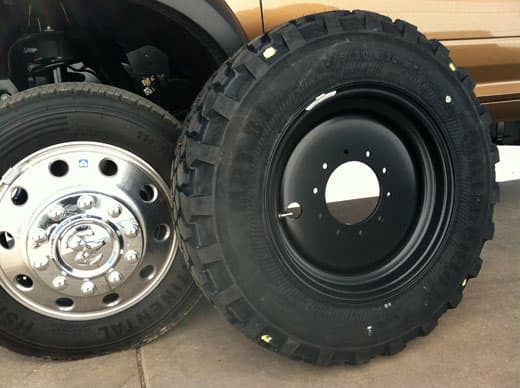 Above: The stock 19.5″ wheel and tire on the left and the 37″ wheel and Continental MPT-81 tires on the right
TCM: Tell us about those monster wheels and tires.
Carl: We ordered 20" Rickson wheels and 37" Continental MPT-81 tires.  The MPT-81s are designed for mud and snow and can be aired down to twenty pounds for off-road and sand conditions.  We could not air down the Rickson 19.5" wheels and tires on our previous truck.
We also removed the rear duallies in favor of single rear wheels in the back.  Just four Continental MPT-81s can bear the whole weight of the rig.  We wanted single rear wheels because single rear wheels are better for off-road travel and much better in the ice and snow.  It's all about improving our off-road capabilities.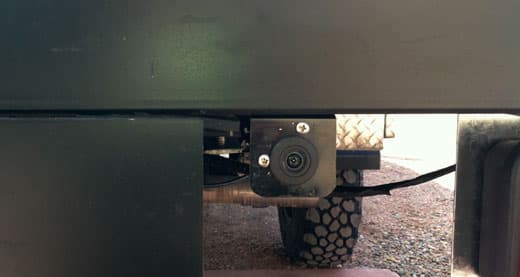 Above: Carl used a Dodge back up camera installed on the flatbed
TCM: Those are some very extreme truck modifications.  Was anything else done to the truck?
Carl: On the back of the flatbed there's a hard wired backup camera from Dodge.  Mounting the camera on the flatbed allows me to use the camera when the camper is dismounted.
We had a backup camera mounted above the camper door on our previous Alaskan, but having it lower on the new camper doesn't seem to compromise anything.  A back up camera is an option for Dodge 3500 trucks, but not for chassis cab models.
I actually bought the same Dodge backup camera usually mounted in the tailgate handle and asked the Dodge dealer to mount it on the flatbed.  It works fine.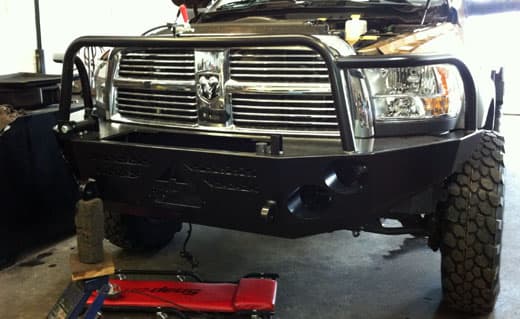 Above: An Aluminess custom aluminum bumper
Aluminess custom built an aluminum bumper for the truck with PIAA driving and fog lights and a Warn 16.5ti winch.  We had to get a custom bumper because the OEM bumper would not fit the 37" tires.
Under the flatbed, we have aluminum boxes that we pulled off the previous truck before it went to the salvage yard.  They were installed by local welder.  I keep tools, a camp stove, tire chains, and spare parts in these custom aluminum storage boxes.