After fire destroyed his first Alaskan Camper, Carl Isner went all out designing his new off-road ready Alaskan Camper and Dodge Ram 5500.  This is one extreme Alaskan.

When we saw the first few pictures of Carl Isner's new Alaskan Camper rig, we weren't even sure that it was a truck camper.  Where's the cabover?  Where are the jacks?  And isn't that a little long for a truck camper?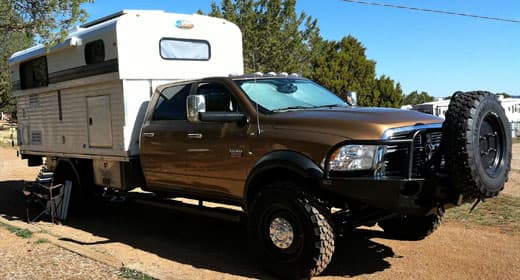 The answers to these questions are very interesting, and prove that this Alaskan Camper is indeed a truck camper.  The answers also illuminate just how off-the-hook this Alaskan Camper rig truly is.  If you want to see an extreme rig that's ready to take you to the ends of the Earth, Carl has an example for you.
TCM: This is quite an extraordinary Alaskan Camper rig.  When did the planning for this truck and camper get started?
Carl: The plan for this rig started about twenty-four hours after my first Alaskan Camper burned to the ground on November 11, 2011.  The insurance company refused to tell us what happened, but we believe it was a faulty furnace.
TCM: That's terrible.  Was anyone hurt?
Carl: No one was in the camper and nobody got hurt.  After the fire, I called Bryan Wheat, President of Alaskan Campers, and he put us down for the very next camper build.  We loved our Alaskan Camper and there was no doubt we were getting another.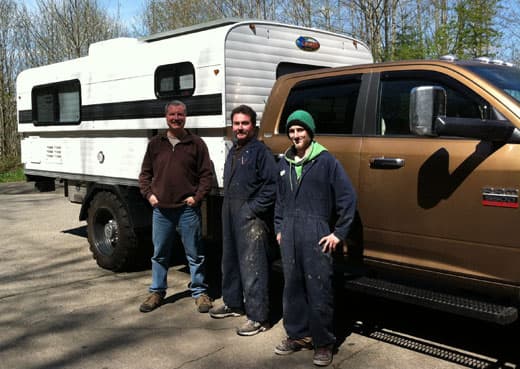 Above: Bryan Wheat, President of Alaskan Campers, and Alaskan team members Rick Bremgartner and Matt Chesler
TCM: Why did you decide to order your new Alaskan without a cabover?
Carl: It's easier to keep the camper warm in the winter if you don't have a cabover.  The folding hard sides on an Alaskan are insulated, but they're not as thick as the actual side walls of the camper.  Living in Colorado, we use the camper in the winter months quite a bit.  Having a deep storage area under the bed really helps to keep the sleeping area warm.  It's also easier to put the pop-up roof up and down without the cabover.
TCM: What else did you change from your first Alaskan Camper?
Carl: Since we had to do it all over again, we decided to upgrade everything.  Bryan will literally do anything you want on your Alaskan Camper.  For example, I found a platinum catalytic furnace and Bryan made it happen.  Everything was upgraded.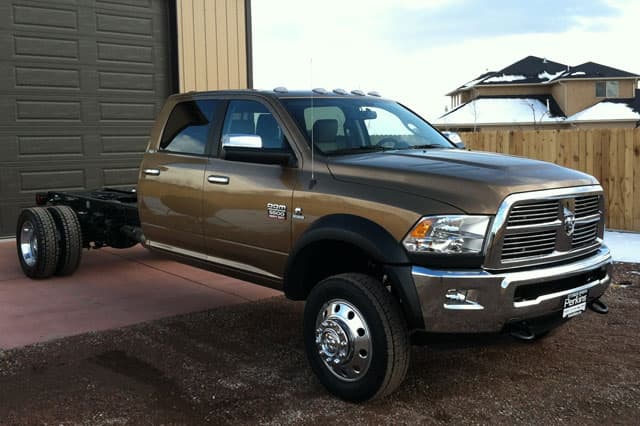 TCM: You don't see too many Dodge Ram 5500 truck camper rigs.  What made you go in that direction?
Carl: Again, we wanted to upgrade and decided on a cab and chassis Dodge Ram 5500.  The truck arrived in January.  Soon after we got a Ute aluminum flat bed, we had it installed by a local welder.
The welder also extended the beams of the truck back about three and a half feet.  The beams are matching and articulate away from the chassis using large truck valve springs.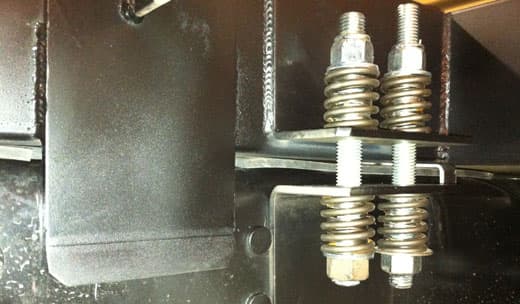 Above: The flatbed articulates away from the frame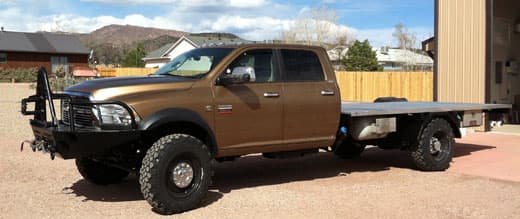 TCM: The truck bed articulates?
Carl: Yes, the flatbed features an independent suspension to flex away from truck frame.  The truck bed is able to twist up to two and a half inches from the vehicle without twisting the Alaskan Camper itself.  It uses a three point system similar to what is used on a Unimog.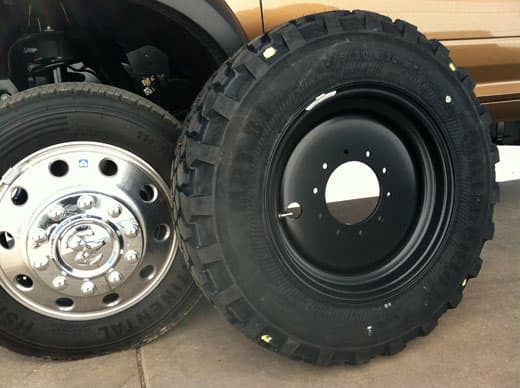 Above: The stock 19.5″ wheel and tire on the left and the 37″ wheel and Continental MPT-81 tires on the right
TCM: Tell us about those monster wheels and tires.
Carl: We ordered 20" Rickson wheels and 37" Continental MPT-81 tires.  The MPT-81s are designed for mud and snow and can be aired down to twenty pounds for off-road and sand conditions.  We could not air down the Rickson 19.5" wheels and tires on our previous truck.
We also removed the rear duallies in favor of single rear wheels in the back.  Just four Continental MPT-81s can bear the whole weight of the rig.  We wanted single rear wheels because single rear wheels are better for off-road travel and much better in the ice and snow.  It's all about improving our off-road capabilities.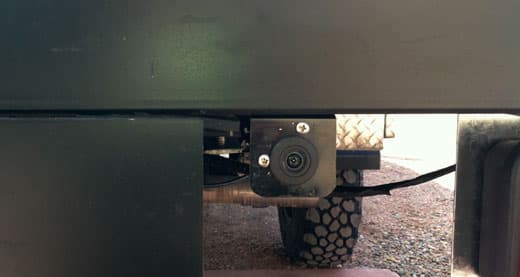 Above: Carl used a Dodge back up camera installed on the flatbed
TCM: Those are some very extreme truck modifications.  Was anything else done to the truck?
Carl: On the back of the flatbed there's a hard wired backup camera from Dodge.  Mounting the camera on the flatbed allows me to use the camera when the camper is dismounted.
We had a backup camera mounted above the camper door on our previous Alaskan, but having it lower on the new camper doesn't seem to compromise anything.  A back up camera is an option for Dodge 3500 trucks, but not for chassis cab models.
I actually bought the same Dodge backup camera usually mounted in the tailgate handle and asked the Dodge dealer to mount it on the flatbed.  It works fine.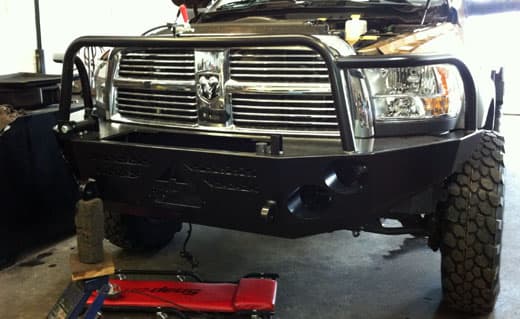 Above: An Aluminess custom aluminum bumper
Aluminess custom built an aluminum bumper for the truck with PIAA driving and fog lights and a Warn 16.5ti winch.  We had to get a custom bumper because the OEM bumper would not fit the 37" tires.
Under the flatbed, we have aluminum boxes that we pulled off the previous truck before it went to the salvage yard.  They were installed by local welder.  I keep tools, a camp stove, tire chains, and spare parts in these custom aluminum storage boxes.
I also have a 16.5 gallon outside propane tank and a Yamaha 1000 watt generator converted to propane, all under the flatbed.  The generator is in the Aluminum Jobox, runs off propane, and goes through a 20-amp charger.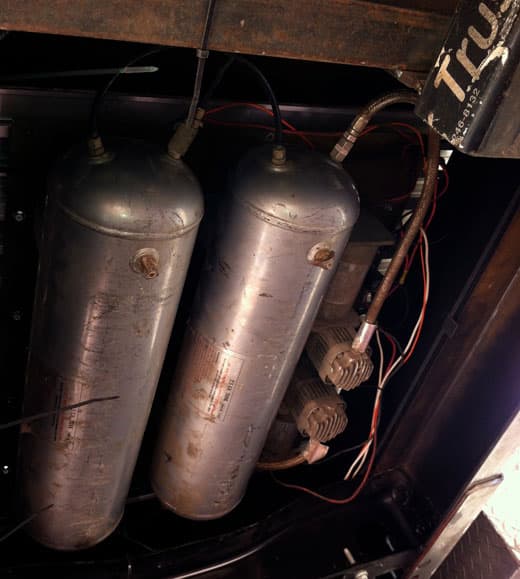 Above: Two ViAir Extreme air compressors mounted under the truck
I have two ViAir Extreme air compressors with two five gallon tanks to run the jacks, air tools, air bags, and for transferring water.  If we air down the tires, I can fill them up using the ViAir compressor.  I have a hydraulic air jack so I can lift the truck up using air as well.  Having these relatively heavy items under the flatbed helps me keep the center of gravity low and forward.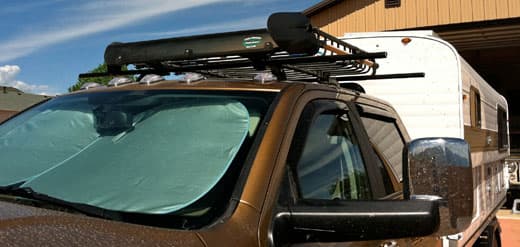 Above: A Yakima roof rack holds gear and tools above the truck cab
Since we don't have a cabover, I was able to utilize the truck cab roof area with a Yakima roof rack and gear loft.  On the last trip I put crab traps up there and other light weight stuff.  I also have a shovel and ax mounted on the side of the roof rack.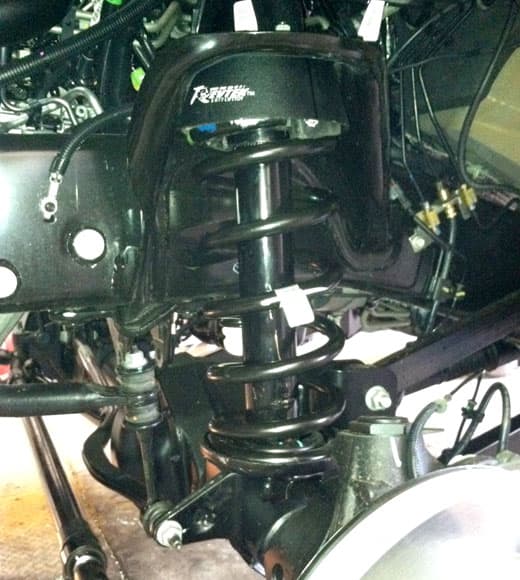 Above: A Revtek front end leveling system keeps Carl's rig level
The truck has a Revtek front end leveling system.  A factory truck has a rake where the front end is lower.  That rake angle is great in a regular truck but, when you're on perfectly level ground, the camper isn't level.  The Revtek helps to take care of that.  It also gives the front tires have better clearance.
TCM: Were you equally aggressive with your camper modifications?
Carl: Yes, there's a long list of camper modifications too.
I have a 12-volt Dan Foss compressor refrigerator and I'm extremely happy with it.  Bryan is putting 12-volt refrigerators in most Alaskan Campers now.  Propane three way refrigerators are very inefficient.  Dan Foss 12-volt refrigerators draw one to one and a half amps and will keep food cold in weather up to 100 degrees.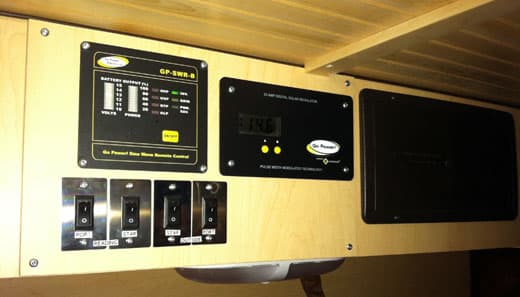 Above: GoPower solar system controller
I also installed more current solar panel system that has pulled in as much as twenty amps on a sunny day.  I also changed the LED lights to a more modern design.  The LED lights on my previous Alaskan were prone to issues in cold weather.  To further enhance our power system, I installed AGM batteries under the settee.  AGM batteries stay warmer, are more efficient, and don't leak.
I had a Thetford cassette toilet in the last camper and I would never go back.  It's so convenient because I can just dump it in a pit toilet.  If we're boondocking I sometimes even dig a hole.  It's very convenient because I'm not tied to sewers and RV dump stations.
We changed from a foam mattress to a real ten-inch thick Posturepedic mattress.  We much prefer the new mattress to the foam mattress we had.  We got this idea from one of the Unimog owners with an Alaskan.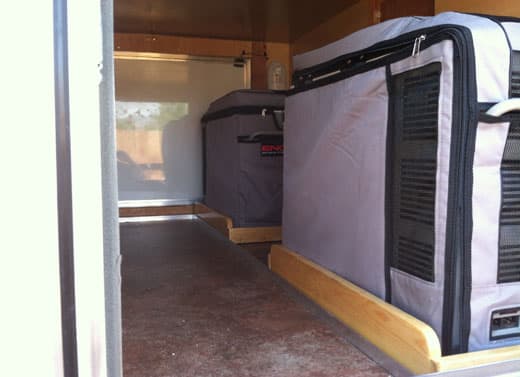 Above: Two 12-volt compressor freezers mounted under the bed
Under the bed is a huge storage compartment with two freezers, lawn chairs, a barbecue, and the water tanks.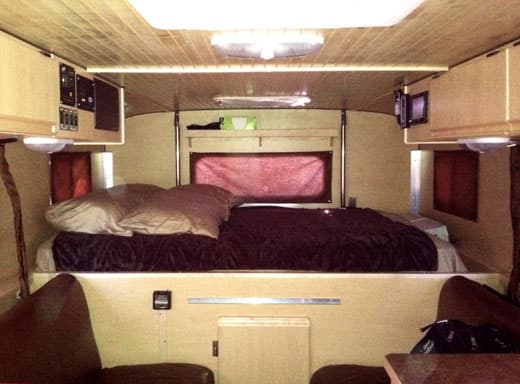 The door you see in the bottom of the picture goes into the storage area and can be removed.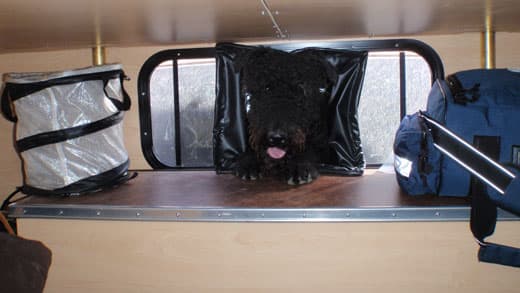 Above: Carl's dogs use the pass through to go from truck to camper and back
We keep a center isle cleared in the storage area so our dogs can go back and forth between the camper and the truck.  Our dogs can go through the storage area through the boot to the cab.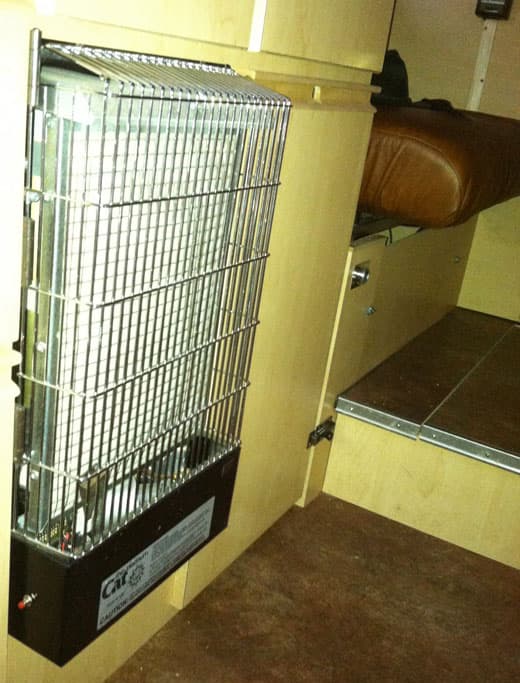 Above: CAT platinum cataytic heater
Carl: The platinum catalytic furnace I mentioned earlier is vented to the outside, so there's no carbon monoxide build up in the camper.  The platinum catalytic furnace runs off 12 volt and propane and features a thermostat to keep the camper above freezing.  Typical forced air propane RV furnaces burn way too much propane and quickly drain your batteries.  The platinum catalytic furnace is a much more efficient solution.  Dual pane thermal windows and extra thick walls also help keep us warm.
There's a Yaesu FT-7900 ham radio with a five foot Comet antenna for extended range communication.  I also have a cell phone and WIFI booster.  In most of the areas we travel to we have poor cellular service at best.  The booster helps me to get a signal.  Finally, there's a Viper alarm that extends to all of our camper doors and windows.
TCM: In one of the pictures there's a Laguna table, normally used for sailboats.  Where did the idea for a Laguna table come from?
Carl: Sometimes I'll go through the forums and see what people have done with their campers.  A person I talked to on the Expedition Portal found the Laguna table at a sailboat manufacturer.  He put it in, showed it on the forum, and I saw it there.  I didn't like the leg that came down on the standard Alaskan table because the dogs and our legs ran into it.
TCM: Do you use your truck for anything else?  Or is it dedicated for your camper?
Carl: It's pretty much dedicated to the camper.
TCM: You have a forty-five gallon water tank and only a five gallon grey tank.  Where does all your grey water go?
Carl: At campgrounds we'll use the sewer to drain the grey water, so we don't need the grey tank.  When we're out in the boonies, I don't worry about it because it's grey water and we use biodegradable soap and it goes in the ground.  If we're in an area where it's forbidden to dump grey water, we have a five gallon grey water tank.
TCM: With the truck being a cab and chassis, it doesn't look like the camper is demountable.  Is the camper demountable?
Carl: Yes, the camper is demountable.  We have Rieco-Titan camper jacks.  I don't like to leave the jacks on because they can catch things on the backroads.  If I need them, I bolt them on like a normal truck camper.
While we're traveling, the jacks sit in a storage pod up front.  They're always with us.  I have manual jacks and we can use air tools to get them up and down.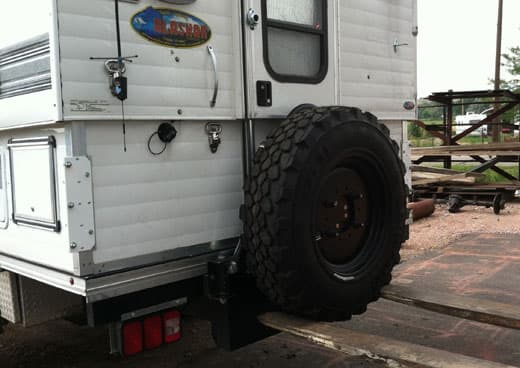 Above: Carl moved the spare tire to the back of the camper so that it's better protected from debris
TCM: With the exceptional length of the camper, have you had any issues with center of gravity?
Carl: It's not been an issue at all.  The front of the 5500 trucks are so heavy with the diesel engine and the Alaskan Camper is relatively light weight compared to most multi-slide truck campers.  The whole rig is 15,000 pounds.
We had to do several waves to get it registered with the county as a recreational vehicle.  Then it was another wave to get them to recognize it was a detachable RV with a detachable camper.  The county registered it as a, "pickup with camper".  I actually took it down to the county and showed them how the camper detaches from the truck.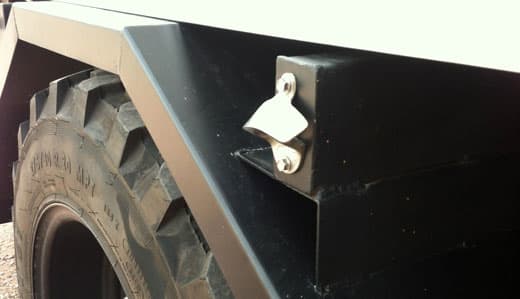 Above: According to Carl, the most important mod he's done to his rig is the beer bottle opener
TCM: The most important mod, indeed.  It's almost hard to imagine that you could modify this truck and camper any further.  Are there any more mods planned?
Carl: I want to put aluminum boxes underneath the bed for the camper jacks.  They take up a lot of space and it would be great to give them their own boxes.  I will probably put some additional lights on the truck as well.  Other than those two mods, we have pretty much done everything we want to do.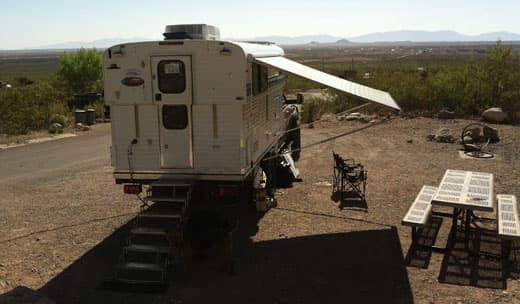 TCM: Are you still using your truck camper as a place to stay while you're working?
Carl: Yes, I use the rig to go back and forth to work every week.  We've also been on a trip to Oregon, a trip to New Mexico, and multiple fishing trips.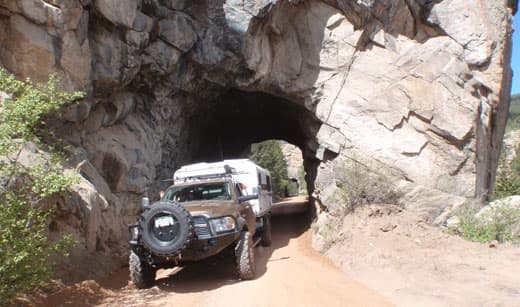 TCM: Do you have any future trips planned?
Carl: Our next trip will be at the end of March.  We're taking New Mexico backroads all the way Chaco Canyon and Canyon de Chelly.  We are taking dirt roads almost the whole way.
CARL ISNER'S TRUCK CAMPER RIG
TRUCK: 2012 Dodge 5500 Laramie Crew Cab, 197″ wheel base, single rear wheel, 4×4, diesel
CAMPER: 2012 Alaskan Camper 14.3 feet
JACKS: Rieco-Titan Mechanical
TIE-DOWNS/TURNBUCKLES: Camper is bolted to the frame of the flatbed, and then it bolts to large angle pieces underneath, no turnbuckles
SUSPENSION: Firestone airbags, flat bed has own suspension system
GEAR: See article for Carl's many upgrades