After fire destroyed his first Alaskan Camper, Carl Isner went all out designing his new off-road ready Alaskan Camper and Dodge Ram 5500.  This is one extreme Alaskan.

When we saw the first few pictures of Carl Isner's new Alaskan Camper rig, we weren't even sure that it was a truck camper.  Where's the cabover?  Where are the jacks?  And isn't that a little long for a truck camper?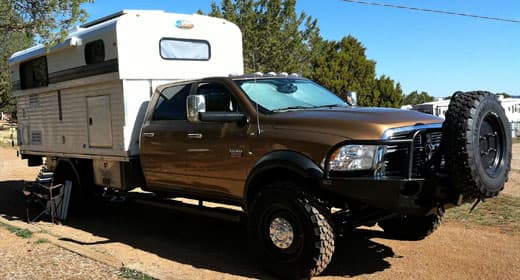 The answers to these questions are very interesting, and prove that this Alaskan Camper is indeed a truck camper.  The answers also illuminate just how off-the-hook this Alaskan Camper rig truly is.  If you want to see an extreme rig that's ready to take you to the ends of the Earth, Carl has an example for you.
TCM: This is quite an extraordinary Alaskan Camper rig.  When did the planning for this truck and camper get started?
Carl: The plan for this rig started about twenty-four hours after my first Alaskan Camper burned to the ground on November 11, 2011.  The insurance company refused to tell us what happened, but we believe it was a faulty furnace.
TCM: That's terrible.  Was anyone hurt?
Carl: No one was in the camper and nobody got hurt.  After the fire, I called Bryan Wheat, President of Alaskan Campers, and he put us down for the very next camper build.  We loved our Alaskan Camper and there was no doubt we were getting another.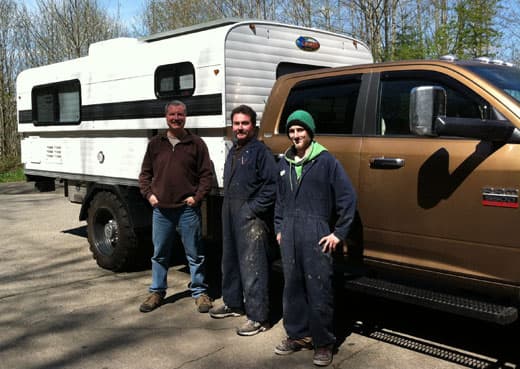 Above: Bryan Wheat, President of Alaskan Campers, and Alaskan team members Rick Bremgartner and Matt Chesler
TCM: Why did you decide to order your new Alaskan without a cabover?
Carl: It's easier to keep the camper warm in the winter if you don't have a cabover.  The folding hard sides on an Alaskan are insulated, but they're not as thick as the actual side walls of the camper.  Living in Colorado, we use the camper in the winter months quite a bit.  Having a deep storage area under the bed really helps to keep the sleeping area warm.  It's also easier to put the pop-up roof up and down without the cabover.
TCM: What else did you change from your first Alaskan Camper?
Carl: Since we had to do it all over again, we decided to upgrade everything.  Bryan will literally do anything you want on your Alaskan Camper.  For example, I found a platinum catalytic furnace and Bryan made it happen.  Everything was upgraded.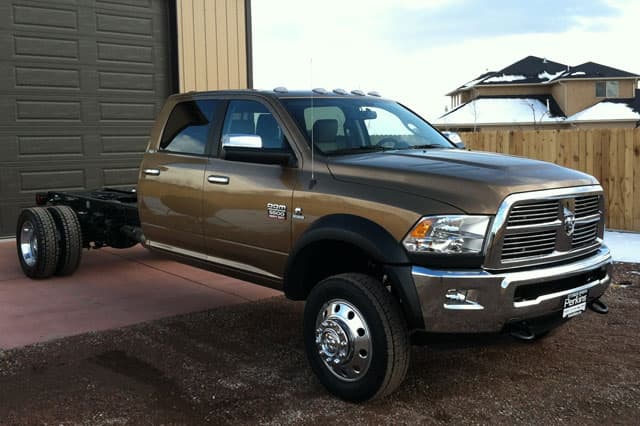 TCM: You don't see too many Dodge Ram 5500 truck camper rigs.  What made you go in that direction?
Carl: Again, we wanted to upgrade and decided on a cab and chassis Dodge Ram 5500.  The truck arrived in January.  Soon after we got a Ute aluminum flat bed, we had it installed by a local welder.
The welder also extended the beams of the truck back about three and a half feet.  The beams are matching and articulate away from the chassis using large truck valve springs.