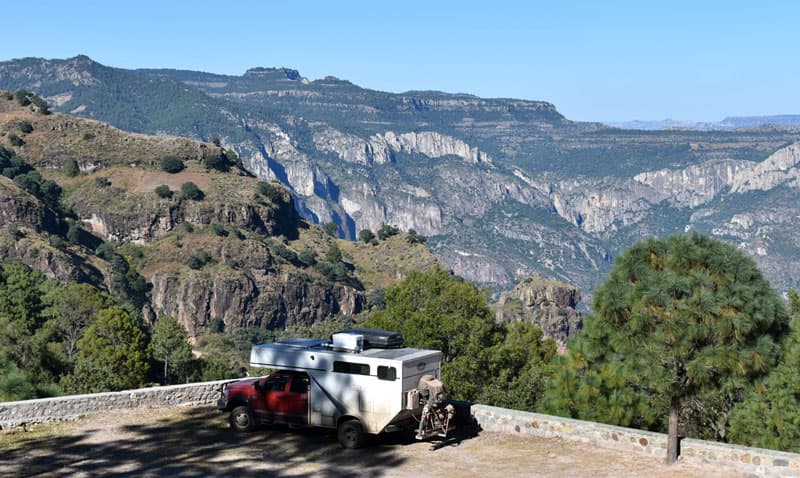 TCM: Beyond selling everything, how did you prepare for your trip around the world?
Doug: We used the same approach; a series of smaller goals to reach a big goal.  The first destination we planned for was Baja, California.  Then we focused on the ferry over to mainland Mexico.
As we travel, we continue to research where we want to go and what we want to do.  We have a big blue binder where we've compiled information on border crossings and what we need to do for each country.  We've already researched shipping our rig from Panama to Columbia.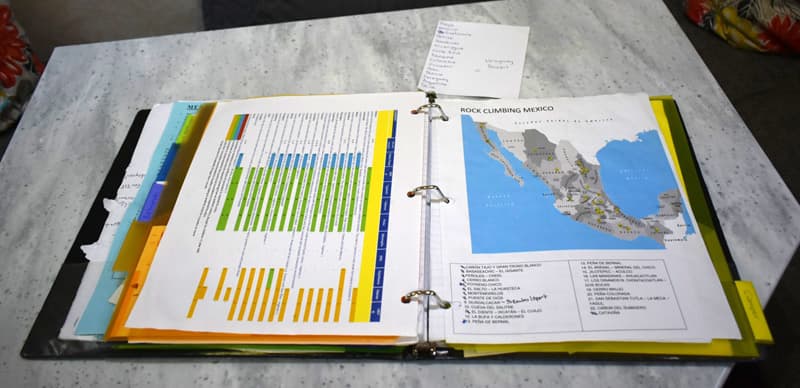 We also learn from people we meet to on the road.  Lindsey writes suggestions from people we meet along the way in a binder that is organized by country.  We reference it as we go along.  We have met folks from Europe who have shipped their vehicles and are currently traveling throughout the Americas.  That's how the journey is going to transform; from the inspiring people we meet and the places they recommend we visit.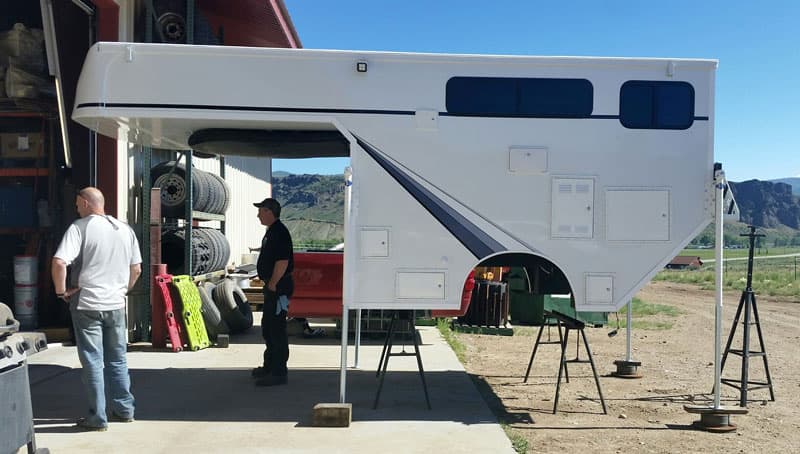 Above: Here is their Phoenix Camper off the truck
TCM: We call that road magic.  Let's talk about your Phoenix Custom Camper.  First and foremost, is it demountable?  In the world of truck campers, if it doesn't demount, it doesn't count.
Doug: Yes, it's demountable.  We can take the camper on and off using the corner jacks, just like any other truck camper.  We wanted to be able to demount the camper if we needed to.
We also wanted the camper to be mounted tightly to the truck chassis so we didn't waste any storage space.  The interior of the cabin is substantially larger than a regular truck camper.  We didn't want to give that up, and we didn't need the truck bed.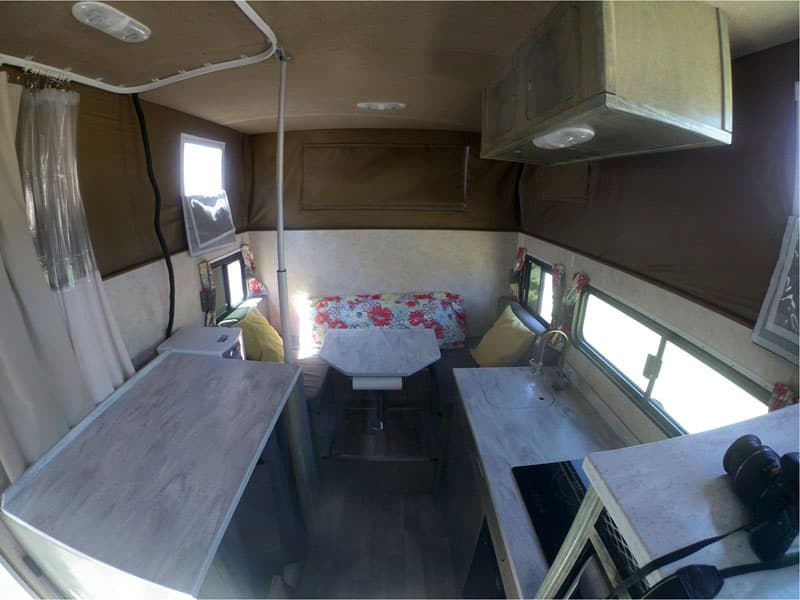 Cari and Robby make a flatbed model that's not demountable.  We considered that.  I wanted a full-size door and the chassis-mounted camper allowed us to have almost a full-size door.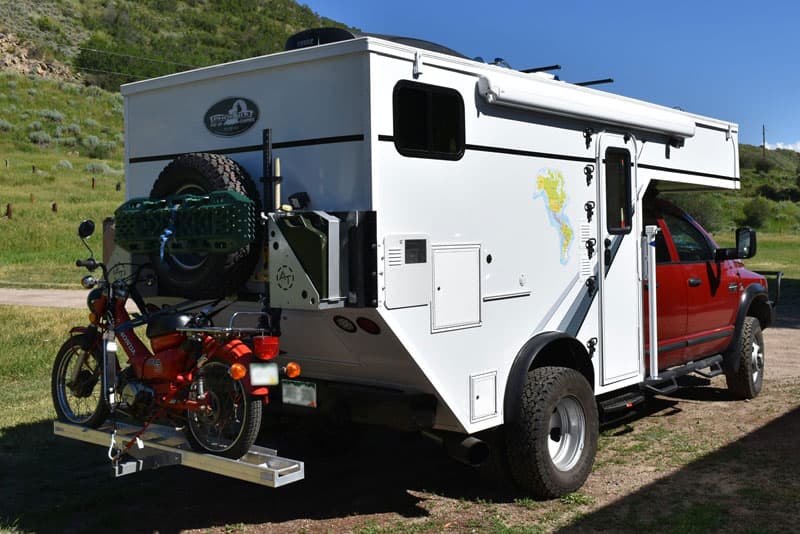 Above: Their pop-up truck camper has a full-size side entry door
This is our house, so I didn't want to have to duck in and out of the rig.  That's another big reason we wanted the chassis mounted camper with a side entry.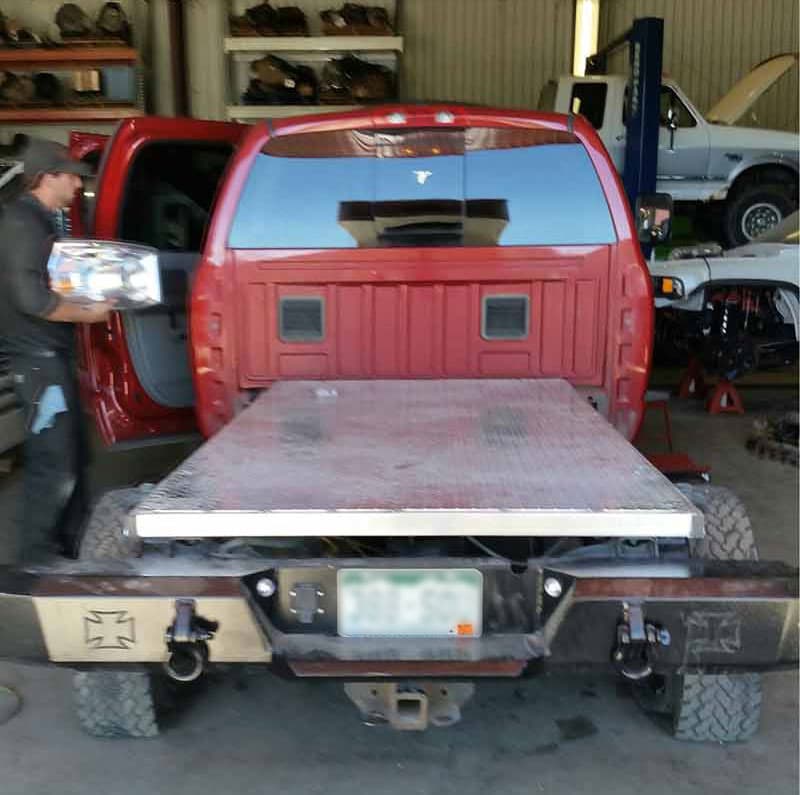 Above: Their 1.5-inch deep custom diamond plate flatbed
TCM: The camper appears to be sitting on a small flatbed.  Is that also custom?
Doug: The truck chassis has a 1.5-inch deep custom diamond plate flatbed that's bolted to the frame.  The camper sits on top of that.  The mounting bolts go through the flatbed to the frame.