Doug and Lindsey ordered a Phoenix Custom Camper, sold everything, quit their jobs, and are traveling the world in search of a new place to call home – with a very special mattress.
When we started Truck Camper Magazine, we could count the number of folks we knew who were living full-time in a truck camper on half of one hand.  Eleven years later, it's almost weird when we meet a new couple who isn't living full-time in their truck camper, or planning to do so.  I'm exaggerating a bit of course, but there's no denying that the concept of living full-time in a truck camper has moved from the fringe to practically mainstream.
And why not?  The tiny house craze has certainly captured the broader public's imagination, and truck campers make a whole lot more sense.  First, truck campers are almost all fully self-contained.  Second, truck campers are much easier to transport and are accepted at RV parks.  And third, truck campers were compact and off-grid before anyone said that was cool.  In fact, most truck campers make tiny homes look huge and wasteful in comparison.  If compact and efficient is cool, we're way cool.
The story of couples deciding to go full-time in a truck camper almost all start with quitting jobs, selling houses, selling belongings, and taking a big leap.  Fortunately, that's where the story similarities usually end.  Everyone who takes this plunge has a different reason for abandoning the standard life plan, and taking to the road.
Doug and Lindsey's full-time truck camping story hit us in waves.  We were initially struck by their unique Phoenix Custom Camper.  Designed from the truck frame up for their full-time journey into Mexico and South America, their rig has some extraordinary features and design elements.  We've never seen a demountable truck camper quite like it.
The next thing that impressed us was their mission.  You see, Doug and Lindsey aren't just on a trip to explore the world.  They're looking for a new home, and a place to start a new business.  More specifically, they want to start a hostel or restaurant, but don't know which country they want to settle down in yet.
If this hasn't resonated with you yet, allow me to put it all together.  These folks quit their jobs, sold their house, sold their belongings, and are now traveling the world in search of a new home.  This is practically Star Trek folks… exploring strange new worlds, seeking out new life and civilizations, and boldly going where few men (and women) have ever gone before.  Make it so Doug and Lindsey!  Live the postcard.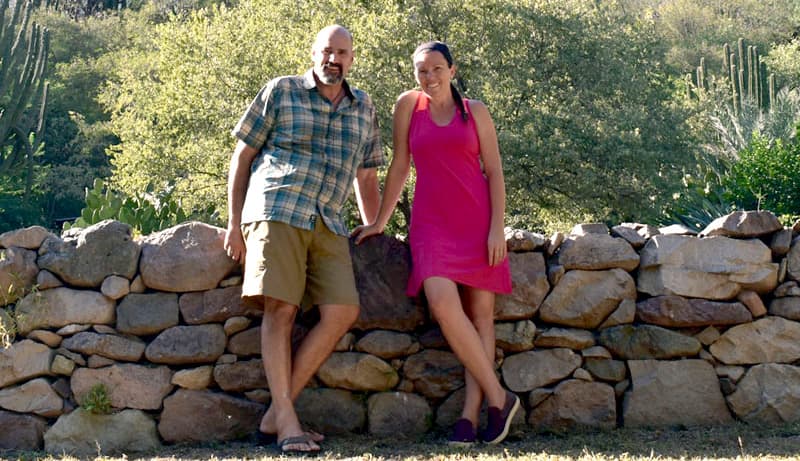 TCM: Tell us the story of how you were first introduced to camping and truck campers.
Lindsey: We are two outdoor enthusiasts who grew up in the mountains.  I grew up in Colorado and Doug grew up in California's Sierra Nevada mountains.  We both spent many years tent camping and also sleeping in the back of our Toyota Tacoma.  We had never owned a camper before.
Doug: Four years ago, we were camping with Lindsey's cousin and husband over a Fourth of July weekend.  We had our tent and they had a slide-in pop-up camper.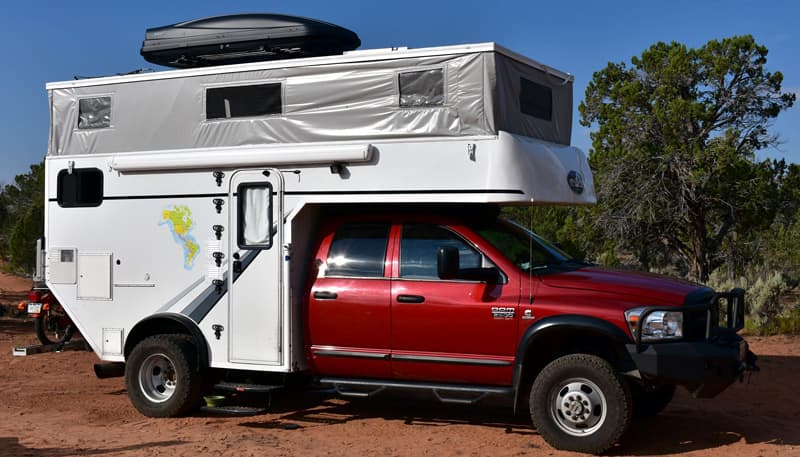 We had been planning to travel extensively, and we had always said, "How can we travel the world and take our mattress with us?"  It struck us that night at the campsite that a truck camper was the answer.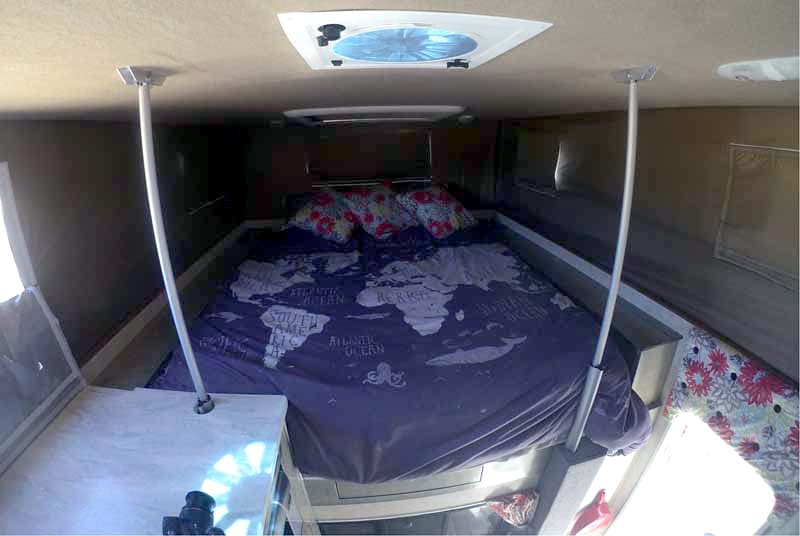 TCM: Your mattress?
Doug: We have had a Tempur-Pedic mattress for a long time.  It is so comfortable.  Before we saw Lindsey's cousin's pop-up truck camper, we couldn't figure out how to take our mattress around the world.
With that vision, we had to find a pop-up camper that could accommodate our Tempur-Pedic.  That search led us to Cari and Robby Rowe of Phoenix Custom Campers.
The Tempur-Pedic mattress is 12-inches thick.  Most pop-up truck campers are designed to fit a 5-inch mattress and cannot fit anything thicker.  When we asked Robby if he could build a camper that could fit our 12-inch mattress, Robby said – in true Robby fashion, "I can do that.  No problem!"