Doug and Lindsey ordered a Phoenix Custom Camper, sold everything, quit their jobs, and are traveling the world in search of a new place to call home – with a very special mattress.
When we started Truck Camper Magazine, we could count the number of folks we knew who were living full-time in a truck camper on half of one hand.  Eleven years later, it's almost weird when we meet a new couple who isn't living full-time in their truck camper, or planning to do so.  I'm exaggerating a bit of course, but there's no denying that the concept of living full-time in a truck camper has moved from the fringe to practically mainstream.
And why not?  The tiny house craze has certainly captured the broader public's imagination, and truck campers make a whole lot more sense.  First, truck campers are almost all fully self-contained.  Second, truck campers are much easier to transport and are accepted at RV parks.  And third, truck campers were compact and off-grid before anyone said that was cool.  In fact, most truck campers make tiny homes look huge and wasteful in comparison.  If compact and efficient is cool, we're way cool.
The story of couples deciding to go full-time in a truck camper almost all start with quitting jobs, selling houses, selling belongings, and taking a big leap.  Fortunately, that's where the story similarities usually end.  Everyone who takes this plunge has a different reason for abandoning the standard life plan, and taking to the road.
Doug and Lindsey's full-time truck camping story hit us in waves.  We were initially struck by their unique Phoenix Custom Camper.  Designed from the truck frame up for their full-time journey into Mexico and South America, their rig has some extraordinary features and design elements.  We've never seen a demountable truck camper quite like it.
The next thing that impressed us was their mission.  You see, Doug and Lindsey aren't just on a trip to explore the world.  They're looking for a new home, and a place to start a new business.  More specifically, they want to start a hostel or restaurant, but don't know which country they want to settle down in yet.
If this hasn't resonated with you yet, allow me to put it all together.  These folks quit their jobs, sold their house, sold their belongings, and are now traveling the world in search of a new home.  This is practically Star Trek folks… exploring strange new worlds, seeking out new life and civilizations, and boldly going where few men (and women) have ever gone before.  Make it so Doug and Lindsey!  Live the postcard.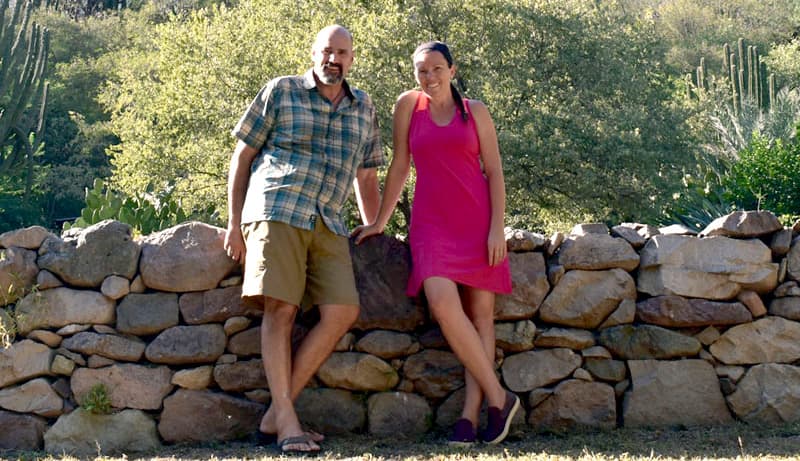 TCM: Tell us the story of how you were first introduced to camping and truck campers.
Lindsey: We are two outdoor enthusiasts who grew up in the mountains.  I grew up in Colorado and Doug grew up in California's Sierra Nevada mountains.  We both spent many years tent camping and also sleeping in the back of our Toyota Tacoma.  We had never owned a camper before.
Doug: Four years ago, we were camping with Lindsey's cousin and husband over a Fourth of July weekend.  We had our tent and they had a slide-in pop-up camper.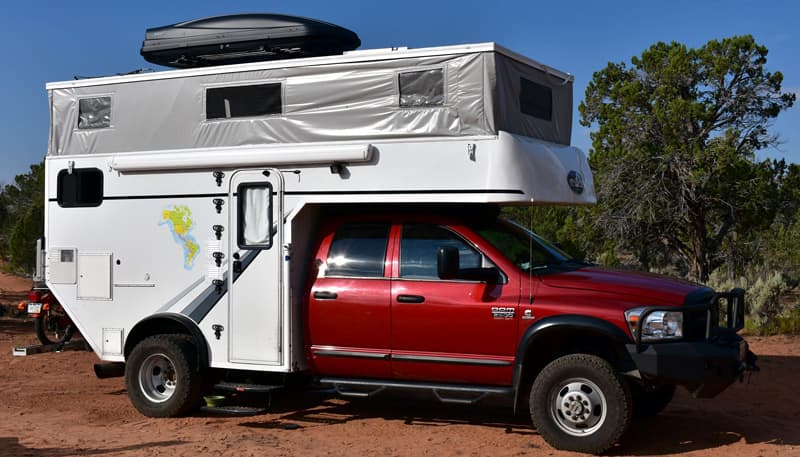 We had been planning to travel extensively, and we had always said, "How can we travel the world and take our mattress with us?"  It struck us that night at the campsite that a truck camper was the answer.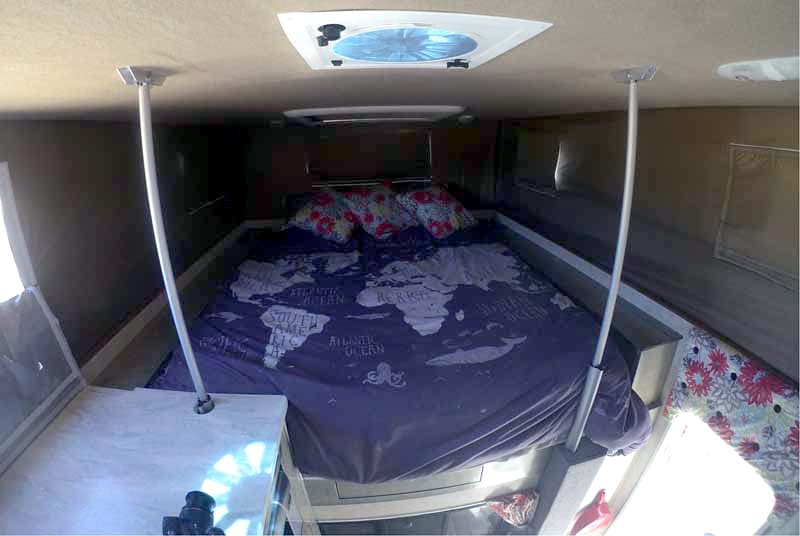 TCM: Your mattress?
Doug: We have had a Tempur-Pedic mattress for a long time.  It is so comfortable.  Before we saw Lindsey's cousin's pop-up truck camper, we couldn't figure out how to take our mattress around the world.
With that vision, we had to find a pop-up camper that could accommodate our Tempur-Pedic.  That search led us to Cari and Robby Rowe of Phoenix Custom Campers.
The Tempur-Pedic mattress is 12-inches thick.  Most pop-up truck campers are designed to fit a 5-inch mattress and cannot fit anything thicker.  When we asked Robby if he could build a camper that could fit our 12-inch mattress, Robby said – in true Robby fashion, "I can do that.  No problem!"
TCM: So it was Robby's positive approach to fitting your mattress that had you choose a Phoenix Custom Camper?
Doug: Yes.  We researched campers extensively.  We looked at off-the-shelf truck campers that were light and nicely equipped, but they lacked some of the features we wanted for our journey.  Ultimately, we wanted a camper that could handle our bed.
Then we found Cari and Robby and loved the campers they were making.  The can-do attitude of Robby and Cari at Phoenix was the deciding factor.  The custom camper they would build for us would be everything we wanted and nothing we didn't.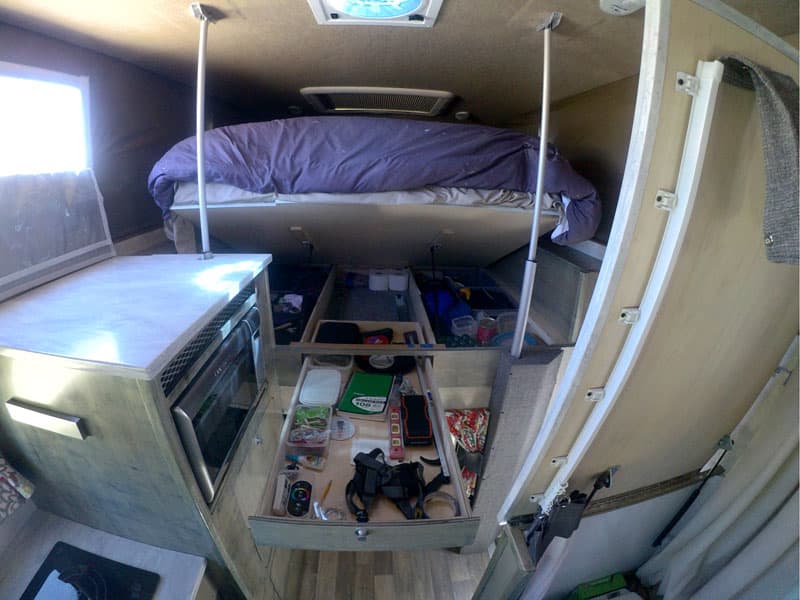 Above: Storage under their Tempur-Pedic mattress
TCM: Before we talk more about your camper, tell us about the journey you had in mind.  Where did you want to go?
Doug: We will be traveling throughout Mexico, Central America, and South America.  There is a possibility that we will continue traveling and ship our rig to southeast Asia from Argentina.
The journey we're on doesn't have a specified route or timeline.  We're letting things happen as they happen.  We are letting the experiences shape the next leg of the journey.  Right now we're hoping it's South America or somewhere farther.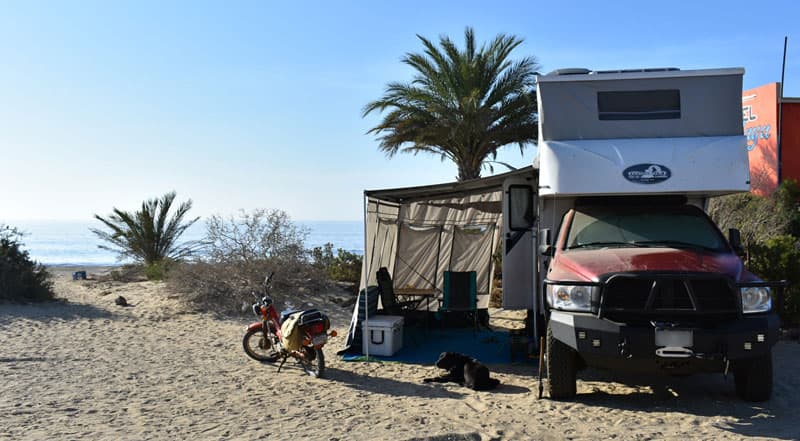 Ultimately we are looking for our next place to call home.  Our goal is to find a place we want to be and open a hostel or restaurant.  We want the next stage of our lives to be running a business for ourselves.
Lindsey and I have more than fifty years of hospitality experience combined working in restaurants and hotels.  That was our world, and we figure we can bring that knowledge to another country.  We have sold all of our possessions and moved into our camper with the dream of traveling the world.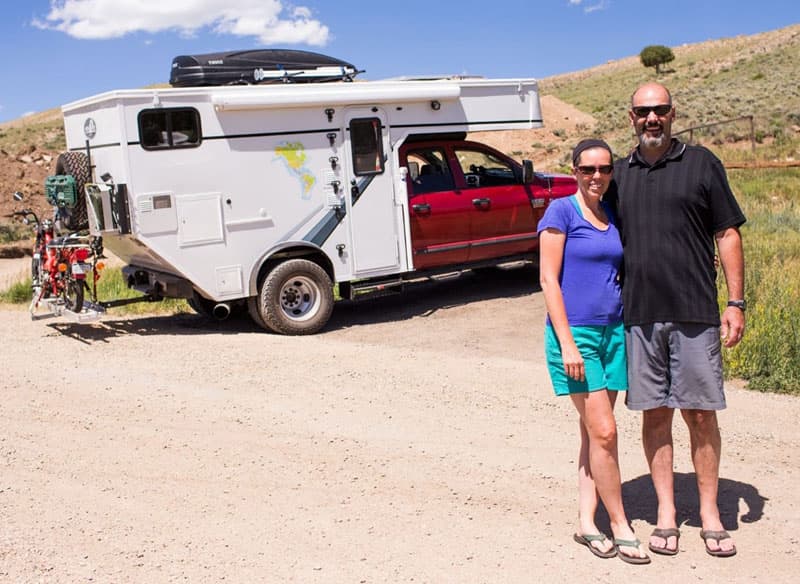 TCM: From your blog, you look fairly young.  Did you quit your jobs?
Doug: Yes, we did.  We also literally sold everything we own.  We did not keep anything.
TCM: You don't have anything in storage?
Doug: No, we do not.  Our family things went to our families.  We scanned pictures and have digital copies.  We did not want to leave and have a storage unit somewhere.  We did not want to deal with any stuff.  Everything we own fits into our rig.
To get to where we are now we had a five year plan and a series of small goals.  We accomplished the small goals, sold our house, reached our five year plan, and hit the road full time in our truck camper.  It can be overwhelming when you think about it.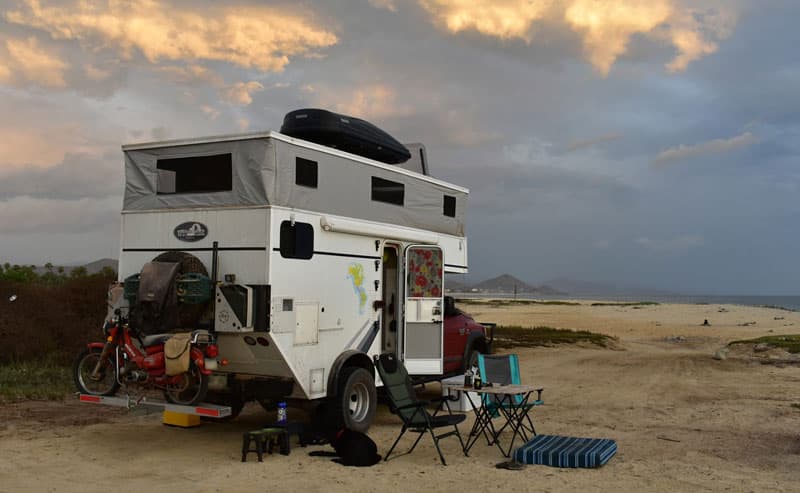 TCM: That's incredible.  Now that you don't have jobs, how are you affording this lifestyle?
Doug: We had a house.  We worked on it for four years and sold it for a healthy profit.  So we have money from that.  We also still own a townhouse that we rent out which gives us a passive income.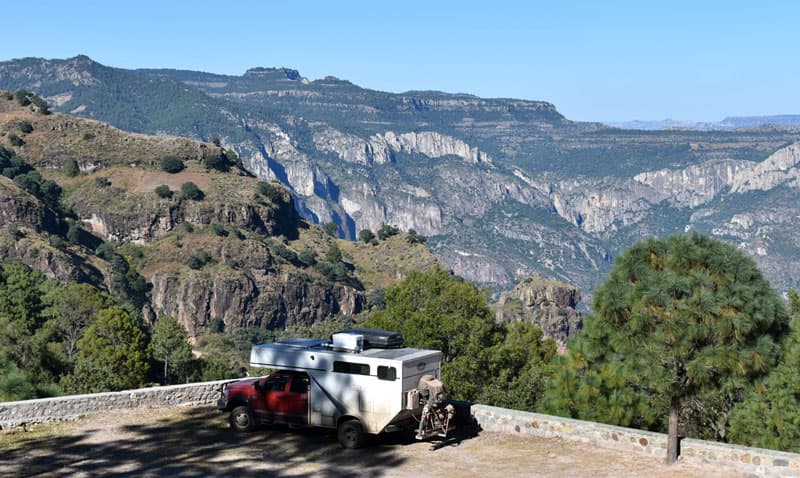 TCM: Beyond selling everything, how did you prepare for your trip around the world?
Doug: We used the same approach; a series of smaller goals to reach a big goal.  The first destination we planned for was Baja, California.  Then we focused on the ferry over to mainland Mexico.
As we travel, we continue to research where we want to go and what we want to do.  We have a big blue binder where we've compiled information on border crossings and what we need to do for each country.  We've already researched shipping our rig from Panama to Columbia.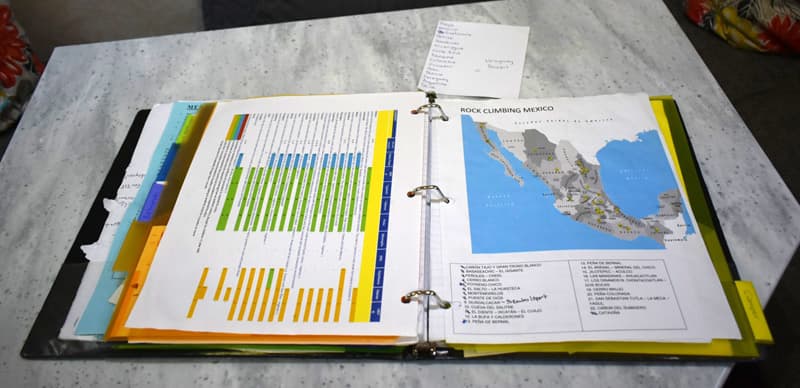 We also learn from people we meet to on the road.  Lindsey writes suggestions from people we meet along the way in a binder that is organized by country.  We reference it as we go along.  We have met folks from Europe who have shipped their vehicles and are currently traveling throughout the Americas.  That's how the journey is going to transform; from the inspiring people we meet and the places they recommend we visit.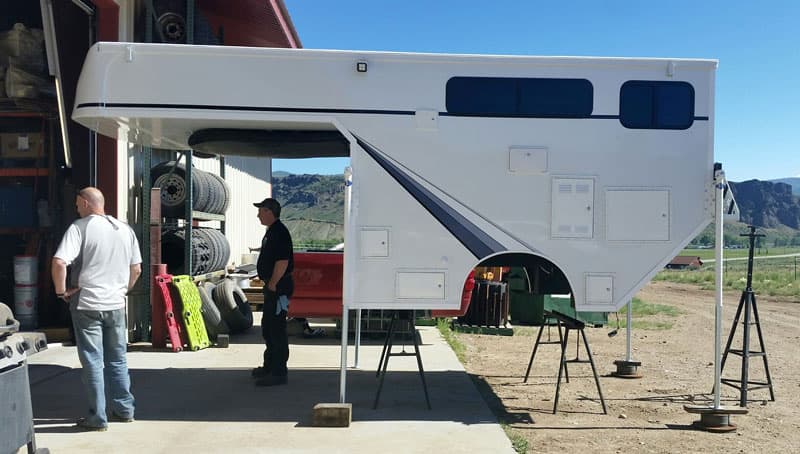 Above: Here is their Phoenix Camper off the truck
TCM: We call that road magic.  Let's talk about your Phoenix Custom Camper.  First and foremost, is it demountable?  In the world of truck campers, if it doesn't demount, it doesn't count.
Doug: Yes, it's demountable.  We can take the camper on and off using the corner jacks, just like any other truck camper.  We wanted to be able to demount the camper if we needed to.
We also wanted the camper to be mounted tightly to the truck chassis so we didn't waste any storage space.  The interior of the cabin is substantially larger than a regular truck camper.  We didn't want to give that up, and we didn't need the truck bed.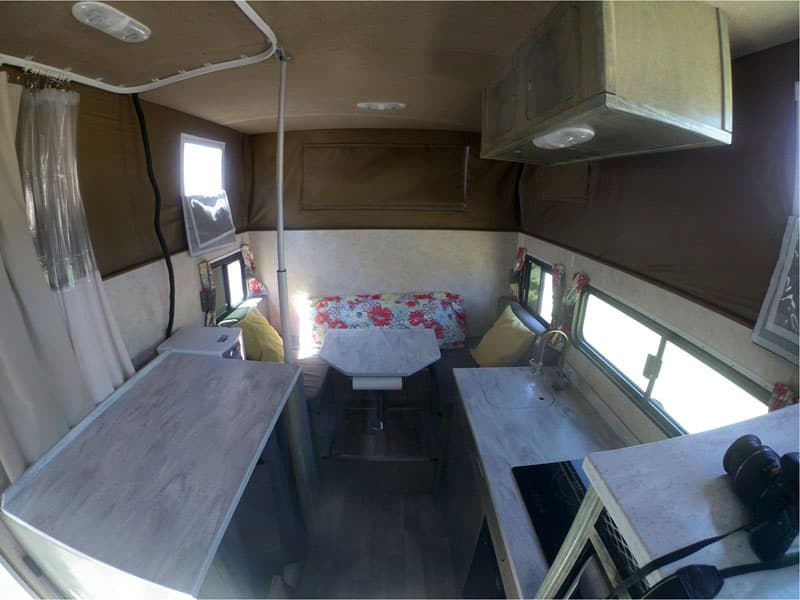 Cari and Robby make a flatbed model that's not demountable.  We considered that.  I wanted a full-size door and the chassis-mounted camper allowed us to have almost a full-size door.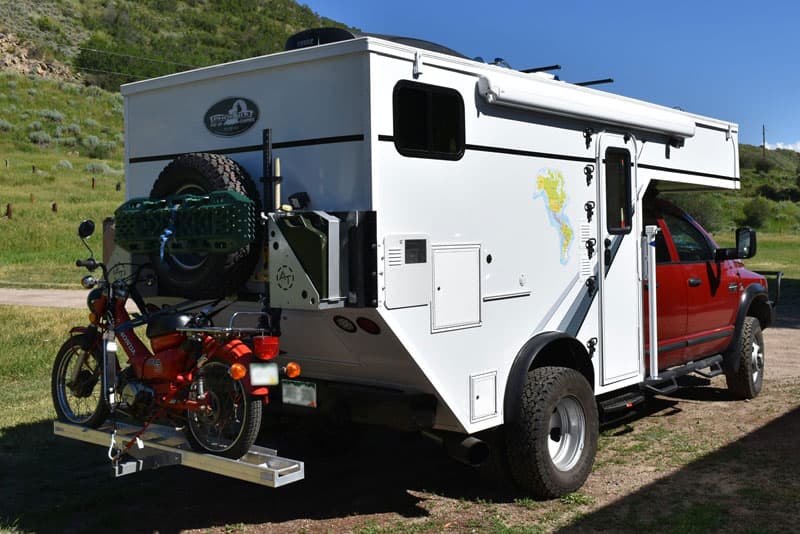 Above: Their pop-up truck camper has a full-size side entry door
This is our house, so I didn't want to have to duck in and out of the rig.  That's another big reason we wanted the chassis mounted camper with a side entry.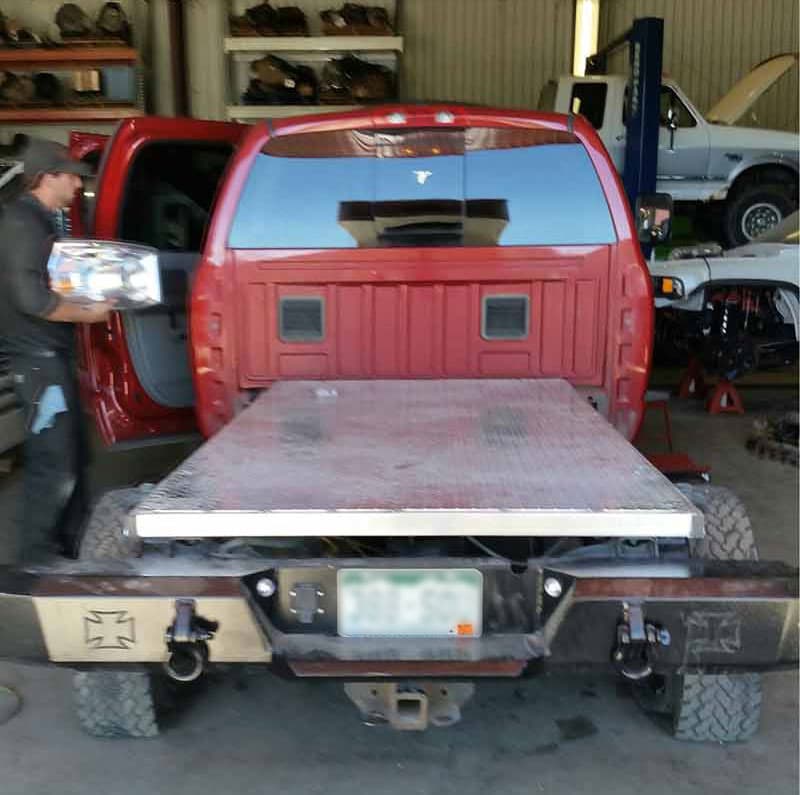 Above: Their 1.5-inch deep custom diamond plate flatbed
TCM: The camper appears to be sitting on a small flatbed.  Is that also custom?
Doug: The truck chassis has a 1.5-inch deep custom diamond plate flatbed that's bolted to the frame.  The camper sits on top of that.  The mounting bolts go through the flatbed to the frame.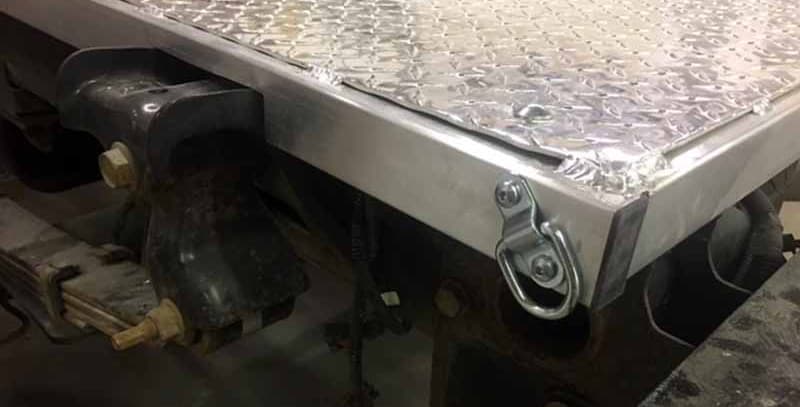 There are six bolts; four bolts of which hold it down.  You undo the bolts, and then lower the jacks on all four corners.  When it's in the air, you need some spotters.  It's not as simple as a regular slide-in camper.  We took it off at the mechanics when I did some suspension work.  It's not as easy as a regular slide-in, but it's doable.
When we take the camper off, the flatbed provides a flat surface we can use.  When we find a beautiful property to build a hostel on, we can take the camper off and set it up to live in.  Then we can use the truck to go buy bamboo and concrete.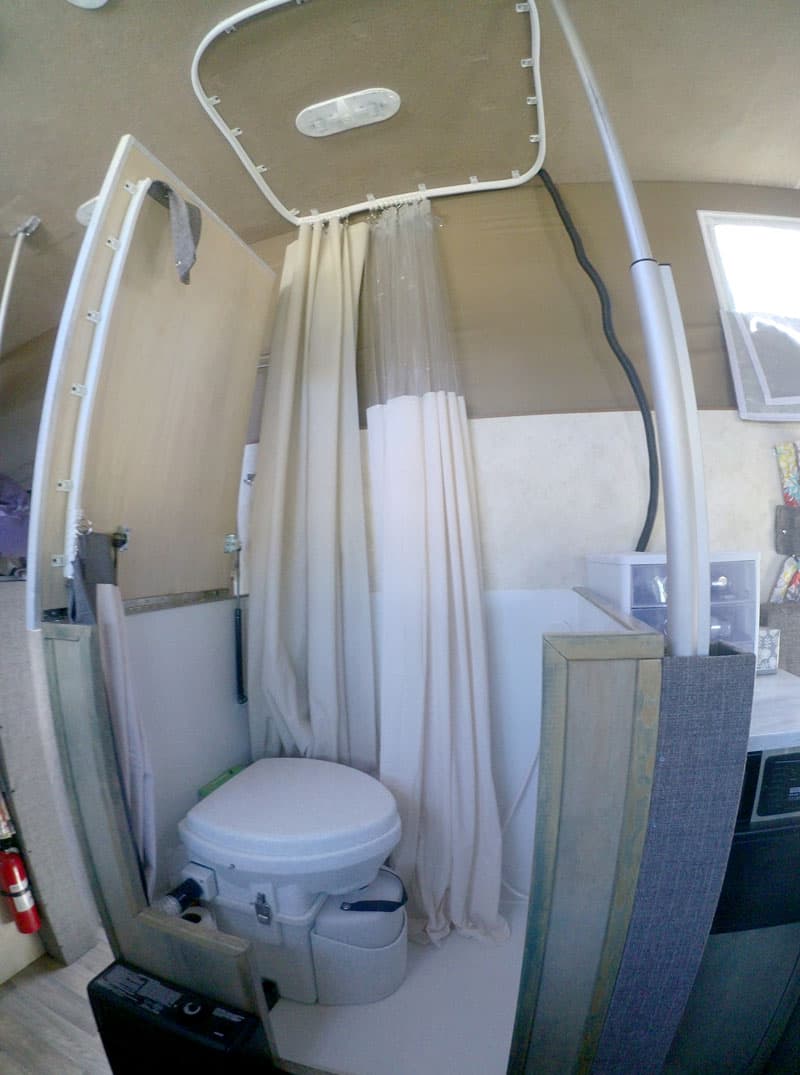 Above: Their wet bath with composting toilet
TCM: You camper features a composting toilet.  From your experience, what are the pros and cons of a compositing toilet?
Doug: We wanted to capitalize on all the space we could.  Composting toilets do not use a black tank or require a removable cassette.  We didn't want to have to find a dump station or use on board water for the toilet.
We selected a composting toilet by Nature's Head.  The Nature's Head toilet is compact and self-contained.  It works by separating liquids and solids.  The liquids go in a separate tank, and the solids go in the main tank.  Separating minimizes odors.
After about ten days, there's a big jug that you take out and dump.  The liquid can be dumped in a toilet.  The solids can be put into a trash bag or saved for compost.  The solids are mixed with organic material, so there's nothing toxic about it.
We are not going to be able to find dump stations everywhere in the world.  I don't want to be tied to finding a dump station.  We also spent years white water rafting and going out in the bushes, therefore this is not much different.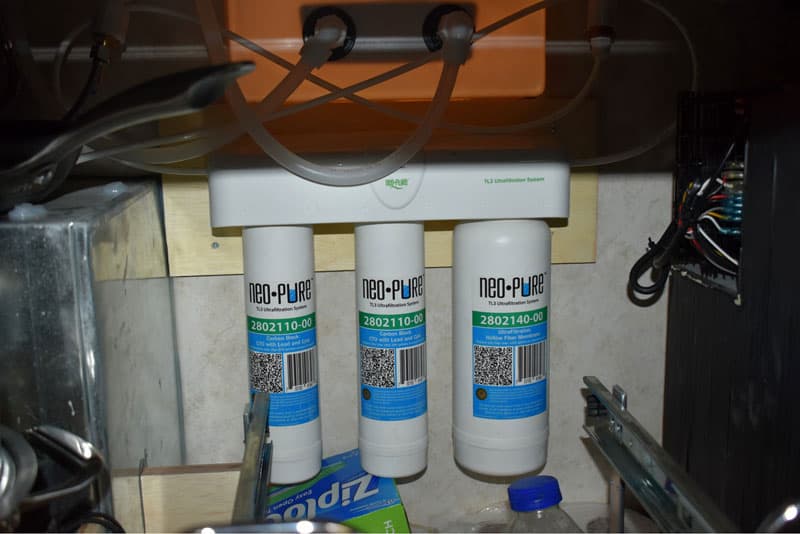 Above: Doug and Lindsey's camper features a water filtration system
TCM: Your camper also features a water filtration system.  What was the thinking behind installing that system?
Doug: I have read about people who fill their tanks in different countries and use that water only for washing.  Then they would buy five gallon fresh water jugs for drinking water.
I don't want to worry about having to buy filtered water while traveling.  I want to be able to fill from any domestic water source no matter where I am located.
I called the guys from freshwatersystems.com and chatted with them.  Based on their recommendations, our water goes into a super chlorinated tank.  From there, water goes through a pump and then through a 10-inch whole house carbon filter.  The carbon filter removes the chlorine.  Next the water goes through another 10-inch filter that supplies the kitchen sink and interior and exterior showers.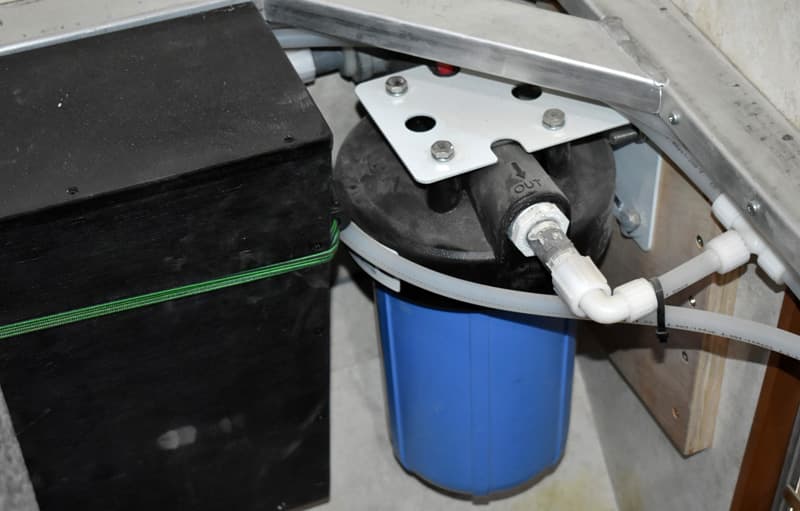 For the drinking water, there's one more stage of filtration.  There are three more filters.  One has .05 microns, and the other two filters are hallow fiber filters of .025 microns.  Once the water has been through all of those filters, 99.9-percent of all bacteria is gone.  We can have fresh water no matter where we are located.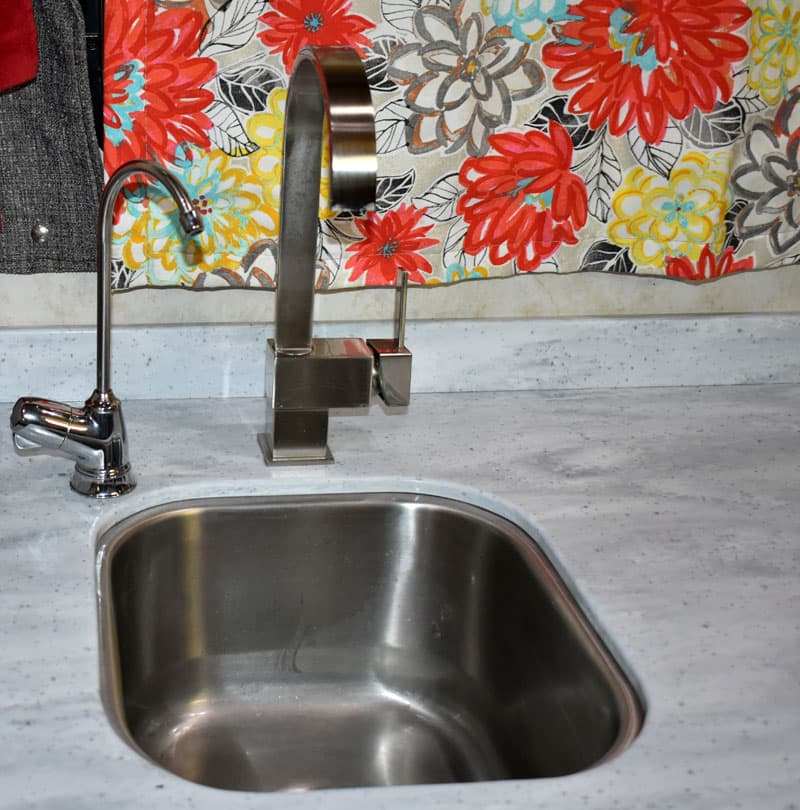 Above: Filtered water for drinking is on the left and sink water is on the right
TCM: So you have two faucets in your kitchen; one for washing dishes and one for drinking water?
Doug: That's correct.  We also carry five gallons of water in the jerry can on the back of our camper.  That way we don't have to open up our home if we want to share water with someone else.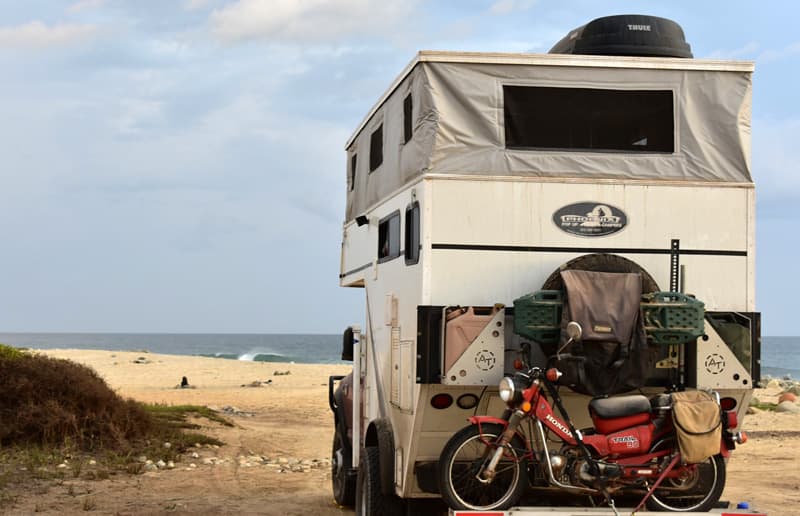 Above: The five gallon jerry can is stored on the back of their camper
Since we dry camp so often, we carry 50 gallons of water, 300-watts of solar, and four 6-volt batteries.  If we ration our food and water appropriately, we can be off-grid for ten days.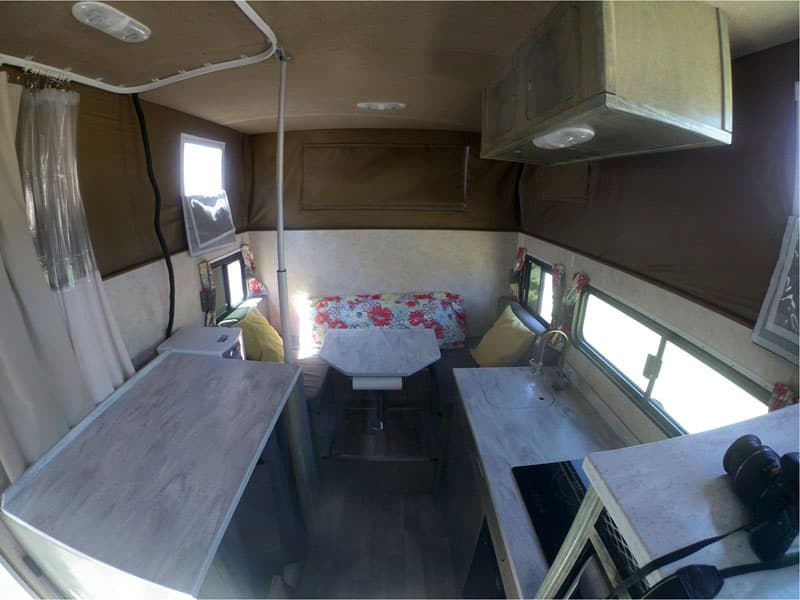 Above: On the left is the countertop that comes down over the bathroom
TCM: Those are some impressive capacities, especially for a pop-up truck camper.  Did you ask for any other specific features in your Phoenix Custom Camper?
Doug: We had a number of custom feature requests.  When we're not using the bathroom, we have a countertop that comes down over the bathroom.  That's a useful flat surface.  When we need to use the bathroom, the countertop lid goes up and becomes the back wall of the bathroom.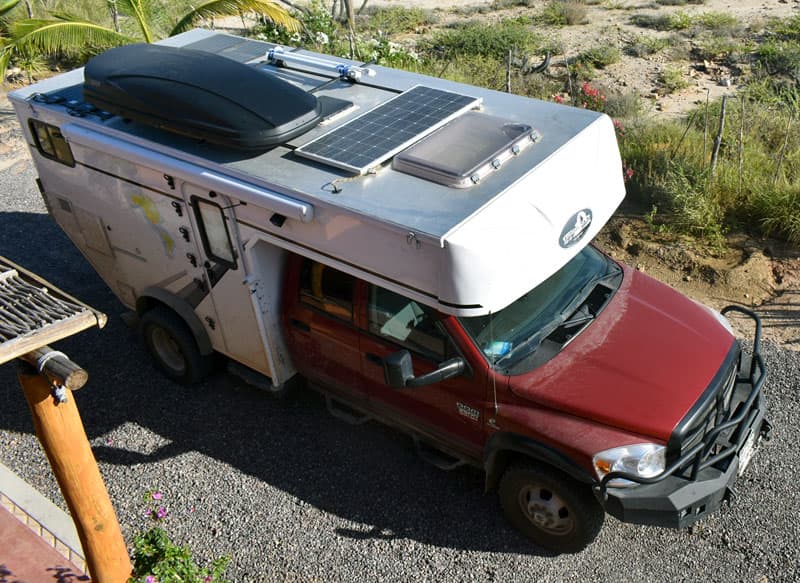 One of our 100-watt solar panels is removable.  Two of them are a mat and are affixed to the roof with bolts.  We can take the third removable panel down and plug it in on the side.  It has 30-feet of cable.  With this approach, we can park in the shade and still put a panel in the sun for charging the camper.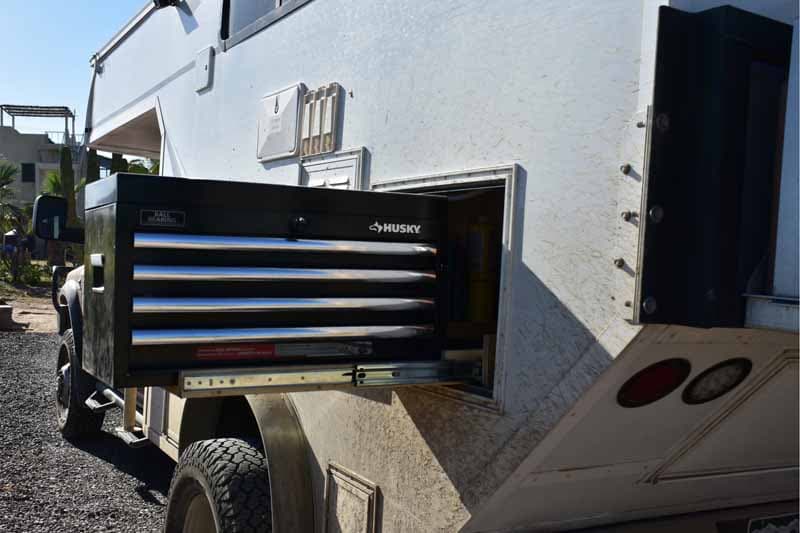 I have a side compartment with a sliding drawer for my tool box.  We have an induction cooktop so we don't need propane to cook.  There are a lot of custom features.
TCM: Now that you've been traveling with the camper for a while, is there anything you wish you had done with the truck or camper?
Doug: Amazingly, I feel like we did a pretty good job anticipating our needs.  We feel good about that.  If we were to do it again, we would put the bathroom on the opposite side because of the vents being on the side of the door.  That's about it.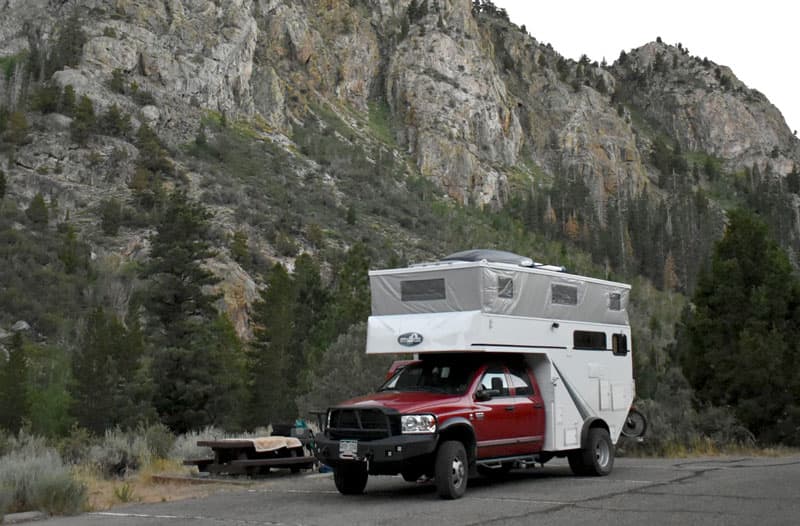 TCM: Has the trip impacted your life the way you had hoped it would?
Doug: We've been on the road since July 2nd.  Lindsey and I have always been people who are very focused.  We originally started off looking at this as our job.  That's the way we are.
It's been challenging for us to slow down.  Trying to dial that back has been difficult.  We have done better with that over time, and have started taking things in stride.  I don't think we've been on the road long enough to fully figure it out.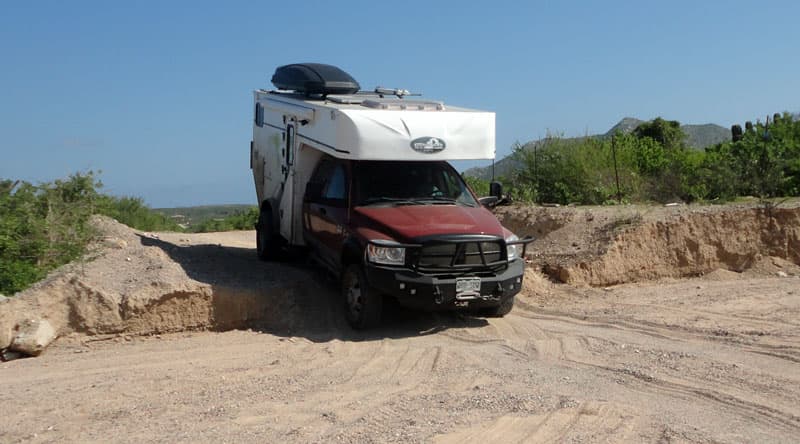 Above: Driving off-road in Baja Sur, Mexico
Traveling has started to feel familiar.  We'll travel into a town and know where the grocery store, gas stations, and restaurants are located.  When you're traveling for longer times you start peeling back those layers and looking past the initial facade.  We've been enjoying that.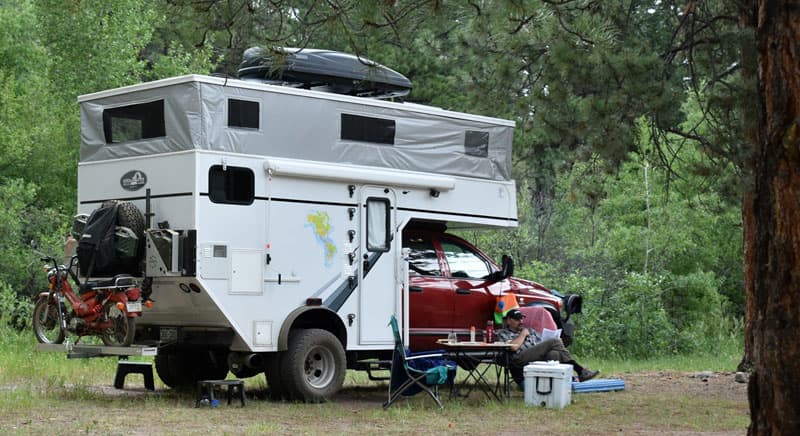 TCM: Quitting your jobs, selling your house and belongings, and living full-time in a truck camper while traveling the world is obviously unusual.  How have your family and friends reacted to your new lifestyle?
Doug: This has been a big adjustment for our families, but I don't think they were overly surprised.  They saw our plan come together, and realized that we were actually going to do it.
As time went on, they started asking questions and we had the answers.  They also saw our research, so they knew that we thought about everything and planned ahead.  They are now more on board than they were.  They want us to be successful.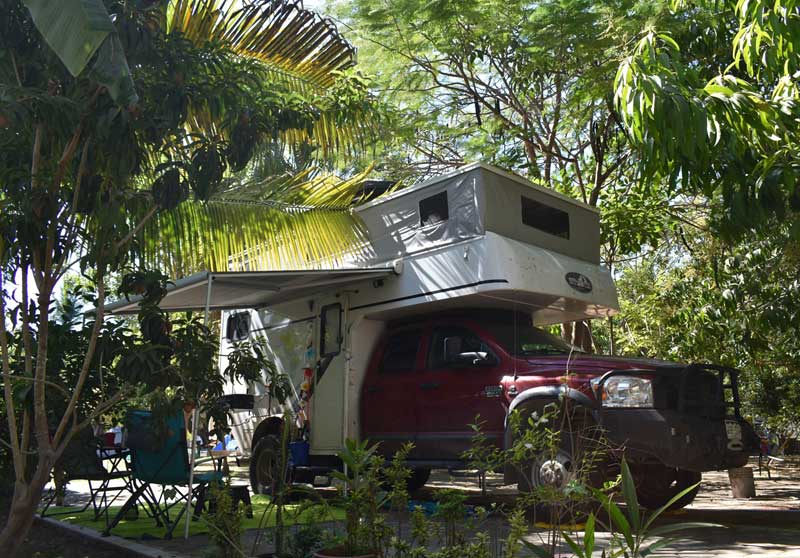 TCM: Do you fly back to visit your family every once in awhile?
Doug: We would like for people to come visit us.  We're trying to set it up for Lindsey's parents to meet us in Cancun.  That would be a good place for them to fly into and get a hotel.  My mom likes Costa Rica so she may come visit us and see what we're doing there.  That's the plan.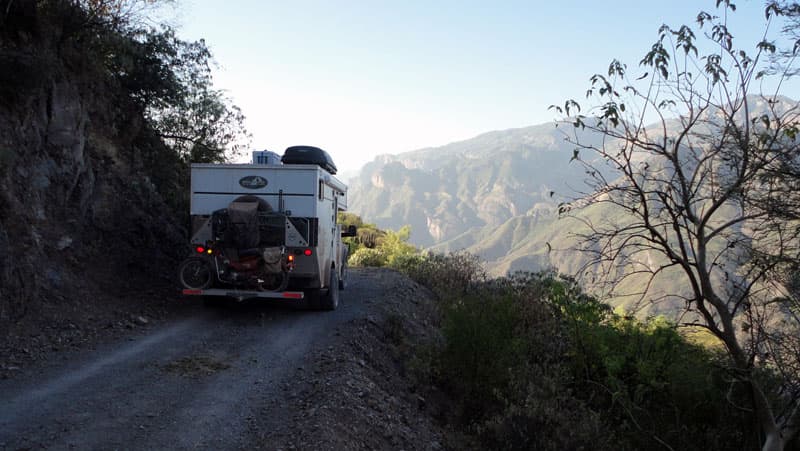 TCM: It would be great for your family to see you along your journey and become part of the experience.  What advice would you have for folks who might want to follow in your tire tracks?
Doug: The number one question we hear when we share our world travels is, "Is it dangerous there?"  Wherever "there" is, it's the same question.
My perspective on this is that everywhere is potentially dangerous.  That fact has been the biggest hurdle with our families.  They listen to the media and get scared.
In our experience, there are absolutely wonderful people everywhere.  The overwhelming majority of people we have come across have been amazing, friendly, and helpful.  The best way to meet these folks is to slow down.  When we drive through a town we make sure that the windows are rolled down.  We like to smile and wave at people.
Truck Camper Magazine readers can follow Doug and Lindsey's journey on their travel blog, livethepostcard.com.
Doug and Lindsey's Rig
Truck: 2007 Dodge Ram, 2500 5.9L Turbo Diesel, Crew Cab, 4×4, Diesel, Dual Rear Wheel, Long Bed
Camper: 2017 Phoenix Pop-Up Camper
Tie-Downs and Turnbuckles: Chassis mounted
Suspension: Rancho 9000 shocks. Custom made spring pack
Gear: Thule Rack and cargo box, Carefree awning with with Buena Vista Room, Hitch mounted moto carrier, Adventure Trailers Jerry can holders, Smittybuilt Element ramps, Dually swap, Turbo swap, 12,000-pound Smittybuilt winch, Hammerhead winch bumper on the front and Iron Cross bumper on the back, Edge Monitor, and 60 gallon midship fuel tank from Titan