Jim: In normal campground camping, most people will put blocks under their tires to level the camper.  For beach camping, we normally dig holes for the tires in the sand.  When you park near the dunes, you may have twelve inches of difference from left to right side and you want the rig to be level.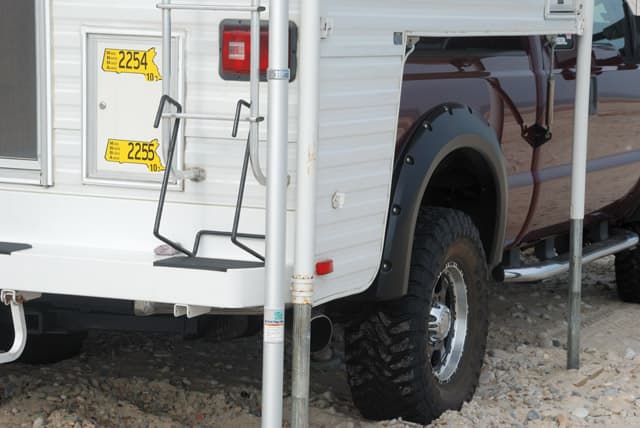 Above: The Massachusetts Beach Buggy Association membership stickers
TCM: Don't you worry about getting stuck when you're putting your truck's tires in sand holes?
Jim: My truck is a diesel and has four-wheel drive.  It has plenty of power to crawl right out in four-wheel low.
I need to mention the Massachusetts Beach Buggy Association.  They are very big into beach conservation to help preserve our natural resources throughout the state.  Most members get involved and help out with beach conservation projects throughout Massachusetts.  If it weren't for the efforts of the MBBA, our beaches would be destroyed, wildlife would suffer, and we would eventually lose our privilege to drive or camp on these beautiful beaches.  They work very hard and go out of their way to conserve our precious natural resources and insure us a place to camp.
TCM: Thanks Jim.  We hope to join you on the beach, maybe even this summer.
Jim: Great.  We look forward to seeing you there.
JIM AND PATTI DUARTE'S TRUCK CAMPER RIG
Truck: 2008 Ford F250 Super Duty, extended cab, single rear wheel, short bed, 4×4, diesel
Camper: 2002 Lance 845
Tie-downs and Turnbuckles: Happijac
Suspension Enhancements: Airlift Airbags, Rancho RS-9000 Shocks, 37X13.5R17 Toyo Open Country MT tires
Gear: 45 watt solar panel, Road Armor bumper with 12,000 pound Smittybilt winch, custom made front hitch with front cargo basket