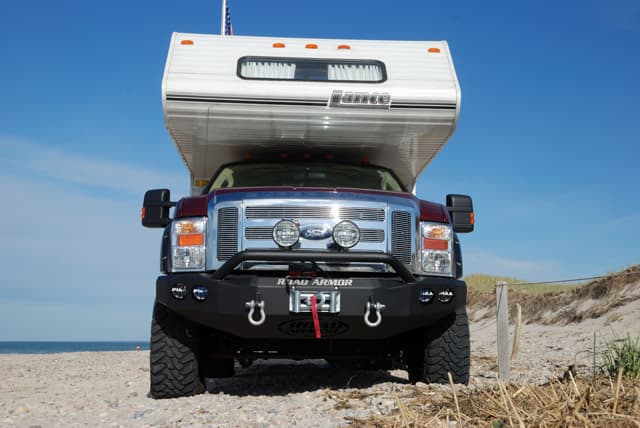 TCM: You will need to upgrade to a one-ton truck to accommodate the weight of a slide-out camper.  There's your excuse to go for a long bed.  Did you make any modifications to your rig for the beach?
Jim: I built a custom front hitch with a basket to carry supplies.  My Road Armor off road front bumper has a 12,000 pound winch, just in case we get stuck.  I also made sure we got a camper with a solar panel for extended boondocking.
TCM: Did you upgrade your tires?
Jim: Yes.  I have Toyo Open Country M/T 37X13.5R17 tires.  However, the other three couples we camp with have stock truck tires so you don't really need special tires.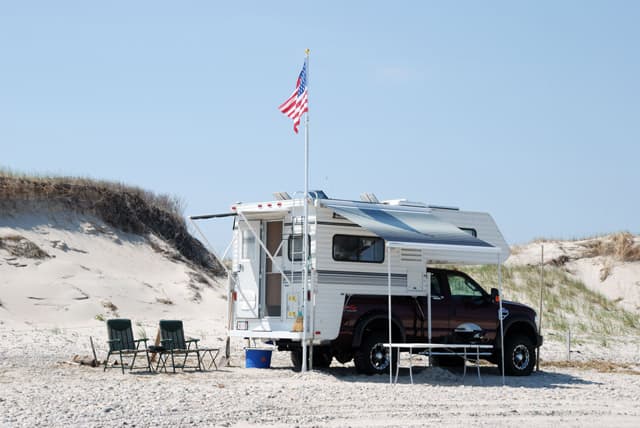 TCM: Tell us about learning to drive and camp on the beach.
Jim: This summer will be our sixth year of driving on the beach; two with the Ranger and four with the Super Duty.  There is a learning curve to driving on the beach.  I originally went out with my Ford Ranger.  Now that we have a larger truck and the camper, I have to go slower.  Having the camper makes the rig top heavy, which I can feel in the sand ruts.  The deeper sand ruts can be ten to twelve inches deep causing the rig to rock.  You need to use common sense when you're driving on the sand and take it slow.
We were extremely fortunate to have met Jerry Trebino on our second outing to the beach.  He's a fellow truck camper with lots of experience driving and camping on the beach.  He has been the single most valuable resource in our learning about beach camping.  Everyone on the beach knows him.
TCM: We'll have to track Jerry down for a story some day.  We have talked about your beach camping without mentioning where you go.
Jim: We camp at Sandy Neck Beach Park in Barnstable, Cape Cod.  The sticker we have is only for that beach.  A non-resident sticker is $160.00 for the season.  To go to Nauset Beach in Orleans, Massachusetts, which is on the elbow of Cape Cod, you need a separate sticker.  Provincetown at the very tip of the Cape, also offers beach camping.  I think it's $50 for seven days, or you can also get an annual sticker.  If you're going for a week it's not such a big deal.
TCM: We have heard wonderful things about Sandy Neck Beach Park and look forward to camping there ourselves soon.  Since we will be beach camping newbies, what tips do you have for us?
Jim: Each town has its own rules, regulations, and requirements.  Before you get your sticker, your rig is inspected to make sure you have the proper equipment.  For example, on Sandy Neck Beach Park you need a shovel, a jack capable of lifting your truck and camper (I have a High Jack and a five ton bottle jack capable of lifting one wheel) and a piece of plywood, steel, or aluminum.  The plywood dimensions need to be at least 18" by 18" by three-quarters of an inch thick.  You need the plywood that size so that the jack doesn't sink into the sand.
You also need either, a three-quarter inch rope, a one and a half inch wide tow strap capable of towing 6,800 pounds, a chain with a minimum of five sixteenths inch link thickness or a winch.  I carry a tow strap, a chain, and my winch.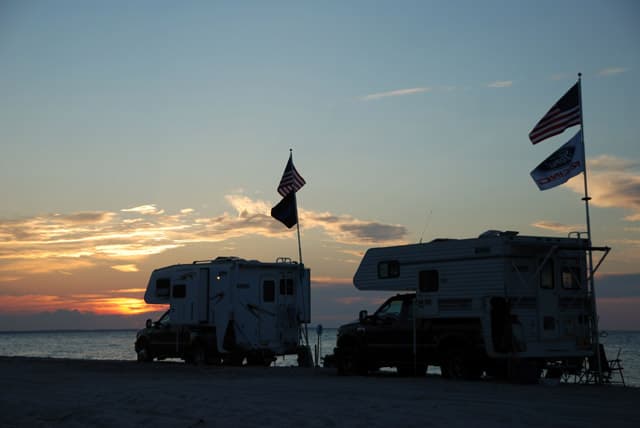 TCM: Have you ever used your winch?
Jim: I've had to use my winch to pull people out three or four times, but have never needed to use it to get myself out (Jim knocked on wood as he said that).
You also need a tire gauge that reads down to 10 psi for airing your tires down.  I also bring basic hand tools.  They are not required but I bring them.
TCM: What PSI do you air your tires down to?
Jim: At Sandy Neck Beach, I air down to 14 PSI.  With the additional weight of my diesel truck, I don't go lower than 14 PSI.  Any lower and the tire could pop off the rim and I don't want that to happen.  With the Ranger I could easily get down to 10 PSI.