Jim and Patti Duarte take us truck camping off-road, off-the-grid, and onto the beaches of Cape Cod.  Time to air down to 14 PSI.  Deep sand ahead.

The idea of owning a beach home sounds wonderful, until you consider the many costs, maintenance issues, and natural risks to that investment.  While the sticker shock of ocean front property has come down dramatically over the past few years, it's still not cheap.  And don't forget insurance should a hurricane or flood occur.
Then there's the idea of taking a truck camper onto the beach.  Not only is the upfront investment considerably lower, but a truck and camper are a lot cheaper to maintain and insure.  Unlike the house, a truck camper doesn't have the potential to increase in value, but there's certainly no guarantee that the beachfront house will either.
If your goal is to spend your summer weekends on the beach enjoying the good life, a properly outfitted truck and camper certainly fits the bill.  If you're interested in surf cast fishing, the truck camper may be the ultimate solution.  Perhaps the best part is that your truck camper beach home can quickly turn into a cross country adventure machine, a family emergency vehicle, or a daily commuter and grocery getter.  Try taking your beach house to work.
On the East Coast, we have been hearing more and more about beach camping at Sandy Neck Beach in Cape Cod.  When Jim Duarte won the 2012 TCM Calendar Contest with an amazing sunset photo on Sandy Neck Beach, we asked him for some insights and advice on taking our rigs to this beautiful destination.  Get your shovel, tow strap, and winch.  We're hitting the sand.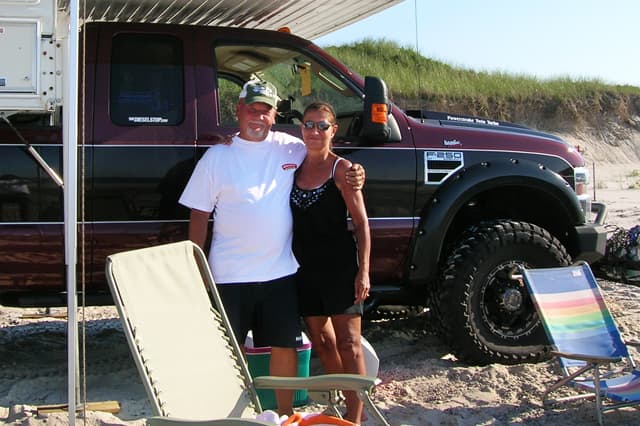 Above: Patti and Jim Duarte on the beach with their 2002 Lance 845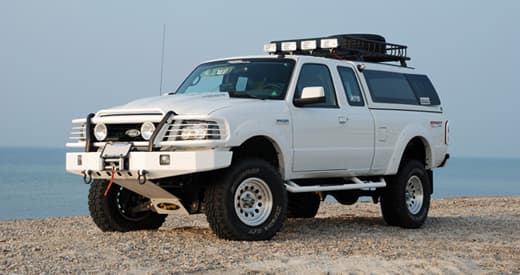 Above: The Duarte's love of driving on the beach began with this 2007 Ford Ranger
TCM: How did you get into beach camping with a truck camper?
Jim: Before buying the Lance, we went on day trips to the beach with my four wheel drive 2007 Ford Ranger.  After two years of this, driving off the beach one night, Patti said, "What do we have to do to stay overnight like these other people?"  I said, "First, we need to get a bigger truck", and she said, "Can we?"  I knew there was a reason I loved this woman.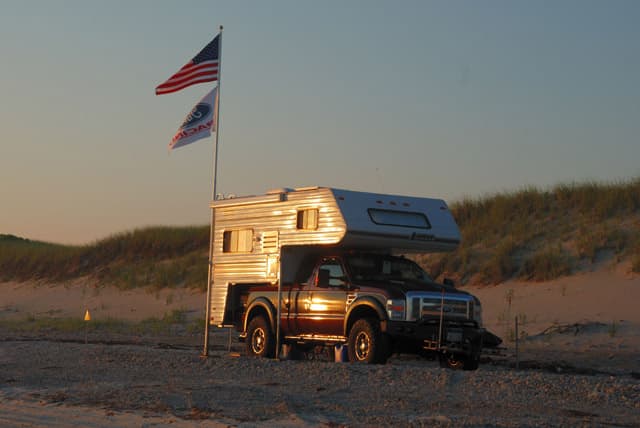 TCM: What did you get?
Jim: I don't think it was three weeks after Patti said that before I traded in my Ranger and bought a 2008 Ford F250 Super Duty extended cab, short bed, four-wheel drive, diesel truck.  Shortly after that we bought our 2002 Lance 845 camper.
The truck was also my daily driver, so I had to be able to get into parking spots easily.  That's why I bought a short bed truck, even though I'm second-guessing that now because I'd rather have a bigger camper.  This year will be our fourth camping season with the Lance.
TCM: Tell us about building your truck and camper rig to be ready for the beach.
Jim: The most important criteria for camping overnight on the beach is having a camper that's self contained.  Four-wheel drive is also a necessity for driving on the sand.
The 2002 Lance 845 has relatively small holding tanks.  The grey water tank is eighteen gallons and the black water tank is twelve.  We have to use some crazy conservation measures to stay out on the beach for four days with our limited tanks.
Now that we have three years of beach experience, I would like to upgrade to a camper with larger holding tanks.  Our next camper will probably be a short bed camper with larger holding tanks and a slide-out.  If we're on the beach for four days and it's rainy for a day or two, it gets really cramped.  If we went with a slide-out camper with larger tanks, we'd be more comfortable.  Having a slide-out with just that little bit of extra room and larger holding tank capacity would be very helpful.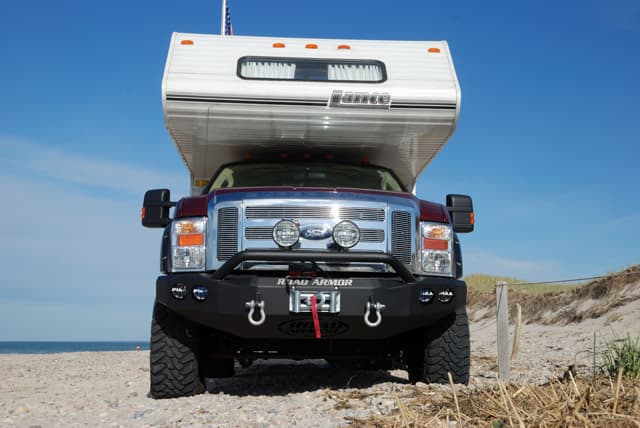 TCM: You will need to upgrade to a one-ton truck to accommodate the weight of a slide-out camper.  There's your excuse to go for a long bed.  Did you make any modifications to your rig for the beach?
Jim: I built a custom front hitch with a basket to carry supplies.  My Road Armor off road front bumper has a 12,000 pound winch, just in case we get stuck.  I also made sure we got a camper with a solar panel for extended boondocking.
TCM: Did you upgrade your tires?
Jim: Yes.  I have Toyo Open Country M/T 37X13.5R17 tires.  However, the other three couples we camp with have stock truck tires so you don't really need special tires.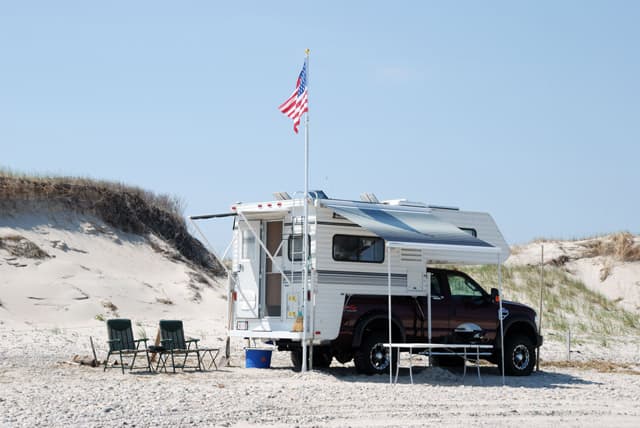 TCM: Tell us about learning to drive and camp on the beach.
Jim: This summer will be our sixth year of driving on the beach; two with the Ranger and four with the Super Duty.  There is a learning curve to driving on the beach.  I originally went out with my Ford Ranger.  Now that we have a larger truck and the camper, I have to go slower.  Having the camper makes the rig top heavy, which I can feel in the sand ruts.  The deeper sand ruts can be ten to twelve inches deep causing the rig to rock.  You need to use common sense when you're driving on the sand and take it slow.
We were extremely fortunate to have met Jerry Trebino on our second outing to the beach.  He's a fellow truck camper with lots of experience driving and camping on the beach.  He has been the single most valuable resource in our learning about beach camping.  Everyone on the beach knows him.
TCM: We'll have to track Jerry down for a story some day.  We have talked about your beach camping without mentioning where you go.
Jim: We camp at Sandy Neck Beach Park in Barnstable, Cape Cod.  The sticker we have is only for that beach.  A non-resident sticker is $160.00 for the season.  To go to Nauset Beach in Orleans, Massachusetts, which is on the elbow of Cape Cod, you need a separate sticker.  Provincetown at the very tip of the Cape, also offers beach camping.  I think it's $50 for seven days, or you can also get an annual sticker.  If you're going for a week it's not such a big deal.
TCM: We have heard wonderful things about Sandy Neck Beach Park and look forward to camping there ourselves soon.  Since we will be beach camping newbies, what tips do you have for us?
Jim: Each town has its own rules, regulations, and requirements.  Before you get your sticker, your rig is inspected to make sure you have the proper equipment.  For example, on Sandy Neck Beach Park you need a shovel, a jack capable of lifting your truck and camper (I have a High Jack and a five ton bottle jack capable of lifting one wheel) and a piece of plywood, steel, or aluminum.  The plywood dimensions need to be at least 18" by 18" by three-quarters of an inch thick.  You need the plywood that size so that the jack doesn't sink into the sand.
You also need either, a three-quarter inch rope, a one and a half inch wide tow strap capable of towing 6,800 pounds, a chain with a minimum of five sixteenths inch link thickness or a winch.  I carry a tow strap, a chain, and my winch.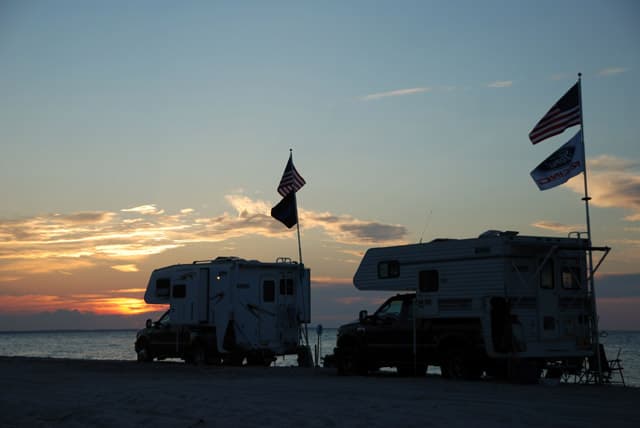 TCM: Have you ever used your winch?
Jim: I've had to use my winch to pull people out three or four times, but have never needed to use it to get myself out (Jim knocked on wood as he said that).
You also need a tire gauge that reads down to 10 psi for airing your tires down.  I also bring basic hand tools.  They are not required but I bring them.
TCM: What PSI do you air your tires down to?
Jim: At Sandy Neck Beach, I air down to 14 PSI.  With the additional weight of my diesel truck, I don't go lower than 14 PSI.  Any lower and the tire could pop off the rim and I don't want that to happen.  With the Ranger I could easily get down to 10 PSI.
TCM: Is there a compressor on site to air up once you have left the beach?
Jim: Yes, there's a compressor back at the exit of Sandy Neck with six to eight air hoses.  Provincetown also has one.  There's a box on the outside of the shed for a voluntary maintenance fee, and I usually donate a couple dollars.
TCM: After a weekend on the beach, is there anything you need to do to maintain or clean your truck and camper?
Jim: The first thing we do is go to a campground on the way out to dump our tanks.  I think it's twenty dollars for a non-resident to dump their tanks in most area campgrounds.  I then bring the camper home, take it off the truck, and take the truck to the local truck wash with a good under carriage spray.  I do that as soon as I can to get the salt off the truck.  Then I come home and hose the camper down on the side of the garage.  I'm not too concerned about the aluminum sided camper, but I have noticed some rust on the steel jacks.
When we're at the beach, we have a small piece of artificial turf and a bucket of water to get the sand off our feet before entering the camper.  When it's just Patti and I, it's not so bad.  When my four granddaughters visit us at the beach, it's a different story.  They get a lot of sand in the camper.  My son has a Jeep and sometimes brings them to the beach for the day.
TCM: There are two aspects of beach camping that seem the most difficult; airing down, and driving on the sand.  Any advice on those two topics?
Jim: Don't forget to air your tires down to the same pressure all the time.  Some people tend to get lazy and don't do it every time.  That's how you get stuck.  Several companies actually make automatic deflators.  A lot of rock crawling guys have them.  I have the ones manufactured by Smittybilt but Staun Deflators are also very good.
TCM: That sounds like a great idea.  How do the auto deflators work?
Jim: They are brass units that screw onto your tire valve stems.  When releasing air from your tires, they automatically shut off at your preferred PSI.  They're fully adjustable.  I have them set to air down to fourteen pounds and then shut off.  That allows me to air down all four tires at once.
Other requirements include carrying a paper copy of Sandy Neck Beach rules and regulations.  You also need to carry an up to date set of local tide charts with you.  High tides can sometimes catch you off guard and you don't want to be caught with your truck camper sinking into the ocean.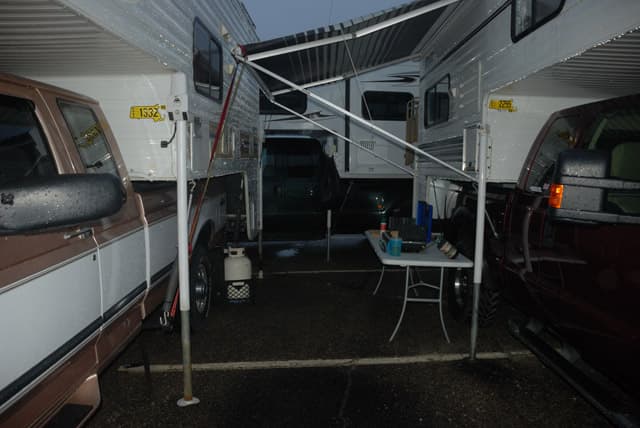 Above: Hurricane Danny in the Sandy Neck parking lot
TCM: An East Coast dealer once showed us pictures of a Lance Camper being swept into the ocean.
Jim: It can happen.  On Columbus Day weekend 2010, we almost got wet due to a rogue high tide.  Pictures of that weekend are available on the Beach Camping page of my website, www.justtruckin.net.  We had a tremendous astronomical high tide combined with a forty knot wind that pushed the tide even further onshore.  The incoming tidal waters cut off the trail in front of us so we couldn't get back to the main entrance.  We all moved up to the highest point on the beach possible and the water surrounded us.  That was a little too close for comfort.
TCM: That was lucky!
Jim: It sure was.  The busiest weekends on the beach are the Fourth of July weekend and the weekends before and after the Fourth.  Get there early or you can't get on the beach.  They don't have an actual number limit, but the Rangers will shut it down.
There are also endangered shore birds called the Piping Plover that nest on the beach.  They sometimes shut down or shorten the beach where the birds decide to nest.  For a month last year only one mile of the four and a half mile beach was open due to the Piping Plovers.  The Fourth of July 2010 was very difficult because of that too.
TCM: How do you know about these changing conditions?
Jim: The Sandy Neck Staff will put updates on their website, but it's not always updated.  I call ahead to see if there's a problem with availability.  We usually go out every other weekend.  We live about sixty miles from the beach and it's well worth the trip.
TCM: The auto deflators are a really good idea.  Do you have any other tips for beach camping?
Jim: In normal campground camping, most people will put blocks under their tires to level the camper.  For beach camping, we normally dig holes for the tires in the sand.  When you park near the dunes, you may have twelve inches of difference from left to right side and you want the rig to be level.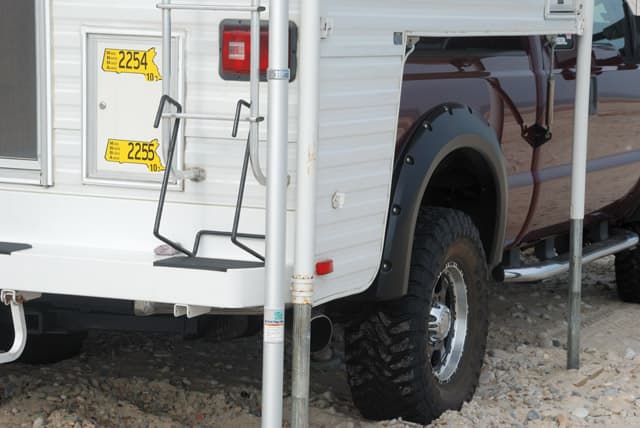 Above: The Massachusetts Beach Buggy Association membership stickers
TCM: Don't you worry about getting stuck when you're putting your truck's tires in sand holes?
Jim: My truck is a diesel and has four-wheel drive.  It has plenty of power to crawl right out in four-wheel low.
I need to mention the Massachusetts Beach Buggy Association.  They are very big into beach conservation to help preserve our natural resources throughout the state.  Most members get involved and help out with beach conservation projects throughout Massachusetts.  If it weren't for the efforts of the MBBA, our beaches would be destroyed, wildlife would suffer, and we would eventually lose our privilege to drive or camp on these beautiful beaches.  They work very hard and go out of their way to conserve our precious natural resources and insure us a place to camp.
TCM: Thanks Jim.  We hope to join you on the beach, maybe even this summer.
Jim: Great.  We look forward to seeing you there.
JIM AND PATTI DUARTE'S TRUCK CAMPER RIG
Truck: 2008 Ford F250 Super Duty, extended cab, single rear wheel, short bed, 4×4, diesel
Camper: 2002 Lance 845
Tie-downs and Turnbuckles: Happijac
Suspension Enhancements: Airlift Airbags, Rancho RS-9000 Shocks, 37X13.5R17 Toyo Open Country MT tires
Gear: 45 watt solar panel, Road Armor bumper with 12,000 pound Smittybilt winch, custom made front hitch with front cargo basket