Jim and Patti Duarte take us truck camping off-road, off-the-grid, and onto the beaches of Cape Cod.  Time to air down to 14 PSI.  Deep sand ahead.

The idea of owning a beach home sounds wonderful, until you consider the many costs, maintenance issues, and natural risks to that investment.  While the sticker shock of ocean front property has come down dramatically over the past few years, it's still not cheap.  And don't forget insurance should a hurricane or flood occur.
Then there's the idea of taking a truck camper onto the beach.  Not only is the upfront investment considerably lower, but a truck and camper are a lot cheaper to maintain and insure.  Unlike the house, a truck camper doesn't have the potential to increase in value, but there's certainly no guarantee that the beachfront house will either.
If your goal is to spend your summer weekends on the beach enjoying the good life, a properly outfitted truck and camper certainly fits the bill.  If you're interested in surf cast fishing, the truck camper may be the ultimate solution.  Perhaps the best part is that your truck camper beach home can quickly turn into a cross country adventure machine, a family emergency vehicle, or a daily commuter and grocery getter.  Try taking your beach house to work.
On the East Coast, we have been hearing more and more about beach camping at Sandy Neck Beach in Cape Cod.  When Jim Duarte won the 2012 TCM Calendar Contest with an amazing sunset photo on Sandy Neck Beach, we asked him for some insights and advice on taking our rigs to this beautiful destination.  Get your shovel, tow strap, and winch.  We're hitting the sand.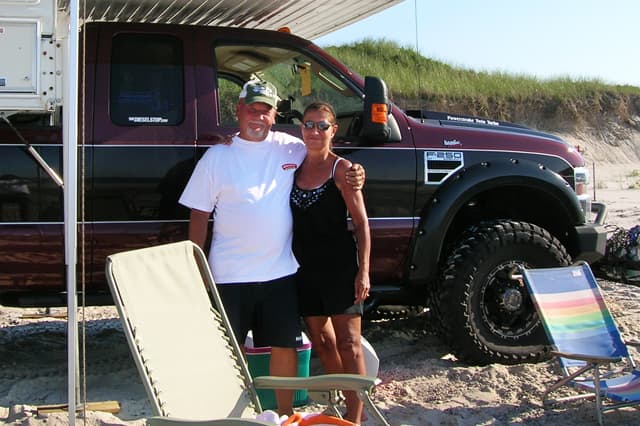 Above: Patti and Jim Duarte on the beach with their 2002 Lance 845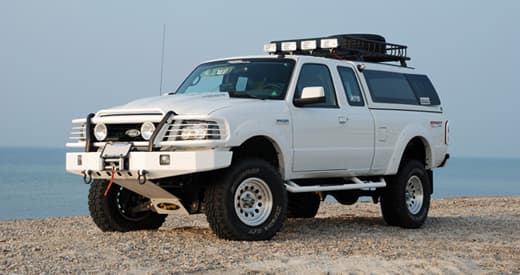 Above: The Duarte's love of driving on the beach began with this 2007 Ford Ranger
TCM: How did you get into beach camping with a truck camper?
Jim: Before buying the Lance, we went on day trips to the beach with my four wheel drive 2007 Ford Ranger.  After two years of this, driving off the beach one night, Patti said, "What do we have to do to stay overnight like these other people?"  I said, "First, we need to get a bigger truck", and she said, "Can we?"  I knew there was a reason I loved this woman.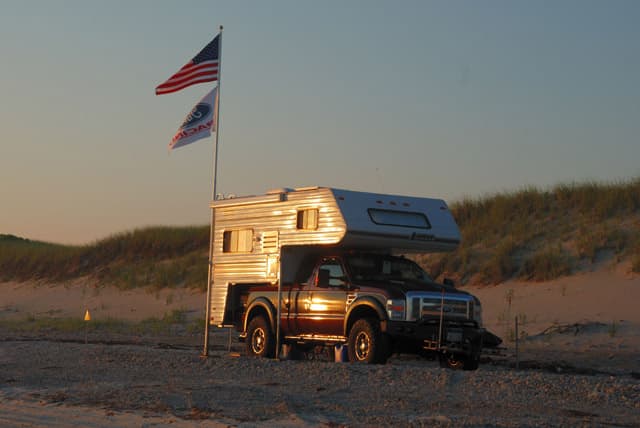 TCM: What did you get?
Jim: I don't think it was three weeks after Patti said that before I traded in my Ranger and bought a 2008 Ford F250 Super Duty extended cab, short bed, four-wheel drive, diesel truck.  Shortly after that we bought our 2002 Lance 845 camper.
The truck was also my daily driver, so I had to be able to get into parking spots easily.  That's why I bought a short bed truck, even though I'm second-guessing that now because I'd rather have a bigger camper.  This year will be our fourth camping season with the Lance.
TCM: Tell us about building your truck and camper rig to be ready for the beach.
Jim: The most important criteria for camping overnight on the beach is having a camper that's self contained.  Four-wheel drive is also a necessity for driving on the sand.
The 2002 Lance 845 has relatively small holding tanks.  The grey water tank is eighteen gallons and the black water tank is twelve.  We have to use some crazy conservation measures to stay out on the beach for four days with our limited tanks.
Now that we have three years of beach experience, I would like to upgrade to a camper with larger holding tanks.  Our next camper will probably be a short bed camper with larger holding tanks and a slide-out.  If we're on the beach for four days and it's rainy for a day or two, it gets really cramped.  If we went with a slide-out camper with larger tanks, we'd be more comfortable.  Having a slide-out with just that little bit of extra room and larger holding tank capacity would be very helpful.