Jerry and Tina Rohan take their Chalet TS116 triple-slide truck camper on the beach for fishing, kayaking, and generally kicking back.  It's a beach house, to go.

The evidence has been mounting for decades and is now indisputable; truck camping on the beach leads to addiction.  We have personally met dozens of otherwise normal seeming folks who are clearly experiencing symptoms of what can only be called Truck Camping Beach Syndrome (TCBS).
The signs that you're dealing with someone suffering from TCBS are easy to spot.  A victim may have a cooler rack on the front of their truck, or a porch on the back of their camper.  Also look for another tell tale indication; all-terrain tires.  Any one of these items are a dead give away that TCBS has struck again and you have found another person who has succumbed to the allure sand, surf, and truck camping.
In an attempt to inoculate our readership from the ravages of Truck Camping Beach Syndrome, we are holding a two part Beach Week in Truck Camper Magazine.  The concept is to expose you to just enough beach camping in the magazine that when you actually go truck camping on the beach, you have built up an immunity to TCBS.  In order for this to work, you must read these articles carefully, twice, while patting yourself on the head.  Don't ask why.  We're scientists.
To start your inoculation process, we went right to what has to be one of the wildest beach camping rigs we've ever seen; Jerry and Tina Rohan's Chalet TS116 and Ford F-450.  There is no doubt that the Rohans have a bad case of TCBS and show no signs of getting better.  Let their experiences be a warning for us all.
Start patting your head now…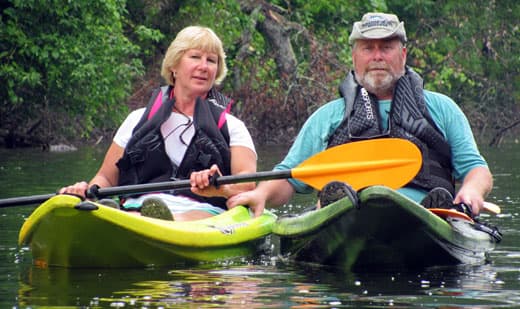 Above: Tina and Jerry Rohan enjoying their kayaks
TCM: You have owned a good number of truck campers.  Tell us about the truck campers you have owned leading up to the Chalet.
Jerry: When I was in Junior High, a friend of mine had parents who went truck camping on the beach.  They had a son and a daughter.  One week the son could bring a friend to the beach, the next the daughter could bring a friend.  I was about thirteen or fourteen years old at the time.
Years later, I ended up buying the 1970 green truck from my friend's family.  The truck had been under a tree for some time so I had to rebuild it.  I only paid a dollar for the truck because we were long time friends.
My first camper was a short bed 1991 Marco.  The Marco was a bare bones camper to get us on the beach to go fishing and out of the rain.  It didn't take long before it became too small for us.
In 1994, my wife and I bought an El Dorado truck camper.  We found the El Dorado in a backyard a few miles from home and paid four hundred dollars for the camper.  When we bought the camper, there were no cushions, but it had a bathroom and a refrigerator.  I rebuilt the camper and my wife made new bedding and cushions.  The refrigerator never worked so we used it as a closet.
TCM: That's funny.  How did you keep your food cold on the beach?
Jerry: We had an ice box up front for food and ice.
Over the years I repaired the El Dorado's roof a few times, and then it was done.  We called it "ten cent fishing" because that's what the old camper was worth.  We had it for four or five years.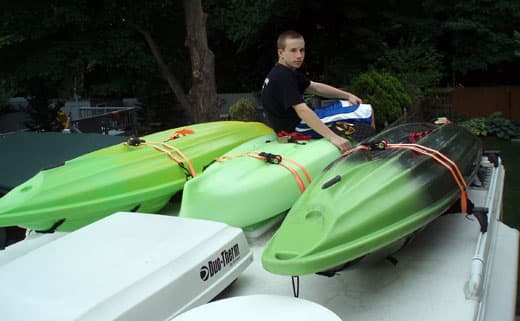 Above: The kayaks are secured on the roof of their camper
In 1999, we bought a 1996 Lance 945 from Bill Penney at East End Campers.  That was a good camper that got too small for us after a while.  That was the first camper that we put the kayaks on the roof.
We live on Long Island with lots of nearby beaches available to us.  My son grew up camping on the beach.  We got our first truck camper when he was an infant.  He's been in a truck camper on the beach his whole life.  He's in college now, and wants to have a truck camper of his own.
Speaking of my son, when he grew tall enough to look me in the eye, we needed a larger truck camper.  We came back from Montauk one day and stopped at East End Campers.  A demo Host double-slide camper was there.  Bill Penney looked at my wife and said, "You want that?"  A week later we had it in our driveway.
That camper was the demise of our blue truck.  With the Host, it was very overloaded.  That's when we got the Ford F-450.  I put Maggie racks on the top of the Host for our three kayaks.
Above: Picking up their new triple slide at Truck Camper Warehouse, New Hampshire
TCM: I'm glad you upgraded your truck to stay within payload.  Safety first.  What led you to buy the Chalet?
Jerry: We wanted a triple-slide and started talking to Bill.  He suggested looking at the Chalet online, so we started to consider it.  Unfortunately, the Host had been damaged when we hit a pothole in the road and my insurance company bought it from us instead of fixing it.
Soon after, I went up to New Hampshire and Bill had two Chalets on the lot.  My wife loved the Chalet TS116.  There's enough room for a dance party in the Chalet.
In the back of the camper, there's a couch for my nineteen year old son.  Now we don't have to wake up a nineteen year old when we want to have coffee in the morning.  I can have coffee in the dinette and he can sleep on the sofa.
I picked it up in February of last year.  Then we went into semi-retirement last summer so we could travel the East Coast.  Our Chalet has every feature you could ever want except for satellite television, which we don't want.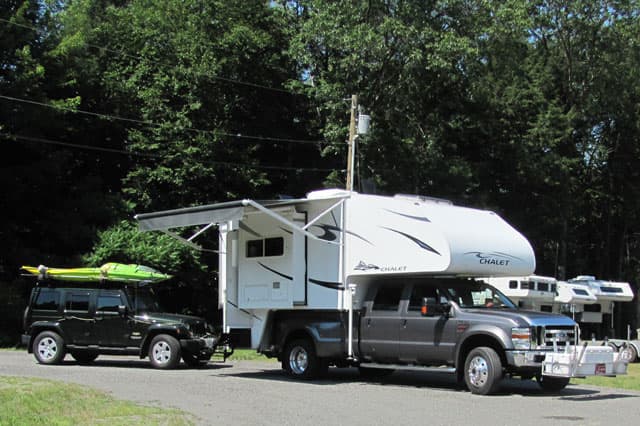 Above: Towing their Jeep behind their camper
TCM: That's five truck campers from the Marko, to the El Dorado, to the Lance, to the Host, and now the Chalet.  With all of your truck camper experience, what advice do you have for the newbies who are considering their first truck camper rig?
Jerry:  You need to have enough truck for your camper.  A lot of people are buying Ford F-250s and putting big campers on them.  You can not put a 5,000 pound camper on a truck that has 1,000 pounds of payload.  Your family rides in it.  Having fun is great, but safety is more important.
Also, do not believe the weight stated on the camper.  That weight is a basic guideline.  Take your camper to a certified scale and properly weigh it.  You should also take everything out of your camper once a year and look at everything you bring.  Do you need all those pots and pans and other things you bring?  The weight adds up.
Weight is a big issue with truck campers.  That's why we have the Ford F-450.  With options, the Chalet TS116 is about 5,000 pounds wet before you add your gear.  We don't drive the rig with full water because the Chalet holds sixty-six gallons of water.  That's 550 pounds of water weight.  We leave home with just enough water to get a few uses out of it.  Then we fill the water tank when we arrive at Montauk, or use the city water connection if we're at a campground.
As far as getting your camper loaded and unloaded, get the camper level and practice.  Take your time.  It will become second nature, like putting on your shoes.  Do it the same way each time and you won't have a problem.
With truck maintenance, I get everything done with each oil change.  I also tell the dealer that we run the truck in sand and bought an extra warranty because of how we use the truck.
With insurance, keep in mind that you have to have the insurance for your camper for when it's not loaded on your truck.  It may be insured with your truck when it's on the truck, but what about when it's not?  Make sure you are protected.
The truck camper dealer you choose is also critical.  Bill Penney has been to all of the camper factories and really knows the products he sells.  I called Bill once from the Outer Banks with an issue.  Over the phone, he had me looking in a cabinet at exactly where the problem was.  He was right about the source of the problem and helped me deal with it right then and there.  I was 1,000 miles away from his dealership when I had the problem.  To me, that's worth its weight in gold.
TCM: We talk with folks all the time who used the internet to buy a rig hundreds or even thousands of miles from home.  They might save money on the purchase of the camper, but often find they spend the difference to transport the camper, or in maintenance with a local dealer that didn't sell them the unit.
People assume that buying a camper is like buying a car and every dealer will give you the same level of service whether you bought the camper from them, or not.  In reality, it does not work that way in the RV business.  Dealers almost always give preference to the customers who bought campers from them.
For that reason, we always encourage people to buy their camper from their local dealer.  A good relationship with your local dealer is, as you put it, worth its weight in gold.
TCM: What modifications did you make to your rig(s) for beach camping?
Jerry: You can't always take a dually on the beaches.  I know you can't take a dually on Assateague Island, but you can on Montauk and Democrat Points.  Make sure you know what the rules are for a particular beach before going.
A modification I've made is getting an Oasis 12-volt DC air compressor.  I installed it underneath the frame of my truck.  It was about $1,000 dollars, so I saved my pennies for a few years to buy it.
I carry a twenty ton jack with me and two air hoses.  I bring two of almost everything just in case.  I also have air tools like an impact gun with me.  I've learned what's needed from twenty years of experience on the beach.
I have enough self sufficiency to get myself out of trouble.  That's a personal thing of mine.  If you get stuck, you have to be able to figure out how to get out on your own.  Sooner or later you are going to get stuck or get into a situation and not know how to get out.  Think and figure it out, or try to get help.  Most people on the beach are local and will help you.  Just ask.
TCM: The Chalet rigs always look very tall.  How tall is your rig?
Jerry: The Chalet is almost thirteen feet tall on my Ford F450.  There is no ladder to get to the roof since I have three slides.  To get on the roof, I put a seventeen foot ladder in the driveway, lean it up on the side of the camper, and walk the roof.  I can also go through the escape hatch in the overcab to get on the roof.
TCM: The photos of kayaking look like fun.  Is that something you like to do when you go truck camping?
Jerry: Yes.  We kayak in Maine in the bay.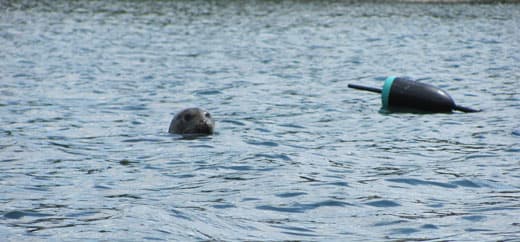 When we were there, a seal popped up ten feet away.  I was carrying my camera with me in a ziplock.  I took it out and got a picture.  We also go kayaking on Montauk Point.  There's three to four miles of open water by the harbor.  We enjoy watching the million dollar yachts go in and out.  It's close to the ocean, but on the bay so it's not as rough.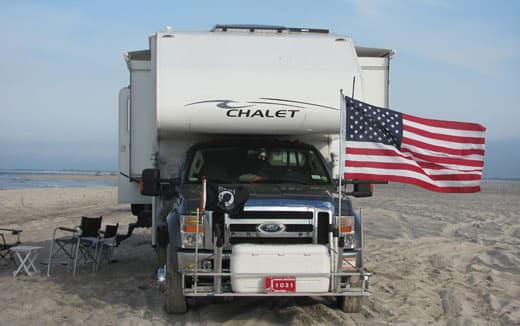 Above: Democrat Point, Long Island, New York
TCM: Any pointers for someone who's interested in beach camping?
Jerry: My first bit of advice is to take your truck on the sand without the camper to learn what it feels like.  You'll learn about the areas you can and can't go.  There are places I want to fish on the beach, and won't go with the camper.  I can't go up and down dunes.  I might be able to do it, but I wouldn't take the chance.  We tow a Jeep so we can reach more areas.  There are limitations.  Just be safe.
When I pull up in a truck camper, ten people want to talk to you.  When you're the newbie, ask questions.  Ask how much you need to air down.  Ask how you drive on the sand at that particular beach.  People are as friendly there on the beach as when you go camping.  They don't want to see you get hurt.  You just need to ask and learn through experience.
Keep in mind that sand is different on every beach.  For example, on Democrat Point, I have my tires at 25 psi in the front and 35 psi in the rear.  The sand is soft there.  At Montauk, I have my tires at 45 psi in the rear and 40 psi in the front.  The sand there is a little easier to drive on.  There are even some places at Montauk that I don't need four wheel drive.
Make sure that you look into the permits you may need to drive and camp on the beach.  Around here, we have a summer time state employee with a clip board.  The best thing to do is to go to the state websites for information.  You don't want to show up and get turned away.  Look at it as oceanfront property for the weekend.
With beach camping, you carry everything in and out.  Whatever you bring in, you take out.  It's a clean area and, like the Boy Scouts, we leave no trace.  All you should see are your tire tracks when you leave.
When you get home, there will be about a hundred pounds of sand in your rig.  After going out on the beach, I get out my shop vacuum and clean out the camper.  I also wash my truck starting at the top and working my way down.  One trick is to use an old style lawn sprinkler to clean the underside of the truck and camper.  That's what I do to keep the truck and camper maintained after beach camping.
There are huge benefits to having a truck camper and being ten feet from the ocean.  We listen to the waves, watch sailboats going out in the morning, and see whales swimming by.  You won't see stuff like that from a hotel.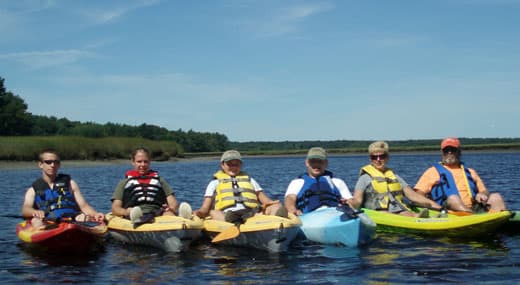 Above left to right: Tina and Jerry's son, Danny, their niece Sarah, her friend Erin, their nephew Chris, Tina Rohan, and Jerry Rohan
TCM: Where do you go beach camping?
Jerry: We already mentioned Montauk Point. Shagwong Point on the north side of Montauk is one of the best places in the world.  Democrat Point is close to where I live in Robert Moses State Park.  It's also a gorgeous beach.
On the way to Montauk Point, you drive on Montauk State Parkway through the state park.  On the last hill before Montauk you can see directly to the ocean.  I make everyone stop talking and look.  It's the best view in the world.  When I see that, I know I will have my toes in the Atlantic Ocean in half an hour.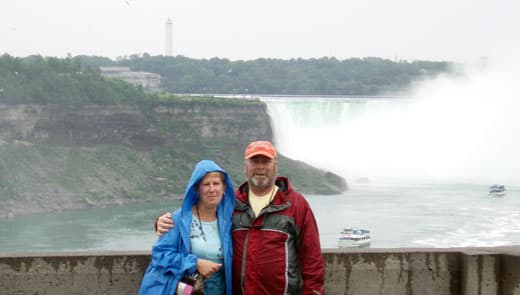 Above: Tina and Jerry Rohan at Niagara Falls
TCM: Other than beach camping, what else do you like to do when you go truck camping?
Jerry: One thing I like to see are the battleships like the USS North Carolina.  We also went to Charlestown, South Carolina to see the Yorktown.  We've been to Niagara Falls,  Maine, and Disney World.  In between, I like to find places where there aren't a lot of people.
At this point of my life, if my wife says let's go there, we are going.  This year we're going to Hatteras in the Outer Banks.  We'll find a campground we haven't been to before and spend time on the beach.
TCM: Sounds wonderful.  Is there anything else that you'd like to add to your interview?
Jerry: I think truck camping wonderful.  You can actually go truck camping with five kids.  I know a guy with six kids who has a Coachman with no slides.  Obviously, having owned five truck campers, we love truck camping.  We can go anywhere.  It's a great experience.