Jerry and Tina Rohan take their Chalet TS116 triple-slide truck camper on the beach for fishing, kayaking, and generally kicking back.  It's a beach house, to go.

The evidence has been mounting for decades and is now indisputable; truck camping on the beach leads to addiction.  We have personally met dozens of otherwise normal seeming folks who are clearly experiencing symptoms of what can only be called Truck Camping Beach Syndrome (TCBS).
The signs that you're dealing with someone suffering from TCBS are easy to spot.  A victim may have a cooler rack on the front of their truck, or a porch on the back of their camper.  Also look for another tell tale indication; all-terrain tires.  Any one of these items are a dead give away that TCBS has struck again and you have found another person who has succumbed to the allure sand, surf, and truck camping.
In an attempt to inoculate our readership from the ravages of Truck Camping Beach Syndrome, we are holding a two part Beach Week in Truck Camper Magazine.  The concept is to expose you to just enough beach camping in the magazine that when you actually go truck camping on the beach, you have built up an immunity to TCBS.  In order for this to work, you must read these articles carefully, twice, while patting yourself on the head.  Don't ask why.  We're scientists.
To start your inoculation process, we went right to what has to be one of the wildest beach camping rigs we've ever seen; Jerry and Tina Rohan's Chalet TS116 and Ford F-450.  There is no doubt that the Rohans have a bad case of TCBS and show no signs of getting better.  Let their experiences be a warning for us all.
Start patting your head now…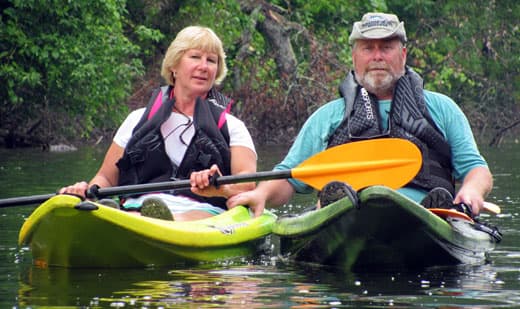 Above: Tina and Jerry Rohan enjoying their kayaks
TCM: You have owned a good number of truck campers.  Tell us about the truck campers you have owned leading up to the Chalet.
Jerry: When I was in Junior High, a friend of mine had parents who went truck camping on the beach.  They had a son and a daughter.  One week the son could bring a friend to the beach, the next the daughter could bring a friend.  I was about thirteen or fourteen years old at the time.
Years later, I ended up buying the 1970 green truck from my friend's family.  The truck had been under a tree for some time so I had to rebuild it.  I only paid a dollar for the truck because we were long time friends.
My first camper was a short bed 1991 Marco.  The Marco was a bare bones camper to get us on the beach to go fishing and out of the rain.  It didn't take long before it became too small for us.
In 1994, my wife and I bought an El Dorado truck camper.  We found the El Dorado in a backyard a few miles from home and paid four hundred dollars for the camper.  When we bought the camper, there were no cushions, but it had a bathroom and a refrigerator.  I rebuilt the camper and my wife made new bedding and cushions.  The refrigerator never worked so we used it as a closet.
TCM: That's funny.  How did you keep your food cold on the beach?
Jerry: We had an ice box up front for food and ice.
Over the years I repaired the El Dorado's roof a few times, and then it was done.  We called it "ten cent fishing" because that's what the old camper was worth.  We had it for four or five years.