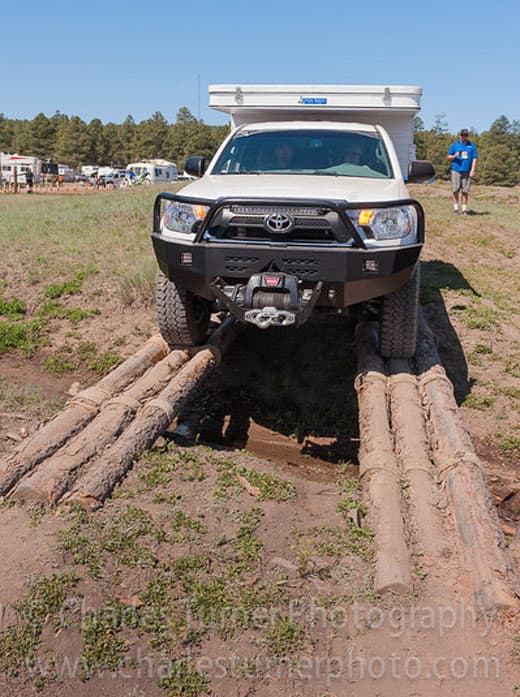 During my driving lesson, Fred pointed out that sometimes I cross my arms over each other when I turn the wheel.  He explained that, in off-road situations, I should never do that because you have a better handle on the wheel when your hands are at ten o'clock and two o'clock.  To demonstrate, he had me turn the wheel in those two different positions and then jiggled the wheel to show me that I had more control when my arms were straight.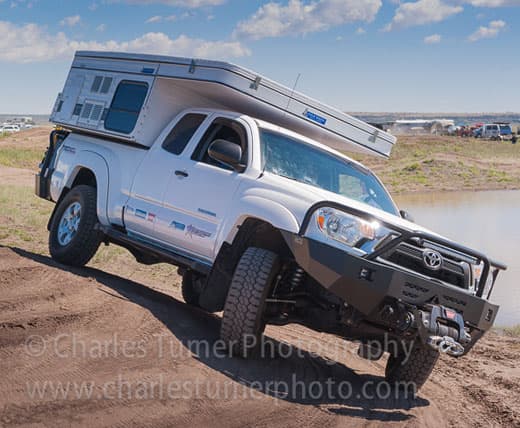 My favorite part of the course was when the rig was at an aggressive angle.  It was fun bring it sideways like that.  It was during one of these angles that I put my arm out the window.  Fred instantly told me to pull my arm inside the truck.  Fred said that I could crush my arm if the rig were to roll and my arm was outside the window.
The part that got the paparazzi going was at the end of the course when the Tacoma's wheels lifted up off the ground.  Again, I felt like I was on that teeter totter from elementary school.  Way fun!
The Phoenix Campers Bronco Bronco Run
To watch the above video in HD, press play, click on the quality "gear" symbol in the lower right corner, and select 720p or 1080p.  HD video takes longer to load and play.  Click on the box in the lower right corner to view the video full screen.
As the Overland Expo was coming to a close that afternoon, we got an urgent text from Cari Rowe, Co-Owner of Phoenix Custom Campers, that there was a last minute opportunity to run the course again, but we had to move fast.
By the time we arrived at the starting point, Robby Rowe was already there with his Bronco Bronco and heading towards the first turn.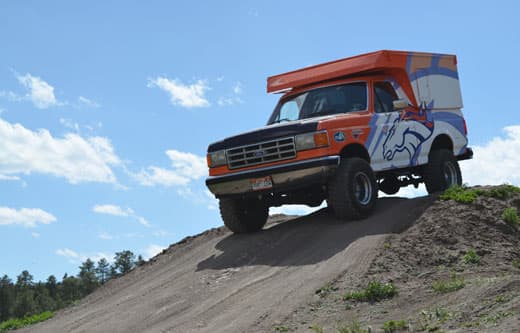 In the media business, the expression for moments like this is, "Run and gun".  That means there's no time for tripods, lighting, or setting up fancy shots.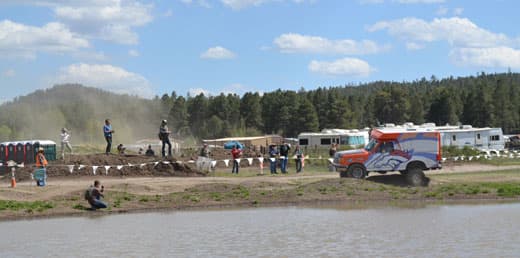 All we could do was literally chase Robby around the course, and do our best to keep the images somewhat steady and in focus.  I was in hot pursuit, on foot this time, capturing the madness in photographs.
Robby was completely oblivious to our efforts as he was having the time of his life.  Every time I caught a glimpse of him he was smiling ear to ear.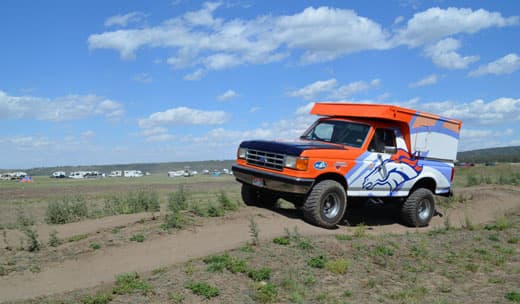 The Bronco Bronco looked at ease as it went over hills and bumps.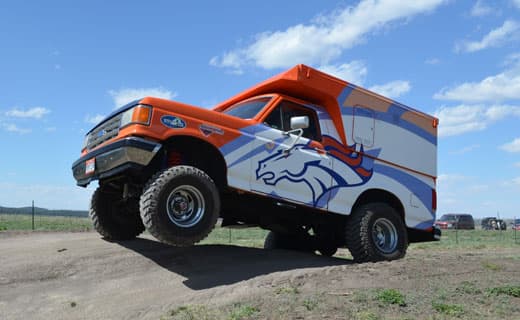 When Robby completed the course, all he could say was, "That was totally awesome!"  It seems that's what everyone says after completing the Land Rover Overland Course.
Final Thoughts