About six or seven years ago DSLR (digital single-lens reflex) cameras started offering professional video features. With one DSLR camera, I could do video, photography, and audio engineering. That huge change in camera technology changed my life as far as what was able to do.
Now I've gone back to dedicated video, photography, and audio equipment to push the quality and capabilities to the limit. Once again, I'm carrying way more gear.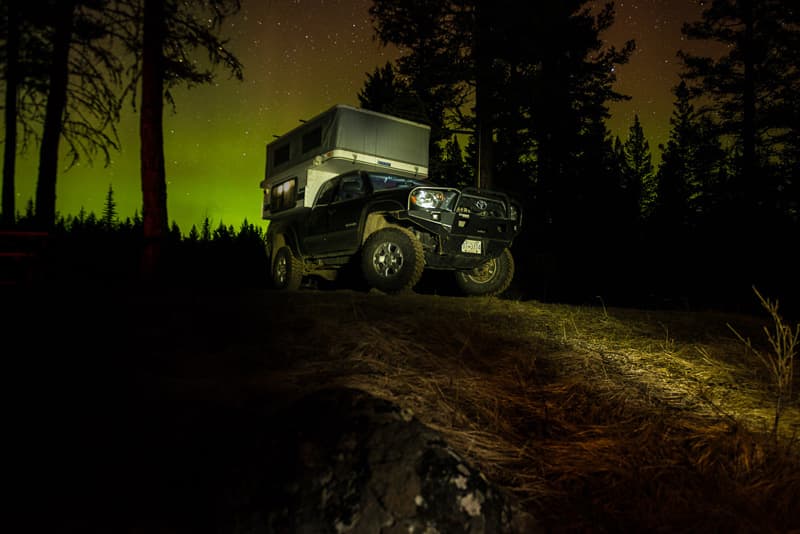 Above: The Northern Lights make a appearance while exploring  Moose Valley Provincial Park near Williams Lake, British Columbia
TCM: We also converged our video and photography equipment to a DSLR and have stayed with that set-up, at least for now. How long are you out in your camper to capture a video for Toyota?
Chris: Once I went out for five nights and captured some good images and video, but barely saw any wildlife. On the second to the last day I saw a rare bighorn sheep. I knew I had the video then. I just had to wait for that to happen. The wildlife aspect is out of my control. I put myself in places where I'm hoping to get a good shot, but I never know.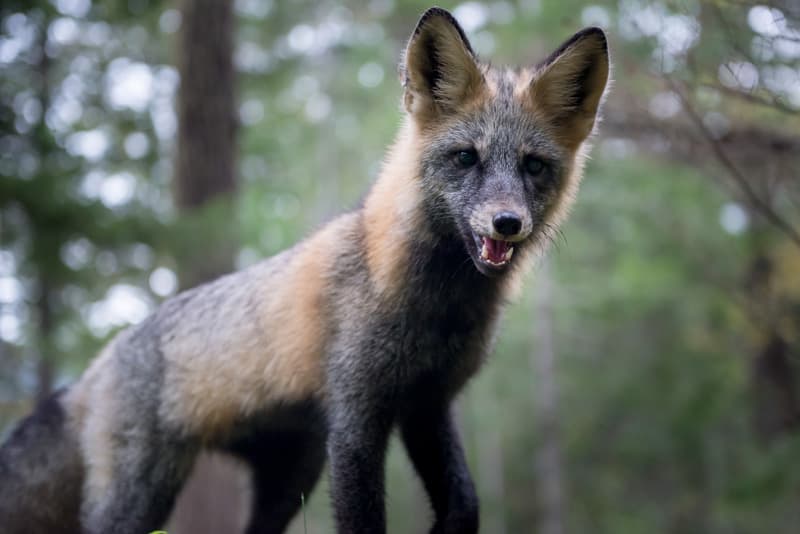 Above: A curious Red Fox in the southern Tweedsmuir Park of British Columbia.  Wide angle lenses and close-ups of wildlife rarely happen, but when they do combine, it is amazing.
TCM: From your Toyota videos it appears that you mainly focus on British Columbia for your photography.
Chris: That's true, at least for the Toyota videos. I love traveling to the United States, but I haven't been this year. My favorite spots are in the Bella Coola Valley, which is in the north central coast of British Columbia. It's remote and is an incredibly beautiful area with rich wildlife. That area has a special draw to me.
I love British Columbia in general. It's an incredible province. You can be in the mountains, desert, or rain forest. It's got incredible diversity. I try to showcase the destinations people may be interested in learning about. I like to go places with unique wildlife. It's hard to get away from the hand of man, and find places that are untouched. They are almost impossible to find.
I try be out mid-week early or late season. That's when the odds of seeing anybody are diminished. With the Toyota and Four Wheel Camper, I am very comfortable. The reliability of the Toyota Tacoma is also very important when I'm getting that far into the backcountry. Feeling completely confident in the rig no matter how far I'm going is important.
I enjoy myself the most when I settle into an area. That's when I get the greatest and most satisfying photos. It may have taken a big effort to get there, but I leave with a unique memory.
Above: A great example of his time-lapse video – Under The Cariboo Skies
TCM: Your videos also feature incredible time-lapse and wildlife photography. How do you get these shots?
Chris: I try to add time lapse photography to each video. It's incredibly time consuming. Those star shots and cloud shots take at least six hours to capture just five seconds of usable video. Once I did eight hours of time-lapse footage and went to bed. I woke up and discovered the lens had frosted up. I basically shot 10,000 worthless frames.
The wildlife shots are about being in the right place at the right time. I just happened to get the shot. There's so much going on there that has nothing to do with me.
In my second to last video I set up camp and a deer came right into the shot. In between me and the truck the deer was running around. It happened so quickly. That's where my training and experience comes in to play because I was able to set up quickly. I love the moments that just happen.
Above: On location, in a truck camper, staying organized is quite a challenge – click to enlarge