Above Right: A mother Grizzly and her cub feeding on the spawning salmon in the Bella Coola Valley of British Columbia.
TCM: The travel videos you've done for Toyota are incredible. How did that opportunity happen?
Chris: I was contacted by the advertising agency for Toyota of British Columbia. All of the Toyota dealerships in British Columbia work under this banner. The ad agency had seen photographs I had taken of my truck and wanted some content for their social media campaigns.
The video I produced with the grizzly bears had almost 70,000 views. The videos get out to a wider international audience because they're online and promoted through Toyota's social media channels.
The Toyota videos are focused on wildlife and nature. Since I am using a Tacoma with the Four Wheel Camper, I am able to naturally tie in these videos with Toyota. My personal mission has been to expose more people to the amazing world we live in.
Above: Chris' very talented video with the grizzly bears – Gateway to the Great Bear
TCM: Some of your outdoor video shots are very intricate. Are you the only one on these video shoots, or do you have help?
Chris: I am a one man show producing the videos myself from start to finish. This wouldn't have been possible ten years ago. I go through a ton of media but, with it being digital, it's possible. I even write some of the music.
From shooting to editing, it takes about three weeks to produce a video. This year I am doing five Toyota videos, one every eight weeks.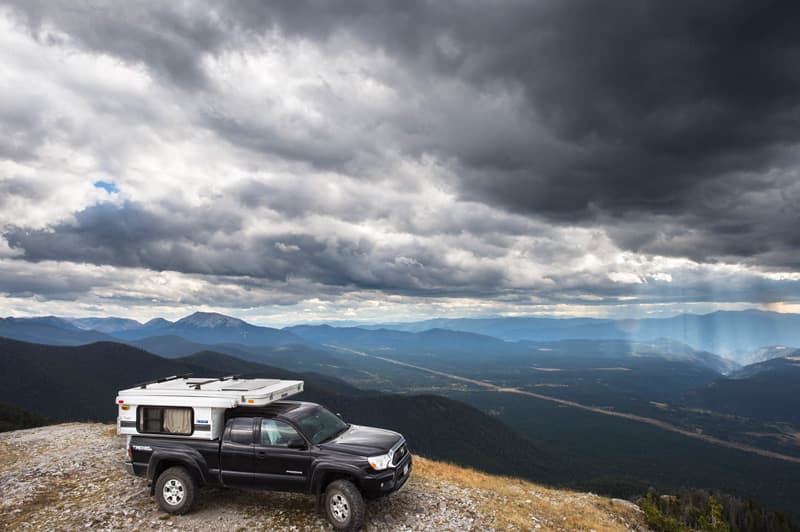 Above: Perched high above the valley below at the abandoned Jessmond Fire look-out.  A road not for the faint of heart.
TCM: Knowing how hard video production can be, that's impressive. How do you get those shots by yourself?
Chris: It's pretty comical. I'll hike twenty to thirty minutes uphill to get my camera into position, then run back, drive for the shot, and hike back up. If I had someone there it would be nice, but I go the extra distance to create something people will find intriguing to watch. It's hard to get people to watch something online for more than ten to fifteen seconds. My videos need to capture and keep your attention.
I pick my times carefully to maximize the potential of getting a shot. I usually do two takes. While the camera is running, I drive both directions twice. Sometimes I won't know if it will look better driving to the right or to the left. I'll review the film while I'm there.
If I'm in a good area and have good lighting, I'll take more time there. I've gotten good at camera positions. I'm using motorized dollies and time lapse for moving driving shots. That is good addition to my technical tool kit. The moving shots add more energy to the shot.
In one video I used a drone with a GoPro. I put it in the air, ran to truck, drove, and then brought the drone back. That's great for aerial footage. You can lock them into a position, and they run on GPS satellite. You have about ten minutes of battery power. The conditions have to be right and it can't be windy. I always choose safe places with no power lines or people around. I have lost a GoPro on the drone because it lost the GPS signal and it crashed, but life goes on.
TCM: I love the idea of a motorized dolly for the driving shots. Clearly this isn't your first foray into video production. How did you get into this career path?
Chris: Since I was a kid, I have loved National Geographic and adventure travel related photography. I ended up going to school in Vancouver for audio engineering. About that time the film industry in Vancouver started to boom.
My first career was in post production film and television on the audio side. I worked on some documentaries. That experience peaked my interest in producing, so I went into the video side of things. I worked in video production for about fifteen years.