It's time to head off-road and onto BLM lands for the prospect of finding beautiful rocks, minerals, and gem stones.  Take your pick.  Pry if you must.  Can you dig it?

As a community, truck campers have more hobbies than you can shake a stick at.  We paint the people of Mexico, tackle funundrums over mountain passes, climb frozen waterfalls, honeymoon in search of birds, canoe with alligators, challenge the Alaskan haul road, surf fish on Assateague National Seashore, explore fjords in Iceland, snow-hole in Scotland, boondock through France, drive back in time to Albania, and generally hike, bike, kayak, surf, photograph, jeep, snow machine, fish, hunt, ATV, eat stale donuts, and whatever else we darn well please from coast to coast, continent to continent.  Let the motorhome and towable folks have the pavement and bingo nights.  Give us dirt, rocks, sand, and the freedom to roam.
Speaking of rocks, Tom and Eva Umholtz are adding yet another facet to our cornucopia of camping hobbies.  Once again we leave the pavement in search of fun, adventure, and beauty.  This time we're going for the gold, or at least the obsidian, marble, alabaster, onyx, jasper, jade, and rhodonite.  It's time to rock hound.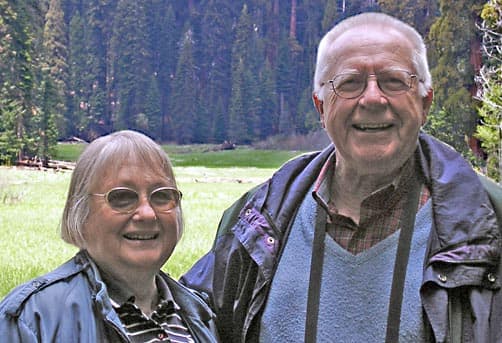 Above: Eva and Tom Umholtz in Sequoia National Park, California
TCM: How did you get into truck camping?
Tom: We started in fits and starts.  My wife is a rock collector and we belonged to a local rock club in Concord, California.  On our first field trip with the club, the other members had all kinds of vehicles; trailers, campers, cars, whatever you can imagine.  We asked ourselves, "What do we need?".
We thought a little motorhome would be best so as a trial, we rented a little Winnebago that was on a Toyota chassis.  That was in the early 1980's.  It didn't take long to realize that this didn't have the ground clearance we needed.  So, we got a little Chevy Blazer that they made on their S-10 chassis.  It had four wheel drive, but it didn't have toilet facilities.  That was one of our very highest requirements.  When you get out in the desert and need privacy, there aren't any bushes.
We rented a travel trailer for a couple trips but felt it was too cumbersome for us.  That's when we decided the best solution for us was a truck with four wheel drive and a truck camper.  During our research we came across a Texson pop-up camper.  We had never heard of such a thing but the Texson was lightweight, had a low center of gravity, and had the ability to have a porta-potti at all times.  We said, "Let's go for it!" and bought that truck camper new.
TCM: Today Texson is Northstar Campers.  So, what happened next?
Tom: After several years with the Texson, my wife started to get bad knees and couldn't get into the overhead bunk.  The lower dinette in that older model could be made into a bed, but it was not good for a full size human being.  So we decided to get a travel trailer and keep the Texson on the truck.  Other rock hounds have similar truck camper and travel trailer set ups.
It didn't take us long to realize we weren't travel trailer people.  That big thing tagging behind us and the complicated set up and break down were just not for us.  That's when we remembered the Winnebago motorhome that we had rented.  We decided to sell the truck, the trailer, and the camper and buy a Winnebago motorhome.
Then we found our field trips with rock clubs were taking roads that we couldn't take our motorhome on.  Once again, ground clearance was the issue.
TCM: That's frustrating.  How did you finally go back to a truck camper?