With his custom Phoenix Camper and tricked out 1978 Chevrolet K10, Larry Wittman, Jr. takes on the Jeep trails of Colorado, Utah, Arizona, and California.  Don't miss his amazing off-road videos!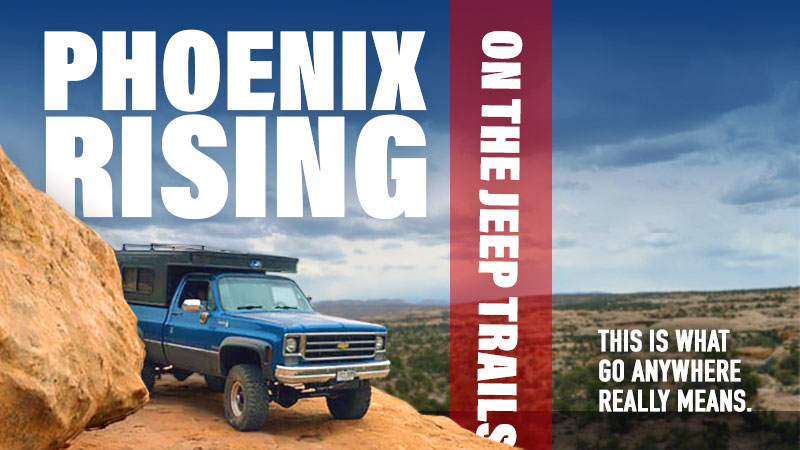 It's always interesting to learn exactly how someone ended up with their truck camper.  More often than not, there was a specific goal in mind, a vision for a hobby or lifestyle that required the versatility and capabilities only a truck camper can offer.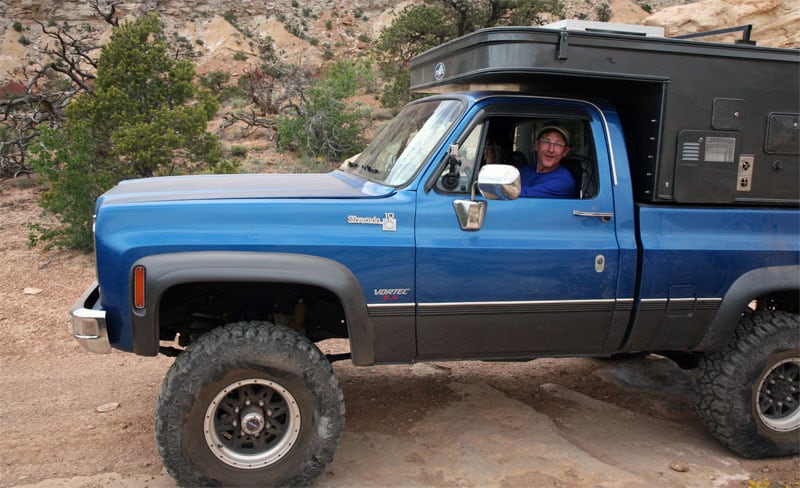 Larry Wittman's vision was clear; build a custom Phoenix Camper that can handle Jeep trails, without compromise.  Larry explores those limits in the desert sands, red rock, and cliff-side Jeep trails of The West and Southwest.

Larry has even documented his adventures on film, which you have to see to believe.  With every frame, it becomes increasingly evident that Larry has not only accomplished his vision, but is now in Jeep trail paradise.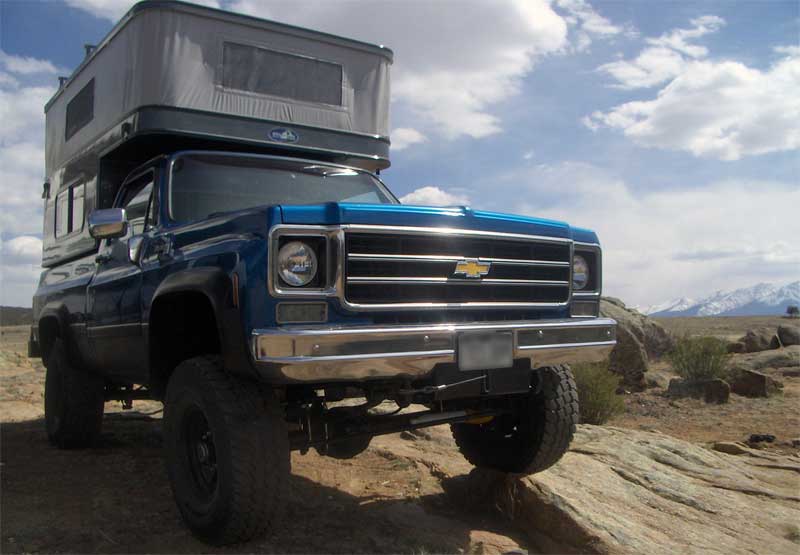 How did you get into truck camping?
My dad had a truck camper when I was a little kid.  He liked to camp away from people.  I started with a truck tent in the back of my truck and then went to a topper.  The topper kept me dry and warm, but I needed more amenities.
As a kid in grade school, I remember dreaming about Gary Wescott's 1970s Chevy Turtle II truck camper in the off-road magazines and thought, "Someday I'm going to have something like that".
I like the idea of an aluminum-framed camper.  Phoenix Campers are built locally and I liked Cari and Robby's flexibility to build exactly what we wanted.  This is my first truck camper.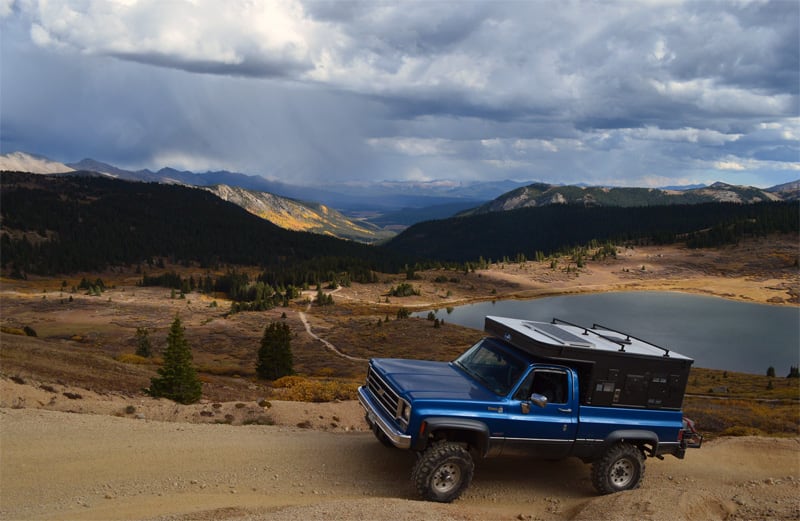 What did you want in your custom truck camper?
I wanted my camper to be durable, lightweight, even with the width of the bed of my 1978 Chevrolet K10 truck, and for my tailgate to shut.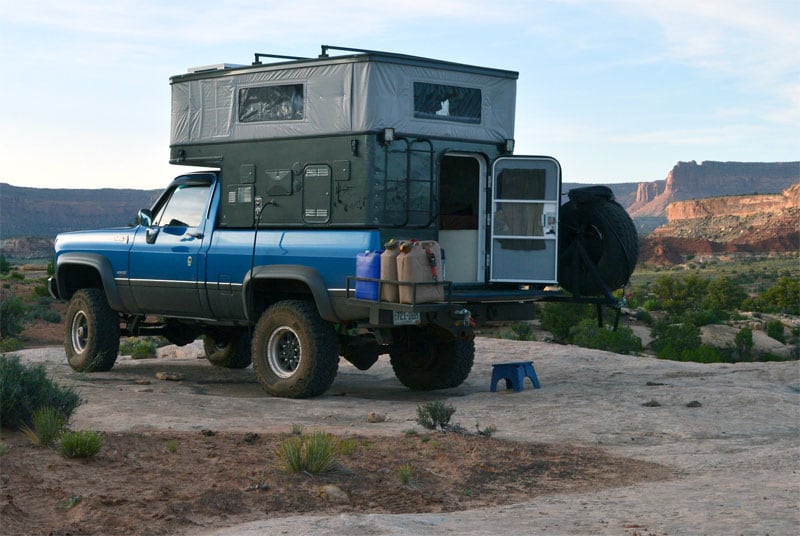 I wanted to have access to the tailgate so that I could sit and prepare food.  The tailgate makes for a great porch.  It also gives me the extra security when we're bouncing around knowing the camper is not going to exit the bed.

I wanted my camper to be no wider than the top of my bed rail so that I didn't have to have extended mirrors.  It also keeps the width narrow enough to easily fit on the Jeep and mining trails.
"My 1978 Chevrolet K10 truck is modified the way it is so that I can tackle most Jeep trails."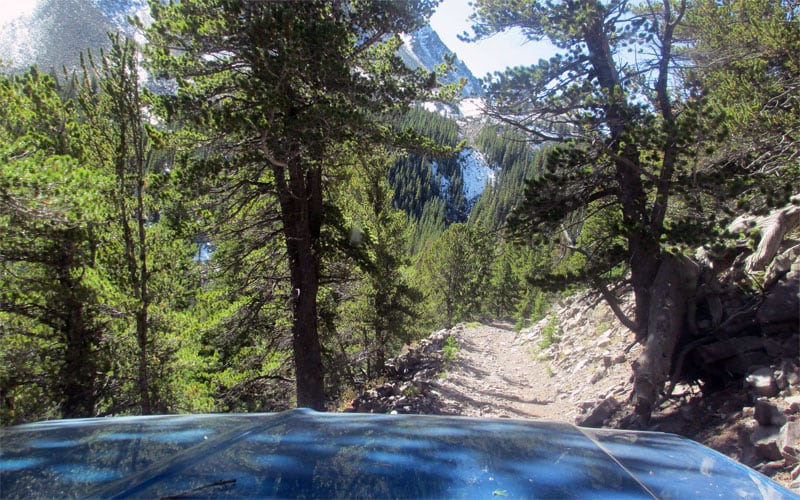 The cabover needed to be short so that it didn't go past the windshield for visibility.  I liked the look of the corners being curved and it makes for less seams compared to other campers.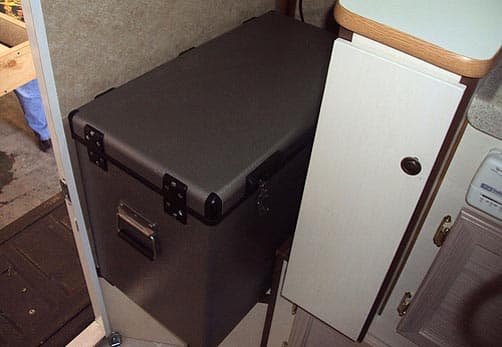 My refrigerator is unique.  It's a National Luna 12-volt refrigerator from South Africa.  It's in line with what the Overland community is using.  National Luna refrigerators are very low amperage.  Running the National Luna is like leaving a LED light on, so it is easy on the battery reserve.  Plus, they're lighter.  National Luna refrigerators do cost more, but they're really durable, so I'll have it for a long time.  It's well worth the premium over a standard three-way RV refrigerator.
Our Phoenix pop-up is very lightweight, which helps with intense off-roading.  It's also not bulky, and it fits tight to the 1978 Chevrolet K10.  Toppers are good, but they don't have enough amenities.  I also wanted heat and running water.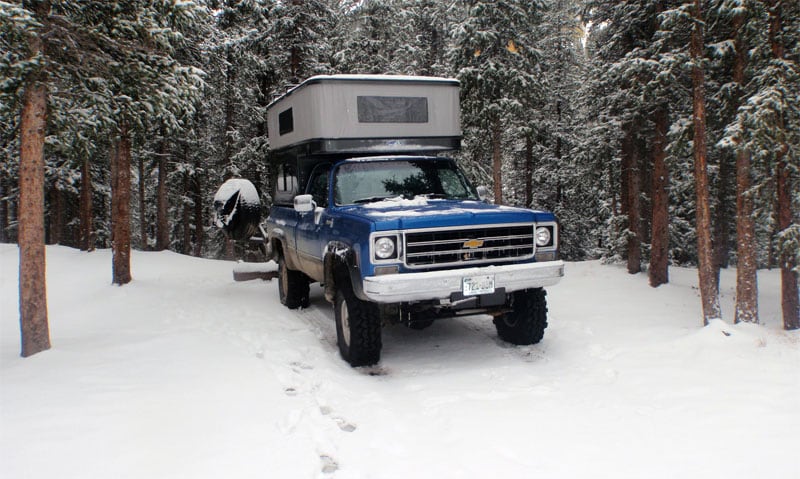 If you were set on off-road travel, you have probably done some extensive modifications to your truck.
The truck was originally a short bed half-ton 4×4 with an automatic transmission.  I have done extensive powertrain and suspension work to it.
The most worthwhile upgrade has been the engine, which is a fuel-injected 2002 GM Vortec 8.1L big-block backed by a 2006 NV4500 five-speed manual transmission.  It's the biggest production gas engine that GM has ever built.
While these engines were in production, my company used these engines in tens of thousands of RV chassis that we built over several model years.  They are robust and offer a lot of low RPM torque.  They may not be much in the fuel economy department, but they are a much cheaper alternative to a diesel engine.
We build strip chassis for the RV market for forty-foot, 26,000 pound motorhomes.  It's a beast of a gas engine.
I have also made modifications to my truck's suspension to make it flex and articulate during off-road travel.  Surprisingly, it actually rides like a Cadillac on and off the trail.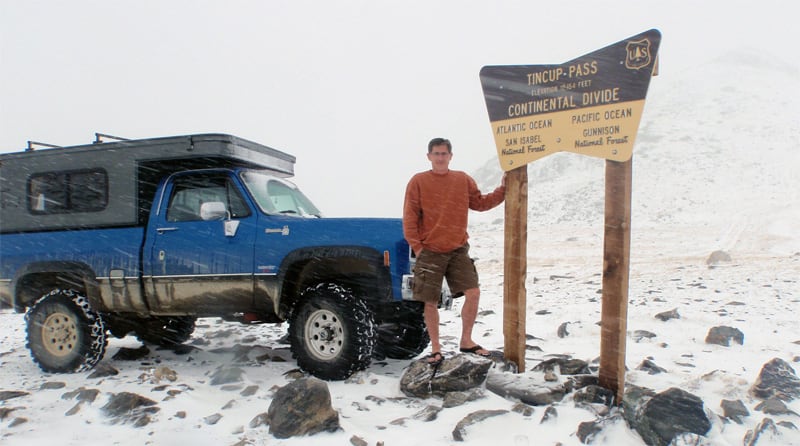 My 1978 Chevrolet K10 truck is modified the way it is so that I can tackle most Jeep trails.  I originally picked up a used 2005 long bed Silverado standard cab with the intent of building something for that given it had a longer bed.
Then, I started thinking about the things that I like to do and the places we like to explore.  The IFS suspension on the 2005 Silverado wasn't going to cut it, so I had the camper built for my already trail-ready 1978 Chevrolet K10 instead.  I showed Robby and Cari this plan.  At the time, they were doing the P.U.L.S.E. model with the Jeep.  I liked that concept and built my truck and camper with Jeep trails in mind.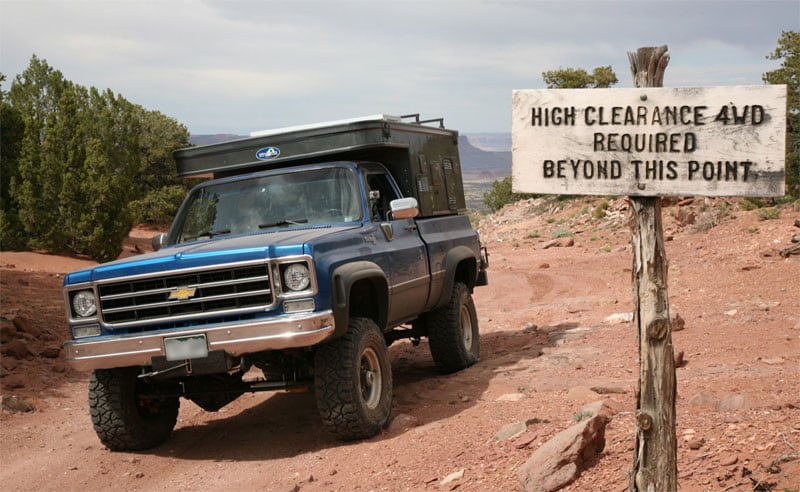 Do you have a special technique when you are driving off-road?
When we go off-road I let the air out of the tires to around twelve pounds.  The tires are really deformed-looking but, by doing so, it is better for traction and makes for a softer ride for both the truck and camper.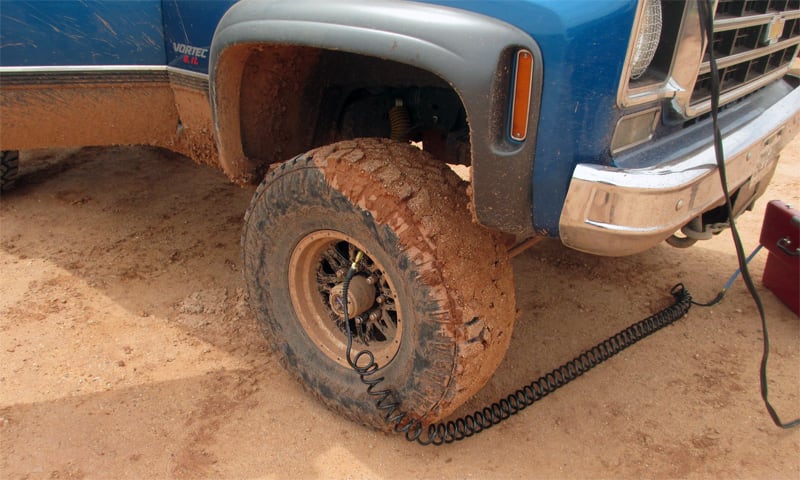 I run all-terrain tires which are much more aggressive than standard tires.  The current tires on the truck for long hauls to the desert are LT 315/75R16 Kumho Road Road Venture all terrains on 8" wide steel wheels.  I also run a set of tall skinny Q78x16 (36×10) Interco Super Swamper TSL's on 7" wide aluminum wheels for mountain trips where snow may be involved.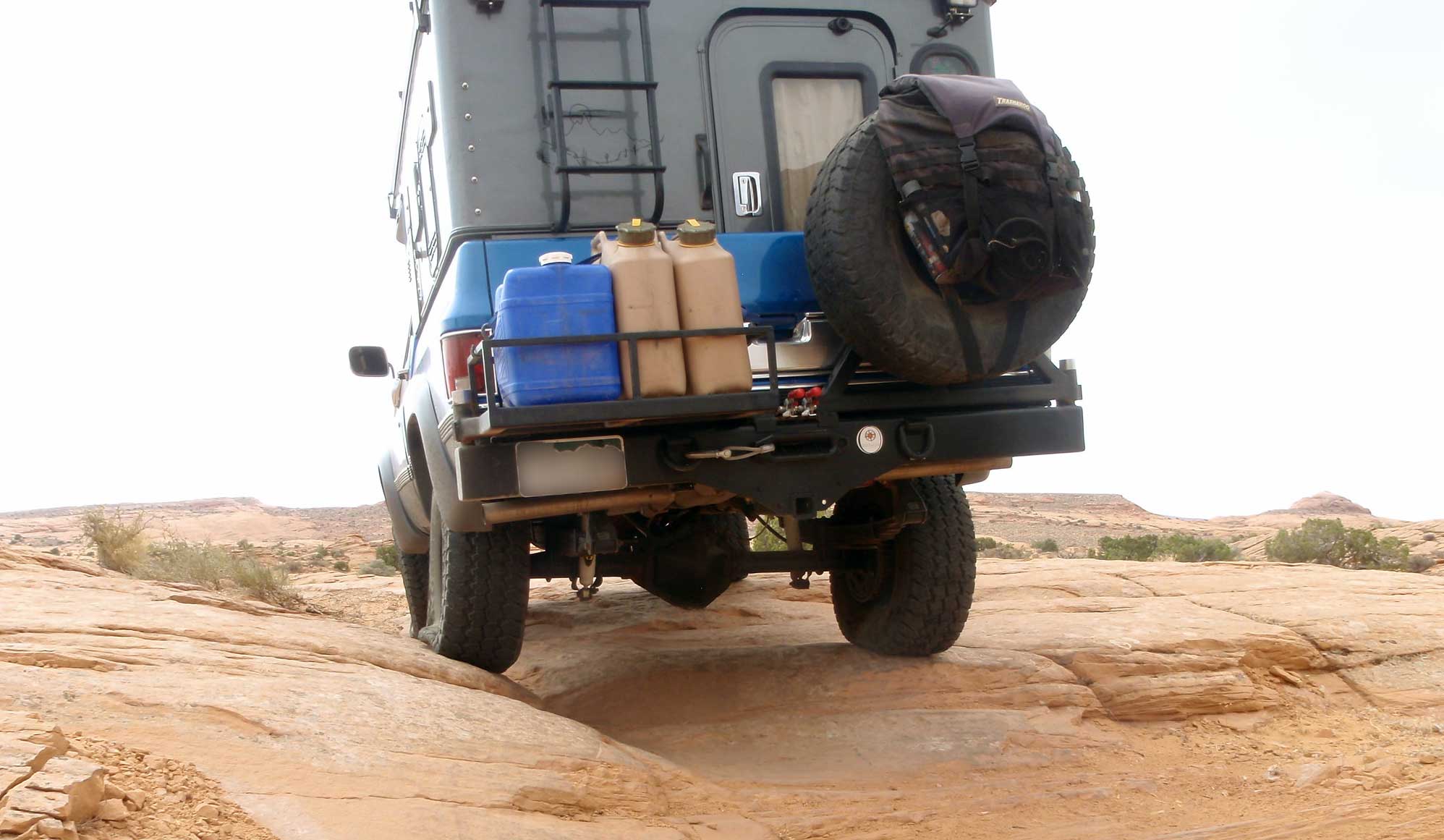 What do you carry on the back rack?
My buddy made the back rack and I helped.  We finished it the night before we left for Utah.  We mainly made it for the spare tire.
When I had the topper, there was storage below the sleeping platform to store the tire.  When I got the camper, I didn't have a place to put my spare.
I also wanted to carry extra water and fuel.  My friend has the white Dodge Ram Charger you see in the videos and built an identical rack for his truck first, which I really liked.  He's an amazing fabricator.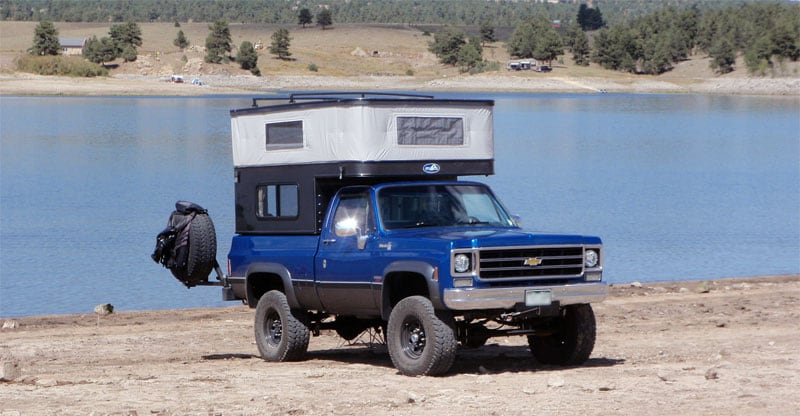 What made you decide to paint the camper grey?
I wanted the camper color to match the truck.  The topper I had was blue and that was what I was initially going to do with the camper.  But the more I thought about it, I thought the rig would look like a blue blob.  It would be too much blue.
The bottom of my truck is covered in grey Rhino Liner, and I wanted that color to match the camper.  The camper is actually the 2011 GM truck Storm Grey while the roof of the camper is typical RV white.
I was in the middle of Utah and it was 120-degrees inside the camper when we set up camp.  I turned the fan speed up and opened the windows and the temperature dropped down to 85-degrees in less than twenty minutes.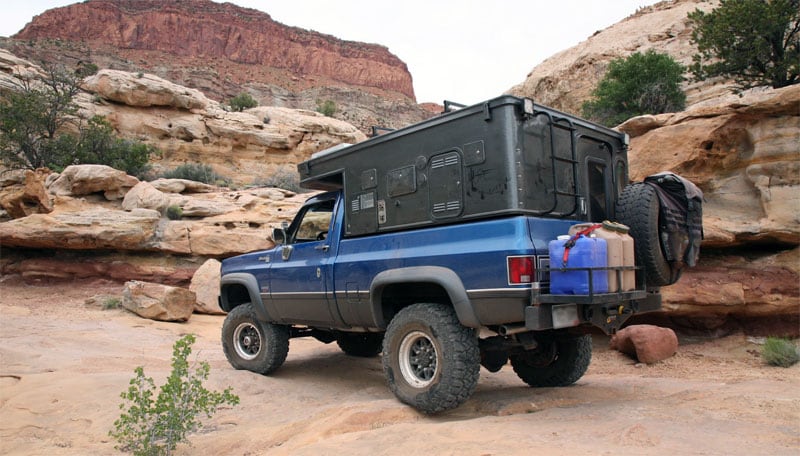 When I'm on the trail, I leave the vent open, fan on, and bulkhead windows open.  We have airflow as we're driving so that we're not building up too much heat.  It's certainly cooler than the topper was.  The fan is set to out-flow and pushes the air out.  That also makes it so that dirt doesn't get in the camper.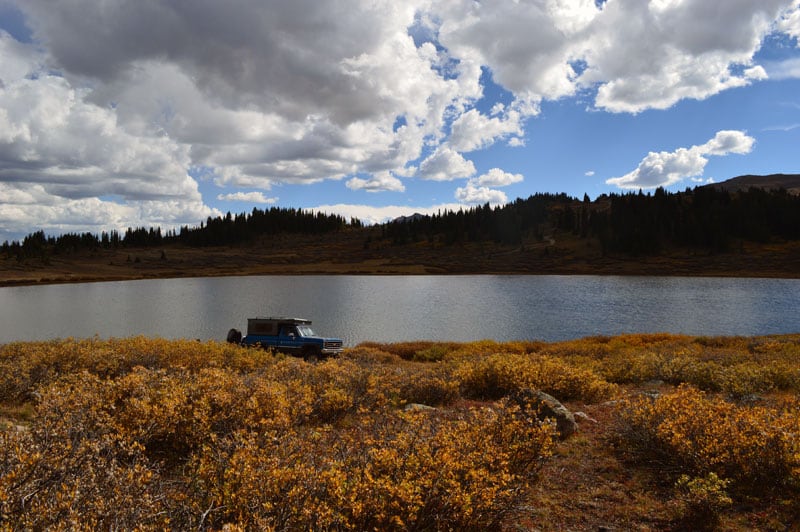 We already know you like to drive off-road with your camper.  What else do you like to do while you're out truck camping?
In Colorado, I like fishing in the mountains.  We also do our annual long-distance Utah trip.  I also like to go to the backcountry, sightsee, and do a little hiking.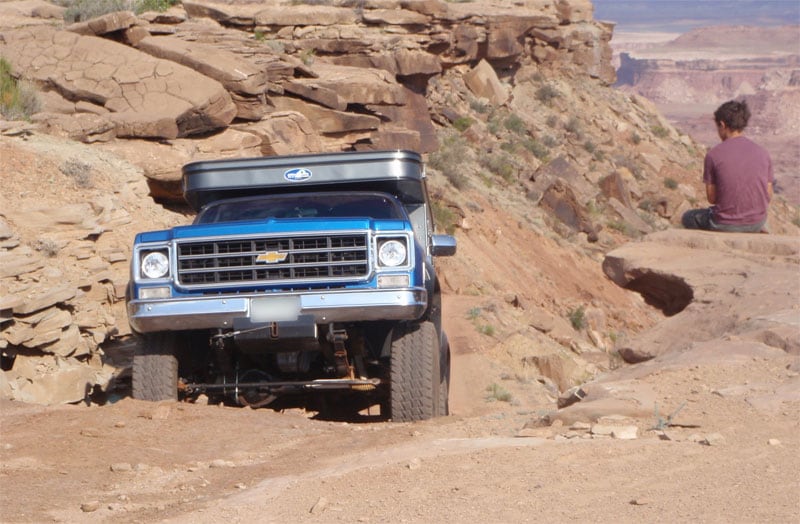 From your pictures, it looks like you're taking your camper to some pretty extreme places. Tell us about them.
Kokopelli Trails in Utah goes to the Top of the World, which is halfway between Grand Junction and Moab.  Check out my YouTube channel to see my videos.
"My automotive background allows me to have a forty-two year old truck, modify it for this kind of off-road travel, maintain it, and make repairs in the field."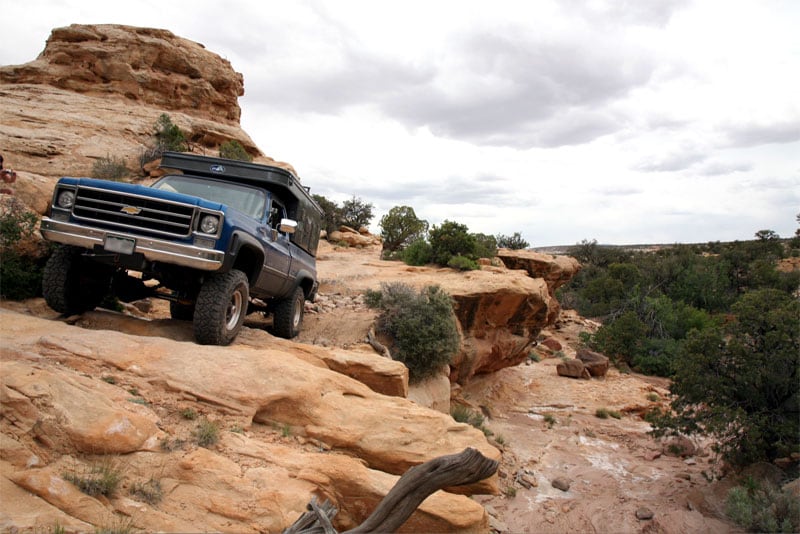 What are some of your strategies for driving off-road?
Drive extremely slow and you need a good spotter.  Someone needs to get out and lead you in the right direction.  Also, try to keep your vehicle as level as possible.  Be prepared.  I have a winch on the front and rear of my rig.  I carry spare parts, a spare tire, and spare tools.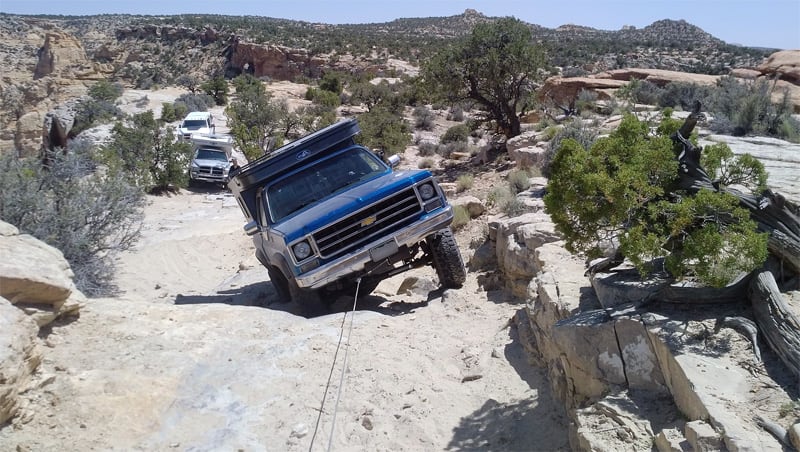 Working for an automotive manufacturer, I know this powertrain well and have a good idea of what spare parts to pack if something in the modern powertrain were to fail in the middle of nowhere.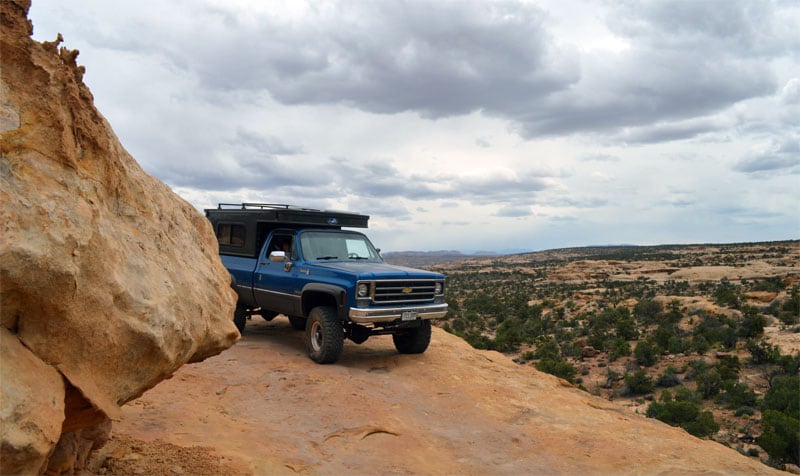 In Canyonlands National Park we were about eight hours away from the visitor's center.  It was only about fifty miles, but we were driving about three miles per hour.  In a place like that, you can't walk out and a tow truck won't come to get you.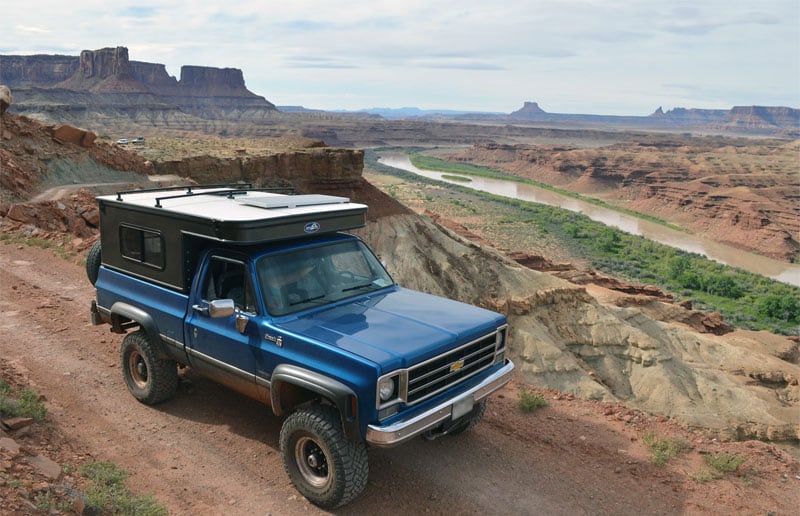 The trail we were on in Canyonlands was called the White Rim trail, Island in the Sky District.  It's a big loop that's about sixty miles, but the exit portion is Mineral Bottom and right now it's washed out.  That's about three-quarters of the way in, so you have to backtrack out.  Last year we did the other side of the Colorado River in the Maze district and that's even more remote.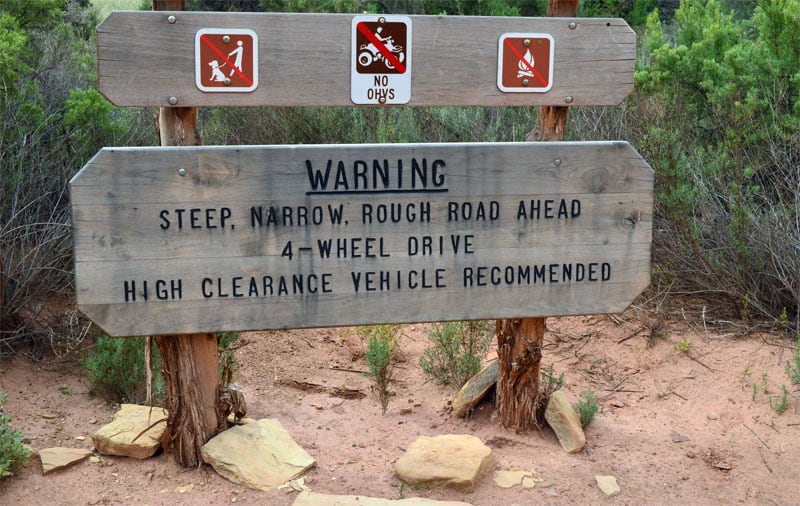 In my opinion, a Dodge Power Wagon is the way to go if you're not technical and want to purchase a great off-road ready truck for truck camping.

My automotive background allows me to have a forty-two year old truck, modify it for this kind of off-road travel, maintain it, and make repairs in the field.  Most people might be better off sticking to the modern Dodge Power Wagons for this kind of off-road experience.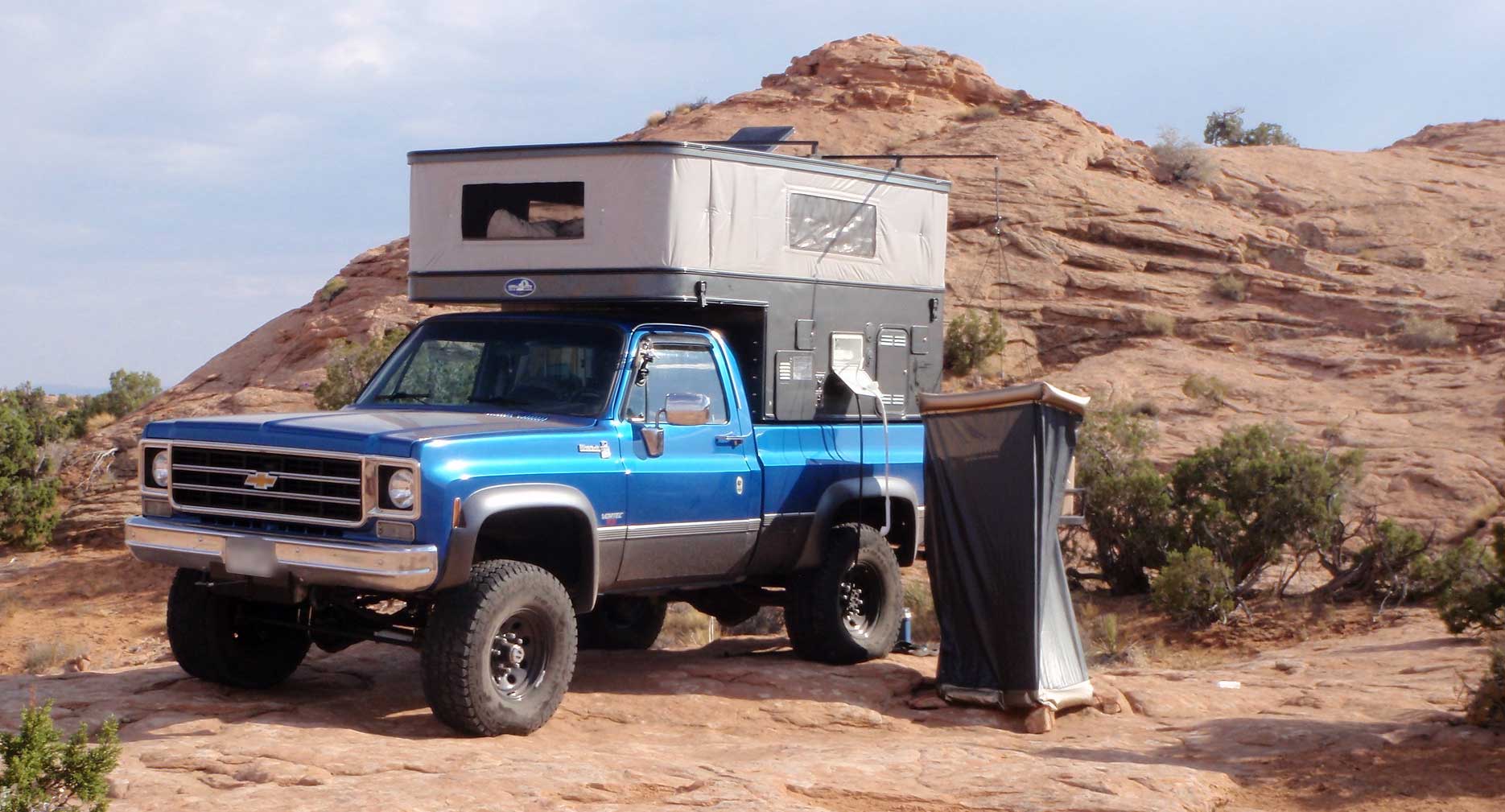 What are your plans in the future with your Phoenix Camper?
There's going to be many short weekend trips like going fishing in the mountains of Colorado.  For me, it's all about relaxing and having an escape from my high-pressure job.