Above: In the heart of The Needles, Canyonlands, Utah
As we discussed, my camper is small and fairly light on a heavy duty truck.  I do have to take into account for a higher center of gravity, but not too much because of the smaller camper dimensions and lighter weight.  My Hallmark LaVeta has proven to be a strong camper with all the twisting and bouncing it sees.
TCM: Walking the trail ahead to see what obstacles await is excellent advice.  What else would you recommend for newbies interested in off-road truck camping?
Jim: If you don't have some good practical off road experience, and know your truck's abilities with and without a camper, don't undertake a major trip alone.
If you are new to off-roading, and want to combine it with truck camping, check out the Overland Expo and Bill Burke websites to learn more about off-roading and off road camping.  Internet resources are almost endless.  A local 4×4 club may help too.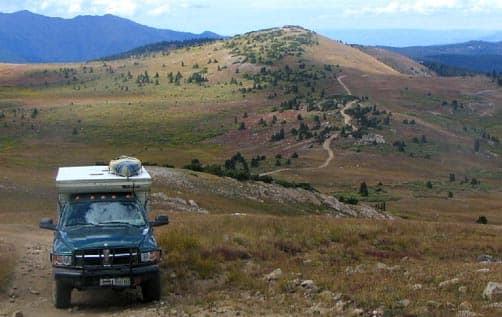 Above: Taylor Pass
Only do what you are confident you and your rig can do and always have a plan B!  Travel with people who are experienced if you are not.  Challenge yourself and your rig in small increments, working up the scale.  If you can, practice where you're not pressured near home before you commit to a trip.  Local practice is a great excuse to go out and play on any given weekend.
If you can, use out of the vehicle spotters on any big challenge.  The spotter, or outside driver, is the boss.  Use someone you trust, and obey their commands.  If you are solo, get out and walk anything you are traversing that you can't obtain a visual on or is questionable.  Driving into a mine shaft, deep ditch, or off a cliff can be a costly and even deadly mistake.  It's better to walk a few yards now, then ten miles for help or be stranded.
If you know where you're going, there is probably a report or opinion, with stories and pictures somewhere online for any given trail.
Like Warn says, "Go Prepared".  A good topographic map of your target area, and supplies for an unplanned night or three, are good measures among all the other off-road gear you should have.

At a minimum have a spare vehicle key, fuses, Hi-Lift Jack, shovel, recovery strap (loops only, no braided or sewn in hooks), tire plug kit, means to air up a tire, a real spare tire, duct tape, first aid kit, water (for drinking or refilling a radiator), lug wrench (don't laugh), selection of tools for minor repairs specific to your vehicle, good flashlight, and an ABC rated fire extinguisher.
I also have in both of my four-wheel drive vehicles an extra upper and lower radiator hose, a serpentine belt, and universal joint specific to each vehicle.  This is not all inclusive, it just touches the start of the list.  You can Google what other folks are doing and recommending.
It's very helpful to have some mechanical skills to be able to do a minor trail repair, think outside the box, and trouble shoot.  That can be the difference between a good off-road experience and a long walk out or being stranded.
I've had my share of simple things happen that I've had friends tell me would have stranded them. Two examples that come to mind were a severed metal brake line, and losing a front brake caliper bolt causing the caliper to bind into the rim.  Both were trail repaired with hand tools and logic in less than thirty minutes. The repairs got me off the trail and to the nearest town for a permanent repair.  I know there's stuff that could eventually stump me.
TCM: Those mechanical problems would have stranded us too.  Are there ratings out there so you know the difficulty of a trail ahead of time?
Jim: I ask the rangers about the difficulty of the trails if I am in a state or national park.  The park service usually has easy, moderate, or difficult ratings.  On some four wheeling websites, you may see a one to five rating, one being easy, up to five being an extreme rock crawling situation.  They also talk about what kind of vehicle to use for a given trail.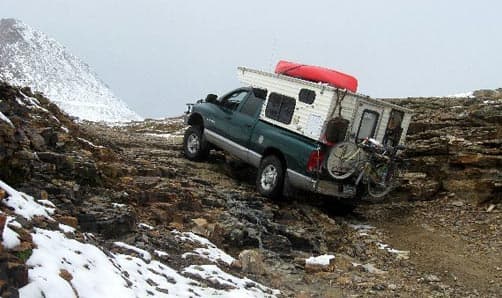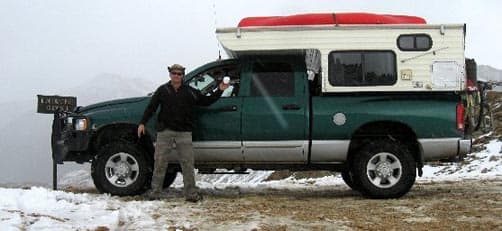 Above: Jim at Black Bear Pass