Jim McCoy pushes his Hallmark LaVeta to the limit on the challenging off-road trails of Colorado and Utah.  Now it's your turn.  Hold on.

Thirty-seven inch tires.  Front mounted winch bumper.  A shovel, an axe, and a Hi-Lift jack.  For professional paramedic and fire fighter Jim McCoy, these are just a few essential tools he chooses for serious off-road truck camping.
Not only is Jim's story inspiring, but his advice serves to help us better grasp exactly how we need to prepare our rigs, our gear, and ourselves for serious off-road truck camping.  It's time to hit the trail.
Above: Off-roading to the Dollhouse
TCM: How did you first get into truck camping?
Jim: When I was teenager, my dad had a truck camper and he took us on trips.  When I got my driver's license, I would borrow his truck and camper and take it to local campgrounds with my friends.  But, he wouldn't let me take too far.
I didn't get my own truck camper until 1994 when I moved to Colorado.  I bought an old Mitchell truck camper and used it for a few years.  In 1998, I had the opportunity to get a Hallmark LaVeta from a friend who sold it to me for a good bargain.  Soon after I upgraded my truck to my current Dodge.  The Hallmark is pretty tough and can take a real beating.  I take it over extremely rough roads and it handles the overland travel just fine.
The Hallmark LaVeta was originally designed for the Dodge Dakota and similar small trucks.  I have made it fit my full-size truck.  It's a nice combination and the best of both worlds.  Because of the LaVeta's small size and low weight, and the truck's off-road capabilities, I am able to traverse really rough roads, take lots of equipment and gear, and boondock for extended periods of time in comfort.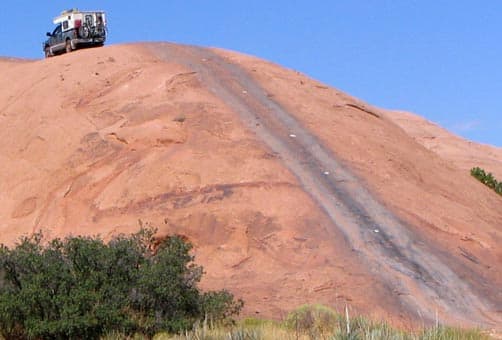 Above: Baby Lions Back, Moab, Utah
TCM: How do you find out about the off-road opportunities and camping spots you enjoy?
Jim: I have three or four subscriptions to off-road magazines.  I stare at maps, search online, and type the names trails into Google.  I also read other people's personal trail experiences and stories and got ideas from those as well.  It's just like when you buy a camper.  You research it.  There are lots of different places to get off-road information.
I like the DeLorme Atlas and Gazetteer maps.  They are maps that cover an entire state in an atlas type format.  They show highways and roadways like a normal state atlas.  They also show recreation roads and forest routes, many of which may require four wheel drive.  The maps are also topographical.  I highly recommend spending the twenty dollars on the Gazetteer maps.  They are fairly detailed and also contain a lot of recreation area information.  Another company called Benchmark Maps, also makes state atlases that are detailed and topographical, and show recreation and forest routes.  I like those too.  The two maps are a great combination together and will give you a great feel for the terrain and area you are going to explore.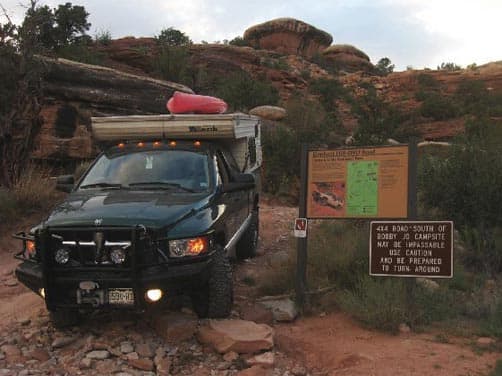 Above: Elephant Hill trail
Most forest service roads are used by forest service vehicles, and are not too terrible. But some of them do range from moderately difficult to extremely challenging. Many of the easier routes have improved campgrounds.  Most of the hard trails allow dispersed camping or boondocking, or may even have designated backcountry off road campsites, but always check local regulations and rules. Many of the national parks in Colorado and Utah have off-road trails within the parks that range from easy to difficult.  The park service people are a great resource.
I left the east coast to come out here to Colorado for the four wheeling and wealth of all the recreational opportunities.  It's all about the lifestyle.