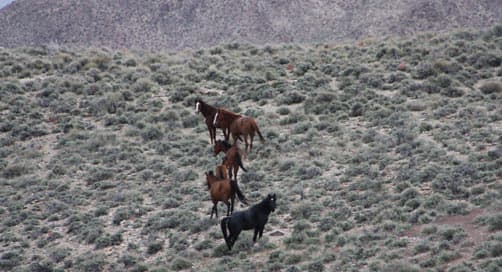 I had just finished jockeying my truck around, and using the rear air bags to get the camper level when six wild horses appeared from behind a small bluff.  They were obviously heading to the water hole, but when they saw my truck they became very curious.  They checked me out for a bit as I was taking pictures through the window, but I needed to get out for a clear picture.  When I got out and they saw a human figure, they took off.  They were beautiful healthy looking horses and I felt a bit guilty about keeping them from a drink.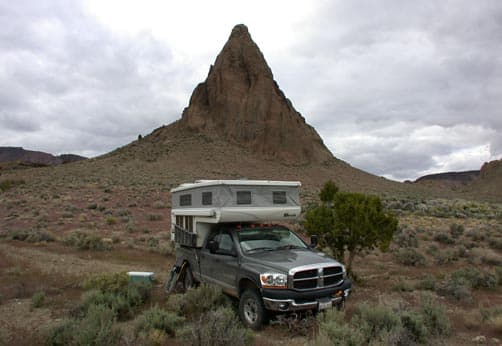 I try not to camp too close to water holes.  Maybe I'll camp a little further away next time.  The following morning I headed back to the highway and spotted the horses again about two miles away still giving me a wide birth.
I stopped in Tonopah to get gas.  Then I headed north up, "Big Smokey Valley" on Highway 376 and, just before Highway 50, I took a dirt road headed southeast.  About twenty miles later, I turned onto a two track trail.  It was time to fold in the mirrors and prepare for more paint scratches as I tried to find the abandoned Indian Blue Turquoise Mine.
I knew from research that the mine was shown to a man in 1925 by his Indian servant.  I thought I'd poke around in the mine tailings for some turquoise scraps.  After a few miles of steep, narrow, and rough trail, I finally came to the mine.  I parked next to an old shack and headed up to the diggings.
As I approached the mine itself, I saw a really new looking Location Monument.  The monument had a container attached to it that held claim papers.  It turns out that, just last year, a new claim had been made on the mine.
When I left the mine it was mid-afternoon and time to scout out a campsite.  I headed south down Monitor Valley with the National Forest off to my right.  Looking at canyons and the map, I went up a trail that followed a creek called Stoneberger.  After couple of miles, I came to a creek crossing about twenty-five yards across.  I thought long and hard about the ramifications of getting stuck, but crossed my fingers and went for it.  Just on the other side was a beautiful place to camp.  No guts, no glory!
The next morning, after giving the truck another bath, I went to the geographic center of Nevada which happened to be close by.  After paying my respects to Nevada's belly button, I went to the Town of Austin for supplies, then on to Buffalo Canyon off Highway 722.  This remote spot is a place where you can find common Opal.
After turning off the highway and then turning off the dirt road onto a trail, I spotted a man by a car.  This was the first human I had run into in the outback.  He looked friendly.  I didn't see a lot of tattoos or anything, so I waved.  He waved back and we ended up talking for half an hour.  It turns out he's a gold miner and he was here with an excavator doing some prep work for his partners on the mine.  He told me where I could find the opal and off I went rock hounding.  After collecting a pail of opal I said my good-byes to Dave the gold miner, and headed to Fallon for the night and a hot shower.
The next day I backtracked to the east on Highway 50 to Highway 361 and headed towards Gabbs.  Just north of Gabbs, I headed west into the mountains where my rock hounding book said I could find Fluorite in the tailings of the Kaiser mine.  This was a large mining operation at one time.  All the wooden structures where no longer standing and there were deep mine shafts everywhere.  A lot of old mines shafts are surrounded with short barbed wire fences for safety, but you still need to be on your toes.
I was exploring some old foundation work when I heard a strange noise.  When I spotted the source, all I saw was a tail with rattle attached going into the bushes.  After gathering my wits, I gave the rattler a wide birth.  This was my first encounter with a rattlesnake in my many visits to the desert and I told myself to be more alert.
I did collect some Fluorite and then went a short distance to Broken Hills, another mining area.  At the old mines I saw many new claim markers.  I guess with gold at over $1,500 an ounce, many old gold producing areas are getting a second look.  I found some Opalized Petrified Wood in this area and did some target shooting too.
That night I camped in Desatoya Mountains Wilderness Study Area.  The place is very beautiful with huge vistas devoid of any clue of modern life.  It could have been 1811.
In the morning, I headed for Middle Gate to try and find leaf fossils.  After much digging and finding nothing, I walked around the area and found a spot where I could pick the fossils up of the ground.  This is way more fun than digging.  I found so many fossils I stashed some in the bushes.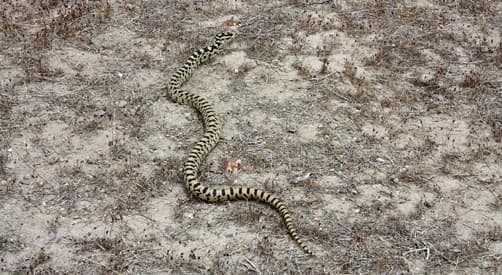 By mid-day, it was time to head to Green Mountain near Fallon.  On the road to the highway, I spotted a big beautiful Gopher Snake.  This would be my last campsite before heading home.  The rocks here are called Wonder Stone.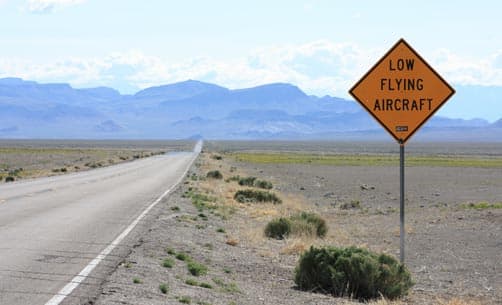 After loading up on rocks and making camp, I was treated to a lot of F-18 fighters flying out of Fallon Naval Air Station.  I had my only camping neighbor here, other than the campground.  They were about a mile away.  Man, I hate being crowded.