Next up was Red Rock Mine from Desert Magazine, February, 1956.  This Mercury mine was different from other mines I have visited because I knew so much of its history after reading the Desert Magazine article. There were many small buildings and a lot of the mining equipment is still there.  I wondered what eventually happened to the family that owned the mine.
I then headed east through Tonopah stopping at the airport to check out the old wooden World War II aircraft hangars.  An airport employee said to feel free to look around, but warned me that the big hangar was not safe.  Every time they have a wind storm they expect it to come down.  I camped nearby in the Toiyabe National Forest.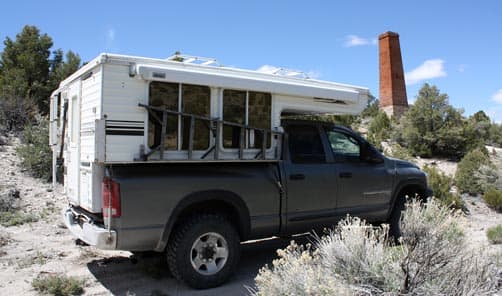 In the morning, after passing Rachel, Nevada, I left the pavement headed to the old Crescent Mill site.  While taking pictures of the mills brick chimney, the quiet of the desert had given way to jet fighters playing overhead.  This ended with a double sonic boom.
Next stop was Mount Irish Archaeological Area.  The road through the mountains got very narrow in spots with a lot of branches imparting new "desert pin striping" down the sides of my truck.  Mount Irish is a well known petroglyph area, and the BLM has a register and maps there for a self-guided walking tour of the area.
The road in from the east is bumpy but fine for cars.  Not far away is another area of petroglyphs called the White River Narrows.  It is narrow in places but there's no river to be seen.  It's right off of Highway 318 north of Hiko.  This is a beautiful area with lots of petroglyphs.  After exploring the area, I made camp surrounded by old Indian art.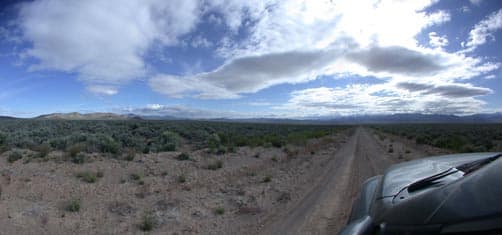 ABOVE: Highway 318 to Highway 93
In the morning, I headed east across the desert for twenty-five miles from Highway 318 to Highway 93 stopping at the Bristol Charcoal Kilns along the way.  Then, near the town of Pioche, I went up a Canyon to, "The Big Trees"; Desert Magazine, September, 1962.  Here in this canyon are just a few big Redwood trees.   And no one seems to know how they came to be here in this micro climate in the desert.  They are hundreds of miles from where they grow in California.
I then headed to Rainbow Canyon near Caliente.  On the way, I got pulled over by Nevada Highway Patrol for speeding.  After a mild scolding, I was sent on my way without the $262.00 ticket.  Thank you sir.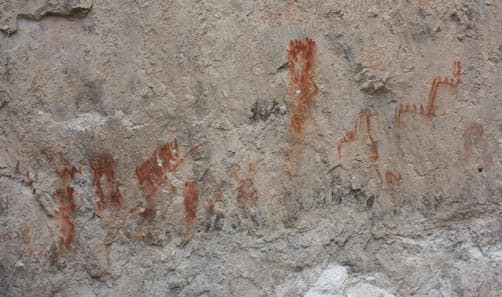 Rainbow Canyon is a beautiful area and prone to flash flooding.  The Union Pacific Railroad runs through it and twice in the last several years their tracks and the road has been heavily damaged by the water.  In this canyon you can find pictographs which are very rare.  Pictographs are painted and Petroglyphs are scratched.
The next morning it was snowing.  The ten day forecast said it would be seventy-five degrees.  After filling up the water tank and getting some supplies in Caliente, I headed to the ghost mining town of Del Mar; Desert Magazine, January, 1954.  There were old rock walls and mine works and the obligatory old car full of bullet holes.
Then I made a quick run south to Moapa and turned north up Meadow Valley Wash ten miles to an old cabin I researched on the internet just before leaving home.  There was a picture of the owners standing in front of the cabin in the early 1900's in the article and it told of many petroglyphs behind the cabin.  I had to do a little trespassing on the railroad right of way to get within a half mile of the cabin.  Then I walked through thick brush and a creek for pictures of, "Huntsman's Cabin" and the petroglyphs.
I was getting paranoid about getting back to my truck and getting off the railroad right of way before a train came by.  In my hurry, I tripped and fell flat on my face cutting the tip of my nose and a finger.  After cleaning up with a couple of baby wipes I hightailed it out of there and headed back north on Highway 93 to the Pahranagat National Wildlife Refuge.
Earlier on my way south, I had noticed a campground next to a lake and I thought I'd check it out.  It turns out this National Wildlife Refuge campground was free and all the campsites are lake front!  It was a beautiful area, the campsites were spread out, and you can paddle on the lake but no motorboats or swimming are allowed.  The only drawback to this place is its proximity to the highway.
The next day I went to two more Indian rock art sites, Ash Springs and Crystal Wash.  After exploring these areas I decided to head north to the Austin area to an abandoned turquoise mine.  Like most of this trip, I had no idea where I would camp for the night, but that makes it more exciting.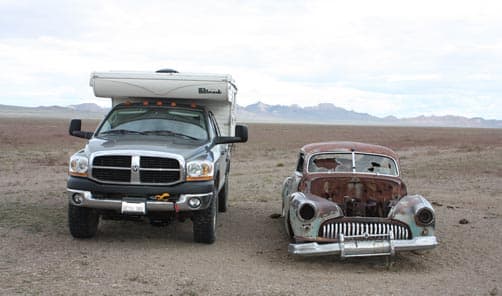 While driving north on Highway 375, I noticed a beautiful canyon a few miles west of the highway.  All I needed was to find the road into it.  A couple of miles further, I turned onto a two track road and went up into this canyon.  I found a single small tree near the end of the road next to a series of pointed mountains.
On the map it was appropriately called "Fang Ridge".  There was a water hole nearby which means wildlife sightings were possible.