Frank Ross takes his Hallmark Milner LX 2,300 miles exploring the desert in search of petroglyphs, old mines, and rock hounding.  He found much, much more.

With a week and a half to explore Nevada, I couldn't wait to get going.  I wanted to see as much as I could in the time I had, spending every night in a different place.  I had a lot of fun planning the trip, going over maps, the internet, and researching old copies of Desert Magazine.  I had a general outline of where I was headed with lots of options on places to explore.  On the menu for this trip are petroglyphs, old mines, and rock hounding.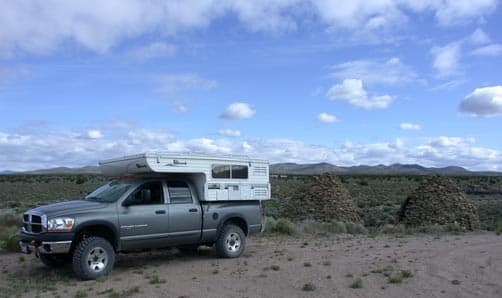 ABOVE: 2006 Dodge Power Wagon with his 2005 Hallmark Milner LX
When traveling alone (one vehicle) out in the desert, or anywhere far from help, you need to be well prepared.  My truck is a 2006 Dodge Power Wagon with 25,000 miles, so it's still in the reliable stage of life.  One of the necessities for the trip is a tire patch kit.  On a prior trip out in the boondocks, I had two flat tires and would have been in a bind without a tire patch kit.  You need a good twelve-volt compressor to compliment the patch kit.
A SPOT satellite messenger is a must.  With it, you can summon emergency help, send two different canned e-mail messages, or summon roadside assistance.  Also, family and friends can track your location on the internet.  If you're stopping at the Mustang Ranch, you might want to disable that feature.  Cell phones can't be relied on so the SPOT can be a life saver.
A good first aid kit and a snake bite kit are in my rig.  I also carry a well-stocked tool kit and recovery gear to go along with the winch on my Power Wagon.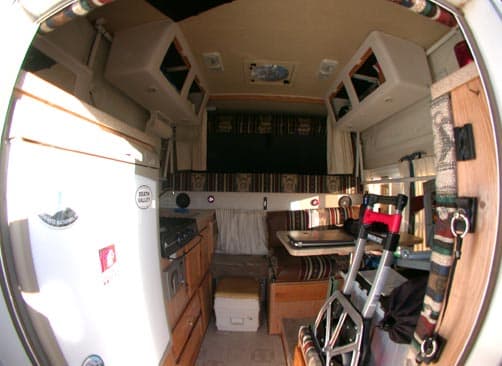 My 2005 Hallmark Milner LX carries twenty-two gallons of water.  I'm good there.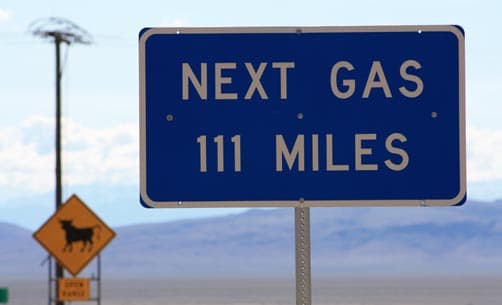 One last tip; never pass up a gas station, you want to have as much fuel as possible when you head to the outback.
The Nevada state line is only four hours away from my home on the coast near San Francisco.  Shortly after leaving Reno, it's like you've turned back time.  You can drive the two lane roads for long stretches without seeing another car and the vistas are grand.  Once you leave the pavement, human encounters are even more of a rarity.
Just this year, a Canadian woman was rescued by hunters after spending seven weeks in her van that got stuck on a logging road in north eastern Nevada.  Her husband left for help on day three, and has not been found.  If they had a SPOT, they would have been rescued in hours.
For navigation, I use a laptop computer with topographic software and a USB port GPS receiver on the dash.  I also bring a hand held GPS for hiking plus some good old fashioned paper maps.  Some words of caution when using a GPS; the computer can pick a route for you, but it might not be the best route.  That's what happened to the Canadian couple.
I discovered several stops on this trip by skimming through old issues of Desert Magazine.  The magazine was published from 1937 to 1985.  All issues are available online at scribd.com or dezertmagazine.com/old-desert-magazine.  It's a wealth of information on the deserts of the Southwest.  The old ads are fun too including ads for early truck campers.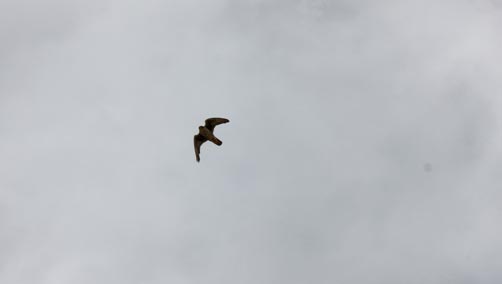 My first stop was a place called, "The Sump", a beautiful geologic area west of Tonopah with petrified tree stumps.  I found this spot in Desert Magazine, April, 1973.   While exploring the area, I walked up to the edge of a high cliff to take a picture and startled a bird that took off and began circling me, screeching, trying to drive me away.  I snapped a few photos and got out of its space quickly.  My guess was a Falcon.  I later confirmed it was a "Prairie Falcon".
I did some four wheeling in and around the Sump looking for a campsite out of the wind and made camp.  In Nevada, you can camp just about anywhere you want because most of the land off the beaten path is Bureau of Land Management land or National Forest land.