Above: Camping and exploring Big Bend National Park
TCM: How do you plan your camping trips?
Sam: For our longer trips, we plan a couple months ahead, but we never really have a day-to-day plan.  I never make campground reservations.  If we're having fun doing one thing, we'll stay.  Then we'll look at the map and see what we want to try next.  The camper allows us that kind of freedom.
I definitely prefer driving somewhere over flying.  I've flown a lot, and I don't like airports.  I'd rather drive because we get to see more of America.  We'll also pull up the Yelp app on our iPhone and find a great restaurant.  We like to go into a town and eat at the local places.
We've gone camping close to home where we fish, take our dogs swimming, and enjoy several outdoor meals complimented by an ice cold beer.  There is property nearby, where we often hang out and go fishing.  We literally pull up next to the lake and camp.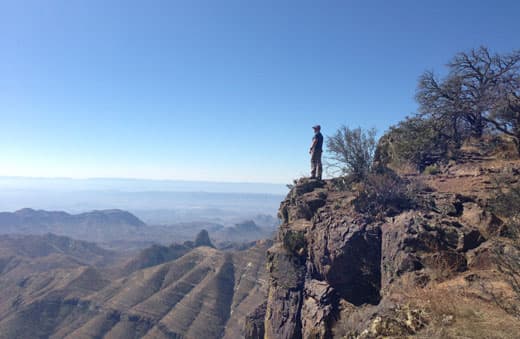 Above: Sam in Big Bend National Park, Texas
We have taken the rig on a ski trip to Copper Mountain near Denver, to a University of Colorado Basketball game in Boulder, camping in Rocky Mountain National Park, The Killers concert in Bloomfield, and Copper Breaks State Park in Texas.   We also went on a trip to Monahans Sand Dune State Park and Big Bend National Park that included many off the beaten path sights and campgrounds on the numerous four wheel drive trails.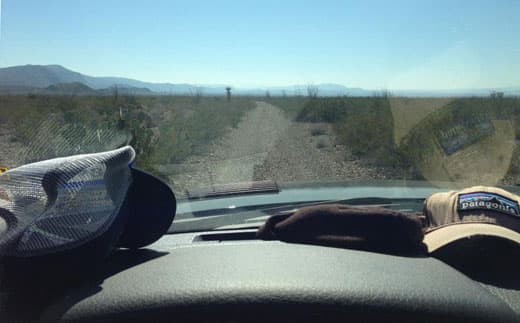 Above: Black Gap Road in Big Bend National Park
My truck performed well with the camper on challenging off-road trails like Black Gap Road in Big Bend National Park, and others.  All in all, we are very happy with the purchase of our truck and camper and look forward to many more off-road adventures in the years to come.
TCM: It's amazing how much you've done having only owned the camper for five months.  What's next?
Sam: Trips that are in the works are my best friend's wedding in Philadelphia, a visit to Wounded Warriors at Walter Reed Medical Center in Maryland, and possibly my Alma Mater at West Point, New York.  We also want to go to the Telluride Film Festival, the 2013 Texas Raptor Run, the 2013 Overland Expo, and several small Texas festivals.
TCM: We will meet you at the Overland Expo in May.  This will be our first time to the Overland Expo.  What's that event like?
Sam: The Overland Expo is a great mixture of off-road vehicles and outdoor camping.  They have products for cooking, camping, and driving off-road.  The main draw is Land Rover's off-road course.  There are off-road seminars and classes and people showing their expedition films.  You will also see extreme overland vehicles like the Earthroamer and other crazy four-wheel-drive rigs.  It's really the best place to go if you're an off-road enthusiast and want to see what's new on the market.
TCM: We can't wait to see your rig.  See you there!
Truck: 2011 Ford F150 Raptor, Super Crew, 4×4, 5.5 foot bed
Camper: 2012 Phoenix PULSE SC Custom
Jacks: Four Removable Happijac Jacks
Tie-downs/Turnbuckles: Phoenix hook and ratchet strap system
Suspension: The truck is completely stock
Gear: Gentech Generator