Sam Deen takes his black Ford Raptor and Phoenix PULSE SC custom truck camper rig off-road in search of remote places, off-the-grid camping, and outdoor adventure.

The Ford Raptor was designed to drive directly from the production line to some of the most challenging and rigorous off-road trails available.  Completely stock, it's ready to take its owners where very few vehicles would dare.
For Sam Deen and his wife Ashley, this means getting far off the beaten path and exploring some of the most beautiful places the Southwest has to offer.  As a former Army officer, Sam added a Phoenix PULSE SC, a custom truck camper designed to fit in the bed of the Ford Raptor.  Together, the Ford Raptor and Phoenix PULSE SC not only allow Sam and Ashley to go just about anywhere, but also to camp in the amazing places they discover.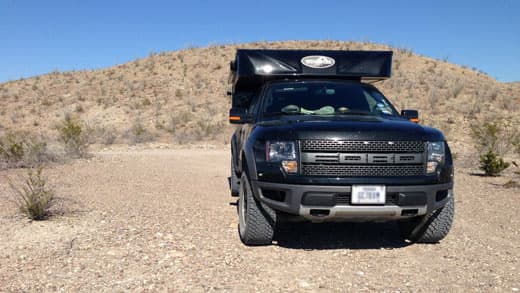 Above: The 2011 Ford Raptor and Phoenix PULSE SC
TCM: Where did you get the idea to put a truck camper on a Ford Raptor?
Sam: I love off-roading.  I've always had a four wheel drive vehicle or an ATV for trails.  I'm also big into Jeeps.  Then I bought my Ford Raptor and saw one of Robby Rowe's Expedition Portal threads showing a Phoenix on a Raptor.  That's where I got the idea.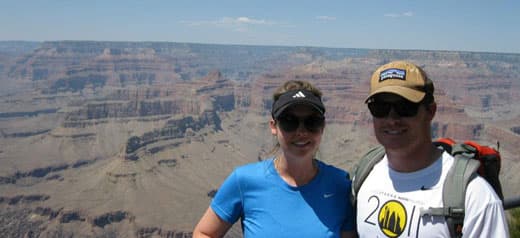 Above: Ashley and Sam at the Grand Canyon, Arizona
My wife, Ashley, and I love hiking, getting to remote places, and eating lunch with a spectacular view.  We love going to places where not many people go, whether on foot or with a four-wheel drive vehicle.  With our Raptor and Phoenix rig, Ashley and I can go places other people can't go, and we're fully self-contained.
TCM: How did you order your custom Phoenix Camper?
Sam: Purchasing the Phoenix was a big event for us.  Ashley and I attended the Overland Expo last year and met Cari and Robby Rowe, the Owners of Phoenix Campers.  We automatically knew we wanted to do business with them because they were so nice.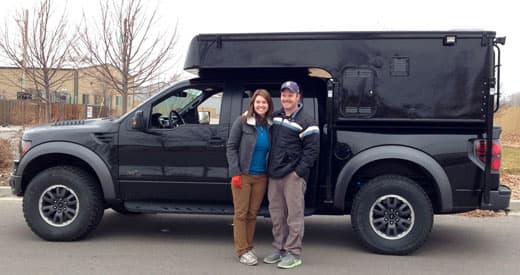 Above: Ashley and Sam the day they picked up their new Phoenix Camper
I told Robby what I wanted and he designed it on paper while we were there.  In late Summer I ordered the camper.  During the build I corresponded with Cari and Robby via email about what I wanted in the camper.  Overall, it was an easy process.
Above: Inside Sam and Ashley's Phoenix PULSE SC
TCM: What features did you choose for your custom Phoenix?
Sam: Our camper has a twenty gallon fresh water tank, a hot water heater, air conditioning, propane heater, three burner stove, refrigerator, queen bed, and a two person kitchen dinette that doubles into a mini bed.  We also have a cassette toilet, shower, eight foot awning, and an electric fan vent.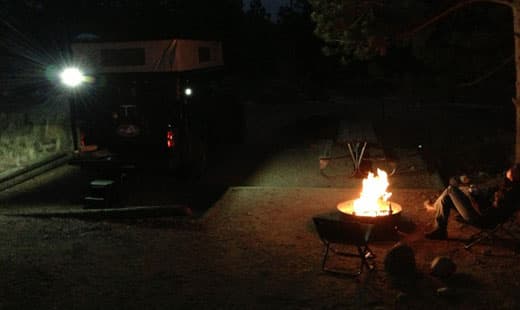 Above: Camping at night with the bright light that lights up the campsite
I asked Robby to add a generator compartment and match the exterior color to the truck.  I also had him add three exterior lights.  If we open the back door we can reach inside and turn on lights that light up your whole campsite.  If we're on the inside and need to see to the outside, we can hit that same light switch.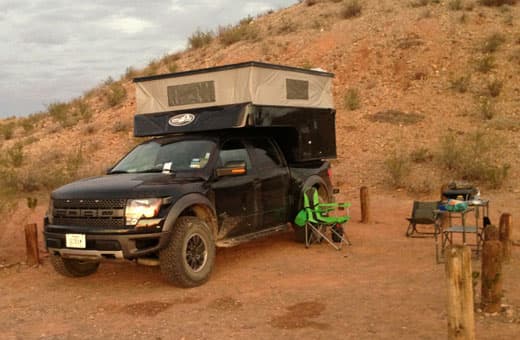 Above: In the above photo the jacks are removed from Sam's camper
TCM: In some of your photography the jacks are removed form the camper.
Sam: I actually remove the jacks all the time.  I only keep them on if I'm planning on taking the camper on and off.  They are easy to take on and off.  There are five screws on each jack.  They're heavy and without them there is less drag.  It also gives me more ground clearance and better miles per gallon.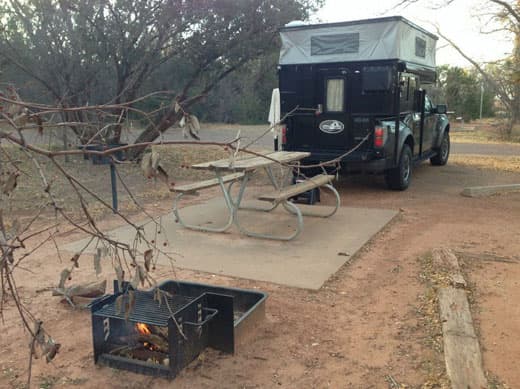 Above: Camping in Texas, notice that the camper fits inside the five and a half foot bed
TCM: How does the camper fit on the Raptor's five and a half foot short bed?
Sam: The camper fits entirely inside the bed with the tailgate closed.  I use the backup camera in my tailgate and the trailer hitch.  I love having the backup camera on the tailgate for off-roading and parking.  The tailgate serves as a front porch to store firewood, trash bags, or muddy boots after a day of exploring.
Some may have concerns over being locked in by someone shutting the tailgate with you inside, but a simple Master Lock on the hinge alleviates that potential situation.  Additionally, the locking tailgate provides extra protection for my generator and gear stored inside the camper.  We can lock the tailgate if we're away from the camper which adds security.
Above: Sam and Ashley in Rocky Mountain National Park, Colorado
TCM: Other than off-roading, what do you and Ashley like to do when camping?
Sam: We like to go to concerts and sporting events a few hours early and tailgate.  We tailgate at Dallas Cowboys, Dallas Mavericks, and Rangers games.  With the awning and the bathroom, it's really nice to have the rig.
We want to really use our camper because a lot of money went into it.   Too many people buy RVs and only use them a few times.  Then they sell them or they go unused.  We use our Phoenix Camper.  It gives us the freedom to do more.
TCM: You have two dogs that travel with you.  How does it work having two dogs in a five and a half foot camper?
Sam: We're huge dog people.  Our dogs, Daisy and Murphy, run our lives.  The dogs have the two person dinette as their bed, but they still jump on the bed with us.  It's tight, but we're a close family.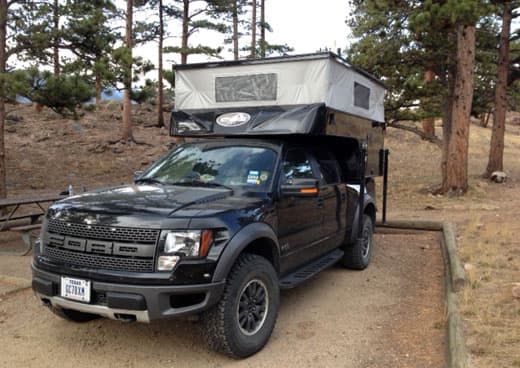 Above: Camp spot at Big Bend National Park
TCM: What are you getting for fuel economy with the Ford Raptor and Phoenix Camper?
Sam: Unfortunately, the Ford Raptor gets terrible fuel mileage.  It's a 6.2 liter V8 with bigger tires than a stock Ford F150.  I was getting fourteen miles per gallon without the camper and twelve miles per gallon with the camper.
The PULSE SC is low profile design which really helps with wind drag.  I also use tow/haul mode on the truck.  It's slows the truck down and helps with driving in the mountains by delaying shift points and providing engine breaking.  When you own a four wheel drive truck or a Jeep, you're going to sacrifice some fuel efficiency.
Above: Camping and exploring Big Bend National Park
TCM: How do you plan your camping trips?
Sam: For our longer trips, we plan a couple months ahead, but we never really have a day-to-day plan.  I never make campground reservations.  If we're having fun doing one thing, we'll stay.  Then we'll look at the map and see what we want to try next.  The camper allows us that kind of freedom.
I definitely prefer driving somewhere over flying.  I've flown a lot, and I don't like airports.  I'd rather drive because we get to see more of America.  We'll also pull up the Yelp app on our iPhone and find a great restaurant.  We like to go into a town and eat at the local places.
We've gone camping close to home where we fish, take our dogs swimming, and enjoy several outdoor meals complimented by an ice cold beer.  There is property nearby, where we often hang out and go fishing.  We literally pull up next to the lake and camp.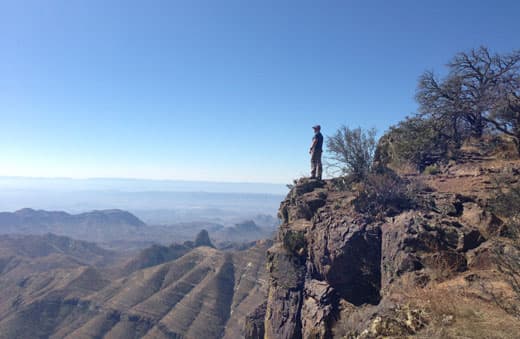 Above: Sam in Big Bend National Park, Texas
We have taken the rig on a ski trip to Copper Mountain near Denver, to a University of Colorado Basketball game in Boulder, camping in Rocky Mountain National Park, The Killers concert in Bloomfield, and Copper Breaks State Park in Texas.   We also went on a trip to Monahans Sand Dune State Park and Big Bend National Park that included many off the beaten path sights and campgrounds on the numerous four wheel drive trails.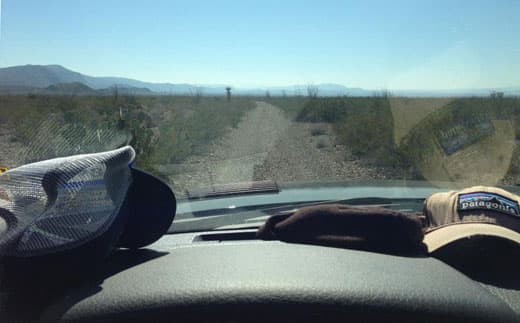 Above: Black Gap Road in Big Bend National Park
My truck performed well with the camper on challenging off-road trails like Black Gap Road in Big Bend National Park, and others.  All in all, we are very happy with the purchase of our truck and camper and look forward to many more off-road adventures in the years to come.
TCM: It's amazing how much you've done having only owned the camper for five months.  What's next?
Sam: Trips that are in the works are my best friend's wedding in Philadelphia, a visit to Wounded Warriors at Walter Reed Medical Center in Maryland, and possibly my Alma Mater at West Point, New York.  We also want to go to the Telluride Film Festival, the 2013 Texas Raptor Run, the 2013 Overland Expo, and several small Texas festivals.
TCM: We will meet you at the Overland Expo in May.  This will be our first time to the Overland Expo.  What's that event like?
Sam: The Overland Expo is a great mixture of off-road vehicles and outdoor camping.  They have products for cooking, camping, and driving off-road.  The main draw is Land Rover's off-road course.  There are off-road seminars and classes and people showing their expedition films.  You will also see extreme overland vehicles like the Earthroamer and other crazy four-wheel-drive rigs.  It's really the best place to go if you're an off-road enthusiast and want to see what's new on the market.
TCM: We can't wait to see your rig.  See you there!
Truck: 2011 Ford F150 Raptor, Super Crew, 4×4, 5.5 foot bed
Camper: 2012 Phoenix PULSE SC Custom
Jacks: Four Removable Happijac Jacks
Tie-downs/Turnbuckles: Phoenix hook and ratchet strap system
Suspension: The truck is completely stock
Gear: Gentech Generator