Sam Deen takes his black Ford Raptor and Phoenix PULSE SC custom truck camper rig off-road in search of remote places, off-the-grid camping, and outdoor adventure.

The Ford Raptor was designed to drive directly from the production line to some of the most challenging and rigorous off-road trails available.  Completely stock, it's ready to take its owners where very few vehicles would dare.
For Sam Deen and his wife Ashley, this means getting far off the beaten path and exploring some of the most beautiful places the Southwest has to offer.  As a former Army officer, Sam added a Phoenix PULSE SC, a custom truck camper designed to fit in the bed of the Ford Raptor.  Together, the Ford Raptor and Phoenix PULSE SC not only allow Sam and Ashley to go just about anywhere, but also to camp in the amazing places they discover.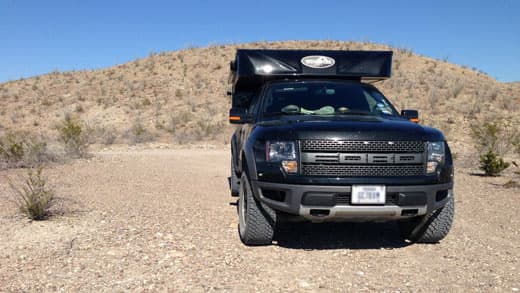 Above: The 2011 Ford Raptor and Phoenix PULSE SC
TCM: Where did you get the idea to put a truck camper on a Ford Raptor?
Sam: I love off-roading.  I've always had a four wheel drive vehicle or an ATV for trails.  I'm also big into Jeeps.  Then I bought my Ford Raptor and saw one of Robby Rowe's Expedition Portal threads showing a Phoenix on a Raptor.  That's where I got the idea.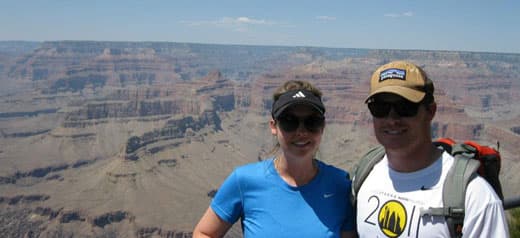 Above: Ashley and Sam at the Grand Canyon, Arizona
My wife, Ashley, and I love hiking, getting to remote places, and eating lunch with a spectacular view.  We love going to places where not many people go, whether on foot or with a four-wheel drive vehicle.  With our Raptor and Phoenix rig, Ashley and I can go places other people can't go, and we're fully self-contained.
TCM: How did you order your custom Phoenix Camper?
Sam: Purchasing the Phoenix was a big event for us.  Ashley and I attended the Overland Expo last year and met Cari and Robby Rowe, the Owners of Phoenix Campers.  We automatically knew we wanted to do business with them because they were so nice.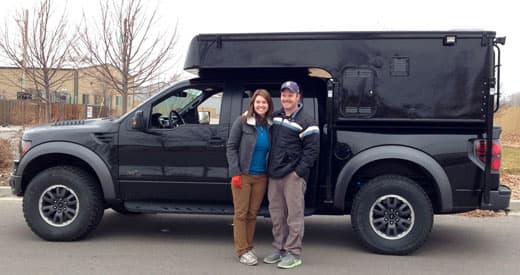 Above: Ashley and Sam the day they picked up their new Phoenix Camper
I told Robby what I wanted and he designed it on paper while we were there.  In late Summer I ordered the camper.  During the build I corresponded with Cari and Robby via email about what I wanted in the camper.  Overall, it was an easy process.
Above: Inside Sam and Ashley's Phoenix PULSE SC
TCM: What features did you choose for your custom Phoenix?
Sam: Our camper has a twenty gallon fresh water tank, a hot water heater, air conditioning, propane heater, three burner stove, refrigerator, queen bed, and a two person kitchen dinette that doubles into a mini bed.  We also have a cassette toilet, shower, eight foot awning, and an electric fan vent.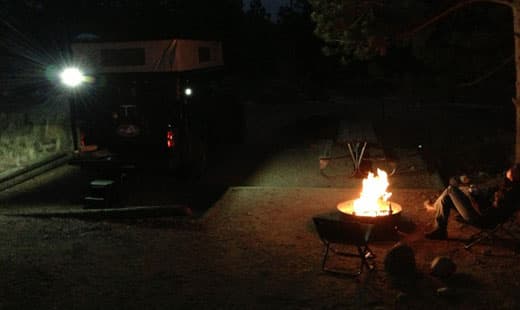 Above: Camping at night with the bright light that lights up the campsite
I asked Robby to add a generator compartment and match the exterior color to the truck.  I also had him add three exterior lights.  If we open the back door we can reach inside and turn on lights that light up your whole campsite.  If we're on the inside and need to see to the outside, we can hit that same light switch.