TCM: Is there a limit on how many people can attend the Easter Jeep Safari?
Dennis: They do have a maximum, but there are ten million acres out there with certified trails.  I think there were 2,000 registered vehicles for this event.  It's a big club.  They send out a full color newspaper every winter in January that's about fifty pages.  Everyone who was registered for the past five years gets a copy.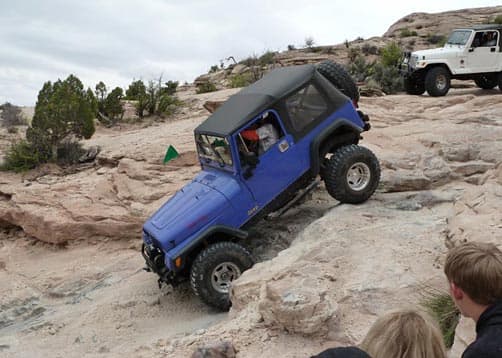 ABOVE: Wipe Out Hill at the Easter Jeep Safari, Moab, Utah and Barney, Dennis' Jeep
TCM: I see that Wipe Out Hill was from the Jeep Safari.  What's Wipe Out Hill?
Dennis: The Saturday of the Easter Jeep Safari is called Big Saturday.  Our group went on Wipe Out Hill this year.  Ever year we go to a spot for lunch.  We had a couple of gas barbecue pits going.  It's a big family affair.
Wipe Out Hill is a lot worse than those pictures show.  In the pictures, you can see that my hand is holding me in my seat.  On Wipe Out Hill, the back tires came off the ground.
TCM: Aren't you concerned about getting hurt?
Dennis: I've got a full roll cage and we have seat belts, so I'm not concerned about injury.  We're really careful, but you need a lot of skill.  During the Easter Jeep Safari, the trail leaders spot you and help you maneuver through the obstacles.  It's like jumping out of an airplane.  You get an adrenaline rush.
TCM: You've jumped out of an airplane?
Dennis: Yes, haven't you?
TCM: No!
Dennis: I own a construction company, which is a high stress job.  We sell steel storage buildings for RVs and workshops.  I don't know where the next dollar is going to come from.  There are so many things that can go wrong.  It's just the nature of the business.  When you have that kind of stress, I've found having activities like Jeeping, and finding dirt roads that scare the bejesus out of you, takes your mind to nothing but that moment.  It helps me clear my mind.  It's a way for me to relax and get away from the stresses of every day and as a bonus, have a lot of fun!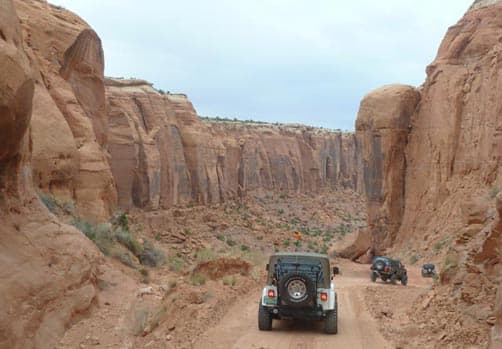 ABOVE: Jeeping down Long Canyon Road
TCM: How did you get into Jeeping?